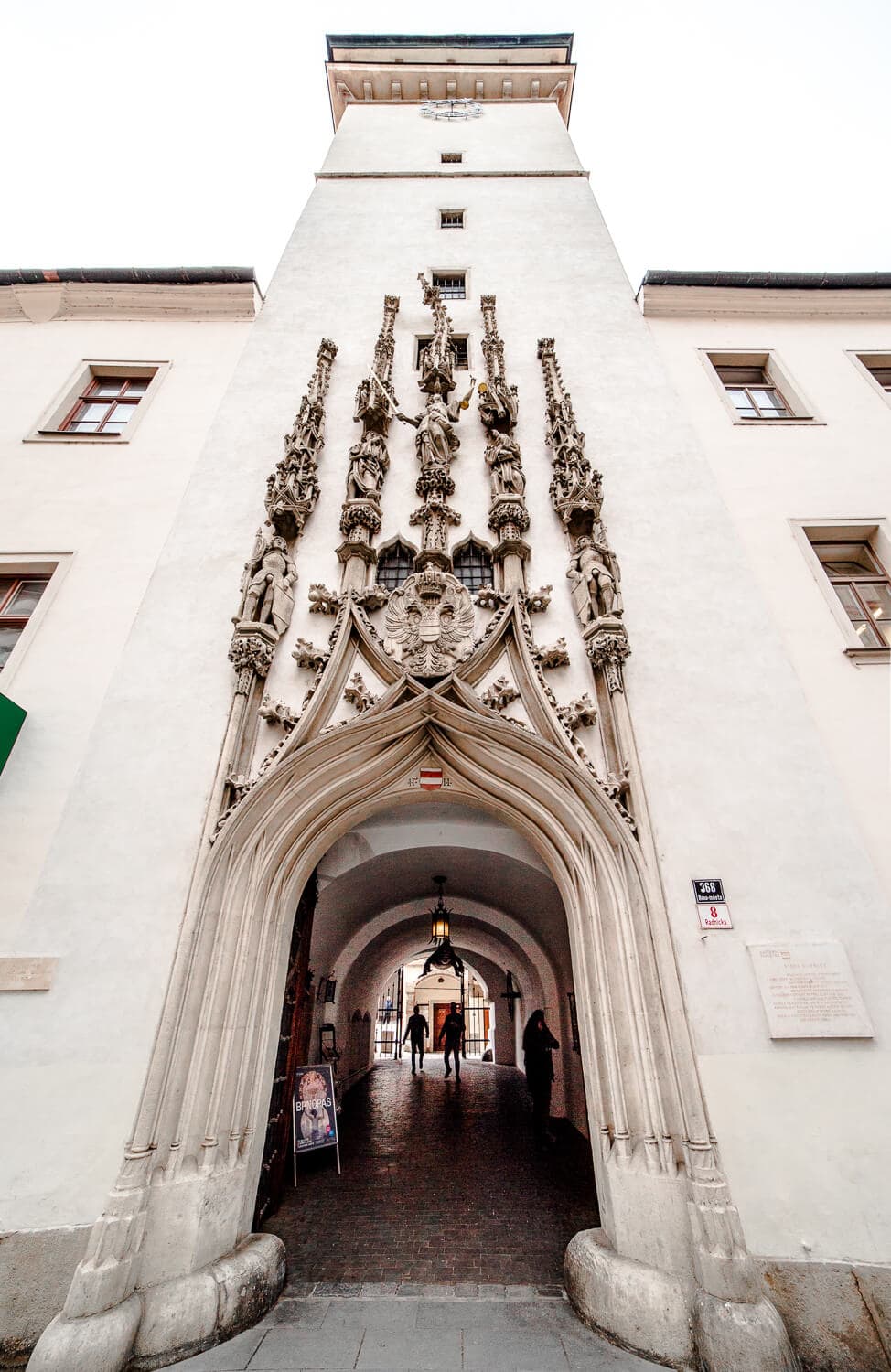 What better way to get acquainted with a new destination, than to see it from above? Old Town Hall is the oldest (non-religious) building in Brno and it was my favorite viewpoint that I found in the city. 360 degree views, a ton of history, plus its surprise resident living in the passageway makes the Brno Old Town Hall a must see for any itinerary.
MY FAVORITE VIEW IN BRNO
Brno is beautiful and during my time here I tried to visit as many viewpoints as possible in an attempt to see it all. Among my favorite lookouts were those from Spilberk castle, Petrov Hill and Denis Gardens.. but my chosen winner ended up being Old Town Hall.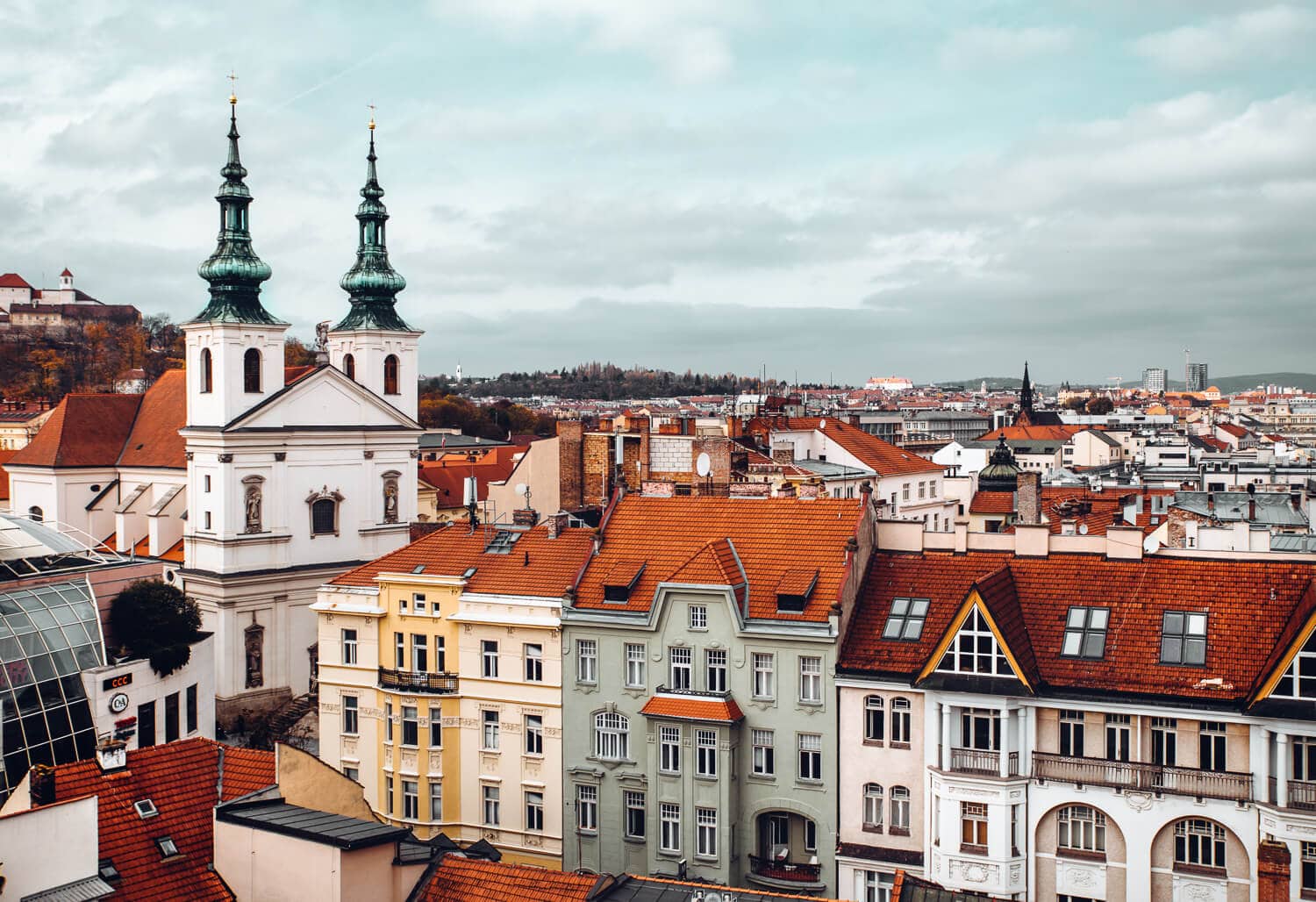 While the other locations will give you a grander scale of the city, Brno's Old Town Hall grants more of an up close and personal kind of view.
Located near the Vegetable Market in the city center, Old Town Hall elevates you just above the orange roofed buildings allowing you to see all of its details colors and even people walking on the street below. You still feel as if you're in the city, not just towering above it and I loved the perspective.
THE DRAGON IN THE PASSAGEWAY
Before you make your way up the tower, you'll pass the infamous "dragon" who lives in the passageway. The villain of one of the most famous legends in Brno was said to be threatening the townspeople and its animals. Nobody had seen a crocodile before so they called it a dragon, and were clueless as to how to stop it.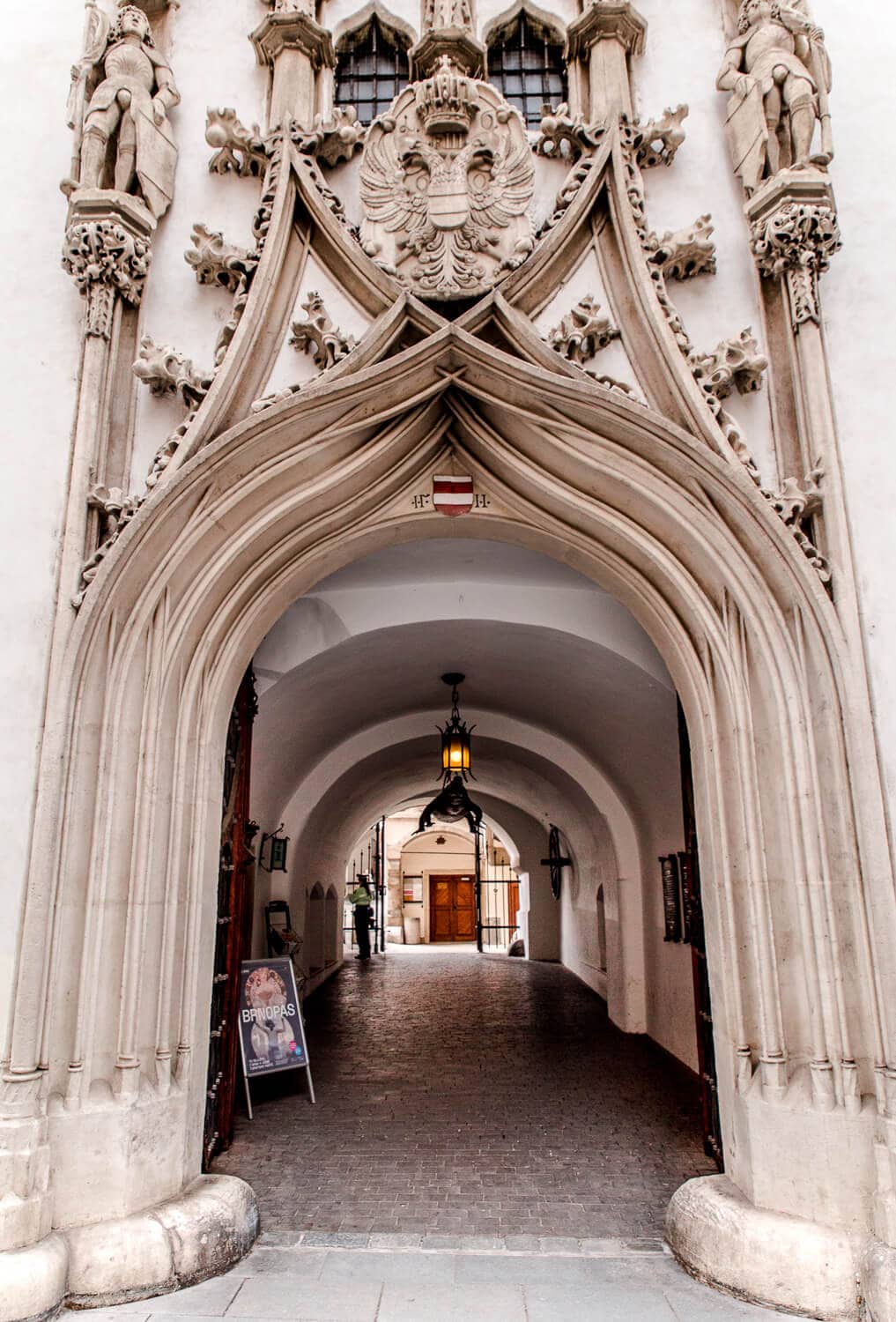 One day, a visiting butcher came to town and had the idea to hide caustic lime in animal skin and trick the dragon into eating it. The lime, mixed with river water caused the him to blow up and the dragon was finally slayed.
VISITING BRNO'S OLD TOWN HALL
Unlike some viewpoints where you have do cardio training before attempting the climb, the Brno Old Town Hall only has 174 steps to reach the top of the 207 ft (63 meter) tower.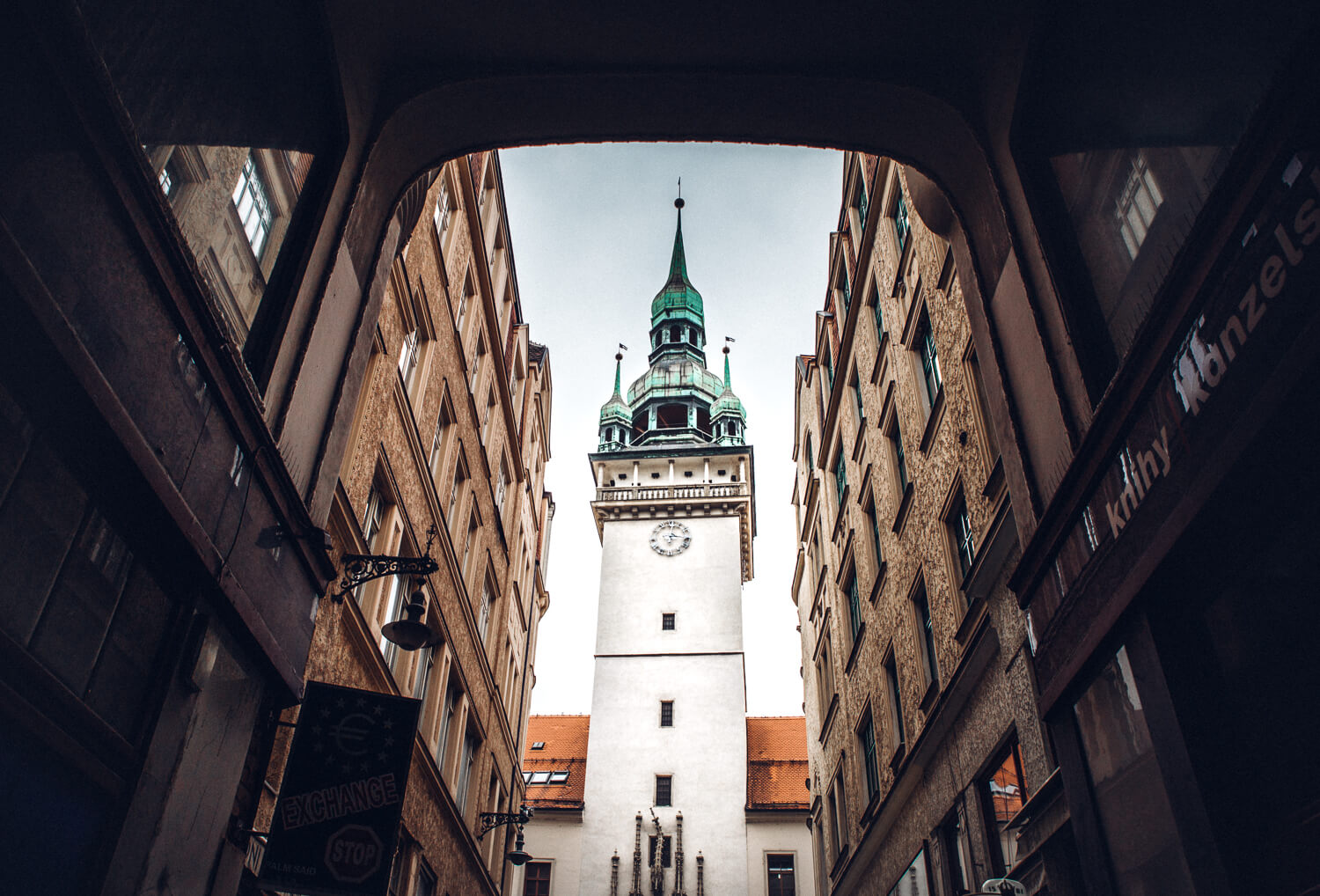 On your way up, there are stopping points with information plaques to learn more about its history. Built around 1240, the Brno Old Town Hall is where they held council meetings, entertained notable guests, safeguarded money, stored medieval documents and even detained prisoners.
When you reach the top, you can walk 360 degrees around the small outdoor viewing platform. It's pretty narrow (barely wide enough to squeeze past another person) so I recommend a morning visit to avoid it being too crowded.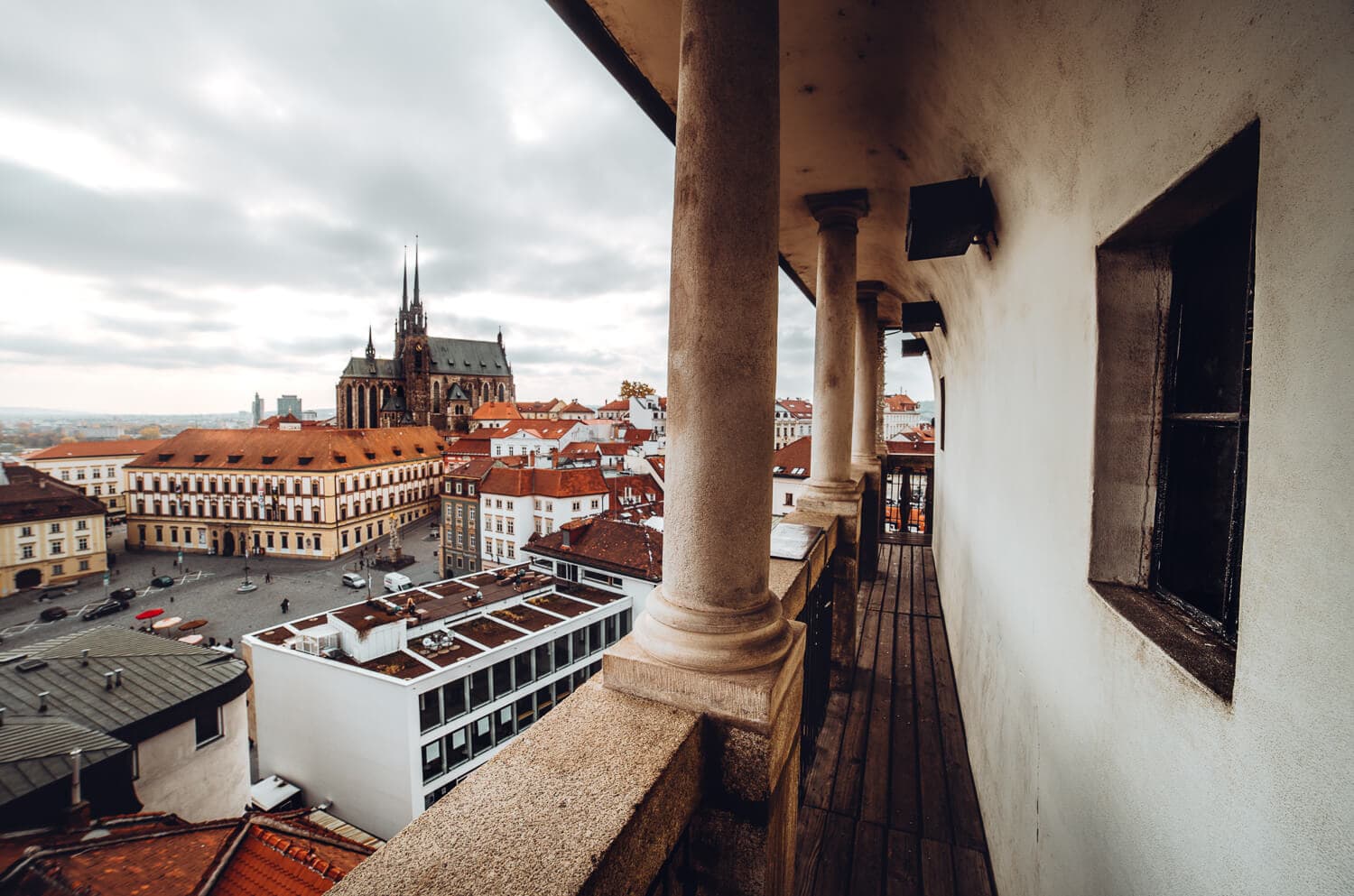 As you circle the top, take in the incredible views of The Cathedral of Saints Peter and Paul, Spilberk Castle and the Church of St Michael.
A visit to Brno's Old Town Hall is quick (I was in and out in 20 minutes) but the views are amazing, and I highly recommend making the stop.
THE VIEWS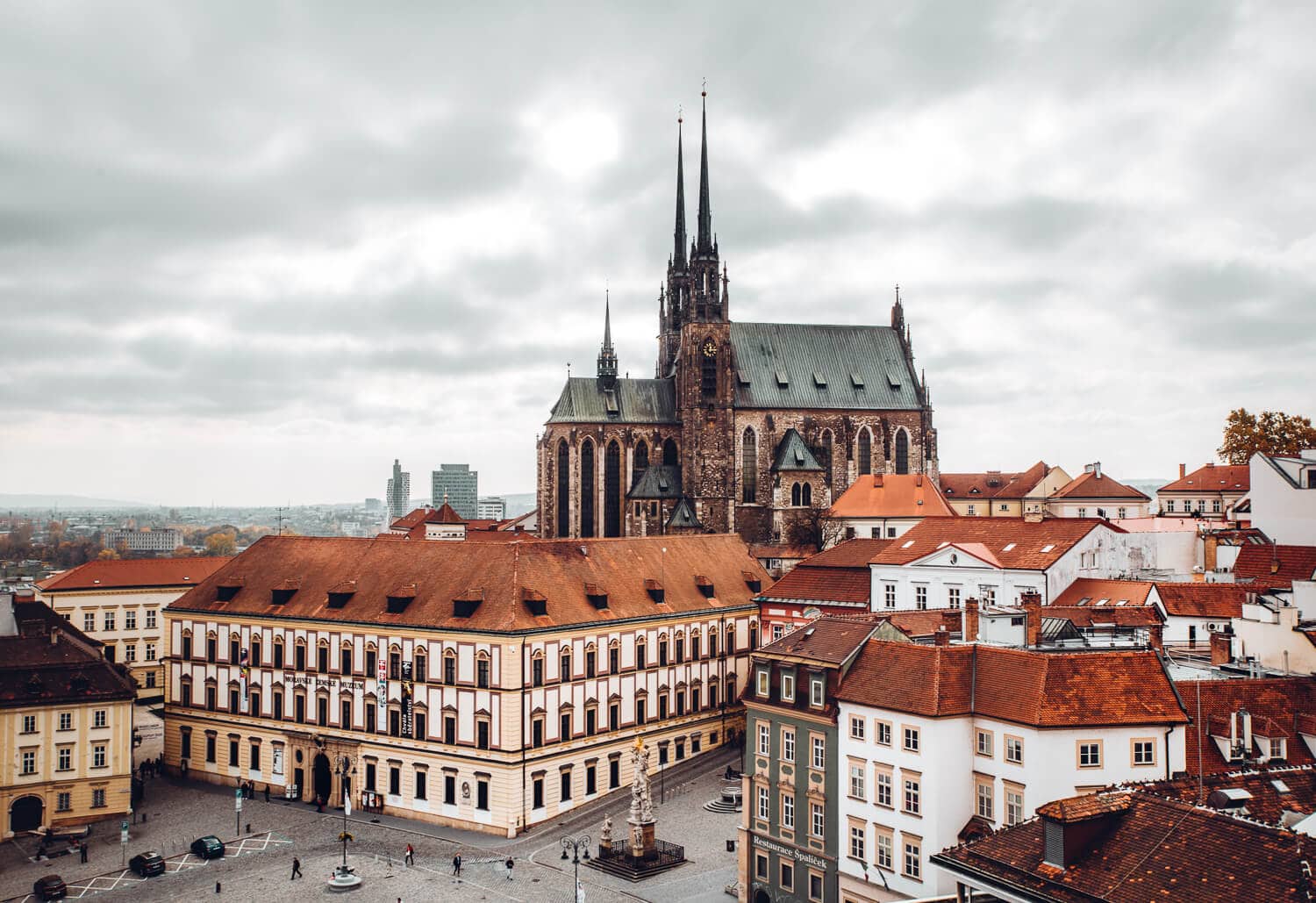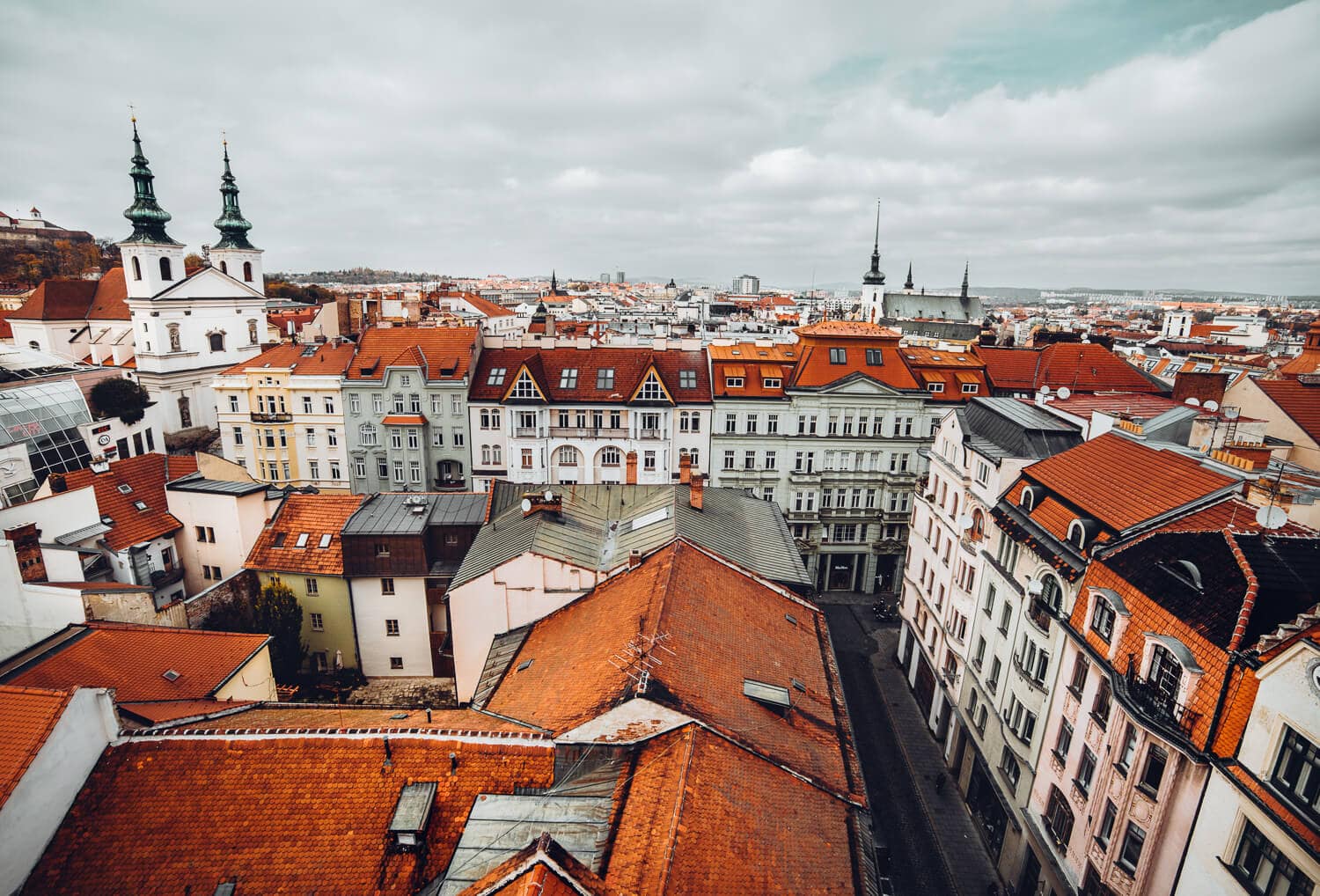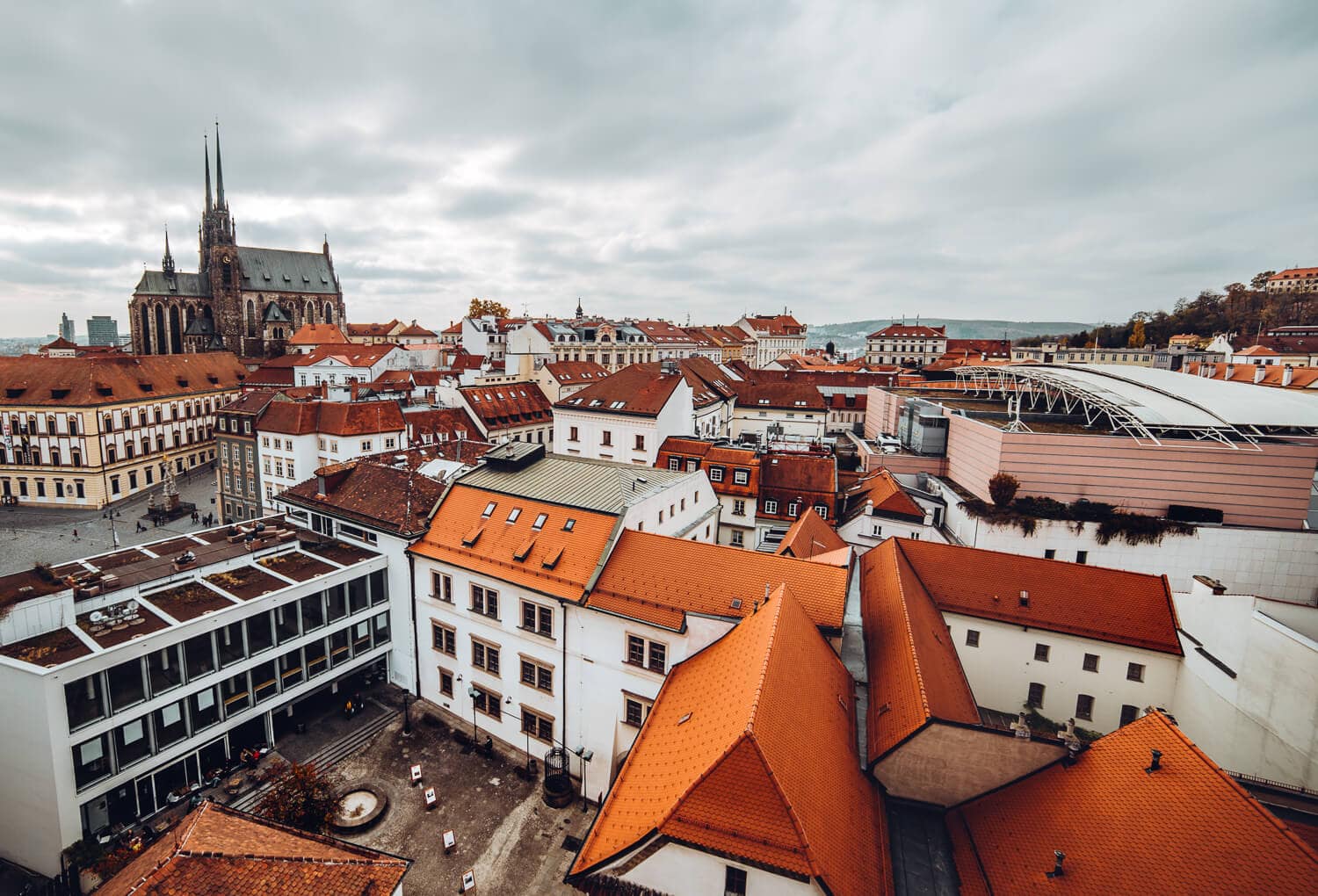 BRNO OLD TOWN HALL VISITOR INFORMATION
ADMISSION
| | |
| --- | --- |
| General Admission | CZK 70 ($3 USD) |
| Students & Seniors | CZK 40 ($1.75 USD) |
| Children Under 15 | CZK 40 ($1.75 USD) |
| Children Under 6 | FREE |
| Family package | CZK 150 ($6.50 USD) |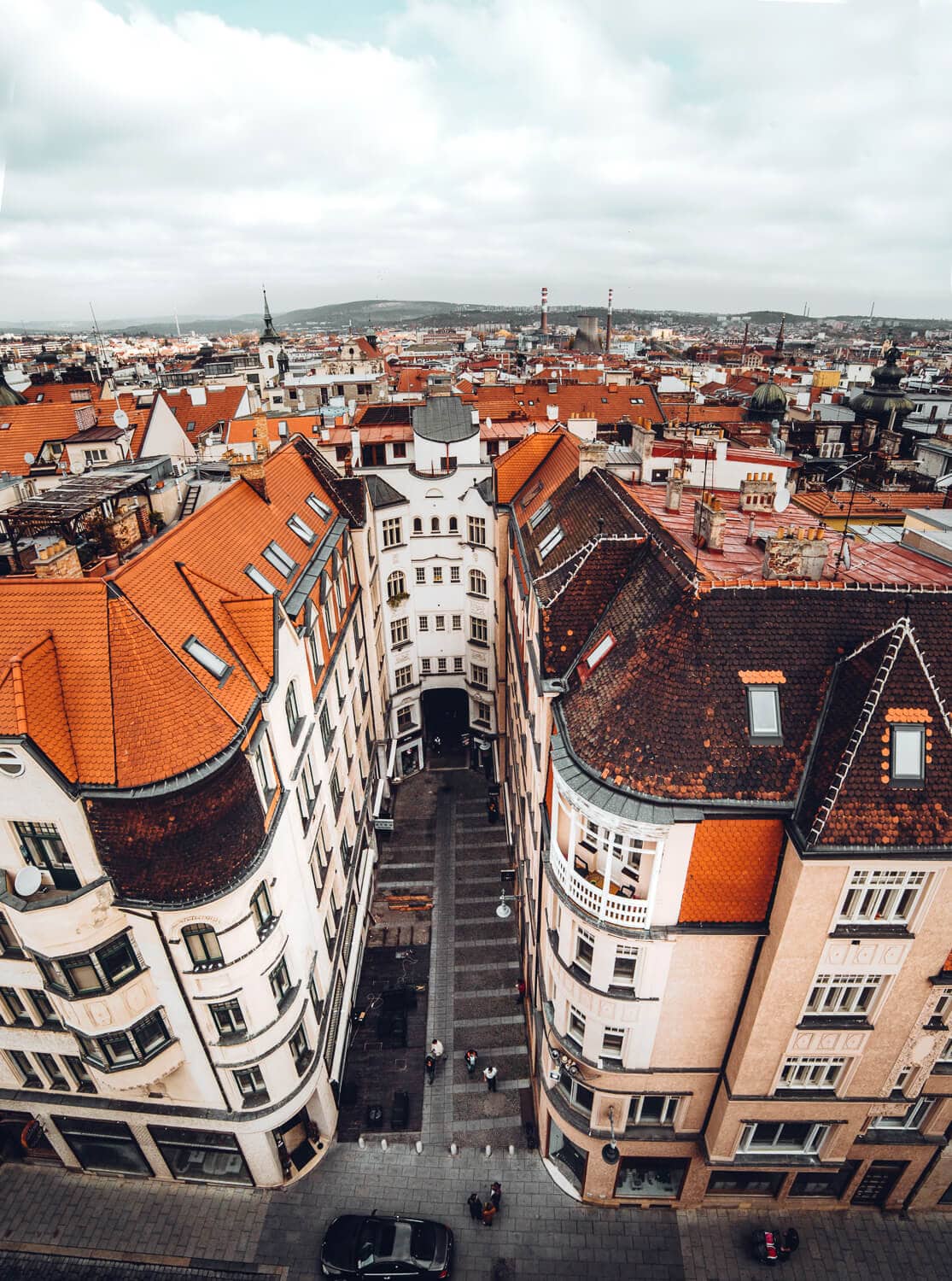 HOURS
May
Monday – Sunday 10am – 8pm
June – August
Monday – Sunday 10am – 10pm
September – October
Monday – Sunday 10am – 10pm
November
Sunday – Thursday 10am – 7 pm
Friday – Saturday 10am – 9pm
*The Old Town Hall is closed during the Winter.
ADDRESS
Radnicka 8
60200 Brno
For more information, visit GoToBrno.com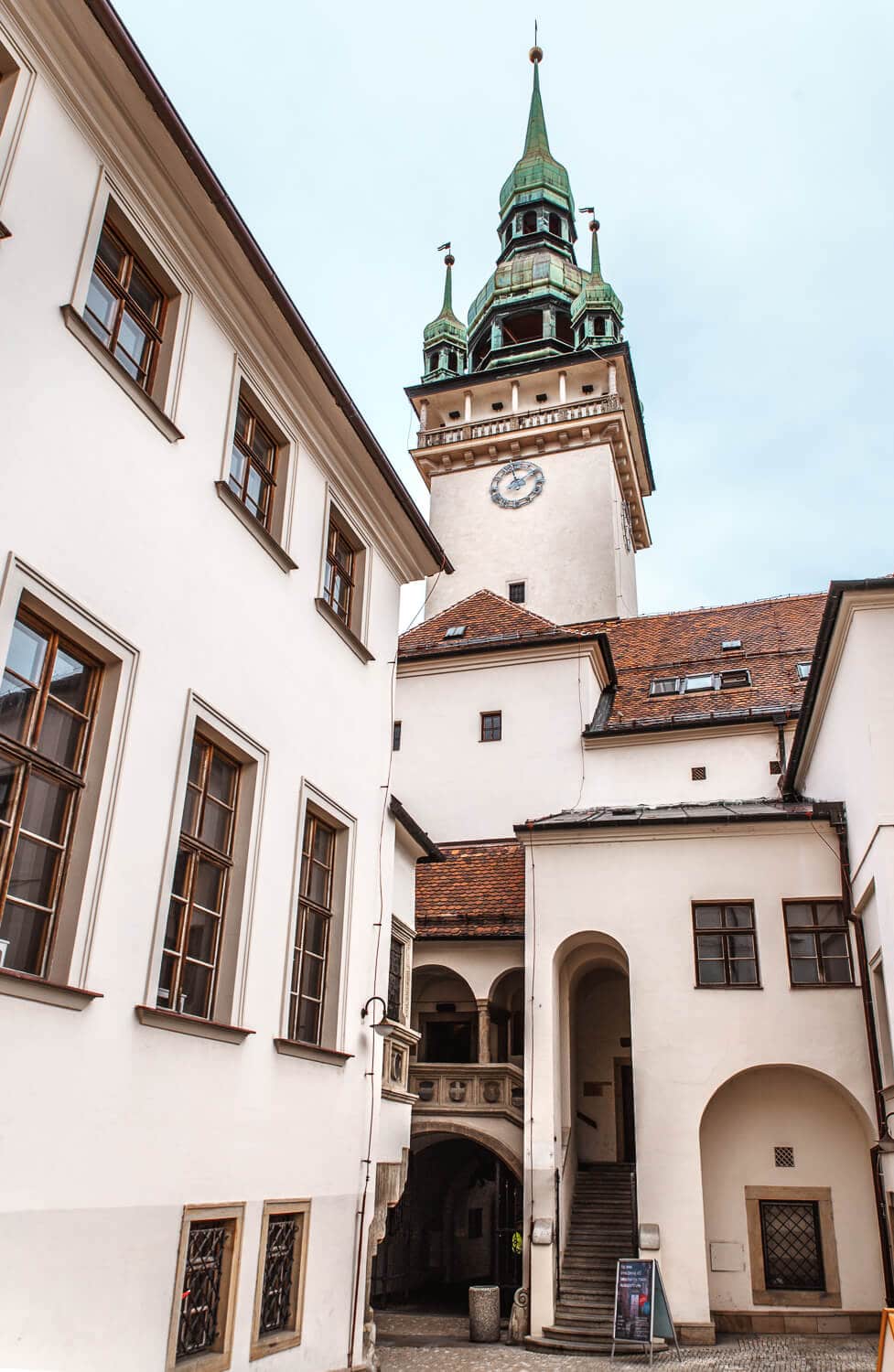 ---
PIN IT // THE BRNO OLD TOWN HALL : MY FAVORITE VIEW IN THE CITY