Cappadocia is one of the most unique places I've ever traveled to. Home to fairy chimneys, incredible landscapes and one of a kind rock formations, I was in complete and total awe of the place for 3 days straight. When you drive into the region, you feel like you've landed on a different planet. It's no wonder Star Wars chose Cappadocia to film some of their scenes! I wish I had weeks to explore, but because Nick is in Turkey for work, we only have  a short amount of time to take this side trip. Keep reading to find out what to do in Cappadocia, where to stay & what to eat during your visit.

Getting to Cappadocia
You can fly into Cappadocia through 2 different airports, Nevsehir (NAV) or Kayseri (ASR). From Nevsehir, it's a 40 minute drive to Goreme and from Kayseri Airport it's a little over an hour away.
Rent a Car
We flew from Antalya into the Kayseri airport and rented a car. Renting a car was one of the best decisions of our trip. With limited time to explore, having a car saved us a lot of time and it was relatively inexpensive (about $30 a day). Public transportation in Cappadocia is somewhat limited so having our own mode of transportation gave us the freedom to go anywhere, and to do it quickly. I highly recommend it.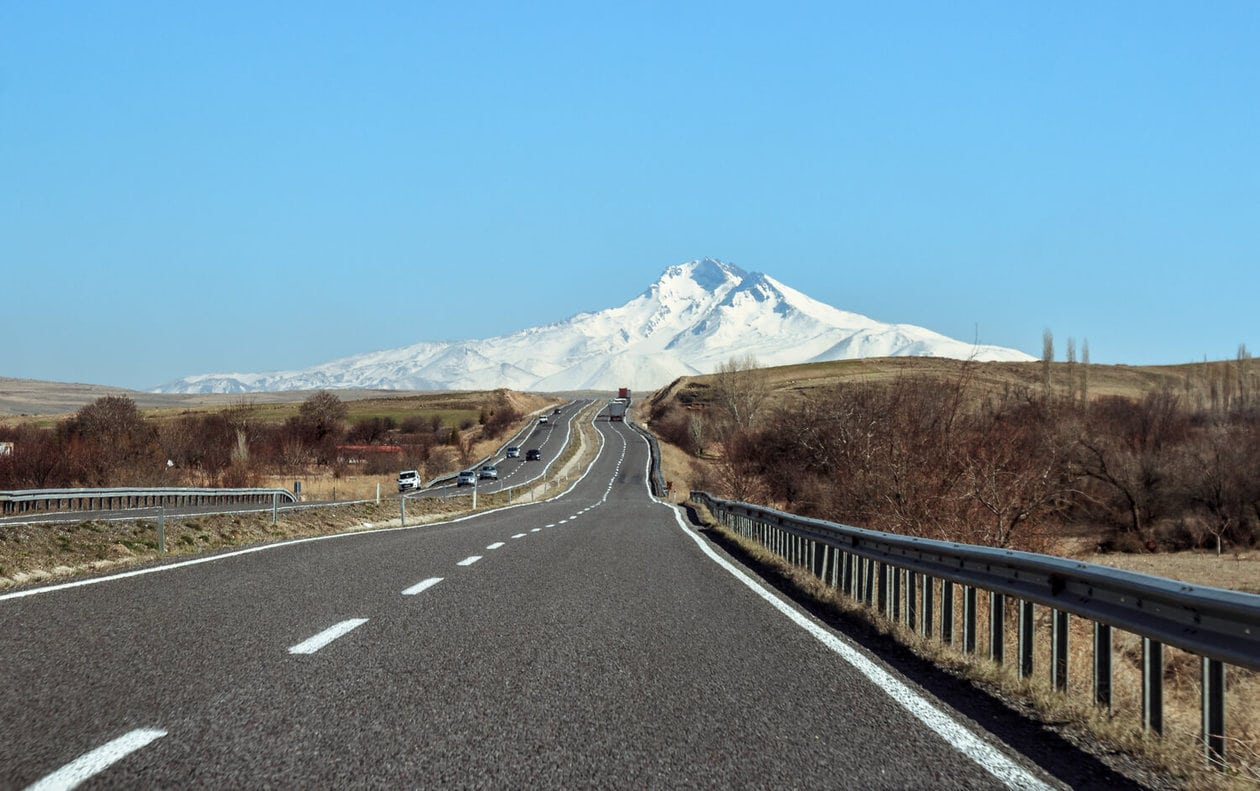 In Turkey people drive on the right side of the road, and on the left side of the car. It's the same as how we drive in the States so we figured it'd be easy. Unfortunately, the rental car company must've missed the part where we requested an automatic. When we landed and picked up our car, Nick was forced to learn to drive a stick shift on the spot. It was a jerky and terrifying drive to Cappadocia.
If you decide not to rent a car, you can catch the shuttle bus from either airport, which will take you to the Cappadocia region.
Where to Stay in Cappadocia
Cappadocia is the actual region in Turkey but there are several towns within it, where you can choose to stay. The most popular and most central is Goreme. You can also stay in Uchisar, Urgup, Ortahisar or Avanos. They are all a very short drive from one another (5-10 minutes). If you don't have a car, staying in Goreme is your best bet.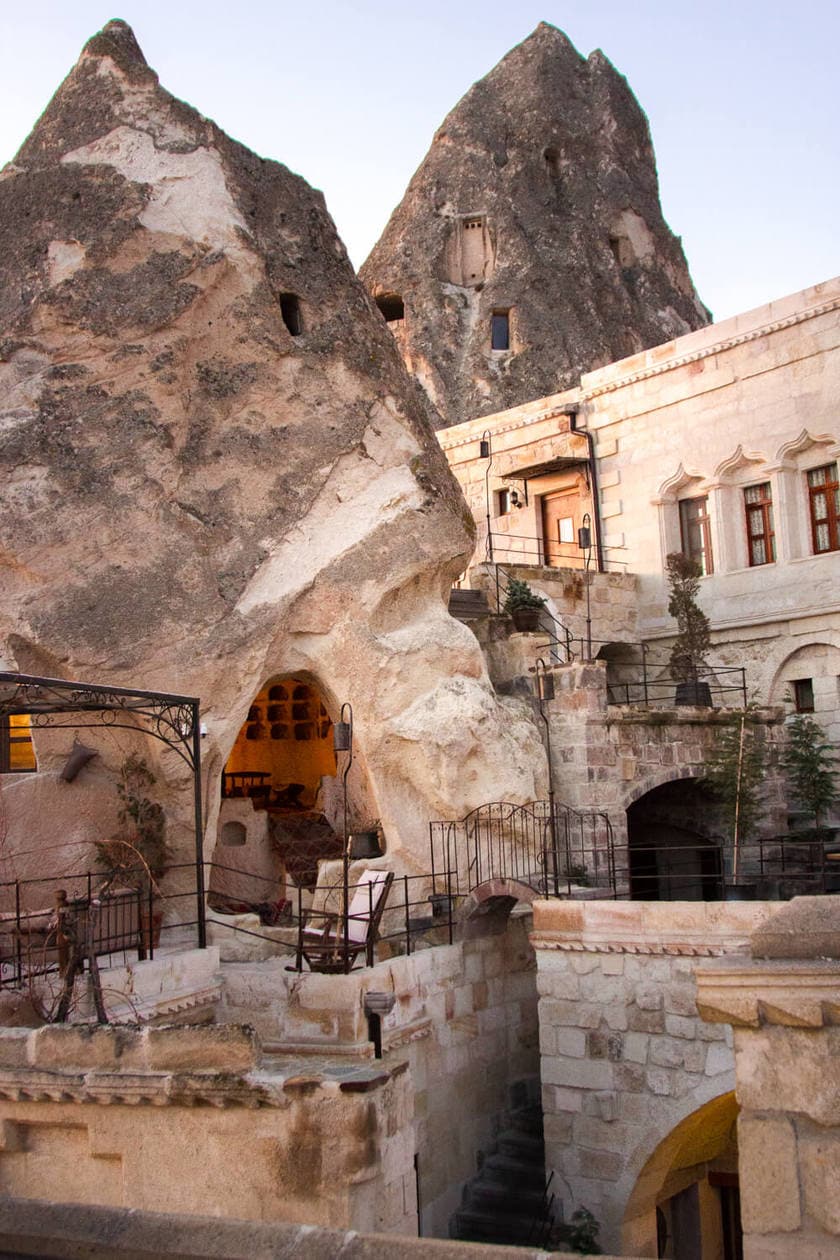 Ancient volcanic eruptions are responsible for the unique geological qualities in Cappadocia. The eruptions completely covered the region with ash millions of years ago. As people began to inhabit Cappadocia, they discovered it was possible to tunnel into the soft rock. Today, there are 100's of cave hotels and restaurants. There aren't many places in the world that can offer up an overnight stay quite like this one, and sleeping in a cave hotel is one of the most popular bucket list items for visitors traveling to Cappadocia.
We chose to stay in Goreme and booked a room with Mithra Cave Suites. Read my review of our hotel and also discover 4 other cave hotel suggestions to fit any budget [HERE.]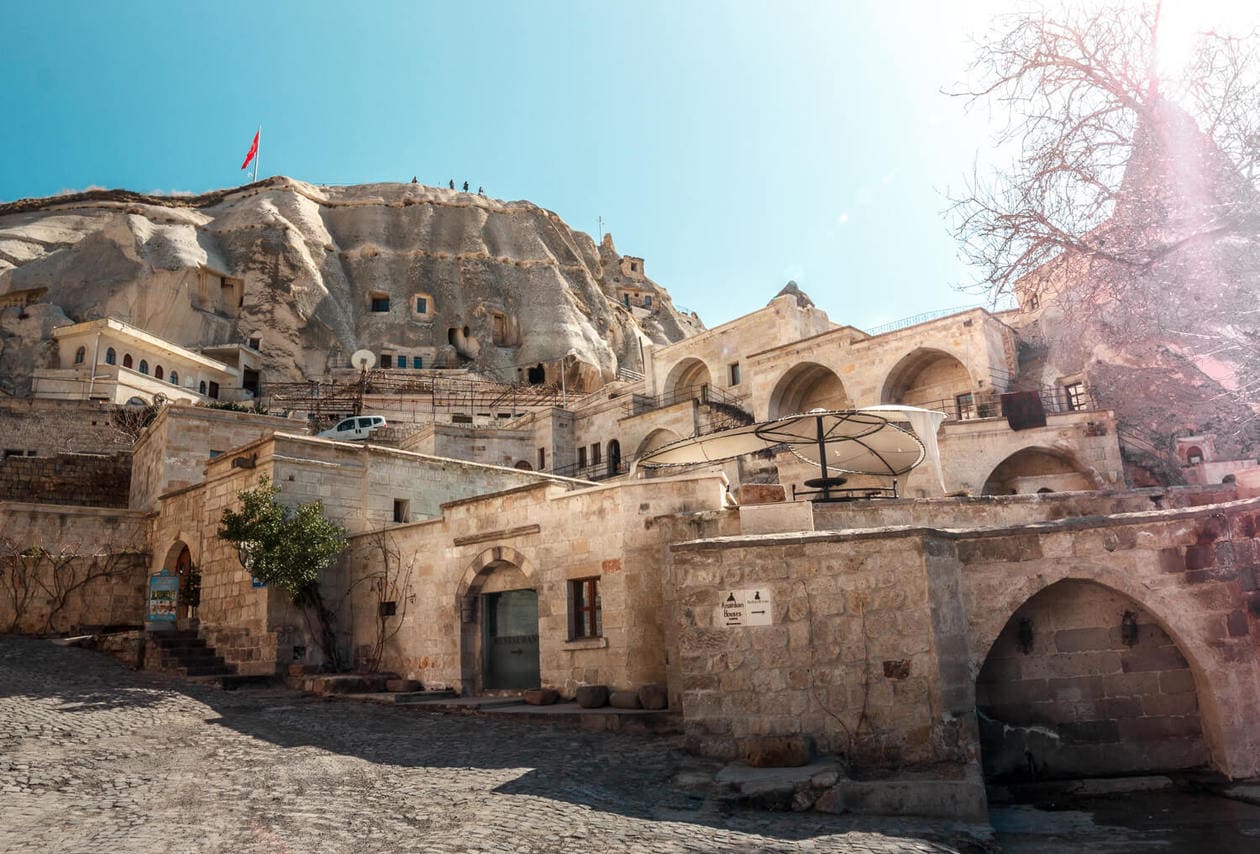 What to do in Cappadocia // A 3 Day Itinerary
Day 1
Goreme
After getting settled into your cave hotel, it's time to head out for the day. Start by getting acquainted with Goreme; spend and hour or two wandering around, grab a bite to eat, order a Turkish tea, and just take in the uniqueness of this special town.

Goreme Open Air Museum
In the early afternoon, make your way to Cappadocia's pride and joy, the Goreme Open Air Museum. Seeing the Goreme Open Air Museum later in the day will hopefully mean most of the tour busses have already left. This is one of the most popular things to do and it's common for lines into the churches to go out the door during peak times.
The Goreme Open Air Museum is a collection of monasteries, each with it's own unique church. The cave churches in the open air museum are among the best preserved in the region. I highly recommend taking audio tour. We didn't and had no idea what we were looking at. There are small placards outside of the churches but they don't give you much information. I think I would've liked the museum a lot more if I had opted for audio tour.
Read my post about the Goreme Open Air Museum, including photos and visitor information [HERE]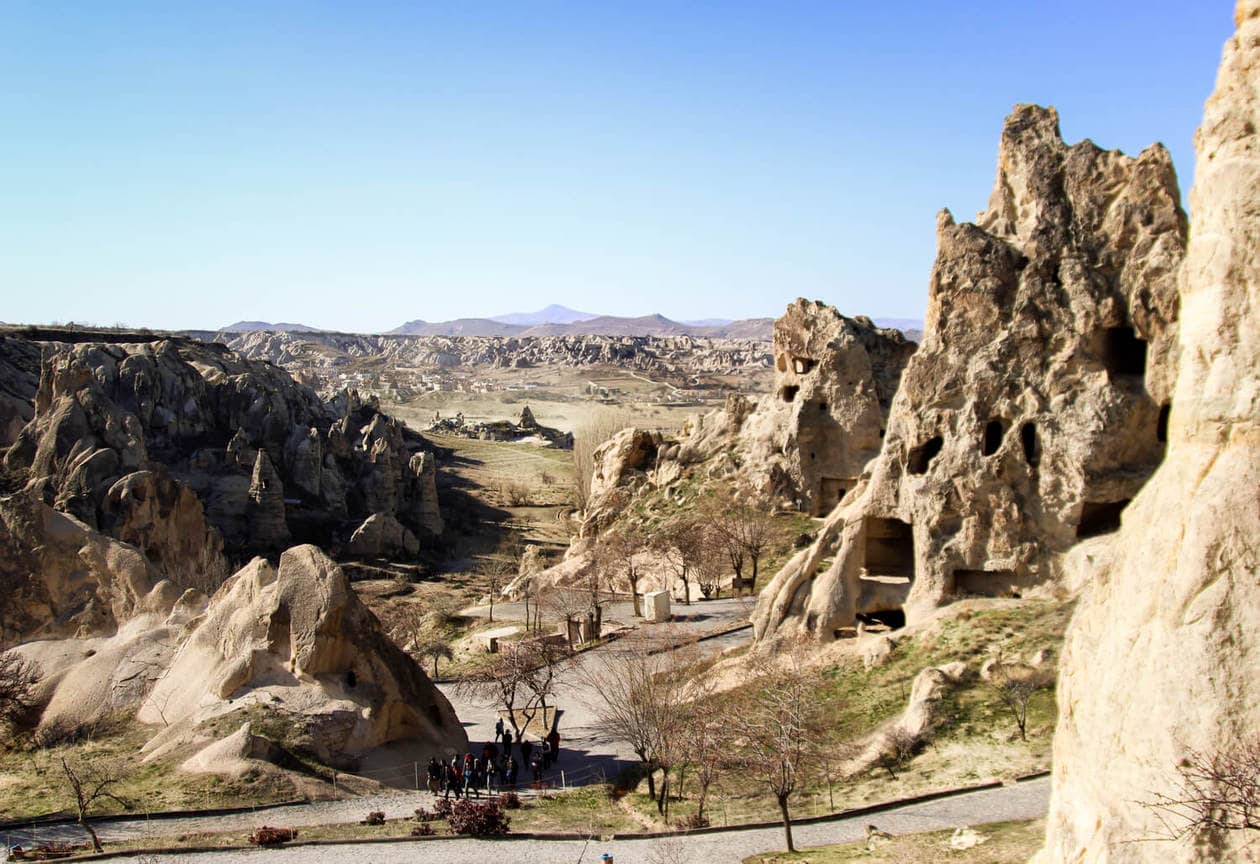 Sunset at the Red Valley
After the Open Air Museum make your way to the Red Valley two hours before sunset. It's only a short drive from the Goreme Open Air Museum and it's home to one of my favorite sunset cafes in the world, the Red Valley Panoramic Viewpoint. You'll get a spectacular view of all of Cappadocia and you can order beer, wine and snacks at the little cafe on the hill. As the sun sets, you'll understand why they call it the Red Valley.
Photos and information about the Red Valley Panoramic Viewpoint [HERE]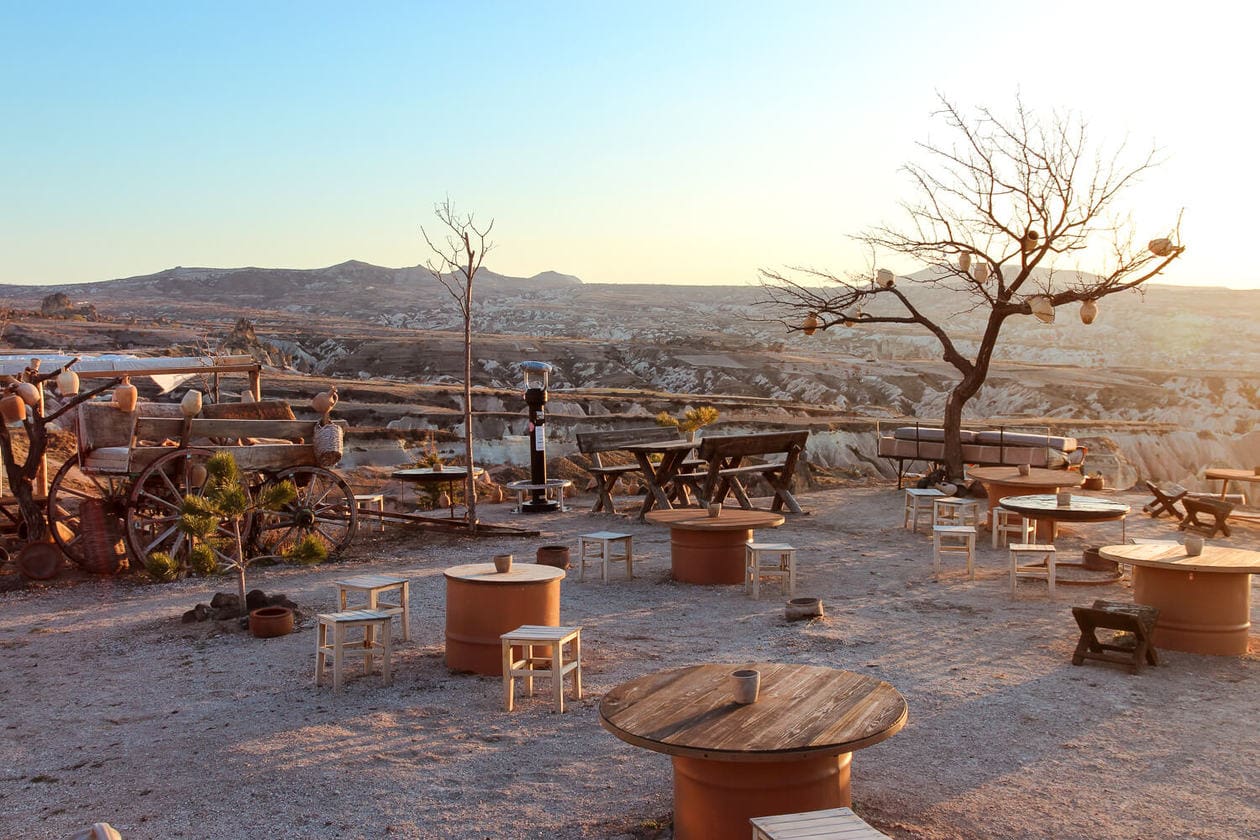 Alternative Plans
If you're not interested in the ancient cave churches at the Goreme Open Air Museum, you can head to the Red Valley earlier in the day and do some hiking in the area before sunset. There are a few alternate cave churches you can hike to, and the landscapes are beautiful.
Pottery Kebabs at Dibek
Once the sun sets, grab dinner at the restaurant of your choice.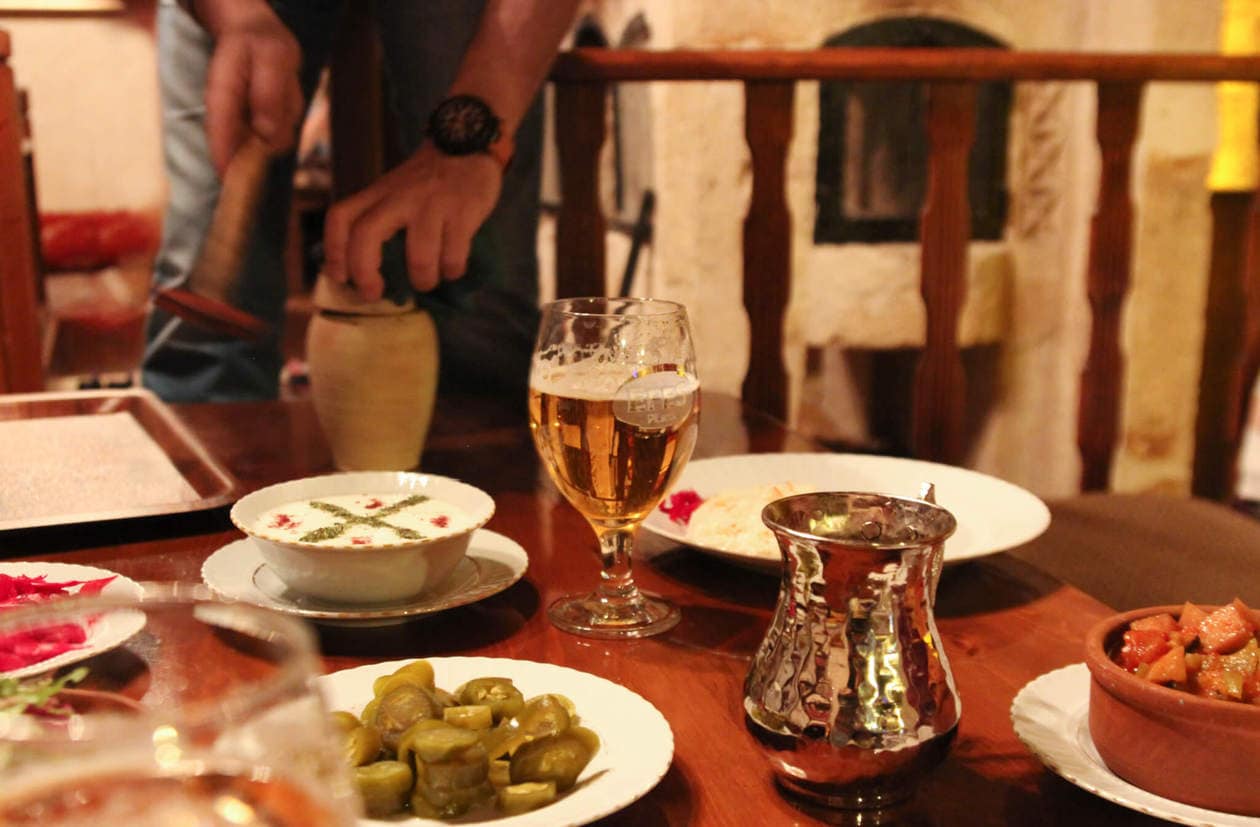 I recommend the pottery kebabs at Dibek Restaurant in Goreme. Pottery Kebabs are an Anatolian specialty and are very popular in Cappadocia. The meal cooked in a sealed clay pot or a jug for a minimum of 4 hours to let the dish simmer in it's own juices. When fully cooked, the waiter brings out the clay pot out and cracks it with a hammer front of you before serving the meal. Dibek is known to have some of the most authentic pottery kebabs in the area.
Check out 3 restaurant recommendations while in Cappadocia [HERE]
Day 2
A Hot Air Balloon Sunrise
This morning set your alarm to wake up before sunrise and either take a hot air balloon ride, or watch the hot air balloons from the ground. The 100's of hot air balloons floating over Goreme is what Cappadocia is famous for, and it will be the highlight of your trip!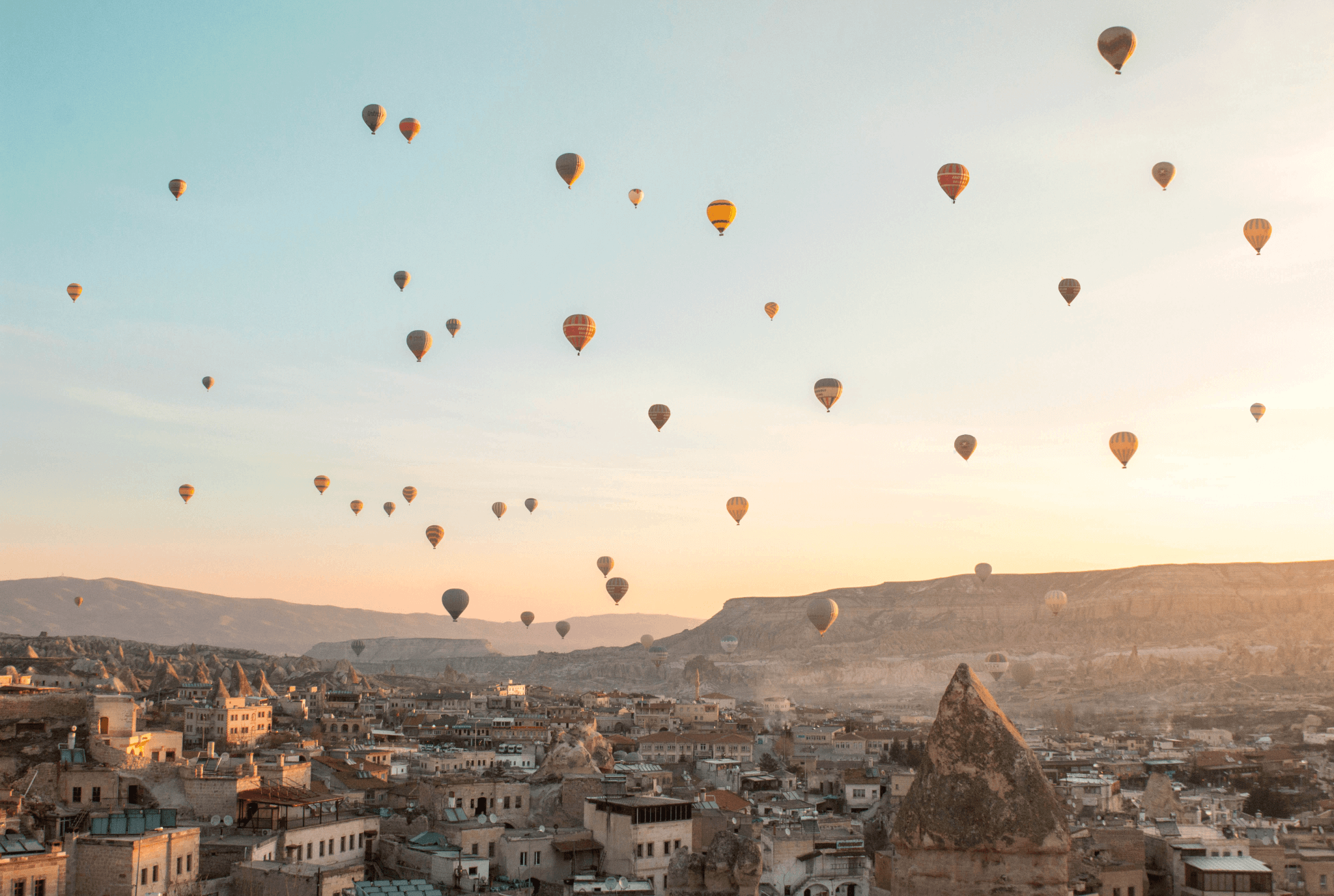 I decided not to take a Cappadocia hot air balloon ride. Find out why, plus discover 6 places for the best viewpoints to seek out if you decide to sit out this activity as well [HERE]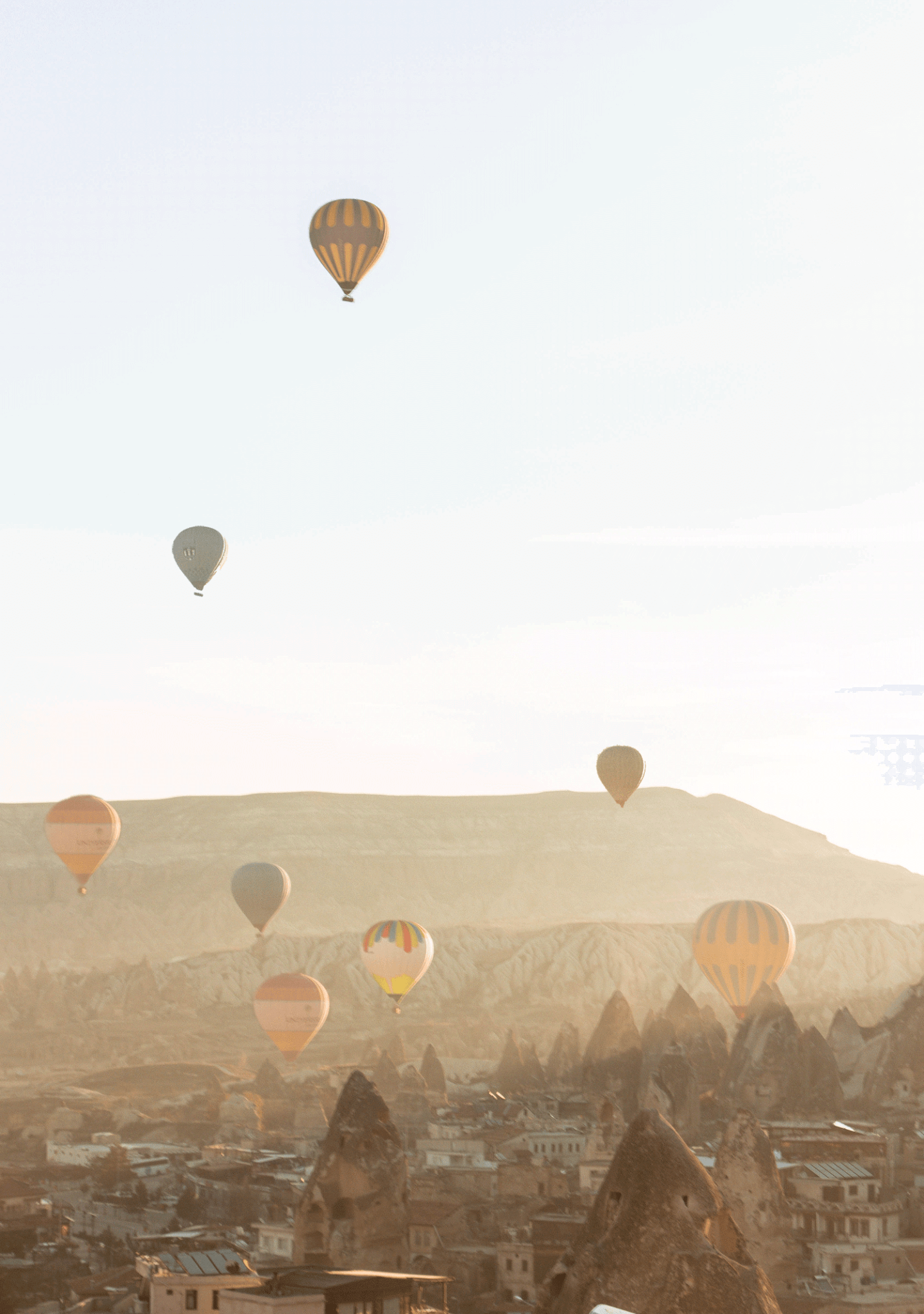 When all of the balloons disappear from the sky around 7:30am, head back to your room, get ready for the day, and eat breakfast. The breakfast at Mithra Cave Hotel was one of my favorites in Turkey!
Uchisar
After breakfast, drive 10 min southwest of Goreme to Uchisar, and visit the unique looking castle on top of the hill. On your way, stop and take in the amazing view from Esentepe Panoramic Viewpoint.
Uchisar Castle is a member of the UNESCO World Heritage list and it dates back to the Byzantine Era. It's also the highest point in Cappadocia so you'll get the best view from the top! There are quite a few steps to reach the top of Uchisar Castle, but it's a relatively easy climb.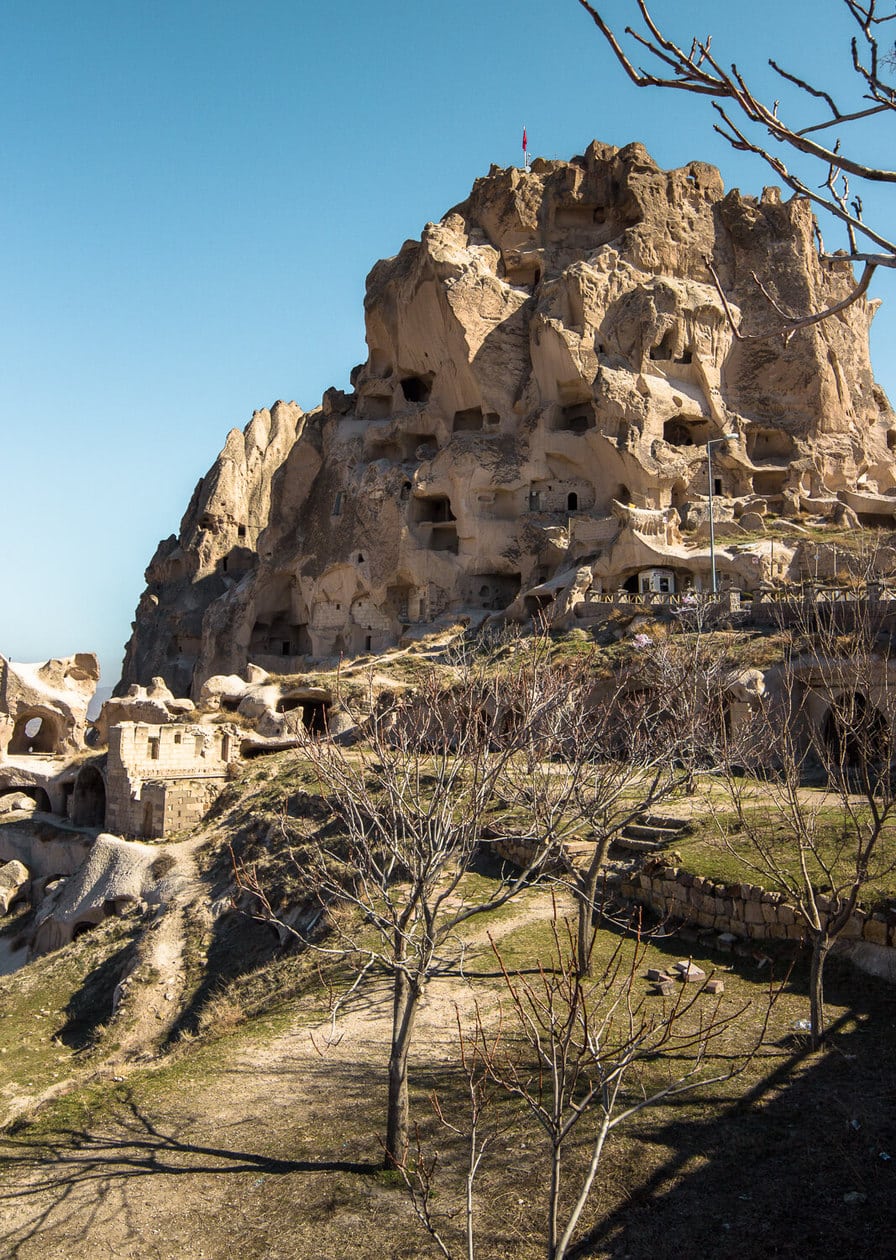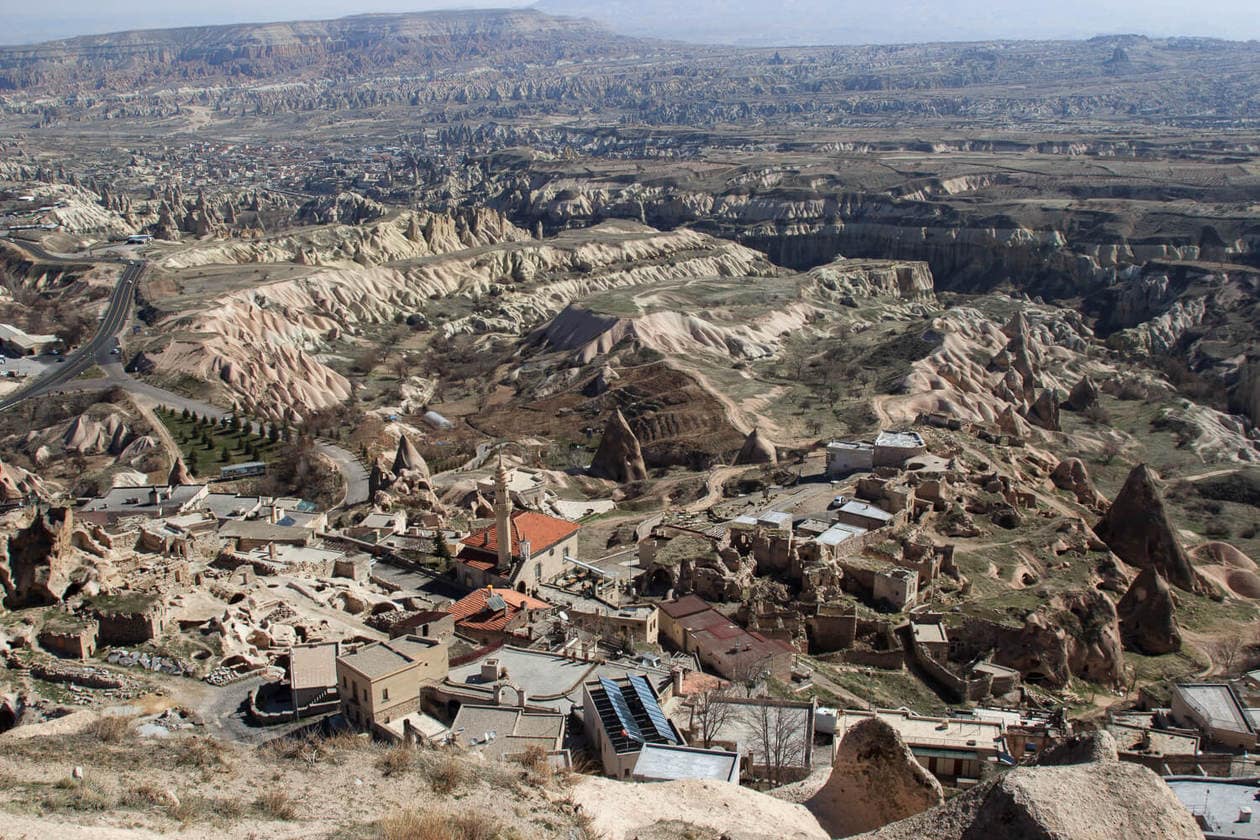 After Uchisar Castle, spend 30-45 minutes walking around the town if you wish. It was mostly vendors selling souvenirs, so we didn't spend much time here.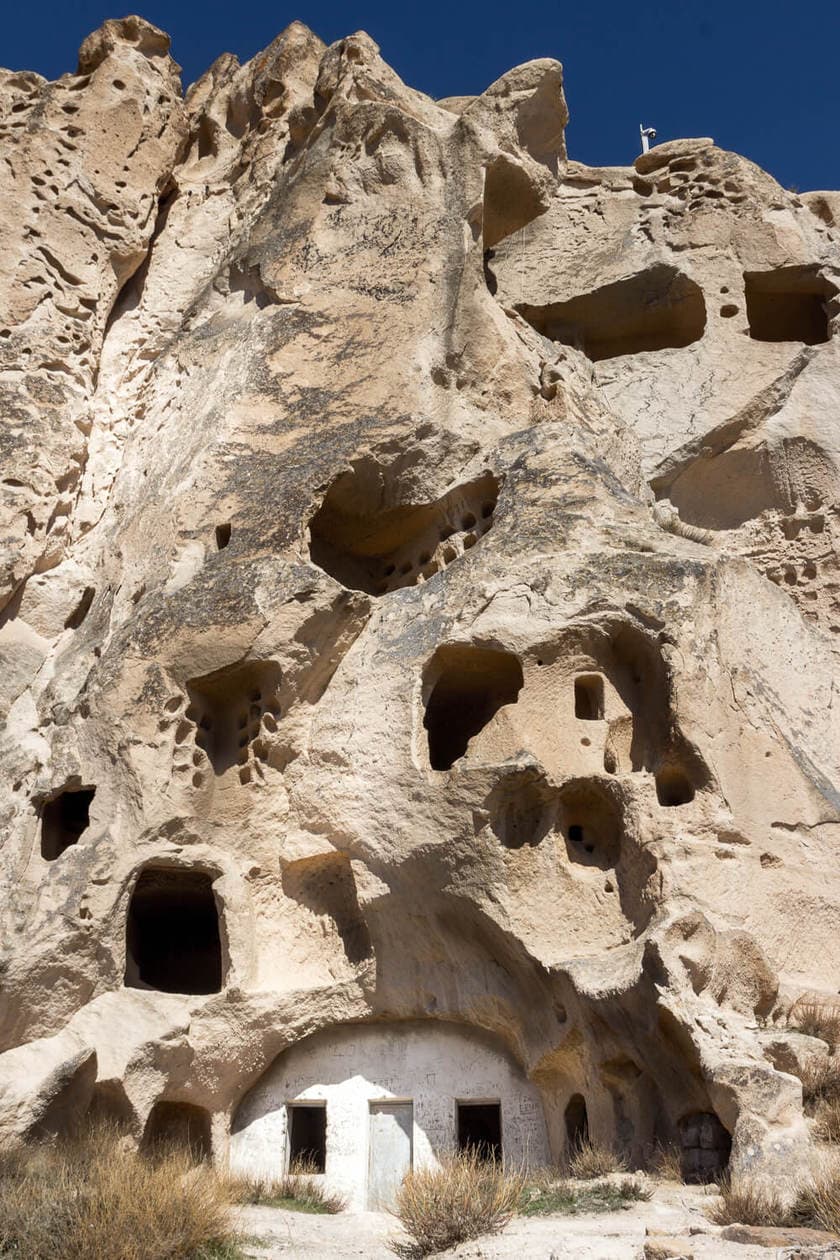 Underground Cities
Once you're done in Uchisar,  keep driving further out of town to one of Cappadocia's underground cities. The two most popular in the region are Derinkuyu and Kaymakli, and they're about a 20-30 minute drive from Uchisar.
The underground cities were hiding places for those fleeing from religious persecution in the beginning of the 7th and 8th centuries B.C. I suggest hiring a tour guide at the entrance of the underground city of your choice. Without our guide, the visit wouldn't have been nearly as impactful. He explained the history of the city and brought to life exactly what it was like to live underground so many centuries ago. It's a mind boggling visit.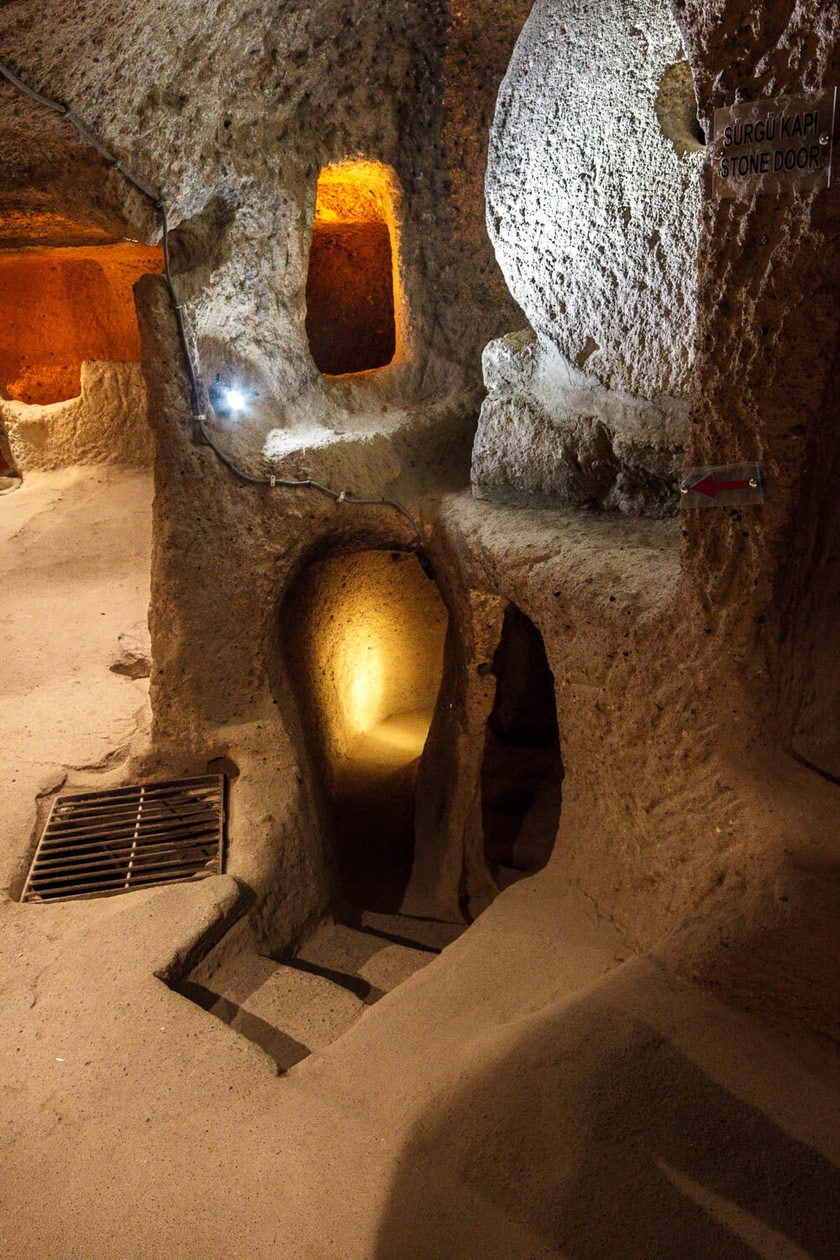 Check out an overview of my visit to Kaymakli Underground City, find out how to hire your guide, and compare and contrast Kaymakli and Derinkuyu [HERE]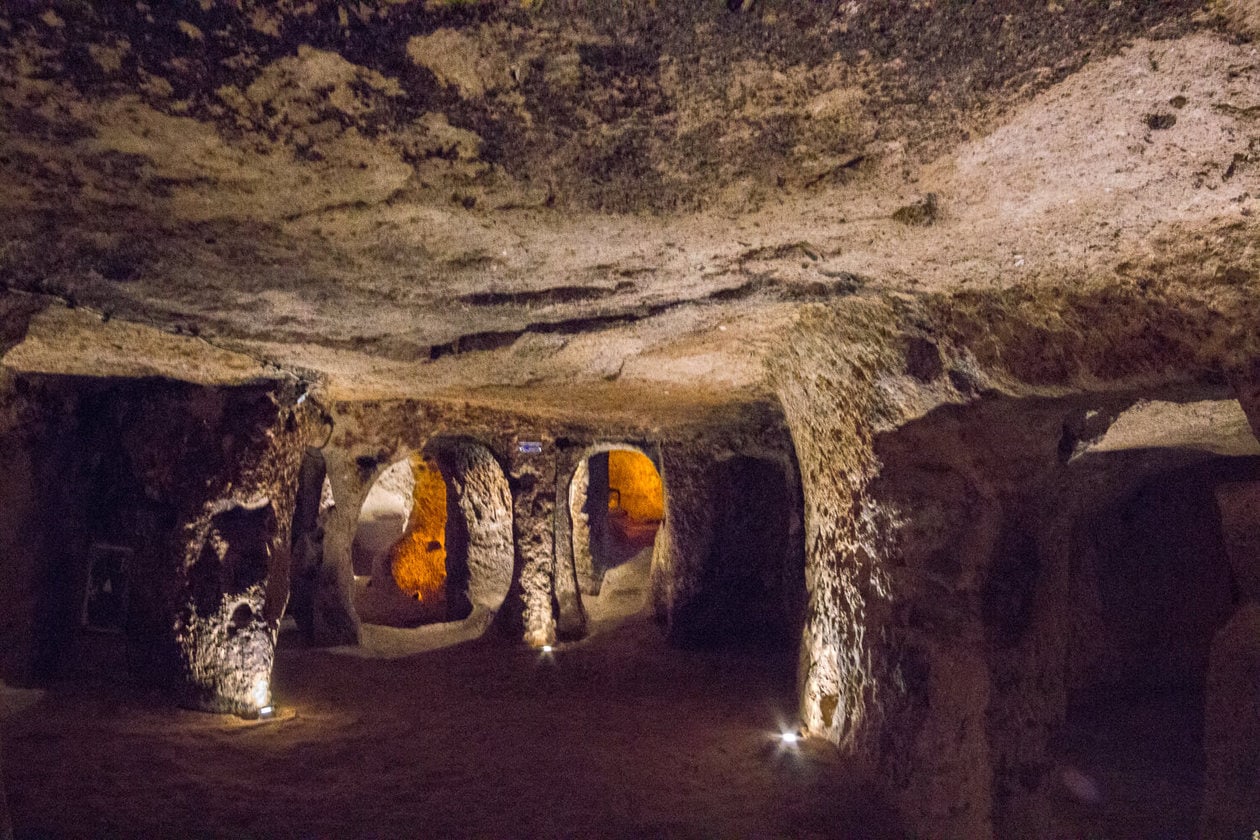 After your visit to the underground cities, you'll probably be ready for lunch. You can either eat at one of the local restaurants nearby, or head back to Goreme.
Love Valley or Pigeon Valley
This afternoon, choose between a visit to Love Valley or Pigeon Valley.
Pigeon Valley is on the way back to Goreme from the underground cities. It's an easy walking trail (4km / 2.5 miles)  and the valley is known for it's thousands of pigeon houses that have been carved into the rocks. You'll get a beautiful view from the top and also discover the famous wishing tree with hundreds of blue Turkish evil eye beads.
Love Valley is another easy hike (4.1km / 2.5 miles) in Cappadocia known for it's infamous phallic shaped rock formations. Yep, just 100's of million year old penis rocks standing at attention in the middle of the valley.
Sunset
When the sun beings to set, you have the choice to either go back to the Red Valley Panoramic Viewpoint (like I did), or check out another view at Sunset Point. Sunset Point is located in Goreme and it's the most popular sunset spot in Cappadocia. Like the Red Valley Viewpoint, they also have a small cafe serving beer, wine and soft drinks. Sunset Point is a little more crowded than the Red Valley Viewpoint, so get there early for a good seat.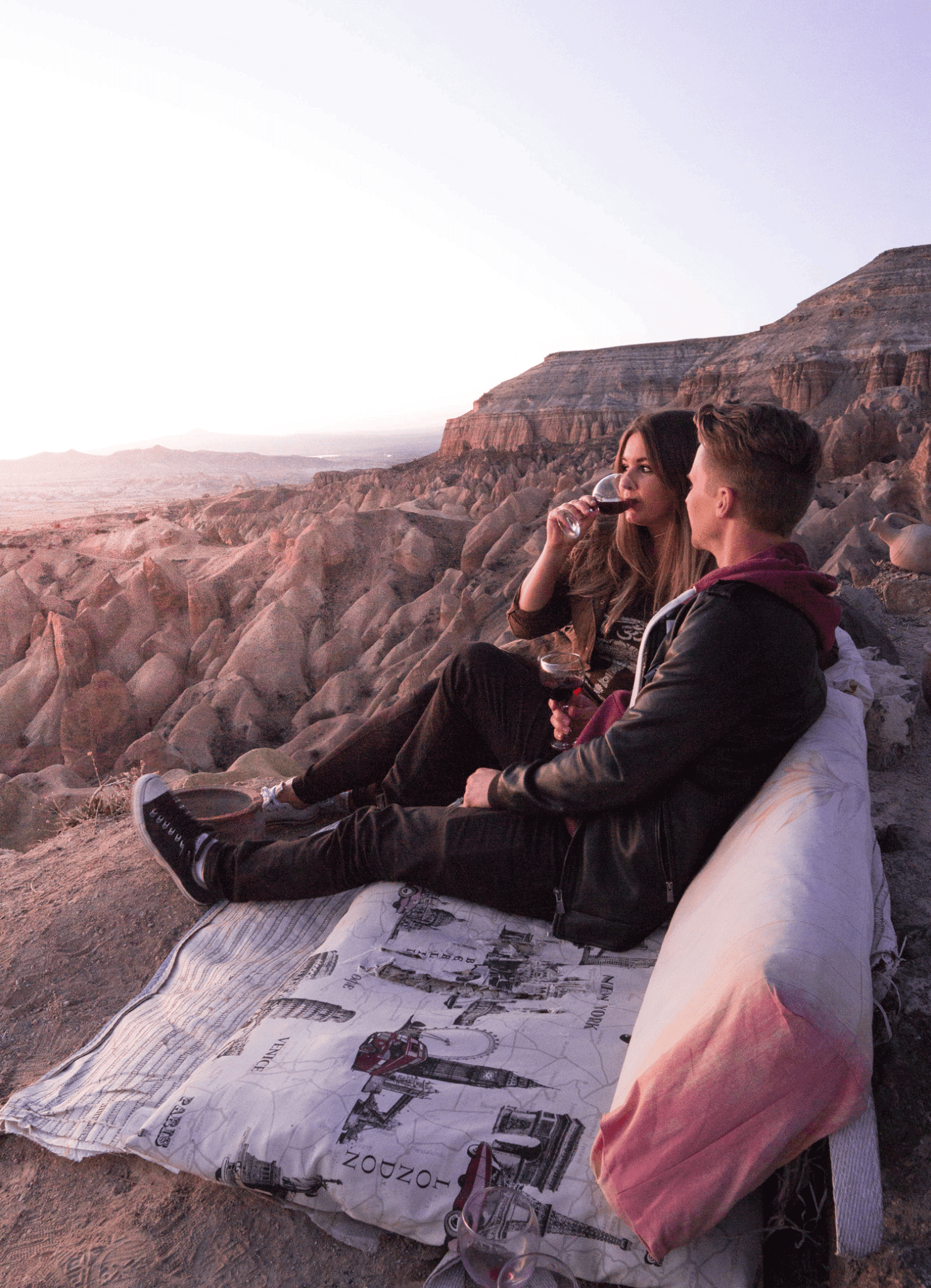 If you're visiting Cappadocia during the warmer months, another option is to eat dinner during sunset at Nostalji restaurant. They have a rooftop dining area with a great view. I was disappointed that weren't able to do this because it was still cold in March and their outdoor dining area was closed.
Day 3
Hot Air Balloons, Again 🙂
Another hot air balloon sunrise! If you flew in a balloon yesterday, enjoy the view from the ground this morning. If you didn't fly yesterday, pick a new viewing spot this morning for a different perspective.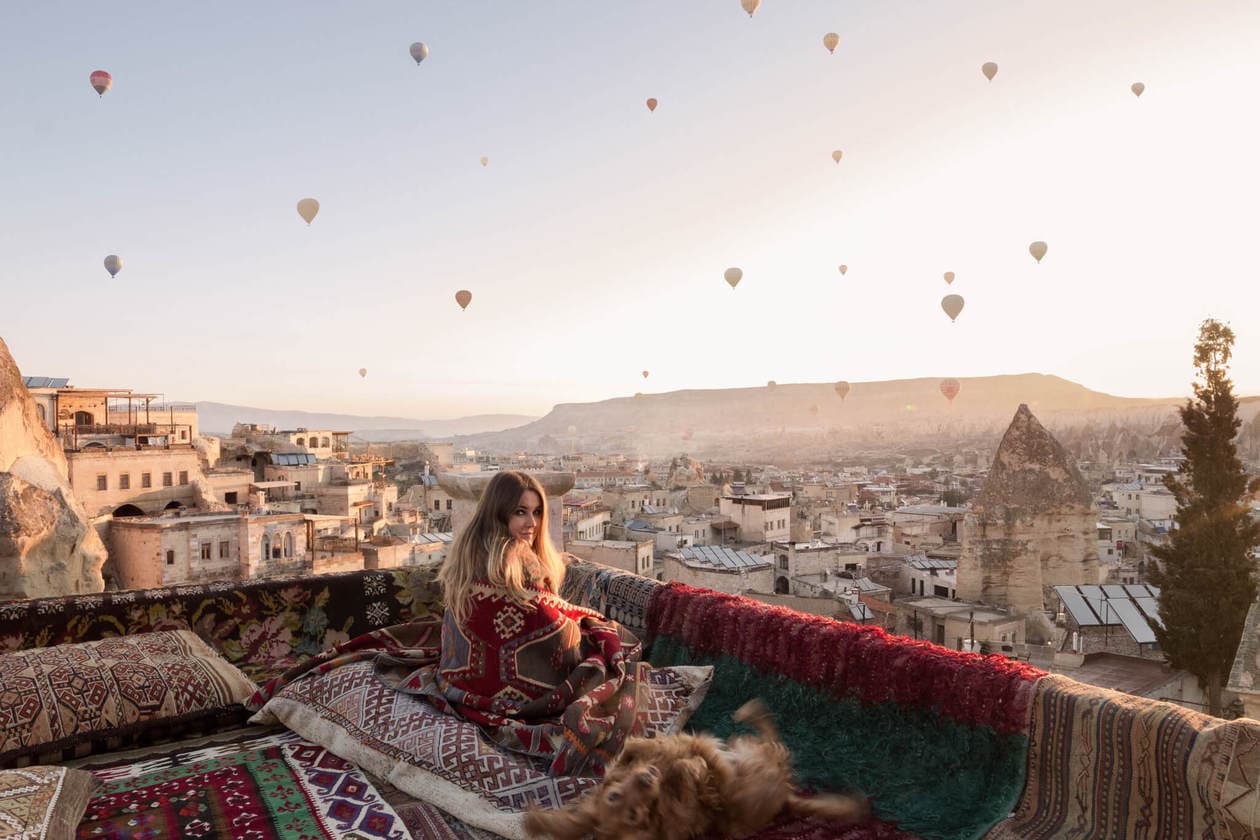 At 7:30 head back to your room to get ready and eat breakfast.
Rose Valley
After breakfast, you'll be driving a short 5 minutes out of Goreme to Rose Valley. Rose Valley is one of the most popular hikes in Cappadocia, and is most famous for it's vibrant colored rose and yellow rocks. It's an easy hike and you can spend as long as you'd like walking around, checking out the landscape and popping into cave churches along the way. The trail is between 4-5km (2.5-3 miles).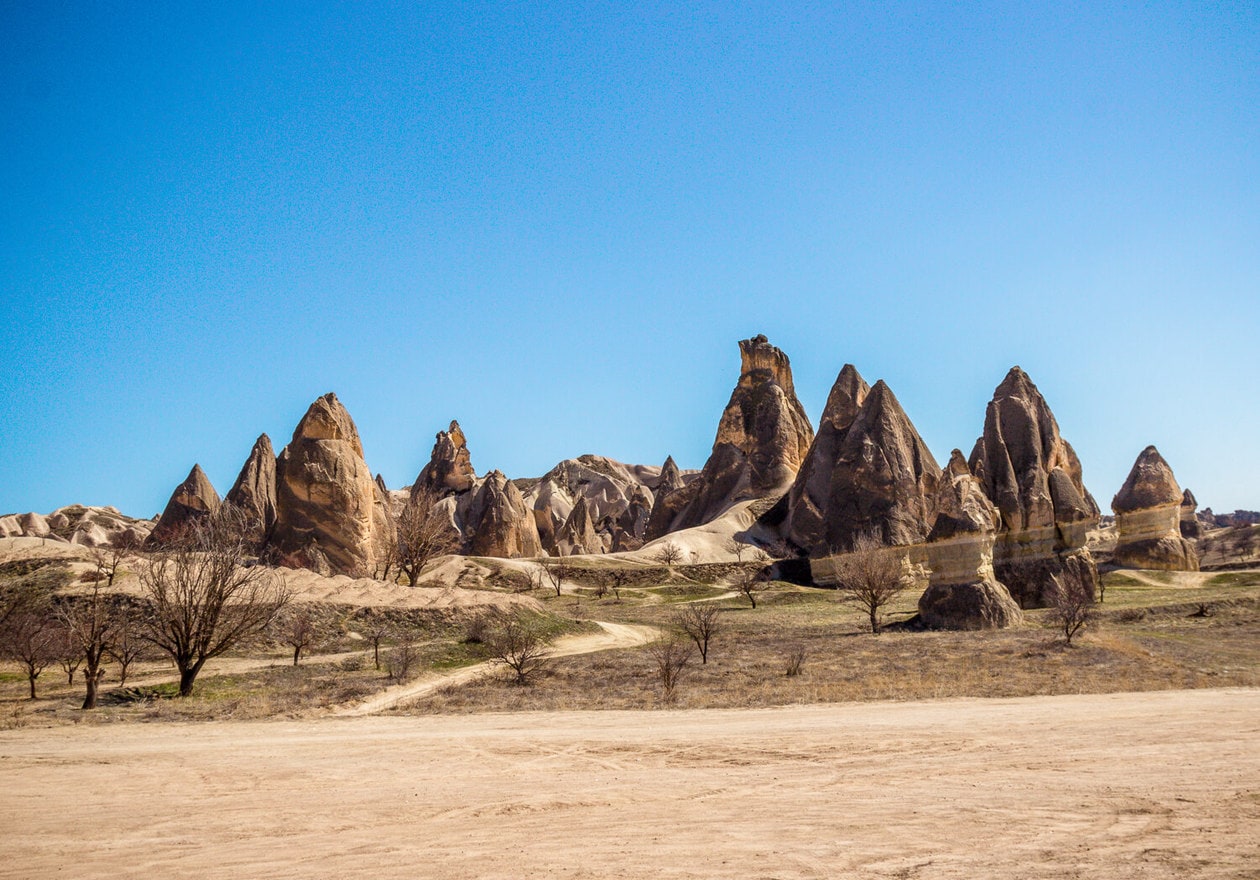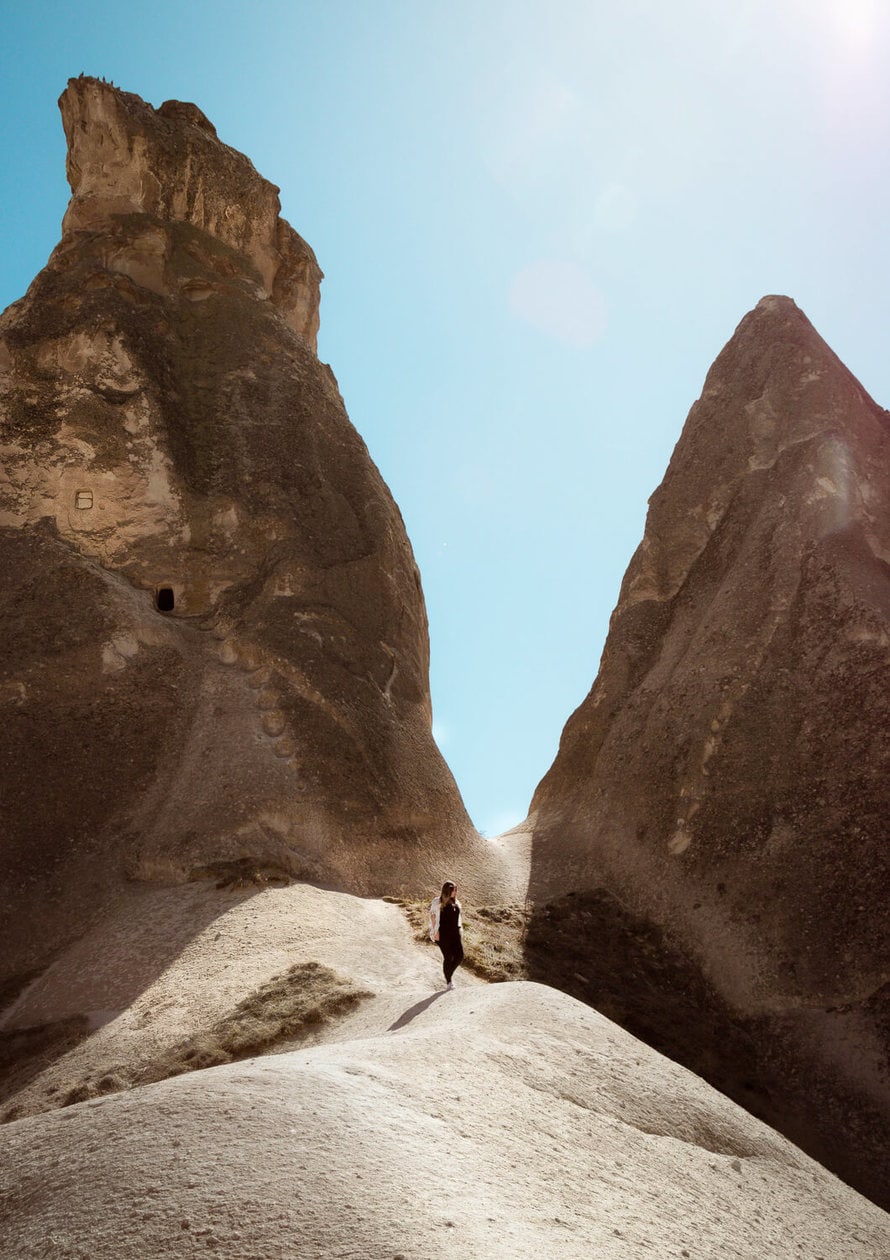 If you don't feel like hiking, you can rent ATV's in Goreme or even horseback ride through the valley.
Cavusin
From Rose Valley, you can hike to Cavusin or drive another 5 minutes up the road to reach it. Cavusin is home to the oldest and largest cave church in Cappadocia. The Church of St. John the Baptist is located at the top of the hill, and it's an interesting and very easy walk up. A stop in Cavusin takes about 1 – 2.5 hours.
Read my post and view more photos of Cavusin [HERE]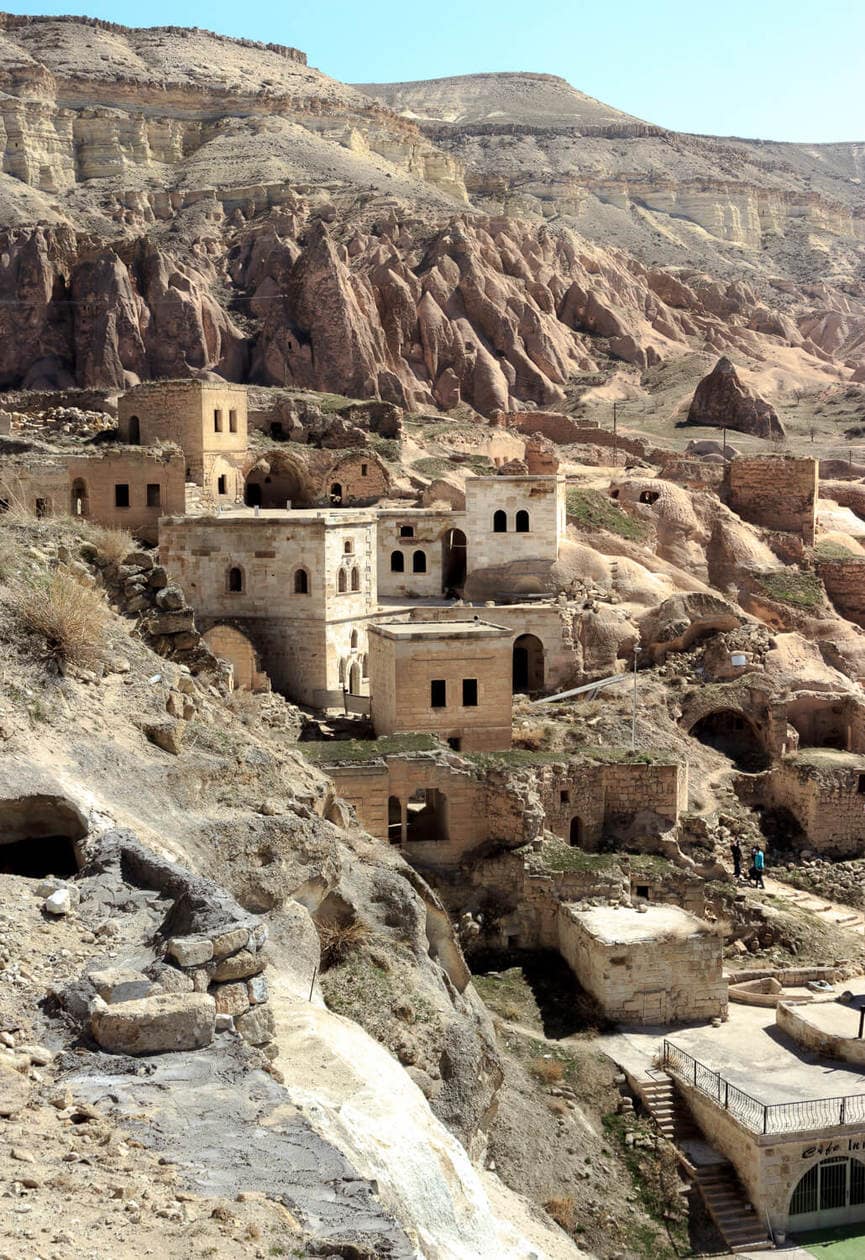 Pasabag Valley
From Cavusin, head 3 more minutes up the road to Pasabag Valley (also known as Monks Valley). This is another easy stop with not much hiking, and it's is one of the best places to see the fairy chimneys. A stop here takes 1.5-3 hours depending on how in deeply you want to explore. You can also head a little further into the park to visit Zelve Valley and the Zelve Open Air Museum, a Byzantine-era monastery.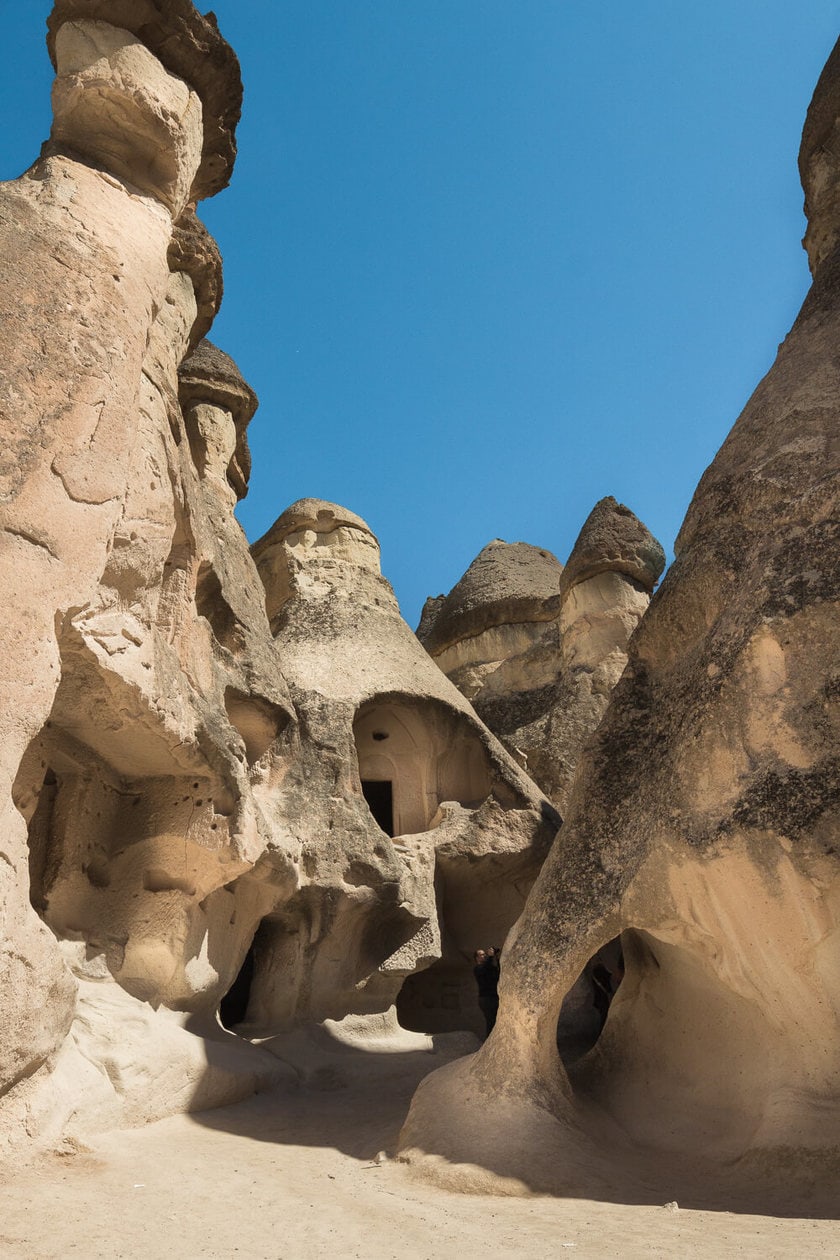 Avanos or Devrent Valley
If you have time…
From Pasabag, Avanos is only 3 minutes away. It's a town renowned for it's pottery. Alternatively, if you're not sick of valleys, you can hit up one more and check out Devrent Valley (also known as Imagination Valley).
In Avanos, spend an hour or two walking around the town and grabbing a bite to eat.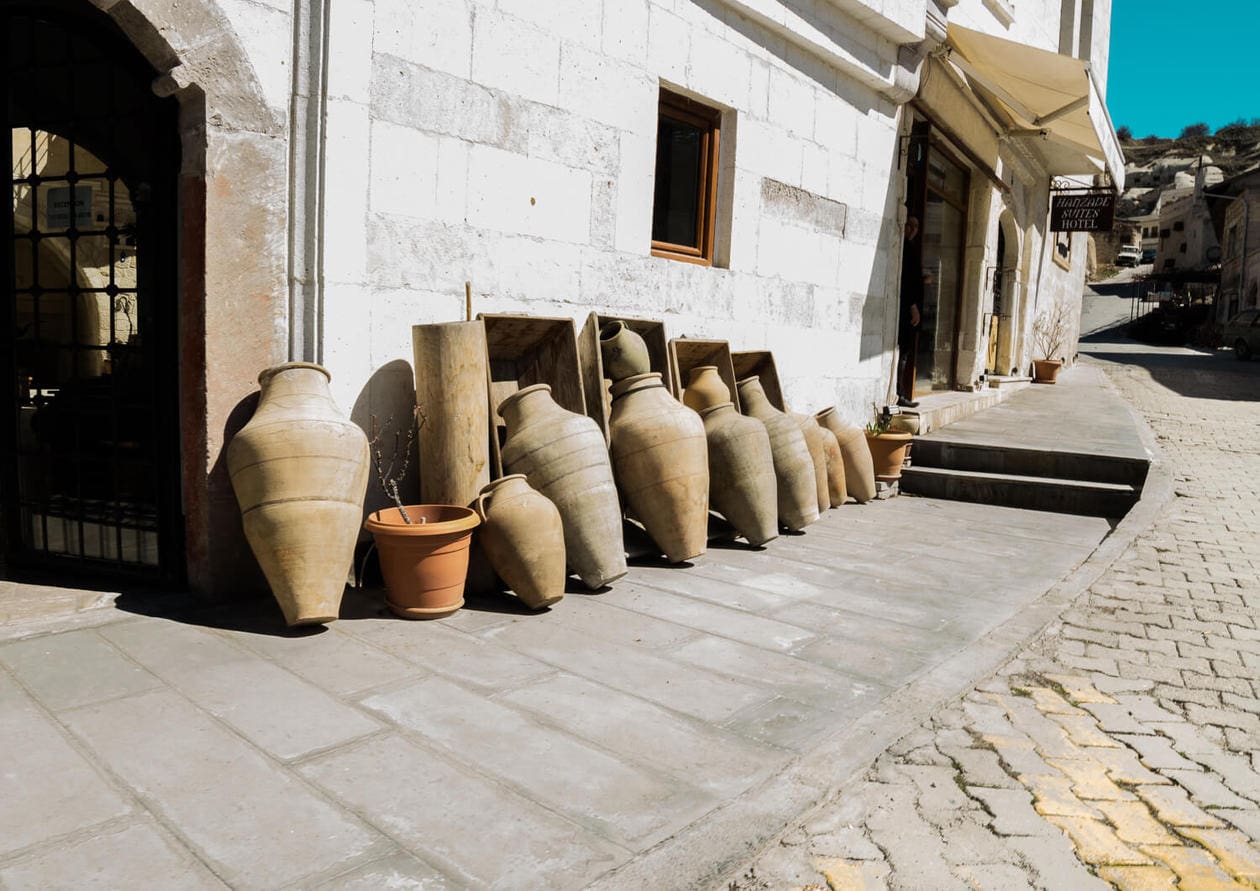 Devrent Valley is known for it's moon-like landscape and unique rock formations, many of which appear to have taken on the shapes of animals. There's a camel, a seal and several other animal shaped formations to get your imagination going.
If you have an afternoon flight, head to the airport from your last stop. If you're flying out tomorrow morning, make your way back into Goreme for the afternoon.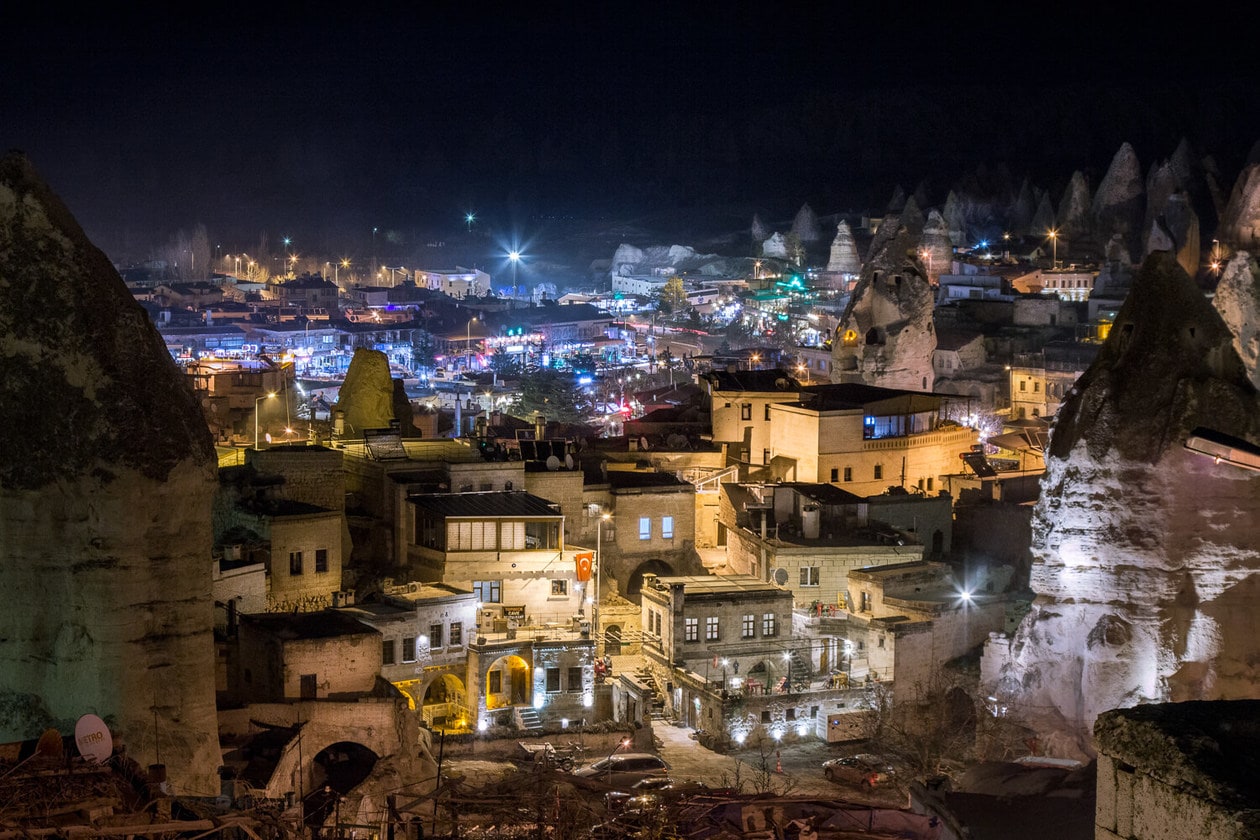 Don't Have a Car? Take a Tour:
If you don't have a car, you can take one of the popular tours in the area. This takes the guesswork out of what to do in Cappadocia as all of the tour companies pretty much follow the same route. You have the option of joining the Red Tour or the Green Tour, each exploring different areas in the region.
Green Tour
The Green Tour of Cappadocia visits Goreme Esentepe Panoramic Viewpoint, Derinkuyu Underground City, Ihlara Valley, Belisirma Village, Yakraphisar Panorama, Selime Monastery, Pigeon Valley, and an Onyx Workshop
Red Tour
The Red Tour of Cappadocia visits the Red Valley, Cavusin, Pasabag Valley, Avanos Pottery Demo, Deverent Valley, Urgup Fairy Chimneys and Ortahisar Castle.
Both tours last from apprx 9:00am-6:00pm and include entrance fees, a guide, lunch and transportation.
---
PIN IT : What to Do in Cappadocia // A 3 Day Sample Itinerary