As the sun rises over Goreme, hundreds of colorful hot air balloons fill the sky. Their journey is a quick one, but it's magical. Whether you decide to fly a balloon while in Cappadocia, or partake in the experience from the ground, you will not regret this sunrise. Keep reading to find out why I didn't take a Cappadocia hot air balloon ride and discover 6 of the best viewpoints if you decide to sit this one out as well!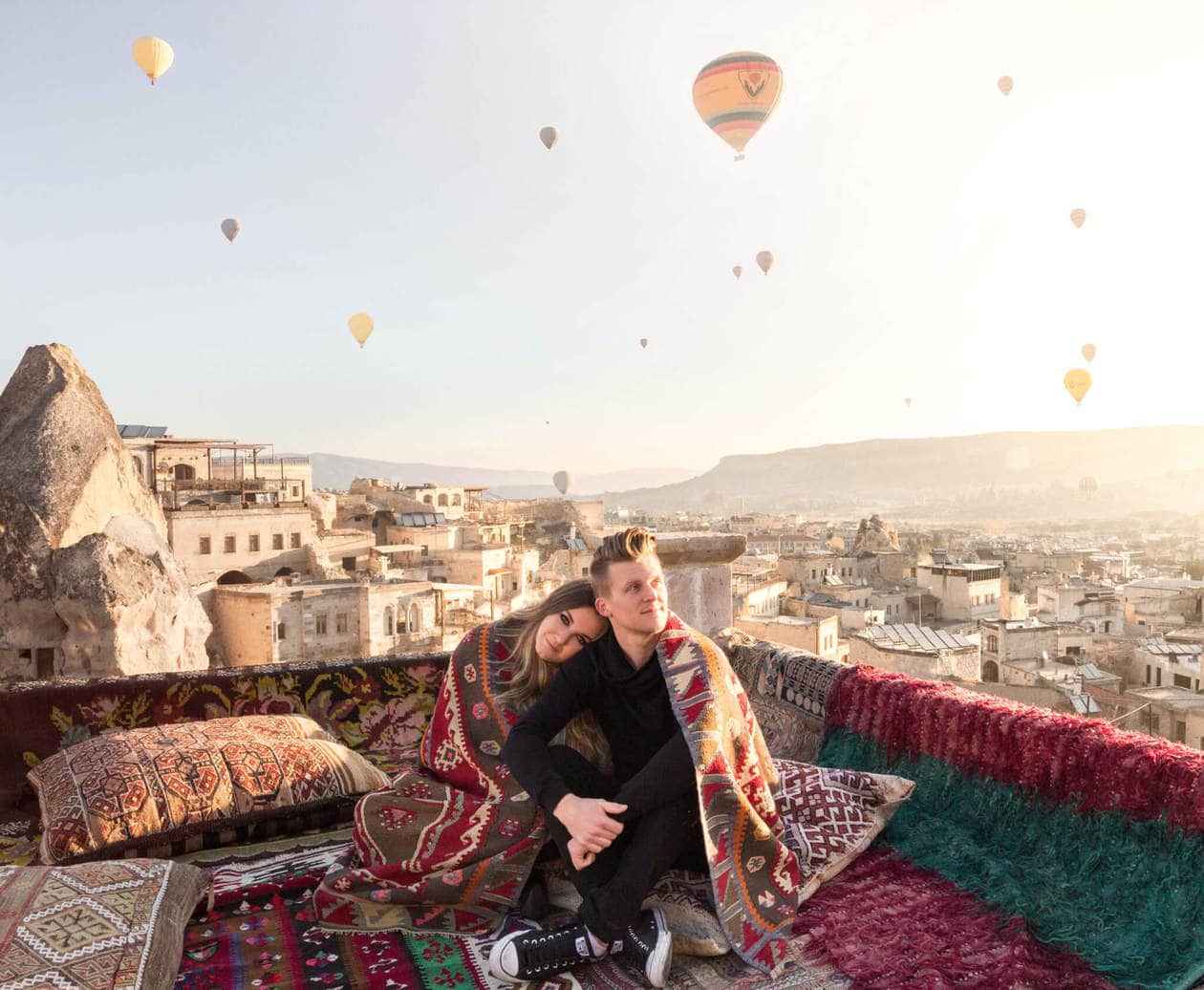 IS A CAPPADOCIA HOT AIR BALLOON RIDE SAFE?
While I was in Cappadocia, several people contacted me, concerned about the safety of the hot air balloon rides.
Yes, there have been accidents in the past, but 100's of balloons fly over Cappadocia every single day and the statistics of something going wrong are extremely low.
To fly a hot air balloon in Cappadocia, a pilot needs two separate licenses. They have had at least 15 months and 200 hours of training, at which point they are then they hired for mentoring. Pilots are also required to renew their license every 2 years and undergo medical checks every 5 years.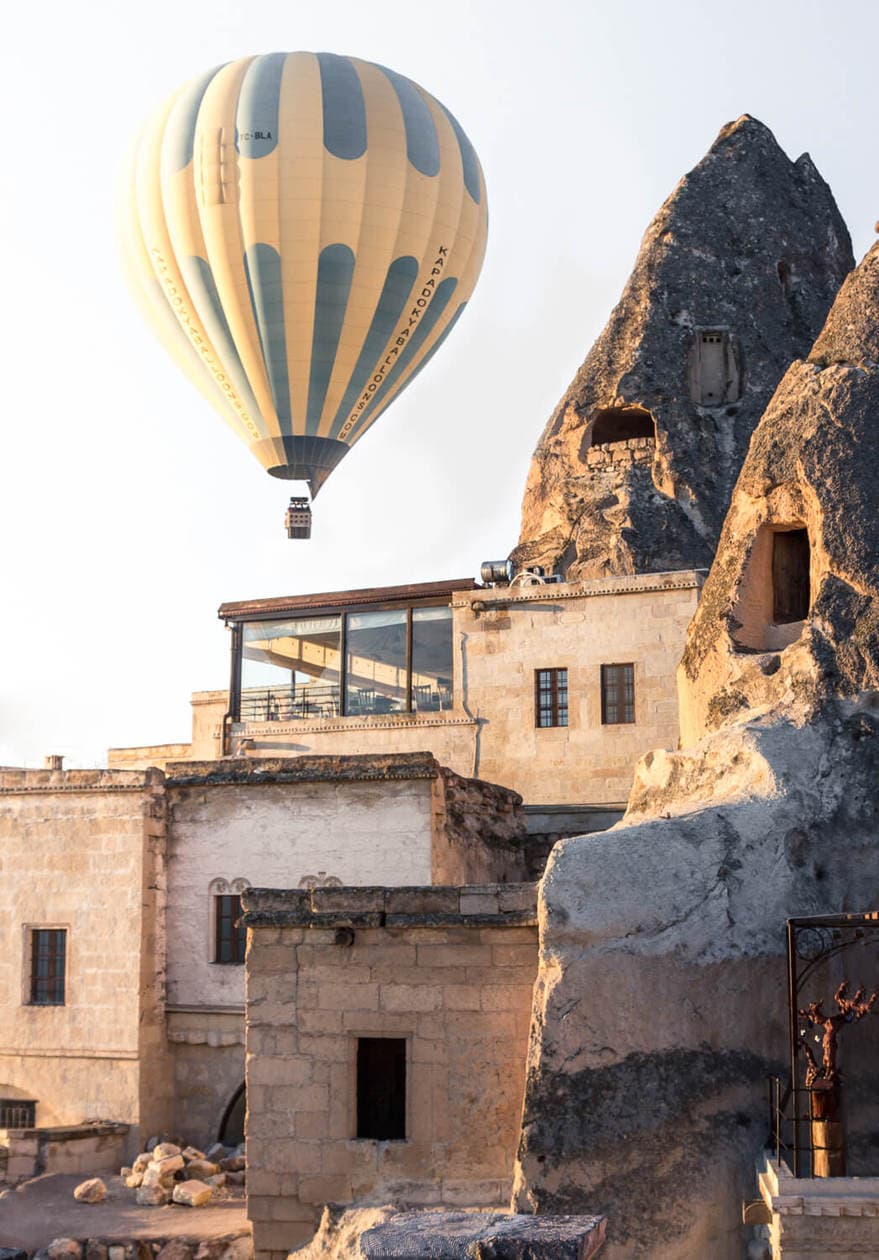 It's a serious business, their livelihood, and safety is a top concern among the balloon companies.
The Turkish Government has also set regulations as to how many balloons are allowed to be in the sky at one time, they require GPS to be in each balloon, and even require pilots to speak a certain level of English. Companies are also required to test their balloons and log their results regularly.
If you're concerned about safety, choose a reputable company and request their most experienced pilot.
Don't miss out on something because of fear. Miss out on it because 24 people floating in small basket, all jockeying to take the same photo sounds miserable.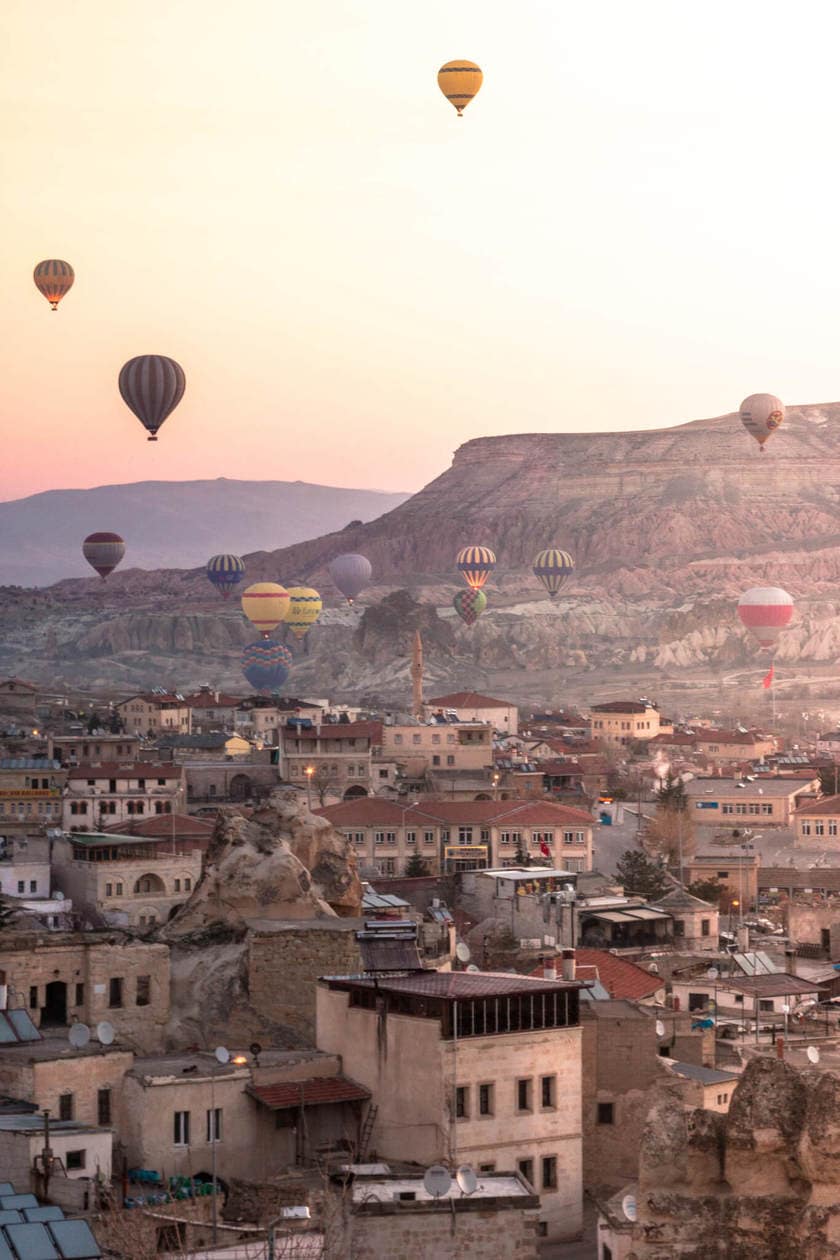 WHICH CAPPADOCIA HOT AIR BALLOON COMPANY?
Before I decided against taking a balloon ride, I thoroughly researched all of the major companies in the area.
Royal and Butterfly Balloons ended up being my top two choices. While these companies are not the cheapest in Cappadocia, their stats, safety record and experience (somewhat) justify their price point.
For an in-depth list of Cappadocia hot air balloon options with prices, click here. 
(These are not sponsored endorsements).
ROYAL BALLOONS
Royal Balloons is the #1 Cappadocia Hot Air Balloon company on TripAdvisor.
They seem extremely concerned about safety and they have some of the most experienced pilots. Their balloons are built by the Cameron Balloons & Lindstrand Balloons, the most prestigious hot air balloon producers in the world.
Also, their standard balloon flight has a maximum of 16 passengers, so you won't be overly crowded in a basket.
CLICK HERE TO BOOK WITH ROYAL BALLOONS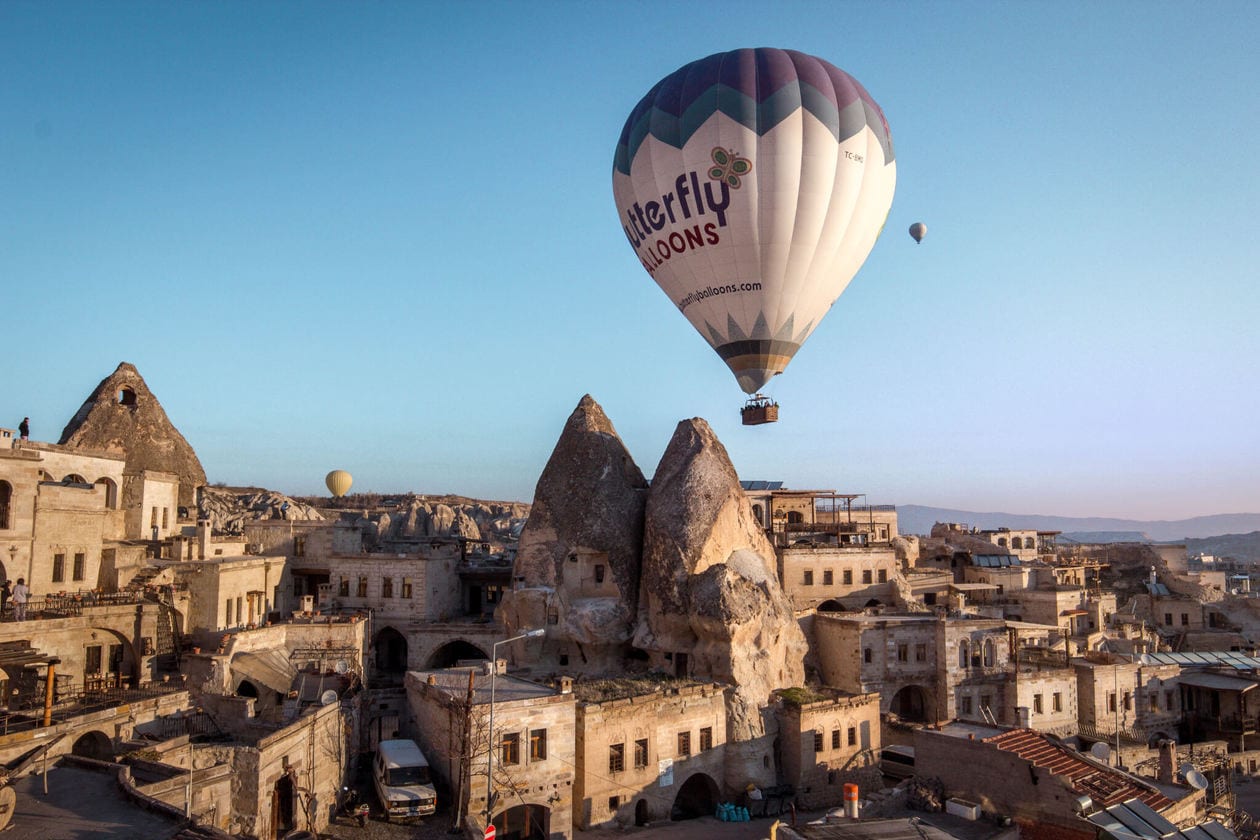 BUTTERFLY BALLOONS
Butterfly Balloons is a boutique Cappadocia hot air balloon company.
Like Royal Balloons, safety is their #1 concern. They have excellent reviews on TripAdvisor and were the balloon company of choice for Rick Steves when he was in Cappadocia. Who doesn't trust Rick Steves?
Butterfly Balloons also has their balloons custom made by Cameron Balloons in the UK, as well Ultramagic in Spain. Their maximum basket capacity is also 16 people.
CLICK HERE TO BOOK WITH BUTTERFLY BALLOONS 
Another great resource for choosing a company to fly with: CaptivatingCappadocia.com took the liberty of interviewing and comparing every Cappadocia Hot Air Balloon company. Check it out here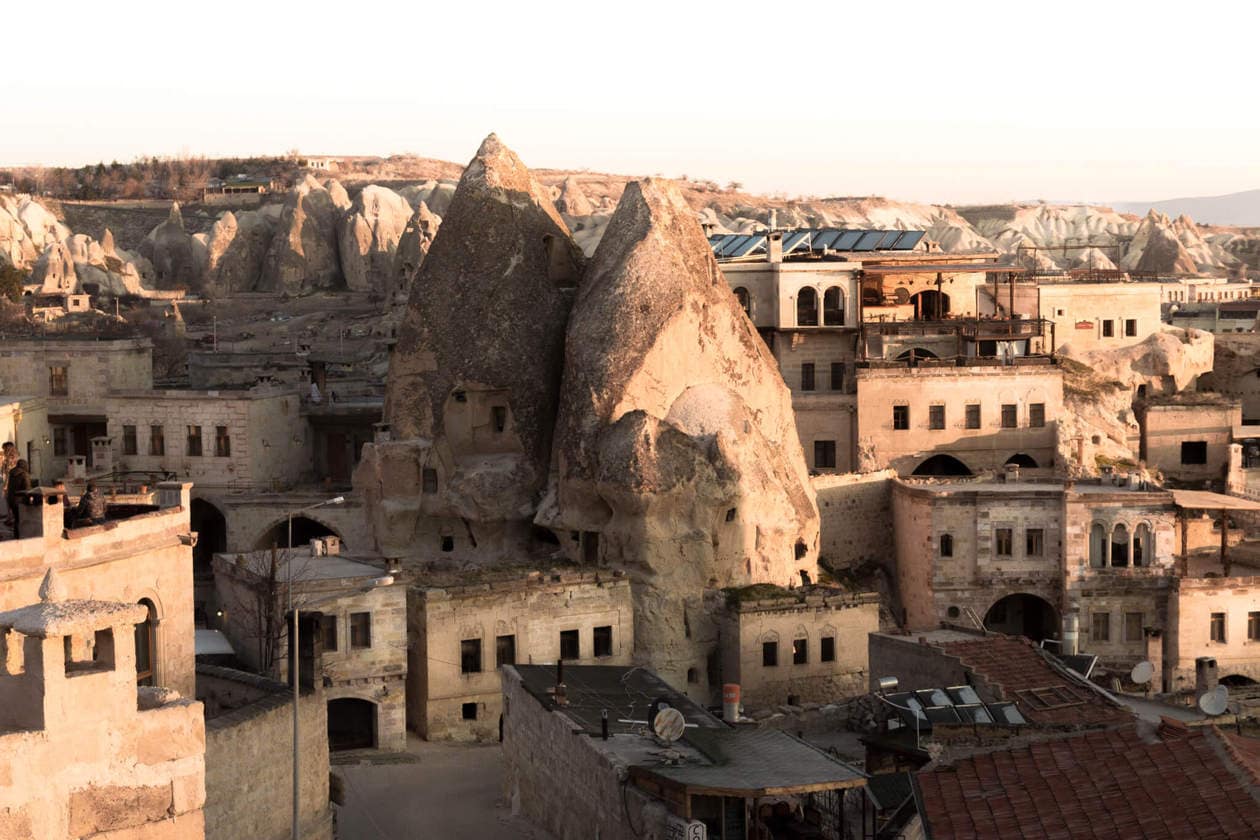 WHY I DECIDED AGAINST A CAPPADOCIA HOT AIR BALLOON RIDE
The Cappadocia Hot Air Balloon ride has held a high ranking spot on my bucket list for years. It's always been my dream to spend the morning floating over Goreme, so I actually surprised myself by making the decision not to do this.
PRICE + BASKET CAPACITY
Price doesn't usually play a large factor in my decision not to do something, especially if it's on a bucket list adventure. However after checking with several balloon companies in Cappadocia, I was surprised at how expensive the balloon rides are.
For a standard flight, prices averaged from 200-400 euro per person and the capacity on a standard flight is between 16-24 people!
While there are separate compartments in the basket (fitting up to 6 people each), that's still too crowded for me. I also didn't want to risk spending that much money and not getting a spot at the edge of a basket.
Alternatively, you have the option of arranging for a deluxe flight which fits between 8-16 people in a basket, and those range from 175-250 euro per person.
Most of the flights are only an hour long, so I didn't feel the cost would be worth it this time around. When I can afford a private balloon ride over Cappadocia, I will definitely be back.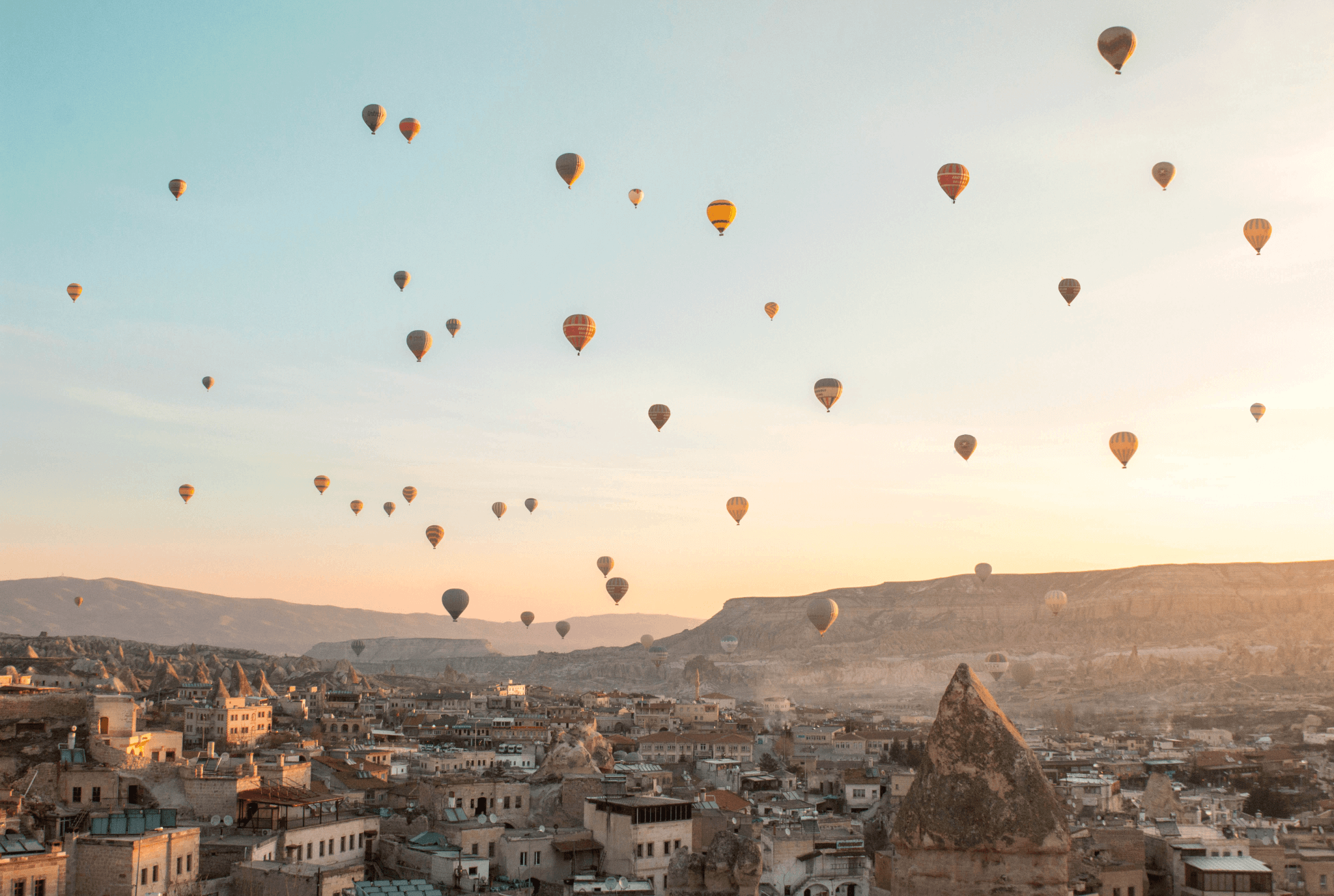 PHOTOS
Photos are a major driving factor in many of my travel decisions. When researching the best photos of the balloons, I realized that my favorite images were taken from the ground.
While the view of Goreme from above would undoubtedly make for good pictures, I preferred the sweeping panorama of the entire scene from a distance.
6 of the Best Cappadocia Hot Air Balloon Viewpoints to Watch from the Ground
SUNSET POINT
Sunset point is the most popular lookout in Goreme.
Situated directly above the town, this spot will give you one of the best panoramic views of the balloons. It's a short trek if you don't have a car, so plan on leaving early to make sure you get there in time to grab a good spot.
Also check out Sunset Point during sunset. There's a little cafe up there that serves beer and wine.
CAVE HOTELS
One of the best and easiest options to watch the hot air balloons is to roll out of bed and simply walk outside of your cave hotel.
When booking a room in Cappadocia, an amazing view of the balloons was my #1 priority. We ended up booking with
Mithra Cave Hotel
(
review here
). It was located on the top of the hill behind the town of Goreme.
I couldn't have been happier with the views. As an added bonus,
Sultan Cave Suites
was right next door and the owner was kind enough to let us use his viewing deck for photos.
---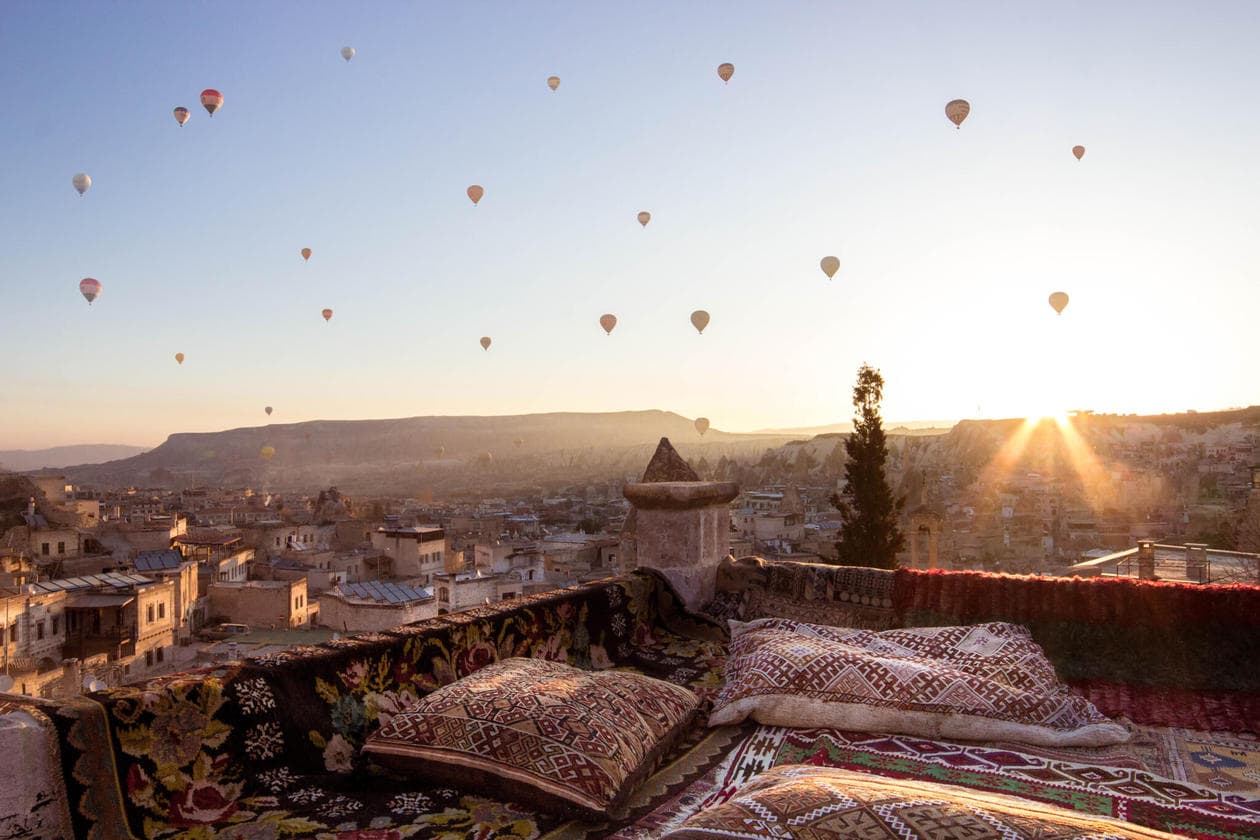 Another cave hotel with great view in Goreme is
Kelebek
. Also make sure to look at
Museum Hotel
and
Rox Cappadocia
in Uchisar. Uchisar is just outside of Goreme situated on a hill, and the views are fantastic.
RED VALLEY PANORAMIC VIEWPOINT
Red Valley Panoramic Viewpoint is one of my favorite sunset spots that I've ever come across.
We never ventured up here at sunrise to watch the hot air balloons but I can imagine it would be an incredible view. It's located a little higher than Goreme so the balloons won't be as up-close, but you'll get a killer panorama of all of Cappadocia.
---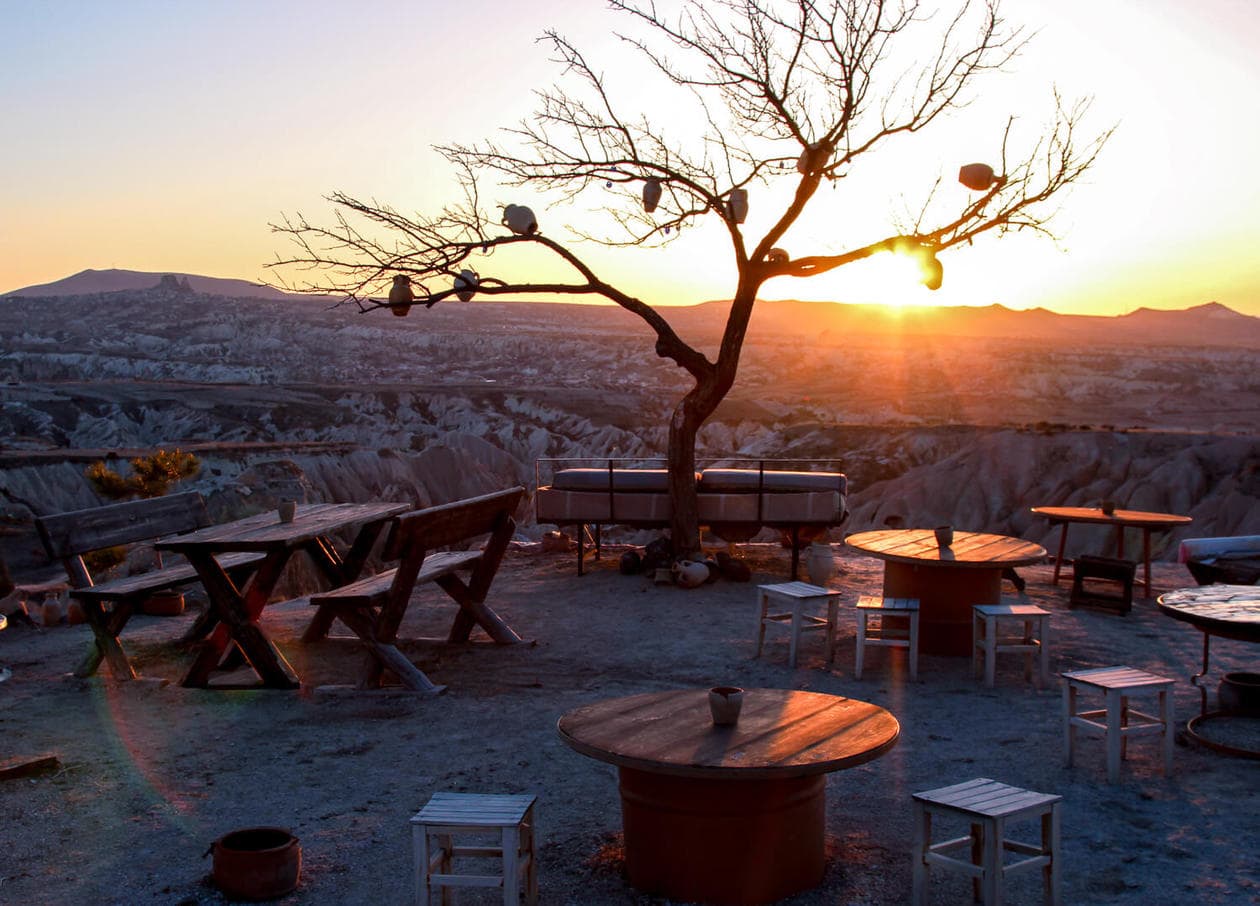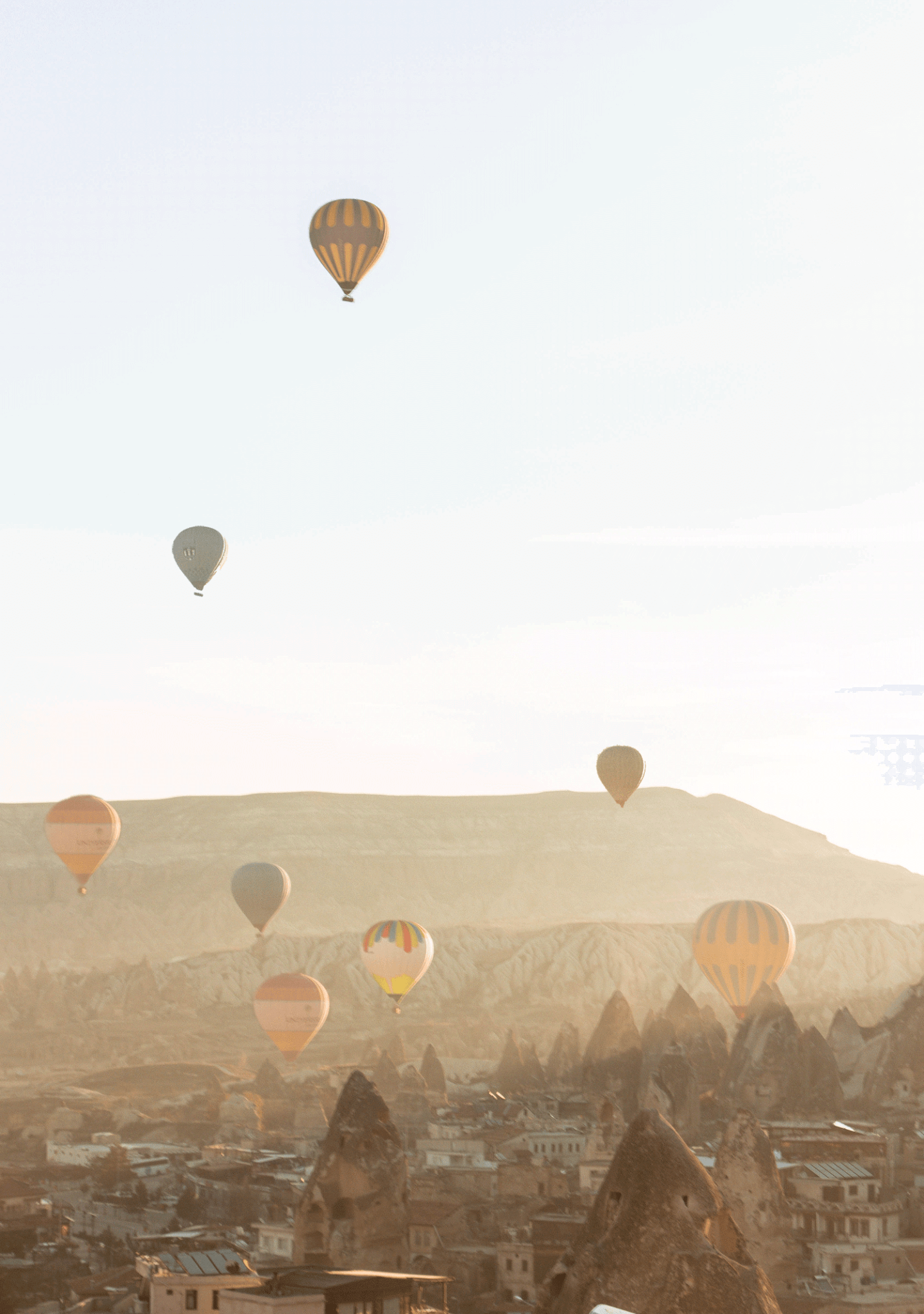 ESENTEPE PANORAMIC VIEWPOINT
Esentepe Viewpoint is on the road between Uchisar and Goreme.
While we didn't come here at sunrise, we briefly stopped in on the way to Uchisar Castle. Judging by its location and the views during the day time, this would be an excellent spot to watch the balloons.
BALLOON LAUNCH ZONE
This view requires an additional step, but it's worth it to get some close up photos of the hot air balloons taking off.
Since the balloon companies alternate their launch sites depending on the weather conditions, you'll need to contact them the day before to see where they'll be launching the next morning.
Try and find some elevated ground near the launch site and watch the balloons rise over the valley.
LOVE VALLEY
Love Valley is located right along the balloons' flight path.
When I look at photos of the hot air balloons from Love Valley, I highly regret not doing this. Unfortunately, I was unable to pinpoint exactly where to go, and I didn't know how much hiking it required before sunrise.
I think it's worth checking out.. and if you do it, please update me! When I return to Cappadocia, this is on my hot air ballon viewing to-do list.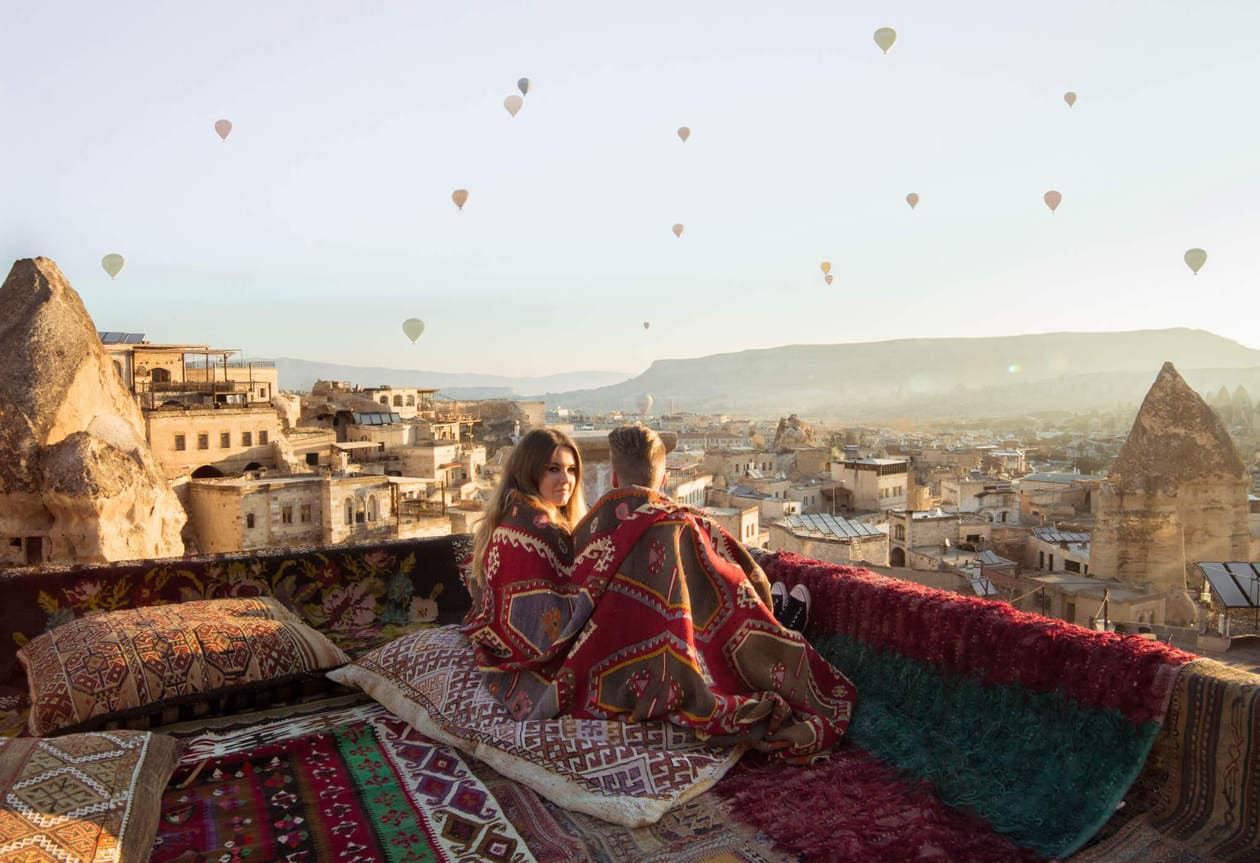 ---
PIN IT // A COMPLETE GUIDE TO CAPPADOCIA HOT AIR BALLOON RIDES

Have you seen the hot air balloons fly over Cappadocia? Leave your favorite viewpoints in the comments!
---
Disclaimer: This post contains affiliate links which means if you click them and purchase something, I receive a small commission (at no cost to you!).