In a region that thrives on tourism, like Cappadocia, it sometimes can be hard to find authentic local cuisine. We were only in the area for a short amount of time but I was determined to eat the best Turkish food I could find. This meant a lot research and even more asking around.
Keep reading for a list of the 7 Cappadocia restaurants to check out, including where to find the most authentic pottery kebab, the prettiest patio and the best food.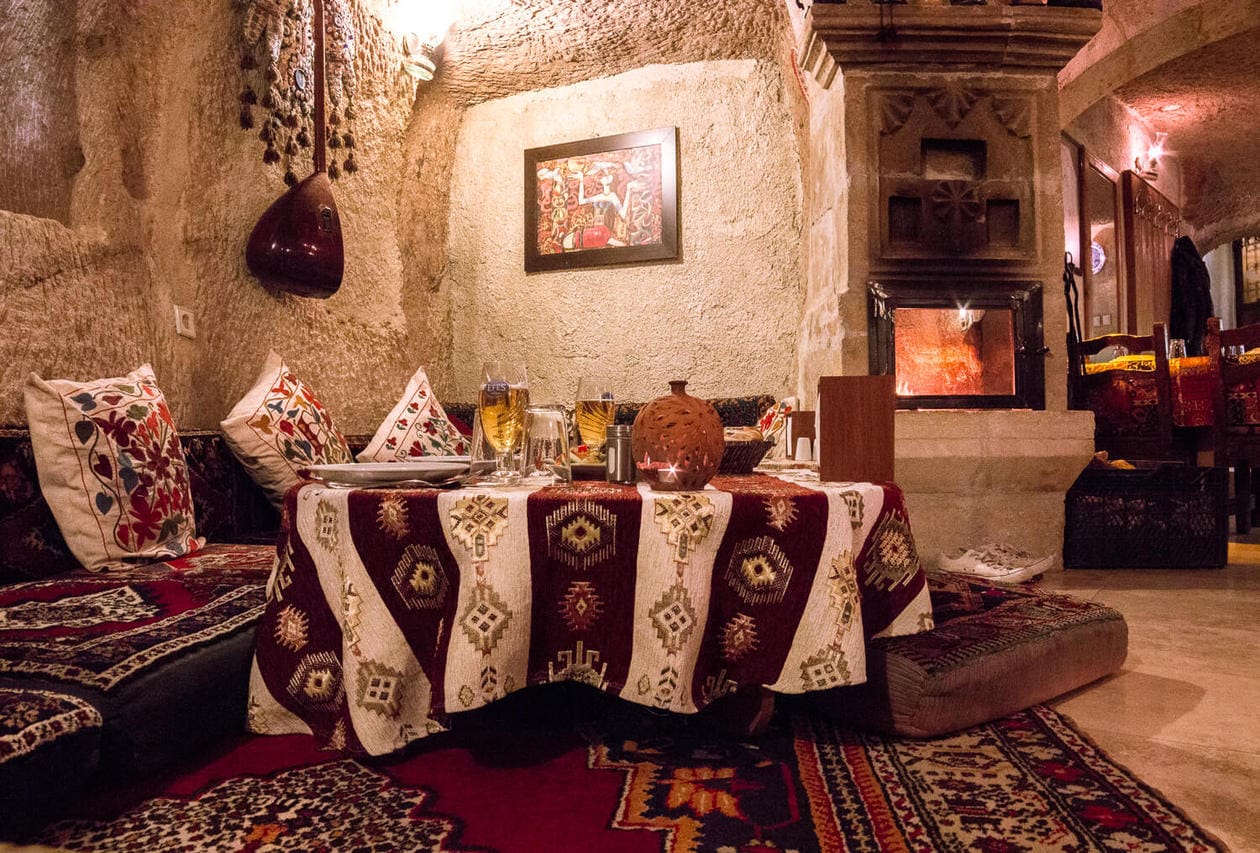 BEST FOOD // DIBEK RESTAURANT
POTTERY KEBABS
One of Cappadocia's most popular dishes is the Testi Kebab, also known as pottery kebab.
This Anatolian speciality is cooked in a sealed clay pot or a jug for a minimum of 4 hours to let the dish simmer in it's own juices. When fully cooked, the waiter brings out the clay pot out and cracks it with a hammer in front of you before serving the meal.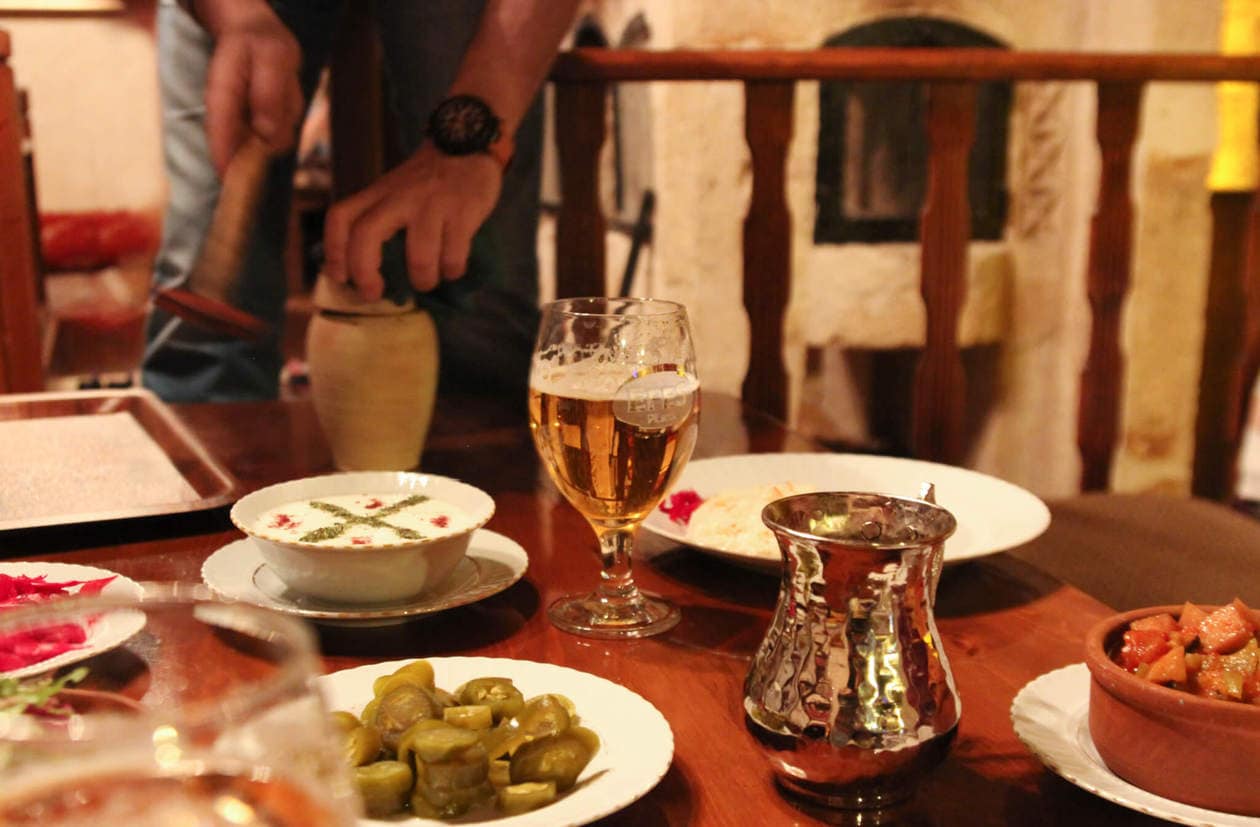 The majority of restaurants in the area pre-cook the jars and then heat them up when a customer orders the dish.
Restaurants that serve authentic pottery kebabs require at least 4 hours notice before you arrive so it's best to call in advance to make your reservation.
I spent a lot of time researching the best and most authentic pottery kebabs in Goreme, and Dibek kept coming up as the best. I don't have a basis for comparison but I can say their pottery kebab was delicious.
When ordering, you have the option of chicken, beef or a vegetarian mushroom kebab. We went with the house recommendation and ordered beef.
The dish is cooked with tomato, pepper, eggplant, potato and garlic, and then served over rice.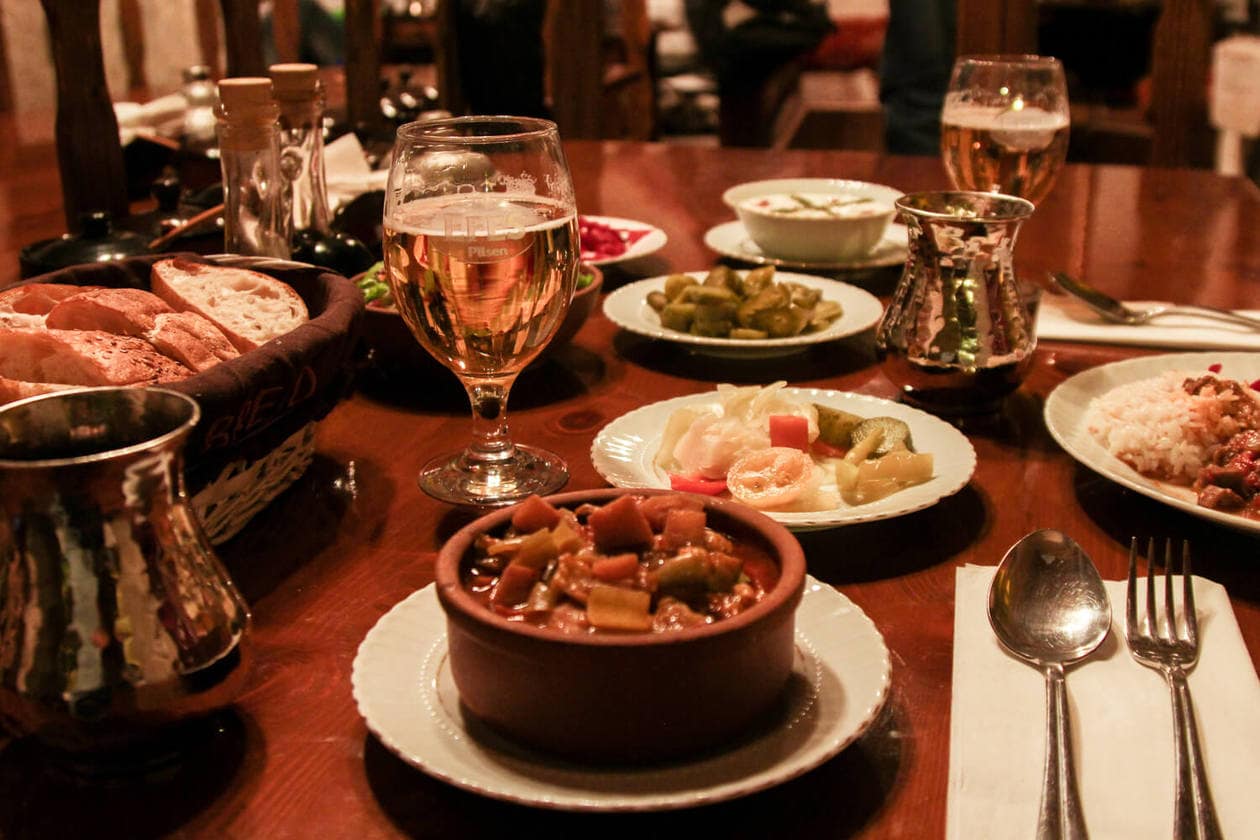 Dibek was one of our favorite Cappadocia restaurants, and definitely the best meal we had in Goreme.
The restaurant is set inside of a 475 year old building and offers traditional Turkish style seating (on the floor) which I always love.
It was also very inexpensive for the amount of food we ordered, and the menu offered several of vegetarian options.
DIBEK RESTAURANT
Konak Sok
50650 Göreme, Turkey
Phone: +90 384 2712209
Menu
---
RELATED POST: RED VALLEY PANORAMA // THE BEST SUNSET SPOT IN CAPPADOCIA
---
BEST AMBIANCE // TOP DECK RESTAURANT
Top Deck Restaurant switches between being the #1 and #2 highest rated restaurants in Goreme on TripAdvisor, and for good reason. The food was delicious, the service was excellent, and it had the best vibes out of all the places we ate.
Top Deck Restaurant is family owned business and the owner was a renowned Goreme chef before opening the restaurant. It's located on the ground floor of the family's house in a small cave, which used to be a stable.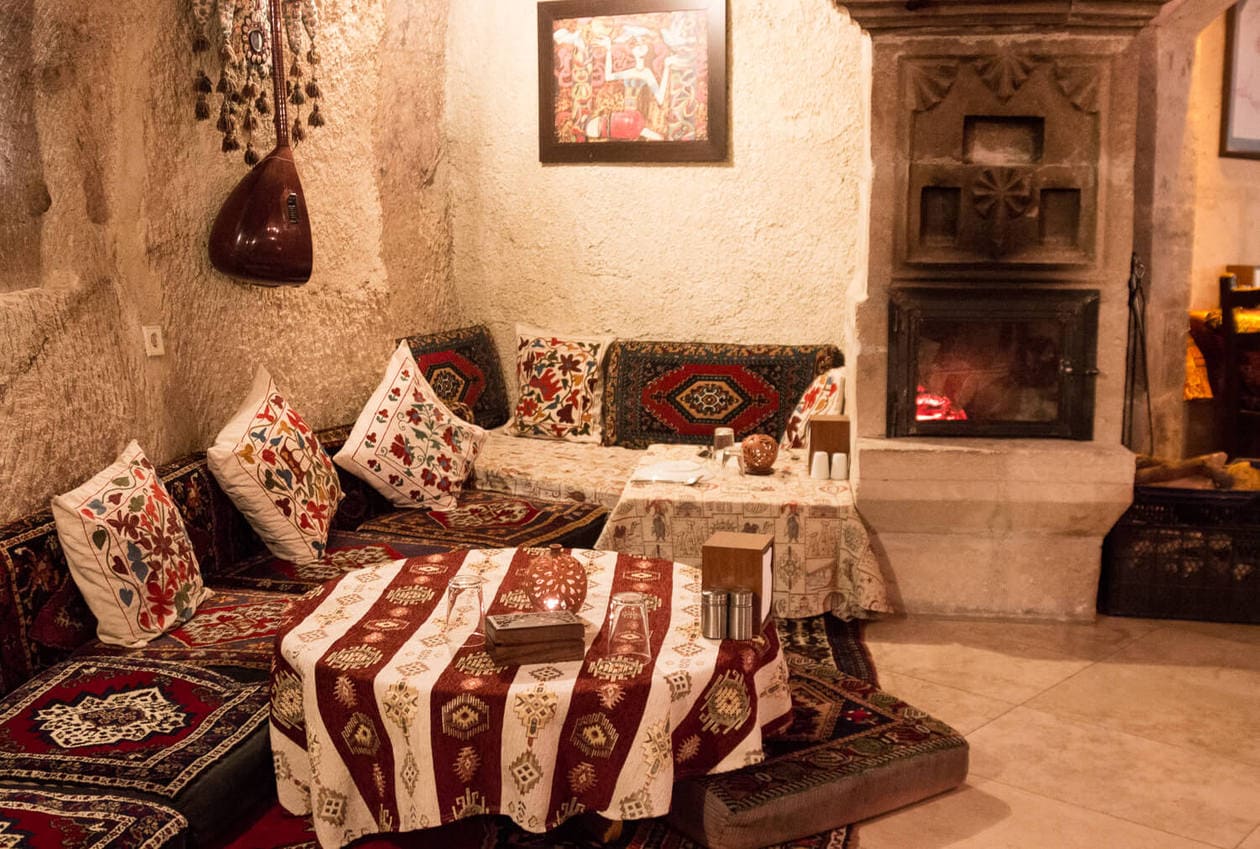 Top Deck is super cozy and intimate. Half of the tables in Top Deck offer traditional Turkish seating but there are also few regular tables if you don't want to sit on the floor.
There are only about 10 tables so it's highly recommended that you make a reservation, especially in the Summer months.
When we were there, they weren't answering their phones, so we tested our luck and walked in around 7pm. Luckily for us it was off season, and there was an open table.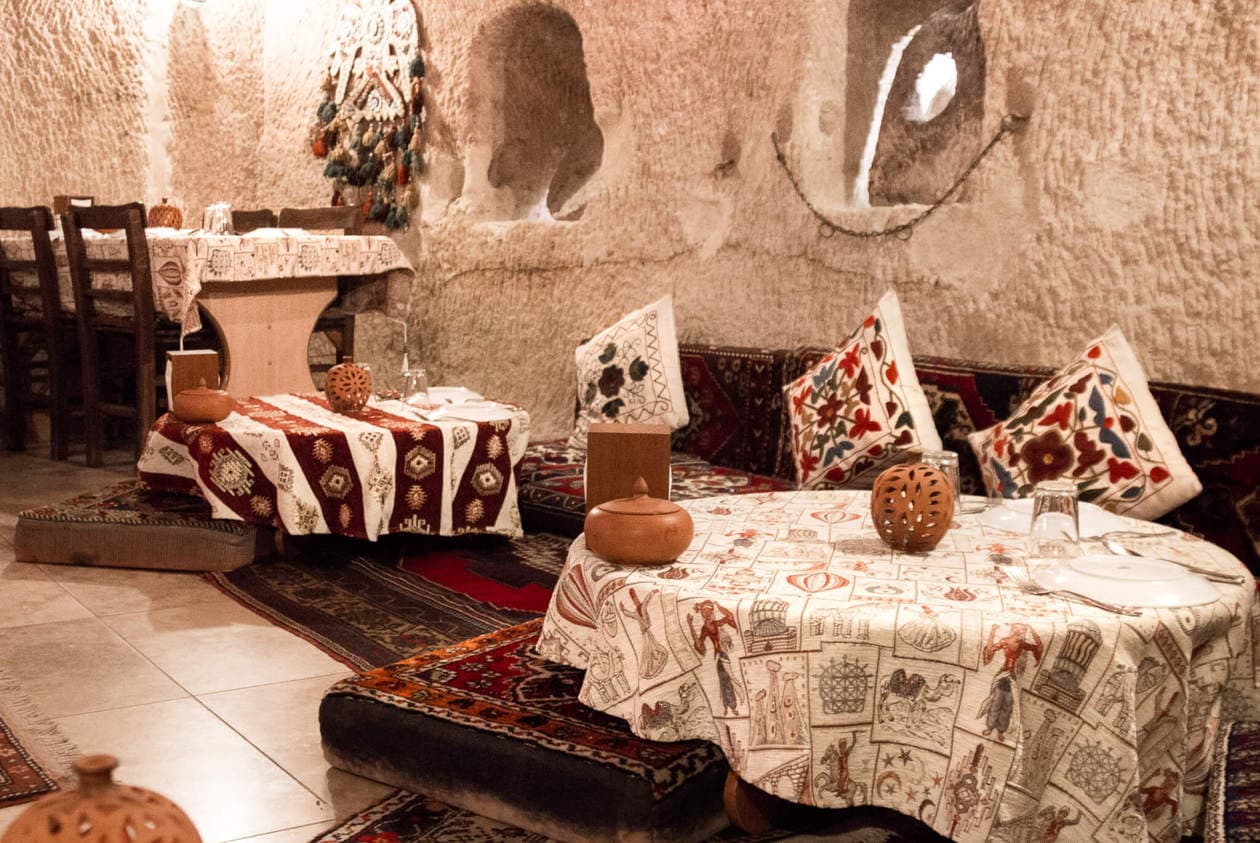 The entrees change every night and there's no set menu.
All of the food is sourced from local farmers and the prices were very reasonable ($8-10 USD an entree). Still, it was the most expensive restaurant we ate at while in Goreme.
TOP DECK RESTAURANT
Hafiz Abdullah Efendi Sok. No. 15
50180 Göreme, Turkey
Phone: +90 384 2712474
---
RELATED POST: SLEEPING IN A CAVE HOTEL // MITHRA CAVE HOTEL REVIEW
---
BEST BUDGET RESTAURANT // CAFE SAFAK
Cafe Safak is family owned restaurant; Ali runs the business while his mother, Fatma, cooks the food. We stopped by here for lunch one day while walking through Goreme.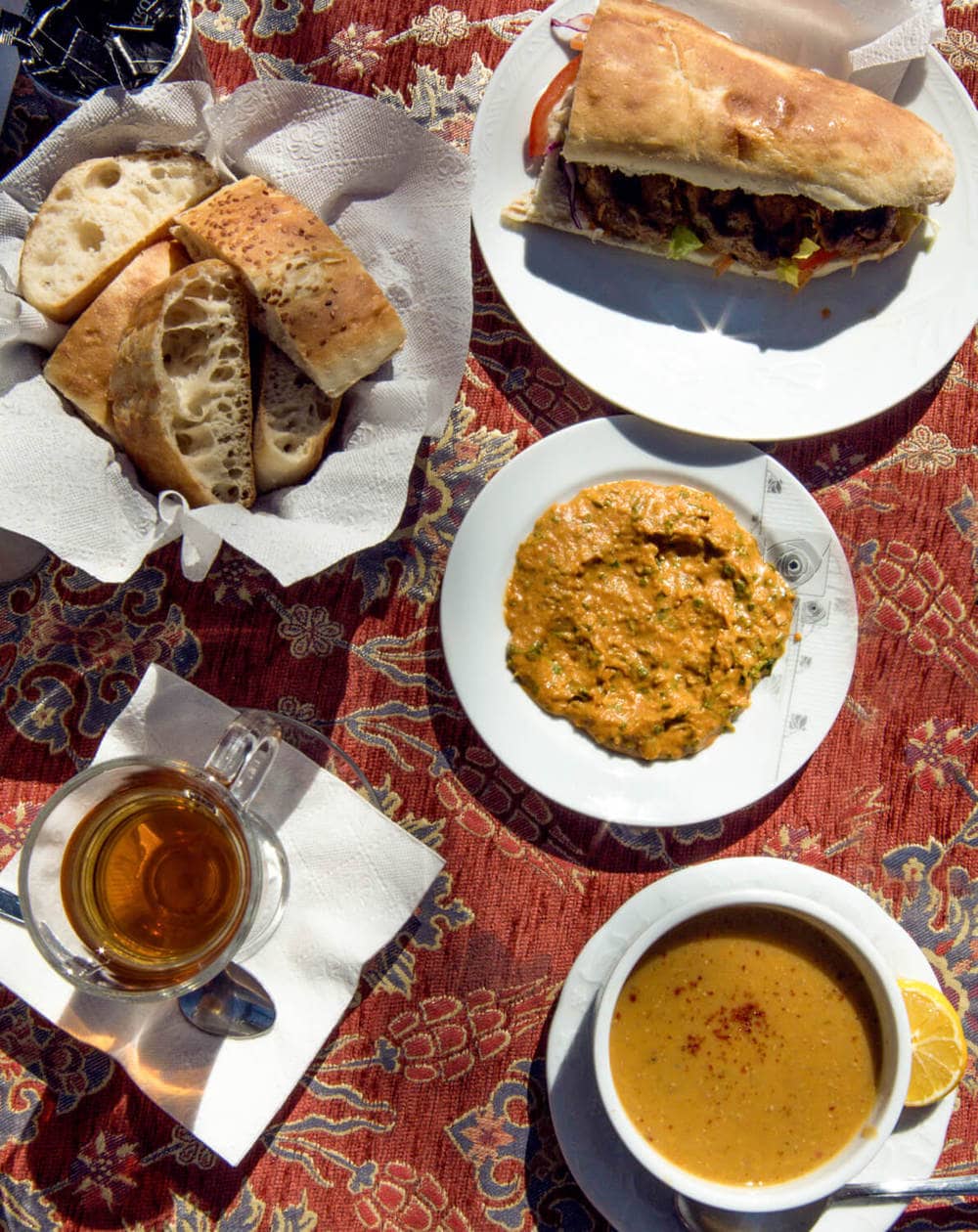 Cafe Safak is a solid meal if you're on a budget. The food is cheap and the people are nice.
I highly recommend the eggplant dip which overshadowed all of the other dishes. We liked it so much that we ended up ordering several bowls.
CAFE SAFAK
Müze Cd No:28
Göreme
50500 Nevşehir, Turkey
Phone: +90 384 2712597
BEST PATIO // COFFEEDOCIA
I try to avoid mega touristy places like Coffeedocia, but sometimes an open air patio and photo worthy decor have a way of luring me inside..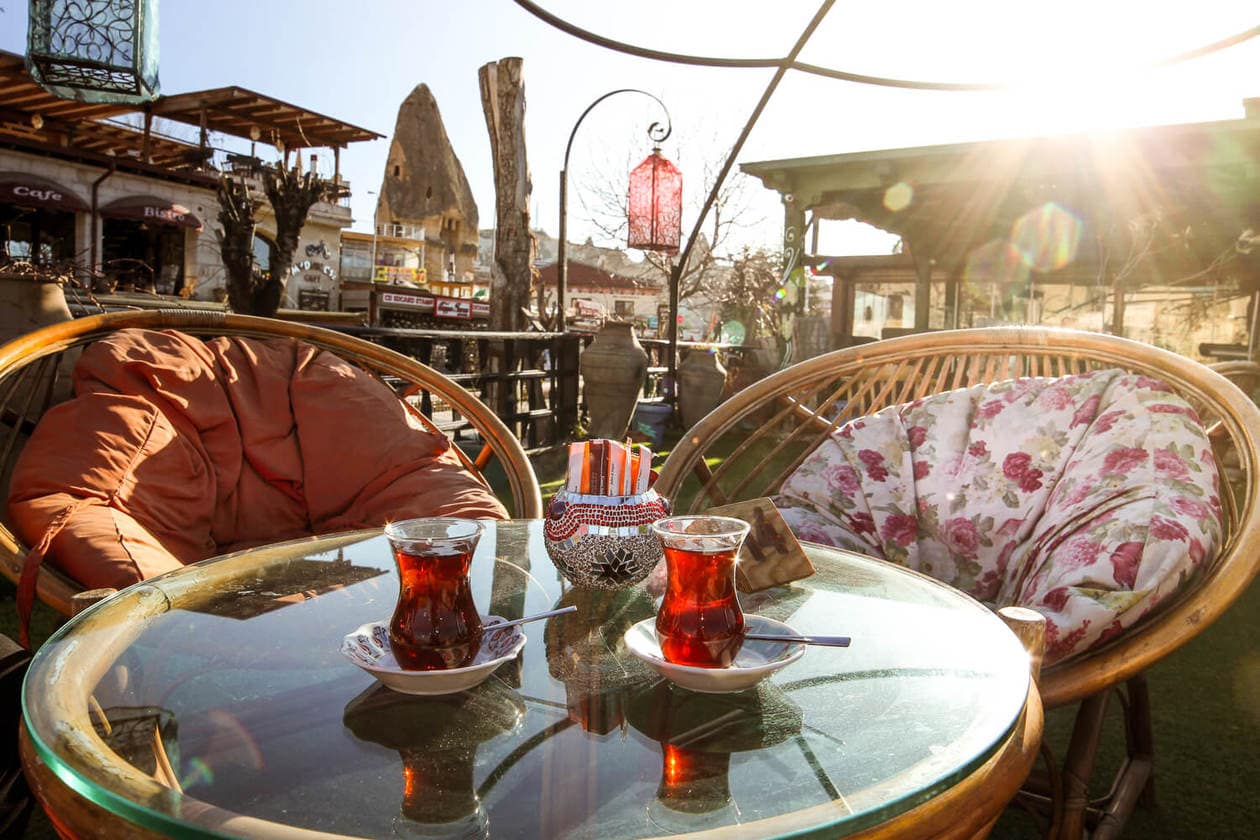 We stopped at Coffeedocia a few times during our time in Cappadocia for a Turkish tea and hookah break. It's right in the middle of Goreme, so the location is perfect.
The hookah was harsh and I could barely smoke it. We also never ate a meal here because I don't trust restaurants that serve local food and hamburgers.
We did order a Turkish desert called Aside, which we were told is an acquired taste. This was very true .. and we never acquired it.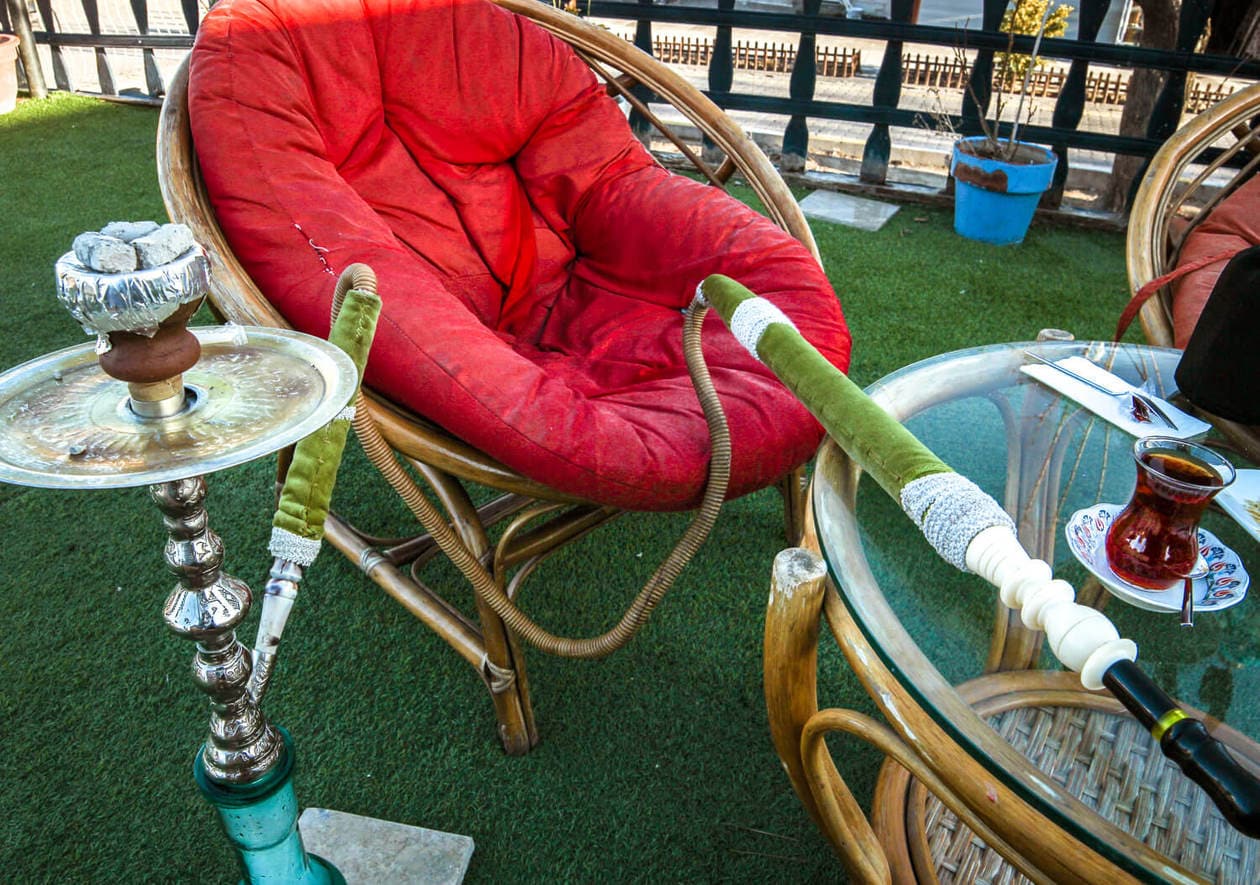 So basically, the only reason this deserves a spot on my Cappadocia restaurants list is because of their patio. And sometimes that's enough.
Order a Turkish tea, sit outside and marvel at the uniqueness of Cappadocia.
COFFEDOCIA
Müze Cad.
Terminal Yanı No: 12
50500 Göreme, Turkey
Phone: +90 384 2712349
3 ADDITIONAL CAPPADOCIA RESTAURANTS WORTH TRYING
We were only in Goreme for a few days so I didn't have a chance to eat at all the restaurants on my list. Here are a few other restaurants that I wanted to check out based on reviews and local recommendations.
INCI CAVE RESTAURANT
This is one of the highest rated Cappadocia restaurants in Goreme. They combine different regional cooking styles so you get an authentic taste of the region. They also serve homemade wine.
PUMPKIN GOREME RESTAURANT AND ART GALLERY
Consistently one of the highest rated Cappadocia restaurants on TripAdvisor. It's located in the center of Goreme, within a cave.
At Pumpkin Goreme Restaurant, you have the option to choose the fixed price 4 course meal, or you can order a la carte.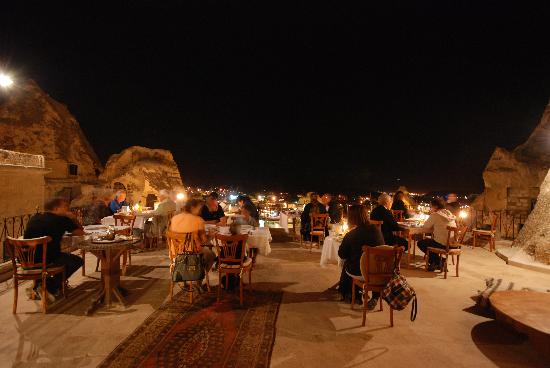 NOSTALJI RESTAURANT
A rooftop dining area and a good view which is something I always look for when traveling and Nostalji checked all the boxes.
This restaurant would be perfect for a special occasion or romantic dinner. Unfortunately they only offer indoor seating in the winter/fall so we didn't visit this time around.
OLD CAPPADOCIA CAFE AND RESTAURANT
This was the runner up in my most authentic pottery kebab search.
I liked the presentation here better, as they serve the pottery kebab directly out of the broken clay pot (at Dibek, the waiter pours the contents onto a clean plate).
LOOKING FOR MORE CAPPADOCIA TRAVEL ADVICE? CHECK OUT MY RELATED POSTS BELOW:
WHAT TO DO IN CAPPADOCIA // A 3 DAY SUGGESTED ITINERARY
ALL ABOUT CAPPADOCIA HOT AIR BALLOONS // PLUS 6 BEST VIEWS FROM THE GROUND
A VISITOR'S GUIDE TO CAPPADOCIA'S KAYMAKLI UNDERGROUND CITY
GOREME OPEN AIR MUSUEM // VISITING CAPPADOCIA'S ANCIENT CAVE CHURCHES
CAVUSIN VILLAGE AND THE OLDEST CHURCH IN CAPPADOCIA
Please leave your personal favorite Cappadocia restaurants in the comments!
---
PIN IT // 7 CAPPADOCIA RESTAURANTS WORTH TRYING