A few nights after my friend Erica lost her mom, we drank a few too many bottles of red wine and woke up the next morning with two impromptu plane tickets to Peru. Erica needed to get away and hiking to the peak of Machu Picchu felt like a perfect escape.
Keep reading to learn everything there is to know about visiting and hiking Machu Picchu as a first timer (without the Inca Trail). Discover how to get to Machu Picchu (from Cusco and from Aguas Calientes), how to buy tickets and where to find the Machu Picchu bus. Learn about the best time of year to travel, 10 tips for visiting, plus read all about the new COVID regulations.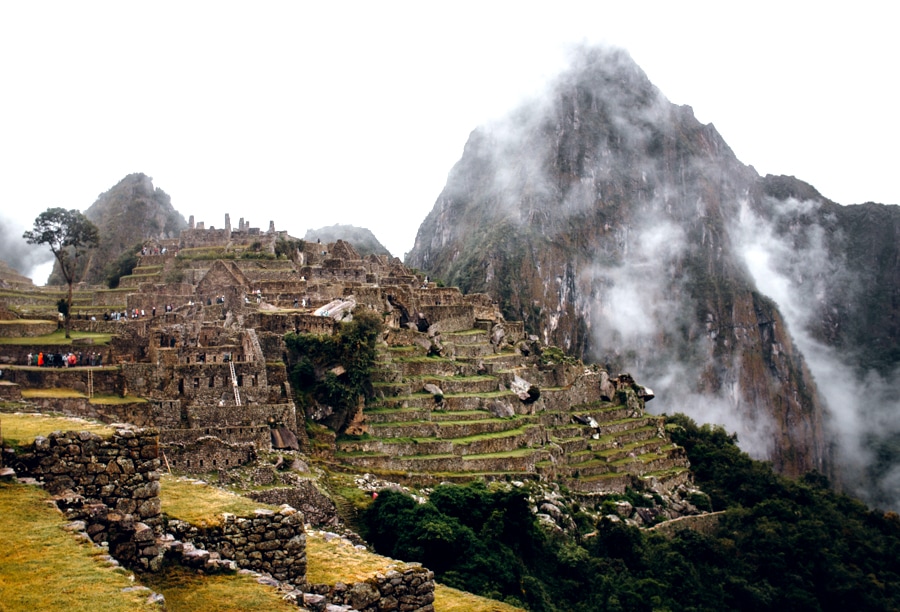 WHAT IS MACHU PICCHU? A BRIEF HISTORY
Machu Picchu is the site of the most famous ancient city ruins of the Inca Empire. It is commonly referred to as the Lost City of the Incas because unlike most cities built by the Inca civilizations, Machu Picchu was not destroyed by the Spanish conquest of the 1500's. It's believed that the Spanish never found Machu Picchu, making it one of the most preserved Inca cities.
Machu Picchu is believed to have been built around 1450 AD and it was not discovered in present day until 1911 due to its hidden location nestled high in the Andes of Peru.
Archaeologists theorize that Machu Picchu was once a royal estate for emperors and the Inca elite while, others believe it was used as a sacred religious site. The citadel was abandoned by the Inca people for reasons still unknown, but the most common theory is that they fled due to a smallpox outbreak.
Today, Machu Picchu is the most visited tourist destination in Peru. It is a UNESCO World Heritage Site and one of the New Seven Wonders of the World.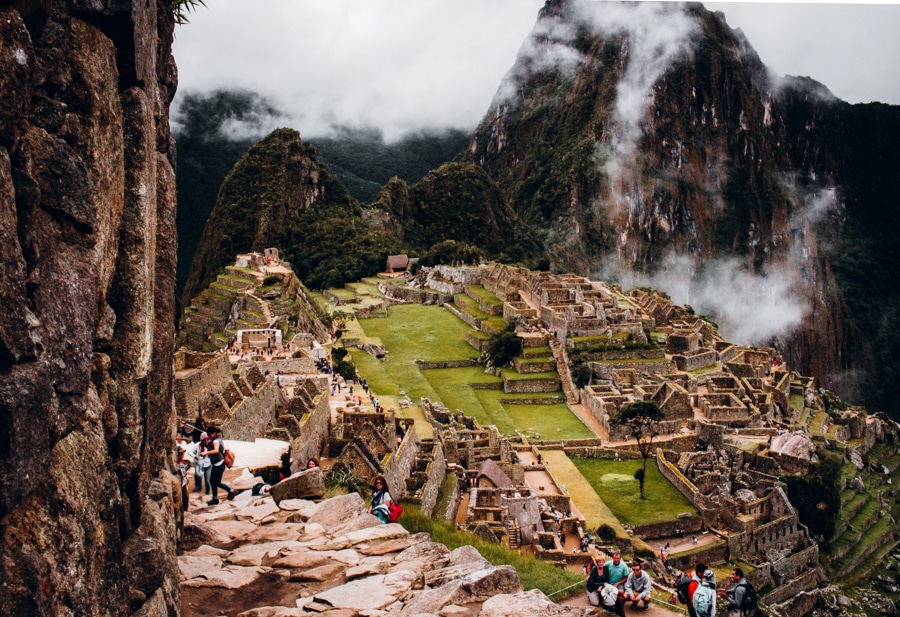 WHERE IS MACHU PICCHU LOCATED?
Machu Picchu is located in the Southern part of Peru, in the Eastern Andes Mountains.
CONTINENT South America
COUNTRY Peru
REGION Cusco
PROVINCE Urubamba
DISTRICT Aguas Calientes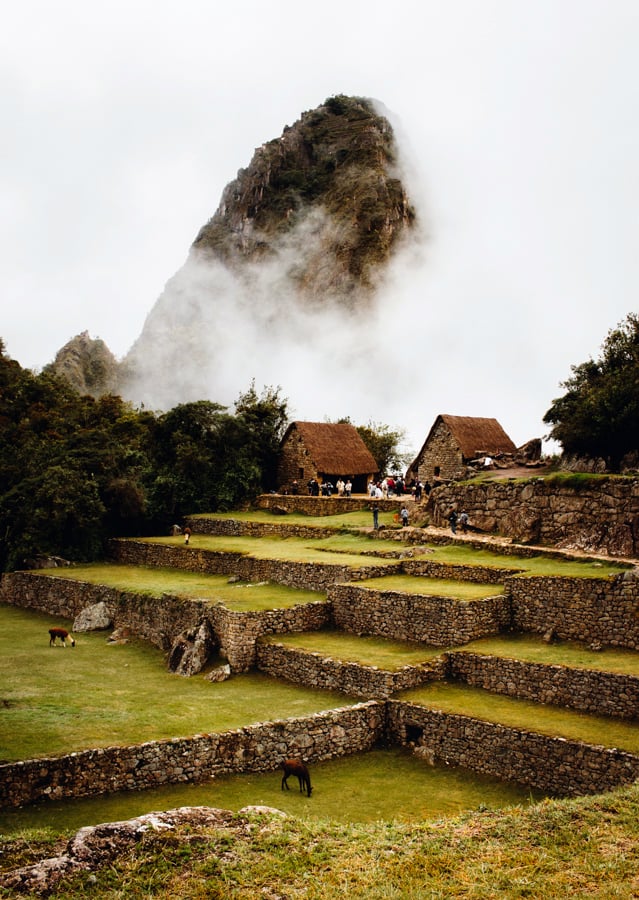 HOW TO GET TO MACHU PICCHU
Most travelers visiting Machu Picchu take a plane or a bus from Lima to Cusco. The flight takes 1 hour 20 minutes and the bus takes around 24 hours. Once you are in Cusco, it is only a 50 mile (80km) journey to Aguas Calientes (Machu Picchu), either by train or by foot.
AGUAS CALIENTES – THE GATEWAY OF MACHU PICCHU
Aguas Calientes (also known as Machu Picchu Pueblo) is the city at the bottom of the valley, below Machu Picchu. If you will not be hiking Machu Picchu via the Inca Trail, Aguas Calientes will be your base. This is where the train station is located, as well as all of the hotels (unless you are staying at the The Belmond Sanctuary Lodge, located near the gate of Machu Picchu).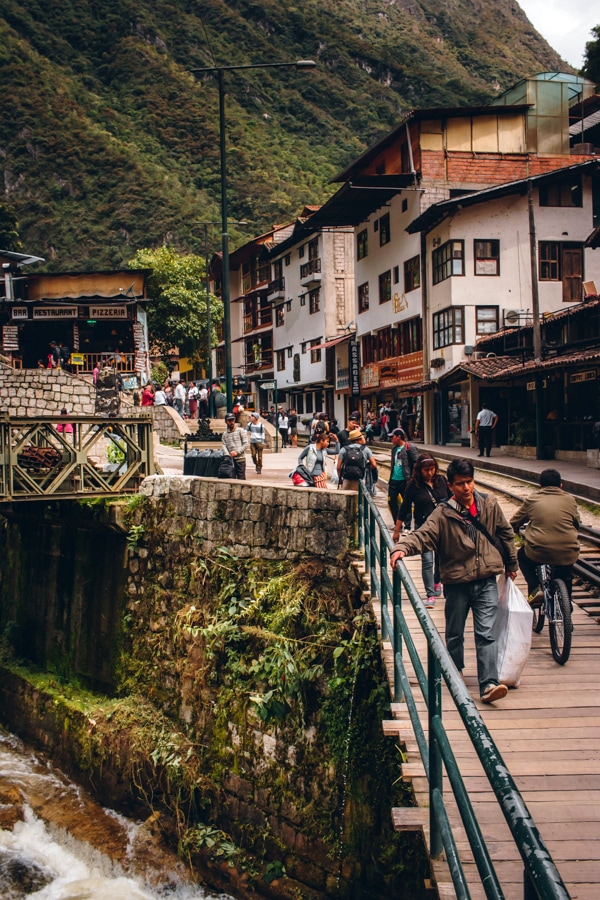 HOW TO GET FROM CUSCO TO MACHU PICCHU
THE INCA TRAIL
The Inca Trail is one of the most famous treks in the world.
Every year, thousands of travelers embark on a 4 day, 3 night trek (there are also shorter versions available) to Machu Picchu. The hike is 25 miles (40km) long and ascends roughly 4,000ft (1,220m).
Hiking Machu Picchu via the Inca Trail can only be done with an approved tour company and the Peruvian government only allows 500 people to access the trail each day (200 visitors and 300 guides and porters).
Permits usually go on sale in January (sometimes earlier) and are sold on a first come first serve basis. If you decide to trek the Inca Trail, booking in advance is necessary.
CLICK HERE TO VIEW DIFFERENT TOUR OPTIONS FOR HIKING MACHU PICCHU VIA THE INCA TRAIL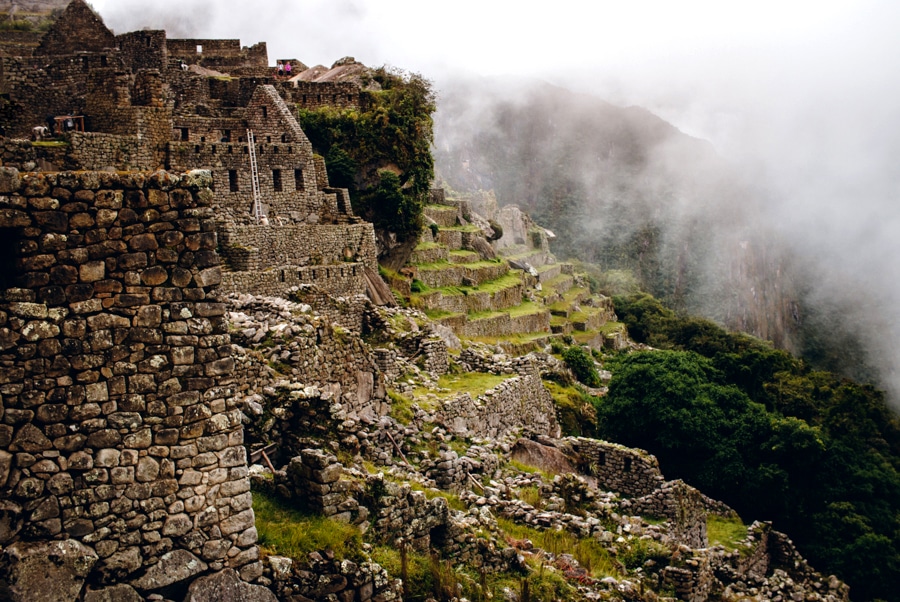 TRAIN
The train ride from Cusco to Aguas Calientes takes between 3.5 and 4 hours and you have two options, Peru Rail or Inca Rail. Both companies have departure points from San Pedro, which is in Cusco, or Poroy, which is 20 minutes outside of Cusco.
The other option many visitors choose is to travel through the Sacred Valley and then board the train in Ollantaytambo (1.5 hours outside of Cusco) for Aguas Calientes. The train ride from Ollantaytambo to Aguas Calientes is 1hr 30 minutes.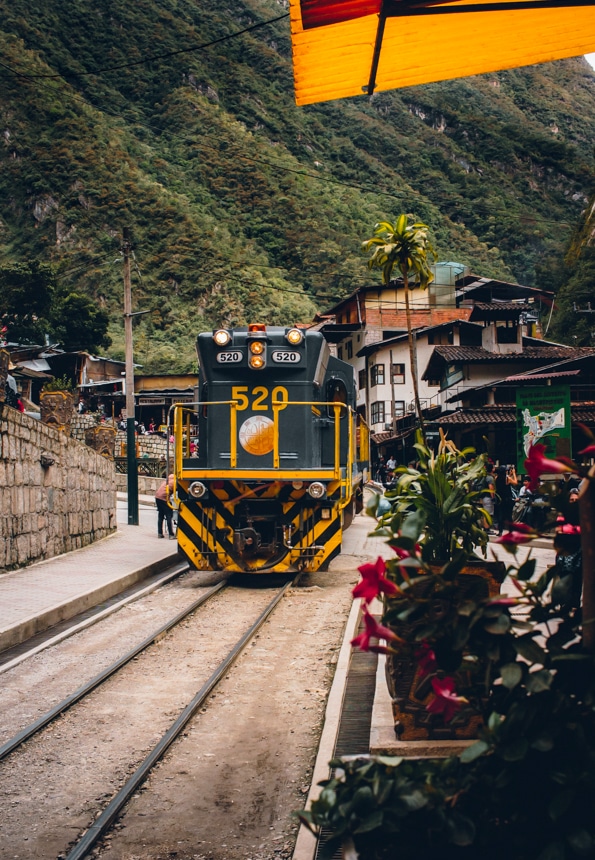 PERU RAIL
Peru Rail offers three types of tickets.
THE VISTADOME is the mid-range option on Peru Rail. The compartments have panoramic windows, leather seats, a complimentary snack service and live entertainment. Prices start around $90USD (S/330). Click here to buy your tickets.
THE EXPEDITION is the most inexpensive ticket option Peru Rail offers. You will not get the entertainment factor or the panoramic windows, but it is ideal if you're looking for an affordable ticket without all the bells and whistles. This is the option we chose to get to Machu Picchu and it was a very nice, standard looking train. Prices start around $65USD (S/237). Click here to buy your tickets.
THE HIRAM BINGHAM is Peru Rail's luxury train offering a gourmet meal, cocktails, live entertainment and an observatory car. This ticket also includes your admission into Machu Picchu plus a tour of the grounds, as well as afternoon tea at the Belmond Sanctuary Lodge Hotel. Prices start around $495USD (S/1809). Click here to buy your tickets.
INCA RAIL
THE VOYAGER is the lowest cost ticket option for Inca Rail. Similar to Peru Rail's Expedition, this train offers the basics: comfortable seating and folding tables. They also hand out complimentary snacks and drinks during select travel times. Prices start at $50USD (S/180) . Click here to buy your tickets.
THE 360 is very similar to the Voyager, but it has larger panoramic windows and a separate, standing room only, observatory car where you can take in the views uninterrupted. This train also offers WiFi. Prices start at $86 USD (S/315) . Click here to buy your tickets.
THE FIRST CLASS train offers more comfortable seating, larger windows, a welcome drink and a gourmet meal. Select schedules also offer special entertainment such as Pisco tastings and live music. The first class train has a separate observatory lounge with a bar and an open balcony. The website advertises that first class tickets also comes with a complimentary private bus to Machu Picchu, but some travelers have reported that they were not offered this service. Prices start at $195USD (S/713) . Click here to buy your tickets.
For a great comparison review between the First Class and the 360, check out this post by Walker Travel.
THE PRIVATE has everything the First Class train offers but it is exclusively reserved for you and your travel companions.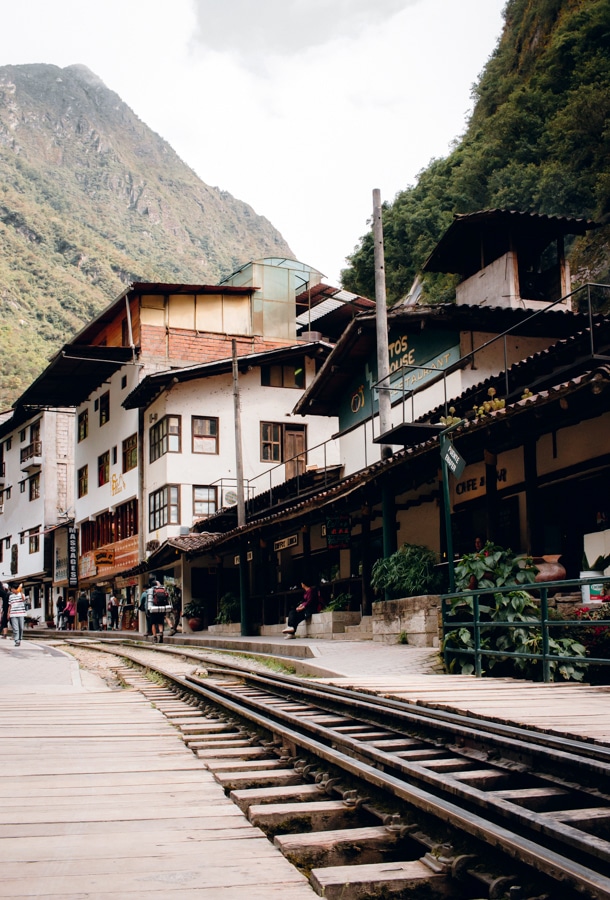 HOW TO GET FROM AGUAS CALIENTES TO MACHU PICCHU
If you've decided against hiking the Inca Trail this time around, you can either take a shuttle bus from Aguas Calientes, or you can opt for one of the shorter day hikes to the top of the mountain.
AGUAS CALIENTES TO MACHU PICCHU BUS
The Aguas Calientes to Machu Picchu bus runs every day from 5:30am-3:30pm. From Machu Picchu back to Aguas Calientes, they run from 6am-6pm.
In Aguas Calientes, the bus stop is located on Avenida Hermosas Ayer near the Aguas Caliente Market. See the photo of the map below, or search "Bus to Machu Picchu" in Google Maps for the exact location.
You can purchase bus tickets near the bus stop. If you're looking at the photo of the map below, "Consettur Macchu Picchu" is the ticket location. During busy hours the ticket line can get long, it's smart to buy them the day before.
You can also buy your bus tickets online. It's a little more expensive but also hassle free. Click here to buy Machu Picchu bus tickets.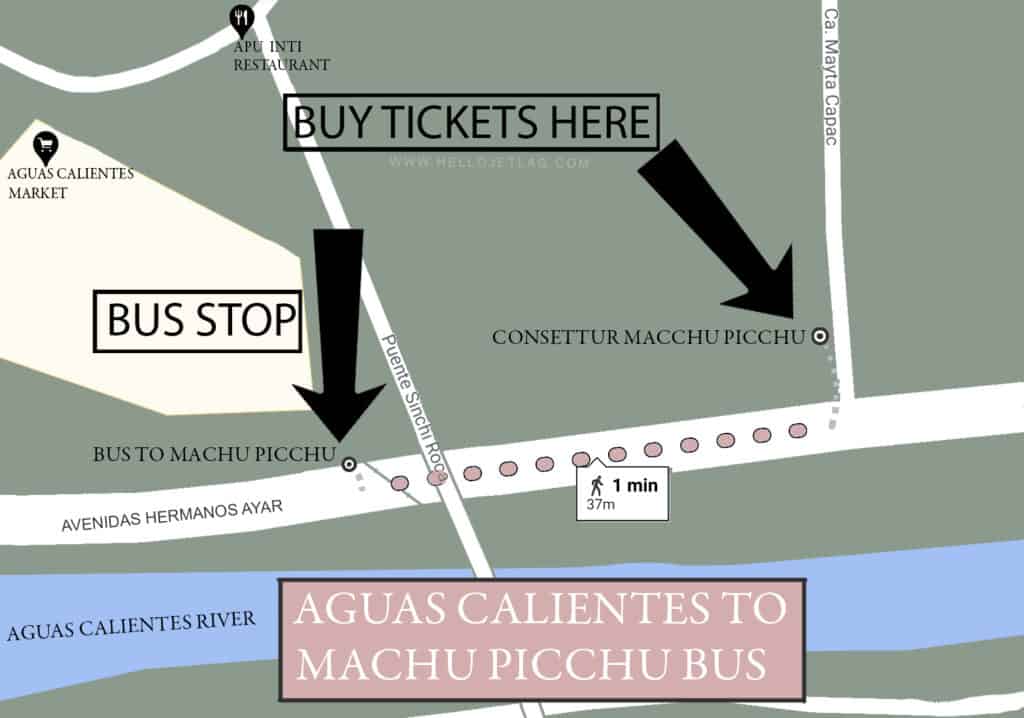 The Machu Picchu bus does not operate on a set schedule, they leave when they are full. Usually every 5-10 minutes during busy times, and every 15-20 minutes during less busy times.
The journey takes around 30-35 minutes.
MACHU PICCHU BUS TICKET PRICES
| | | |
| --- | --- | --- |
| TICKET TYPE | ROUND TRIP | ONE WAY |
| ADULTS | $24 USD | $12 USD |
| CHILDREN (AGES 5-11) | $12 USD | $7 USD |
| PEOPLE W/DISABILITIES | $15 USD | $8 USD |
| ADULTS (PERUVIAN) | $15 USD | $8 USD |
| STUDENTS (PERUVIAN) | $10 USD | $6 USD |
| CHILDREN (PERUVIAN) | $8 USD | $5 USD |
| PEOPLE W/ DISABLITIES (PERUVIAN) | $6 USD | $3 USD |
| CUSCO RESIDENT | $6 USD | $3 USD |
AGUAS CALIENTES TO MACHU PICCHU HIKE
If you're not hiking Machu Picchu via the Inca Trail but you still want to climb the mountain by foot, this short hike ideal. It takes only 1-2 hours and while it is not easy, it does make the view from the top that much better after you've worked for it.
DIRECTIONS TO THE TRAIL HEAD
Starting in Aguas Calientes, follow Avenida Hermanos Ayer along the Urubamba River. You'll pass large white 'Machu Picchu Pueblo' letters, a butterfly sanctuary and a campsite.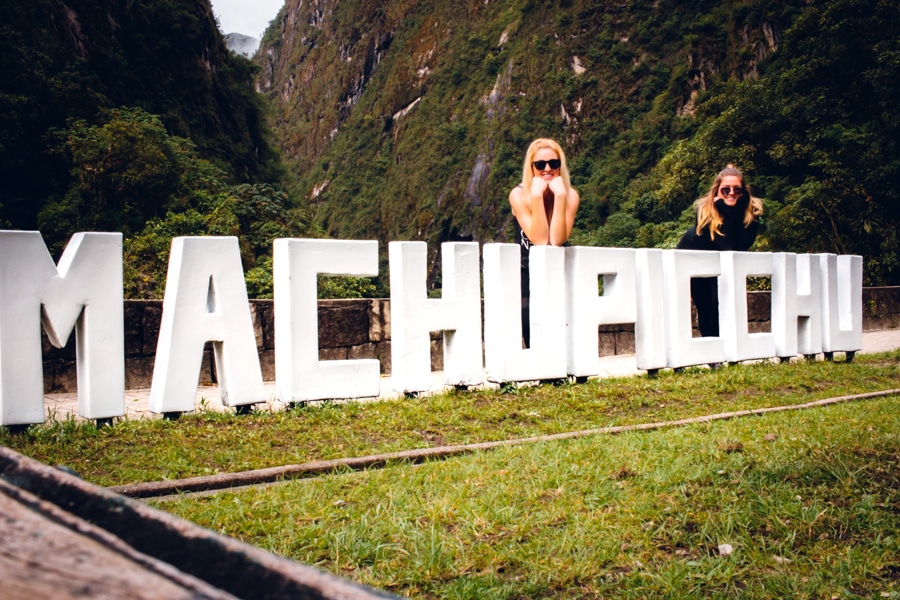 After about 25-30 minutes you'll run into a guard stand and a large iron bridge. Cross the bridge and veer to your right. There will be signs guiding you to the hiking trail.
The start of the trail begins with a series of stone steps and a plaque next to them laying out the route. The hike consists of stairs most of the way up, but several times the trail joins the main shuttle bus road. You'll need to follow the road until you see the continuation of the hiking trail. It is very easy to follow and there are signs and arrows along the way.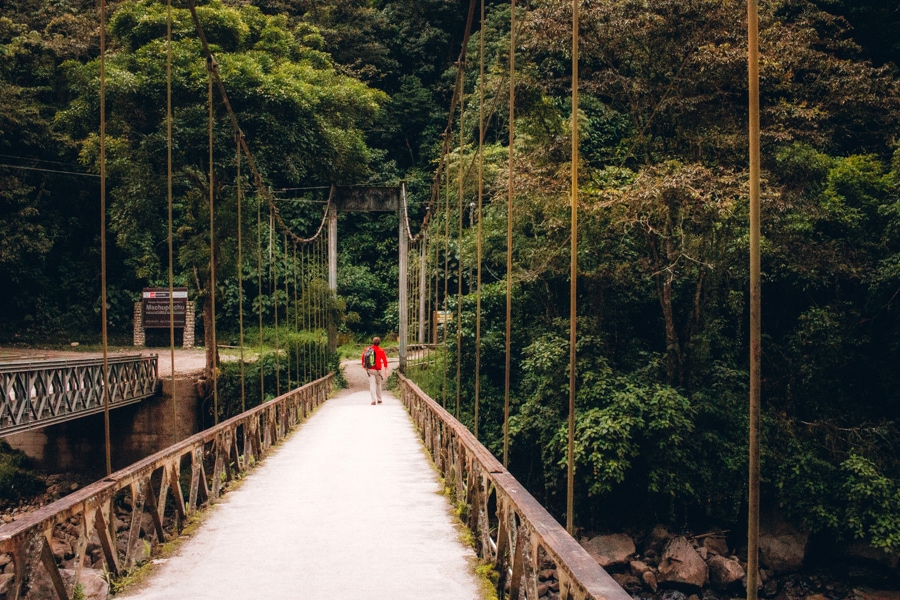 If you're hiking during the rainy season, be prepared for the trail to get muddy and slippery.
OPENING TIMES Entry beyond the bridge is not allowed until 5am.
DIFFICULTY LEVEL Moderate to Challenging
TIME 1-2 hours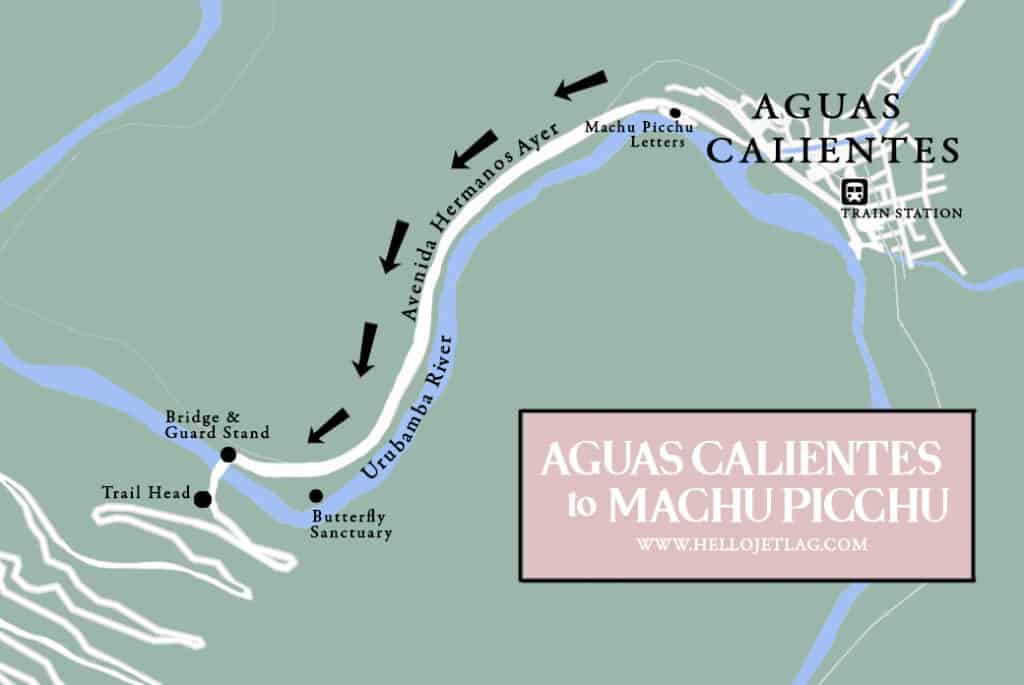 HIKING MACHU PICCHU
I honestly thought I was in pretty good shape before the hiking Machu Picchu. I run stairs at home a few time a week and I work out regularly, but this hike made me question everything. I'm not sure if the elevation had something to do with it, but I had to mentally check myself a few time to get through it.
Somehow my friend Erica was completely fine and she practically ran up the mountain. So maybe it was just me.. It took us a little under 2 hours to finish, and as is always usually the case, the payoff was beyond worth it.
There is no guide book, blog or social media post that can prepare you for this view. I have yet to see a single photo that does Machu Picchu justice. It is unbelievably powerful. I have never been somewhere that made me feel so small and so big at the same time.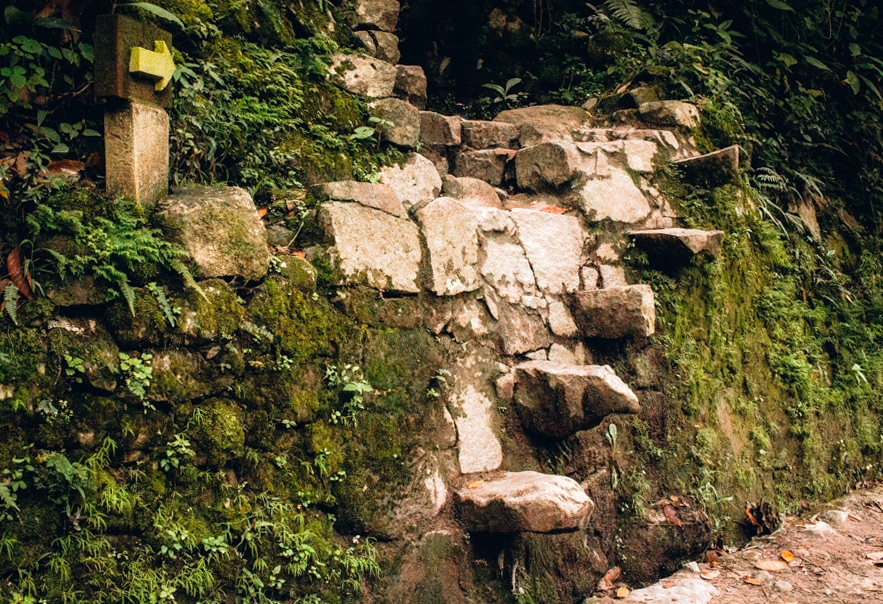 MACHU PICCHU WEATHER // WHEN IS THE BEST TIME TO VISIT?
Machu Picchu is located in a tropical cloud forest where the weather remains relatively cool year round.
Opposite of the Northern Hemisphere, Machu Picchu experiences their warmer months during September, November and December, and their coolest months in June, July and August. On average, the yearly temperature ranges between 50-75 degrees Fahrenheit (10-24 degrees Celsius).
There are two main weather seasons to take into consideration when planning your trip: wet season and dry season. The wet season lasts from November to March and the dry season goes from April to October.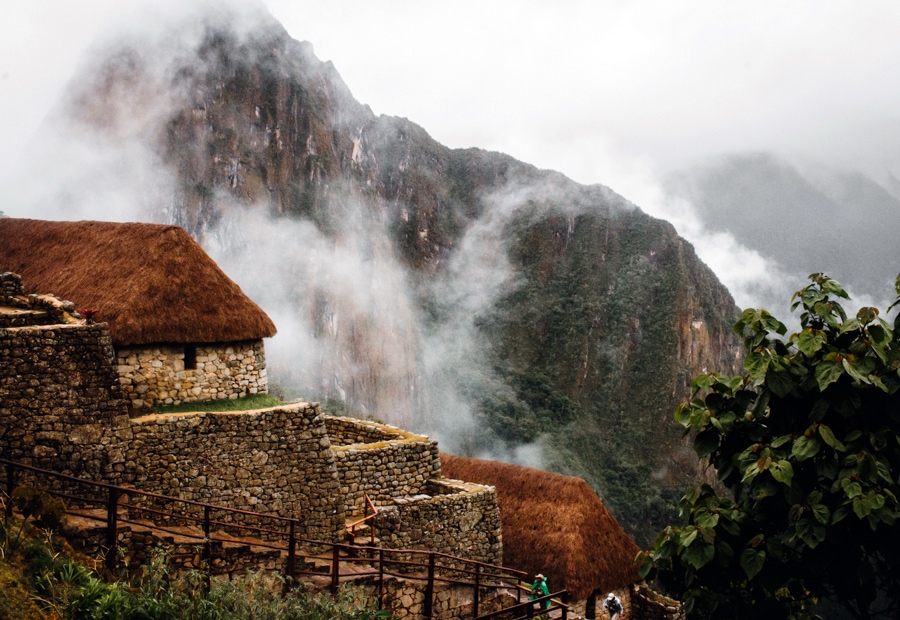 THE WET SEASON
While Machu Picchu does see rain year round, 80% of the average yearly rainfall (77 inches / 1,955mm) occurs during the wet season.
During this period, you can capitalize on better room rates and less crowds, however you will probably need to be more flexible with your travel plans as heavy downpours can affect your itinerary. Landslides are also a risk and may cause travel delays during this time. Also note that if you plan to hike the Inca Trail, the government closes it down every year in February for maintenance.
If you decide to travel during the wet season, consider visiting toward the end of it in April. You'll experience less crowds and nice weather.
On a personal note, we traveled in mid January and experienced some light drizzle while hiking Machu Picchu but we lucked out with a beautiful day once we reached the citadel.
WETTEST MONTHS January and February
HUMIDITY on average 60-65%
THE DRY SEASON
While the dry season is the most ideal time to travel to Machu Picchu weather wise, it is also the busiest. You will likely need to book months in advance as tours, rooms and tickets sell out during the high season.
You might want to consider booking your trip around September or October to capitalize on the buffer period between the dry season and the wet season. September and October offer less crowds and pleasant weather.
BUSIEST MONTHS June, July and August
DRIEST MONTH June
SUNNIEST MONTH July
HUMIDITY on average 45-55%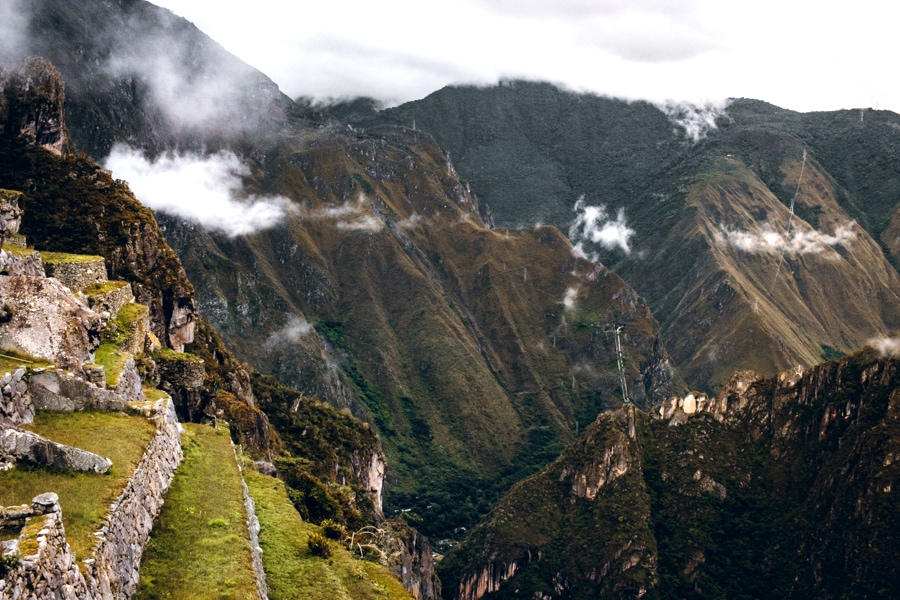 MACHU PICCHU HOURS & CLOSURES
Machu Picchu is open 365 days a year from 6am to 5pm. (this is pre-pandemic days, be sure to check the most recent closures and restrictions).
If you plan on hiking Machu Picchu via the Inca Trail, be aware that does experience an annual closure in February during the peak of rainy season. During this time they conduct maintenance, cleaning and preservation efforts on the trail. Machu Picchu still remains open even when the Inca Trail is closed.
2021 ENTRANCE TIMES
Visiting Machu Picchu requires you to have a ticket with a reservation time and visitors are given a 3 hour time block to explore the ruins. The current reservation times are:
6AM to 9AM
7AM to 10AM
8AM to 11AM
9AM to 12Noon
10AM to 1PM
11AM to 2PM
12Noon to 3PM
1PM to 4PM
2PM to 5PM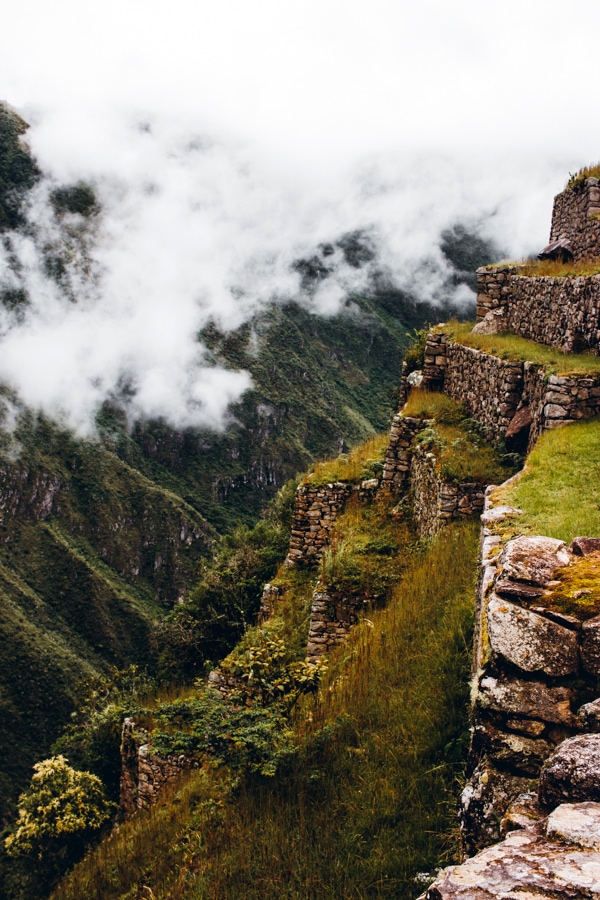 HOW & WHERE TO BUY TICKETS TO MACHU PICCHU
Machu Picchu tickets must be purchased before you get there as there is no option to buy them at the entrance gate. It is also very common for tickets to sell out well in advance, especially during peak season. Booking ahead is highly recommended.
Entrance tickets are non transferrable and foreigners are required to show their passport upon entry. If it doesn't have your name on it, you cannot go inside.
There are 3 different ticket options you can choose from:

MACHU PICCHU GENERAL ADMISSION
This is the most common ticket type and it allows entry into the main site where the ruins and temples are. It does not allow you to climb Huayna Picchu or Machu Picchu Mountain.
FOREIGNER TICKETS
Adult: $42 USD (S/ 200)
Student: $38 USD (S/ 125)
Child (8-17 years old): $35 USD (S/ 118)
Child (Under 8 years old): Free
PERUVIAN + ANDEAN COMMUNITY (BOLIVIA, COLUMBIA, ECUADOR, PERU) TICKETS
Adult: $35 USD (S/ 129)
Student: $25 USD (S/ 92)
Child (8-17 years old): $25 USD (S/ 92)
Child (Under 8 years old): Free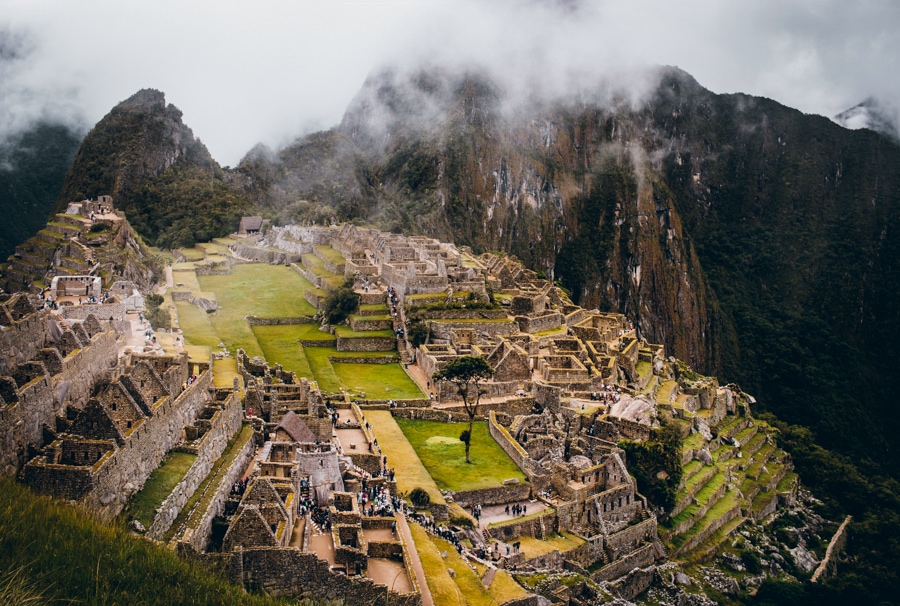 MACHU PICCHU + HUAYNA PICCHU
This ticket allows entrance into the main citadel as well as permission to climb the mountain peak, Huayna Picchu. Only 400 people are allowed to climb Huayna Picchu each day and it sells out very quickly. If you want this ticket, you will need to book months in advance.
FOREIGNER TICKETS
Adult: $55 USD (S/ 200)
Student: $34 USD (S/ 125)
Child (8-17 years old): $32 USD (S/ 118)
PERUVIAN + ANDEAN COMMUNITY (BOLIVIA, COLUMBIA, ECUADOR, PERU) TICKETS
Adult: S/ 64
Student: S/ 32
Child (8-17 years old): S/ 32

WHAT IS HUAYNA PICCHU?
Huayna Picchu is the tall mountain peak you see behind the main citadel in every photo of Machu Picchu. It is said to be where the high priest once resided.
By purchasing a special ticket, 400 tourists a day can hike the mountain. The elevation at the top of Huayna Picchu reaches 8,924 feet (2,720 meters).
Unlike Machu Picchu Mountain, this hike has Inca ruins, notably the Temple of the Moon. It is also home to the infamous "stairs of death," an intimidatingly steep, stone staircase. If you have a fear of heights, you might want to sit this one out..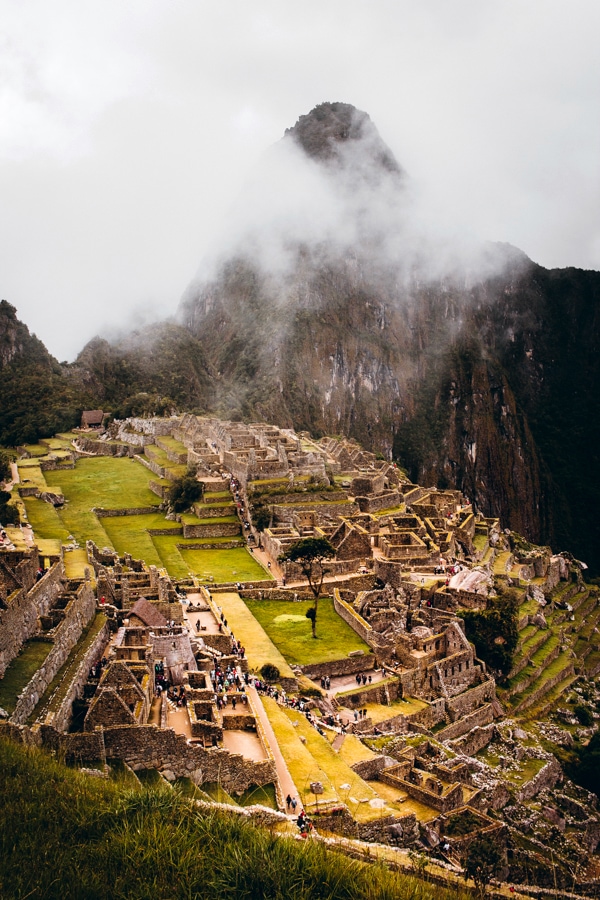 MACHU PICCHU + MACHU PICCHU MOUNTAIN
This ticket type allows you entry into the main site, plus permission to climb Machu Picchu Mountain. Only 400 people are permitted to hike Machu Picchu Mountain each day so like the Huayna Picchu ticket, be sure to book well in advance.
FOREIGNER TICKETS
Adult: $55 USD (S/ 200)
Student: $34 USD (S/ 125)
Child (8-17 years old): $32 USD (S/ 118)
PERUVIAN + ANDEAN COMMUNITY (BOLIVIA, COLUMBIA, ECUADOR, PERU) TICKETS
Adult: S/ 64
Student: S/ 32
Child (8-17 years old): S/ 32
WHAT IS MACHU PICCHU MOUNTAIN?
Located at an elevation of 10,111 feet (3,082 meters) above sea level, Machu Picchu Mountain is the taller of the two mountain peaks. It is a longer and less popular hike than Huayna Picchu but it is said to have better views.
The mountain summit was once the site where Inca priests performed rituals, but unlike Huayna Picchu, there are no ruins or temples on this hike.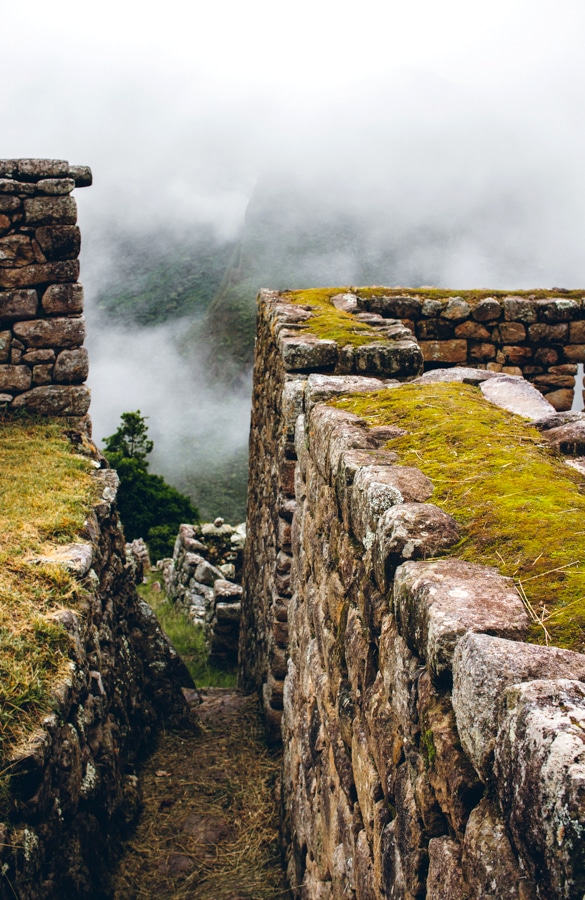 WHERE TO BUY TICKETS TO MACHU PICCHU
ONLINE
You can purchase tickets to Machu Picchu by visiting Peru's Ministry of Culture website here.
If you have any issues with the official website, you can also purchase tickets instantly through Get Your Guide (here) or Viator (here).
IN PERSON
To purchase tickets in person, visit one of the locations below. Make sure to bring your passport!
IN CUSCO go to the Ministry of Culture office at Casa Garcilaso on Garcilaso Street. You will see a small sign that says "Boletos a Machu Picchu." Search "Machu Picchu Tickets, Calle Garcilaso" on Google Maps for the correct location. The office is open Monday – Saturday from 7AM to 8PM.
IN AGUAS CALIENTES go to the Ministry of Culture office which is located at Ave Pachacutec. Search "Ministry of Culture (Machu Picchu Park Passes)" on Google Maps for the correct location. The office is open Monday – Sunday from 5AM to 10PM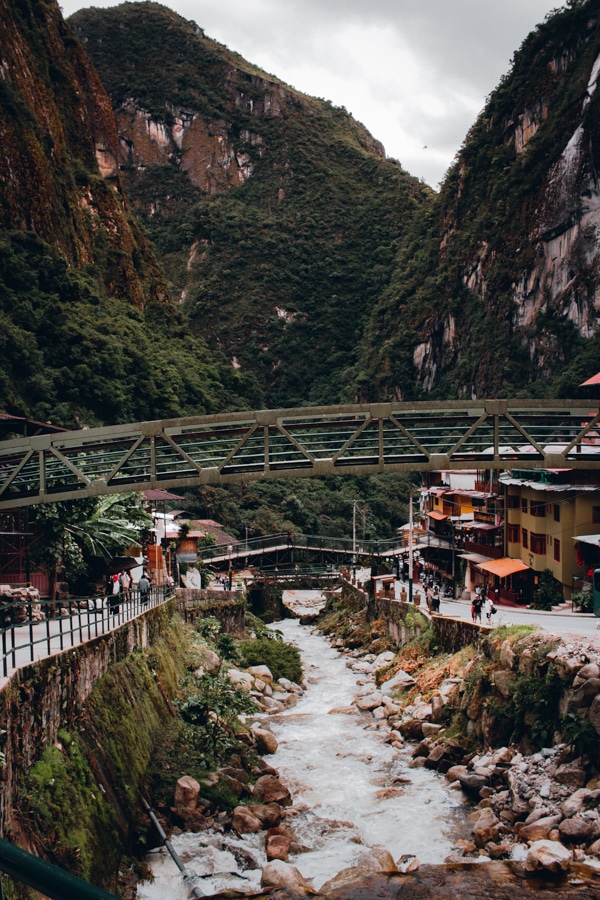 MACHU PICCHU ELEVATION // WILL ALTITUDE SICKNESS BE A CONCERN?
Machu Picchu is located at an elevation of 7,972 feet (2,430m) and Aguas Calientes is located at 6,693 feet (2,040 meters).
Altitude sickness most commonly starts affecting people at around 8,000 feet (2,438 meters) so while the air does feel thin, getting sick is less of a concern at Machu Picchu. However, if you will be hiking Machu Picchu Mountain or Huayna Picchu, there is a greater risk as the elevation increases quite a bit.
Since most visitors will be coming from Cusco and the Sacred Valley, all travelers need to take the altitude into consideration during your trip. Cusco is located at 11,152 feet (3,399 meters), which is extremely high and acclimatizing slowly is one of the best ways to combat symptoms.
Check out my post below to learn all about Cusco and Machu Picchu altitude sickness; what it is, symptoms to look out for, how to avoid getting sick and more.
---
RELATED POST: THE CUSCO & MACHU PICCHU ELEVATION GUIDE // EVERYTHING YOU NEED TO KNOW ABOUT MANAGING ALTITUDE SICKNESS ON YOUR TRIP
---
Personally, while hiking Machu Picchu, I felt much more out of breath than usual but it was very manageable and I did not experience any symptoms (headache, dizziness etc). I did however, get hit pretty hard with altitude sickness in Cusco. The full story is in the link above.
MACHU PICCHU ELEVATION
MACHU PICCHU MAIN SITE 7,972 feet / 2,430 meters
MACHU PICCHU MOUNTAIN 10,111 feet / 3,082 meters
HUAYNA PICCHU MOUNTAIN 8,924 feet / 2,720 meters
AGUAS CALIENTES 6,692 feet / 2,040 meters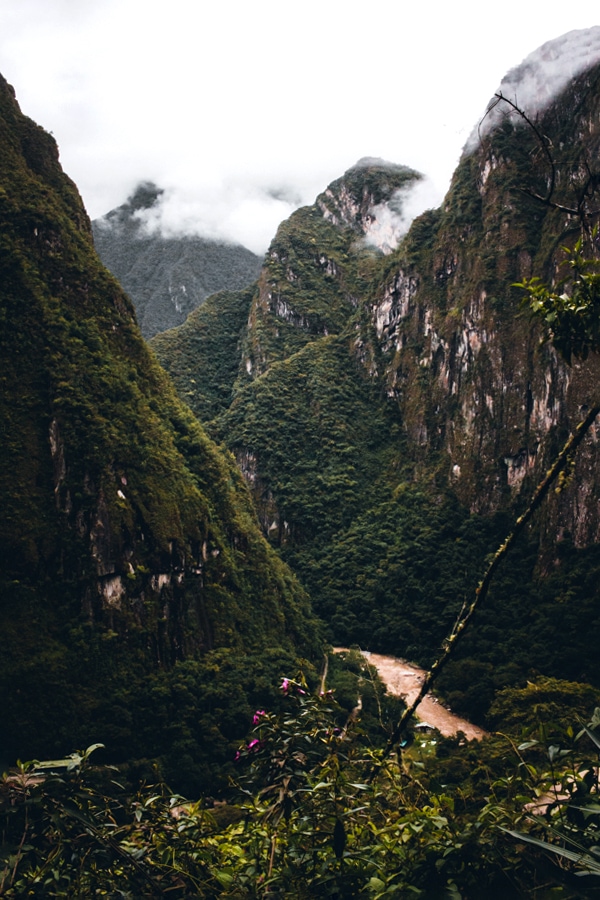 10 THINGS TO KNOW BEFORE YOU GO
THERE ARE NO RESTROOMS / WC BEYOND THE ENTRANCE GATE
You might be surprised to discover that there are NO restrooms within the Machu Picchu compound.
There is a restroom outside of the entrance gate but you will not be permitted to leave and re-enter the ruins should you need to use it. The only way back in is to buy a new ticket, which sometimes is not an option if they have sold out for the day.
Plan your liquid intake accordingly and be sure to bring change as the restroom costs 2 soles (55¢ US) to use. I also recommend packing your own tissue too, just in case..
YOU NEED A GUIDE
There is a written rule that all visitors must be accompanied by a tour guide when visiting Machu Picchu. However, I have read a lot of recent reports (2020) from people stating that they entered without one and were not asked any questions.
There are always guides waiting at the entrance so if it were me, I'd bring some extra cash just in case you need to hire someone.
GET READY TO WALK
Even if you didn't plan on hiking Machu Picchu, be prepared to get your daily steps in. There are more than 100 flights of stairs within the archaeological site and there is a lot of ground to cover. My legs felt like jello at the end of our visit.
Wear comfortable clothes and shoes. The rules prohibit walking sticks, but I saw a few people using them. Heels are prohibited, but you definitely wouldn't want to wear them anyway.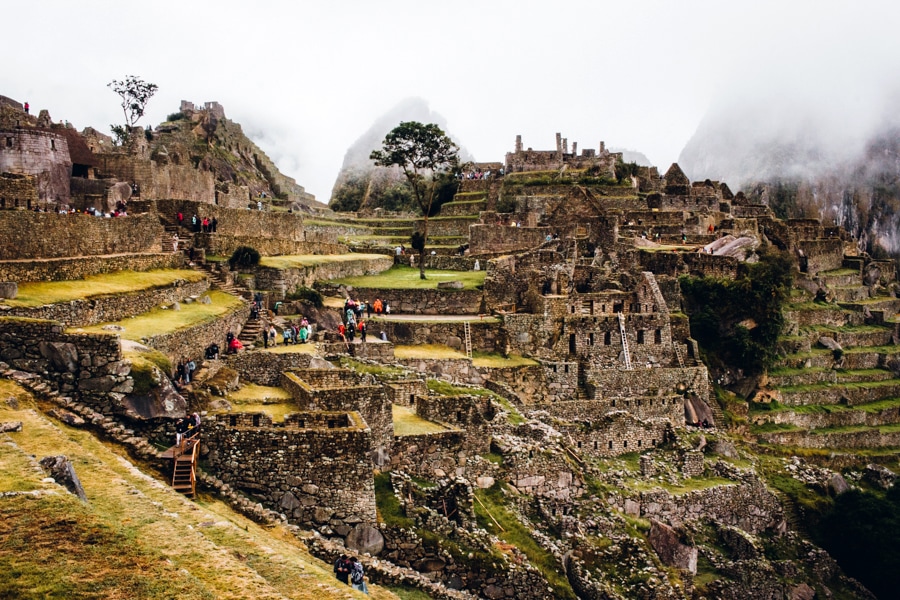 BUY YOUR TICKETS IN ADVANCE
It's the most popular tourist attraction in Peru for a reason and tickets sell out well in advance, especially during peak season. We almost got stuck in Ollantaytambo because there were no train tickets left (luckily they had a cancellation!).
This goes for your entrance tickets, train tickets and Inca Trail permits, if you will be hiking Machu Picchu.
THE BEST TIME OF DAY TO VISIT
If you're a regular reader, you know I'm partial to sunrise hours. It is usually the least busy time of day and the lighting is hard to beat. Machu Picchu opens at 6am so getting there first thing is the best chance you have at seeing the site (almost) all to yourself.
The next best time would be in the afternoon, during the last time block of the day. By this time, most people have already gone home and you will get fewer crowds and great lighting.
---
RELATED POSTS
SUNRISE AT THE TOP OF THE BURJ KHALIFA IN DUBAI
SUNRISE AT FISHERMAN'S BASTION IN BUDAPEST
---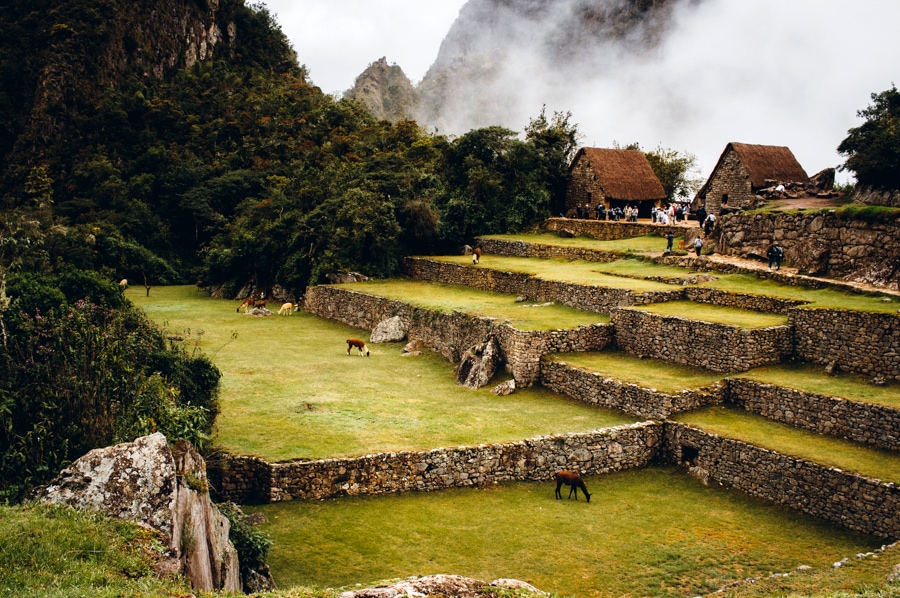 BRING YOUR PASSPORT
You must have your passport with you to enter the ruins. You will not be allowed inside without it.
WHAT IS THE AVERAGE VISIT LENGTH?
The average visit length is 3 to 3.5 hours.
GET YOUR PASSPORT STAMPED
There is an area near the entrance gate where you can give your passport a special Machu Picchu souvenir stamp. When we were there, the stamp was laying on a table and was free to use.
*Some say that souvenir passport stamps can potentially invalidate your passport in certain, more strict countries. If you feel uncomfortable marking your passport, bring a journal or other memento to stamp.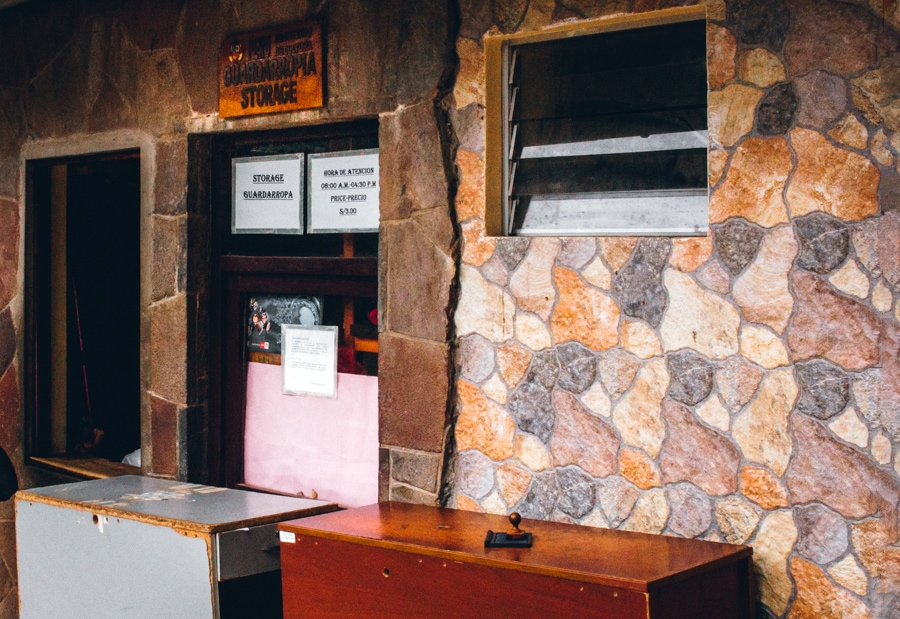 PROHIBITED ITEMS
These items are not allowed within ruins.
Camera tripods
Bags and backpacks larger than 15x13x7inches (40x35x20 cm).
Drones
Selfie sticks
Bluetooth speakers or anything that makes noise and/or plays music
Alcohol, cigarettes, electronic cigarettes, drugs
Baby strollers
Candles
Walking sticks (with the exception of the elderly and people with disabilities)
Stabilization or extension pieces for filming and photography
THEY OFFER LUGGAGE STORAGE
If your bag is over the size limit or if you need to store anything to lighten your load while inside the ruins, there is luggage storage available. Make sure to bring some change as it costs a few soles (5 when we were there).
PEOPLE WITH DISABILITIES AND LIMITED MOBILITY
Due to its multitude of stairs, sloping terrain and high elevation, Machu Picchu is not the easiest destination for people with disabilities or those with limited mobility. While it may feel discouraging, there are definitely still ways to visit this amazing site. There is also a designated route for the elderly as well as people disabilities and/or limited mobility. Here are a few resources to help plan your trip:
This blog post by Limitless Travel is written by a traveler with limited mobility. Read about his trip to Machu Picchu here.
Apumayo Travel creates accessible and inclusive tours for people with disabilities.
Amazing Peru offers a great range of tour options for wheelchair users and those with limited mobility.
Wheel the World also does inclusive tour packages for wheel chair users.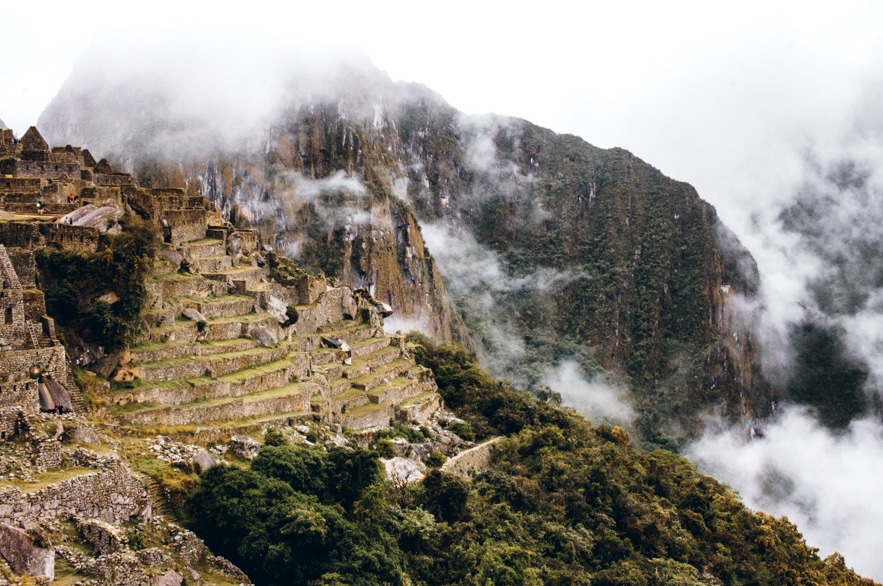 MACHU PICCHU HOTELS
BELMOND SANCTUARY LODGE
The Belmond Sanctuary Lodge is a 5 star luxury hotel, and the only lodging option at the top of the mountain near the gates of Machu Picchu. All other travelers book hotels in Aguas Calientes, the city at the base of the mountain.
The Sanctuary Lodge offers direct views of Huayna Picchu (not the citadel), two on-site restaurants and the location gives you the ability to be the first one in or last one out when visiting Machu Picchu.
CLICK HERE FOR BOOKING AND MORE INFORMATION
INKATERRA PUEBLO HOTEL
Inktaterra Machu Picchu Pueblo hotel is a gorgeous 5 star eco-lodge located just a 5 minute walk from the Aguas Calientes train station. The hotel offers an Andean sauna and an on-site restaurant with complimentary buffet breakfast and dinner. They have views of the forest and the Urubamba river with an orchid garden and a tea garden.
CLICK HERE FOR BOOKING AND MORE INFORMATION
PANORAMA B&B
For a more budget friendly option in Aguas Calientes, check out Panorama B&B. They offer gorgeous views of the Urubamba River and our stay was very comfortable. Panorama B&B is within walking distance to the train station (6 min) as well as the start of the hiking trail (20 minutes). If you'll be hiking Machu Picchu early in the morning, they also offer complimentary breakfast starting at 4:30am.
UPDATE: PANORAMA B&B IS CURRENTLY CLOSED FOR RENOVATIONS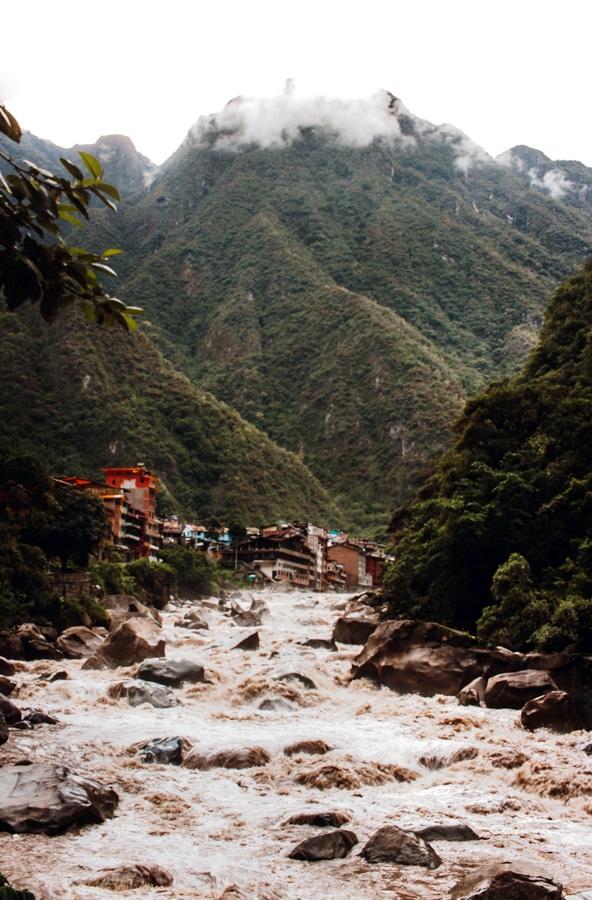 COVID 19 RESTRICTIONS // TRAVELING DURING THE CORONAVIRUS PANDEMIC
The Government of Peru has released new protocols for tourists visiting Machu Picchu during the COVID-19 pandemic. In addition to increased disinfection and safety protocols, there are also new requirements for visitors during this time.
VISITOR DAILY LIMITS Machu Picchu has set a new limit on the number people who can visit the site each day. Cutting admission by over 50%, the new limit is 1,116 people per day (124 people per hour).
TEMPERATURE CHECKS Before entering, your temperature will be checked. Anyone with a temperature over 100 Fahrenheit (38 Celsius) will be denied entrance.
MASKS are required during your entire visit. Even while taking pictures.
VISITATION TIME LIMITS Before the pandemic, you used to be able to stay as long as you liked once you were inside of Machu Picchu, however visits are currently being limited to 3 hours.
SOCIAL DISTANCING Visitors are required to remain 5 feet (1.5 meters) from each other and groups must stay 66 feet (20 meters) apart.
GROUPS are limited to a maximum of 8 people (7 visitors and 1 tour guide).
NO EATING Food is not allowed. Plastic water bottles are also not allowed, but this rule has been in effect for years.
CAPACITY LIMITS Busses and trains are currently operating at 50% capacity.
IS MACHU PICCHU CURRENTLY OPEN TO VISITORS?
The opening status of tourist sites in Peru is in constant fluctuation. To view the current restrictions and travel requirements visit:
Peru's US Embassy website with the latest news and restrictions for United States citizens.
TravelBans.com for recent global updates straight from the Peruvian Government.
HUAYNA PICCHU CLOSURE
Update February 2021: Huayna Picchu is closed until further notice.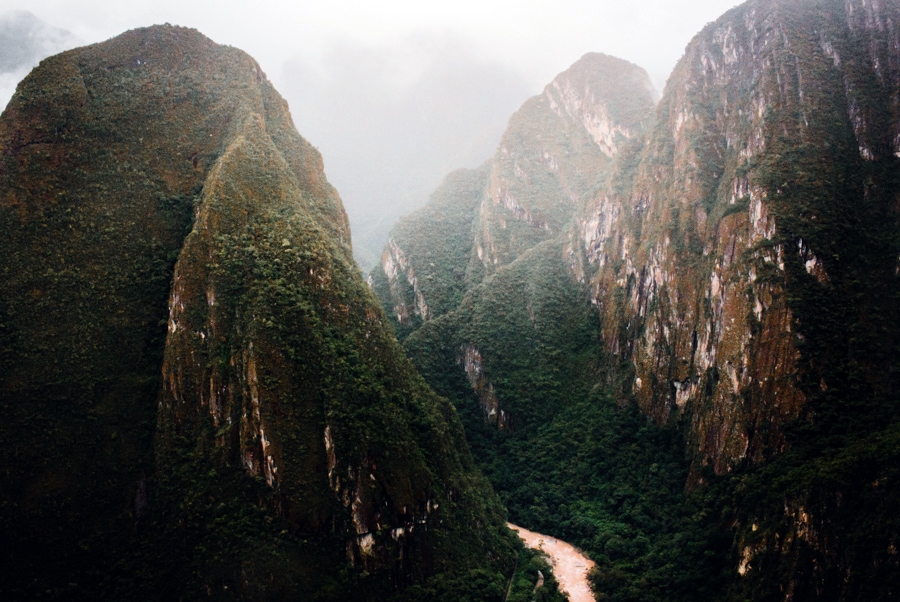 ---
PIN IT: A FIRST TIMER'S GUIDE TO VISITING & HIKING MACCHU PICCHU (WITHOUT THE INCA TRAIL)