Cutting through the skyscrapers and running parallel to the gulf, Sheik Zayed Road is the longest road in the Emirates. I knew I wanted to photograph it at night, so we embarked on journey to find the best view in the city.. preferably with a cocktail in hand. Level 43 Sky Lounge has an outdoor terrace that wraps around the top of the Sheraton hotel, offering up 360 degree views of Dubai – and the exact photo of Sheik Zayed Rd. that I was looking for. Keep reading to discover the best rooftop bar in Dubai, tips to plan your visit, plus how to get there and more.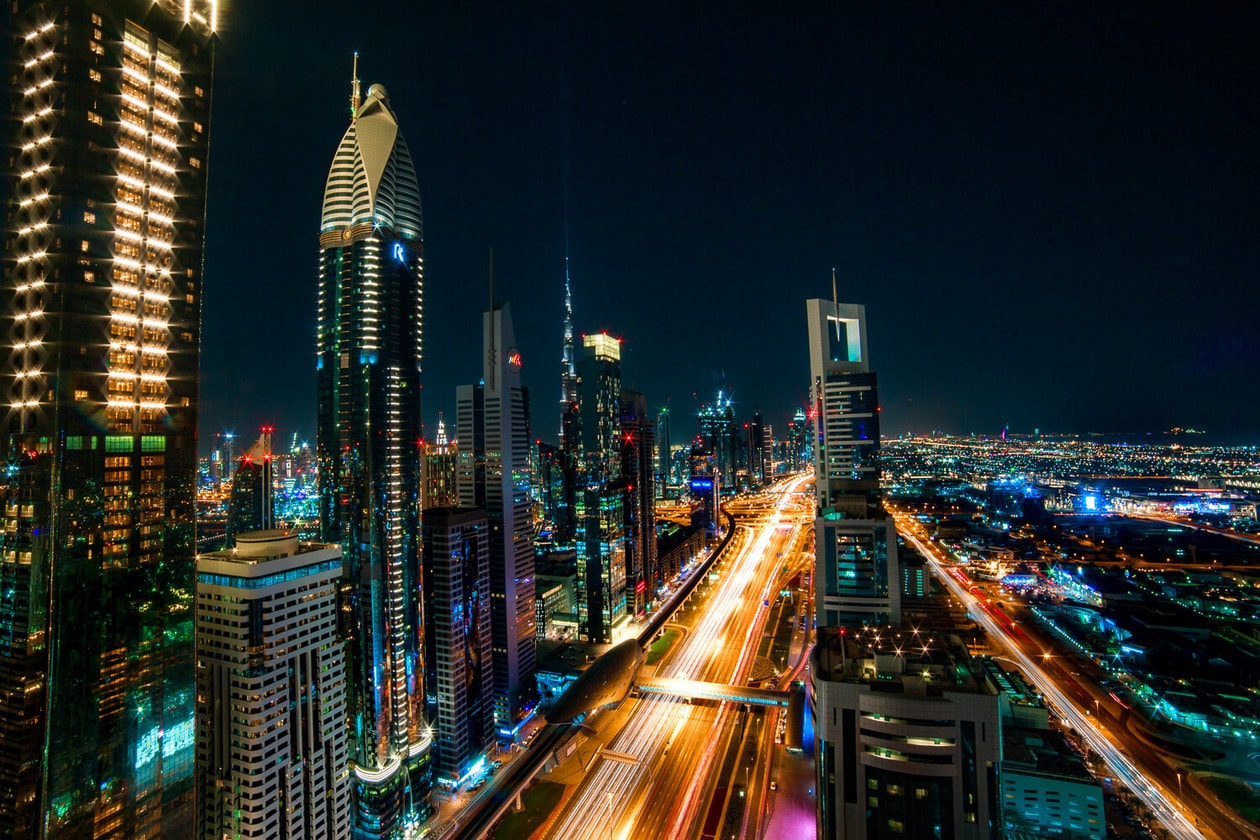 STRIKING OUT
After an incredible night of cocktails and shisha on the beach the night before, our next goal was to see Sheik Zayed road at night, preferably from a rooftop bar in Dubai.
I had read that the Shangri-La Hotel offers some of the best views, so we stopped there first. Apparently it is new procedure for the hotel to charge outside visitors to access The Terrace at Level 42. Ok, kind of annoying but no problem (you know I'll pay for a good view).. but when we asked how much, guess what they said?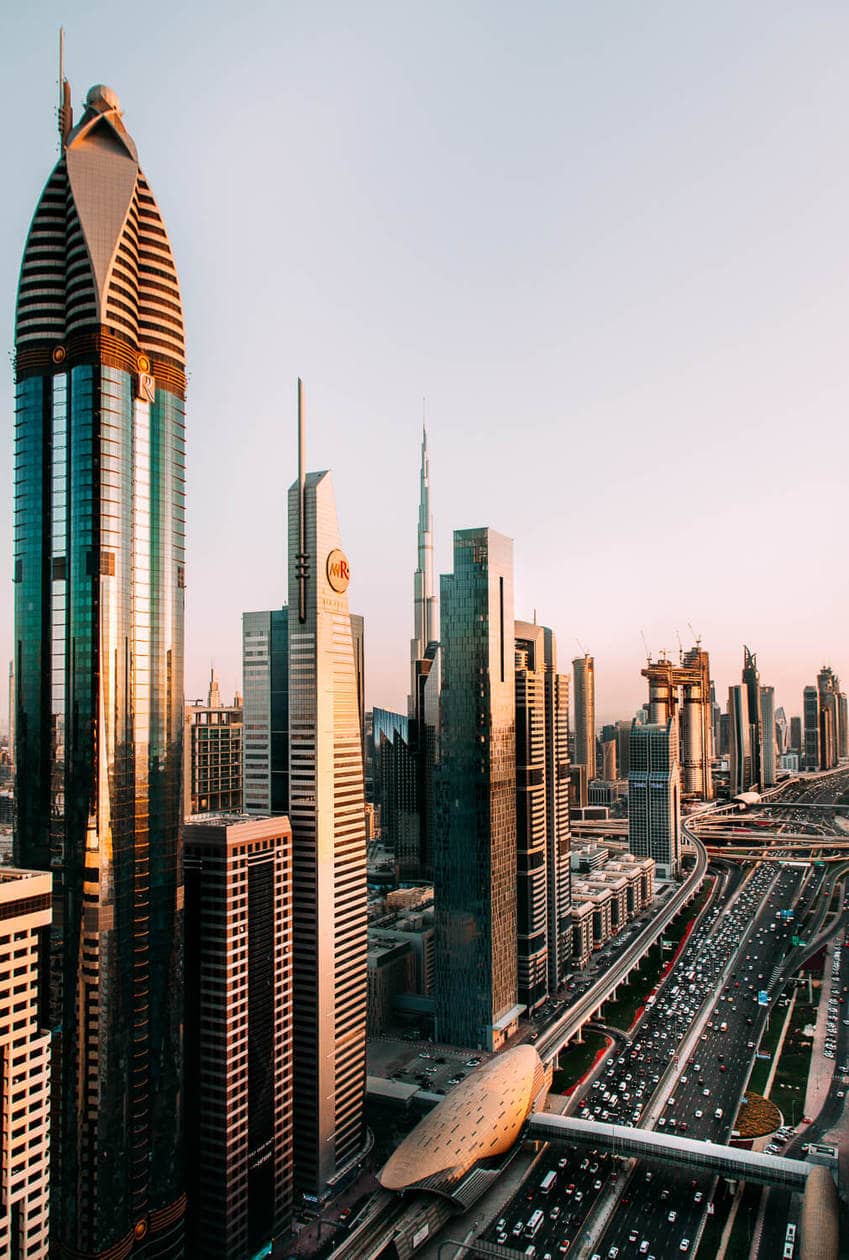 AED 250 ($70 USD) for two people for 1 hour. LOL. You can literally go down the street and take the fastest elevator in the world up the tallest building in the world for less money. Next.
---
RELATED POST: BURJ KHALIFA AT THE TOP // WATCHING THE SUNRISE IN DUBAI
---
LEVEL 43 SKY LOUNGE // THE BEST ROOFTOP BAR IN DUBAI
Level 43 Sky Lounge is located in the Four Points by Sheraton Sheik Zayed Road Hotel. After entering the lobby, take a quick elevator ride up 180 feet (55 meters) to the 43rd floor and come face to face with the best rooftop bar in Dubai.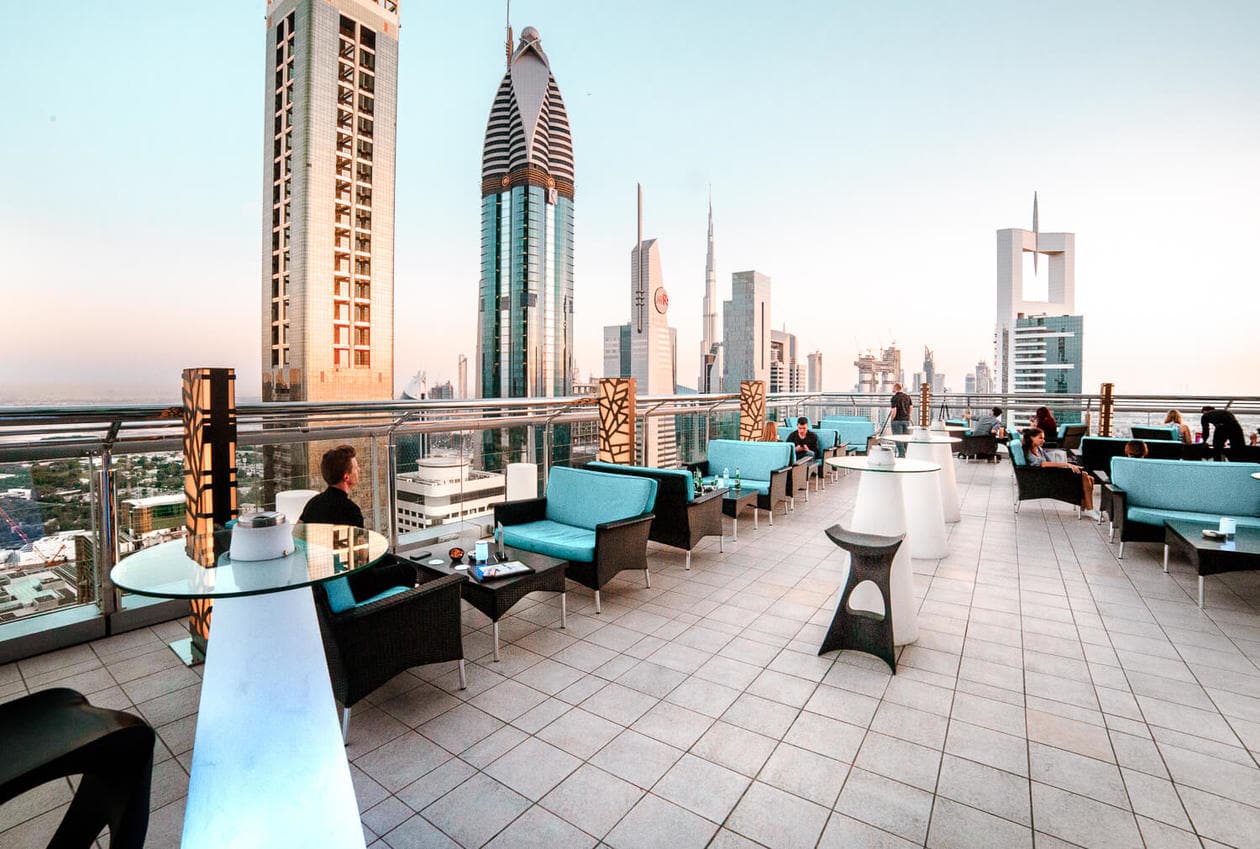 The outdoor terrace is lined with comfortable couches and chairs, and the ambient blue lighting gives off laid back, mellow vibes. I hate bars that are "too cool," (do you know what I mean?) and this one is definitely not. Some people were dressed up while others were very casual, and all of the servers were extremely friendly and helpful.
We arrived during Happy Hour, so we decided to try one of their signature cocktails which were on special for AED 50 ($14 USD). The Black Dragon was made with citrus vodka, fresh dragon fruit, blackberries and pineapple juice, and it was delicious. They also serve food, with menu items ranging from sushi to burgers. To view the food and drink menu, click here.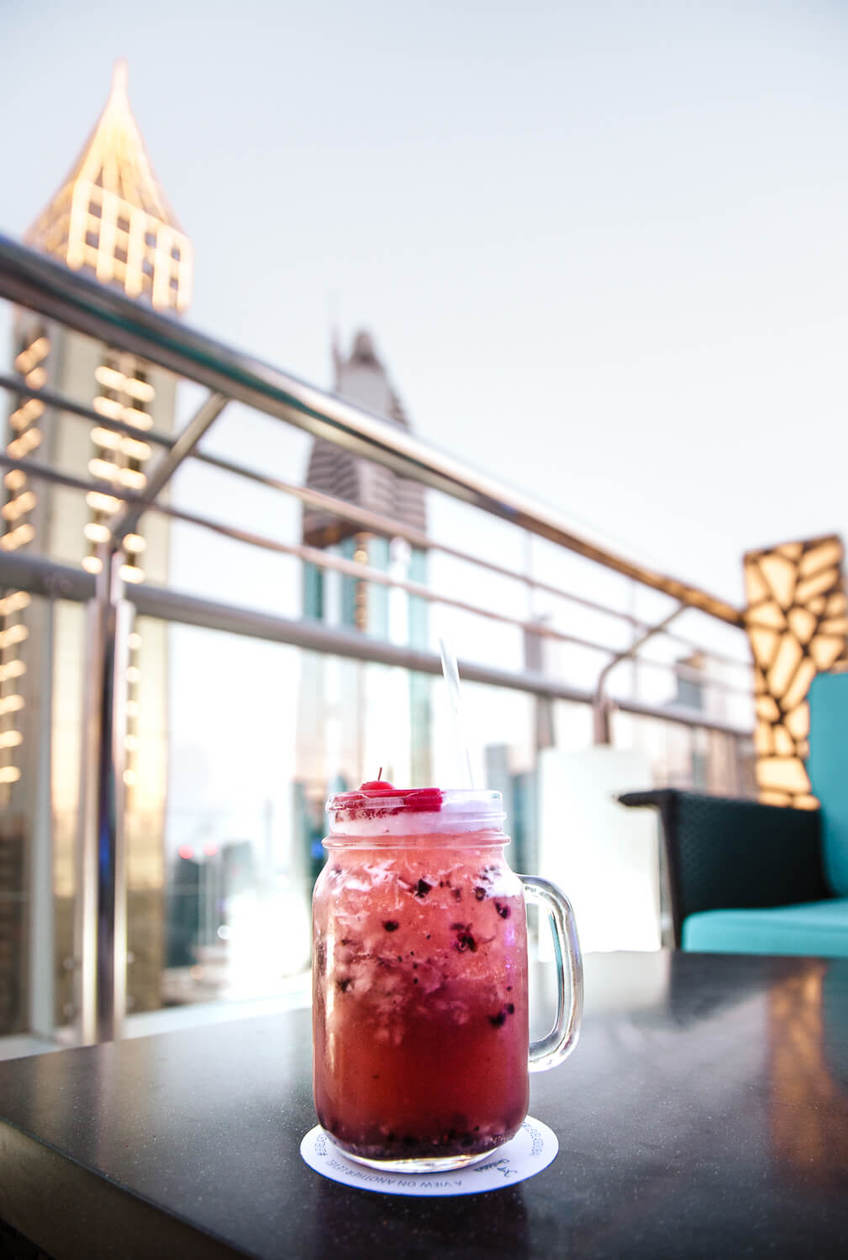 I really wanted one of the corner tables overlooking Sheik Zayed road but I dropped the ball and didn't make a reservation ahead of time. All of the tables had been booked for the night, but our waitress told us that if someone were to cancel we could sit there (nobody did). Luckily, the man in the corner was very nice and he let us take a few photos from his table.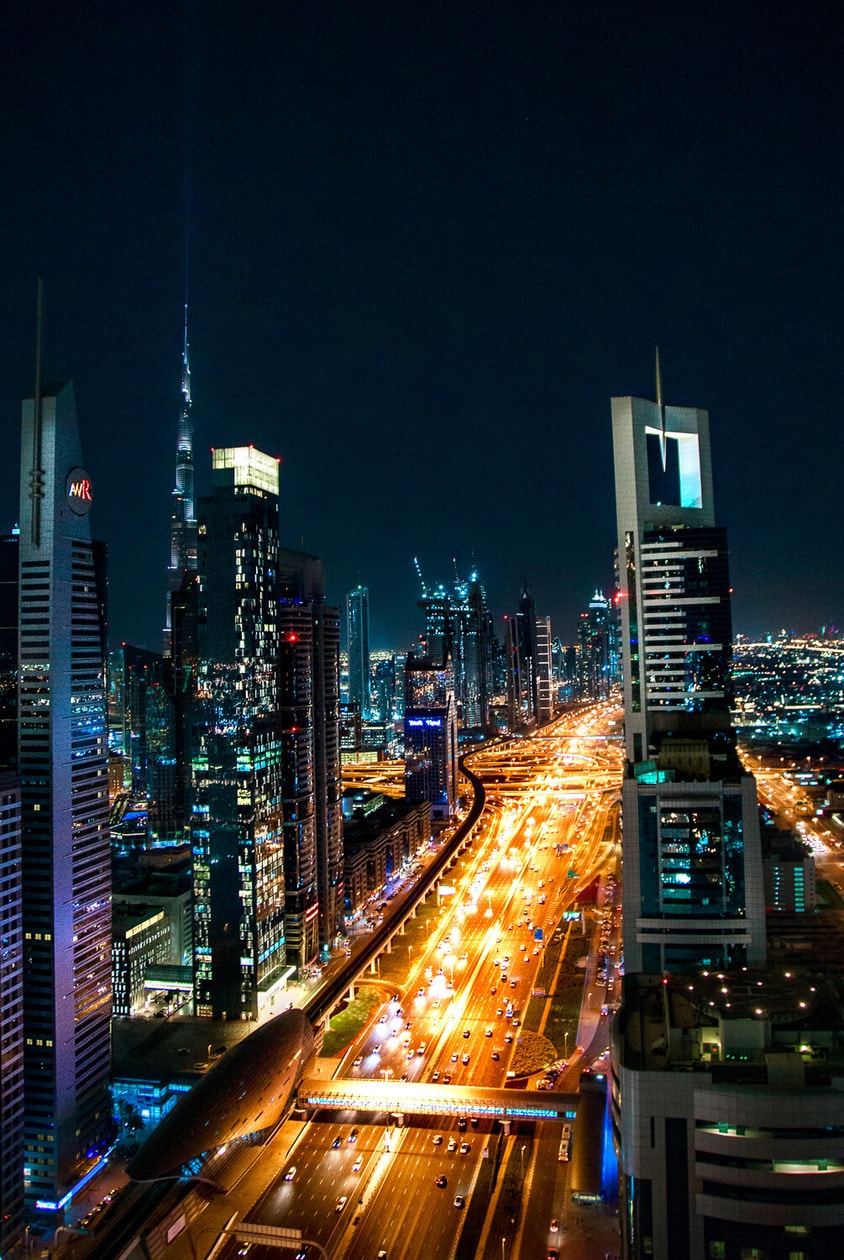 Overall the bar was very comfortable, and we spent several hours taking in the views, toasting our last night in Dubai, and contemplating the DJ's decision to play heavy reggaton, Miami club music in this modern setting.
If you get the chance to stop by Level 43 Sky Lounge, I highly recommend a visit!
---
RELATED POST: THE BEST SUNSET BEACH COCKTAILS WITH KILLER BURJ AL ARAB VIEWS
---
TIPS FOR VISITING LEVEL 43 SKY LOUNGE
MAKE RESERVATIONS NEAR THE EDGE My number one, must do tip is make a reservation requesting a table near the corner edge, overlooking Sheikh Zayed Road. All of the other views pale in comparison. You'll also need to make reservations far enough in advance as these are the most popular tables, especially on the weekends.
Make a reservation online, by email or phone (+971564142213).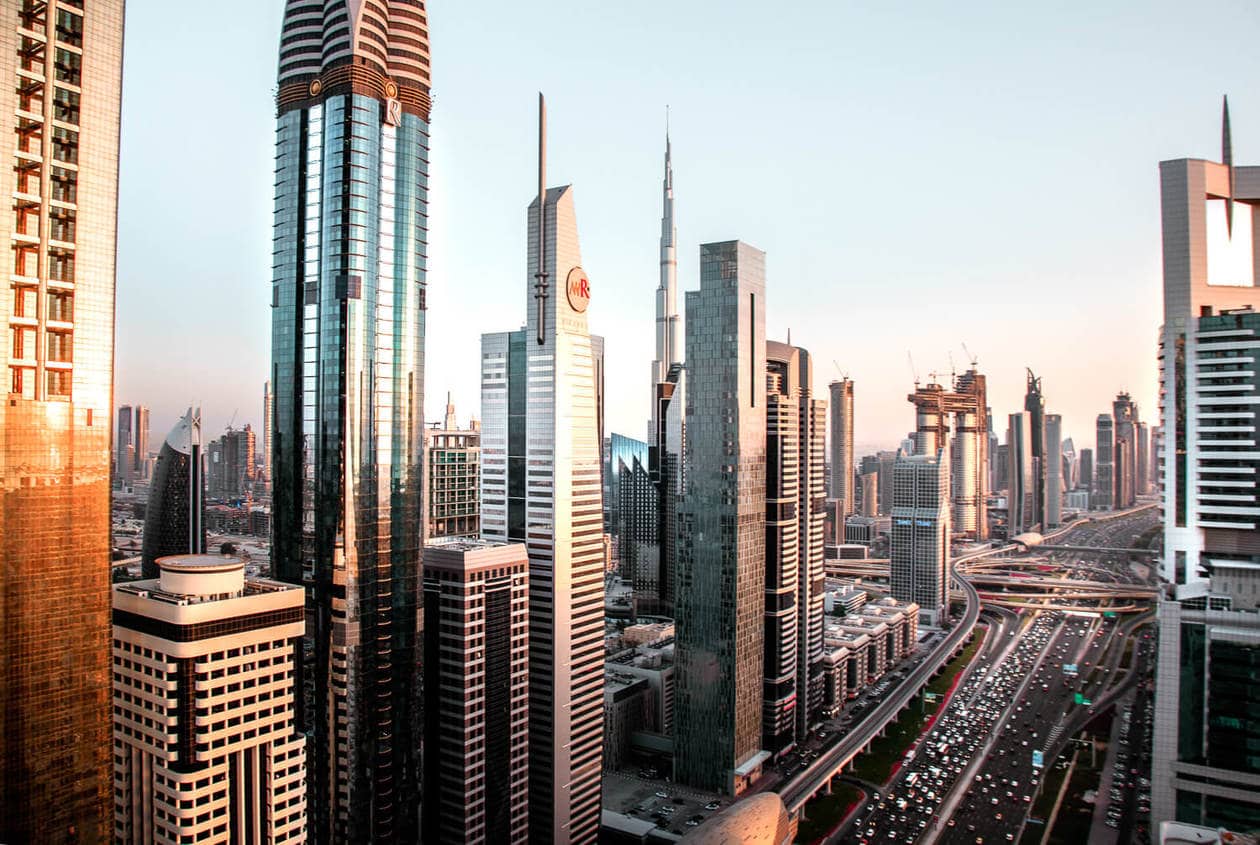 TRIPODS  The use of tripods are only available with prior approval. I contacted the hotel ahead of time and was granted permission. When we arrived I let our server know and had my email on hand in case there was an issue (which there wasn't). Also note that the railings are tall. My small, travel tripod had issues clearing the top.
GO AT SUNSET Head up to Level 43 Sky Lounge just before it gets dark. The golden light on the buildings is really beautiful and I always love watching the transition of a city from light into darkness.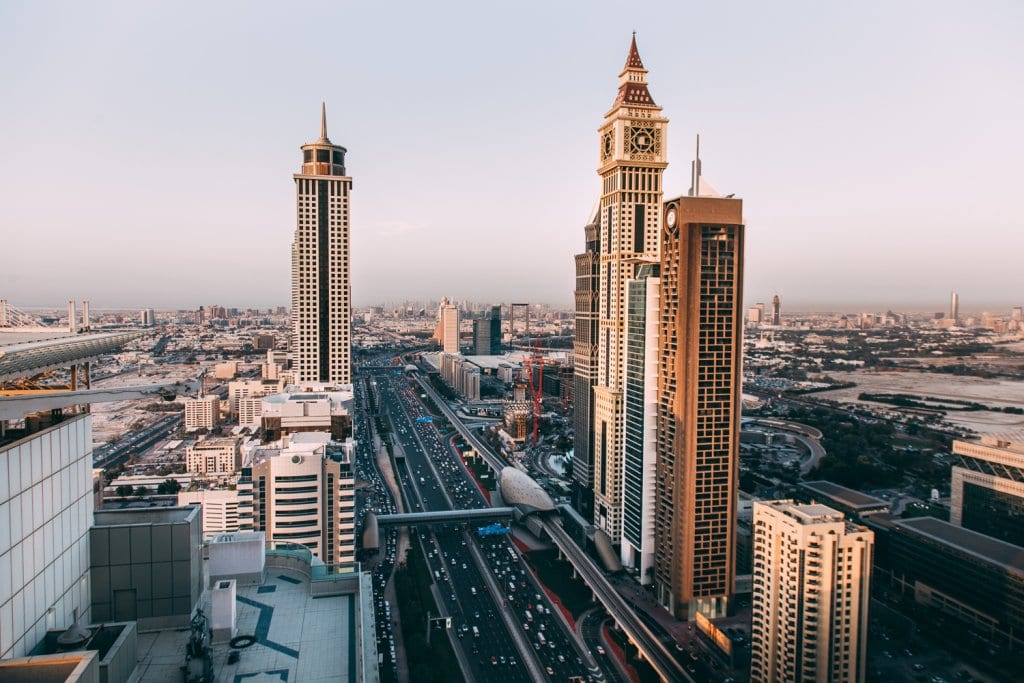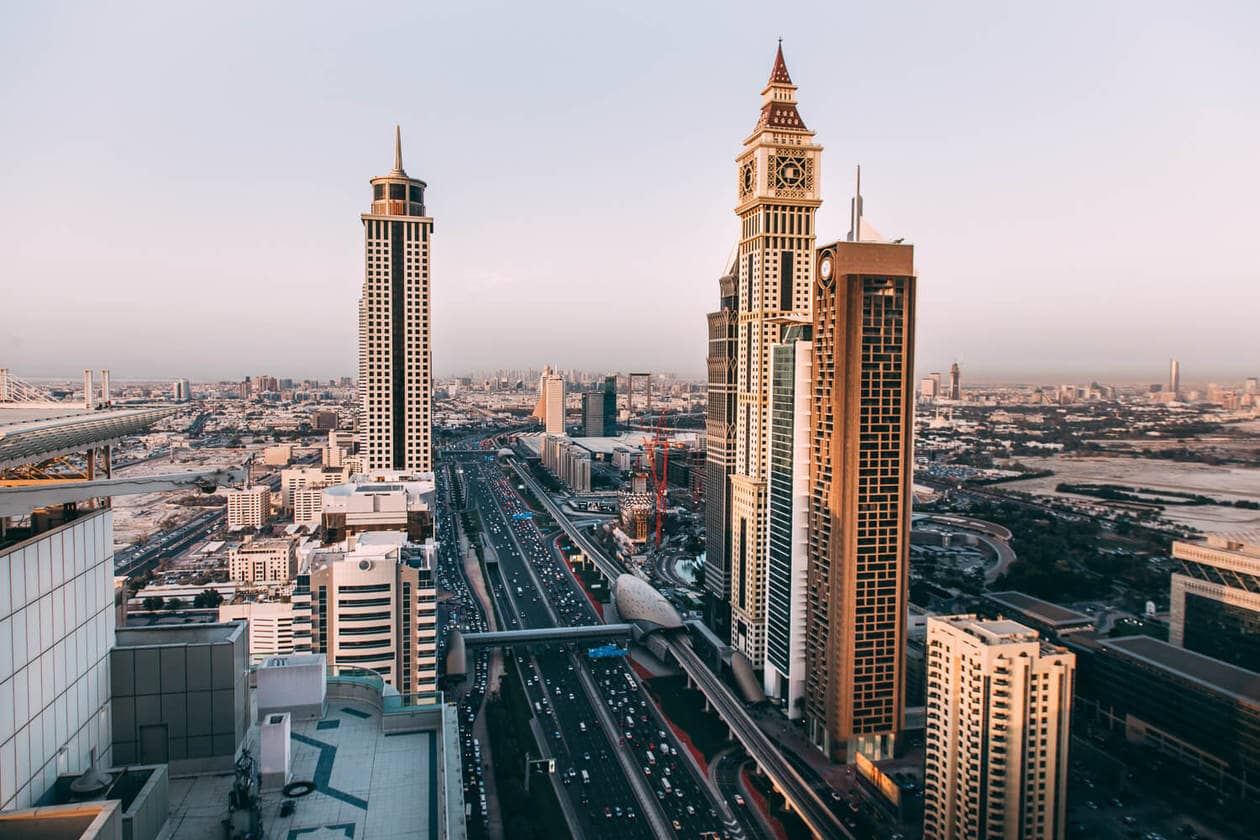 HAPPY HOUR The bar offers Happy Hour daily from 6PM to 8PM and the prices are reasonable for Dubai. Select cocktails are AED 50 ($14 USD), mocktails are AED 35 ($9.50 USD), beers are AED 38 ($10 USD) and house wine is AED 38 ($10 USD).
IF YOU'RE IN TOWN ON TUESDAY Every Tuesday is Ladies Night and from 8pm-11pm, and women get 2 free cocktails.
AGE LIMIT Level 43 Sky Lounge is 21+
DRESS CODE "Smart Casual"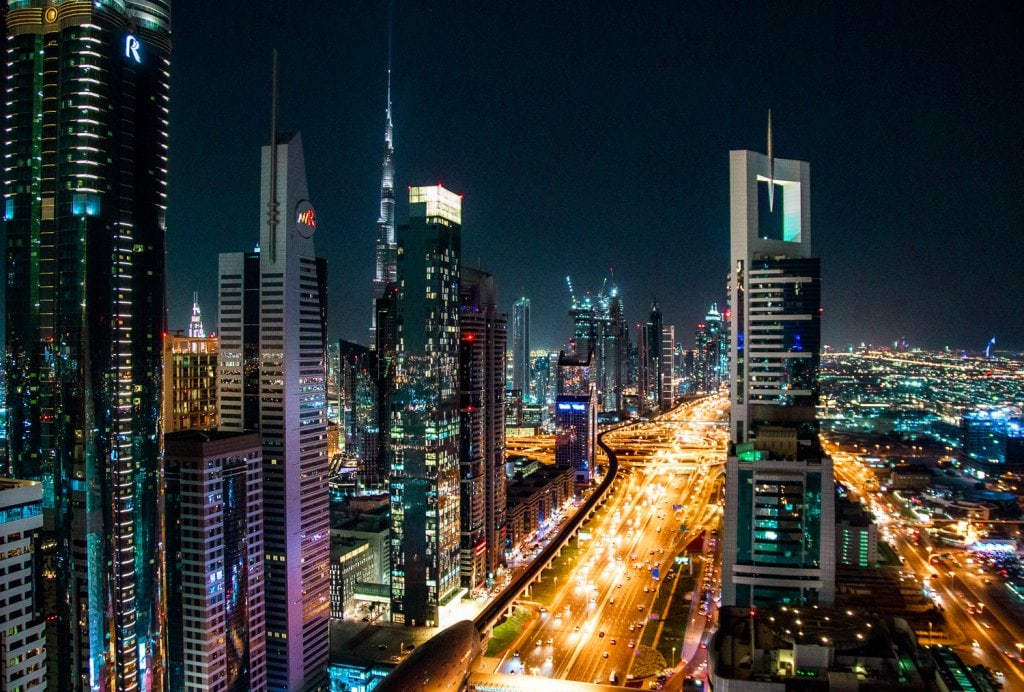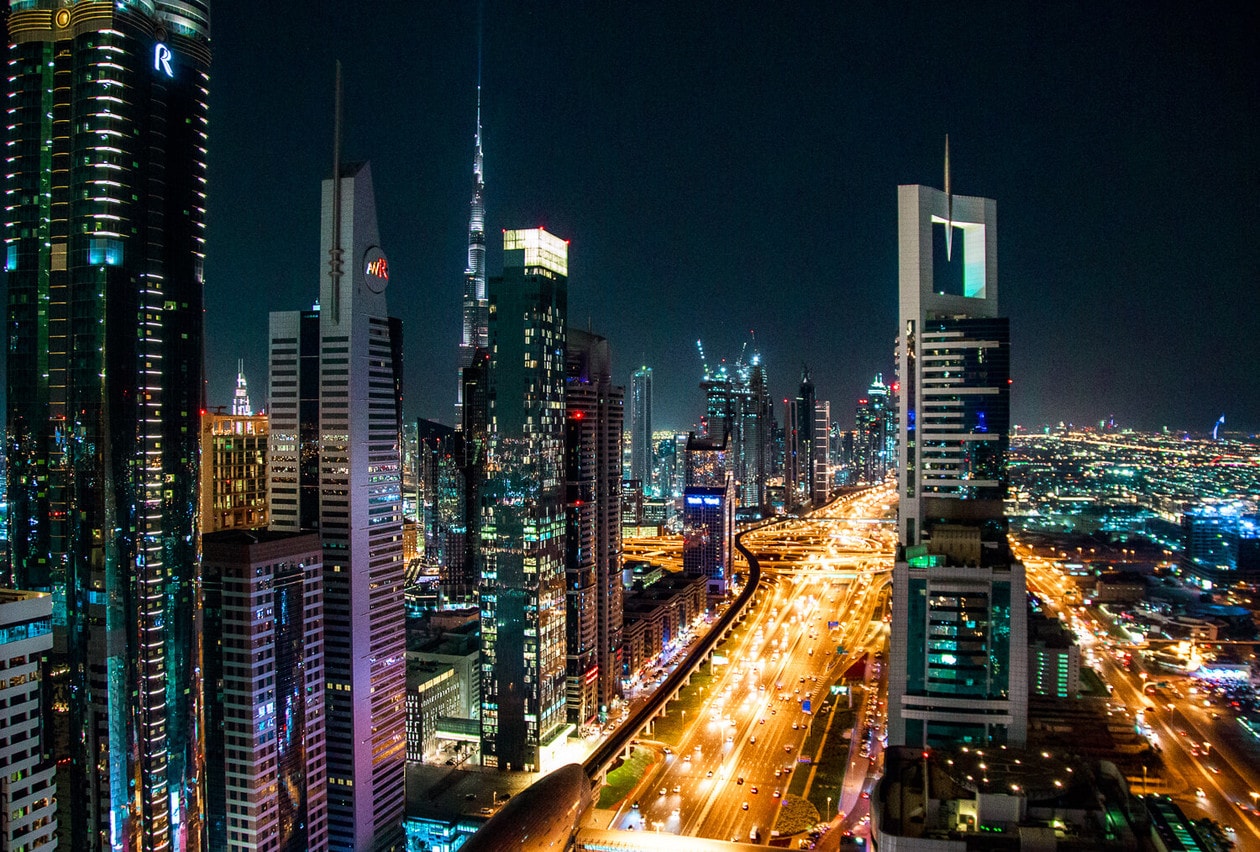 ROOFTOP POOL BY DAY Level 43 Sky Lounge transitions into a rooftop pool during the daytime. The pool is only available to guests staying at the Four Points by Sheraton Sheik Zayed Road.
VEGETARIANS The food menu has a wide range of vegetarian options. Choose from paneer skewers, mushroom risotto balls, samosas, nachos and more.
HOW TO GET TO LEVEL 43 SKY LOUNGE / FOUR POINTS BY SHERATON SHEIK ZAYED ROAD
We chose to take a taxi which is the easiest way to get there, especially if you or someone in your party is wearing heels.
You can also take the metro (red line) to the Financial Center station. The Four Points by Sheraton is about a 6 minutes (400m/0.2 mile) walk away.
---
PIN IT: THE BEST ROOFTOP BAR IN DUBAI // LEVEL 43 SKY LOUNGE