At first glance, Sidewalk Deli is not much to look at. The 2nd and 3rd glances aren't great either. In fact, it probably won't be until you take your first bite of kimchi pancake that you'll actually start to trust this recommendation.
At least that's how it went for us.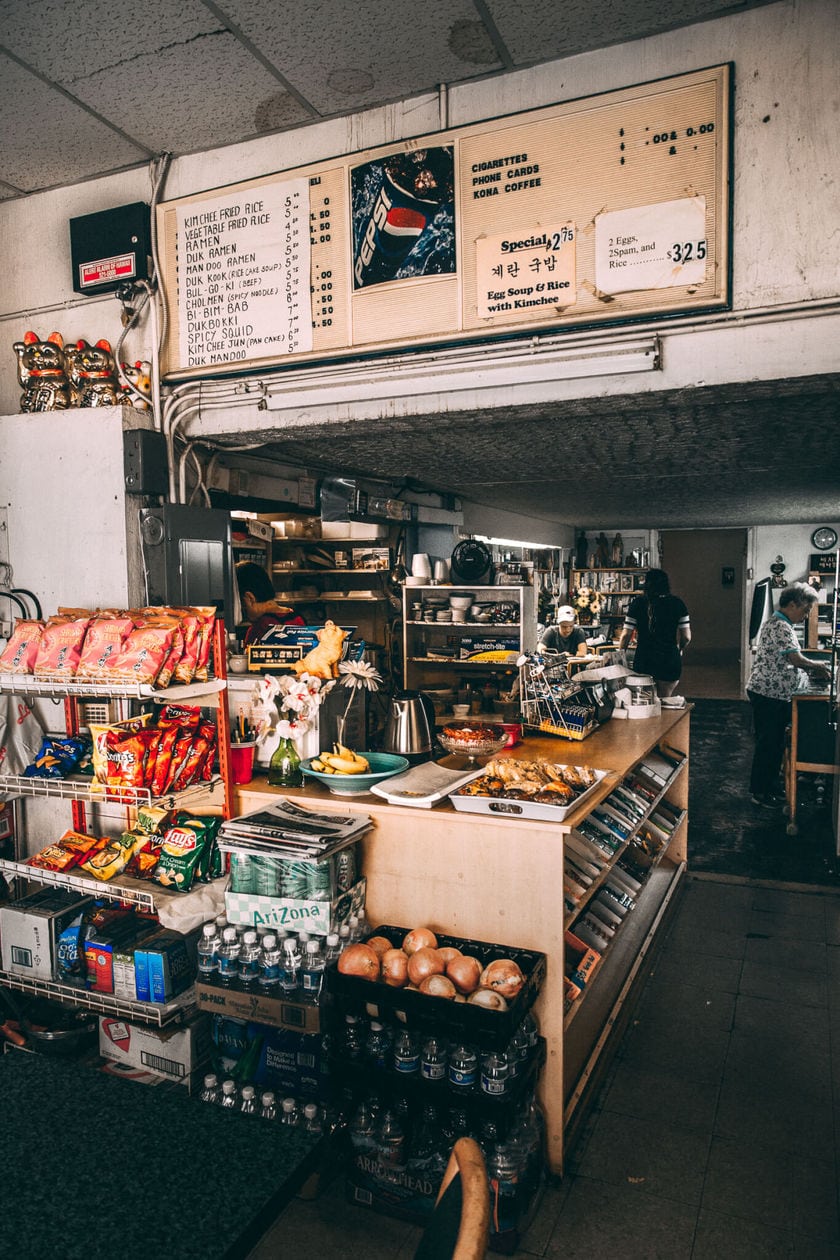 My sister Shannon has lived in Oahu for several years and she's mentioned the kimchi pancakes at Sidewalk Deli no fewer than 300 times. She talks about them more than the beaches and the rainbows and the trees (she's really into trees). When asked what she'll miss most about Hawaii when she moves, she literally says these kimchi pancakes.
That's a whole lot of hype, so I have to admit that my mental picture of Sidewalk Deli didn't quite add up once we finally sat down for a meal.
---
RELATED POST: 6 THINGS TO DO IN HONOLULU THAT AREN'T WAIKIKI BEACH // A LOCAL'S GUIDE
---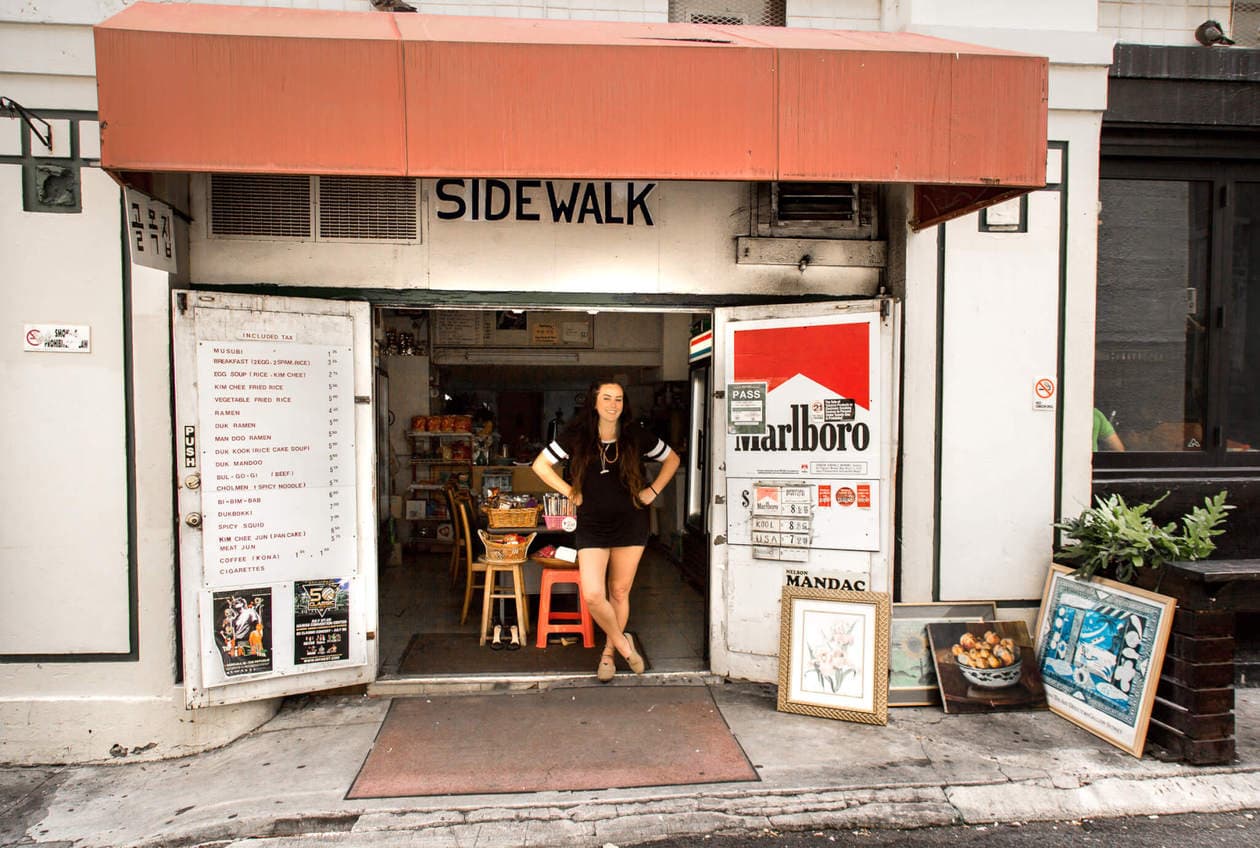 Sidewalk Deli is located in Honolulu, at Fort Street Mall in Chinatown. You'll recognize it by the large Marlboro sign out front and random paintings set up along the sidewalk. Once you enter you'll wonder if you're in someone's house, possibly a thrift store. Definitely not a restaurant.
But it most definitely is. The menu is small but the portions are large, and not to mention extremely affordable. With an average entree price coming in around $5 USD, it's basically free by Hawaii's standards.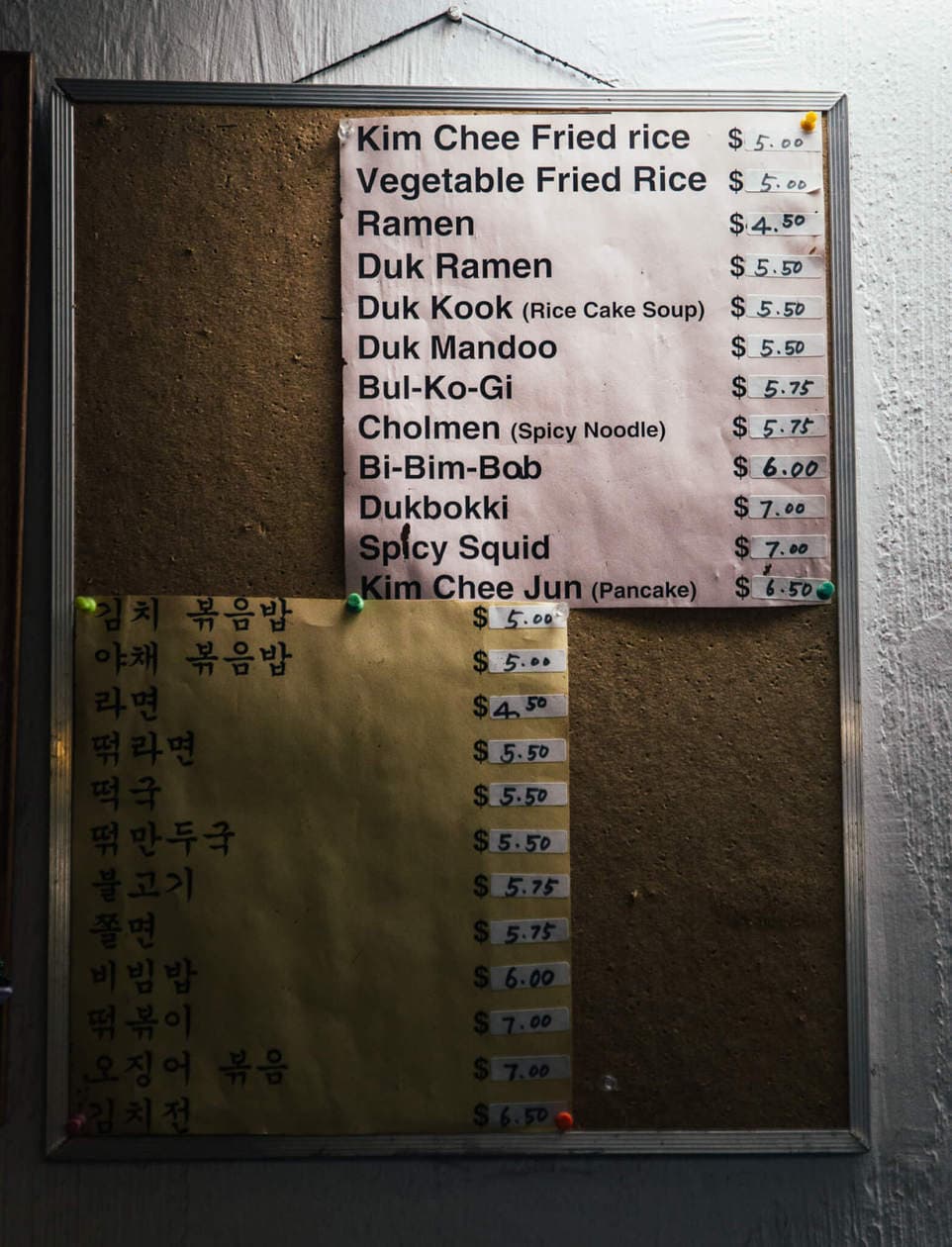 After placing your order, wander around and browse the racks of trinkets for sale. Shoes, costume jewelry, DVD's, yellow onions and potato chips line the shelves. On Saturdays the owner hosts a thrift store pop-up. It's eclectic and random, but somehow very fitting.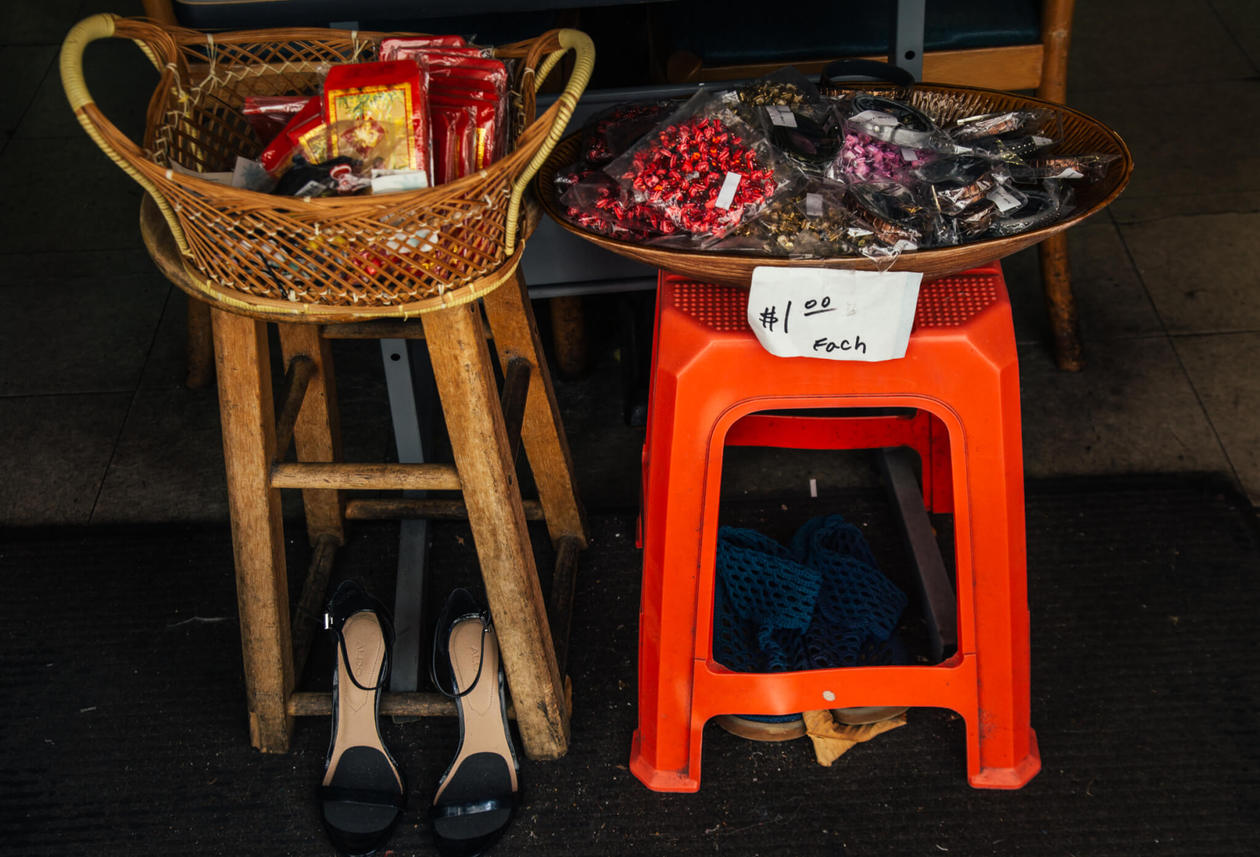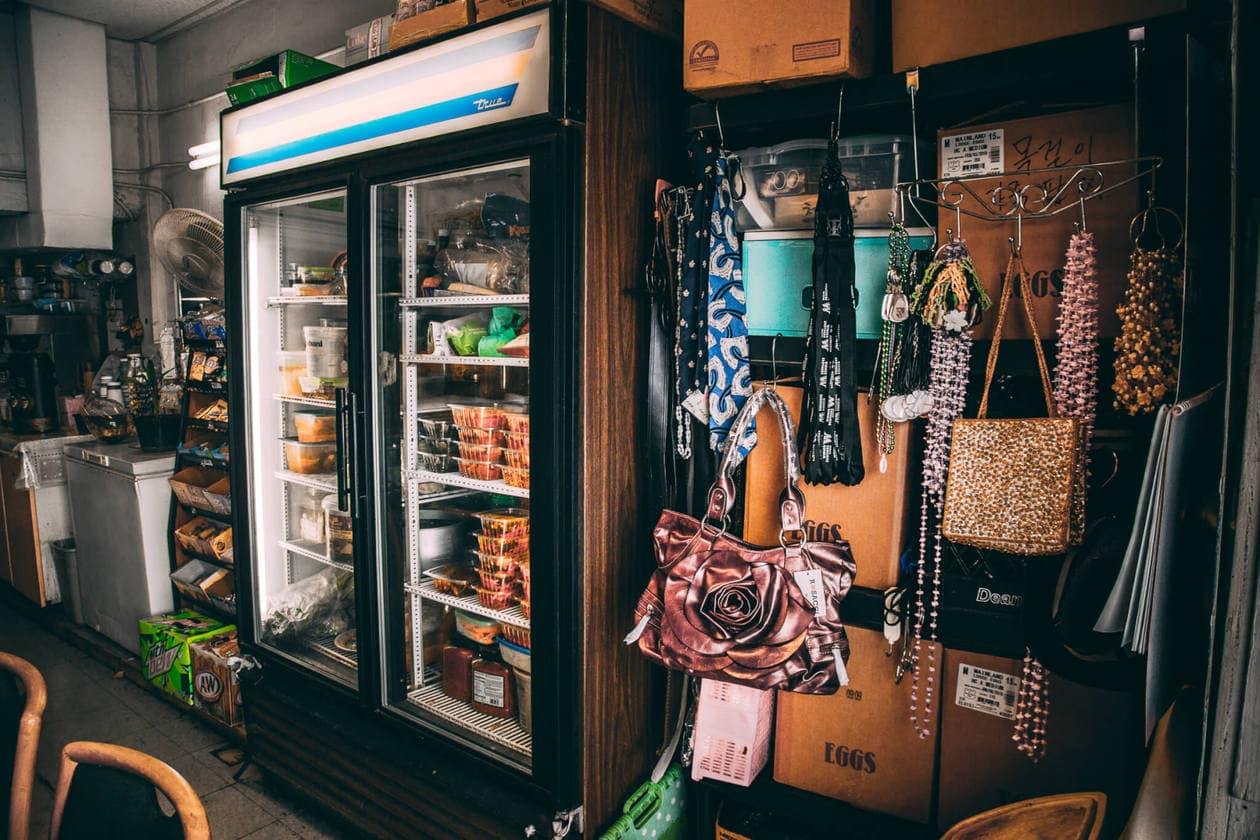 The restaurant is a one woman show. The sweet lady behind the counter cooks your meal on a single, tiny stove, so if you come during the lunch rush expect a small wait. She expertly whips up your food with a wall of cigs serving as her backdrop. Also somehow.. very fitting.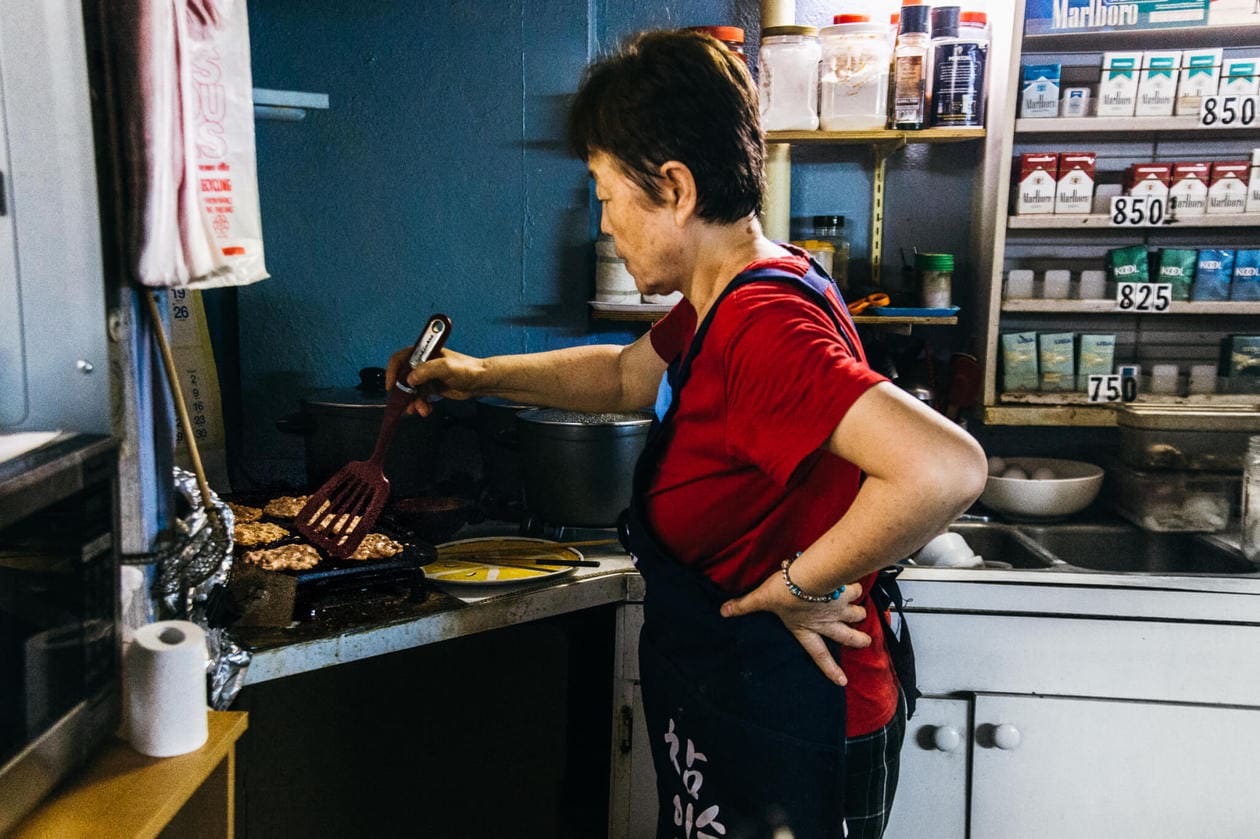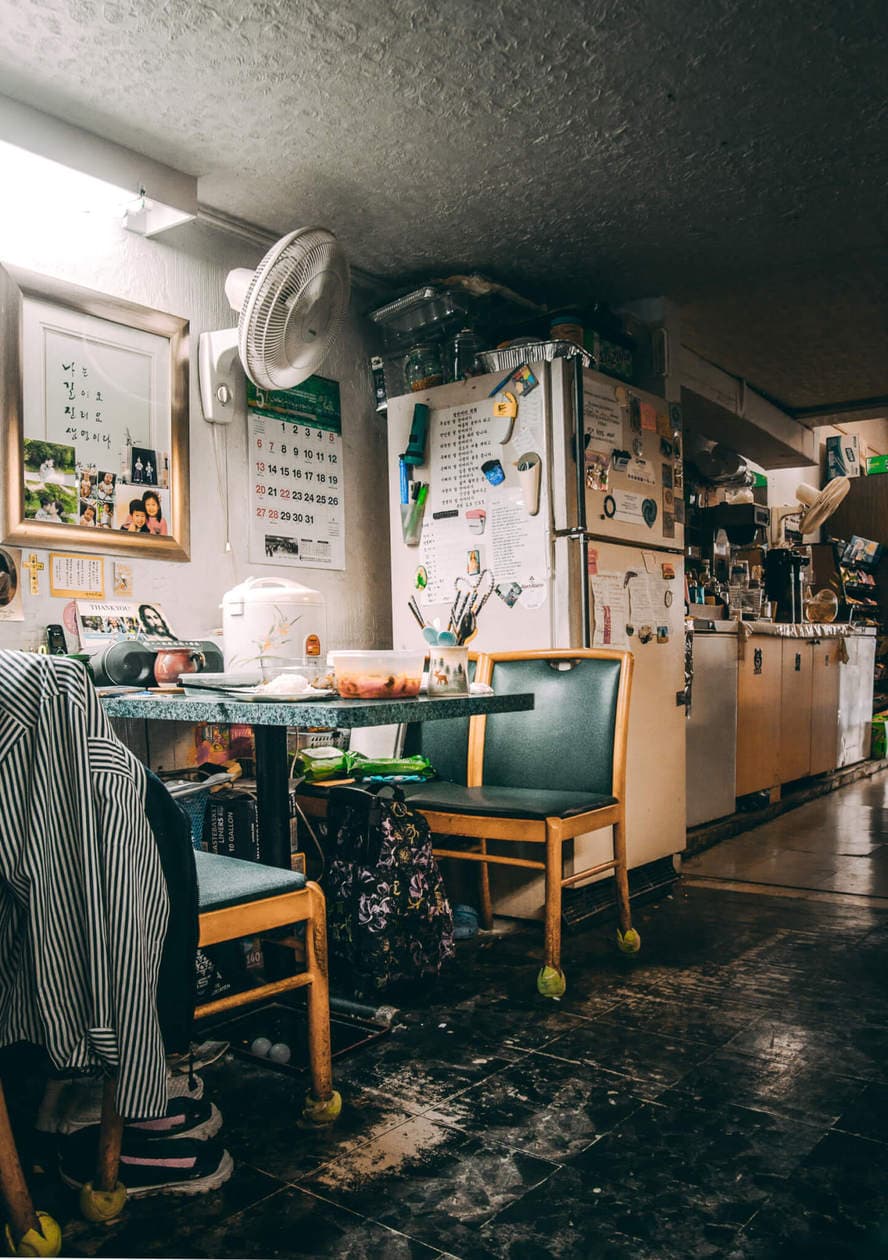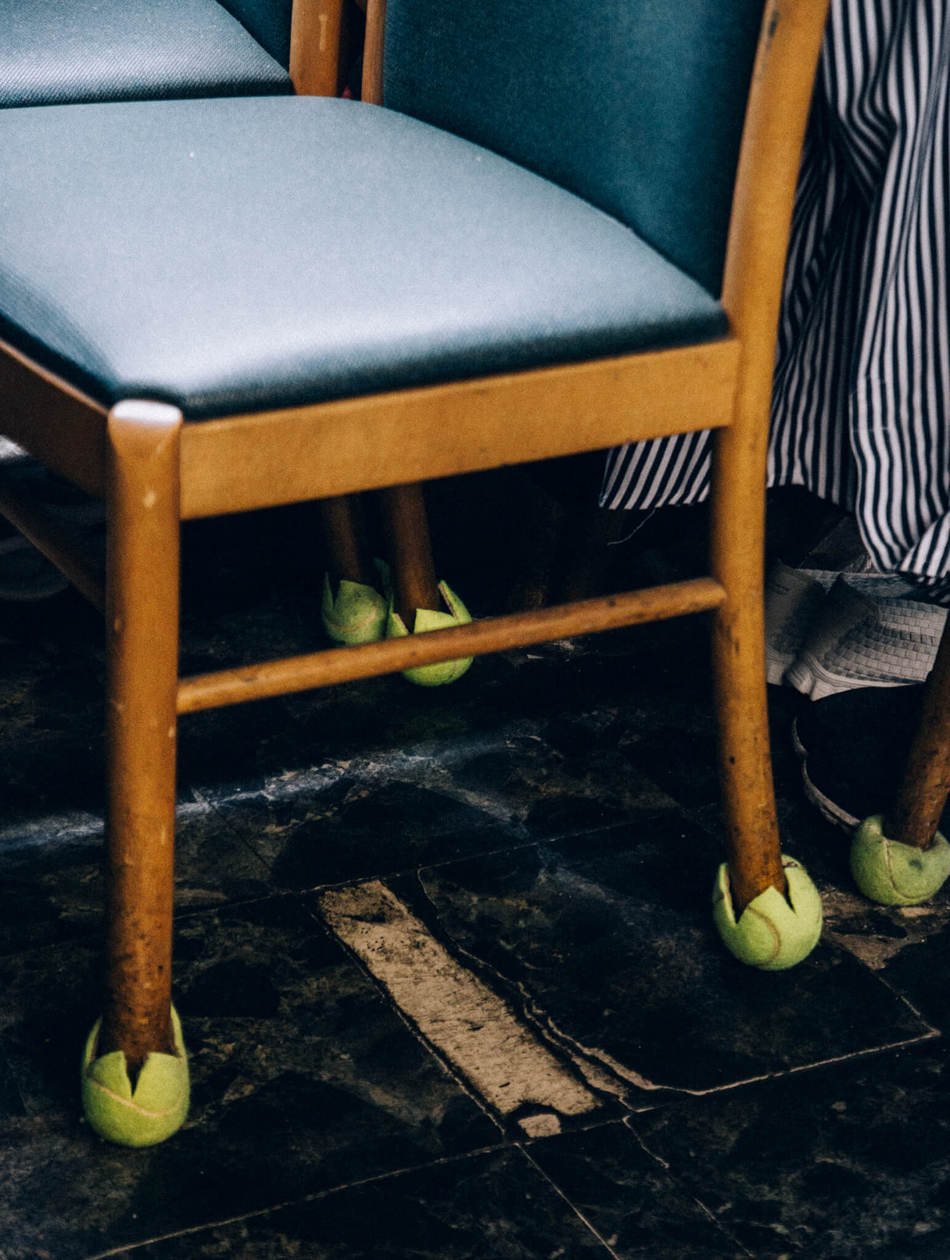 I'm not familiar with Korean cuisine at all, and I didn't even know what a kimchi pancake was (it sounds kind of gross, right?) but on this day, I was converted. In fact, these savory crispy patties from Sidewalk Deli have officially been added to my list of the best food I've ever eaten while traveling.
The meal came with a side of egg soup and homemade kimchi, complete with plastic Dora the Explorer children's utensils.
---
RELATED POST: 6 UNIQUE PLACES TO EAT IN HONOLULU
---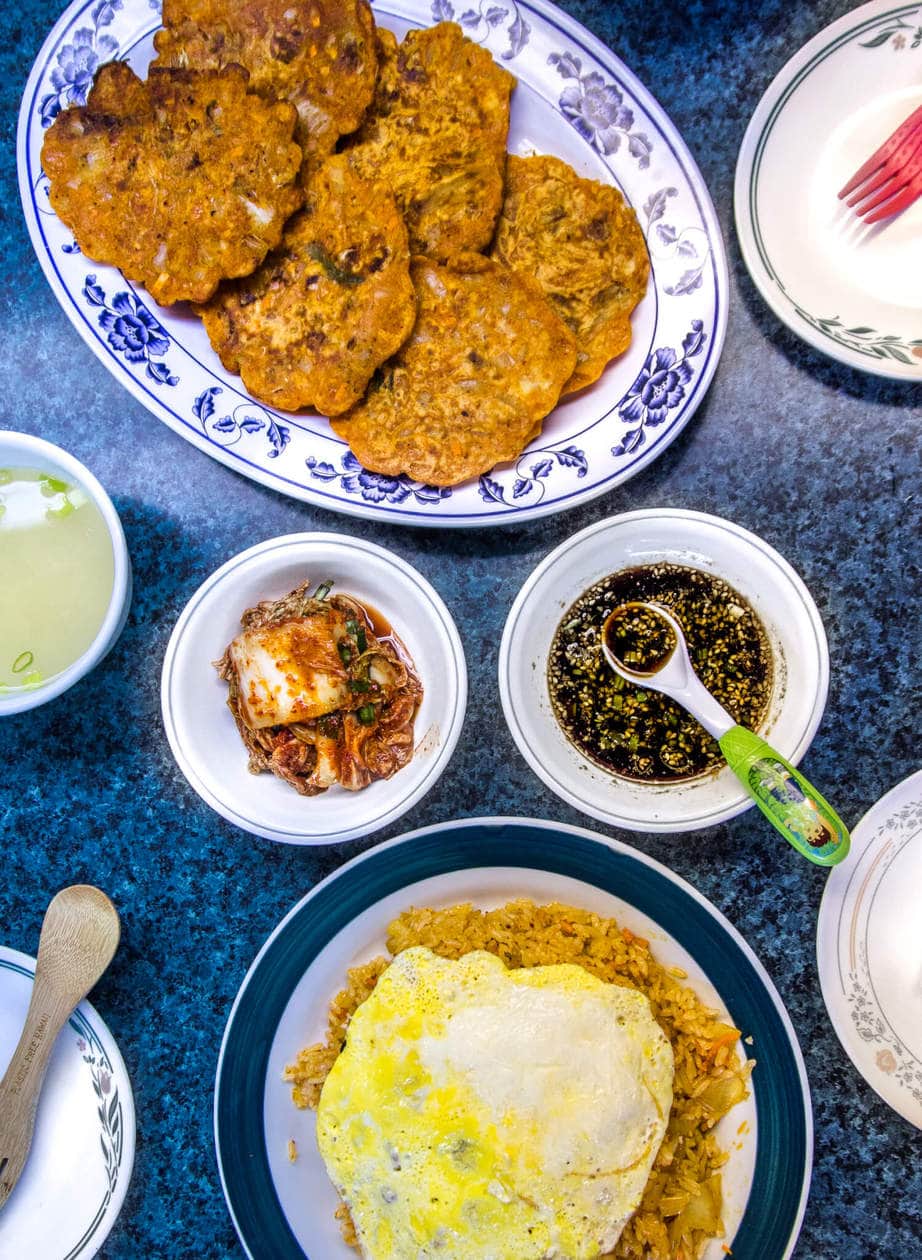 We ordered the vegetable fried rice and kimchi pancakes (1 order comes with 6 large pancakes) and it was easily enough food for the the 3 of us. However, that did not stop us from placing another order to-go.
Sidewalk Deli will not be for everyone but these are the kind of hidden gems I live for. If you're looking for some cheap eats in Honolulu, I highly recommend checking stopping in.
---
RELATED POST: 20 PHOTO'S OF OAHU TO INSPIRE YOUR NEXT VISIT TO HAWAII
---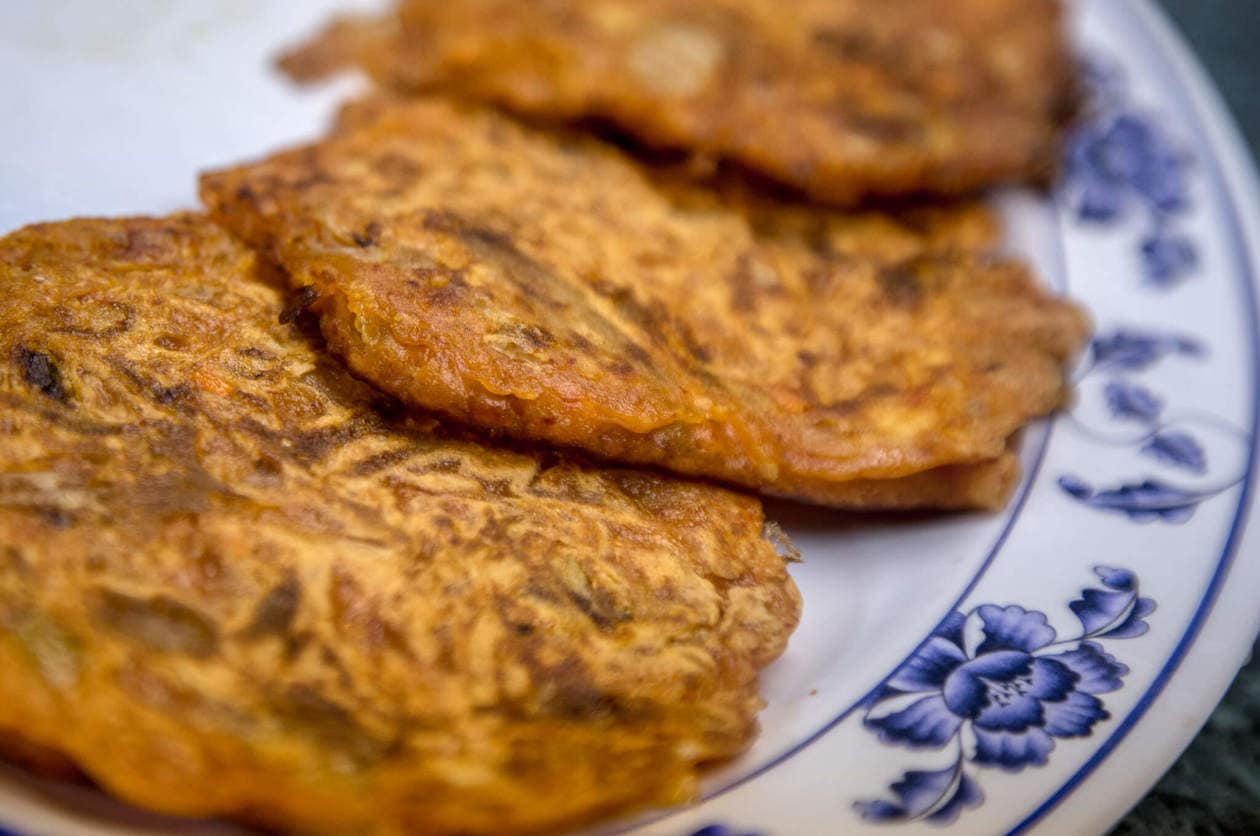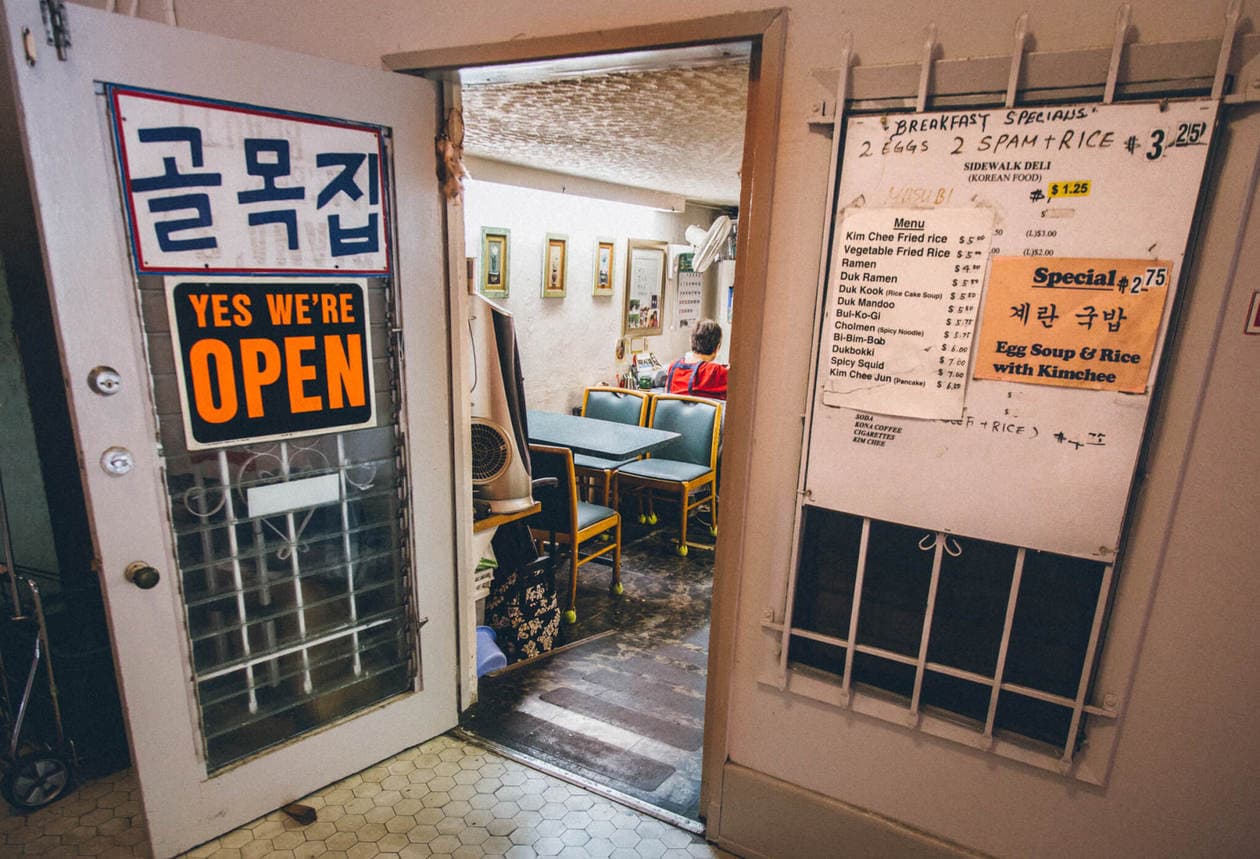 SIDEWALK DELI
1154 Fort Street Mall Ste 107 Honolulu, HI 96813
Located next to Proof Public House
---
PIN IT // THE HOLE IN THE WALL RESTAURANT YOU HAVE TO TRY FOR CHEAP EATS IN HONOLULU