Nestled in the hills of Bavaria, just above the village of Hohenschwangau, lies a beautiful fairytale castle fit for the pages a story-book. Neuschwanstein Castle was commissioned by King Ludwig II in 1869. Rather than hiring an architect to draw up the plans, King Ludwig hired a theater stage designer to create the building's magical design. Today, Neuschwanstein Castle is one of the world's most photographed and popular castles, receiving 1.3 million visitors each year. Disney even based their model for Sleeping Beauty's castle on it.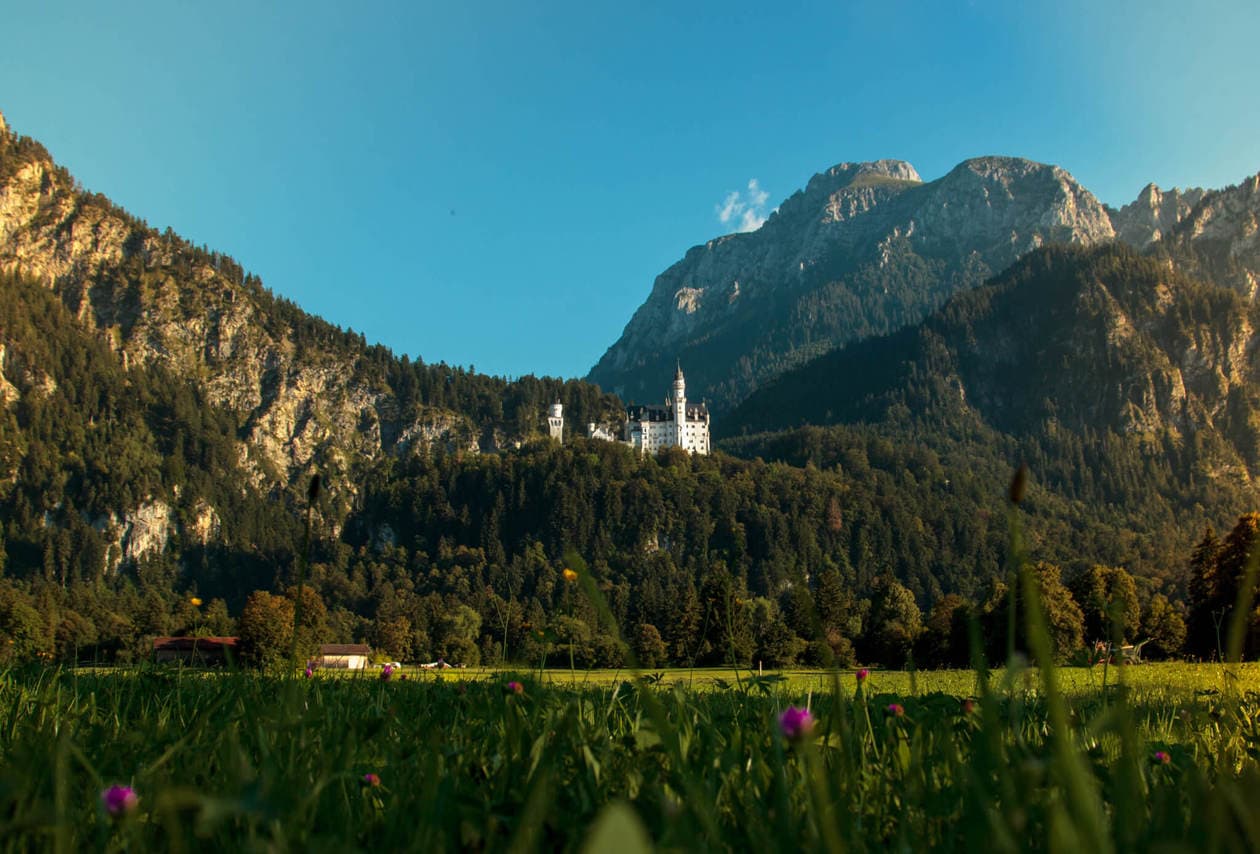 Neuschwanstein Castle is located at the end (or beginning, depending on the direction you're headed) of Germany's Romantic Road, in the heart of Bavaria. It's only a 2 hour drive from Munich, so it's a perfect day trip for those wanting to get out of the city. Nick and I made Neuschwanstein the first stop during our road trip and it was my favorite destination on the Romantic Road.
Keep reading for visitor information, photos and tips for making your trip to Neuschwanstein Castle the best it can be.
---
RELATED POST: GERMANY'S ROMANTIC ROAD // TRAVEL TIPS AND SUGGESTED ITINERARY
---
TIPS FOR BUYING TICKETS TO NEUSCHWANSTEIN CASTLE
I was a little nervous about the ticket situation before our visit. There are a lot of guidelines and it seemed really complicated when I was researching how to do it. Here is everything you need to know to make your ticket purchase go smoothly (it's not as hard as it looks).
You can purchase your tickets online, or at the official ticket center in the village of Hohenschwangau.
If you purchase tickets online, you still have to pick them up at the ticket window in Hohenschwangau. They will not accept printed tickets.
You have to pick your tickets up 1 hour before your tour time, or they will be given away.
You cannot purchase tickets at the top of the hill, or once you reach the castle. Tickets are only available at the ticket window in Hohenschwangau.
Once you buy your ticket, you will be given a tour time. Make sure you are on time for your tour or they won't let you in.. and you can't join another tour.
It took us 25 minutes to get from the bottom of the hill to the entrance of Neuschwanstein Castle. We were there early in the morning when there weren't many people. It's highly advised to start heading up the hill 40min-1 hour before your tour starts to ensure you don't miss your tour time.
During high season, tickets sell out fast and there are long lines. I highly recommend reserving them online before you visit. We visited during August and were worried that they'd be sold out. We woke up early and got to the ticket window before it opened. There was a line, but we did get our tickets.
Tickets can be reserved in advance (for additional charge) up to

two days

before your visit.

TICKET PRICES
Regular Admission
13 Euros
Reduced Admission (seniors, groups etc)
12 Euros
18 and Under
FREE
Neuschwanstein Castle and Hohenschwangau Castle

on the

same day:
25 Euros
YOU CAN PURCHASE YOUR TICKETS ON HOHENSCHWANGAU'S WEBSITE HERE
HOW TO GET TO NEUSCHWANSTEIN CASTLE FROM HOHENSCHWANGAU
One you have your tickets in hand, there are 3 options for getting up to Neuschwanstein Castle: walking, riding a horse drawn carriage, or taking the shuttle.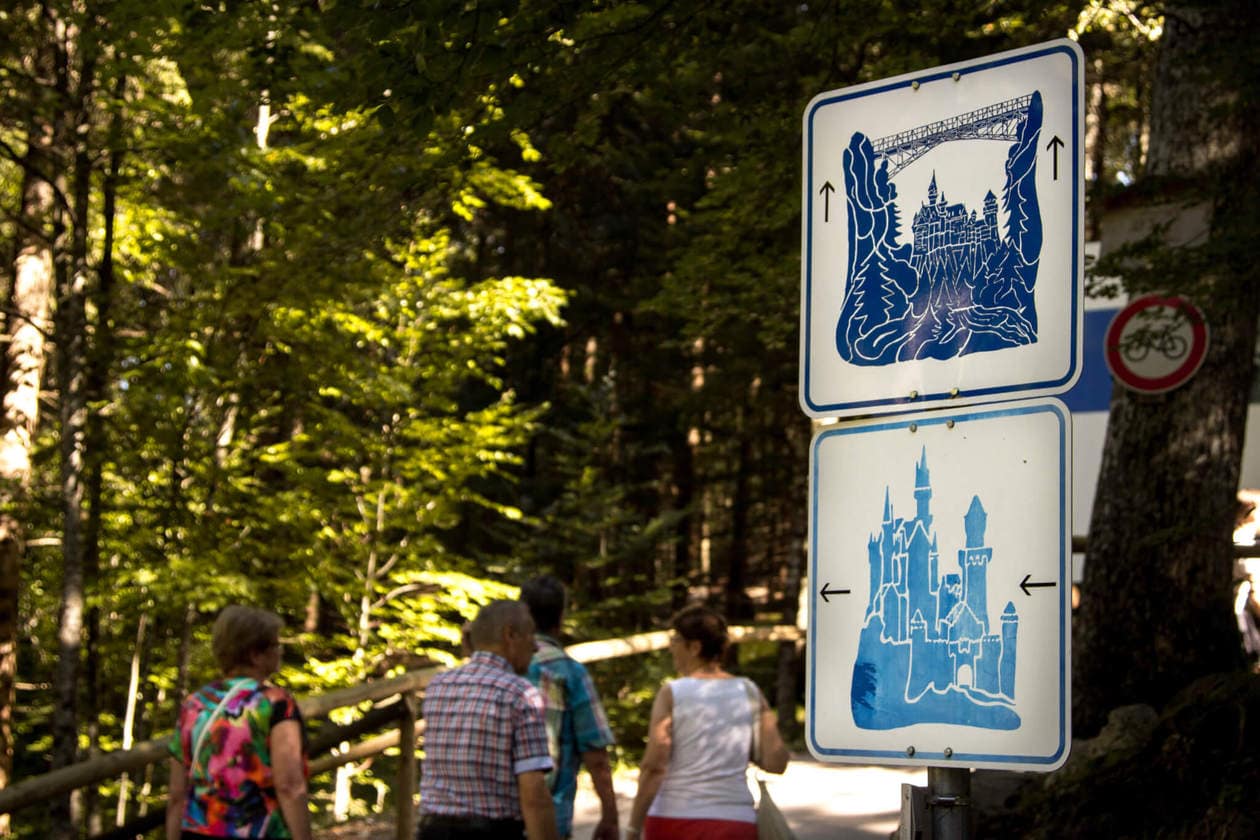 WALKING
It's about a 40 min, 1 mile (1.5 km) walk up a semi-steep hill to the castle. Unless you are prepared to get a workout in, I wouldn't recommend walking for casual visitors.
SHUTTLE
The shuttle is the most popular option. There are no set times and they leave when they're full. There are a tons of busses, so you will not have to wait long if you miss one.
It's important to note that the shuttle does not take you directly to the castle entrance. It drops you off .4 miles (600 meters) from the castle, at the Marienbrücke lookout point. From here, its about a 10-15 min walk to the castle. The walk from the shuttle to the castle is mostly downhill, but on the walk back is slightly uphill. It's not hard if you are in moderate shape but for those with impaired mobility, you might have a difficult time.
SHUTTLE TICKETS
Adults: uphill 1.80 euros / downhill trip 1 euro / return trip 2.60 euros
Children: uphill 1.00 euros / downhill trip .50 euro / return trip 1.50 euros
Purchase your ticket on board.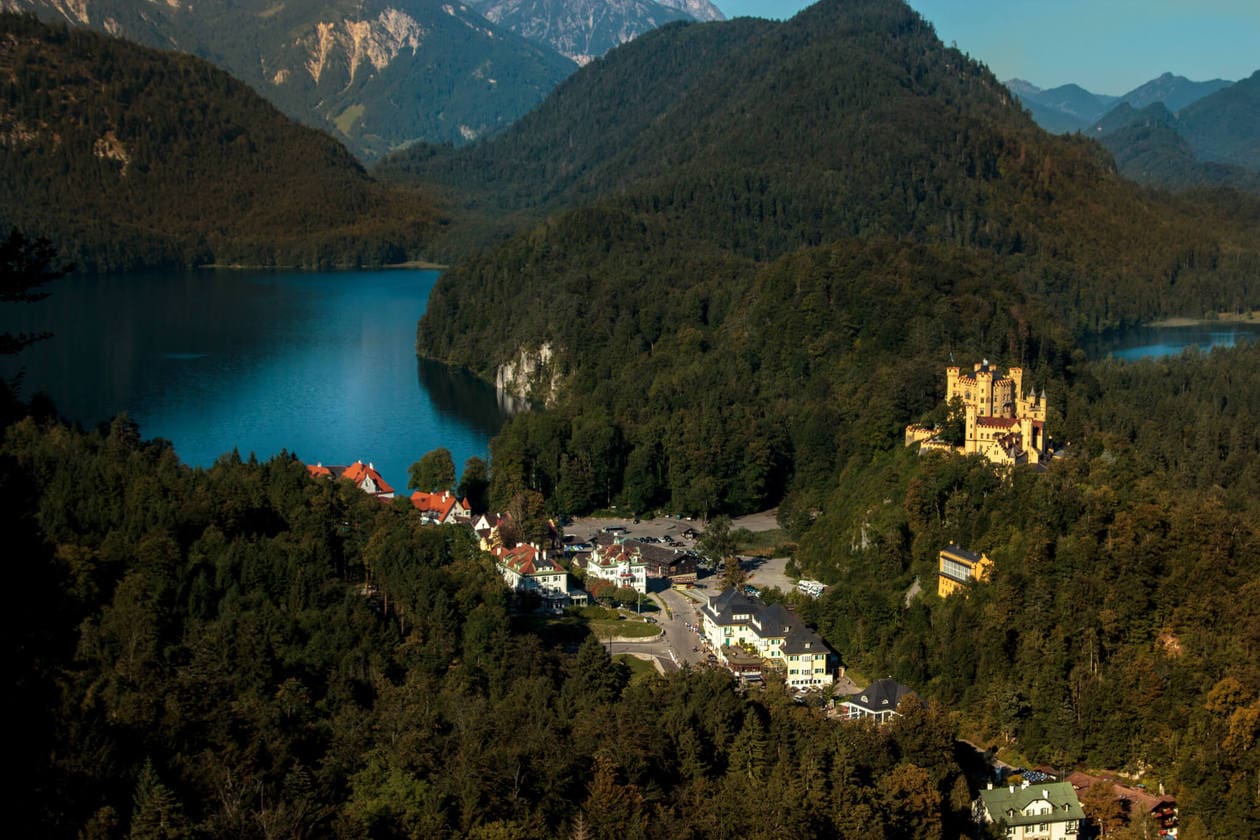 HORSE DRAWN CARRIAGE
Similar to the shuttle, the carriages cannot take you to the castle entrance either. They will drop you off .2 (300 meters) miles away and you must walk 5-10 minutes uphill to the castle.
CARRIAGE TICKETS
Uphill 6 euros / Downhill 3 euros
Purchase your ticket directly from the driver.
MARIENBRUKE BRIDGE // THE BEST VIEW OF NEUSCHWANSTEIN CASTLE
To find the famous view of Neuschwanstein Castle (you know, the one on all the postcards and Pinterest boards), you'll need to head to Marienbrücke (Queen Mary's Bridge).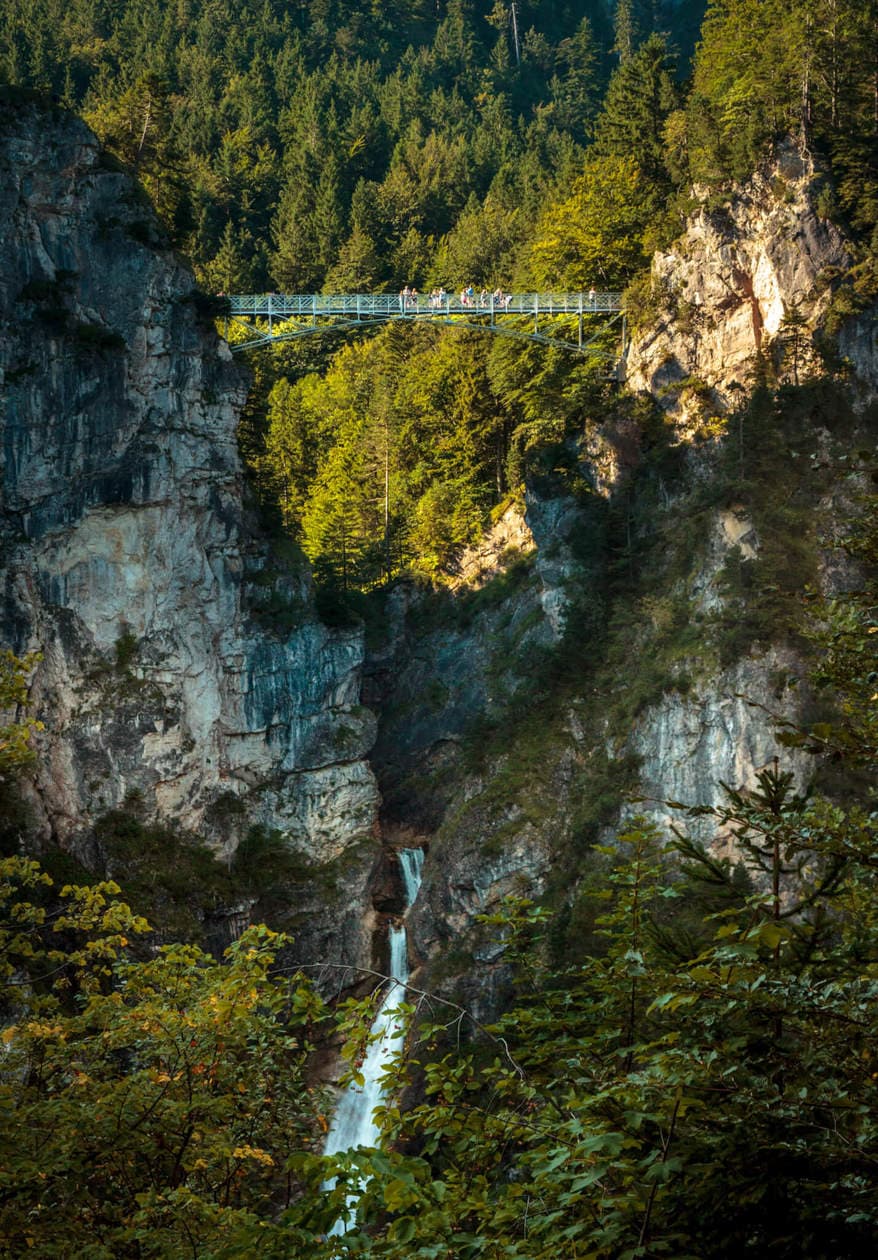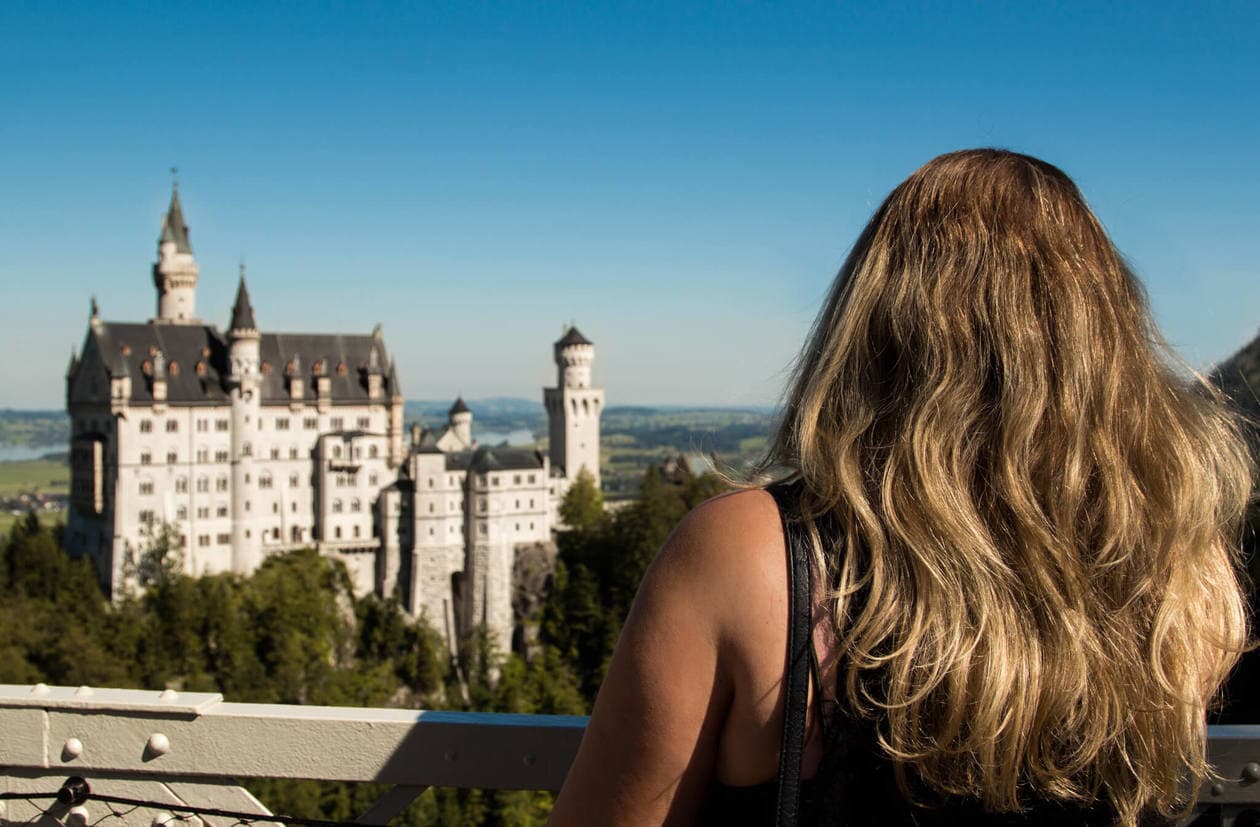 If you're taking the shuttle, it drops you off very close to the bridge and there are plenty signs guiding you in the right direction. It's a short 2-3 minute walk from the shuttle drop off point.
If you are walking to Neuschwanstein Castle, you will pass the bridge on your way up. It's about 30 minutes uphill from Hohenschwangau village.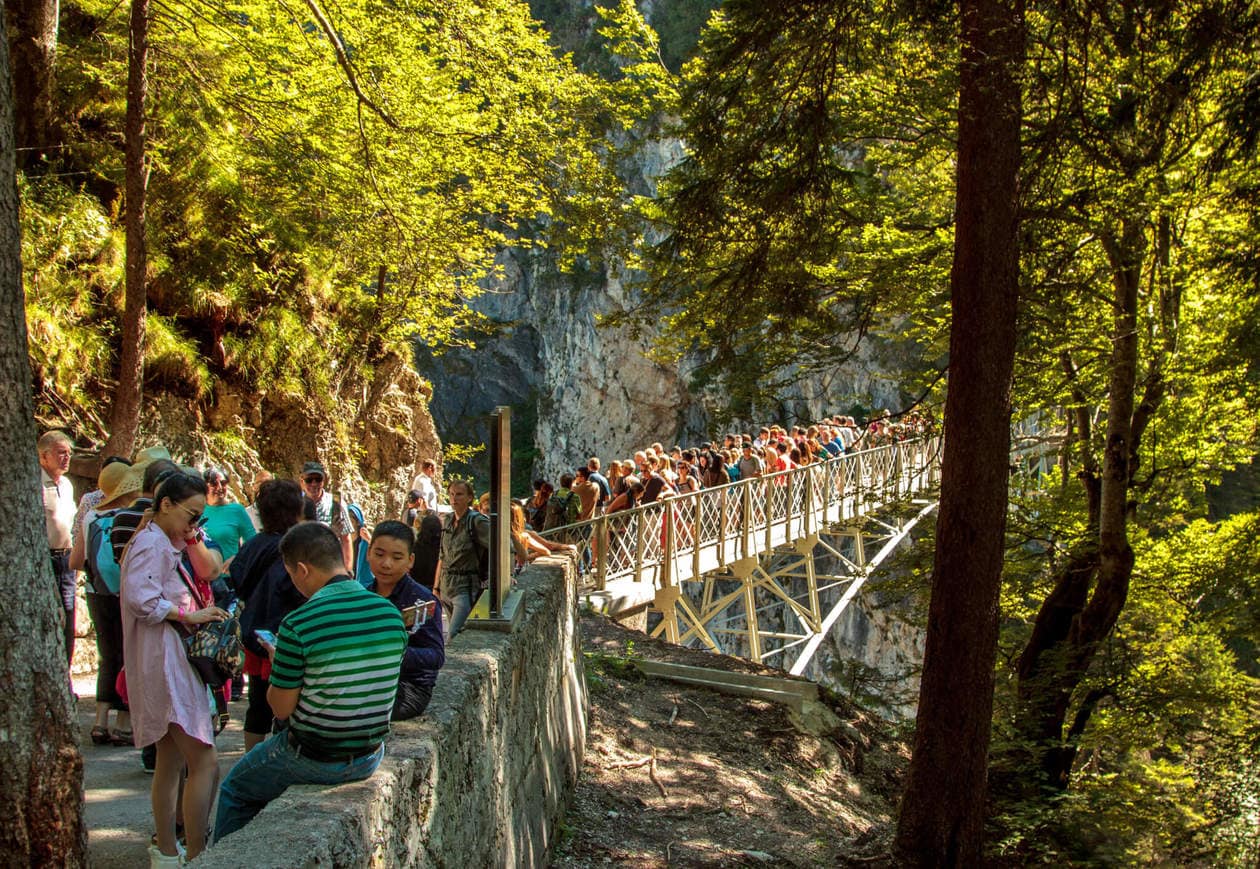 TRAVEL TIP: Walk to the other end of the bridge for a crowd-free view. I don't know how people can be so oblivious.. but there was a massive crowd of people pushing each other around to get their photo, when the 2nd half of the bridge was totally empty.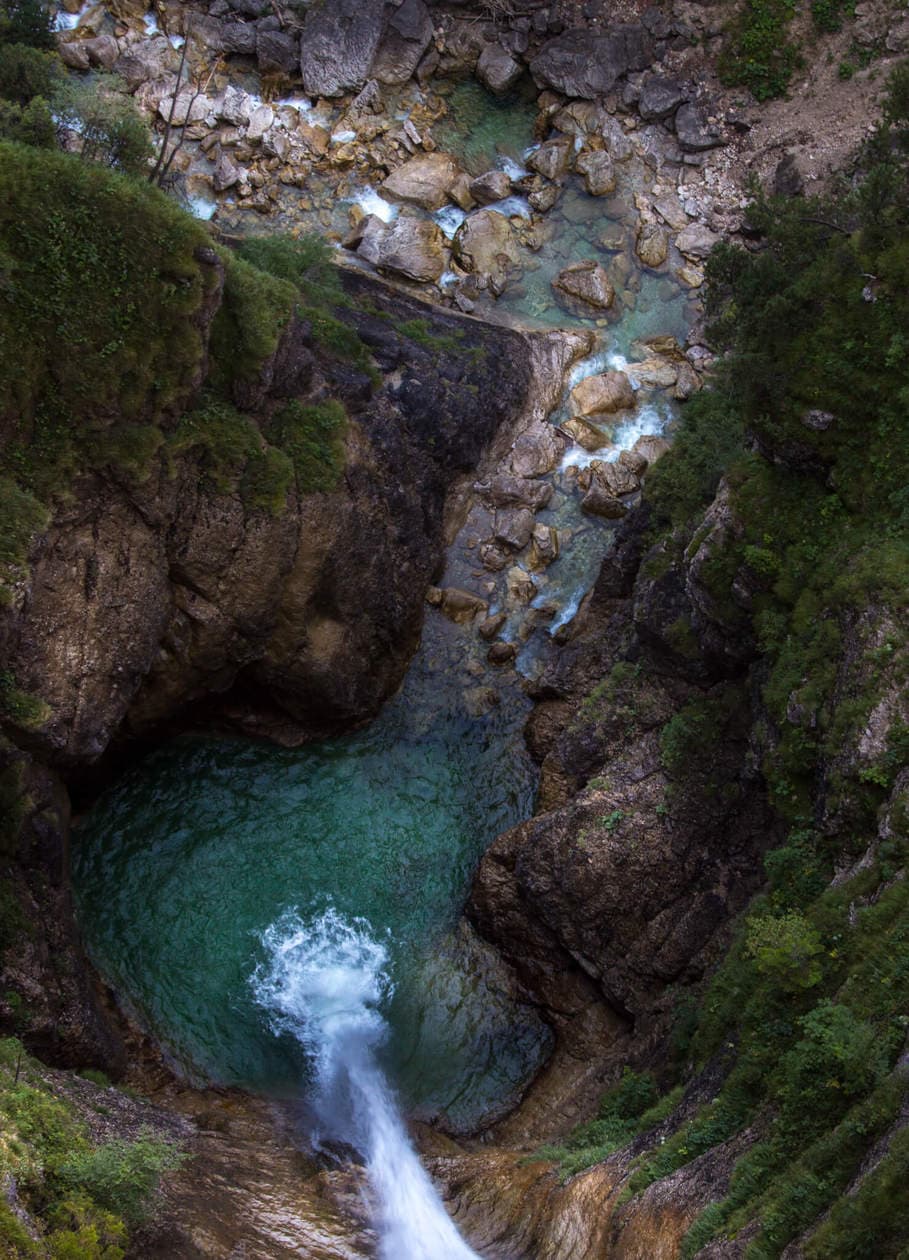 THE NEUSCHWANSTEIN CASTLE TOUR
The only way to go inside of Neuschwanstein Castle, is by taking a tour. The tour is surprisingly short 30-35 minutes, and it moves very quickly. Even though I wish I had a little more time in each room, I found the interior to be fascinating.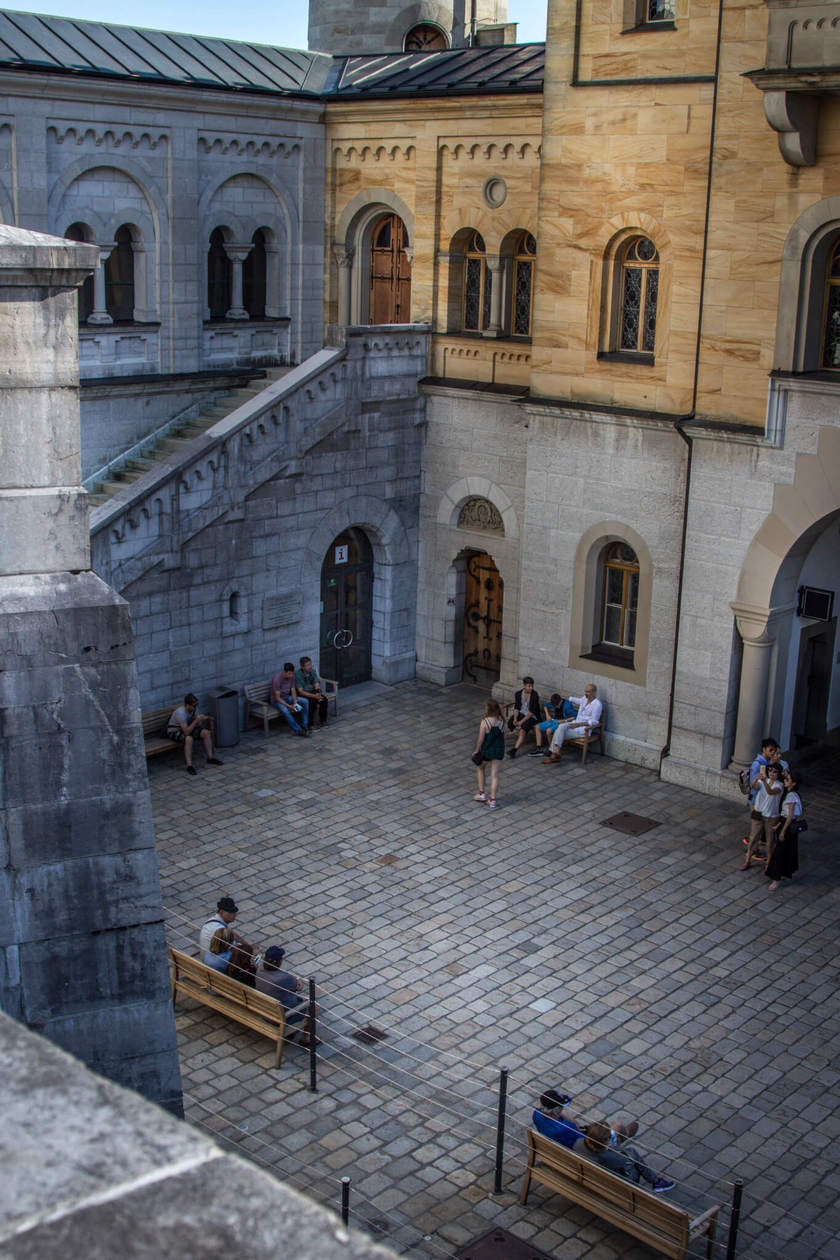 King Ludwig seemed like such an eclectic and artistic guy, and the inside of the castle is uniquely designed. Many rooms were inspired by Operas and there were hundreds of swans hidden in throughout the castle. King Ludwig designed this elaborate castle, only spent 11 nights in it before his death. Even though the tour is short, I do recommend doing it. It was the most interesting and unique castle I've ever been inside of.
You are unfortunately not allowed to take photos inside the castle.
TOUR LANGUAGES
Guided tours are offered in German and English. If you speak a different language, audio guide tours, are available in Japanese, French, Spanish, Italian, Czech, Slovenian, Russian, Polish, Chinese (Mandarin), Portuguese, Hungarian, Greek, Dutch, Korean, Thai and Arabic.
HOW TO AVOID THE CROWDS
Neuschwanstein Castle receives up to 6,000 visitors each day! In the peak season (July-August), lines can be extremely long. We visited Neuschwanstein in the middle of August with no advanced ticket (not recommend) but had no issues because we went early in the morning. We experienced almost no lines, and even found a free parking spot in front of the ticket window. If you can, I highly advise getting there as soon as they open. You will have a much nicer, less stressful visit.
TIPS FOR VISITING NEUSCHWANSTEIN CASTLE
Book your ticket in advance.
Get there in the morning. The earlier the better, and pick your ticket up at least 1 hour in advance.
Consider staying in Fussen, a little town 5 minutes from Hohenschwangau. It's a fun overnight stay and it allows you to get to the castle before the day trippers from Munich arrive.
Hohenschwangau is small. It's extremely easy to find the shuttle stop, horse drawn carriages and ticket office. Everything is also within short walking distance of each other and there are signs everywhere.
Wear shoes you can walk in. You don't have to come prepared to hike, don't wear heels or uncomfortable shoes.
Check the weather. In the winter months, Marienbrücke is sometimes closed and if there is ice on the roads, the shuttle will not run.
---
RELATED POST: 5 THINGS TO DO IN FUSSEN, GERMANY
---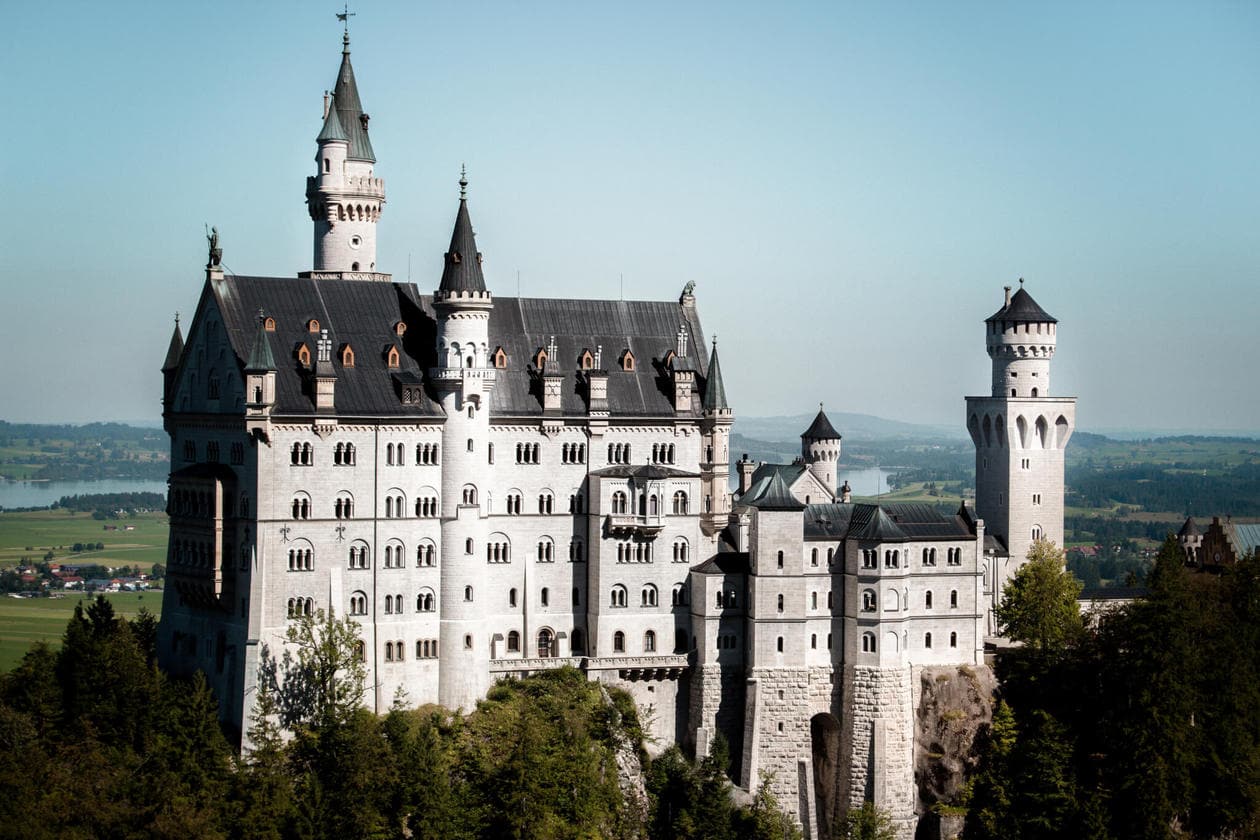 HOW TO GET FROM MUNICH TO NEUSCHWANSTEIN CASTLE
CAR:
To drive from Munich to Neuschwanstein Castle, take the A7 motorway (direction Ulm-Kempten-Füssen) until it ends. From here, you'll be in Füssen. Next, follow the road B17 to Schwangau, then follow signs to Hohenschwangau.
It's a super easy and beautiful drive to the castle and the journey takes 1hr 40min. Once you arrive in Fussen, getting to Neuschwanstein is pretty self-explanatory. There are a lot of signs.
TRAVEL TIP: If you're visiting in the warmer months, stop at Bernried am Starnberger See on your way back! It's a gorgeous lake just off the highway.
TRAIN
From Munich HBF (the main train station) get on the train to Füssen. From Fussen, follow the crowds which will lead you to the Neuschwanstein bus. Then get off at the stop Hohenschwangau Neuschwanstein Castles, Schwangau.
SAVE MONEY WITH A BAYERN TICKET
If you're traveling on the weekend or after 9am on a weekday, purchase a Bayern ticket. A Bayern ticket allows up to 5 adults traveling together to use unlimited all regional trains, busses and local transportation in Bavaria for one day. It costs €23 for one person + €5 per additional person up to five people for a round trip journey. You'll save the most money with this ticket.
If you are leaving earlier than 9am on a weekday, train tickets cost about €27 each way.
The train takes apprx 2 hours from Munich to Neuschwanstein Castle.
GUIDED TOUR
While it's very easy to travel to on your own, you can take the guesswork out of your visit by arranging a tour from Munich to Neuschwanstein Castle.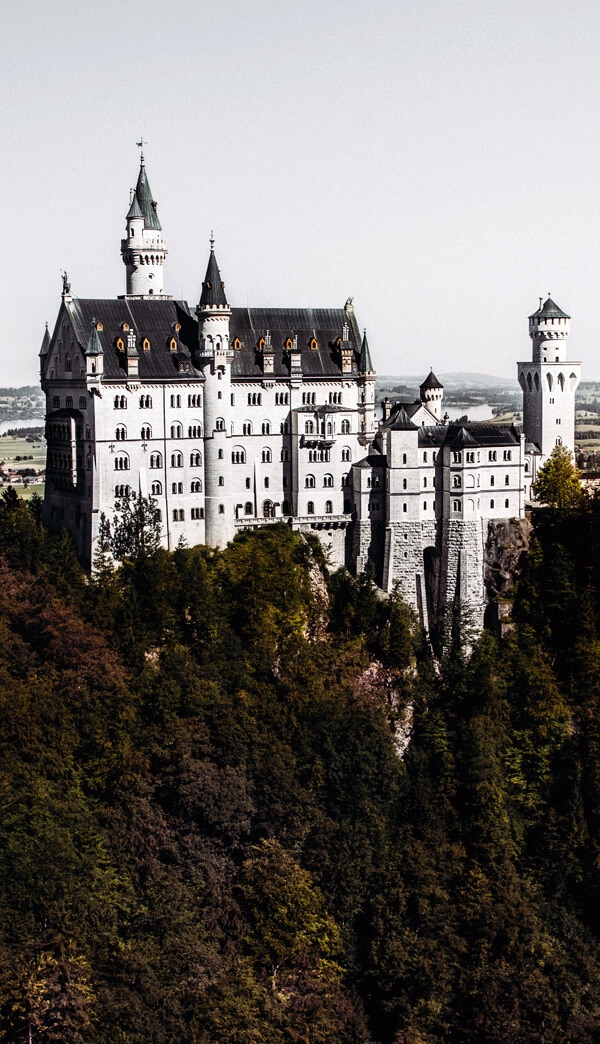 NEUSCHWANSTEIN CASTLE VISITOR INFORMATION
OPENING HOURS
Ticket Center
April to 15 October: 8 am-5 pm
16 October to March: 9 am-3 pm
Neuschwanstein Castle
April to 15 October: 9 am-6 pm
16 October to March: 10 am-4 pm
Open Daily except 1 January and 24 / 25 / 31 December
TICKETCENTER ADDRESS
Alpseestraße 12, D-87645 Hohenschwangau
Telephone +49 8362 93083-0
ADMISSION
Regular Admission: 13 euros
Reduced Admission: 12 euros
Under 18: Free.
---
PIN IT: NEUSCHWANSTEIN CASTLE // EVERYTHING YOU NEED TO KNOW BEFORE VISITING GERMANY'S FAIRYTALE CASTLE