While traveling from the Czech Republic to Germany, we decided to make a quick pitstop in Salzburg. I was worried that 2 days wouldn't be enough time, but the city ended up being much smaller than it seems. We not only had enough time to see everything on my list, but we were also able relax and take our time exploring this beautiful place. Keep reading for my list of the top 10 things to do in Salzburg, Austria.
THE TOP 10 THINGS TO DO IN SALZBURG
SEEK OUT THE BEST VIEW IN THE CITY
As you know, I'm on a never-ending mission to seek out the best views in every city we visit and the view from the castle (Festung Hohensalzburg) is definitely the best one in Salzburg.
Unfortunately in order get up the hill, you have to pay for admission into the castle. I didn't necessarily have an interest in exploring the castle, but there's no way around it.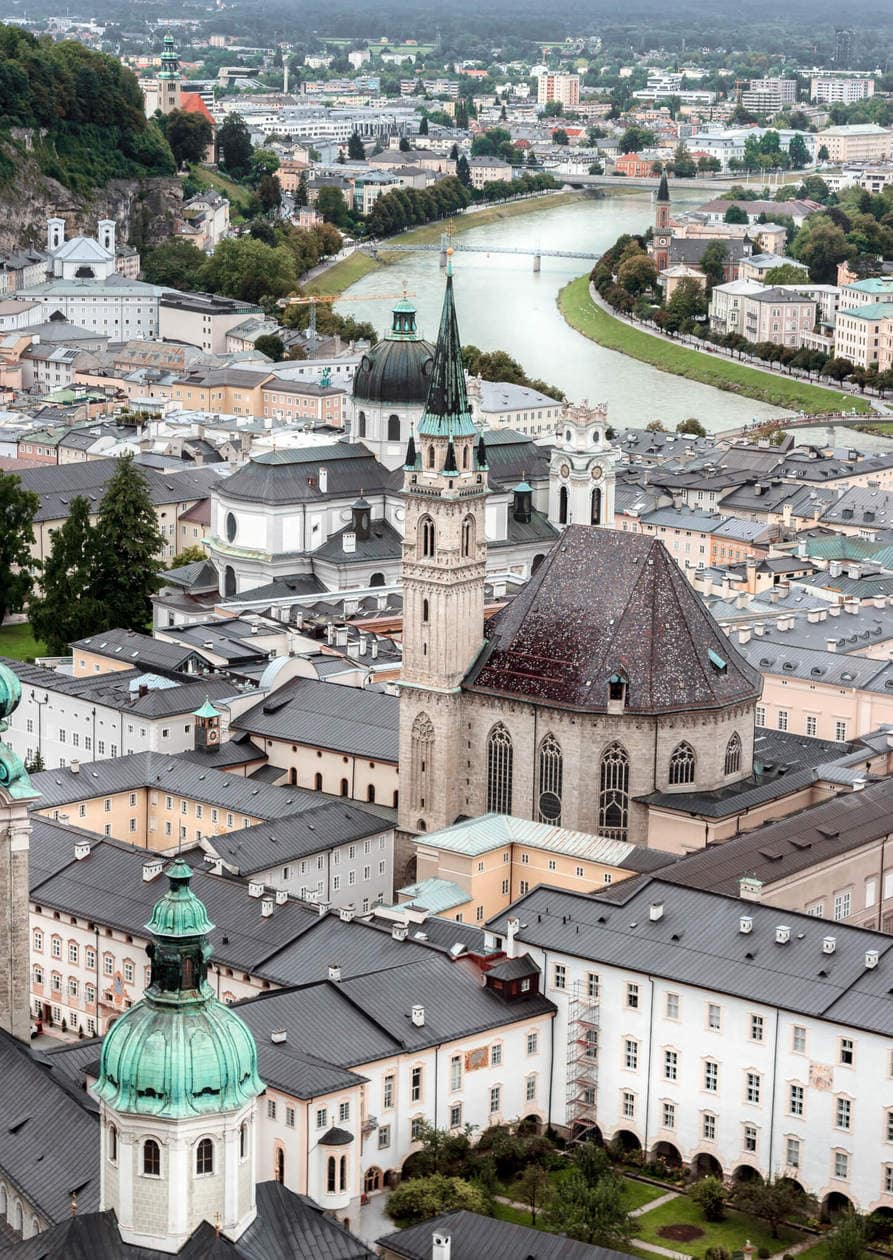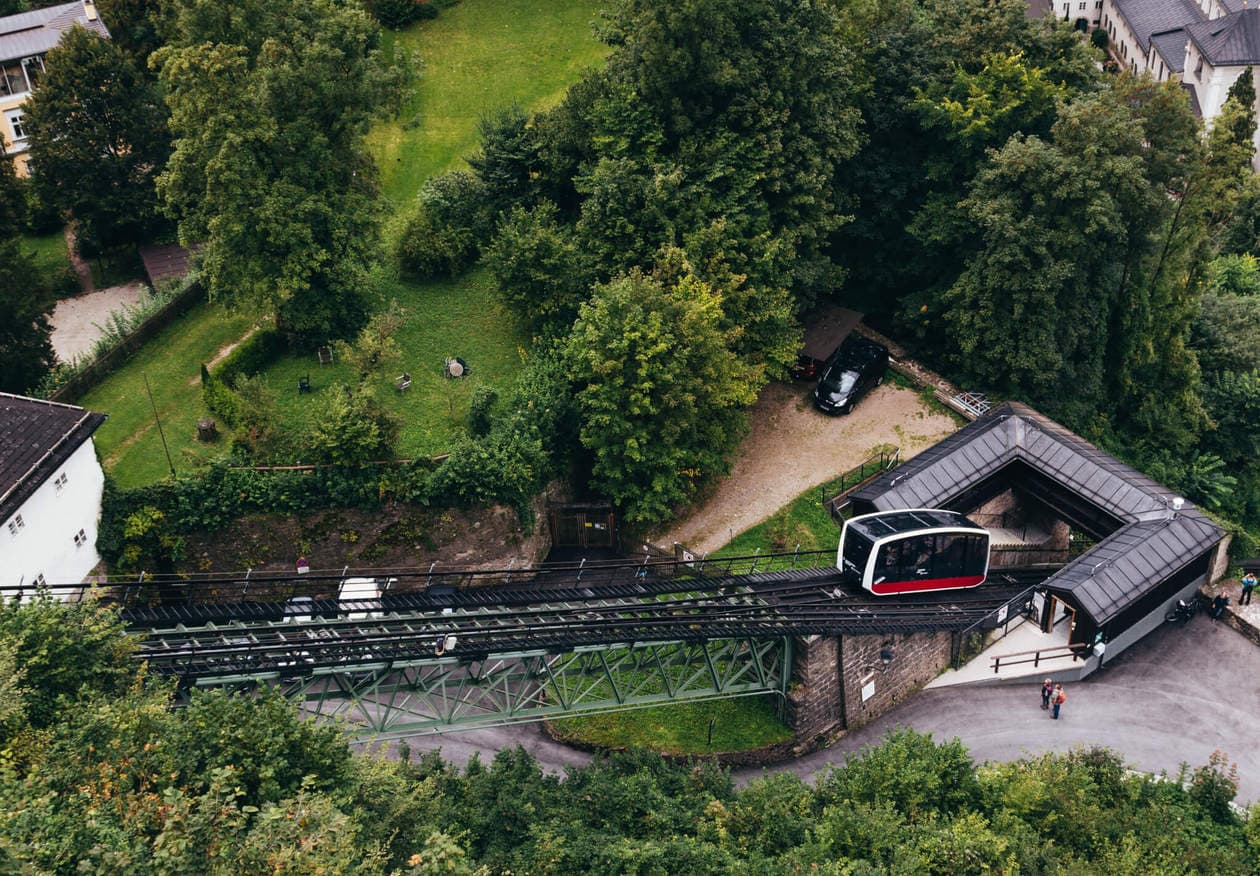 Once your admission is paid for, you'll take a short ride on the Festungsbahn (furnicular railway) up to the castle. The view of the city is stunning from this vantage point, I definitely thought it was well worth the €12.00.
TIP If you have the SalzburgCard, you get a one time free admission and quick access to the castle.
---
RELATED POST: KNOW BEFORE YOU GO // 5 TRAVEL TIPS FOR VISITING SALZBURG, AUSTRIA
---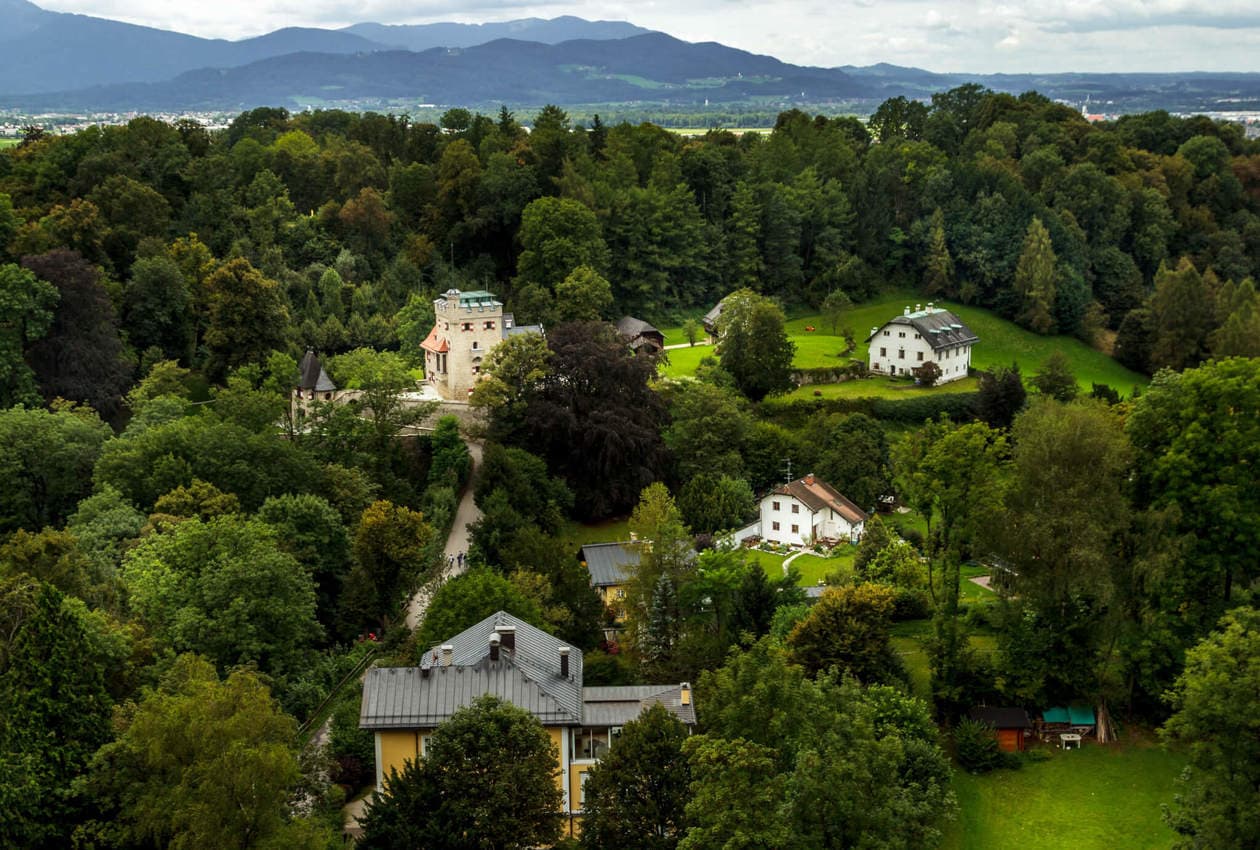 WANDER AROUND PETERSFRIEDHOFF CEMETERY
I love visiting cemeteries in other countries to see how different cultures honor their loved ones that have passed away.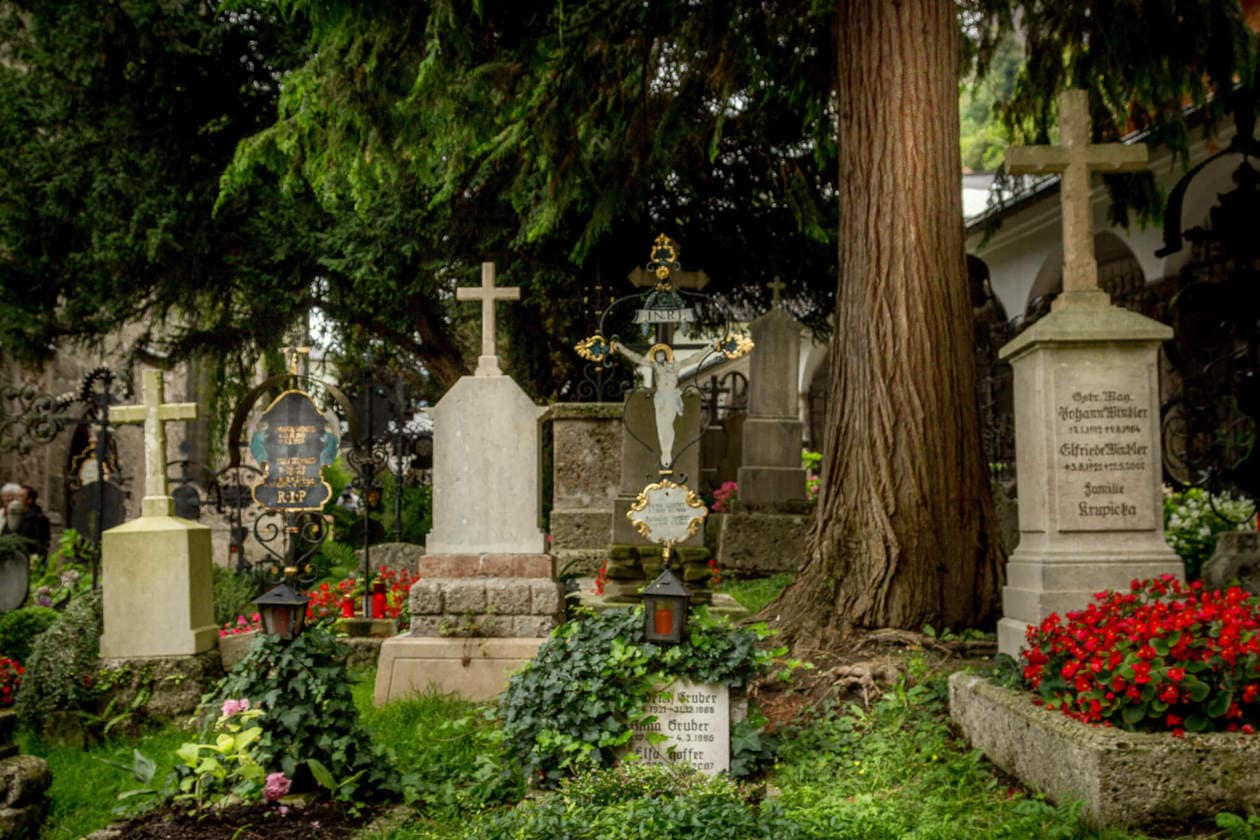 Whether or not cemeteries are your thing, Petersfriedhoff Cemetery is one worth visiting. It was one of my favorite things to do in Salzburg and is the most beautiful cemetery I've ever been to.

At Petersfriedhoff, every grave is decorated by the families in it's own unique way. They're adorned with colorful flowers, candles, lanterns, photos and headstones.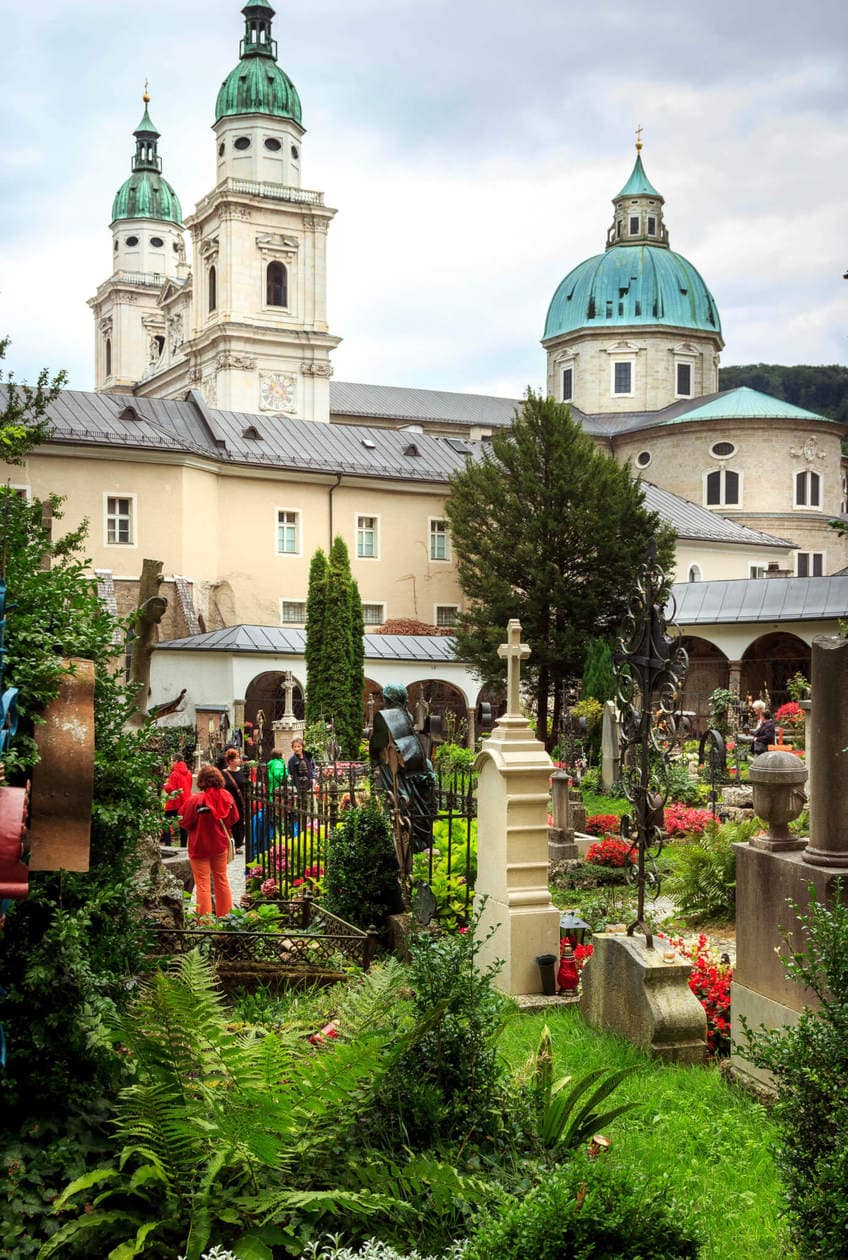 Entrance into the cemetery is free but if you want to visit the catacombs, there's a small fee (€ 2.00).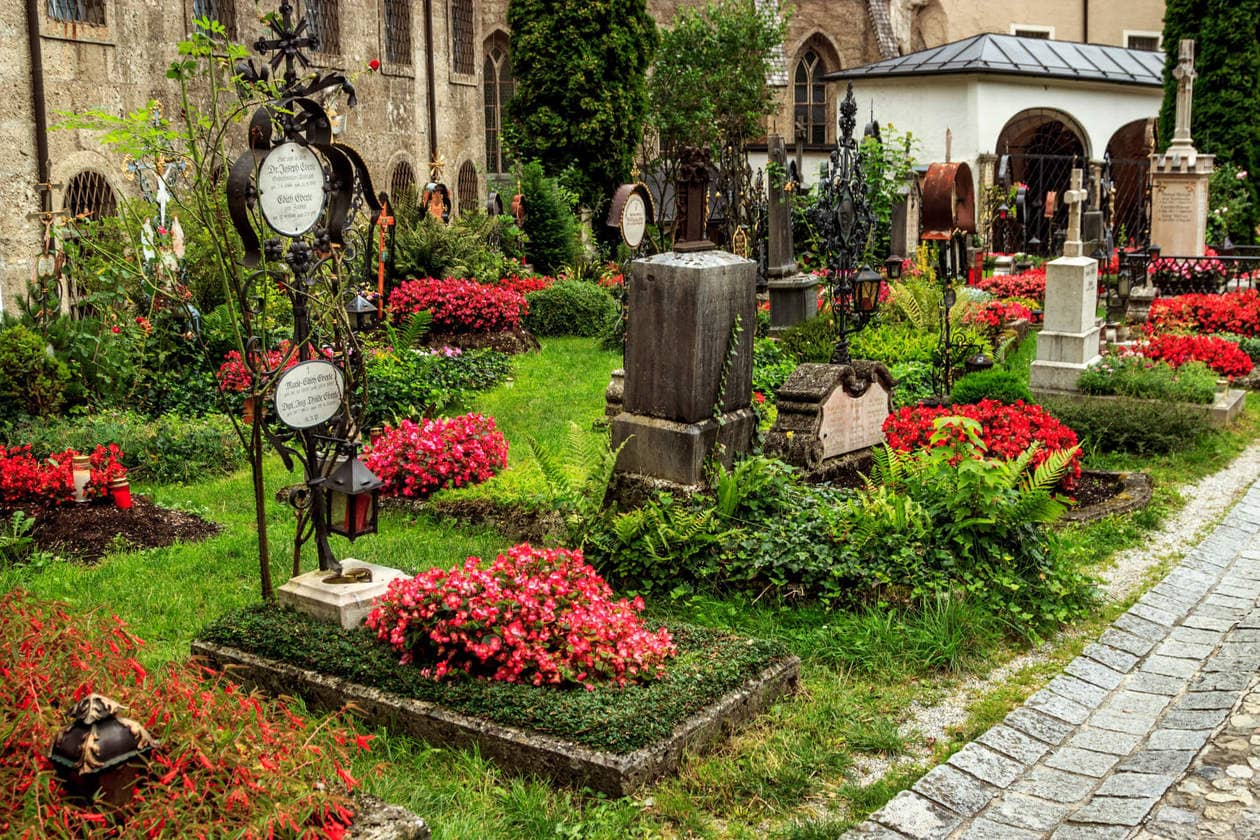 CHECK OUT THE SALZBURG CATHEDRAL
The Salzburg Cathedral is a short walk from Petersfriedhoff Cemetery. It's a beautiful church, and hold's significance for Salzburg as it's where Mozart was baptized. He served as the organist for several years, creating music for the cathedral. In fact, many of his compositions were performed here for the very first time.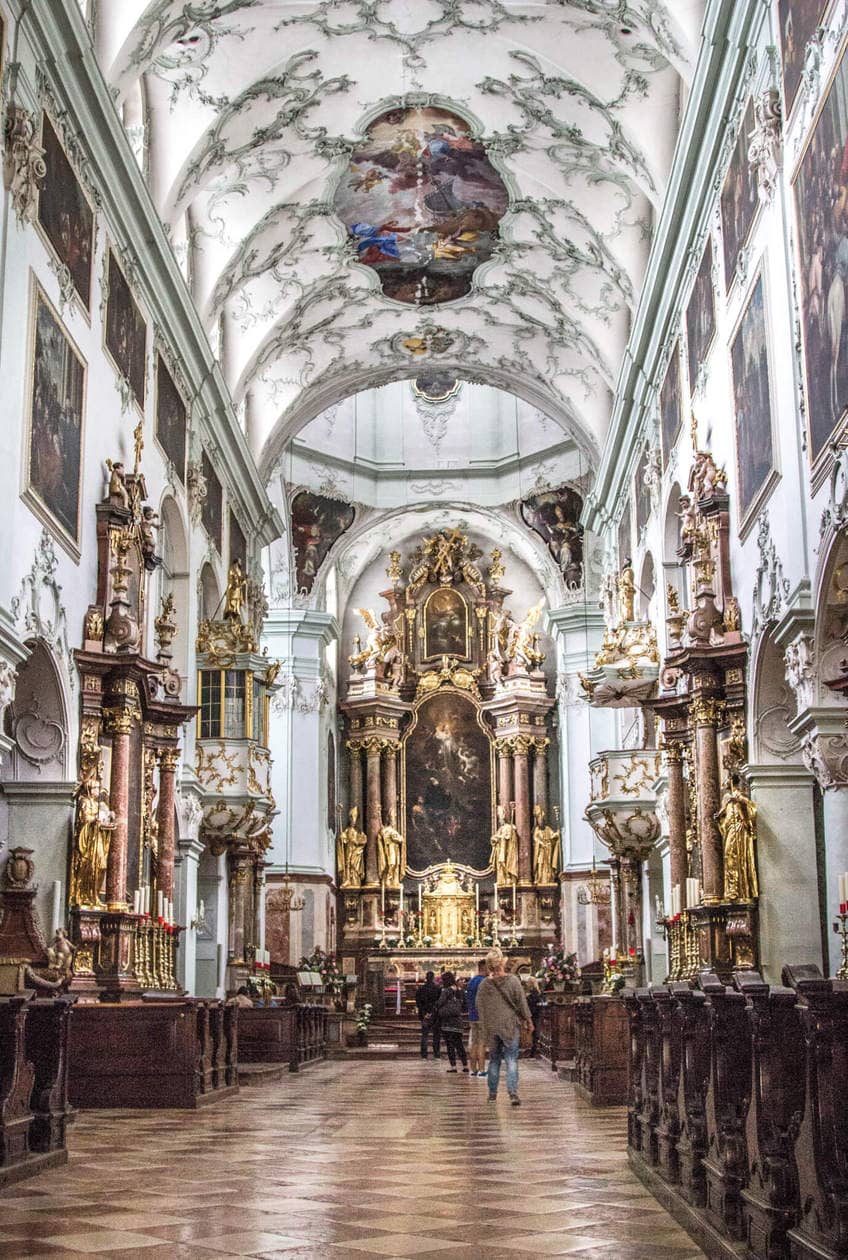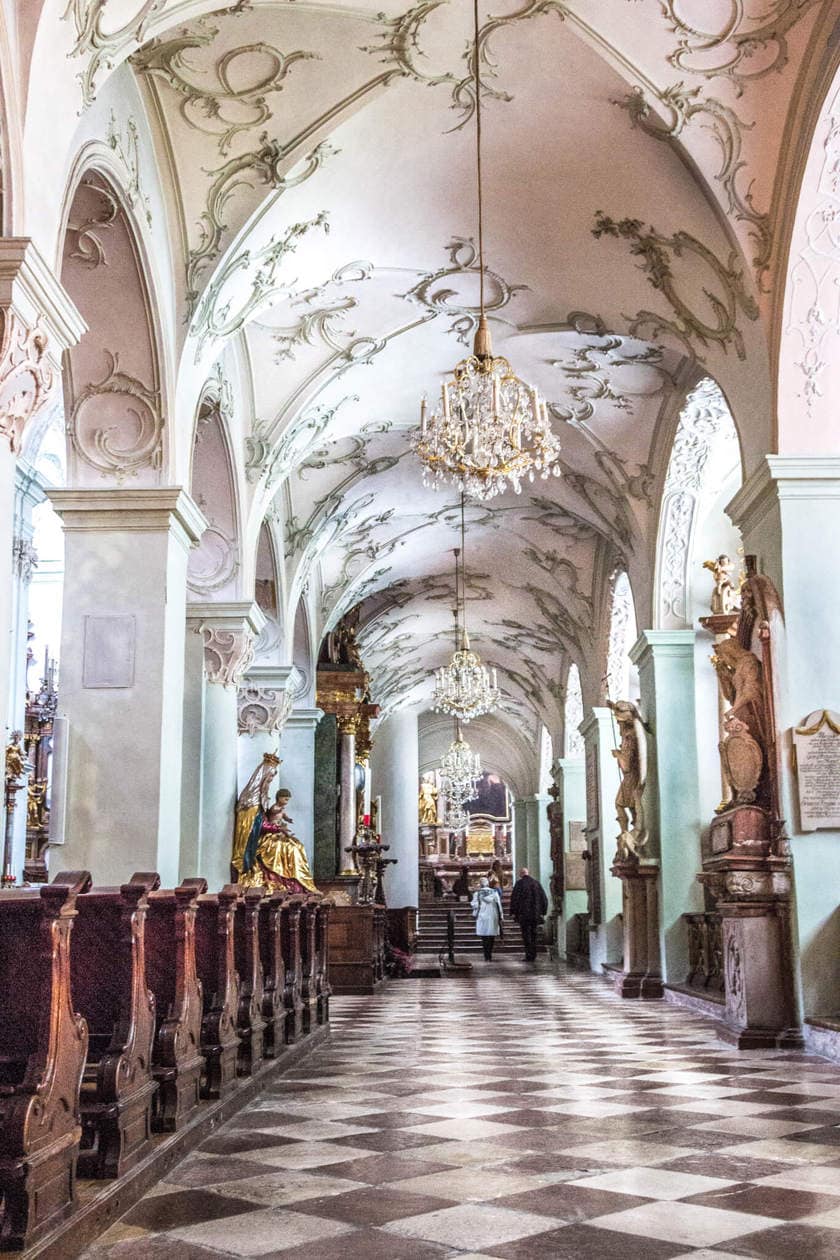 VISIT MOZART'S BIRTHPLACE AND RESIDENCE
Salzburg is most famously known as the birthplace of Mozart and if you didn't know, you will when you get here. His photo follows you wherever you go. There are shops, chocolates and even squares named after the composer.
If you're a classical music fan, there are two buildings in Old Town worth checking out. Mozart's Birthplace and Mozart's Residence.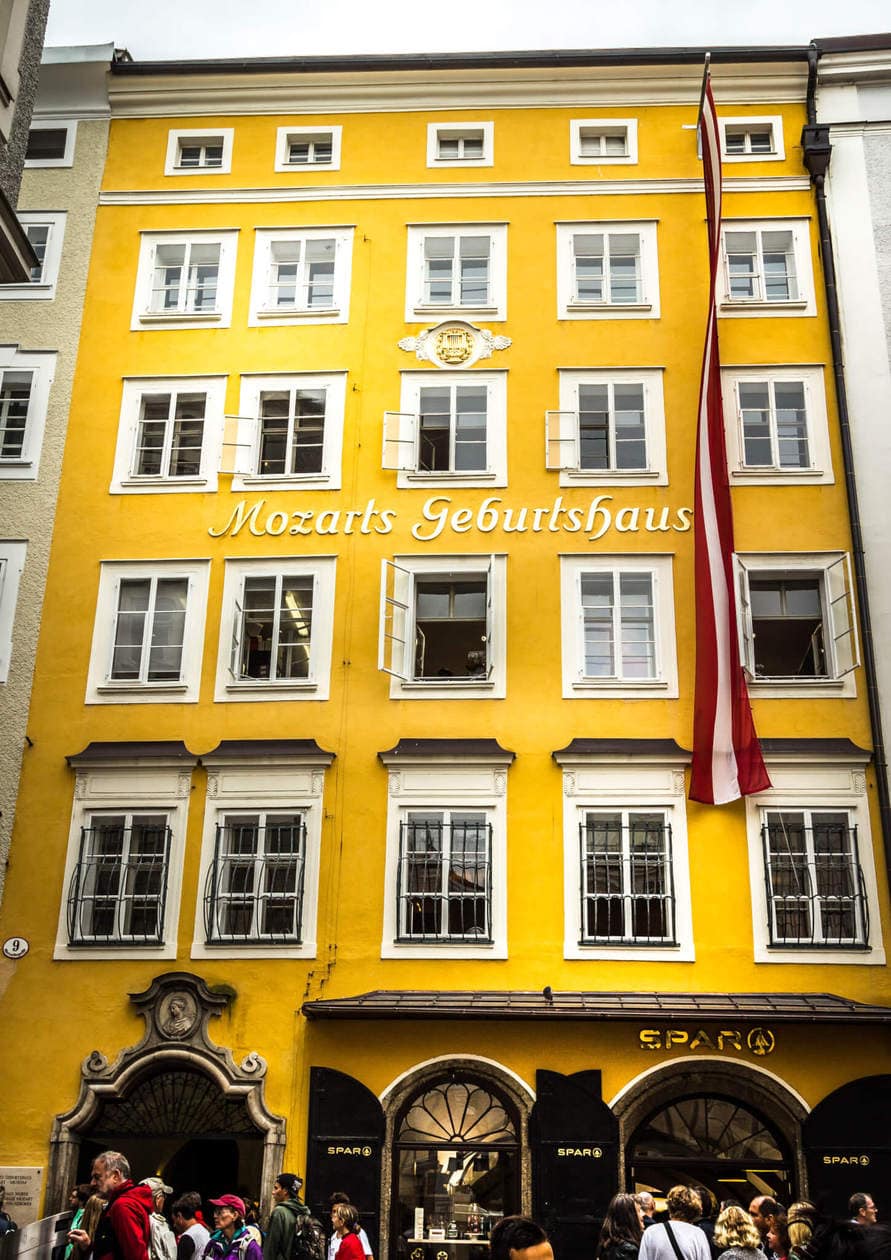 Mozart was born in what's known as the 'Hagenauer House' at no. 9 Getreidegasse in 1756. He lived in the house until he was 17 years old.
Walk through the original rooms where he and his family lived. Mozart's childhood violin is on display as well as his clavichord, portraits and letters belonging to the Mozart family.
The Mozart family moved to a more spacious house in 1773, now known as Mozart's Residence. During his time in this house, Mozart wrote many symphonies, divertimenti, serenades, and other important music. The Mozart's residence is reconstructed as most of it was destroyed in WWII.
Admission to both Mozart's Birthplace and Residence are included with the Salzburg Card.
Admission Fees To Either Mozart's Birthplace or Residence 2016:


Adults € 10.00




Children (6-14 years) € 3.50




Youths (15-18 years) € 4.00




Handicapped persons (handicapped ID) € 8.50




Families (2 adults and children under 18) € 21.00




Groups of 10 adults or more, students, senior citizens € 8.50




School groups (6-18 years) € 3.50




SalzburgCard: one time free admission

Combined ticket: Birthplace and Residence


Adults € 17.00




Children (6-14 years) € 5.00




Youths (15-18 years) € 6.00




Handicapped persons (handicapped ID) € 14.00




Families (2 adults and children under 18) € 36.00




Groups of 10 adults or more, students, senior citizens € 14.00




School groups (6-18 years) per person € 5.00




SalzburgCard: one time free admission
WANDER THROUGH OLD TOWN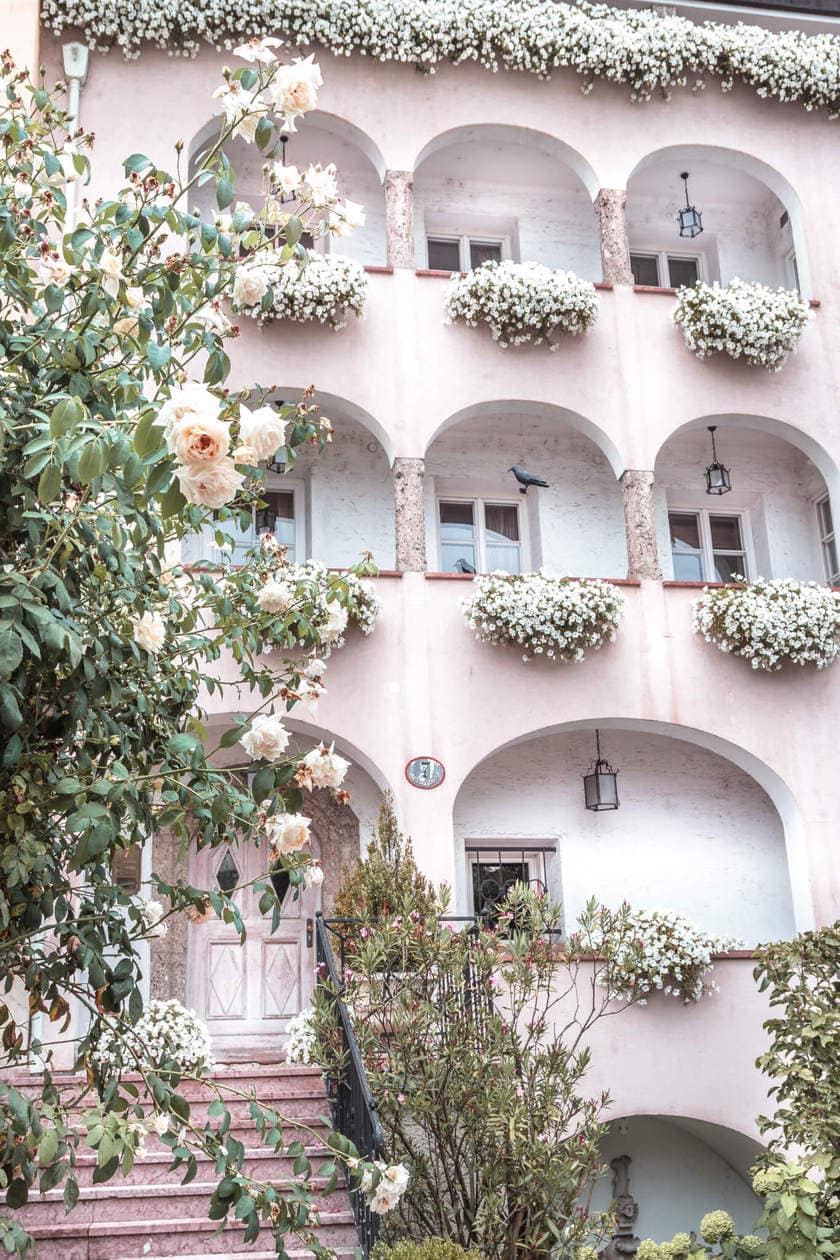 Altstadt (Old Town Salzburg) is a UNESCO World Heritage Site and it's the most popular tourist area in the city. The architecture is so unique, I've never been anywhere (yet) that resembles it. The buildings are pale and they're painted in these soft pastel colors. It makes the city look so clean and dream-like.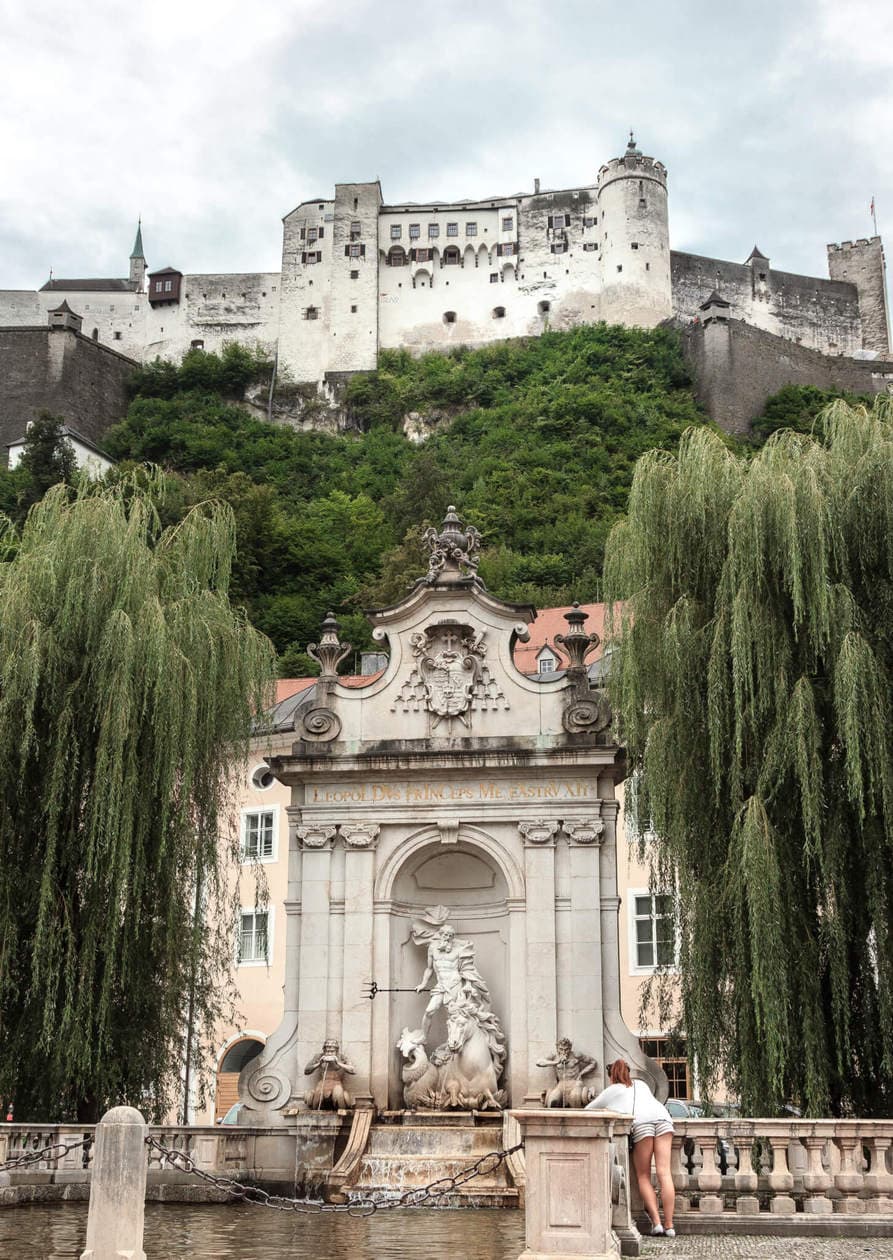 Most of the top things to do in Salzburg are located in Altstadt, so you'll likely be spending a lot of time here. With that said, be sure to carve out some specific time to simply wander through the streets, getting lost and discovering a few off the beaten path gems.
SING 'DO-RE-MI' IN MIRABELL GARDENS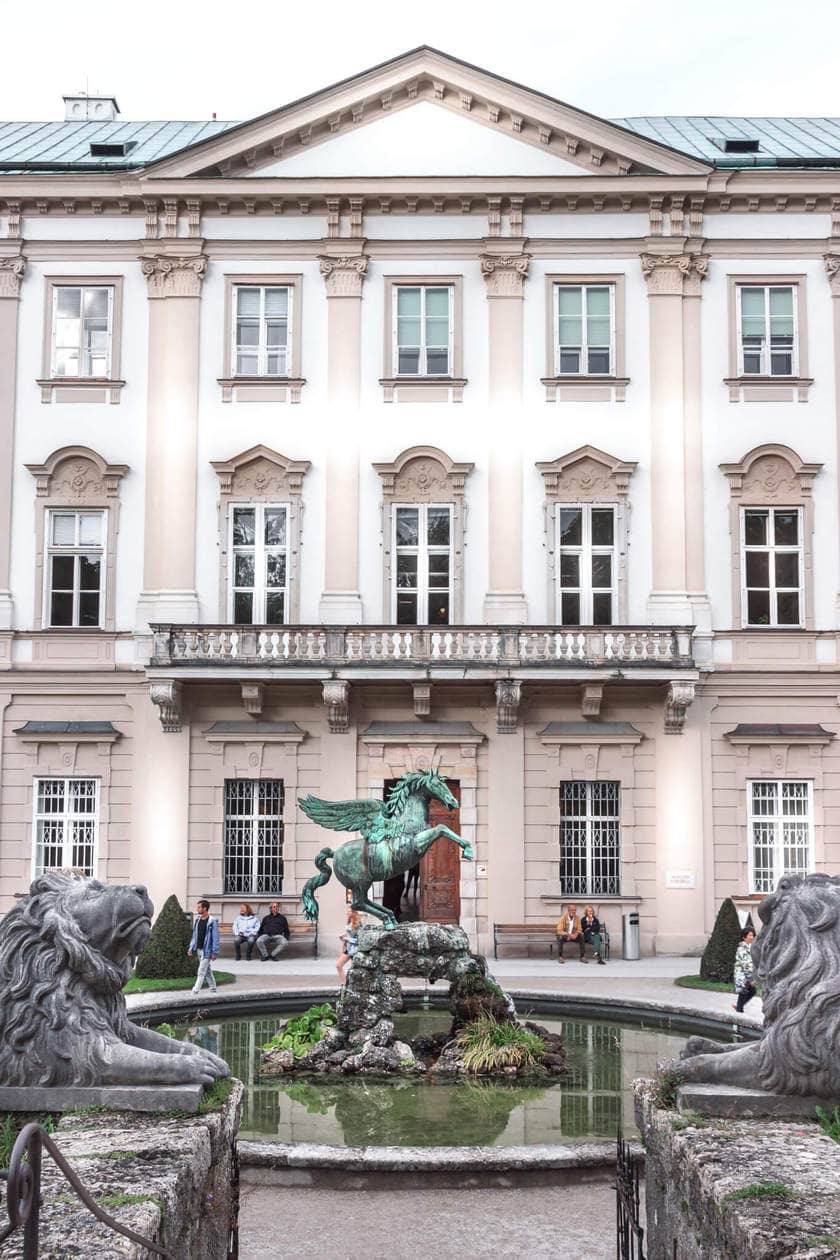 Mirabell Gardens are a beautiful place to wander around, and if you're a Sound of Music fan, you'll recognize them from the scene where Julie Andrews and the Von Trapp children sing "Do Rei Mi." Run up the musical steps, skip down the hedge tunnel, dance around the fountain and wave hello to the dwarfs in the dwarf garden.
---
RELATED POST: 5 SOUND OF MUSIC FILM LOCATIONS IN MIRABELL GARDENS
---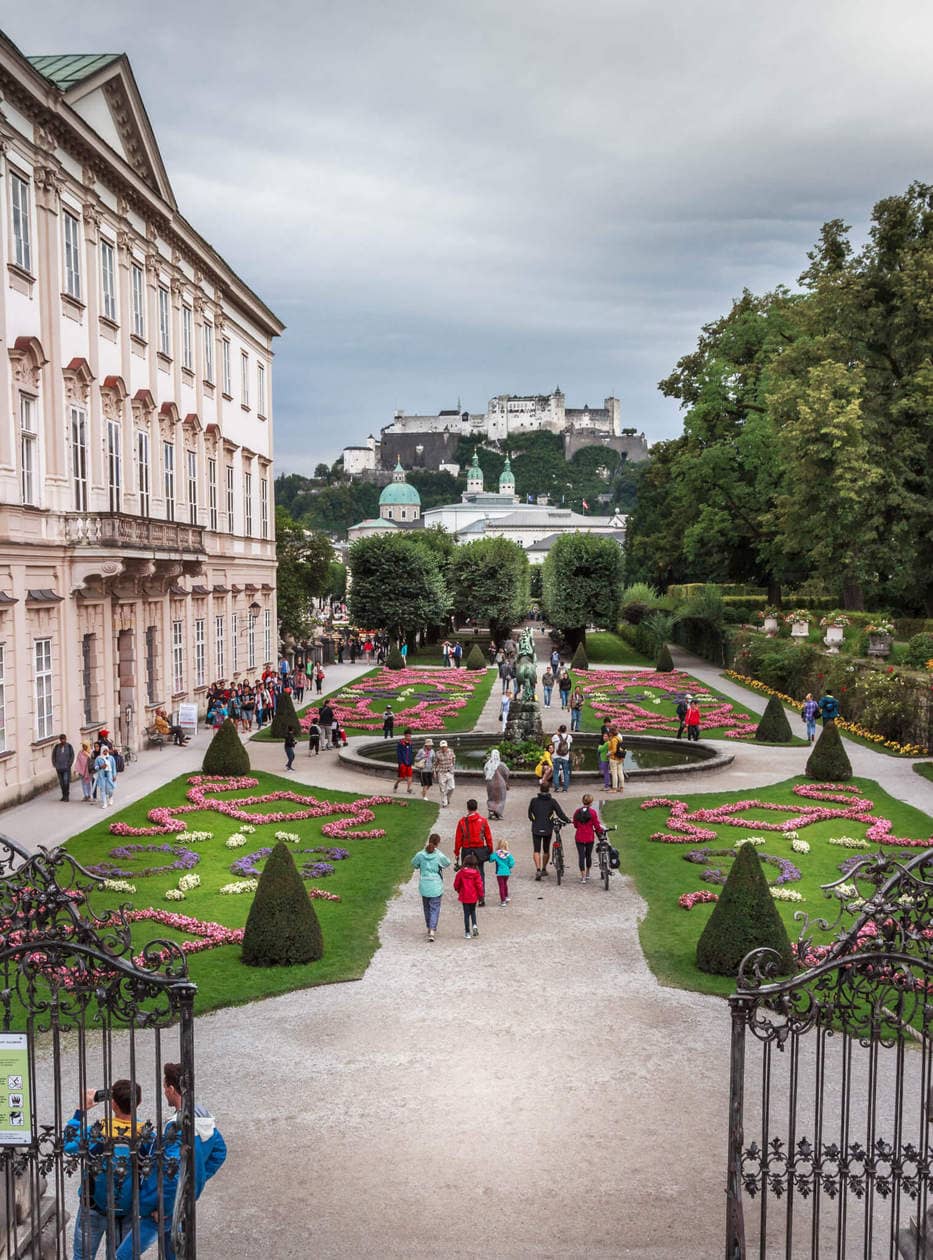 The gardens are huge and you could easily spend a few hours wandering around.
While you're here, you can also explore Schloss Mirabell, the adjoining palace which was remodeled by the famous baroque architect Lukas von Hildebrandt between 1721 and 1727. Today, Schloss Mirabell houses the official offices of the Mayor of Salzburg.
DRINK BEER AT THE LARGEST BEER HALL IN AUSTRIA
Our AirBnB host highly recommended that we check out Augustiner Bräustuben, and he didn't have to twist our arms. It ended up being one of our favorite beer halls ever, and is at the top of our list of things to do in Salzburg.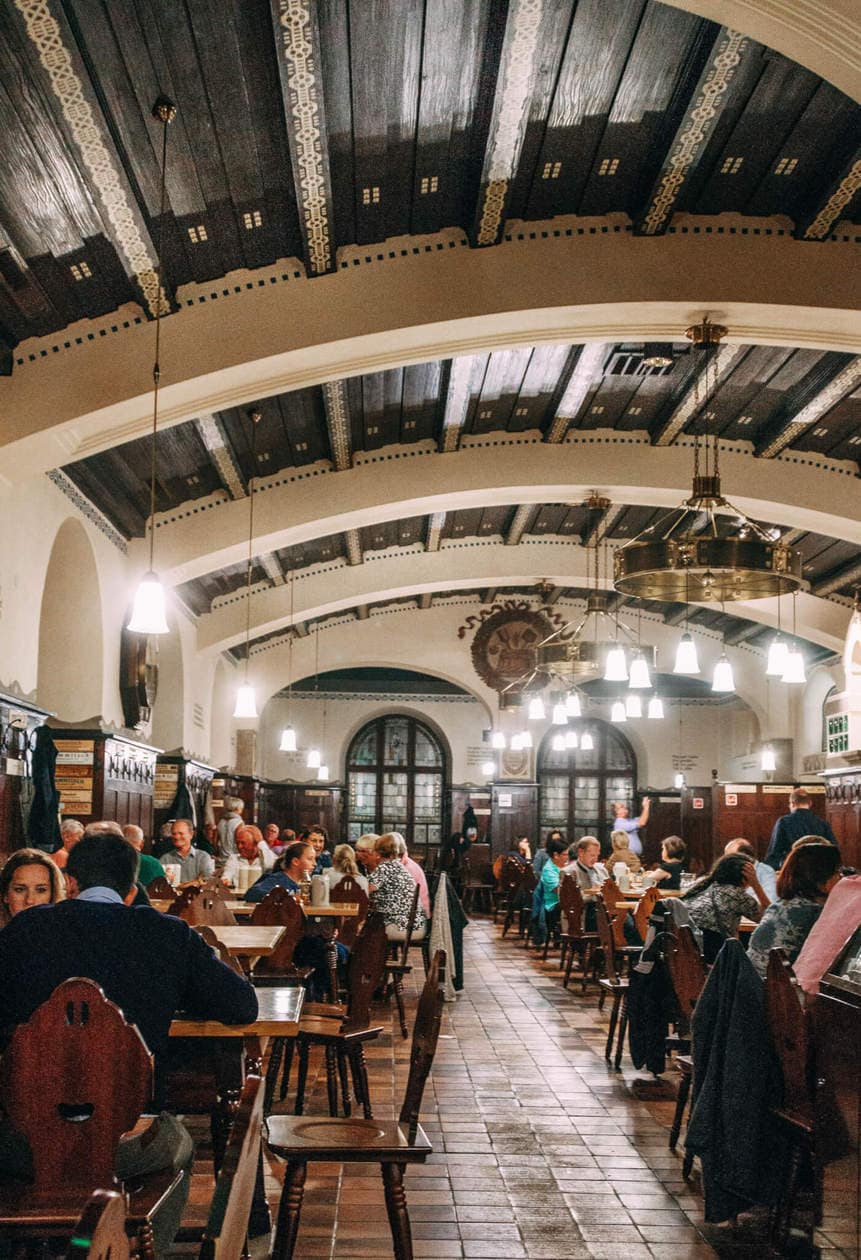 Located inside an old monastery, Augustiner Bräustuben is Austria's largest beer hall. They have a massive outdoor beer garden that sits 1,400, plus multiple halls inside. Towards the entrance you can order something to eat at one of the many market stalls selling local food.
We grabbed a few liter steins and people watched for hours.
---
RELATED POST: AUGUSTINER BRAU // THE LARGEST BEER HALL IN AUSTRIA
---
TAKE PART IN THE MUSIC SCENE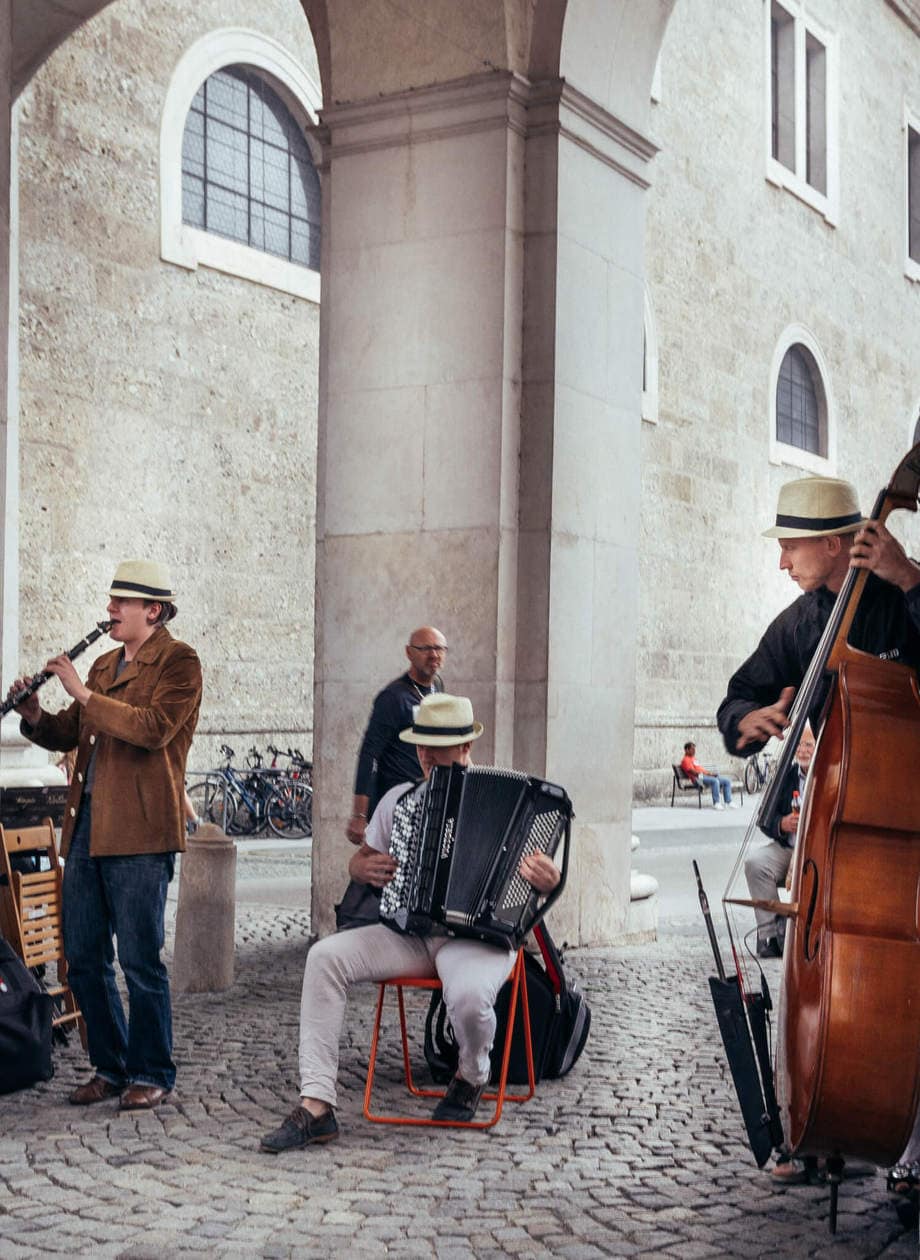 Salzburg has a prominent, classically based music scene. Year round, you can find music festivals, dinner concerts, orchestral performances, operas and organ concerts.
Buskers play music all throughout the city giving it such a cool vibe as you walk around.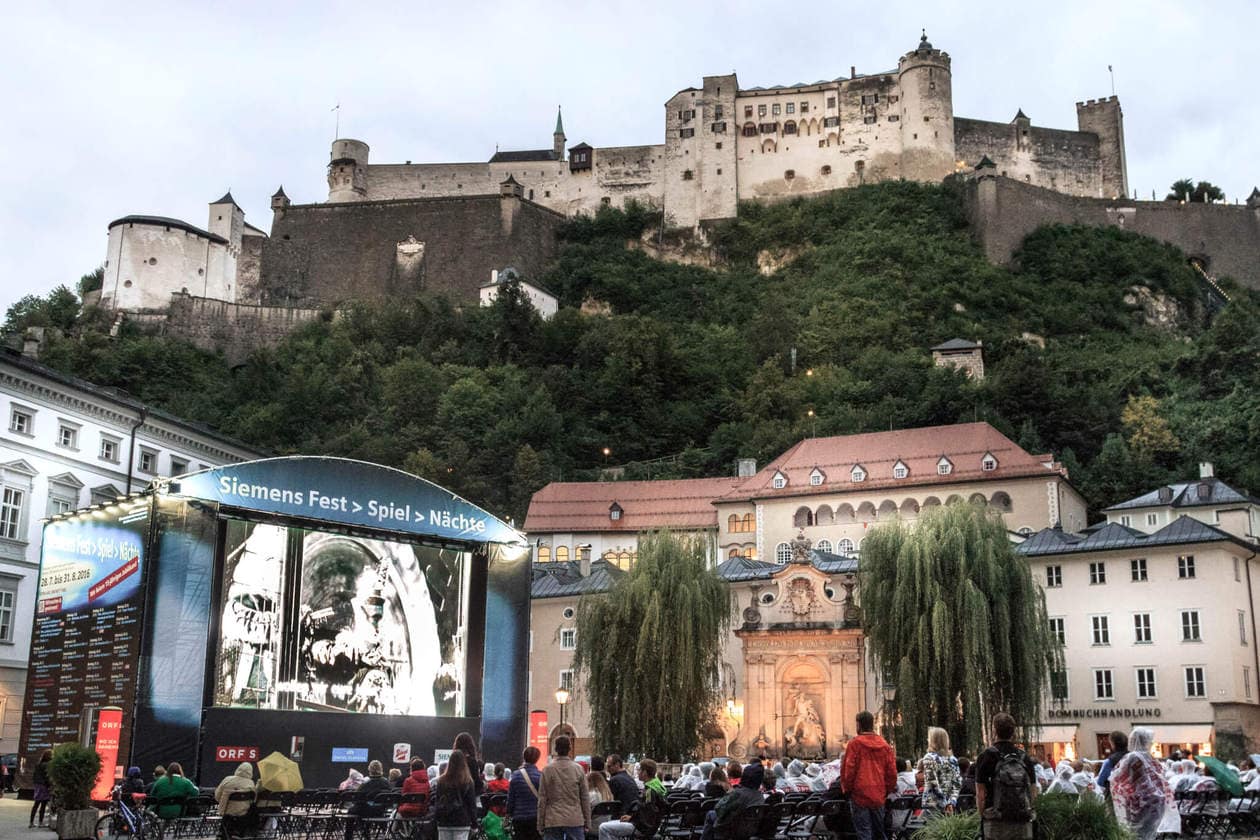 We were lucky to be here during the Salzburg Music Festival. Every day there were opera, drama and concert performances happening throughout Old Town.
Check out this link for more info about music in Salzburg and for a list of events happening during your visit.
TRY THE LOCAL FOOD
MOZARTKUGEL
Mozartkugel, also known as Mozart Balls, are chocolates made with layers of filling, pistachio marzipan in the middle, and nougat. They are everywhere. I'm not gonna lie, Mozart Balls are gross, but you can't leave Salzburg without eating one.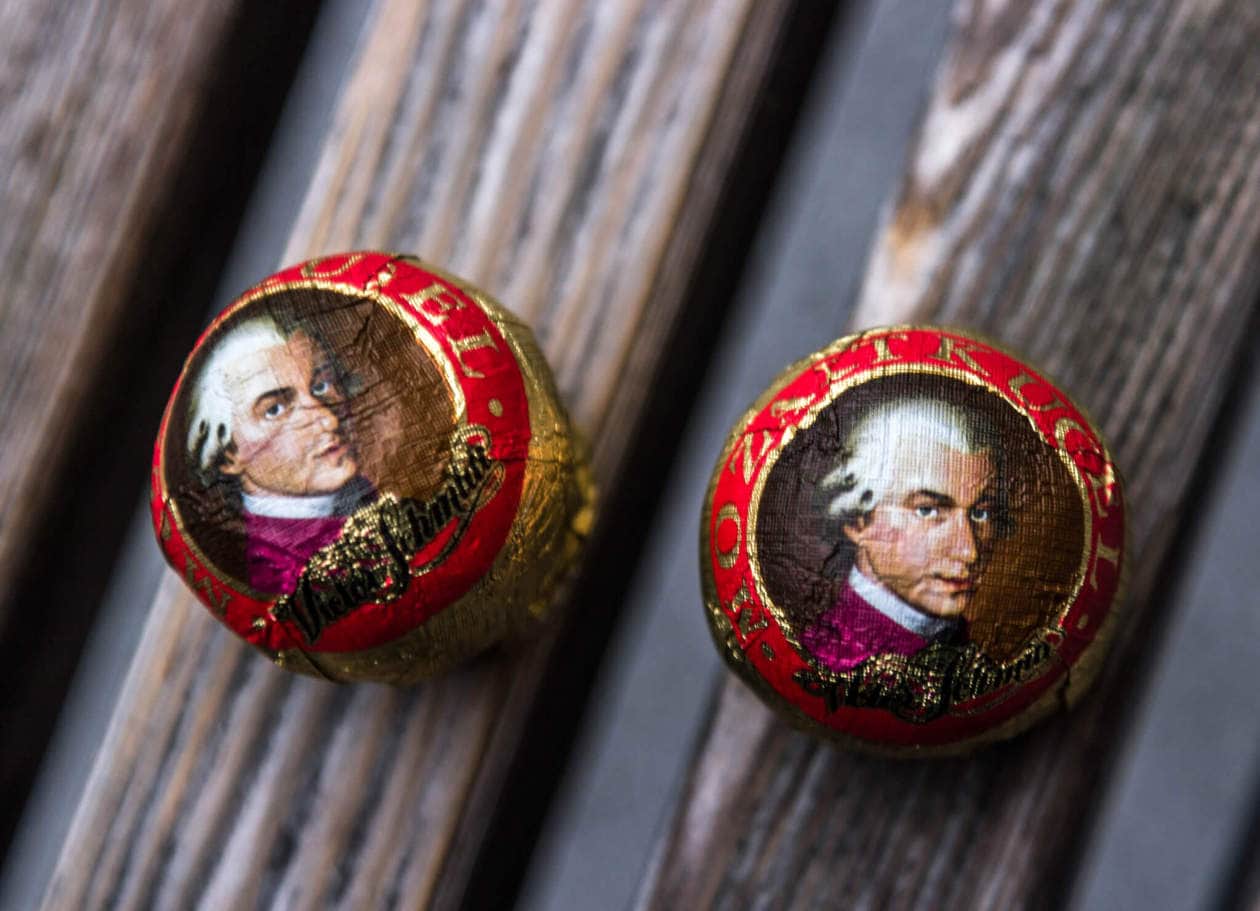 APFELSTRUDEL
Apple Strudel is one of the most popular and famous desserts in Austria. It's made of rolled pastry filled with apple, breadcrumbs and raisins, and often served with vanilla ice cream and whipped cream.
SCHNITZEL
Schnitzel is the national dish of Austria. While we tend to avoid eating a lot of meat in the US, we do eat it when we travel, and especially if it's at the top of every "food to try" list. I wasn't overwhelmed with the schnitzel we had in Salzburg, but people go crazy for it.
TAKE A DAY TRIP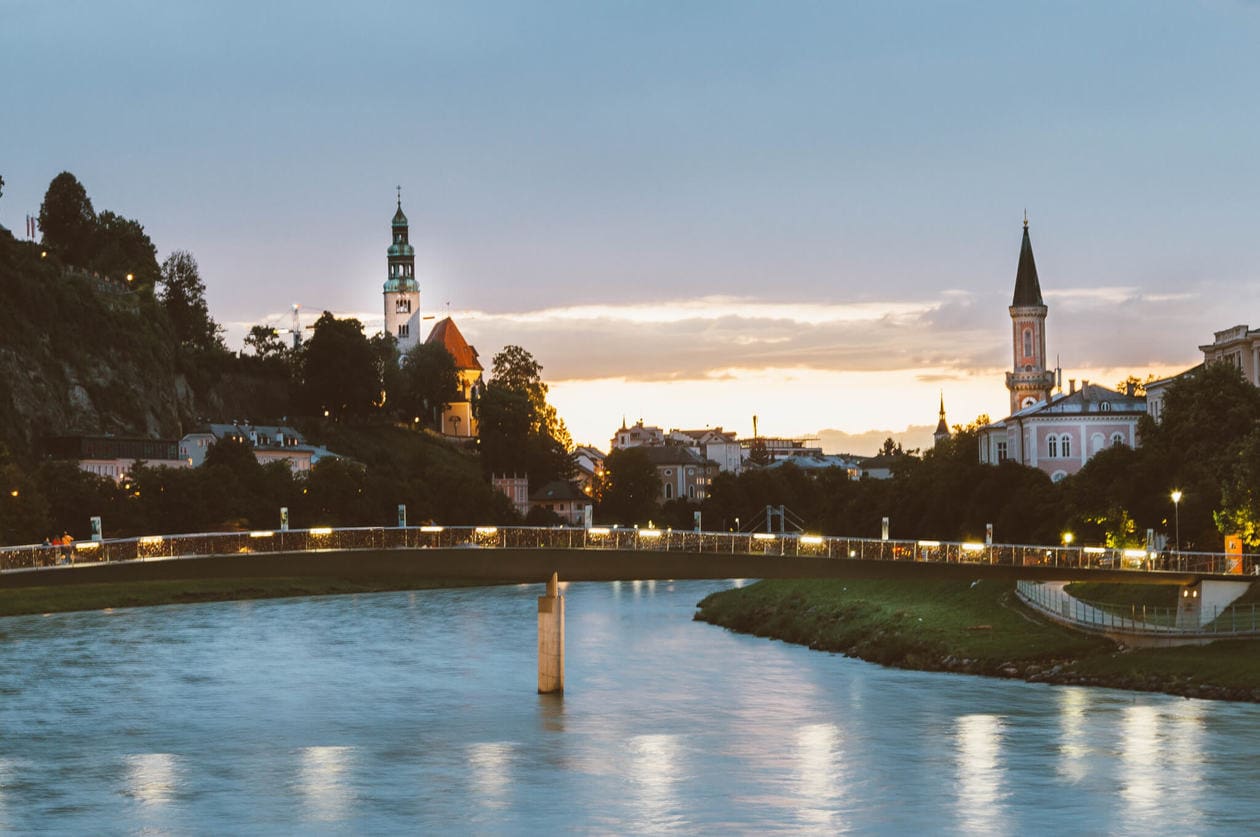 While technically not one of the top things to do in Salzburg, I highly recommend giving yourself an added day or two in order to venture outside the city. We only had 48 hours in Salzburg which left us no time to do any day trips and I was so disappointed. I can't wait to return to Austria and visit Hallstatt, King's Lake and the ice caves.
This is a great article from "Big Boy Travel" about day trips from Salzburg.
WHERE TO STAY IN SALZBURG
LUXURY
BRISTOL HOTEL
Bristol Hotel Salzburg is a 5 star hotel located in the city center. It was first opened in 1890 and is still a family run hotel run by it's third generation owners. Every room and suite at the Bristol hotel is uniquely designed and no two are alike.
Rooms start at $322
For more information or booking click here.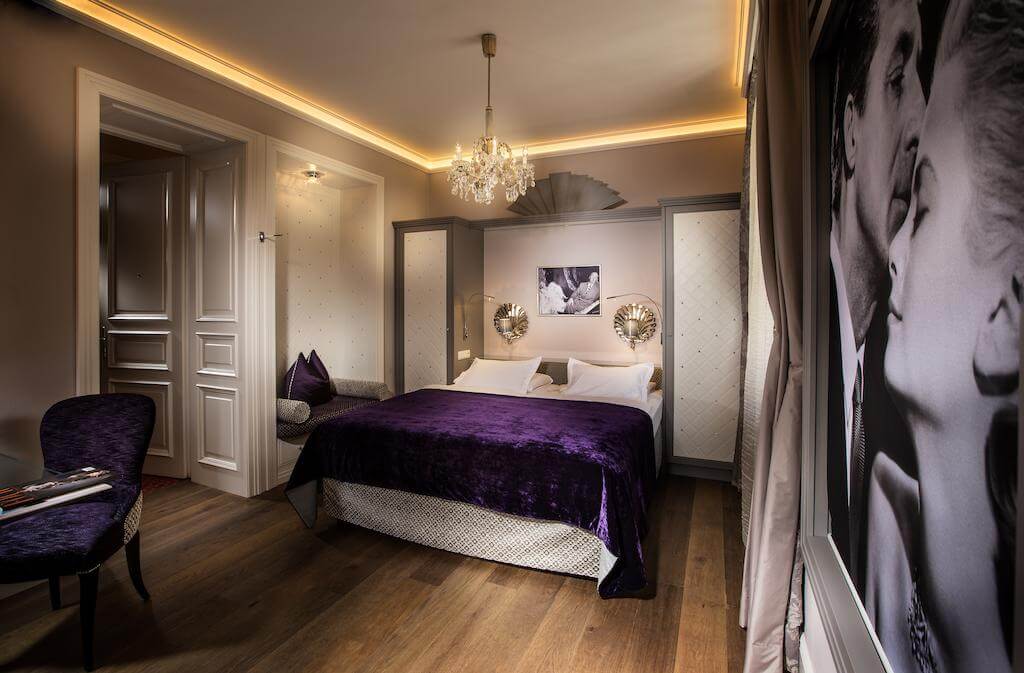 MID-RANGE
RADISSON BLU HOTEL ALTSTADT
Radisson Blu's are always in the best locations, and their Salzburg hotel is no exception to the rule. Located on the river, directly in Altstadt, you'll be in the center of it all. The hotel's building dates back to 1377 and still has it's preserved, medieval wooden ceilings.
Rooms start at $220
For more information or booking click here.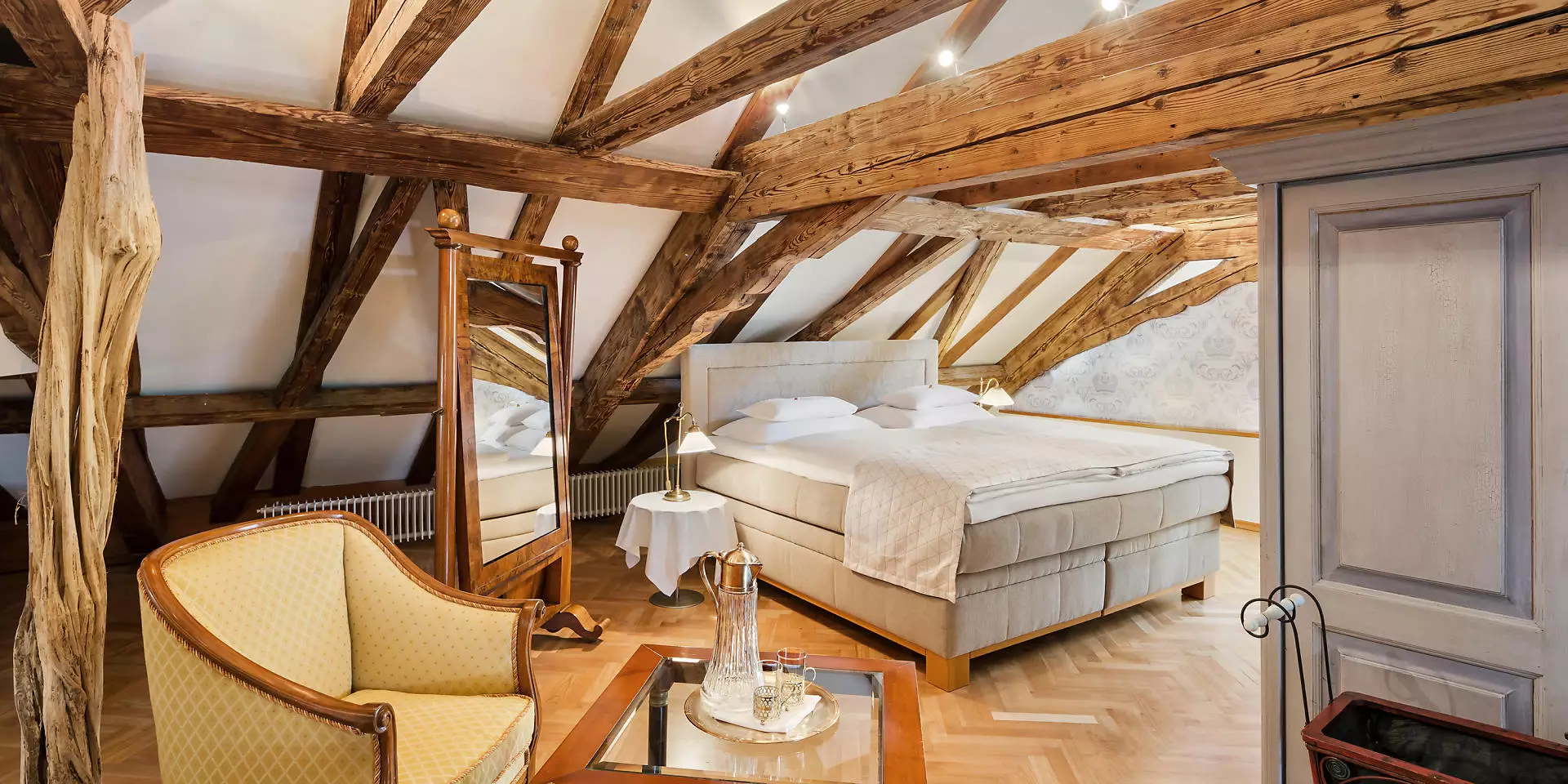 BUDGET
URBAN STAY SALZBURG CITY
Urban Stay is a small chain of hotels offering affordable, central and stylish lodging. Their location in Salzburg is a 5 minute walk from Mirabell Gardens and a 10 minute walk from the train station.
Rooms start at $115
For booking and information click here.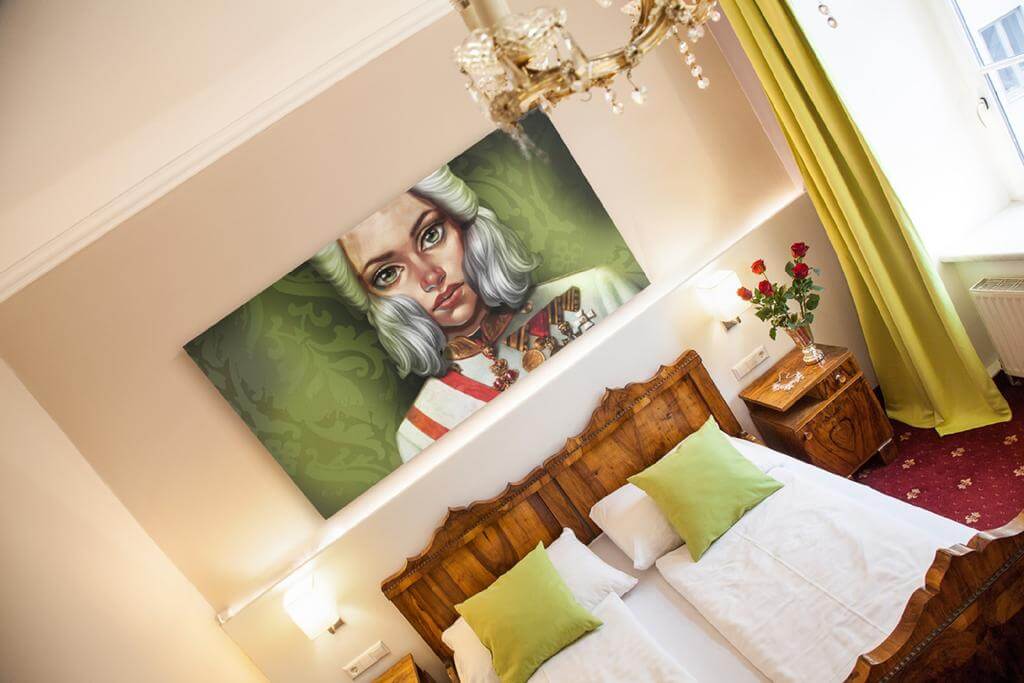 ULTRA BUDGET
MEININGER HOSTEL
Salzburg is expensive. Your best bet for the cheapest lodging would be to find a hostel or Airbnb outside of the city center, and then take the bus in. For a hostel within the city center limits, check out Meininger Hostel.
Click for information/booking for Meininger Hostel or sign up for Airbnb and get $40 off your first booking here.
Did I missing something? What are your favorite things to do in Salzburg?
---
PIN IT // 10 THINGS TO DO IN SALZBURG