Renting a car is one of the best ways to explore Armenia. Instead of being tied to a tour group's schedule, having your own car allows you the freedom to take your time, make stops, and really fine tune your itinerary. Keep reading to discover what I wish I knew before renting a car in Armenia including driving tips, road conditions, and what to do if you get pulled over.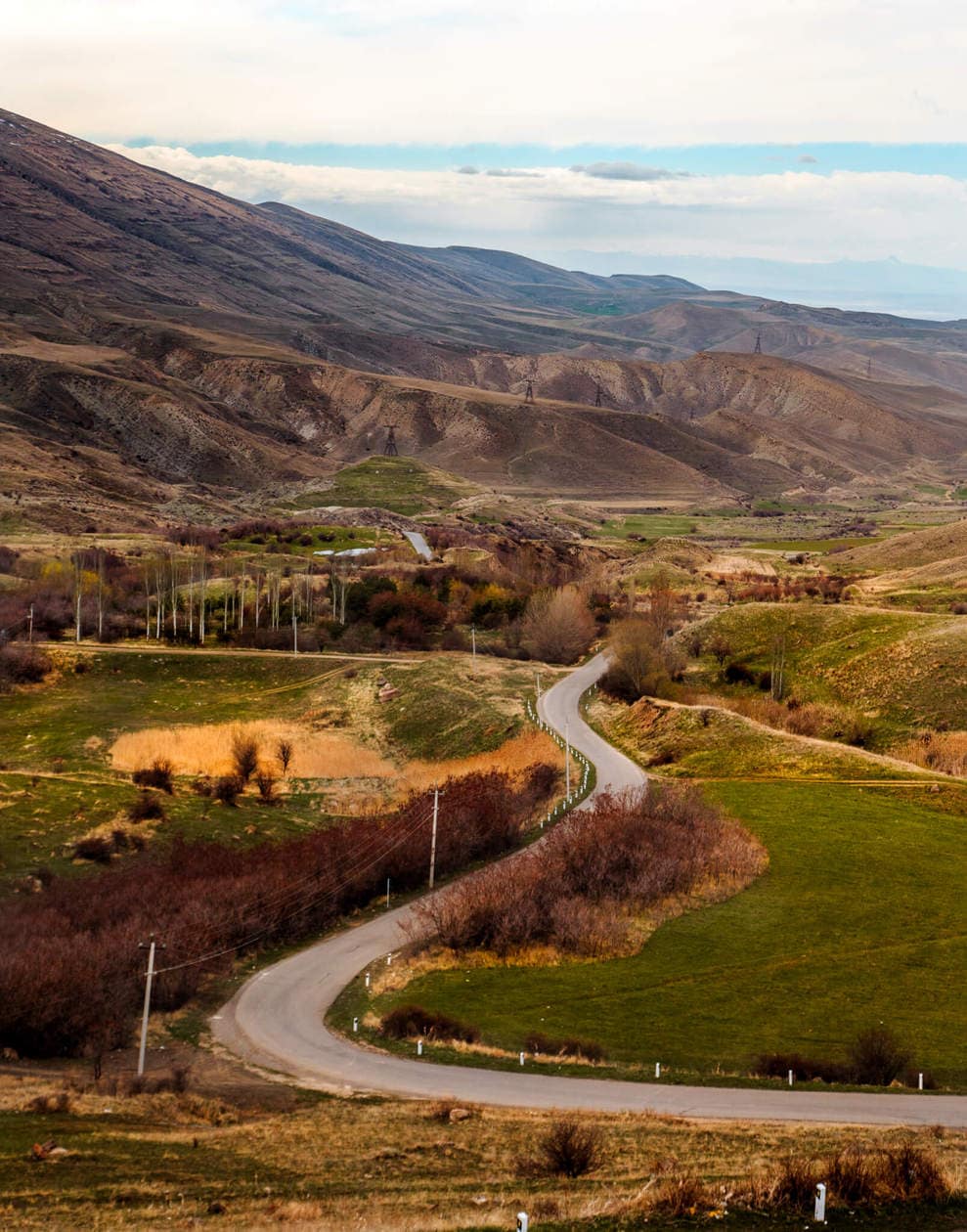 RENTING A CAR IN ARMENIA // EVERYTHING YOU NEED TO KNOW
WHICH SIDE OF THE ROAD?
Armenians drive on the right hand side of the road.
THERE ARE SPEED CAMERAS EVERYWHERE
In every town, village and city in Armenia, there are speed cameras out to get you. Wherever we went, we saw cops flying in out of nowhere to pull people over, and we were not the exception.
The cameras are always disclosed by signs but they're easy to miss. Keep an eye on your odometer and pay attention to your speed when entering new towns.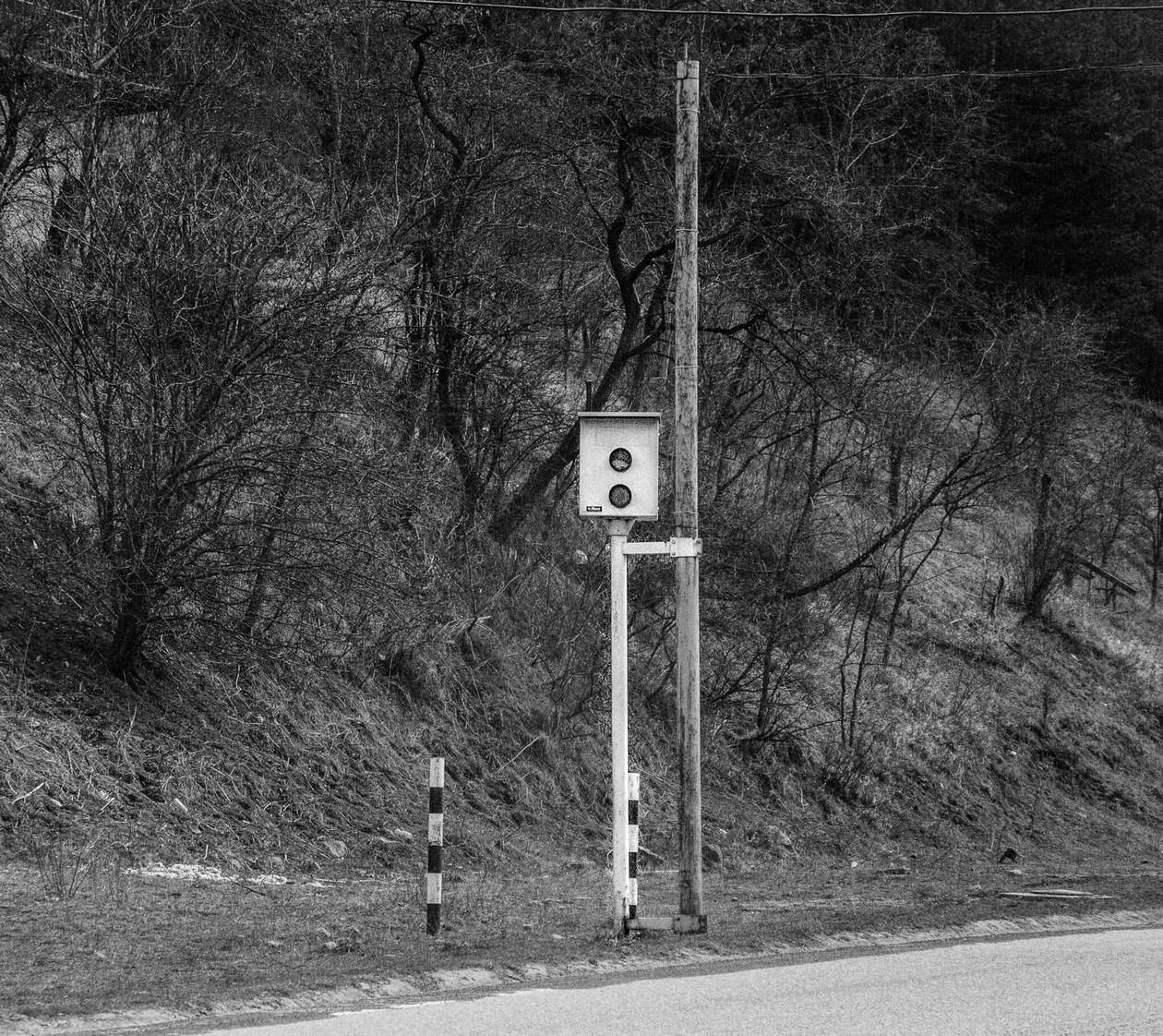 SPEED LIMITS
In town: 60 km / hr
Out of town: 90 km / hr
On highways 110 km / hr
In residential areas 20 km / hr
At the beginning of each town/village there will be a sign with the town's name. That's the easiest way to know when you need to start slowing down. As you drive out, you will see another sign with a cross through the towns name, signaling that you've exited.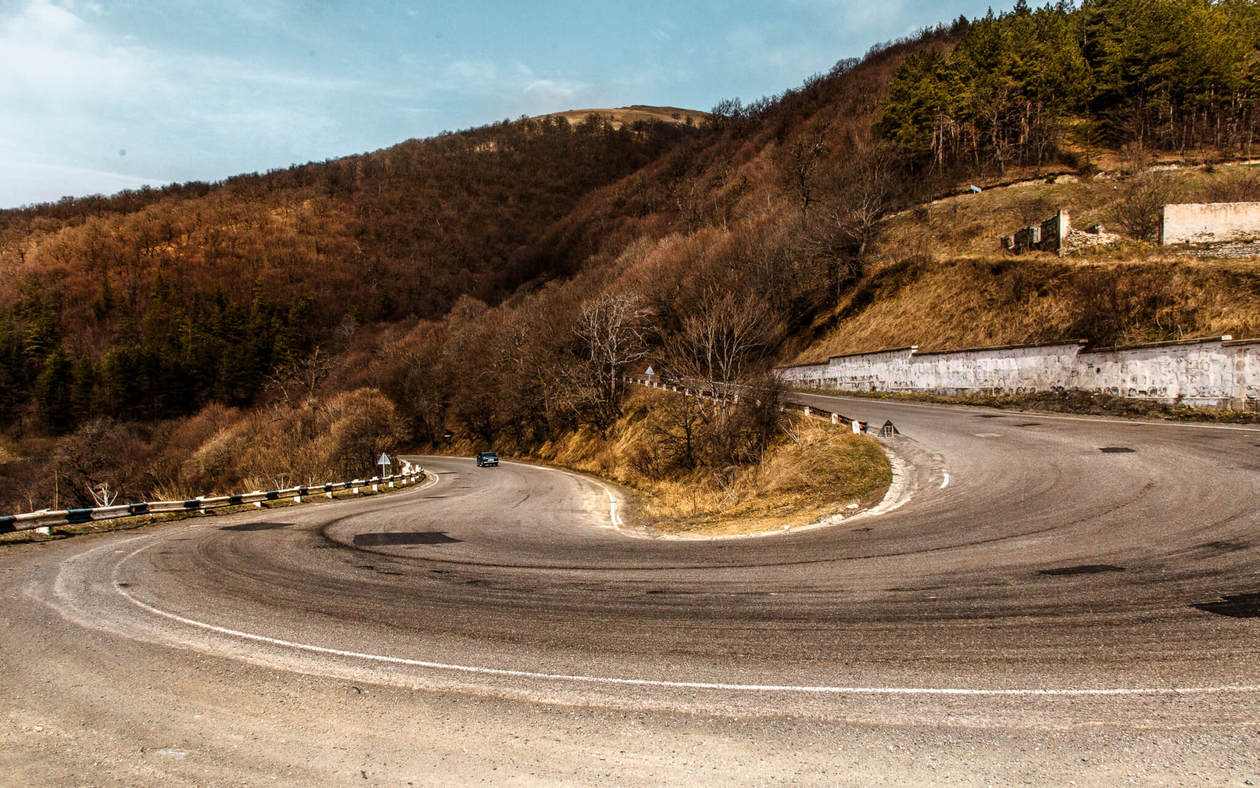 GETTING PULLED OVER
About an hour into our first drive, we looked up to see those undesired flashing lights in our rearview mirror. We got caught speeding.. and by speeding, I mean we were going 40mph (64km/hr) in a 37mph (60km/hr) zone.
The police officer who pulled us over told us that Armenia "loves tourists," so instead of confiscating Nick's driver's license he would let us go if we paid him 10,000AMD ($20USD) in cash. Seemed super legit..
It's scary to get pulled over in another country especially if you're not super familiar with the laws and the system. In doing a little research, I discovered that police bribery is somewhat common so we always made sure to have some cash on us just in case. If you find yourself being bribed, one of my readers from Armenia suggests asking for a paper proof or even to proposing to go to the police office. He says the police will back down eventually.
Personally, I would be a little nervous to push back against a police officer but if you feel comfortable, this really is the best option so that you don't perpetuate the issue. The best way to eliminate your chance of getting pulled over is to stay under the speed limit.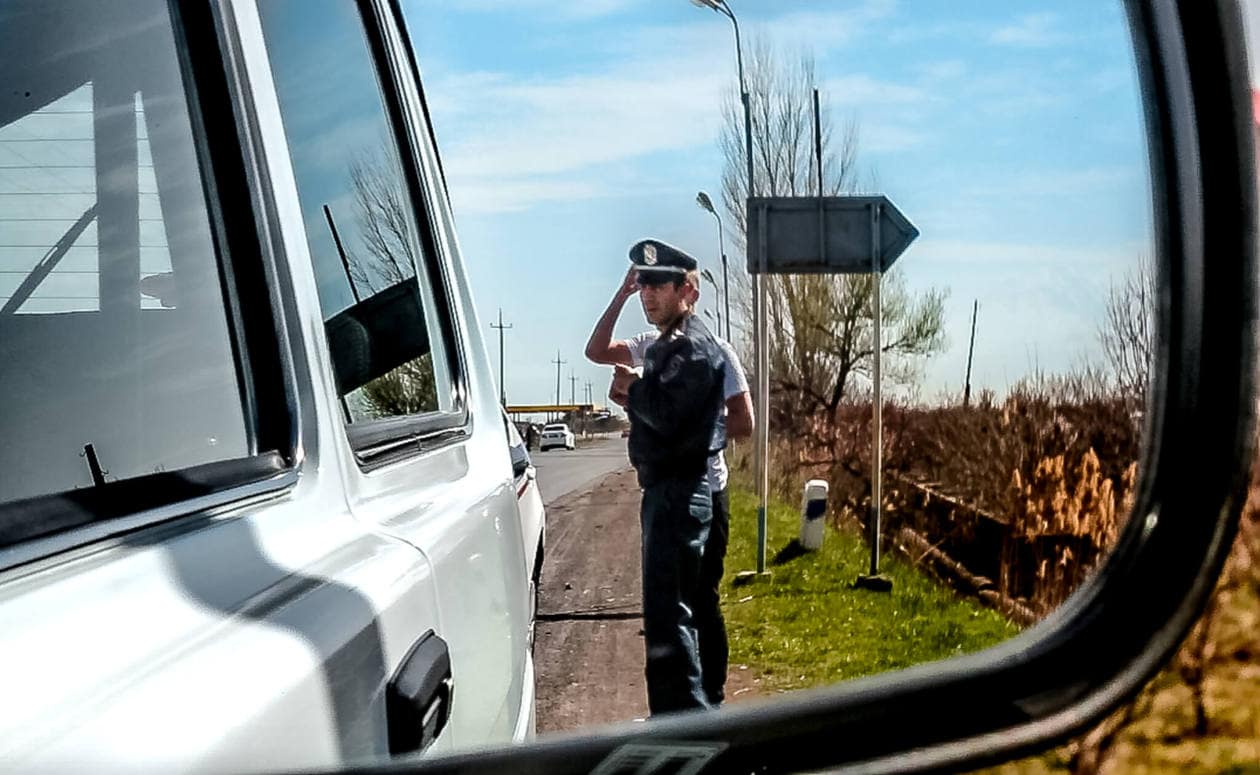 DON'T TAKE PICTURES OF THE POLICE
While Nick was outside of the car dealing with our infraction, I was trying to get an InstaStory from the rearview mirror. The officer looked up, saw me and got so mad. He marched over, took my phone, deleted the photo and then went into my recently deleted folder, deleted it again and he even checked all of my social media. He was not happy.
Didn't check my camera though.
WHICH RENTAL CAR COMPANY?
I usually find Economy Car Rentals to have the best rates in most European countries (I almost always cross check rates on Kayak though). Their website is easy to understand and you always know what you're going to get when you rent from them. They also dropped the car off at our hotel in Yerevan for no extra charge.
Visit EconomyCarRentals.com here.
MANUAL VS AUTOMATIC
When renting a car in Armenia (and most of Europe), manual transmissions are usually the default option. We discovered this the hard way while in Turkey… and Nick had to learn how to drive a stick on the spot.
If you can't drive a stick, make sure to always check the "automatic" option. Unfortunately, this also means you'll be paying more as manual transmission cars are much cheaper to rent.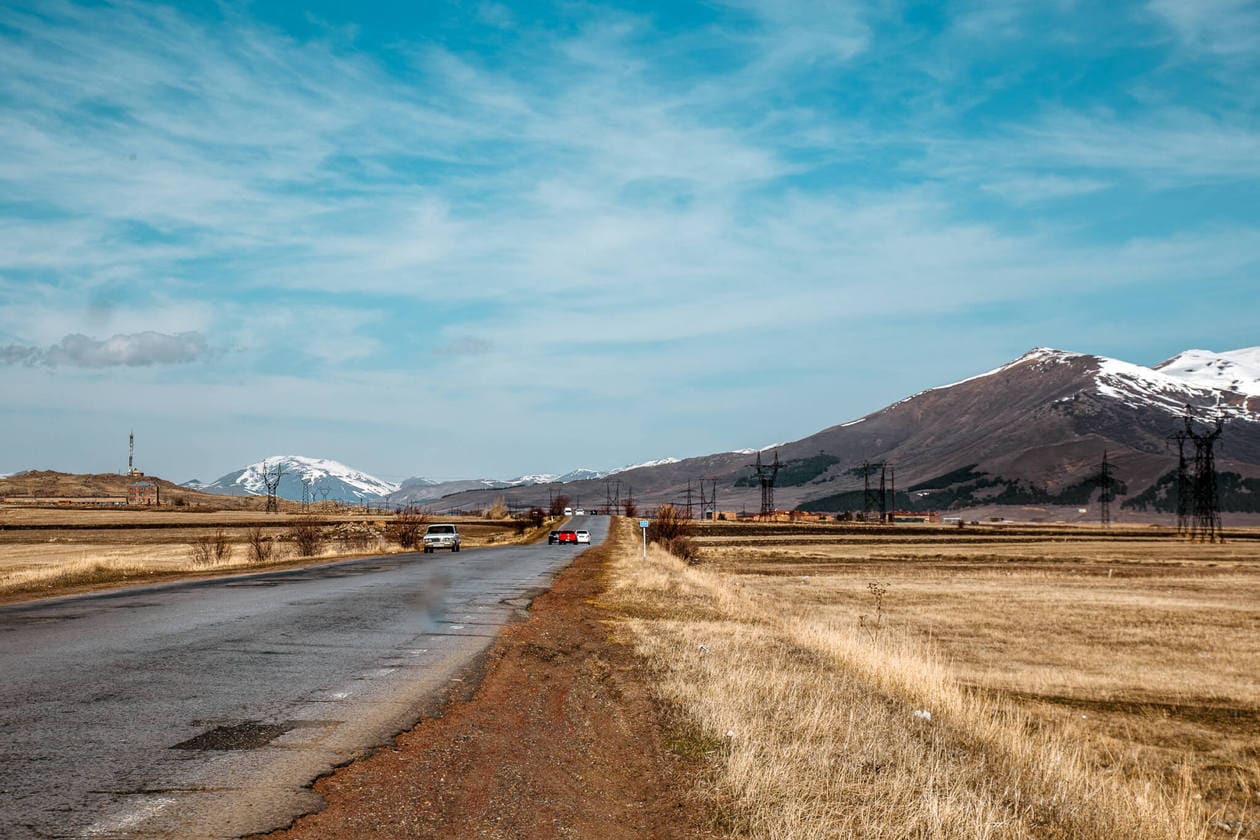 ROUNDABOUTS
The roundabouts in Armenia were initially confusing because the yielding is actually done within the roundabout, as opposed to yielding before entering.
With that said, the US doesn't have a lot of roundabouts so this could be more common than we're used to
LANES ARE JUST GUIDELINES
You've probably noticed that this is common in a lot of countries, but the lanes in Armenia are more of a suggestion than a rule (especially when you're dodging potholes). It's not uncommon to see someone driving in the middle of two lanes, or on the shoulder of the road.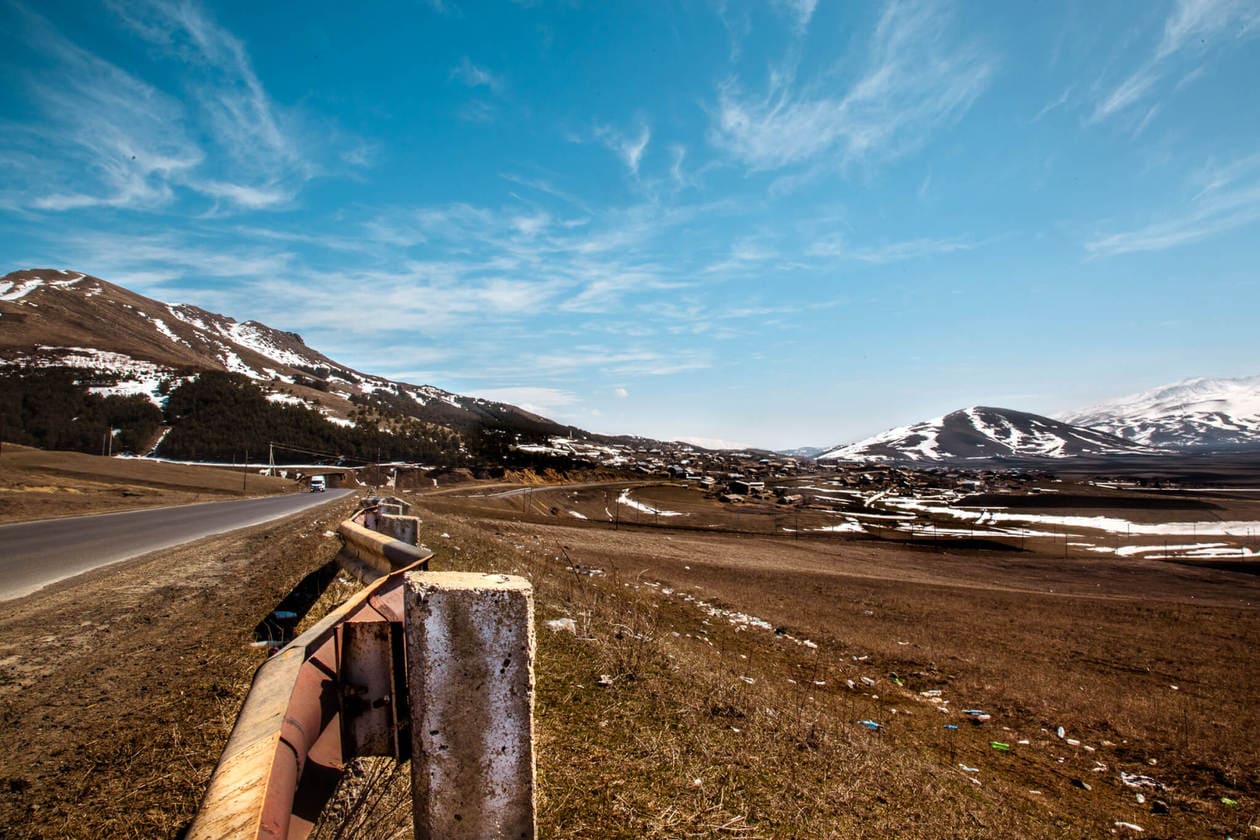 GIVE YOURSELF MORE TIME THAN SUGGESTED
I exclusively use Google Offline Maps when I travel and I love them. However, we quickly discovered that while navigating around the country, we had to double (and sometimes triple) the estimated time it would take to get places. In Northern Armenia, a lot of the roads were under construction and it caused us to tack on hours to our journey. A good rule of thumb is to double the amount of time Google Maps tells you, especially if you have somewhere to be.
---
RELATED POSTS: AVAN DZORAGET HOTEL // A PEACEFUL RETREAT IN ARMENIA'S LORI PROVINCE
---
CROSSING BORDERS
Armenia borders Turkey, Iran, Azerbaijan and Georgia. Unfortunately due to conflict with half of their neighboring countries, you can only cross the borders of Georgia and Iran. If you're renting a car in Armenia and plan to visit Azerbaijan or Turkey, your best bet is to travel through Georgia to get there.
Also make sure your rental company allows for border crossings as not all do.

ROAD CONDITIONS
I'm not gonna lie, the road conditions are rough.
There are hundreds of potholes that you have to constantly dodge and weave around, while simultaneously avoiding other cars doing the same thing.
Northern Armenia had the worst conditions in the country, with the most potholes. In certain areas, the roads turn to dirt and you have to bump along for miles at a time. The conditions in the South are much better than the North, with smoother roads and less potholes.
Luckily outside of Yerevan, there are very few other cars on the road to worry about.
---
RELATED POST: NORAVANK MONASTERY // A MUST SEE SITE IN NORTHERN ARMENIA
---

AVOID DRIVING AT NIGHT
One evening we had to drive it the dark and it was terrifying. The potholes are almost impossible to see unless you're directly in front of them.
OPT FOR AN SUV
When renting a car in Armenia, try and pick one with some ground clearance, especially if you will be driving outside of Yerevan. This will greatly reduce your changes of damaging your rental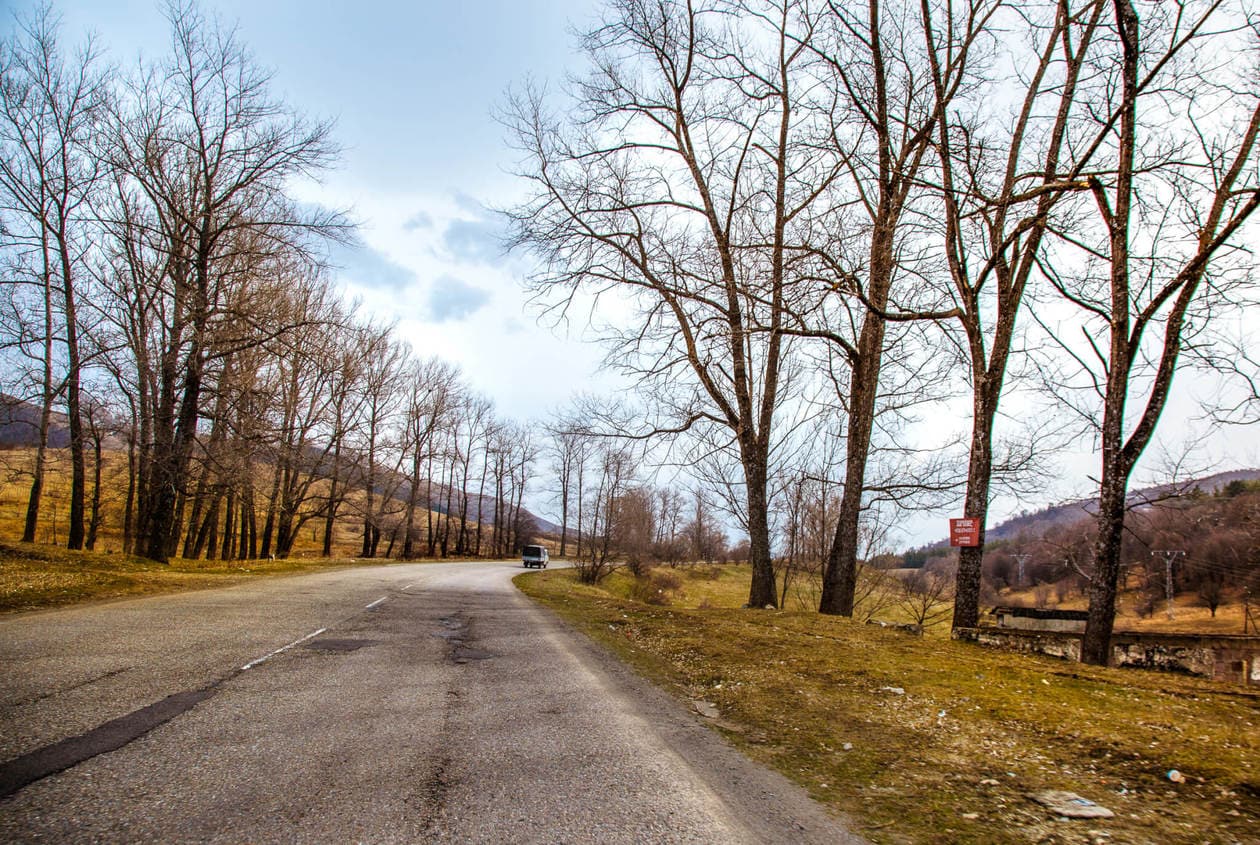 PARKING
Parking was never an issue for us and always easy to find. At some of the monasteries you have to pay to park (usually around 200AMD (.40cents) and the attendant will tell you where to go.
In Yerevan, red dotted lines indicate paid parking. The first 5 minutes are free and after that, you'll be fined. Pay from your phone or at one of the payment machines. Parking is free in Yerevan from midnight to 9AM.
To pay from your phone:
For 1 hour – Text "00xx000" (license plate number) to 1045
For 1 day – Text "00xx000" (license plate number) to 5045
For more information about parking rules in Yerevan click here.

GETTING GAS
Gas stations are readily available throughout the country. It's full service so the attendant will pump your gas for you. Just tell them what kind of gas you need and how much you want your tank filled.
DRIVING IN YEREVAN
Driving in Yerevan was stressful and I shaved years off of my life by doing so. It's very busy with no shortage of erratic driving. Stay alert and try and get an idea of your route before you start driving so that all of your attention can be on other cars.
---
RELATED POST: THE BEST YEREVAN RESTAURANTS // WHERE TO EAT IN ARMENIA'S CAPITAL
---

DON'T RENT A LADA
When renting a car in Armenia, don not choose a Lada..
I picked our Lada for superficial reasons; it was kinda funky and I thought it would look good in drone footage. Well, that was the only thing it was good for, and I've never hated anything more. Even the man from the rental car company completely gave up explaining to us how it worked, throwing his hands up in defeat and saying "it's Russian.."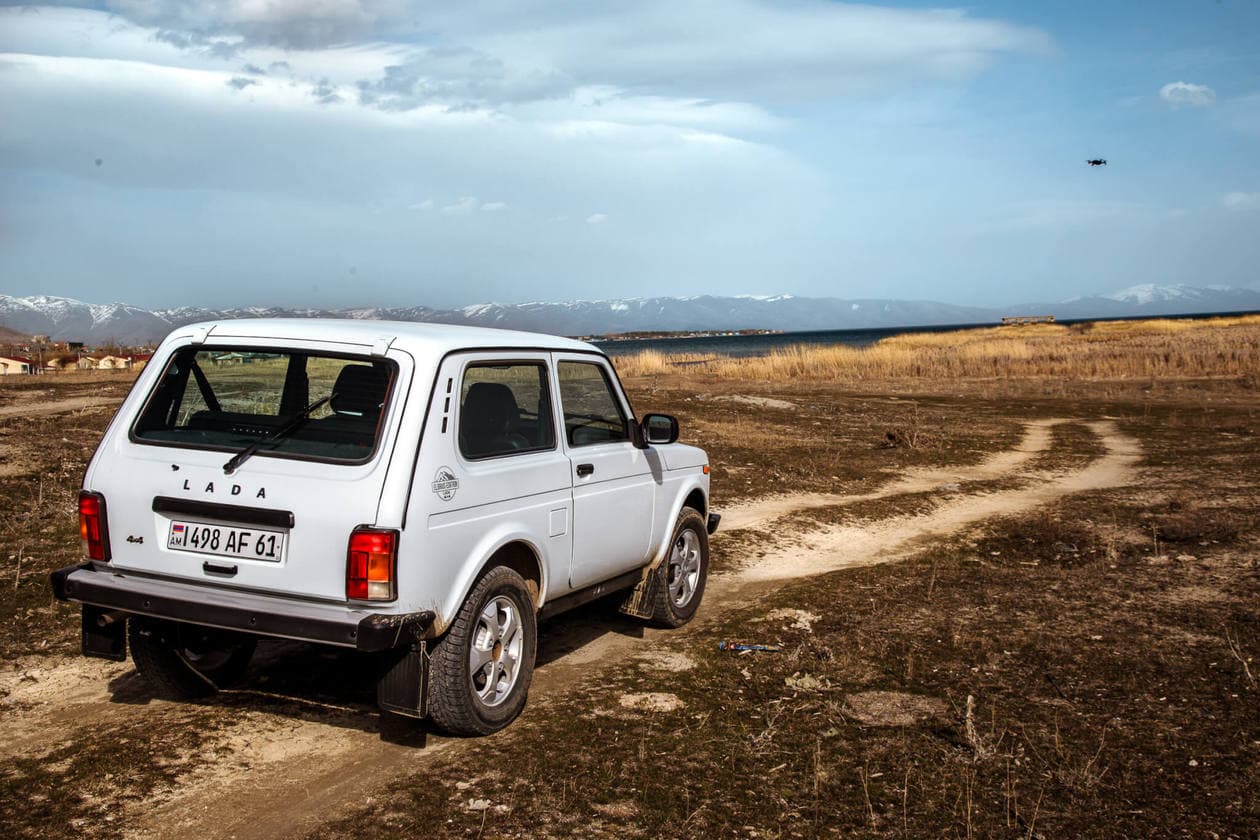 You'll have no air conditioning, so even though you're driving past snowcapped mountains in 40 degree (4 celsius) weather, you will be covered in sweat. You will get whiplash driving on the Armenian roads. Nick's thighs were sore every night from manhandling the clutch, and it topped out at about 55mph (90 km/hr).
Just don't do it.
ARMENIAN TRAFFIC LAWS
It's illegal to use your phone when driving unless you have a hands-free set-up.
Children under 12 must sit in the back of the car.
Those riding in the front seat must wear sealtbelts.
Drinking and driving is strictly prohibited. The legal blood alcohol level is 0.0 %.
Your passing beams should be turned on at night.
A RENTAL CAR IS NOT ABSOLUTELY NECESSARY
Armenia was not the easiest country to drive in but I'd definitely do it again because the pros vastly outweighed the cons. However if you don't feel like dealing with renting a car in Armenia this time around, you do have other options.
Tours are very inexpensive and will take you just about anywhere you want to go within the country. I'm a fan of Viator's options and prices, but you can also book a local tour once you arrive. There are dozens of tour operators sitting outside of Republic Square in Yerevan. You can talk to a few and negotiate the best price.
For a list of Armenia tours offered by Viator click here 
Did I miss anything? Leave your tips for renting a car in Armenia in the comments!
---
PIN IT // RENTING A CAR IN ARMENIA