Yerevan is one of the only major city in the world whose buildings are made of pink lava rock. The stone is responsible for the the city's pastel hue (especially during sunrise or sunset), earning itself the nickname, "The Pink City." At first glance, The Pink City is not that exciting. I remember looking up things to do online and being rather disappointed with the results. However, after spending a few days wandering around Yerevan, eating at it's restaurants and watching sunsets from Cascade, it definitely grew on us. It's the kind of city I'd be happy spend a long layover in, but not one I'd actively seek out for it's sightseeing potential. Keep reading for a list of 6 things to do in Yerevan.

6 THINGS TO DO IN YEREVAN
---
WATCH THE SUNSET FROM CASCADE
Watching the sunset from the Cascade Complex was one of my favorite things to do in Yerevan (besides eat 🙂 ).
Cascade is a massive limestone staircase that connects Downtown Ketron with the Monument neighborhood, and you'll get the best view of Yerevan and Mt. Ararat from the top. The Cascade Complex is popular amongst tourists and locals, especially during sunset when everyone climbs the 572 stairs to watch the Pink City get bathed in the most beautiful light.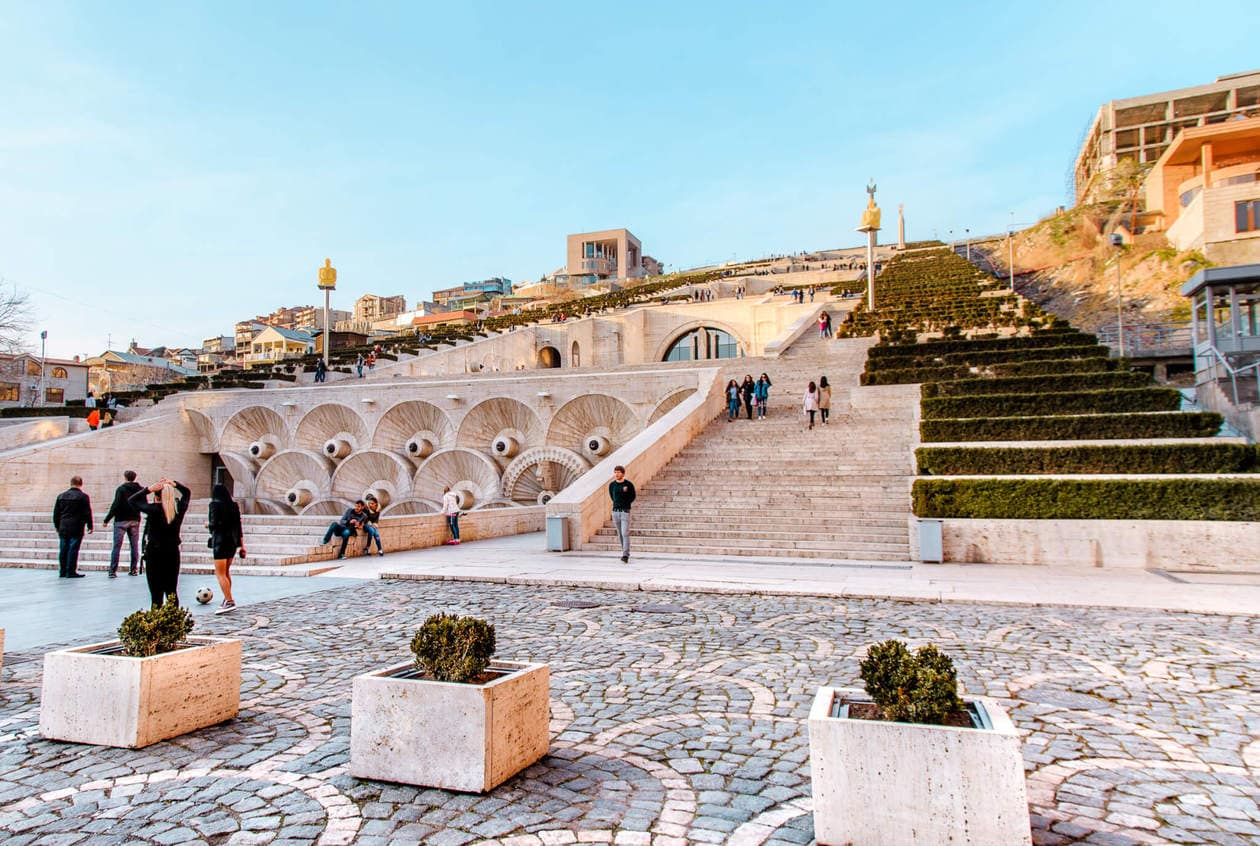 I recommend starting your climb about 1-1.5 hours before the sun goes down. There are a lot of steps and it's fun to take your time and people watch along the way. At the bottom of the Cascade Complex, there are tons of restaurants, cafes and wine bars, and during the Spring/Summer live concerts take place in the courtyard.
TRAVEL TIP Check out Wine Republic at the bottom of Cascade. It's a fun wine bar with tons of local wines at amazing prices. Four glasses of wine cost us a grand total of $6USD.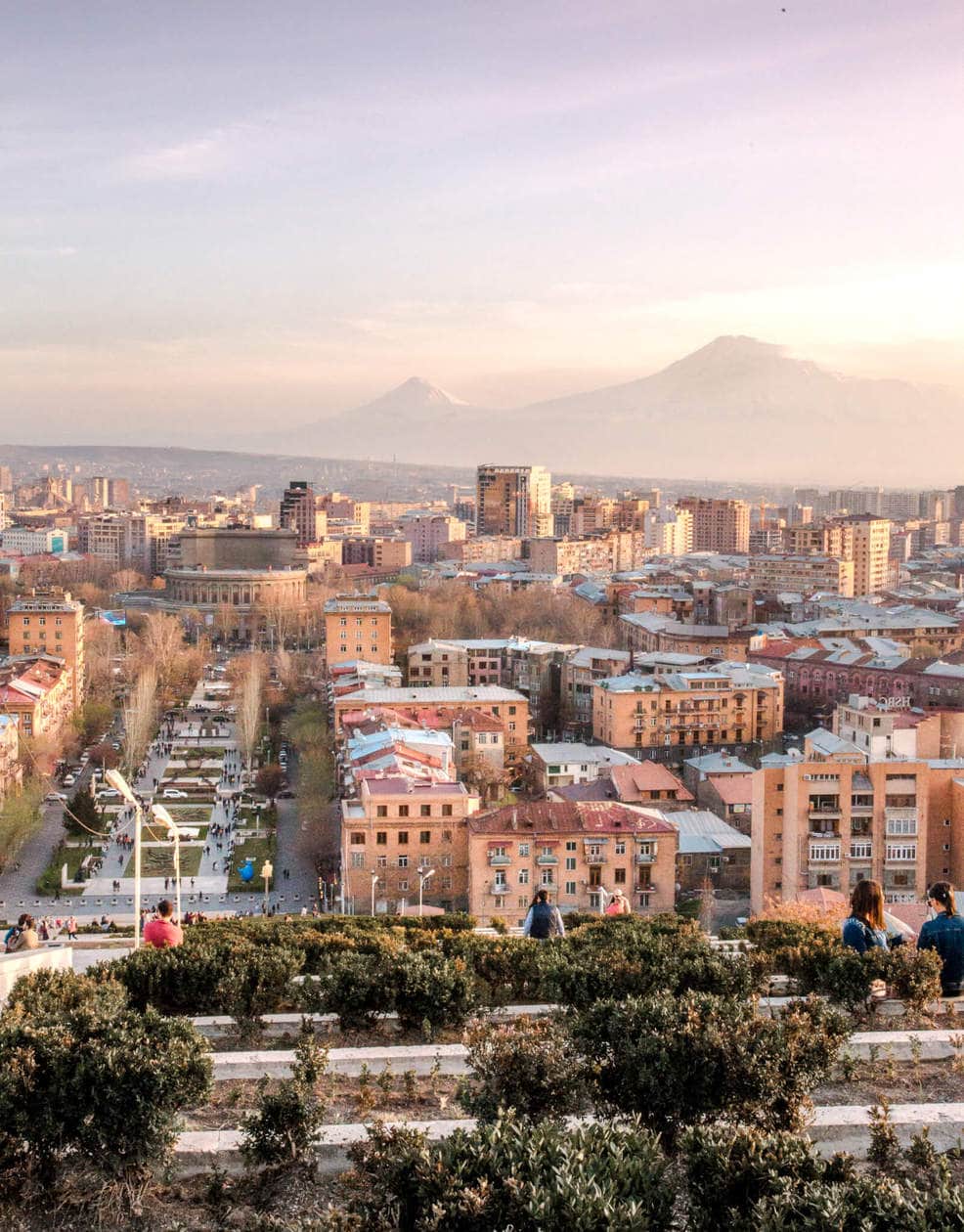 TOUR A BRANDY FACTORY
Armenian Brandy is considered to be some of the best in the world and Yerevan boasts more brandy distilleries per capita than any other city in the world. While the tours don't show the official distilleries or even the manufacturing process, you can still visit the factories and do a brandy tasting.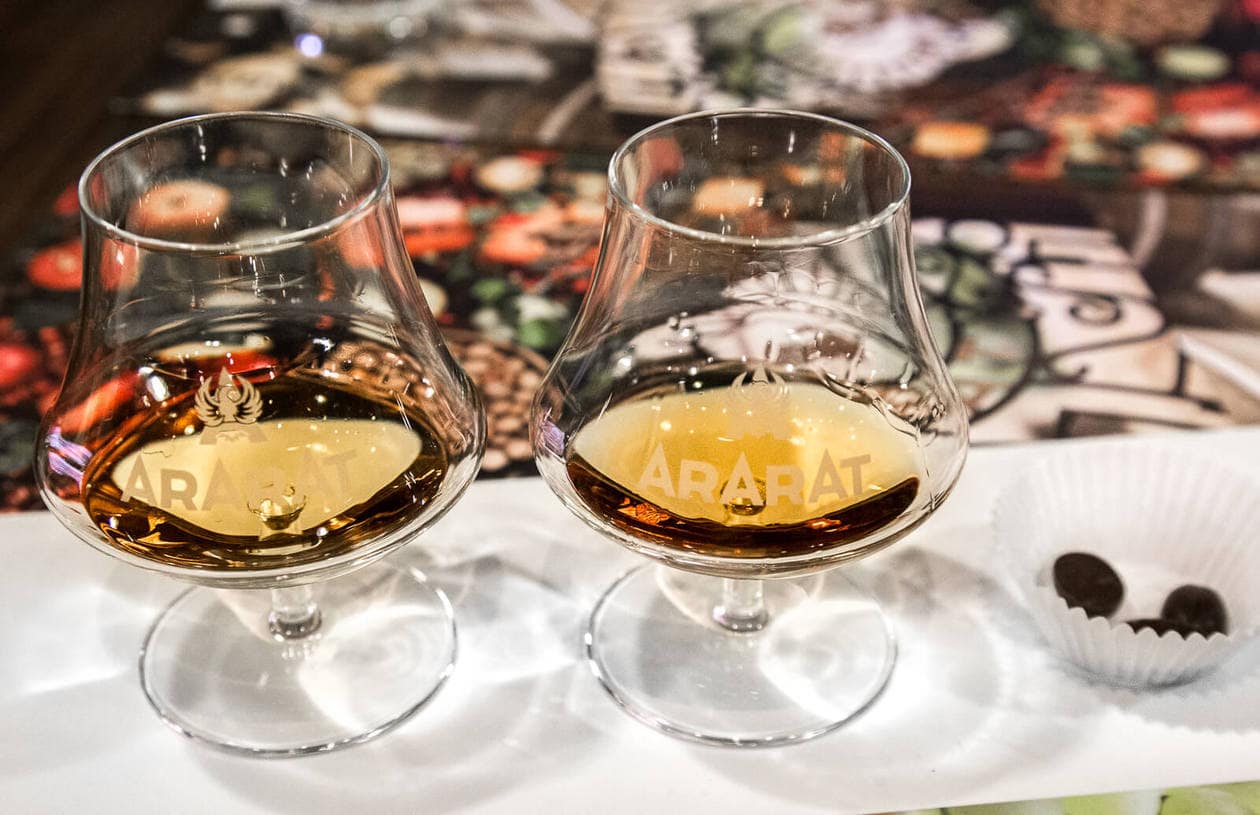 ARARAT BRANDY FACTORY
Ararat Brandy was not only the drink of choice for Winston Churchill but it is a consistent gold medal winner in Spirits Competitions around the world. After winning a blind taste test in 1900, they won the right to legally call their product cognac (a term only brandy from the Cognac region of France are legally allowed to call themselves).
PACKAGE 1
Tour + Tasting : Ararat 3 Stars (3 years old) and Ararat Akhtamar (10 years old)
Price: 4,500 AMD ($9.32USD)
PACKAGE 2
Tour + Tasting : Ararat Akhtamar (10 years old), Ararat Nairi (20 years old), Ararat Dvin (30 years old)
Price: 10,000 AMD ($20USD)
ADDRESS Admirala Isakova ave 2, Yerevan 0004, Armenia
HOURS 9AM-8PM
PHONE +347 (10) 54 00 00
VISIT LENGTH 1 hr – 1.5 hr
---
RELATED POST: BRANDY TASTING AT YEREVAN'S ARARAT BRANDY FACTORY
---

NOY BRANDY FACTORY
Noy is another leading Armenian brandy offering factory tours in Yerevan. The guided visit details the factory's 125-year history, displays antique bottles and barrels, and gives you a glimpse into the underground barrel storage areas.
PACKAGE I
Tour and no tasting
Price: 3,500AMD ($7USD)
PACKAGE 2
Tour + Tasting : Noy Classic Brandy (10 years old), Noy Araspel Brandy (5 years old)
Price: 5,000AMD ($10USD)
ADDRESS 9 Argishti St, Yerevan 0015, Armenia
HOURS Weekdays 9AM-6PM / Saturday 11Am-4PM
PHONE +374 10 547048
VISIT LENGTH 1 hr – 1.5 hr
VISIT TSITSERNAKABERD
Tsitsernakaberd is Armenia's official Genocide Memorial, and the most emotional things to do in Yerevan. It's a short taxi ride from the center of Yerevan and definitely worth taking the trip over to see.
During WWI, the Turks of the Ottoman Empire murdered 1.5 million Armenians in what is unanimously acknowledged as genocide by historians and genocide scholars . Today, the historical event is only officially recognized by 26 countries, and Turkey continues to deny the genocide.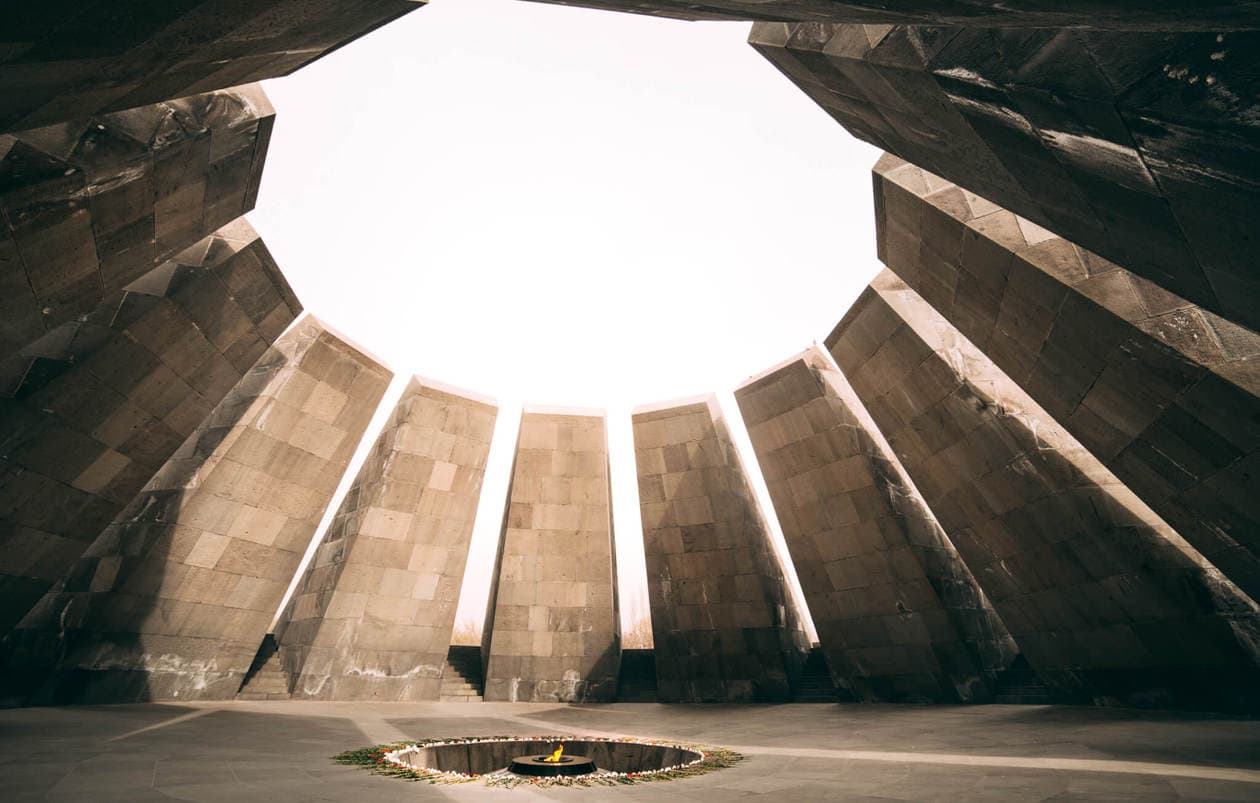 In addition to the memorial, there is also a free museum on site to learn more about the history of the Armenian genocide.
---
RELATED POST: VISITING TSITSERNAKABERD // ARMENIA'S GENOCIDE MEMORIAL
---
EAT
Truth be told, Yerevan is not on my list of favorite cities in the world.. but I would 100% travel all the way back here to there just to eat more of it's food.
Maybe I've been living under a rock my whole life, but discovering Armenian food has been the highlight of my travels this year. It's SO good and so cheap (think 4 course meals for two.. for under $30USD cheap).
Yerevan also has a huge cafe culture and excellent wifi, so it's a great place to settle in for a few days and get some work done.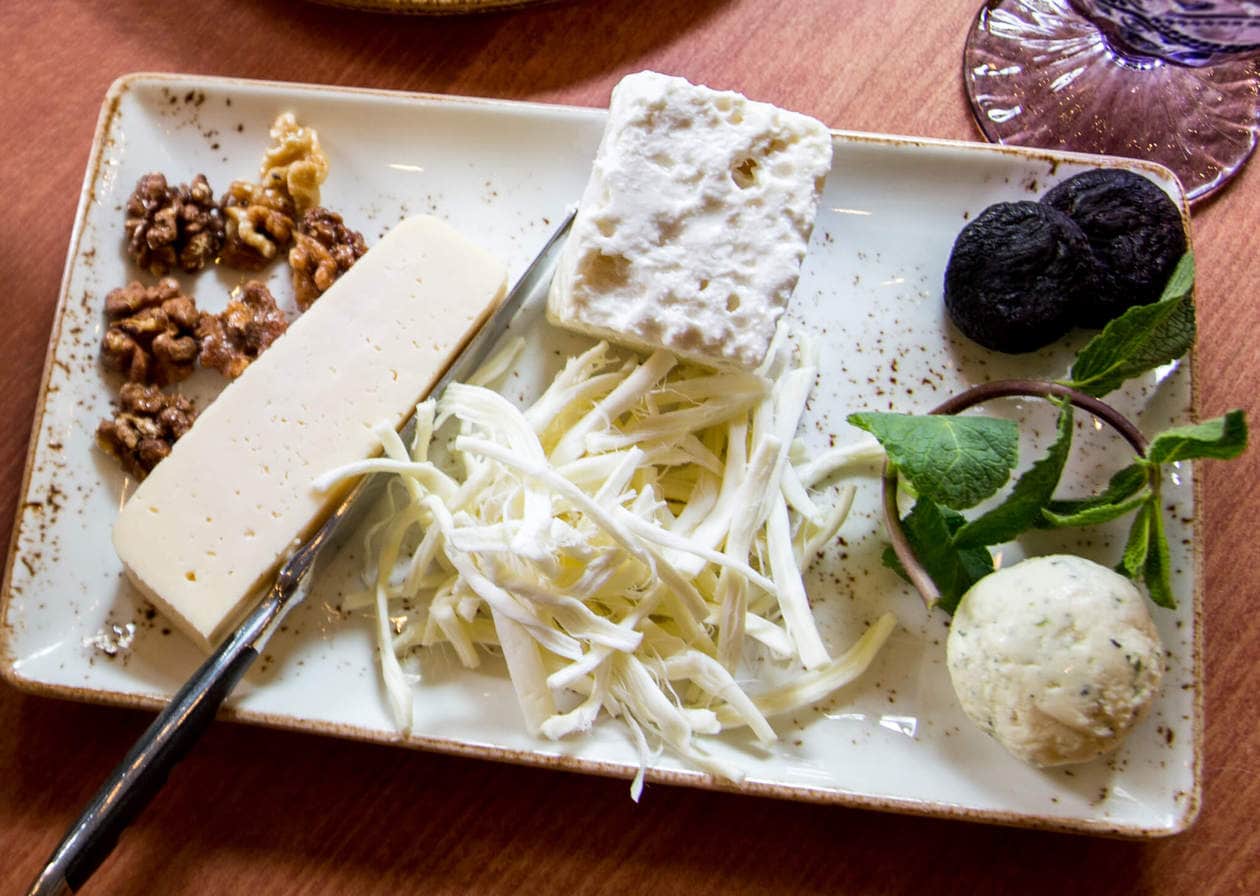 Check out my post below for a huge list of places to eat in Yerevan, including my personal top favorites plus local recommendations.
---
RELATED POST: THE BEST RESTAURANTS IN YEREVAN // RECOMMENDED BY LOCALS
---
SHOP AT THE VERNISSAGE MARKET
The Vernissage is a large open-air market in Yerevan, selling locally made souvenirs, handmade arts and crafts, books, carpets, ceramics and jewelry.
The weekend is the best time to visit as the market is more lively and vendors line the streets for several blocks. There is, however, a small section of the market open daily.
TRAVEL TIP: If you visit, make sure to haggle as the prices usually start higher for tourists.
The Vernissage Market is located on Aram Street near Republic Square.
TAKE A DAY TRIP
While not technically one of the things to do in Yerevan, I highly recommend taking a day trip from the city to see a different side of Armenia. The countryside is beautiful, with rolling hills in the South and lush forests in the North.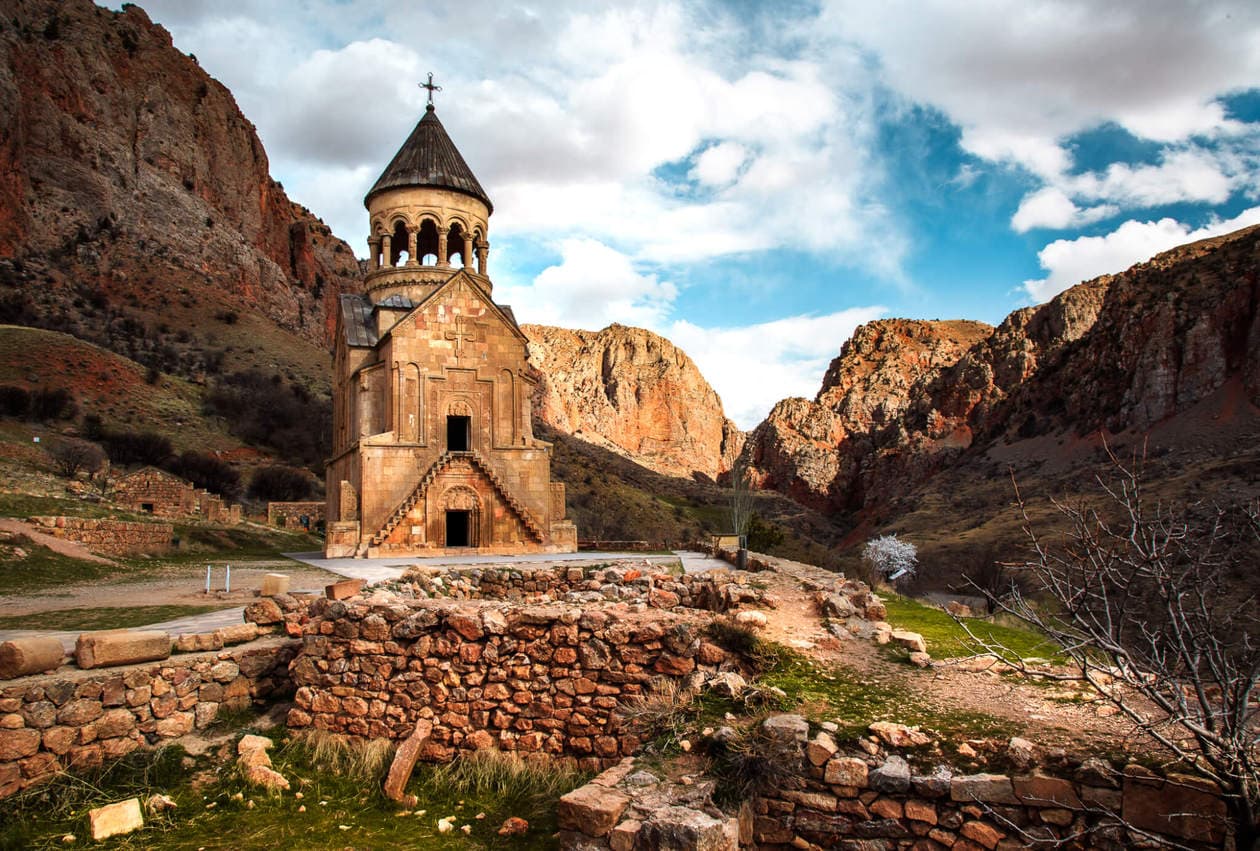 Armenia is the world's first Christian nation, so visiting a few of the countries 4,000 monasteries is at the top of most visitor's to do lists. If you're short on time, Khor Virap Monastery is less than an hour away and offers one of the best views of Mt. Ararat. If you have the full day, consider a trip to Noravank, Haghpat or Tatev Monasteries.
You can rent your own car, or there are dozens of inexpensive day-trips leaving from Yerevan every day. 
---
RELATED POSTS
NORAVANK MONASTERY // A MUST SEE SITE IN SOUTHERN ARMENIA
VISITING HAGHARTSIN MONASTERY // SOUTHERN ARMENIA'S HIDDEN MOUNTAIN GEMEVERYTHING YOU NEED TO KNOW ABOUT RENTING A CAR IN ARMENIA
---

YEREVAN HOTELS // WHERE TO STAY
One of the best things about traveling in Armenia is how inexpensive everything is. It's not uncommon to find incredible rooms in 5-star hotels for under $200USD. We stayed at the Multi Grand Pharoan Hotel and I do not recommend it. While it was a beautiful hotel, it very was far from the city center, the food was atrocious and it felt like we were in the Shining because we didn't see any other guests for 3 straight days.
So instead, check out these 5 other Yerevan hotels to fit any budget.
LUXURY
GOLDEN PALACE BOUTIQUE HOTEL
The Golden Palace Boutique Hotel is a 5 star luxury hotel located near Republic Square. There are 36 rooms on the property, decorated with classic Italian furniture and marble bathrooms. The hotel offers a full service spa, complimentary daily reception and 24 hour room service.
Rooms start at $200USD/night.
For more information and booking click here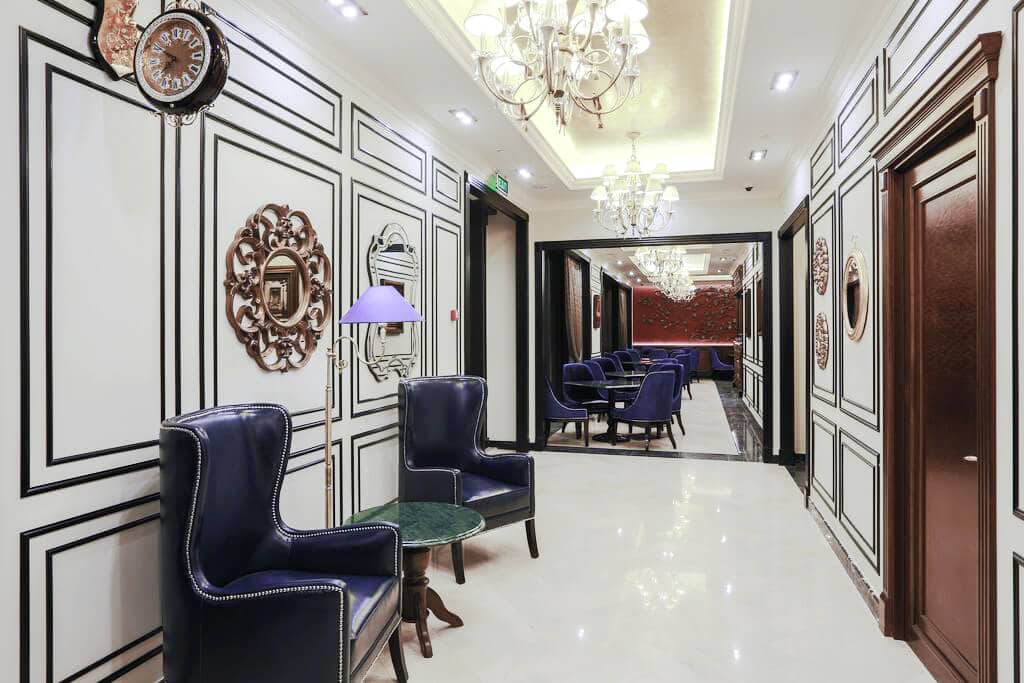 LUXURY FAMILY VILLA
This luxury villa is located about 5 miles (8km) outside of Yerevan but it's an amazing deal for families, or for those wanting more space. The villa has 5 beautiful bedrooms and sleeps 10 people. It features an outdoor BBQ, lots of seating areas and a full kitchen.. for only $300 USD per night.
For more information and booking click here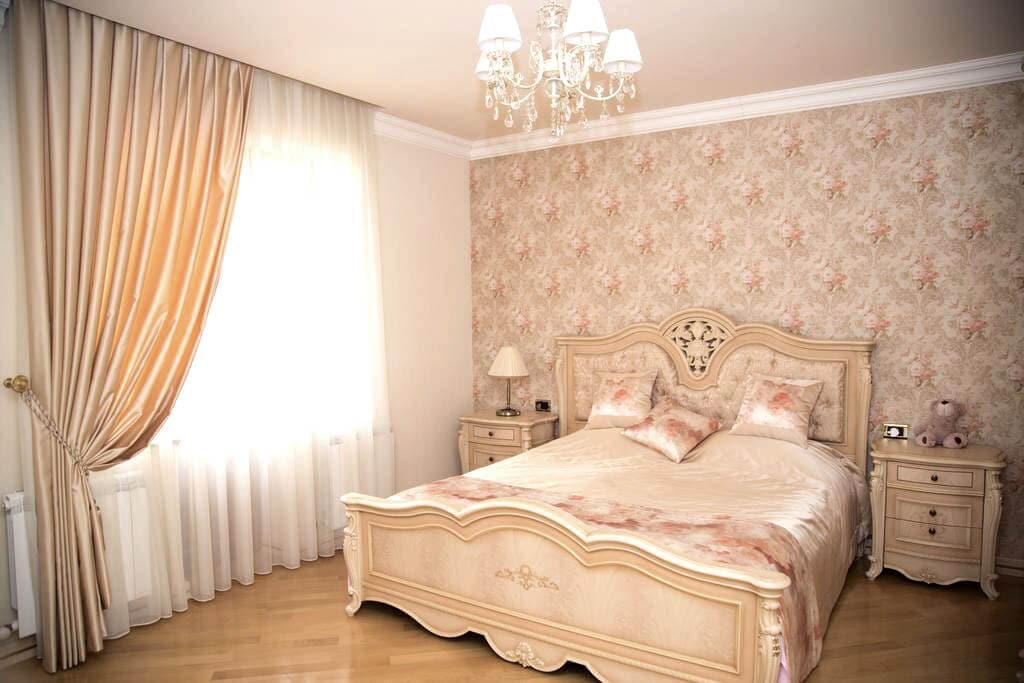 MID-RANGE
GRAND HOTEL YEREVAN
The Grand Hotel is a 5 star Yerevan hotel located near Republic Square and close to the metro. It features a private rooftop pool, a 24 hour courtyard bar and elegantly designed rooms which start at $170USD/night
For more information and booking click here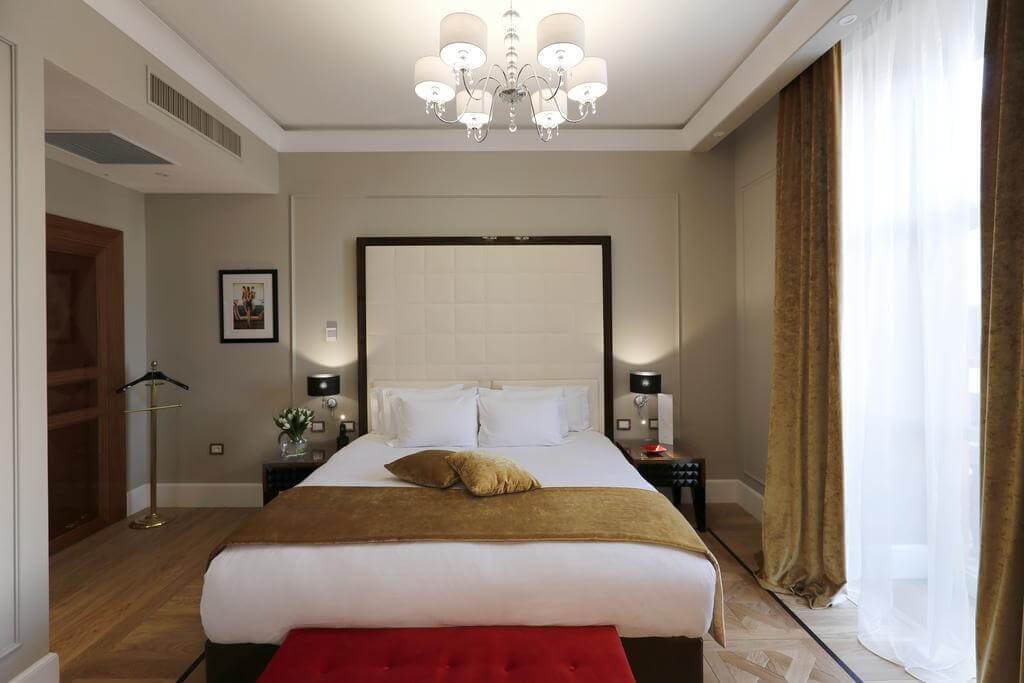 BUDGET
HOTEL MIA CASA
Hotel Mia Casa is a small, 9 room boutique hotel in Kentron. It's close to the center, with only a 20 minute walk from Republic Square or the Opera. Mia Casa has excellent reviews and people especially love the helpful staff. Rooms start at $50USD/night
For more information and booking click here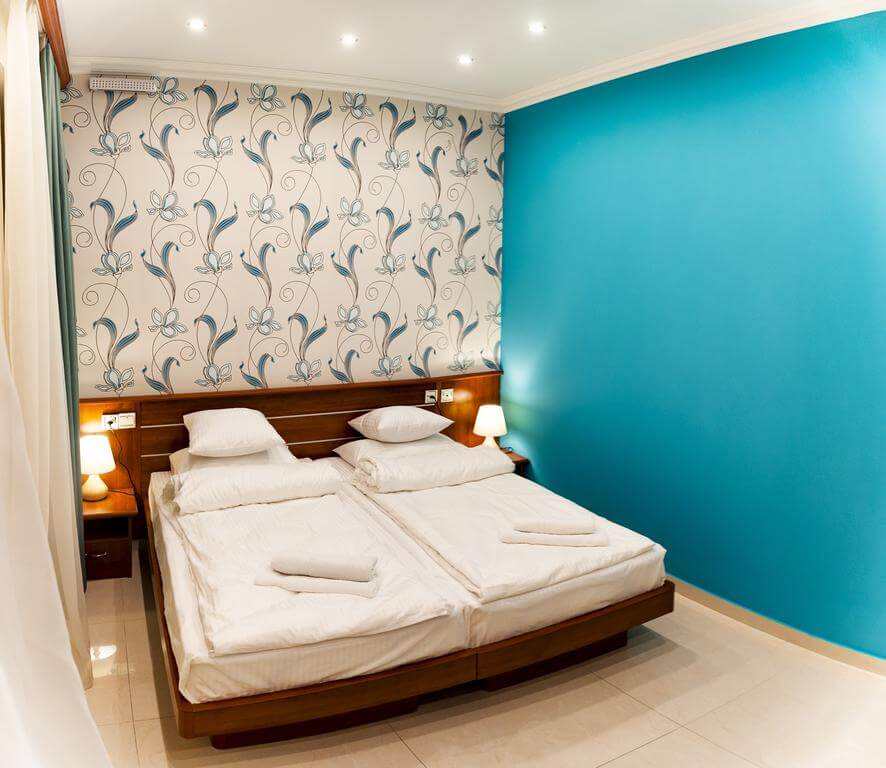 ULTRA BUDGET
HOSTEL BIVOUAC
Hostel Bivouac is a top rated Yerevan hostel located near the Opera Theater. They offer a shared lounge and kitchen, 24 hour front desk and bike rentals. Dorm style beds start at $13USD per night.
For more information and booking click here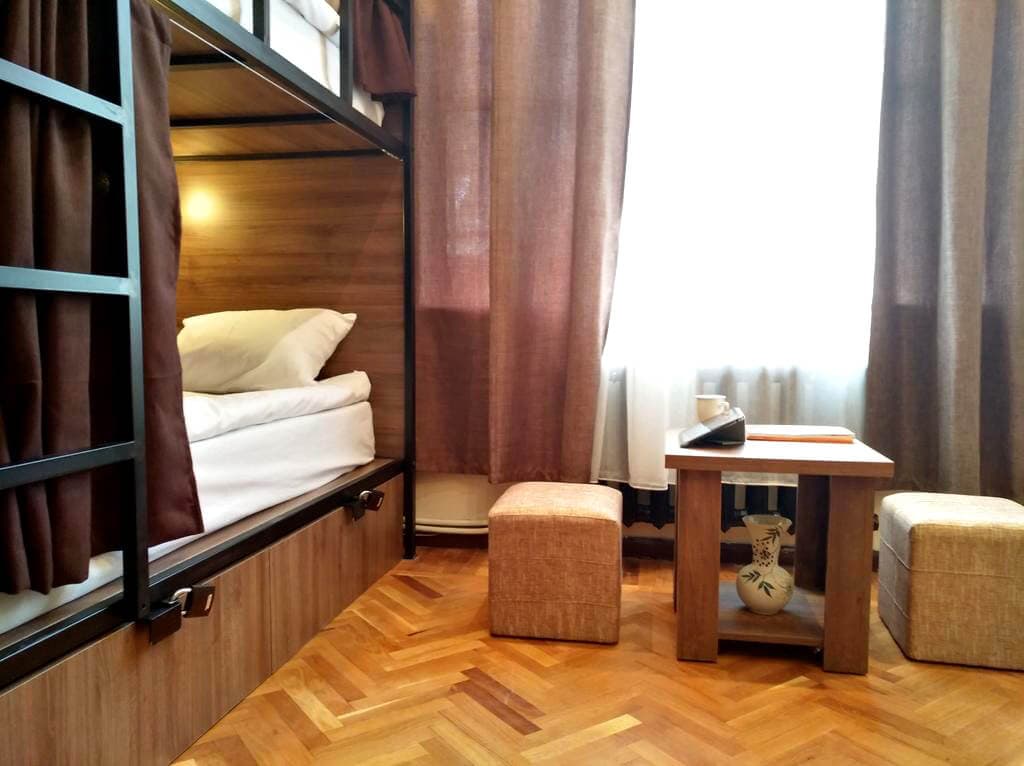 Did I miss anything? What are your favorite things to do in Yerevan?
---
PIN IT // 6 THINGS TO DO IN YEREVAN, ARMENIA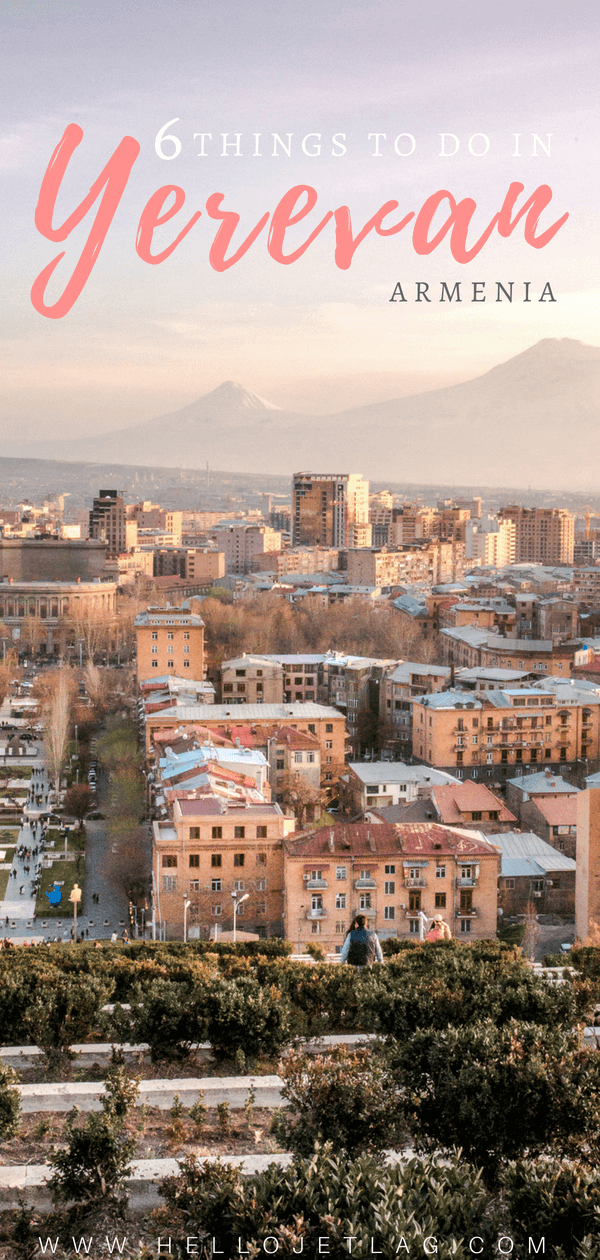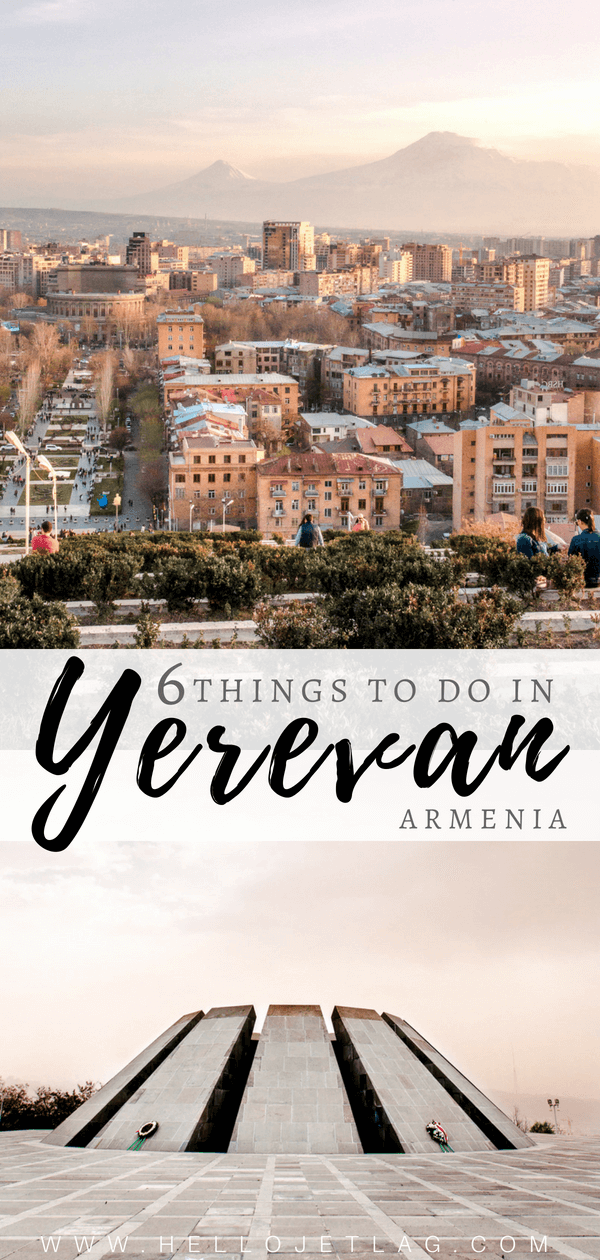 Disclaimer: This post contains (some) affiliate links which means if you make a purchase, I will receive a small kick-back (at no extra cost to you).