This post is sponsored by Palm Springs but the content and opinions expressed here are my own. All of the locations mentioned in this article come from an itinerary which I created for a weekend Palm Springs getaway. 
With over 300 days of sunshine each year and more swimming pools per capita than anywhere else in the country, Palm Springs has long since been a quintessential, year-round vacation destination. As native Southern California residents, Nick and I have both taken countless trips to this desert Oasis, but they have always been for more obligatory reasons.
We recently got the opportunity to travel to Palm Springs and create our own itinerary centered around sniffing out the best local gems. What we found was a network of passionate and friendly business owners eager to welcome us. Keep reading to discover a list of our favorite restaurants, bars, shops and experiences from our Palm Springs getaway.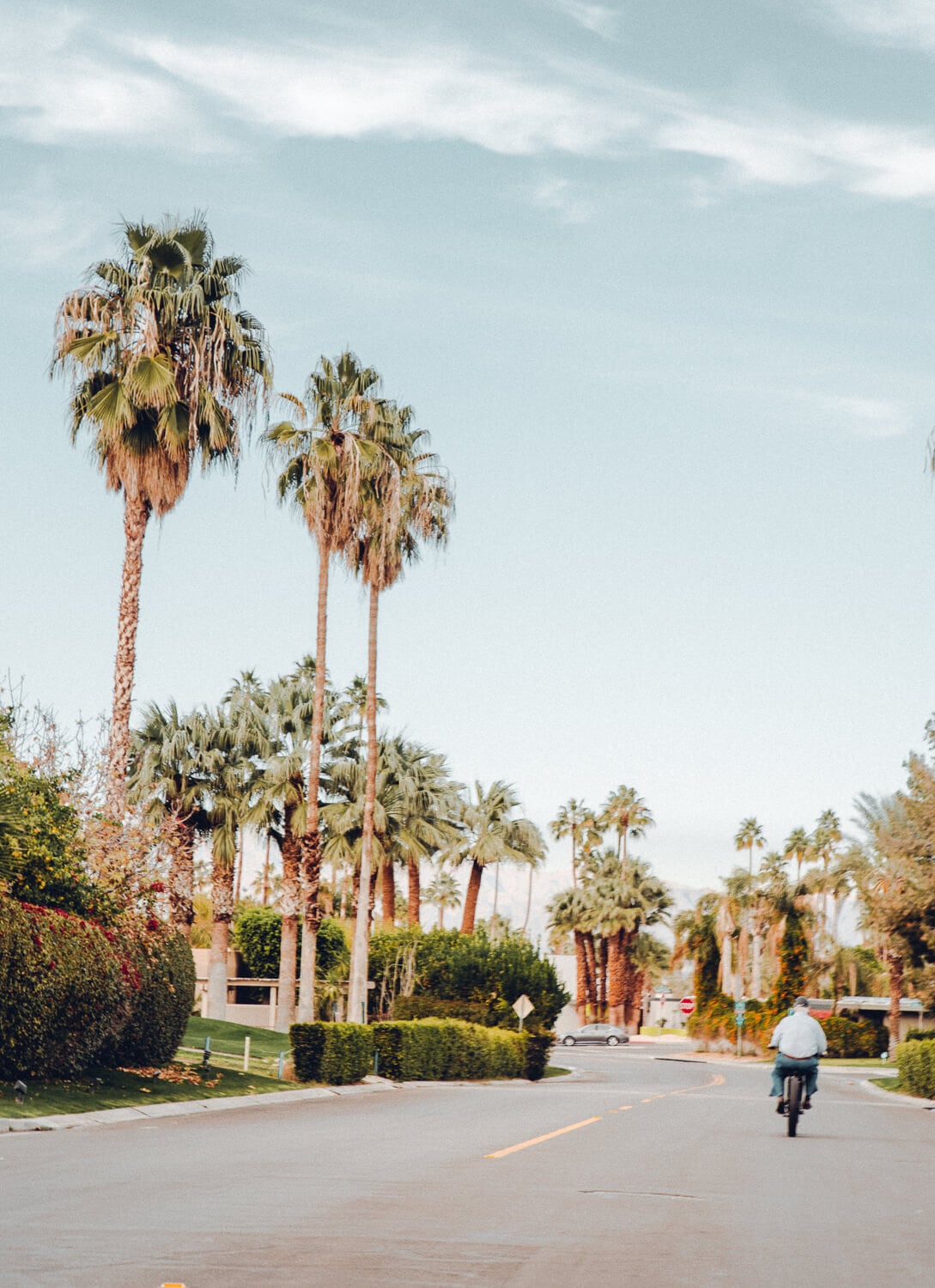 WHERE TO EAT & DRINK IN PALM SPRINGS
AZUCAR
Starting with one of my favorite stops during our Palm Springs getaway, Azucar is a colorful restaurant and bar set inside the locally owned boutique hotel, La Serena Villas. The restaurant serves a Mediterranean tapas-style menu for lunch and dinner, plus light snacks in between their two meal times.
We stopped in for happy hour and their drinks were by far the best we had all weekend. If you like spicy drinks, I highly recommend the Spicy Melon made with mezcal, muddled jalapeño, watermelon and agave syrup.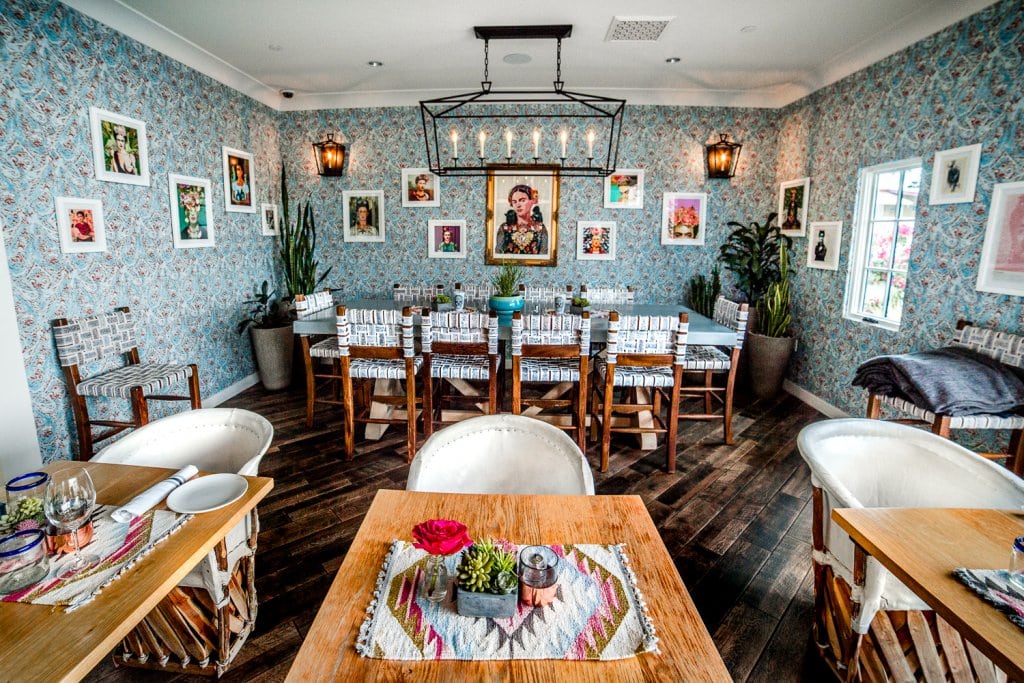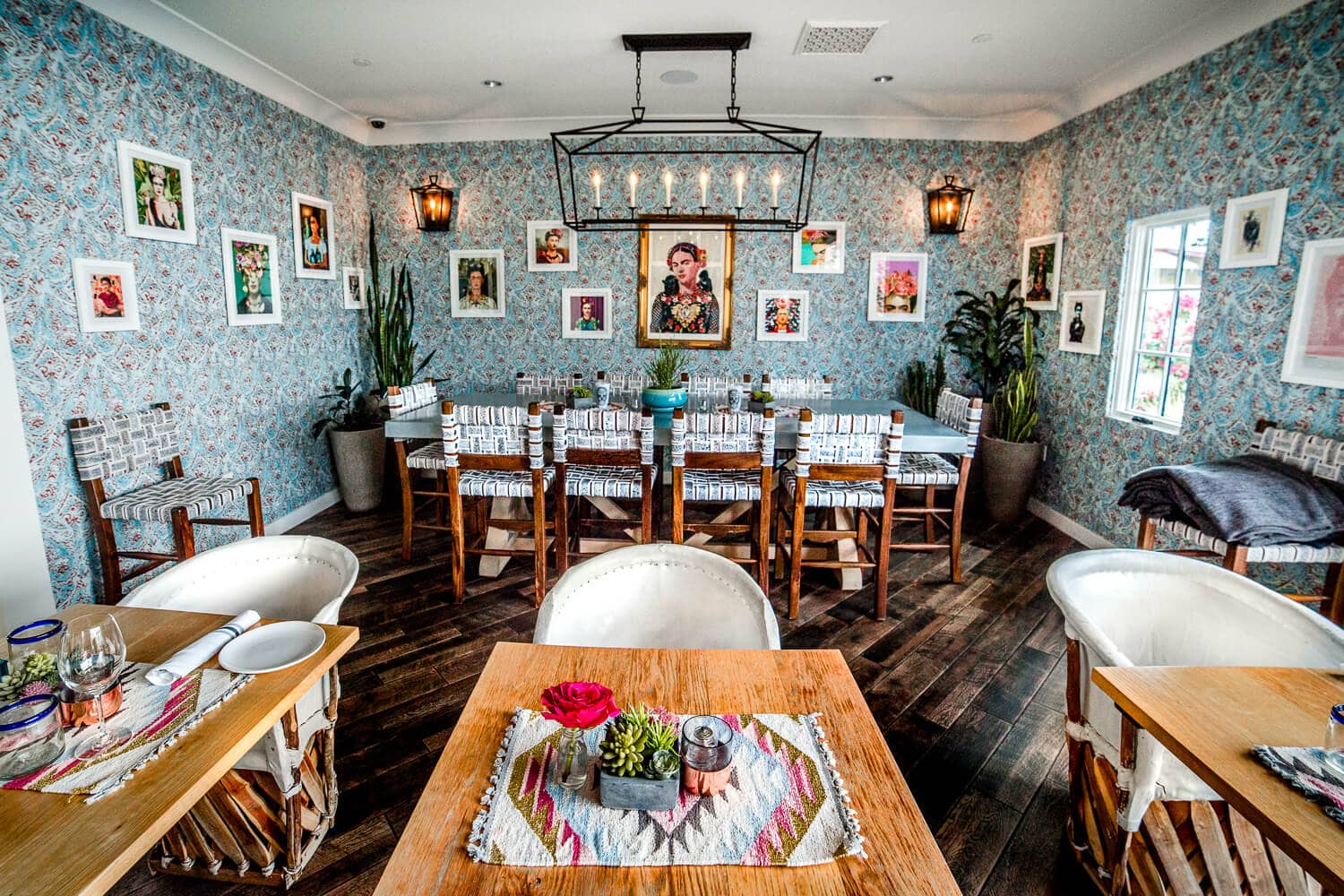 At Azucar, you can choose to sit downstairs, poolside, or head up to their rooftop lounge complete with cozy couches and a fireplace. For the first time in my life, I chose to forgo the rooftop. The dozen Frida Kahlo portraits hanging on the blue and red wallpaper on the ground level made my eyeballs so happy, I couldn't tear myself away.
ADDRESS  339 S Belardo Rd, Palm Springs, CA 92262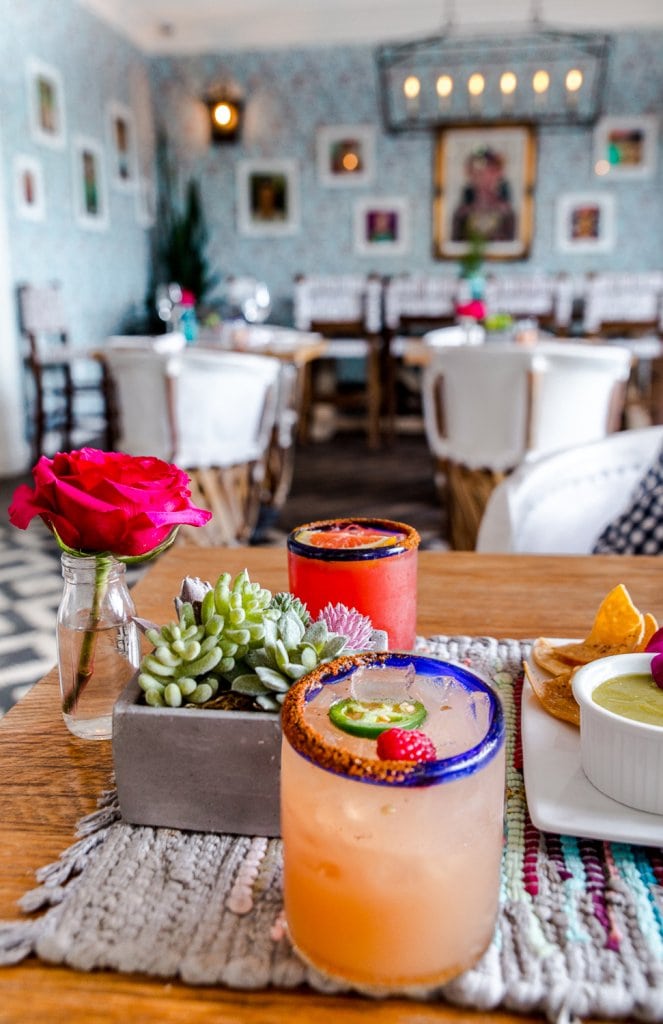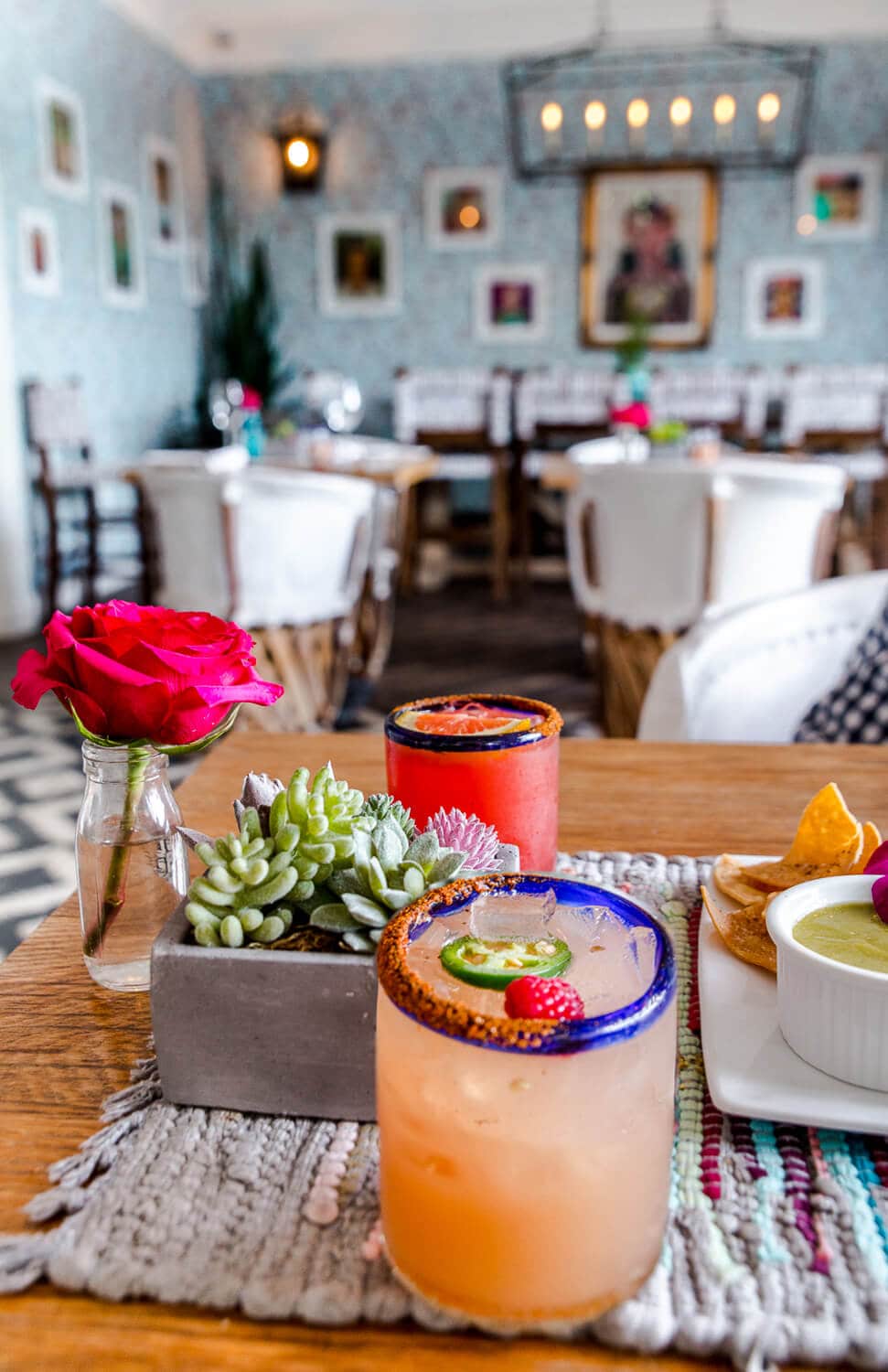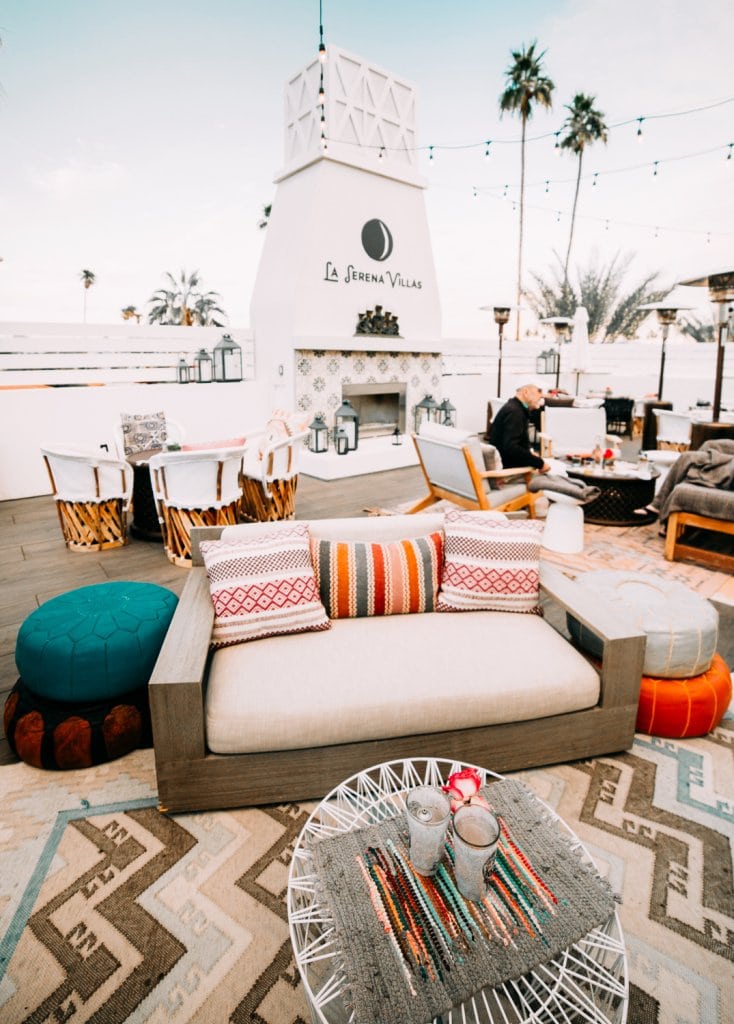 ERNEST COFFEE
If you're a coffee lover be sure to hit up Ernest Coffee on N Palm Canyon Drive. It's the only independent coffee shop in Palm Springs that serves the always popular Stumptown coffee, along with a slew of other hot and cold drinks such as matcha, chai tea and even a few booze-infused specialties.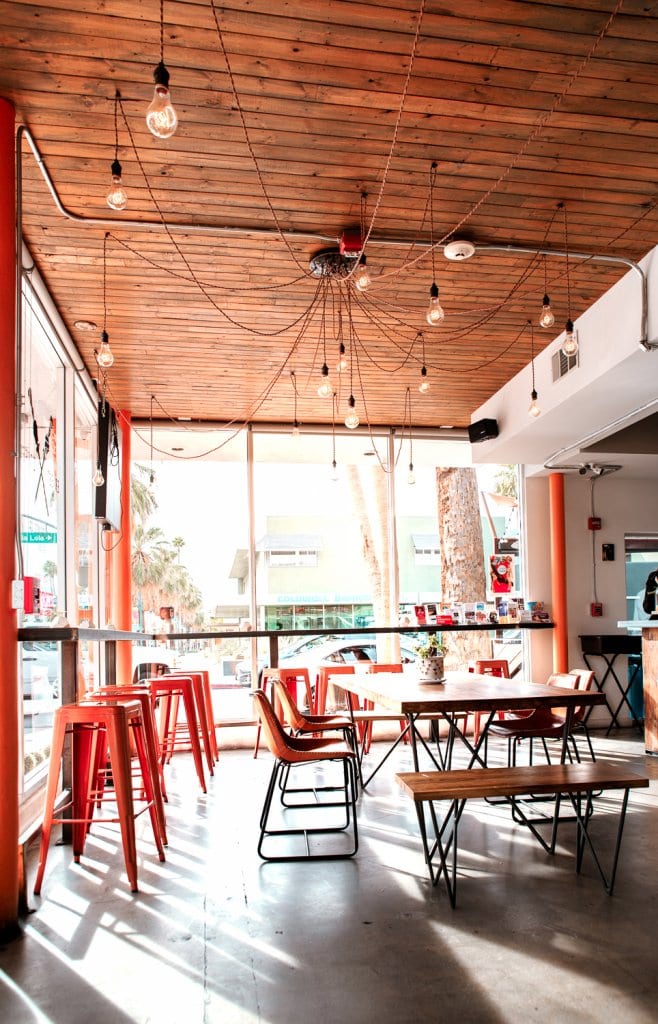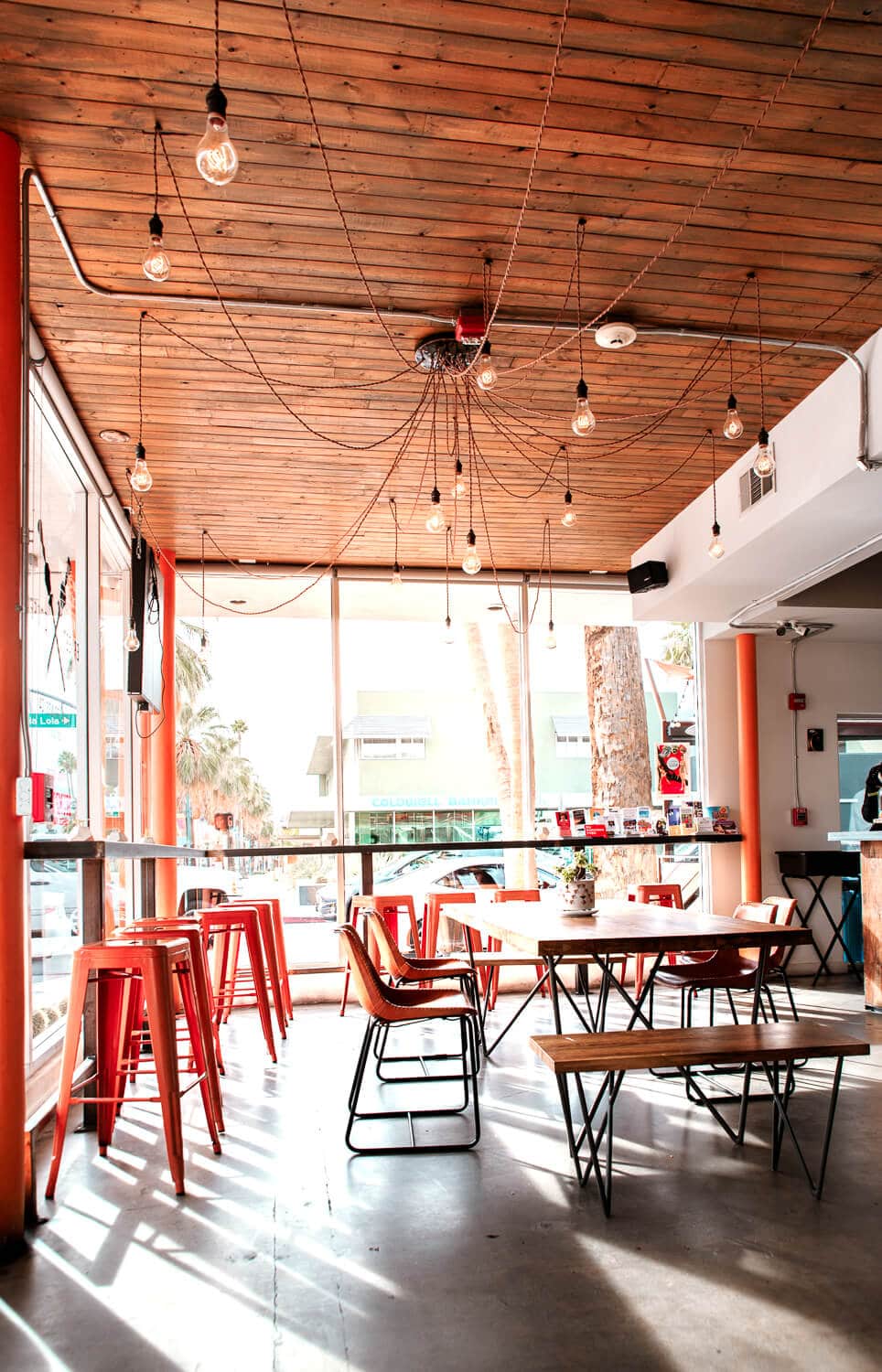 This cute neighborhood coffee shop has a welcoming, family type atmosphere.. just as long as your family is all over the age of 21. You see, Ernest Coffee is attached to Bootlegger Tiki Bar (more on that below) so because they have a liquor license, you have to be of age to enter. I ordered the iced matcha detox and Nick got an iced chai. Both were delicious (Nick's was better) and they get extra points because not only do they serve oat milk..  their straws are also made of corn starch.
ADDRESS 1101 N Palm Canyon Dr, Palm Springs, CA 92262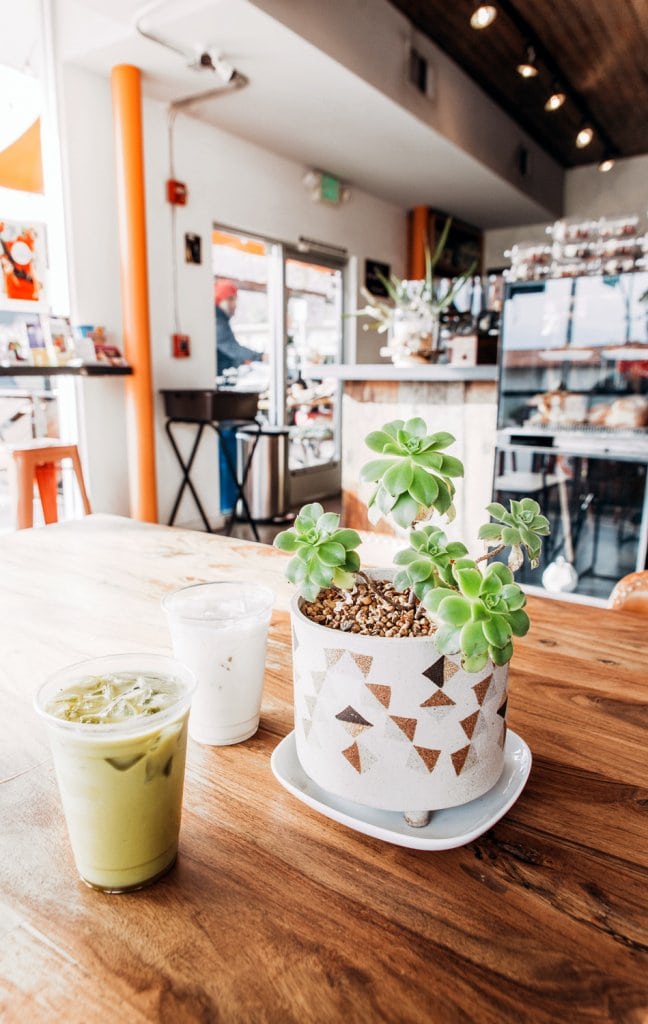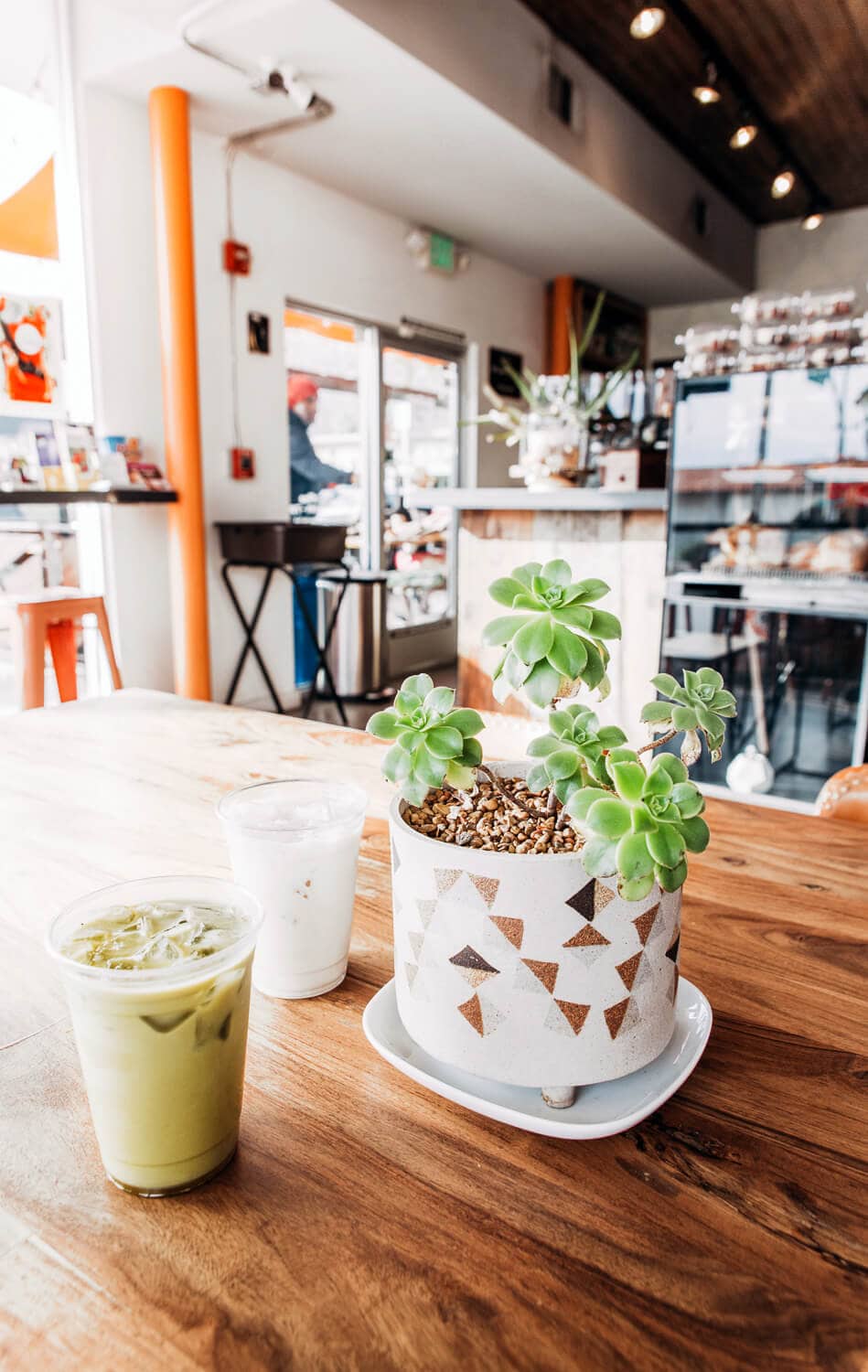 CHEF TANYA'S KITCHEN
Chef Tanya's Kitchen is located about a 15 minute drive from the center of town in the middle of a warehouse district. It's a little random, but the journey is worth it… whether you're vegan or not. Chef Tanya is the woman and chef behind Native Foods which has become the first national plant-based chain.
Today she operates this local deli-style restaurant serving up gourmet vegan sandwiches, salads and soup to a long line of regulars. As soon as we walked in the door, we were not only welcomed by the friendly employees but also by Tanya's customers who went out of their way to make suggestions. She has definitely built up a cult following and after you try one of her sandwiches, you'll understand why.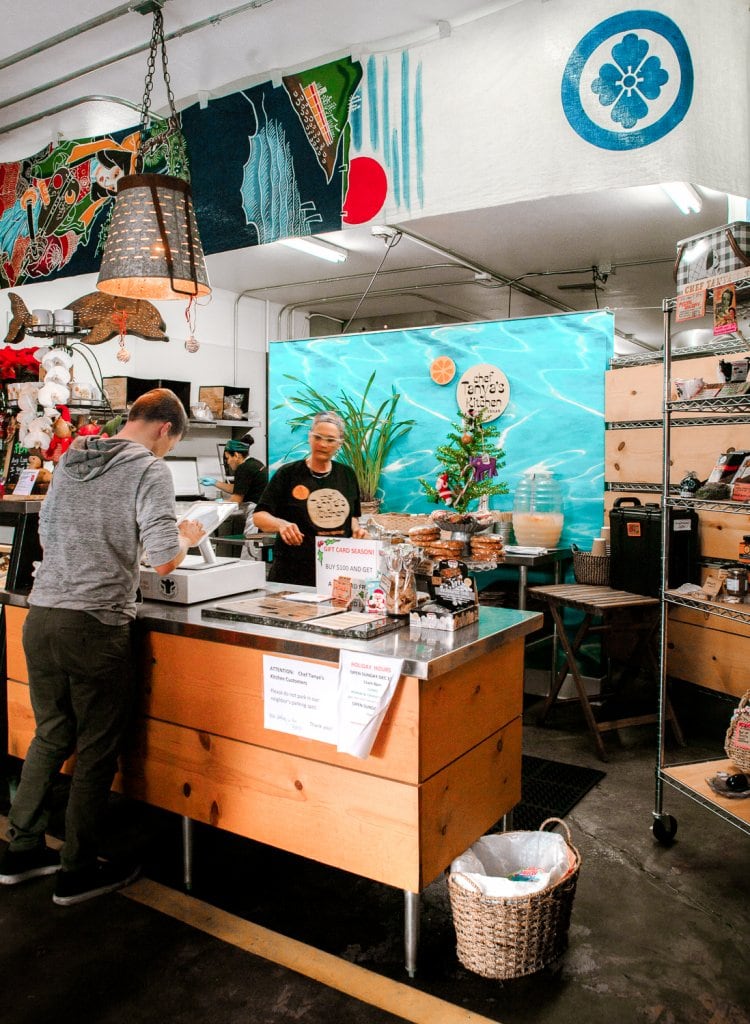 I cannot recommend the "Chicken" Chupacabra sandwich more highly – made with crispy seitan filets, avocado, cilantro, house-pickled jalapenos, cabbage, tomato, onion, chipotle mayo and served on a torpedo roll. It's a little spicy so if you're not a fan of heat, the El Cubano was also very good.
Chef Tanya also offers cooking classes (extremely reasonably priced too..) so if you like to cook and happen to be in town, this would definitely be a fun activity to add to your itinerary! Click here for her most recent class schedule.
ADDRESS 706 S Eugene Rd, Palm Springs, CA 92264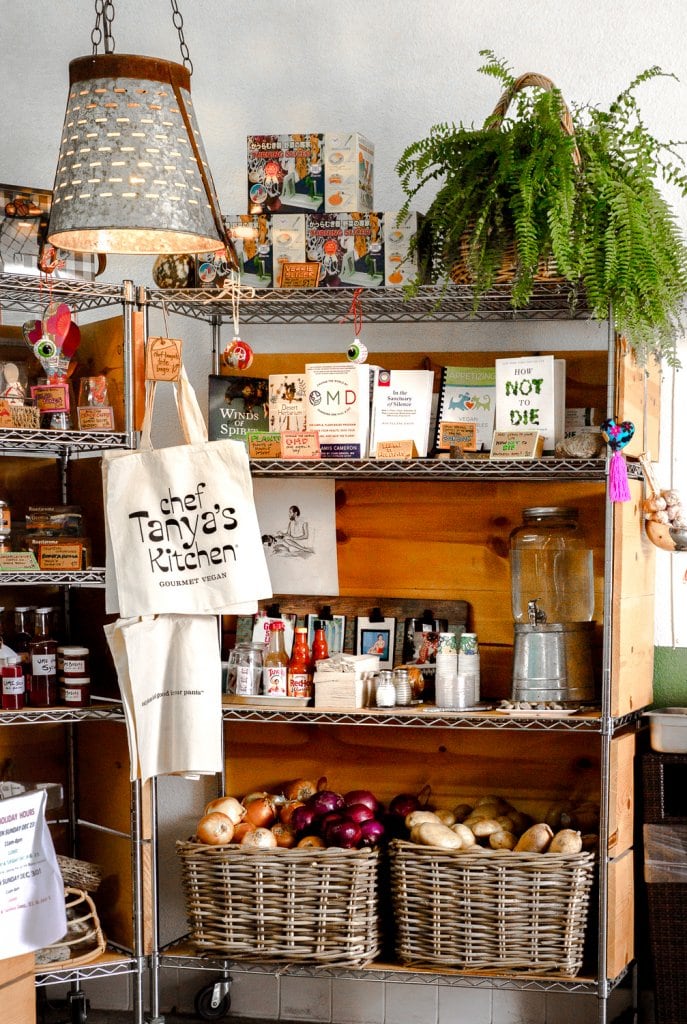 KREEM
Kreem is a local artisanal ice cream shop serving gourmet flavors such as hibiscus rose, candy cane latte, rosemary and lemon meringue. Their ingredients are organic, non-GMO, made without preservatives or additives and they make all of their almond milk in house.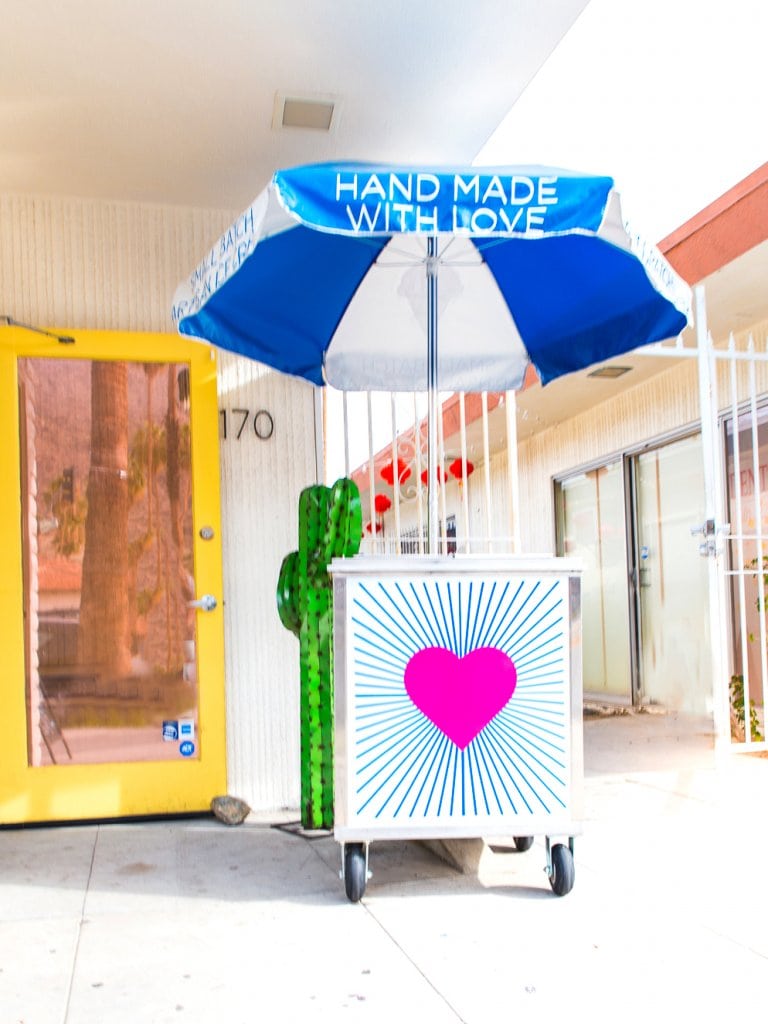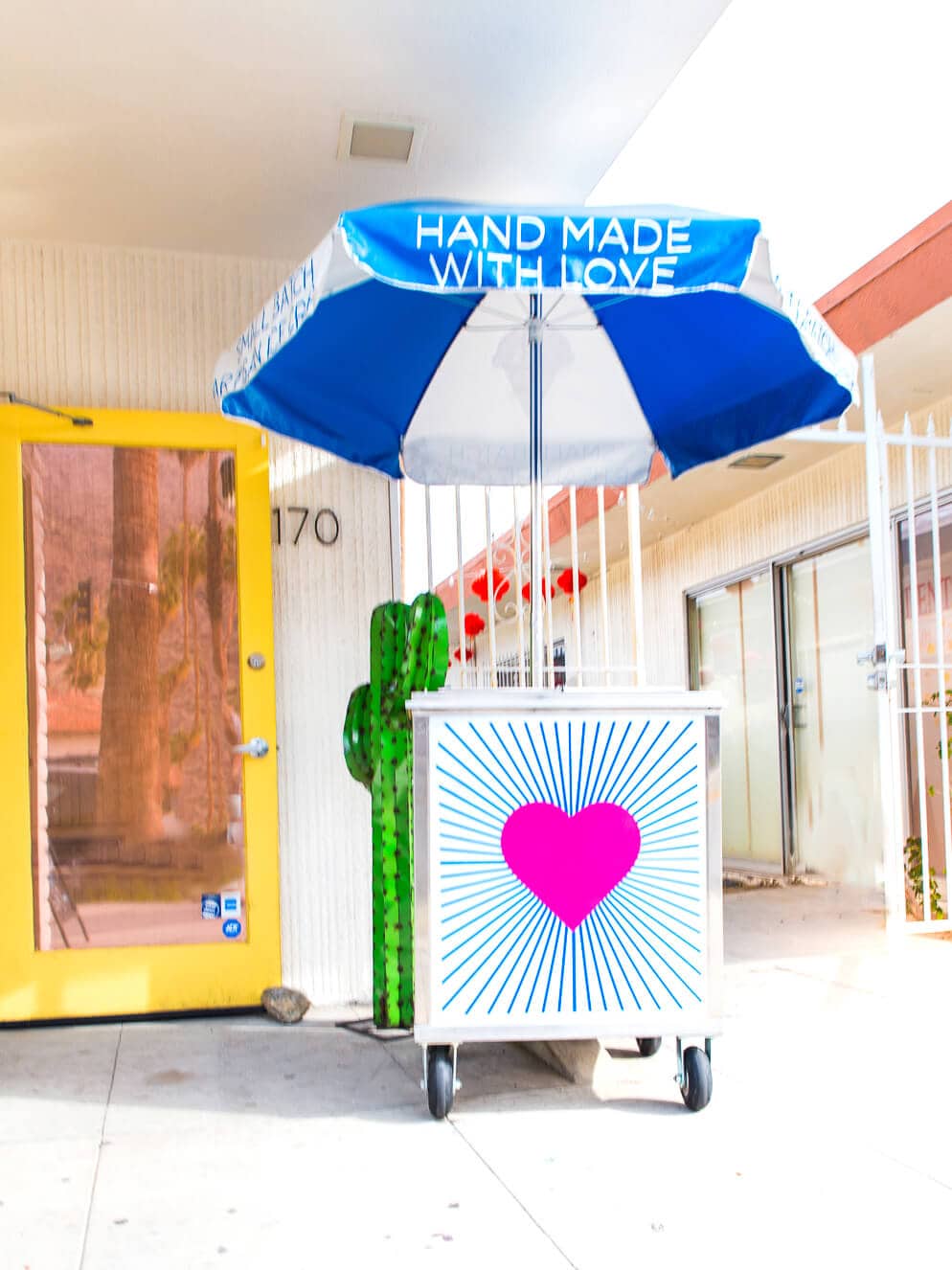 Kreem serves both vegan and non vegan options along with an array of different cones. I got the vegan hibiscus rose; it tasted like sorbet and was super light and refreshing. Nick ordered the non-vegan Cookies and Kreem in a marshmallow topped cone that they lit on fire right in front of us.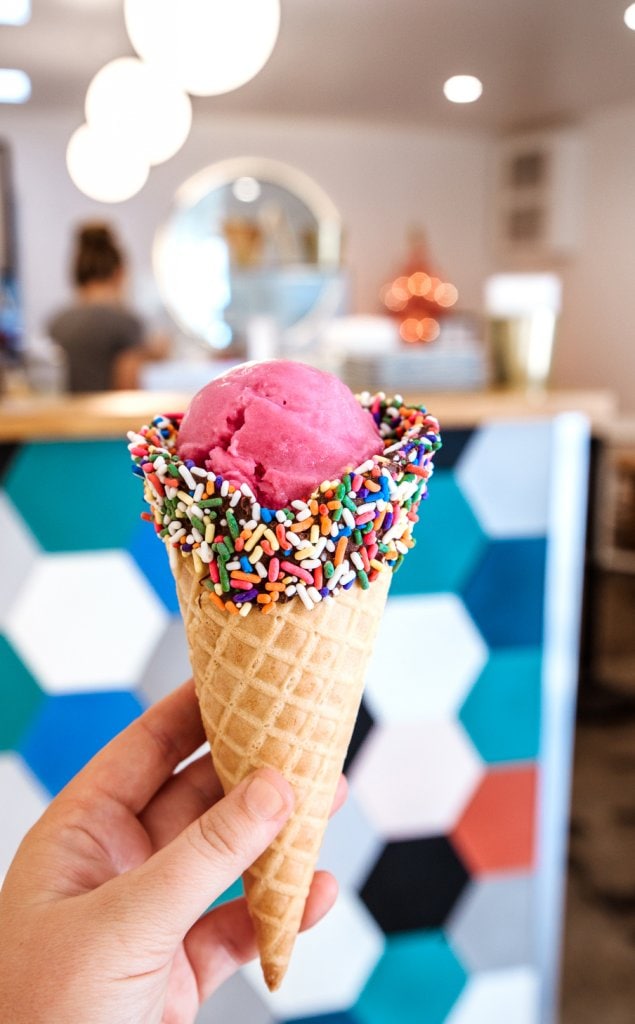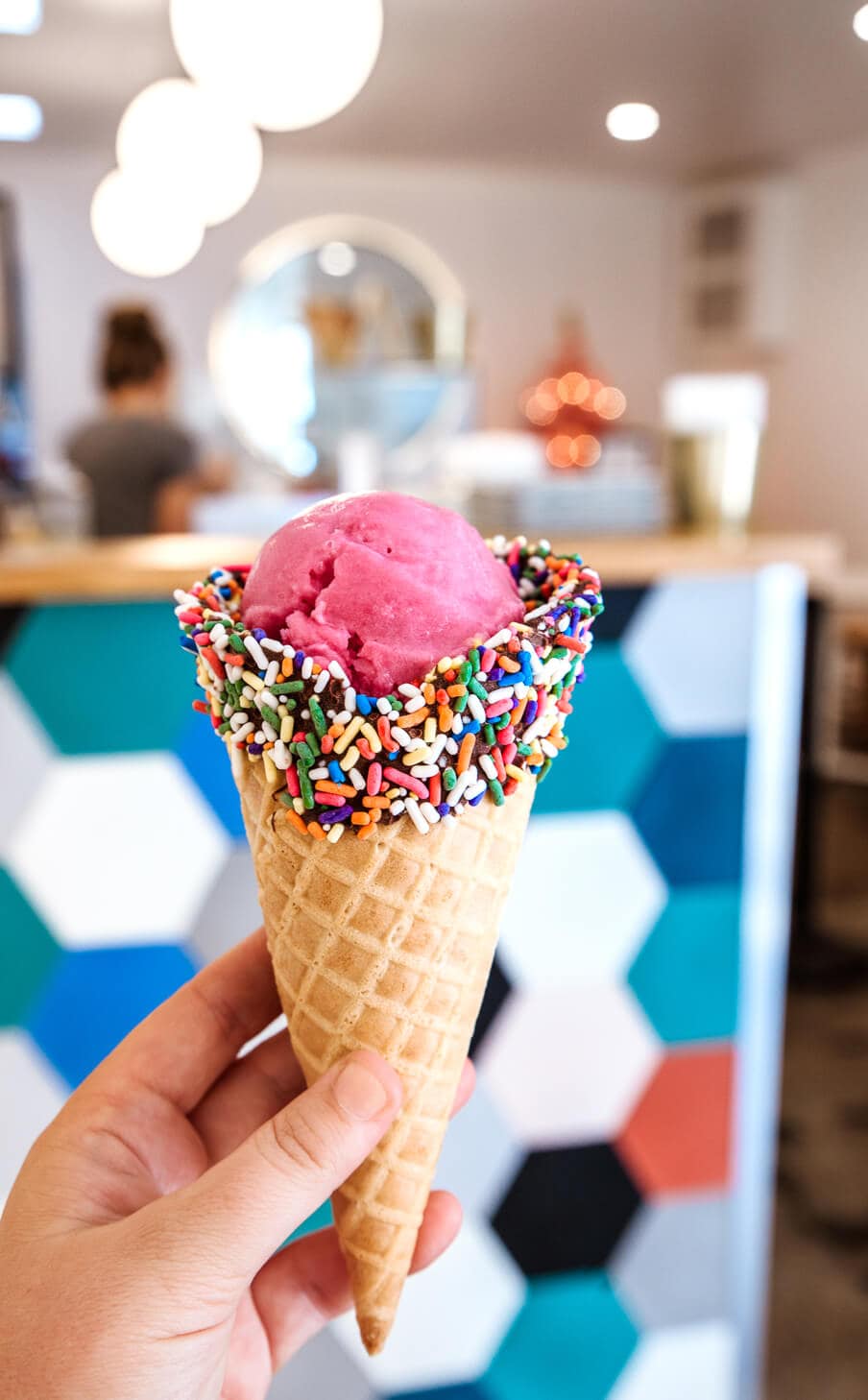 The girls behind the counter were super sweet and gave us a few suggestions about local events taking place that afternoon. They also didn't care how obnoxious I was being as I crawled around on the floor looking for a good background for my ice cream picture. Always appreciated.
ADDRESS 170 E Palm Canyon Dr, Palm Springs, CA 92264
BOOTLEGGER TIKI
Bootlegger Tiki is a small bar located in the original Don the Beachcomber tiki restaurant on Palm Canyon Drive. With 3 booths, and 8 barstools, it's about as intimate as intimate gets, so head over early to grab a seat.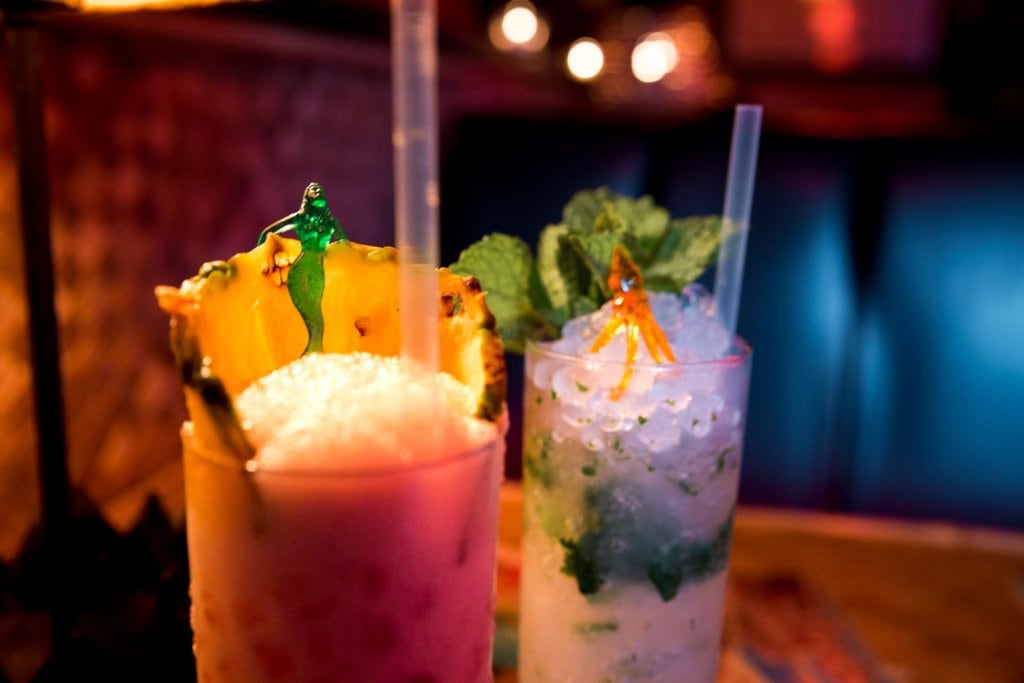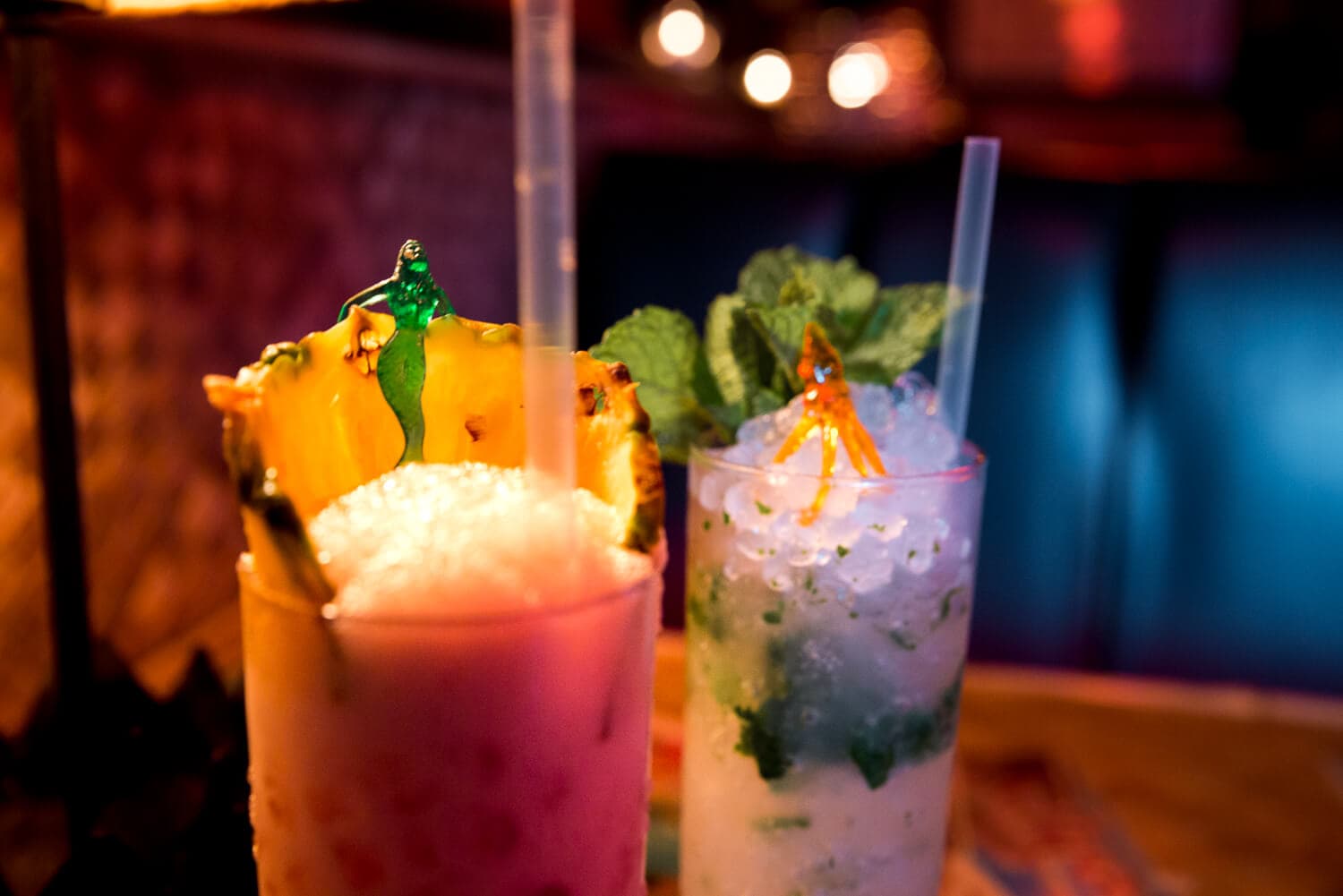 The (super friendly) bartenders mix up classic tiki cocktails as well as some of their own in-house creations. They serve a menu of light snacks as well as low/non alcoholic drinks, and be sure to stop in during happy hour, which runs twice daily (4pm-6pm and 12am-2am) for $5 select cocktails and $3 beers.
ADDRESS 1101 N Palm Canyon Dr, Palm Springs, CA 92262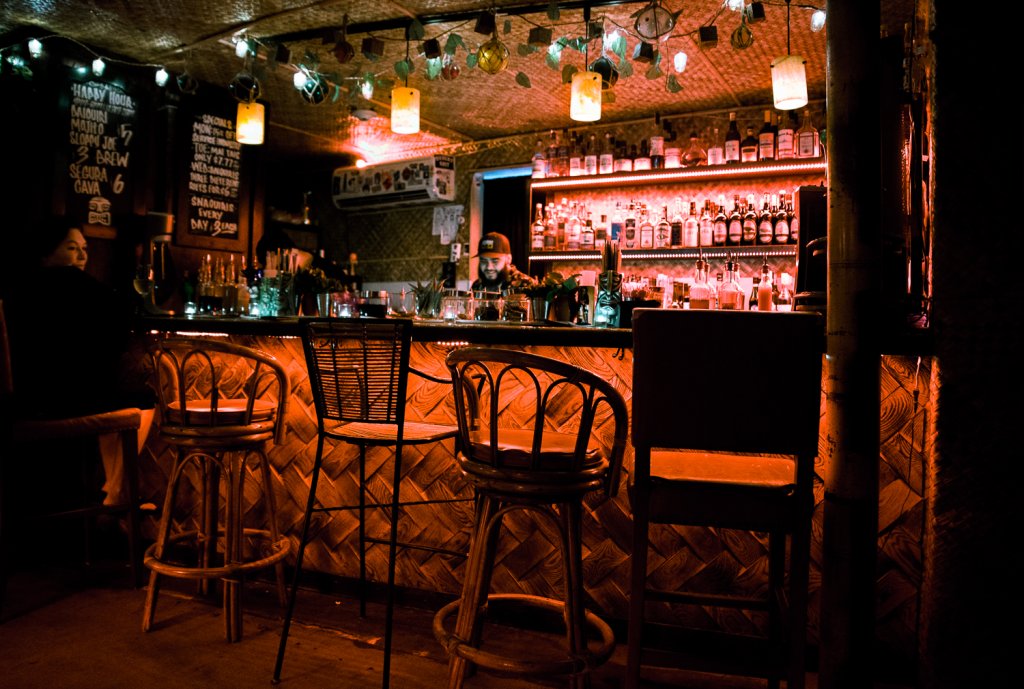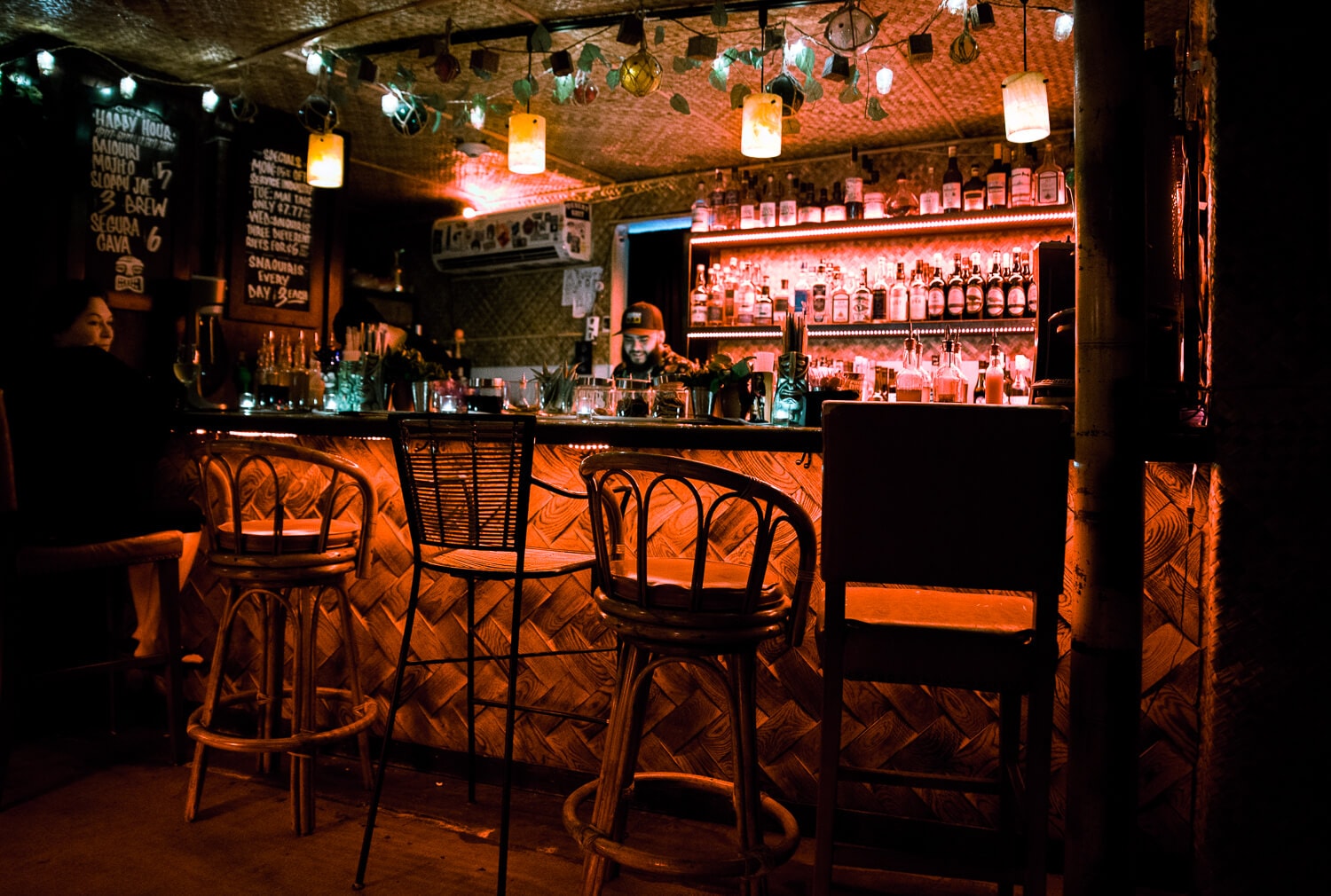 PINOCCHIO IN THE DESERT
Many moons ago, I celebrated my best friends' 21st birthday in Palm Springs and we fell in love with Pinocchio in the Desert during her hangover brunch. Since then, this restaurant has become a tried and true Palm Springs tradition that I am now ready to pass onto you.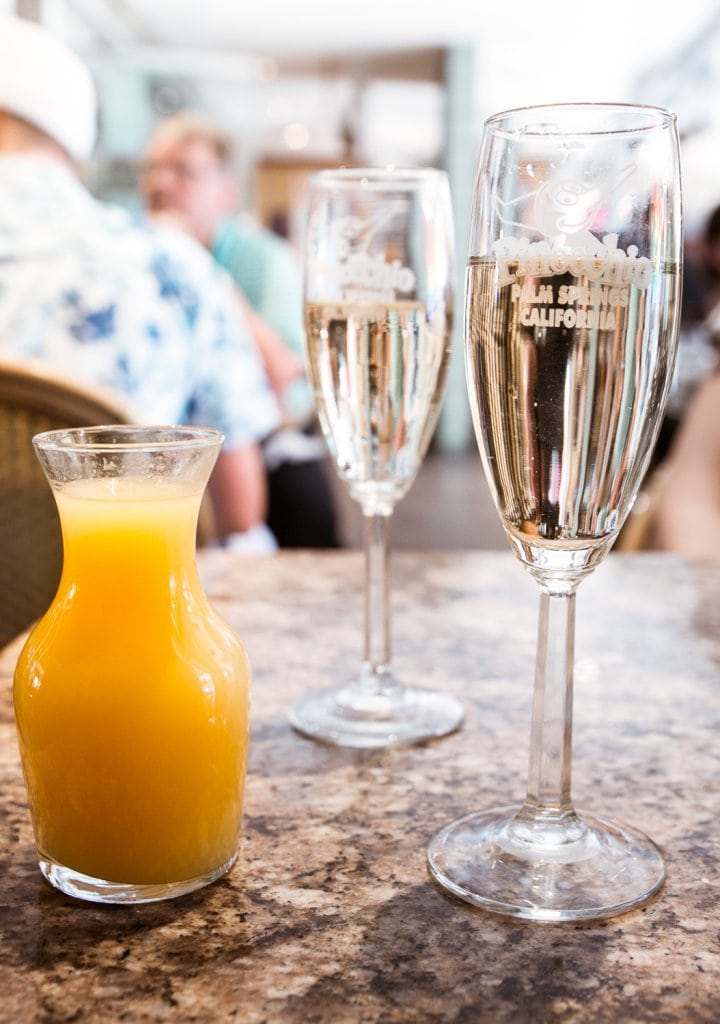 Let's be totally honest though, there are probably a dozen of other places in Palm Springs where you can get a better meal. However, while you're eating your $1,000 lobster caviar frittata at Norma's, I will be drinking $4.95 bottomless champagne while watching my waiter dance and sing on the bar. You can join me if you'd like… and if not, I won't judge you if you don't judge me.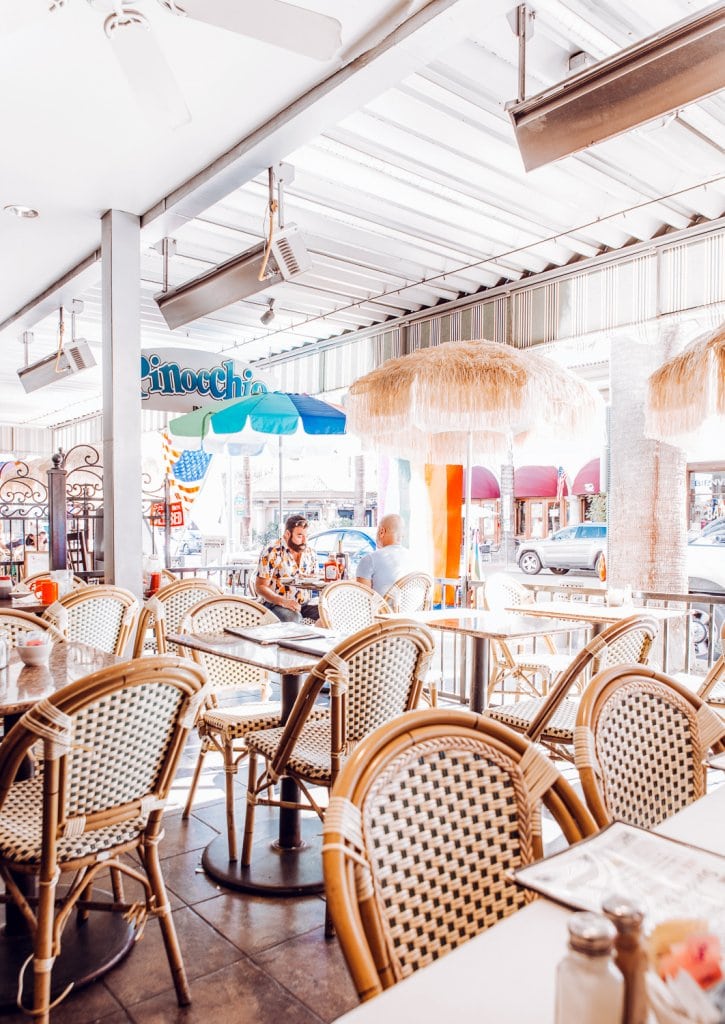 If your Palm Springs getaway falls on a weekend I highly recommend stopping in for brunch. People are partying hard and it's so much fun. During the week, the restaurant is a lot more quiet and the waiters don't perform. Still, their $4.95 bottomless champagne deal lasts all day every day, so you can always create your own party.
ADDRESS 134 E Tahquitz Canyon Way, Palm Springs, CA 92262
KOFFI
Koffi is another locally owned and operated coffee shop with several locations in the Greater Palm Springs area. We stopped in after shopping at Just Fabulous and ordered an iced vanilla latte with almond milk. Admittedly, neither one of us are huge coffee drinkers, but we were both impressed with how good theirs was. Koffi roasts all of their coffee in-house and they also have a good selection of pastries, bagels and sandwiches.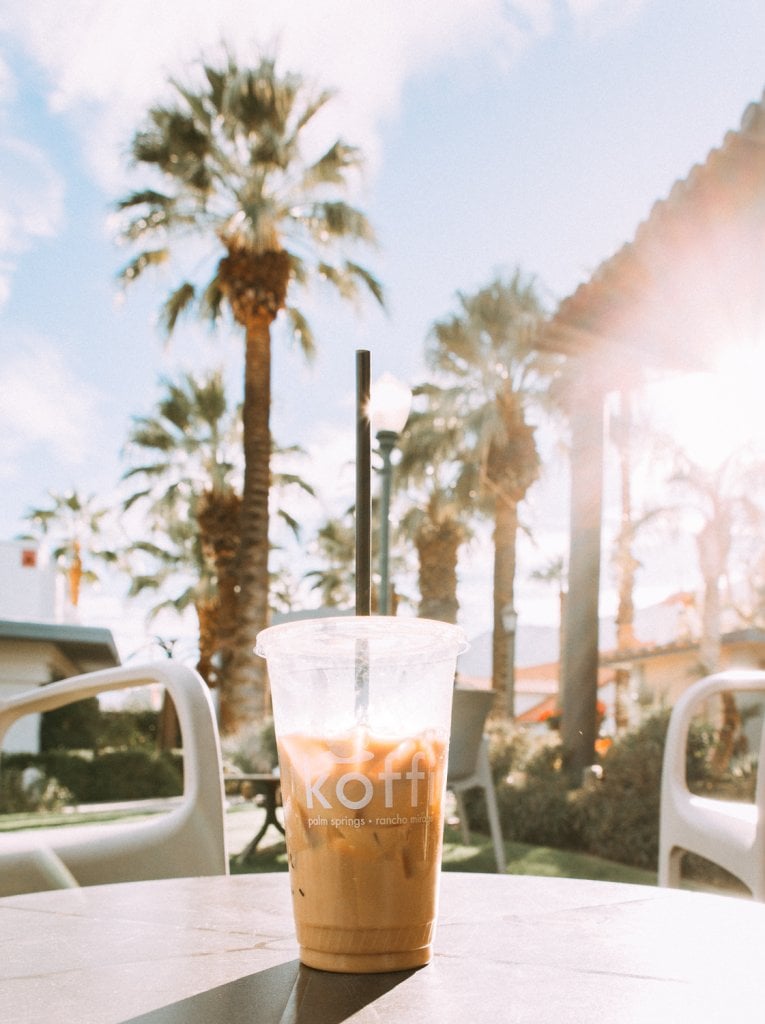 I recommend visiting the North location to spend time in their courtyard. Nestled between Mount San Jacinto and the city, Koffi's outdoor patio is perfect for relaxing under the palm trees (if it's not too hot). It was a lively atmosphere with locals walking their dogs and playing card games while a street busker provided the perfect background music on his cello.
ADDRESSES KOFFI NORTH 515 N. Palm Canyon Drive, Palm Springs, CA 92262 KOFFI SOUTH 1700 South Camino Real, Palm Springs, CA 92264 KOFFI CENTRAL 650 E Tahquitz Canyon Way, Palm Springs, CA 92262
PAULBAR
While having drinks at Azucar, I got to talking with the owner of the hotel and he recommended 2 locally owned businesses for us to check out; Kreem for ice cream (see above) and PaulBar. I had not come across PaulBar during any of my research, but given that Azucar ended up being one of my favorite stops during our Palm Springs getaway, I trusted his taste and knew we needed to go.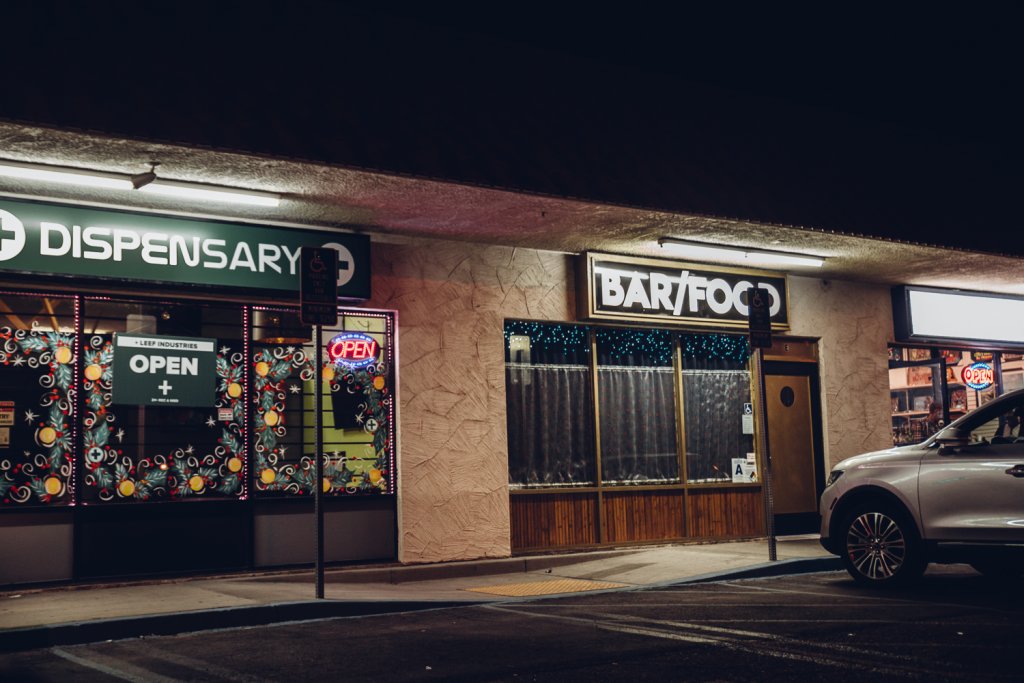 PaulBar is the epitome of a hidden, local gem. Sandwiched between a smoke shop, a taqueria and a dispensary, you would never guess what's hiding behind it's unassuming doors. If you've been reading this blog for any amount of time, you know I live for places like this (exhibit a , exhibit b) so as soon as I saw the plain "bar/food" sign shining from the strip mall, I had a feeling this was going to be good.
When you walk through the door of PaulBar, you are transported into a completely different world. At 5PM it was packed and the atmosphere was so vibrant and alive. Bartenders in bow ties were pouring classic cocktails behind the lavish mahogany bar. Everything about it gives off major Old Hollywood vibes.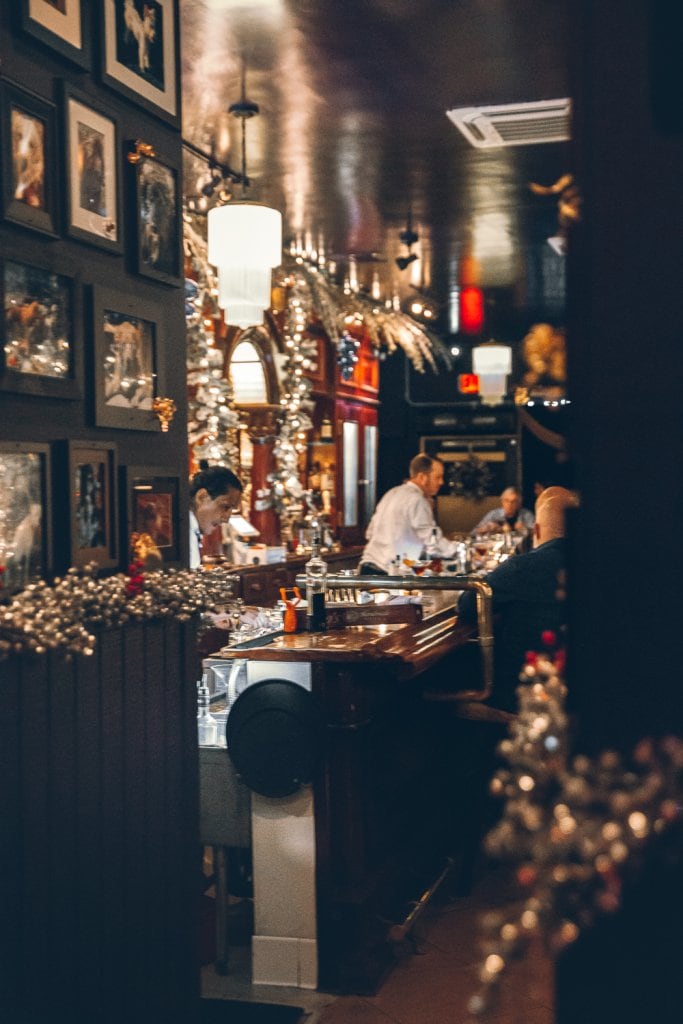 Since we had been eating and drinking all day, we ordered a wedge salad to split (delicious) and a few drinks off of the happy hour menu. The margarita was good (not over the moon good, but you know I'm picky about margaritas), and the Manhattan was better. 
Paul Bar also offers a full food menu so it's the perfect place to come for dinner and drinks if you want to escape from the busy downtown area.
ADDRESS 3700 E Vista Chino, Palm Springs, CA 92262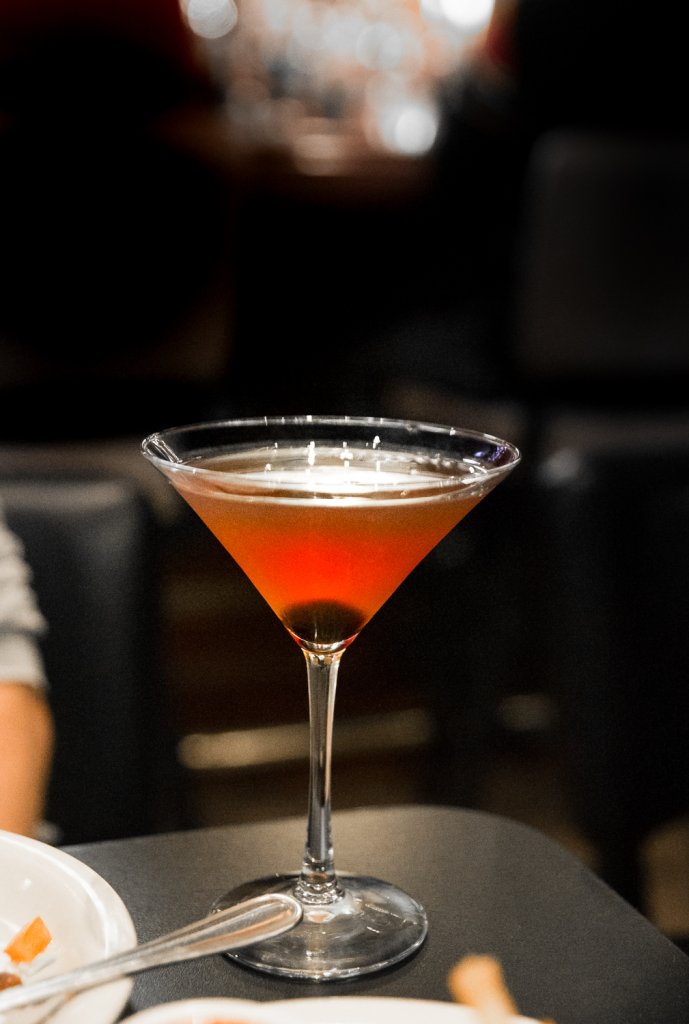 BRANDINI TOFFEE
A toffee shop is not something I'd normally put on my itinerary but we made an exception in Palm Springs because Brandini Toffee is one of the most highly rated businesses in the area.
I needed to know what the big deal was.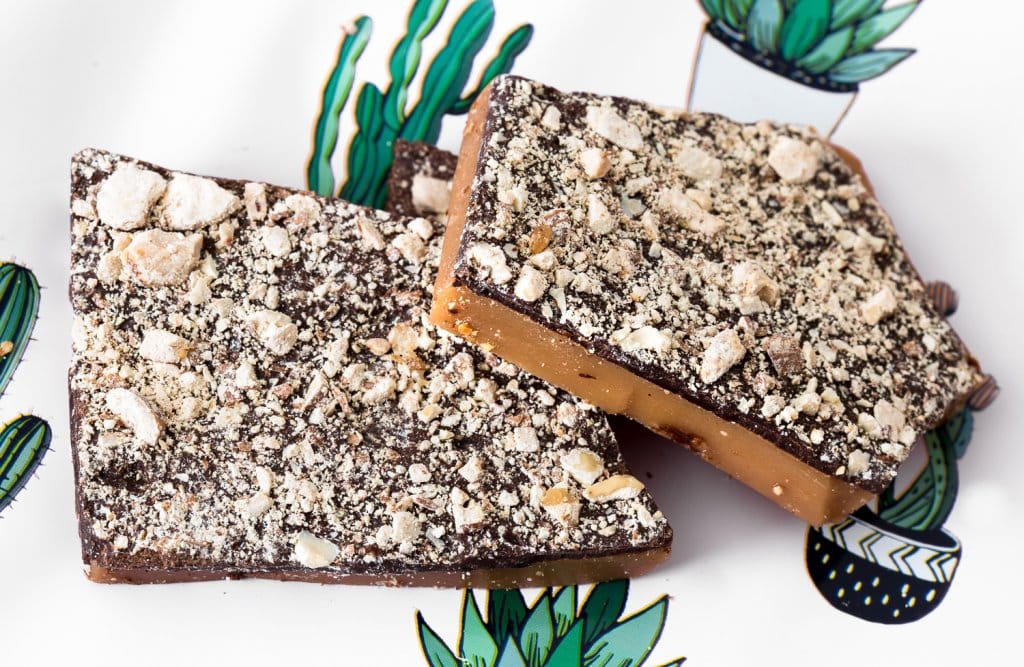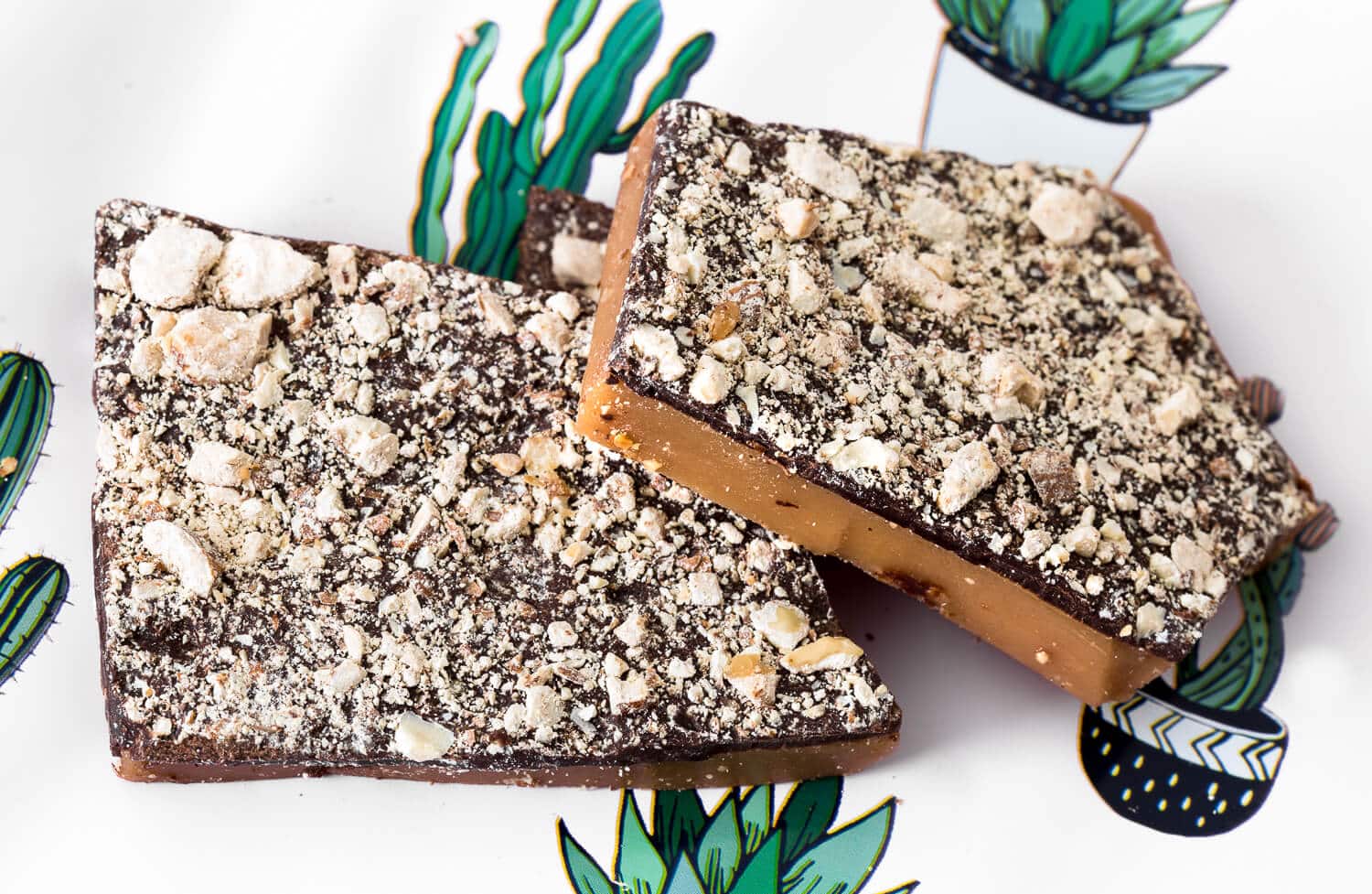 Brandini Toffee is family owned business whose toffee has been featured on Oprah's coveted O list, The Martha Stewart Show and The Food Network. They are the gold winner of the SOFI (specialty outstanding food innovation) award and have even been called the best toffee in the world. I don't know anything about toffee but people in the shop gave us a sample of their bestselling version (almond toffee) and it was so good that we bought a bag.
ADDRESS  132 S Palm Canyon Dr, Palm Springs, CA 92262
THINGS TO DO IN PALM SPRINGS
CHECK OUT THE LOCAL ART SCENE
From public art installations to private galleries and museums, there is a ton of local art to discover in Palm Springs.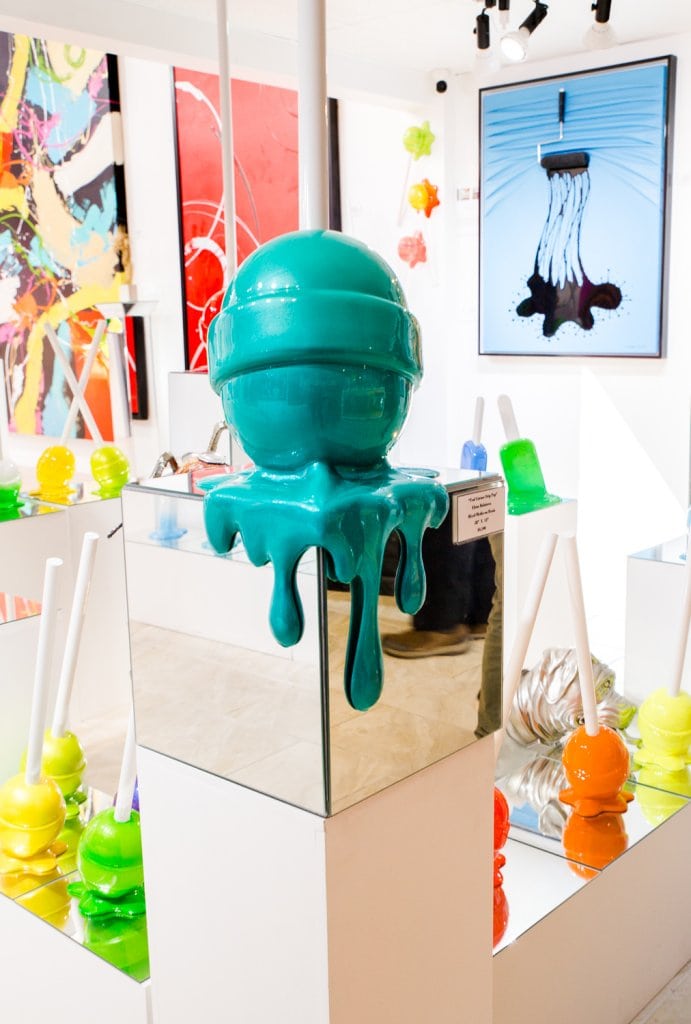 While we walking around the Downtown area we stumbled upon a gallery that I couldn't pass up. Elena Bulatova is a modern/contemporary artist who lives and exhibits full time in Palm Springs. Her work is bold and fun and simply walking through her colorful space will brighten your spirits.
ADDRESS 232 N Palm Canyon Dr, Palm Springs, CA 92262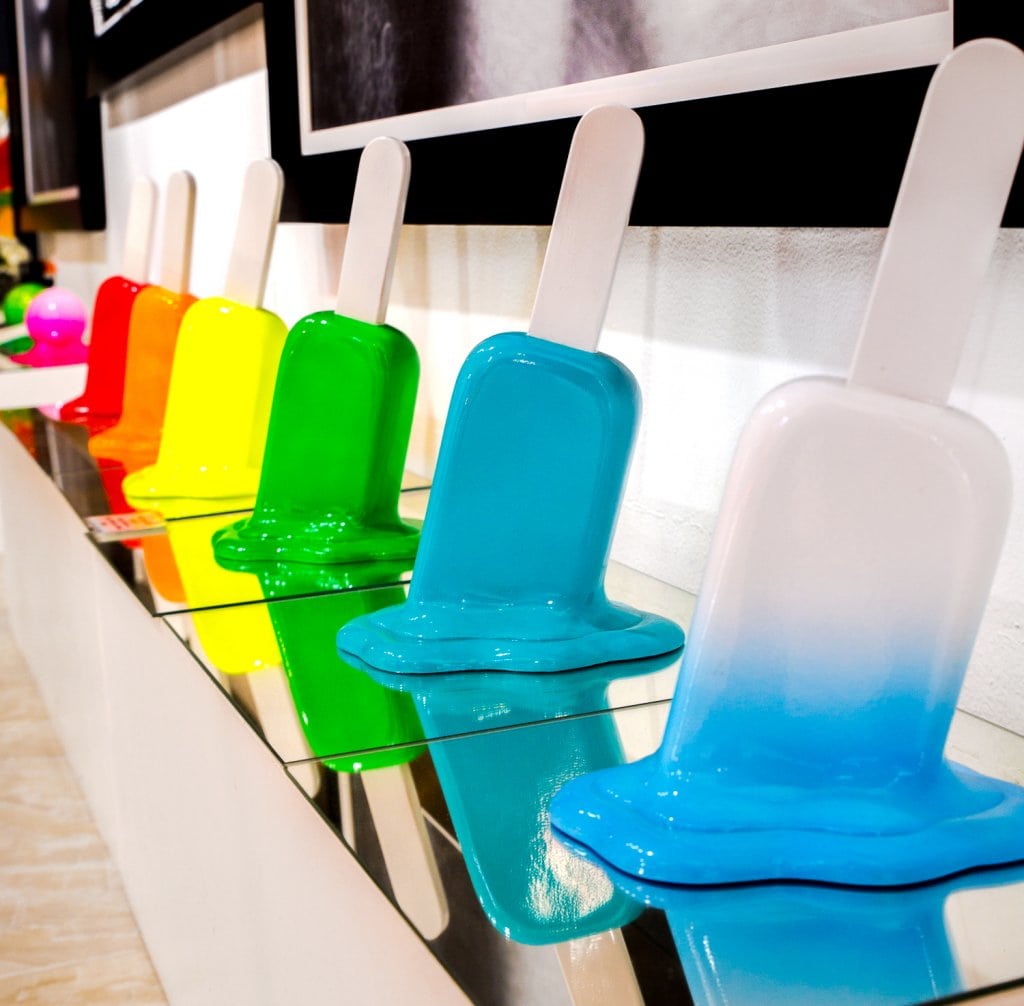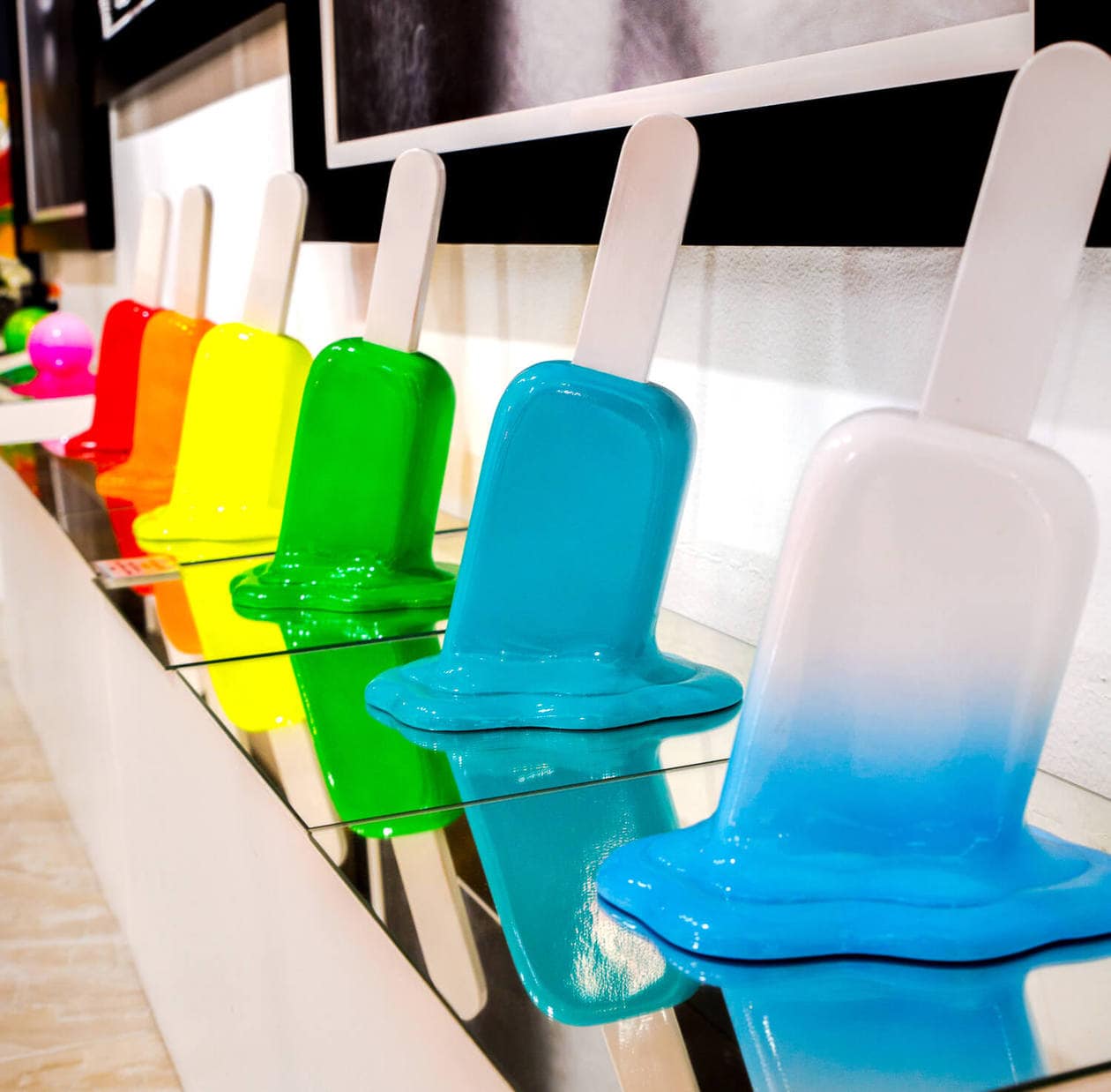 VISIT FRANK SINATRA'S GRAVE
Frank Sinatra called Palm Springs home for more than 50 years so it makes sense that he was laid to rest here with his bottle of Jack Daniels and a pack of Camel cigarettes. Located in the Desert Memorial Cemetery you can find Sinatra's modest burial plot laid next to his wife and family.
The cemetery is extremely simple and there is surprisingly nothing that makes Frank Sinatra's gravestone stand out amongst any of the others. It was still cool to see and I recommend making the trip if you are a fan. Sonny Bono and Betty Hutton are also buried in this cemetery.
HOW TO FIND FRANK SINATRA'S GRAVE The rows of gravestones are numbered and Frank Sinatra is located at B8 near the entrance on Ramon Road. Sonny Bono is located at B35. Betty Hutton is located at B35.
ADDRESS 31705 Da Vall Dr, Cathedral City, CA 92234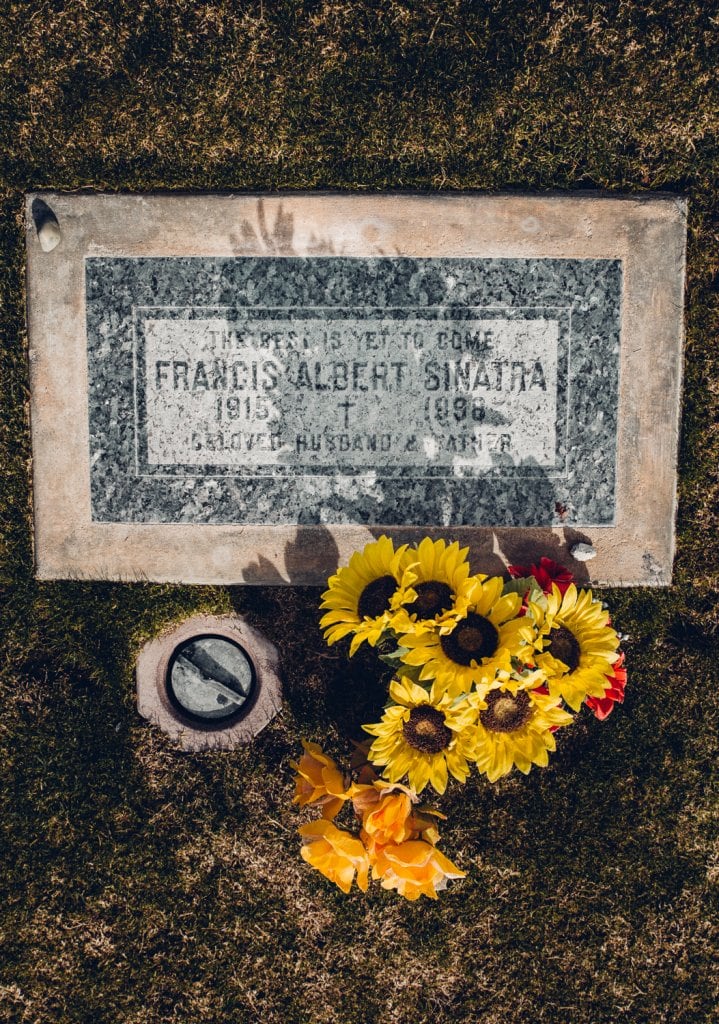 WANDER THROUGH MOORTEN BOTANICAL GARDENS
Travel to the Southern end of Palm Canyon Drive and you'll discover a cactus oasis that will delight both plant aficionados and Instagram connoisseurs alike. Moorten Botanical Gardens has over 3,000 species of cacti on site, all of which are categorized geographically from Arizona and Baja California, to South Africa and South America. 
I especially loved the indoor "cactarium" which houses an array of rare varieties. At the end of your walk through the garden, you can even purchase your own tiny cactus to take home with you for as little as $1 USD.
ADDRESS 1701 S Palm Canyon Dr, Palm Springs, CA 92264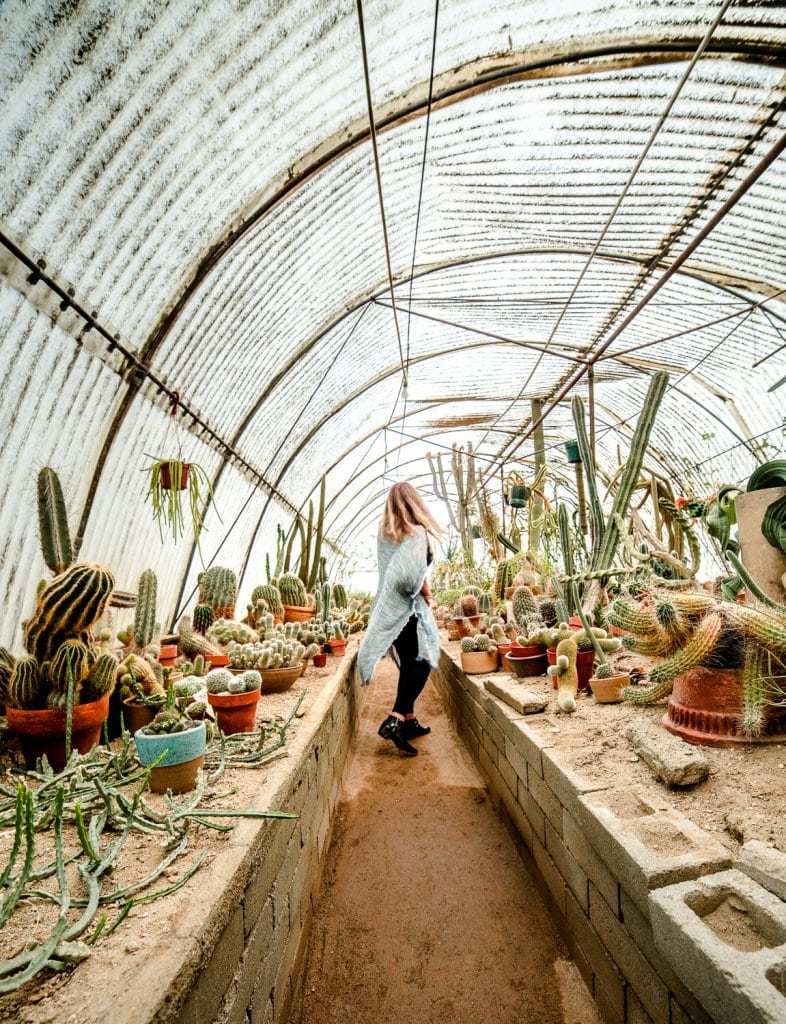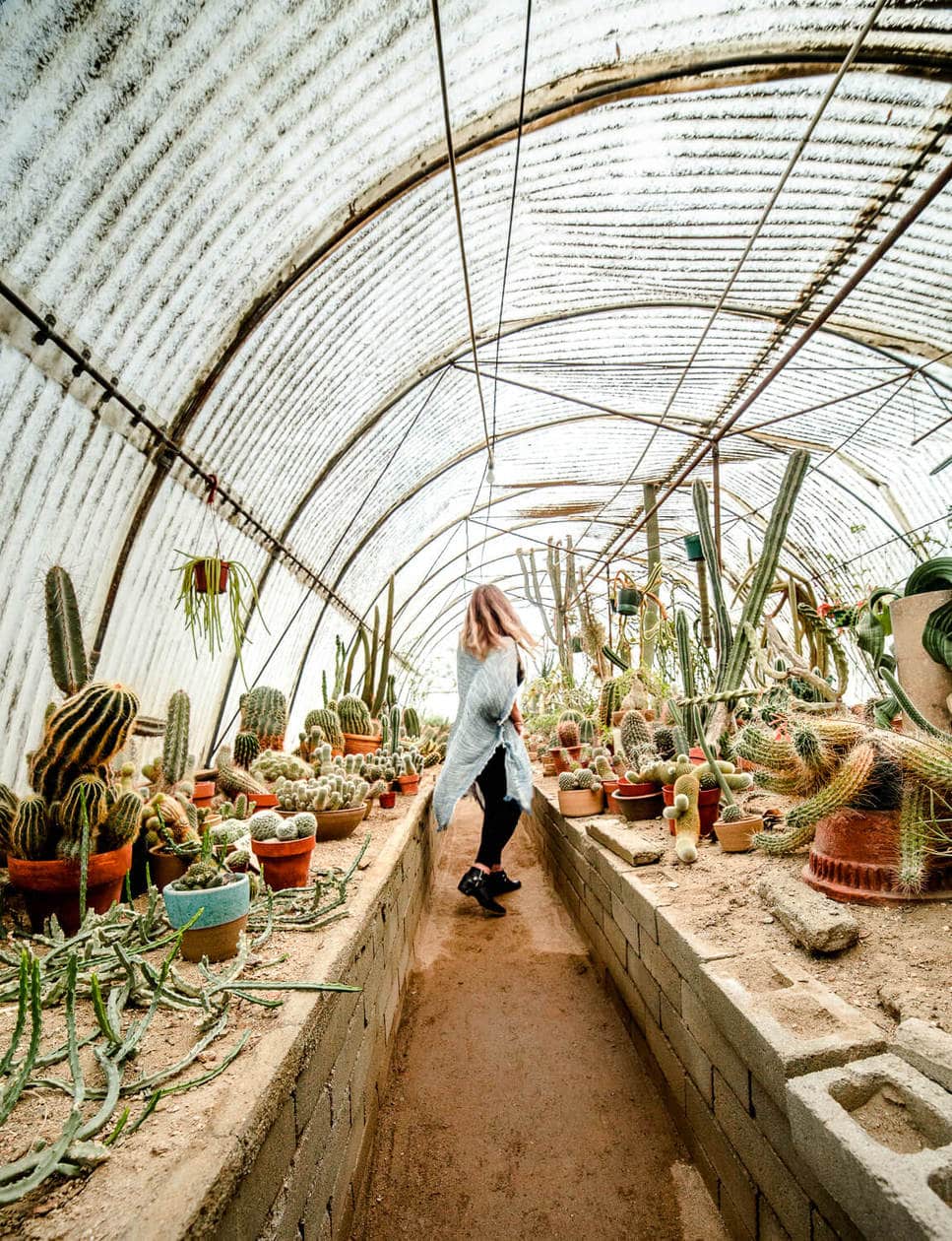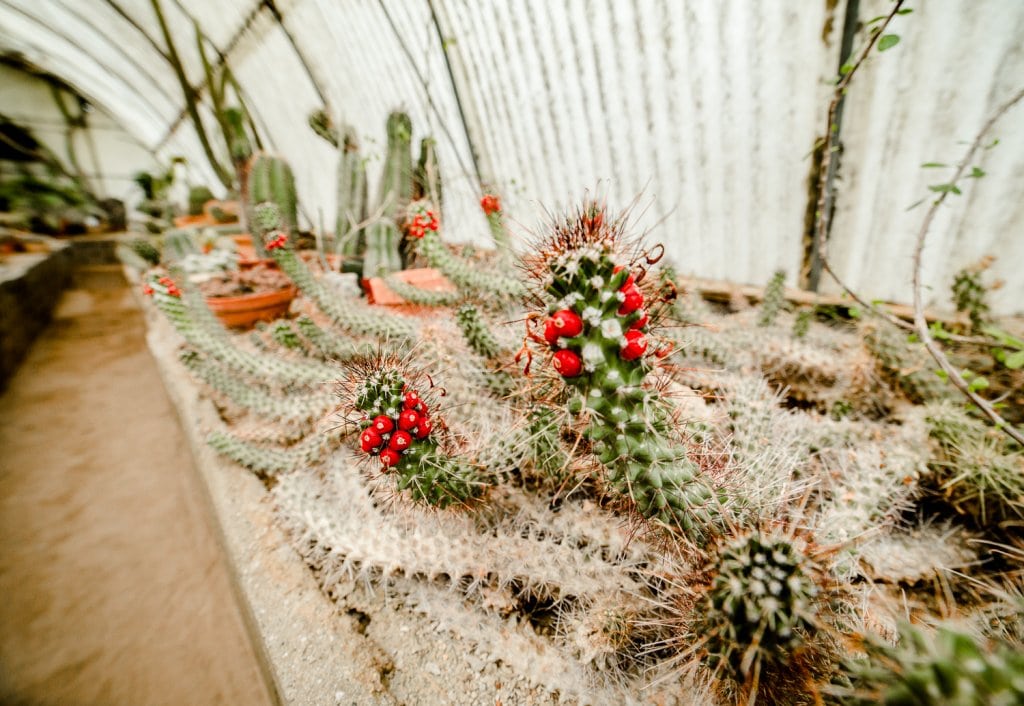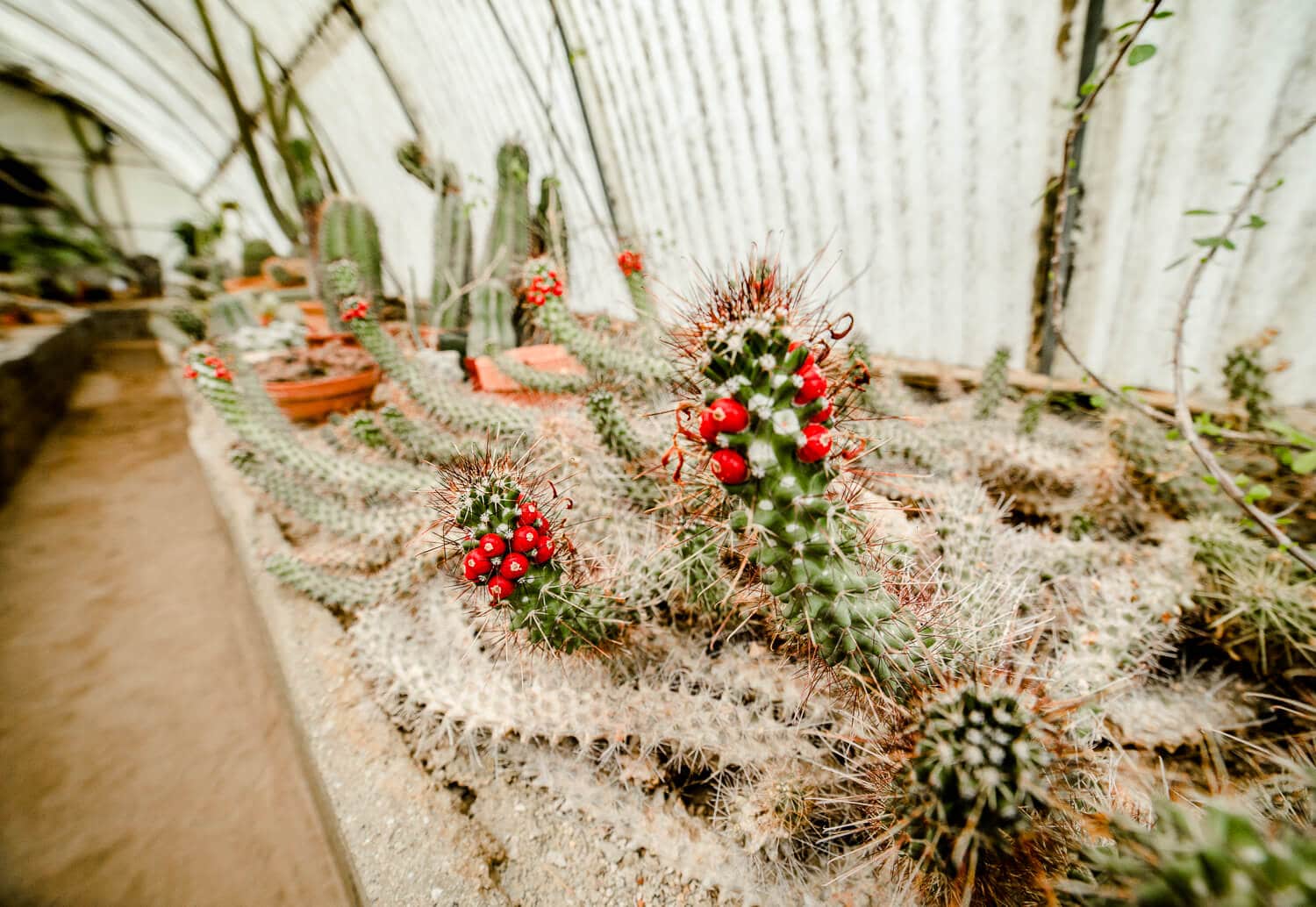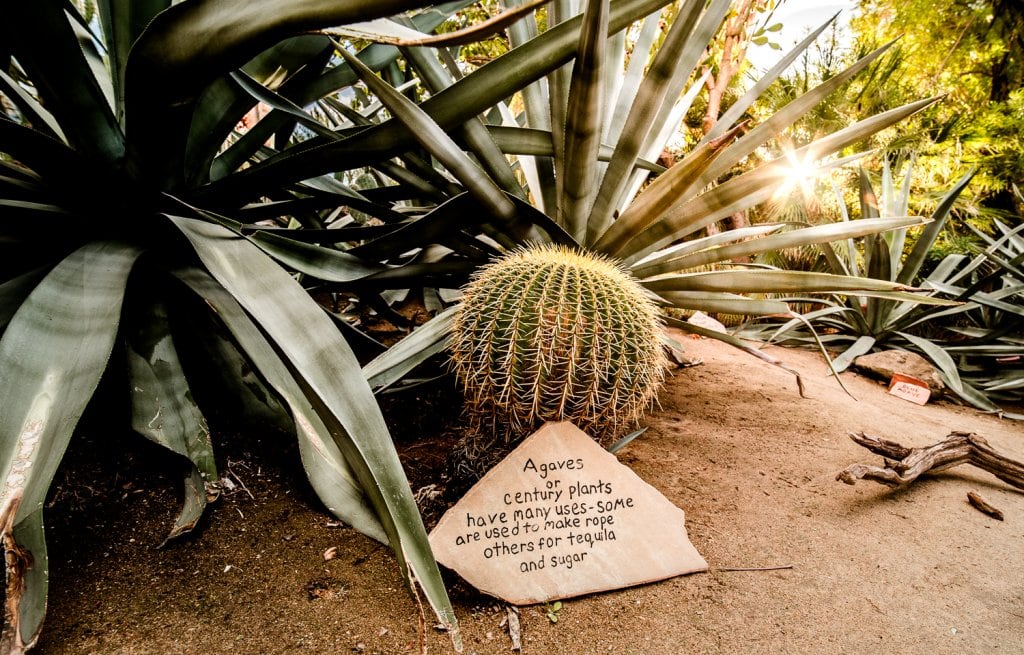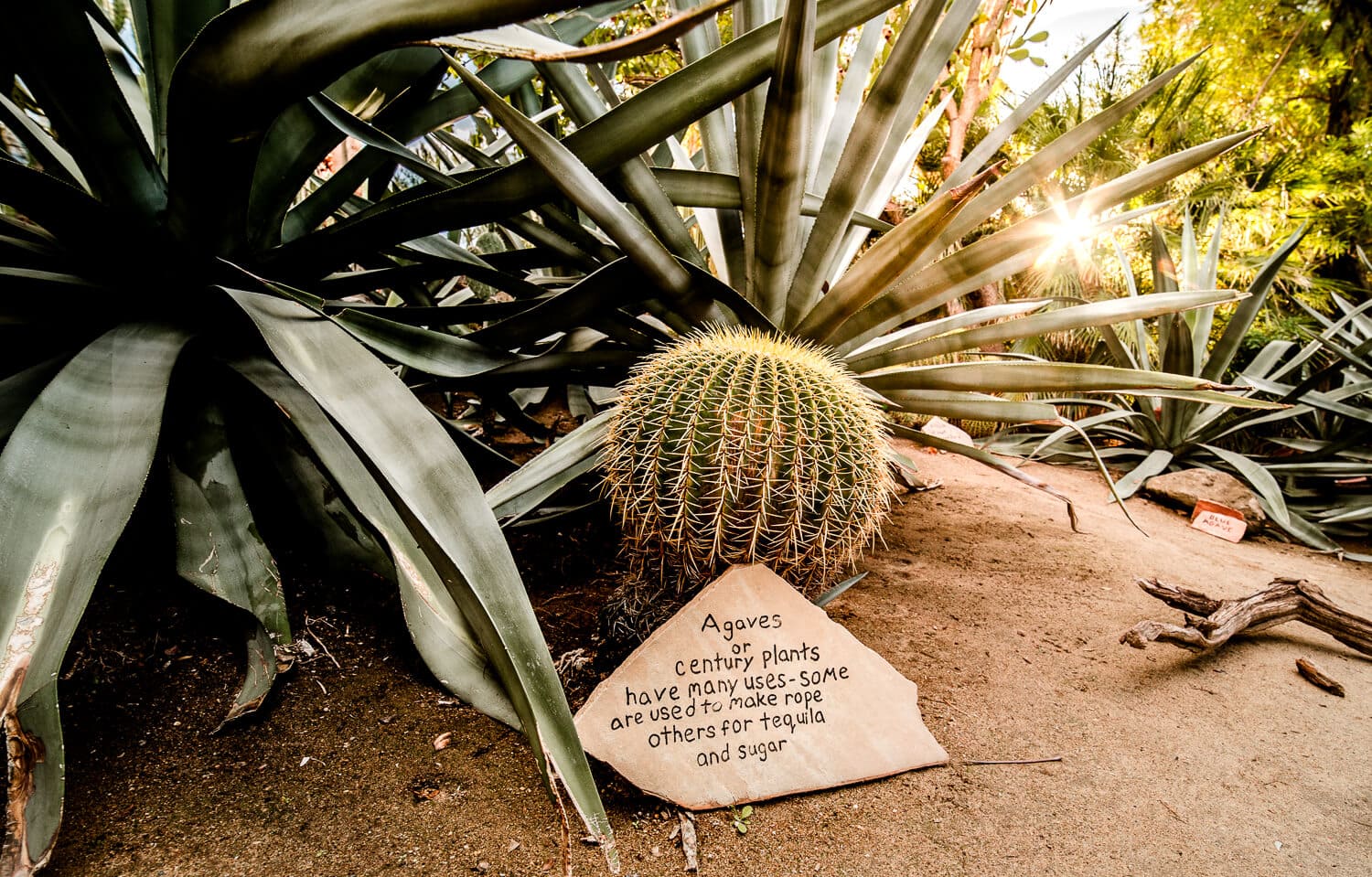 TAKE A SELF GUIDED ARCHITECTURE TOUR
Palm Springs has the largest concentration of Mid-Century Modern architecture in the world. Architecture buffs can take guided tours of the city's best sites, but more casual travelers should embark on their own adventure!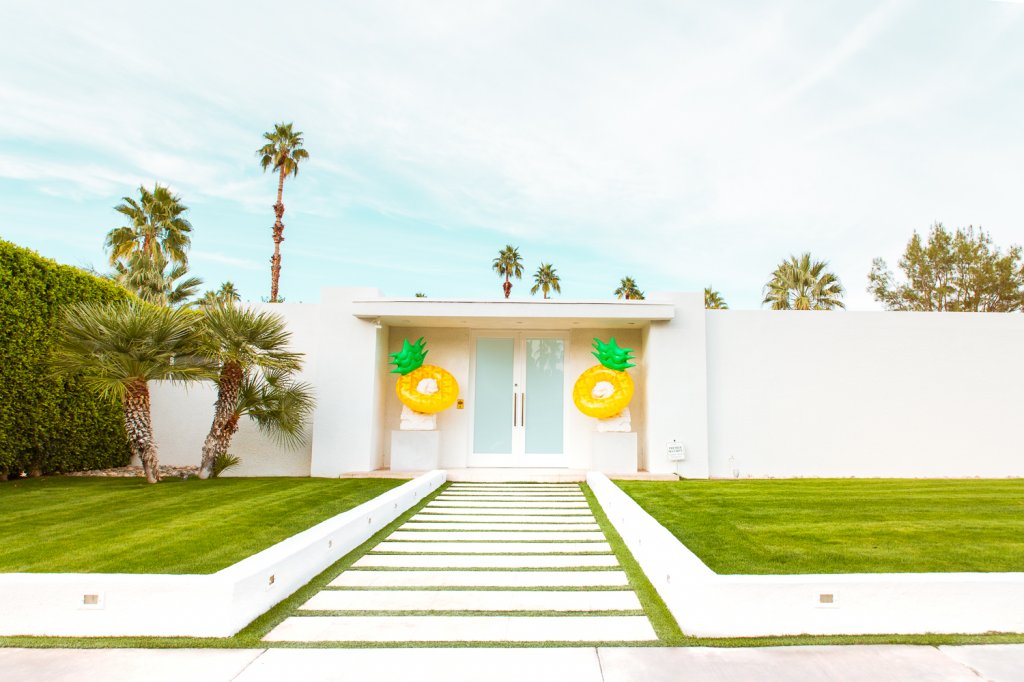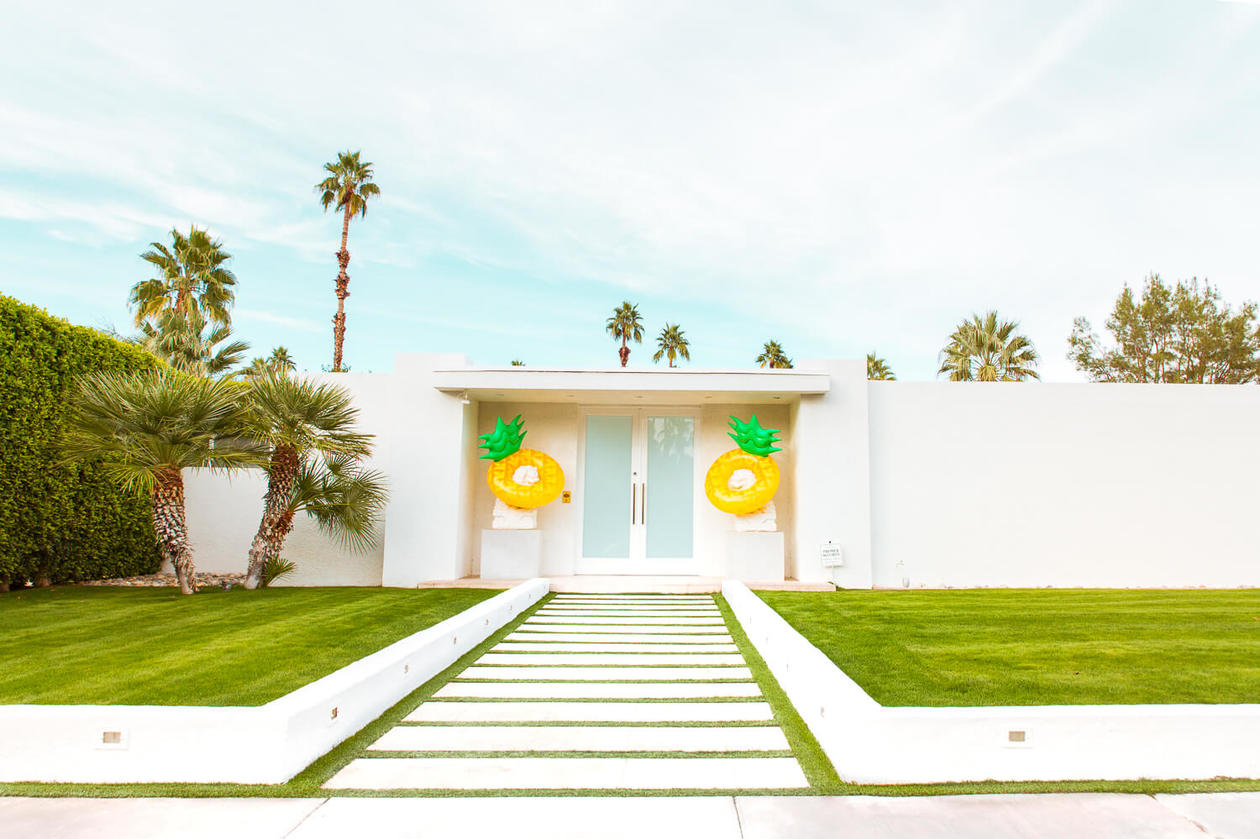 I live for a colorful door, so we drove through a few neighborhoods looking for the best and the brightest. A good place to start is Indian Canyons where you'll find a beautiful community of pristine Mid-Century Modern houses.
Just make sure to look but not trespass, and please be respectful of the owners' properties. One of the most famous pink doors in Palm Springs recently put up no photo signs because people were all over their front yard taking pictures, and it has officially ruined the fun for everyone.
RELATED POST: A GUIDE TO NOTTING HILL'S MOST PHOTOGENIC HOUSES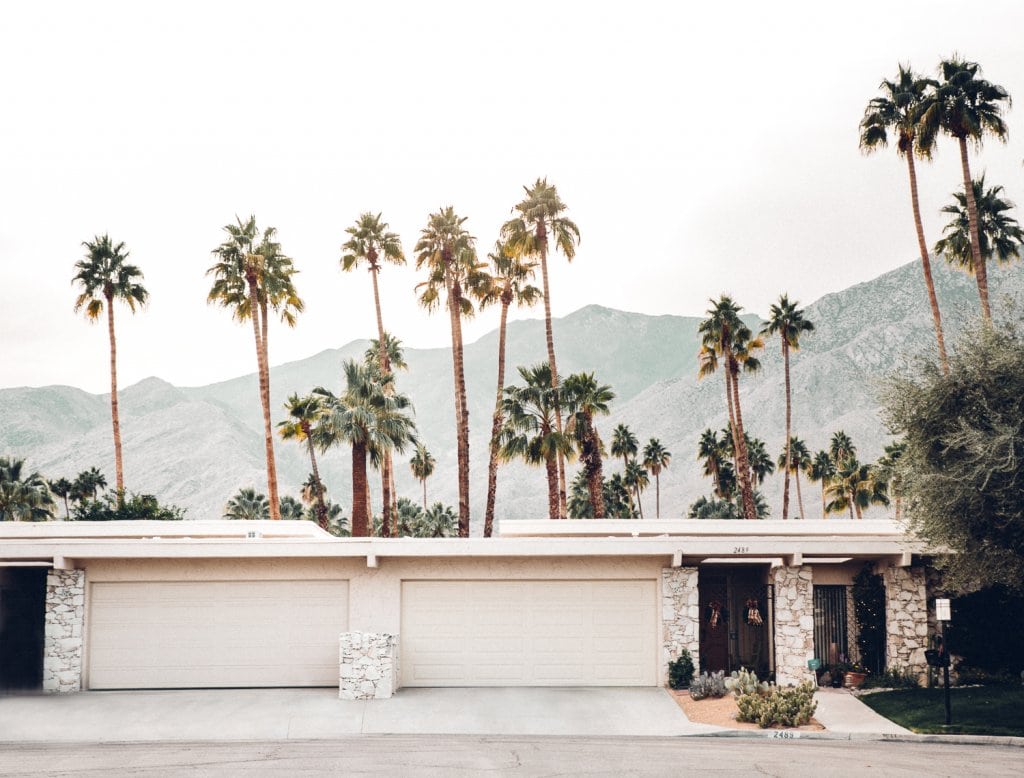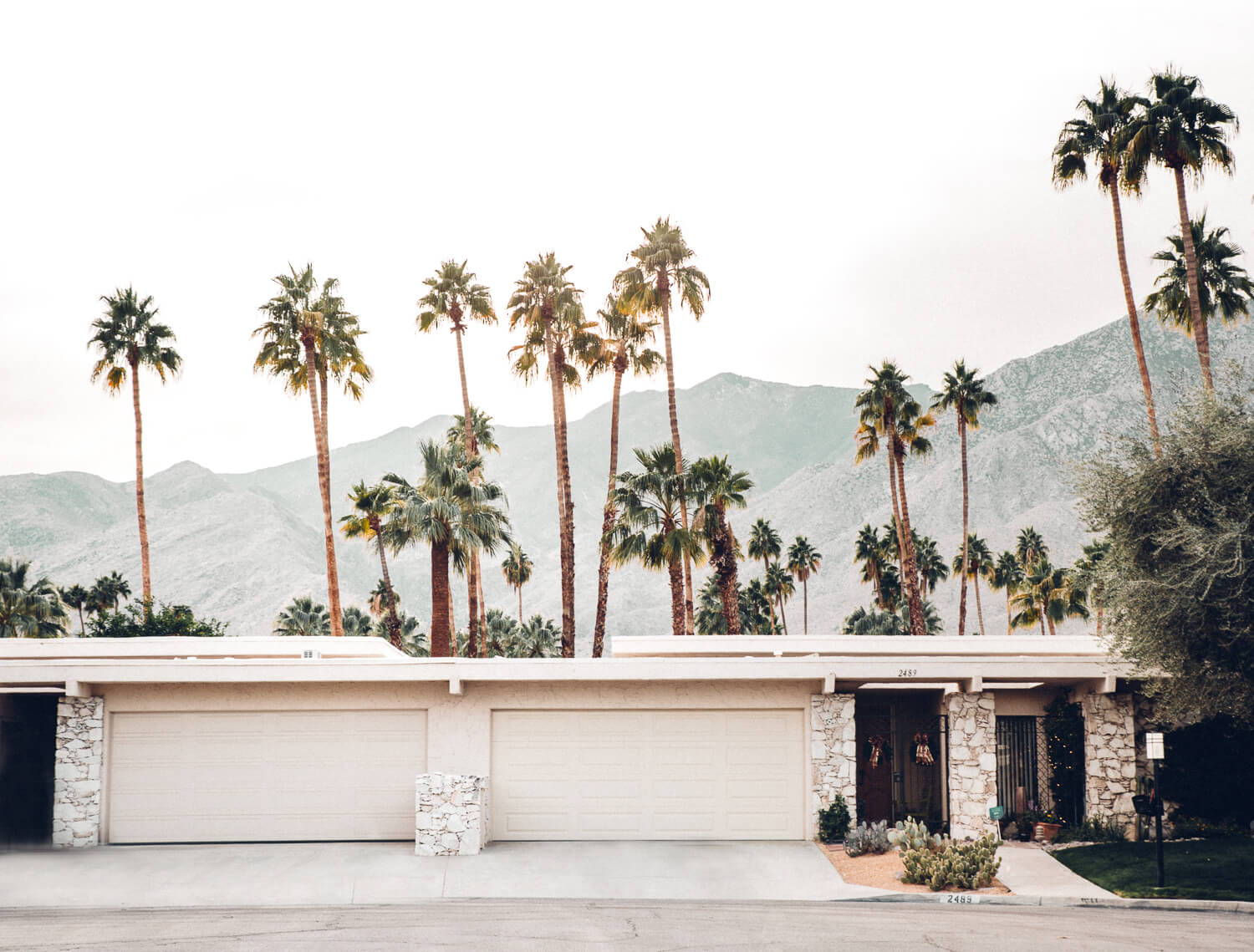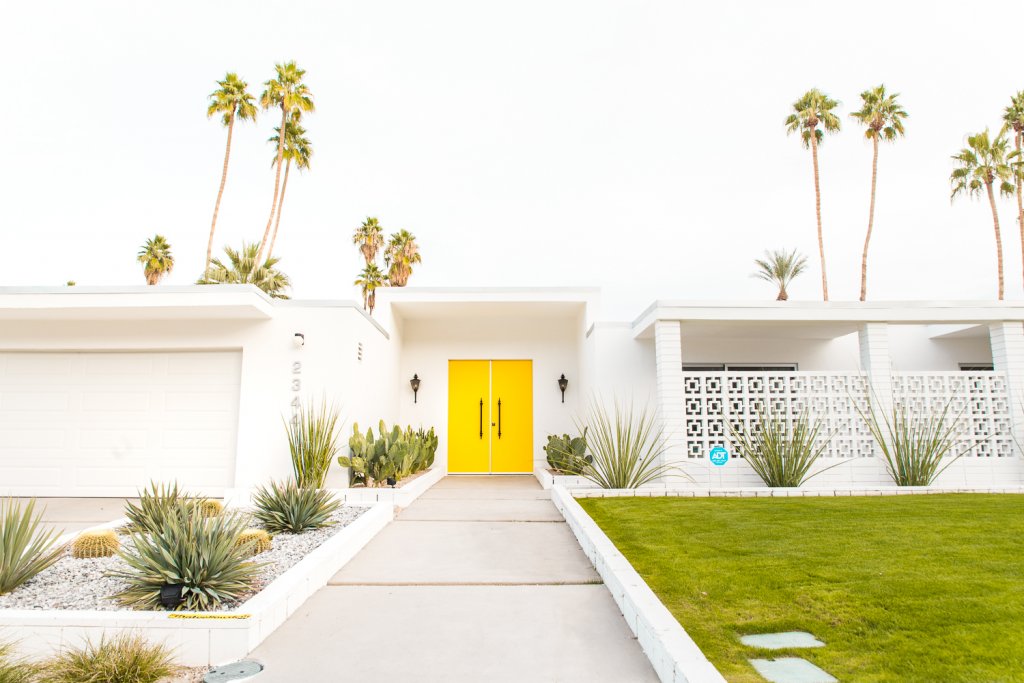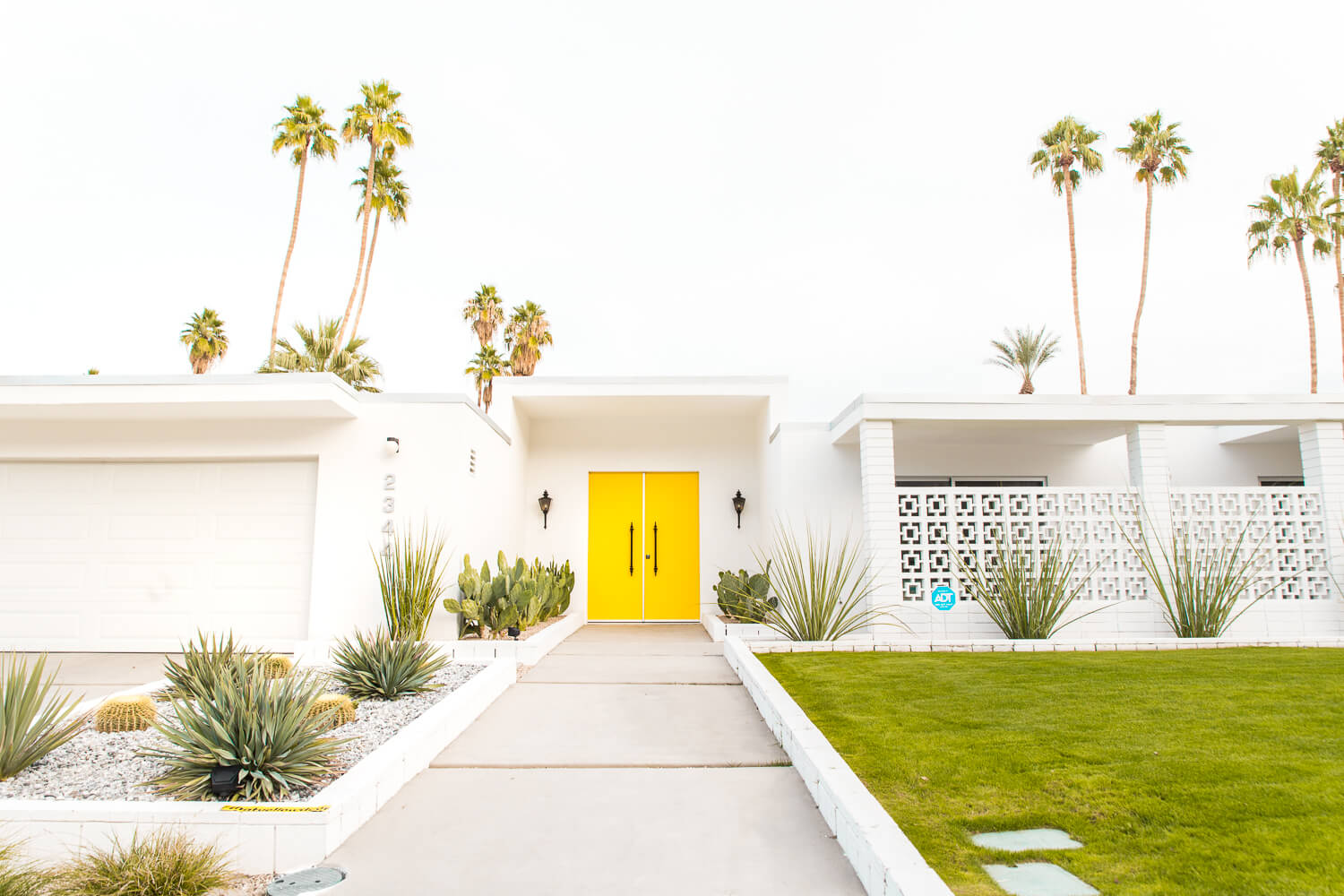 WHERE TO SHOP IN PALM SPRINGS
THICK AS THIEVES
Thick as Thieves is a small, locally owned boutique run by a young married couple in Palm Springs. From jewelry to clothing, vegan soaps and even a locally made "offering kit" complete with sage, incense and a selenite crystal, Thick as Thieves is the ideal place to find one of a kind gifts and souvenirs.
The store is located in a 1920's bungalow which fits their rustic, desert vibes perfectly. It's a small space but their perfectly curated collection of products had us shopping for a long time. Definitely stop by while you're in town, or you can also check out their online store here. 
ADDRESS 183 S Indian Canyon Drive Palm Springs, CA 92262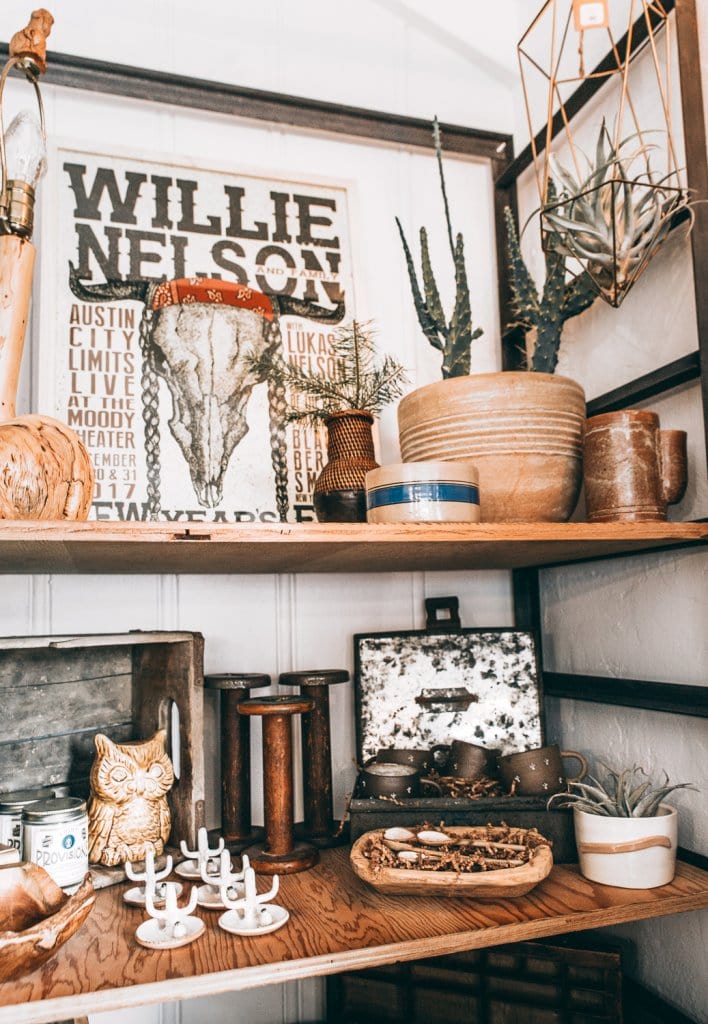 JUST FABULOUS
Just Fabulous is a fun, kitchy shop filled with unique gifts ideas, cool Palm Springs souvenirs (that aren't cheesy or outdated) and basically all of the random things you never knew you wanted. A coffee mug with a photo of Marilyn Monroe eating a hot dog? Check. A 3D holographic set of cat playing cards? Yes. A rhinestone hand flipping the bird? Absolutely.
We spent over an hour in this store laughing at all of the various oddities and combing through their chic coffee table books.
ADDRESS 515 N Palm Canyon Dr. Palm Springs, CA 92262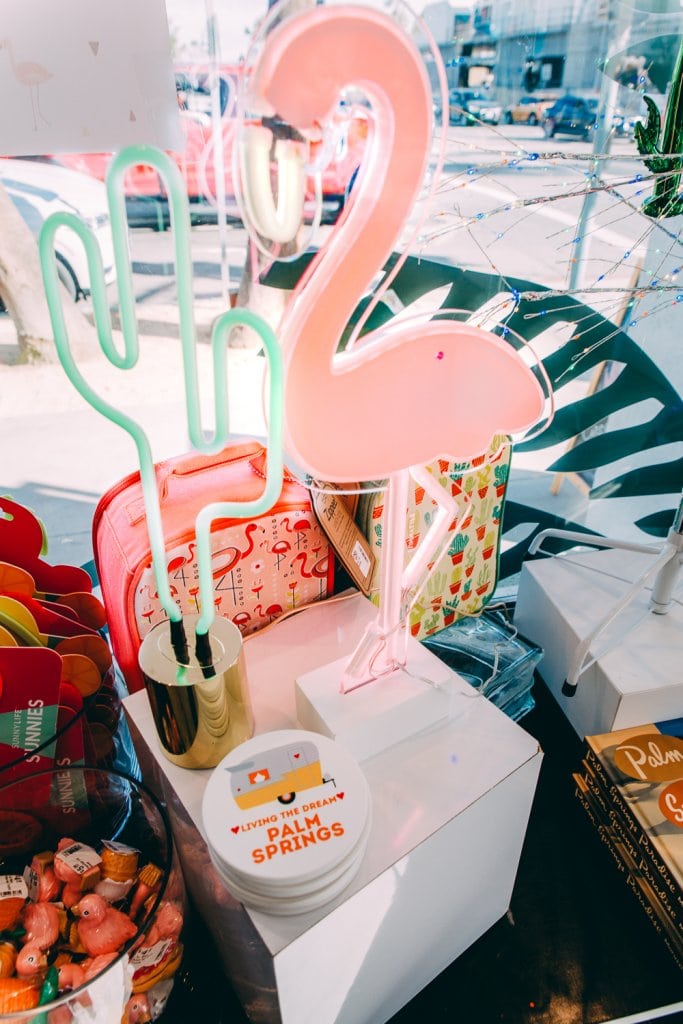 ESTATE SALE CO
The Estate Sale Co is a large consignment showroom selling gently used, pre-owned furniture. Broken up into 4 large buildings, I recommend starting at one end and winding your way through what seems to be a never ending maze of furniture, art and home decor.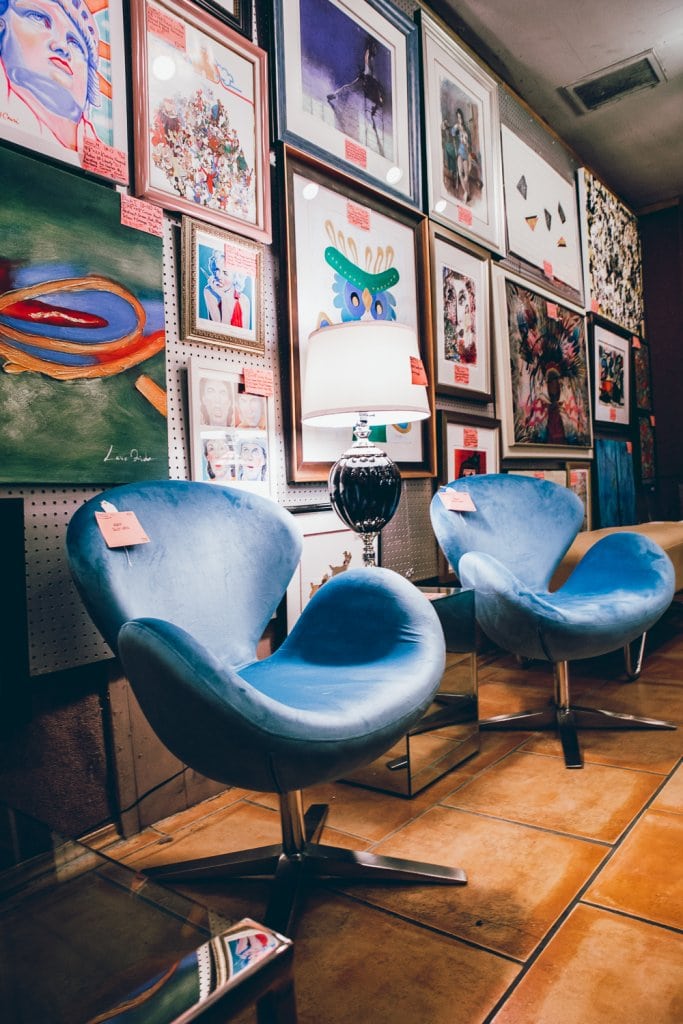 Nick and I were both surprised at how much we liked this stop. Their selection was amazing, the furniture looked barely used and the prices were extremely reasonable (this coming from the person who referred you to $4.95 bottomless champagne. You can trust me). The Estate Sale Co receives over 100 new items each day and the pieces sell quickly. We did see quite a few items with slashed prices, making some of the deals even better.
ADDRESS 4185 E Palm Canyon Dr, Palm Springs, CA 92264  
FOR MORE ITINERARY SUGGESTIONS, OR INFORMATION TO PLAN YOUR OWN PALM SPRINGS GETAWAY, PLEASE VISIT VISITPALMSPRINGS.COM
AM I MISSING ANYTHING? WHAT ARE YOUR FAVORITE LOCAL PALM SPRINGS GEMS?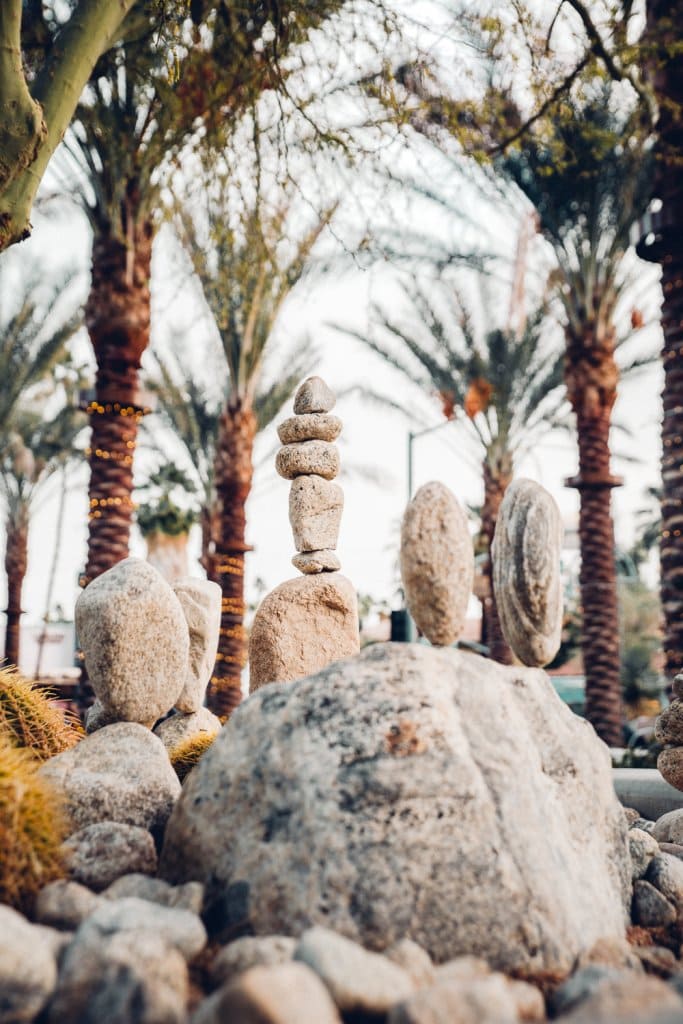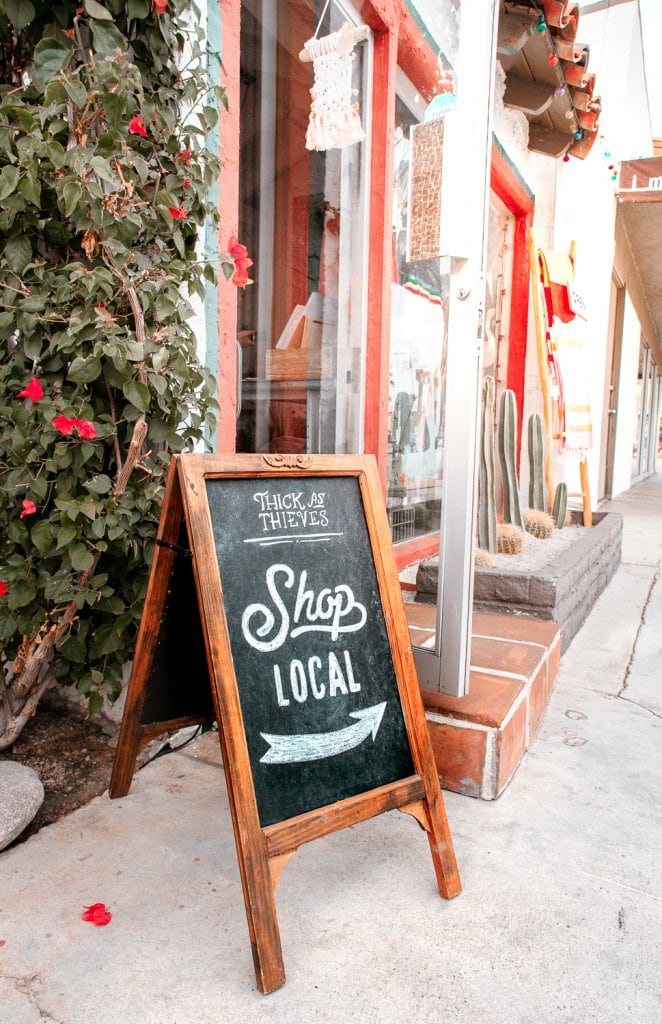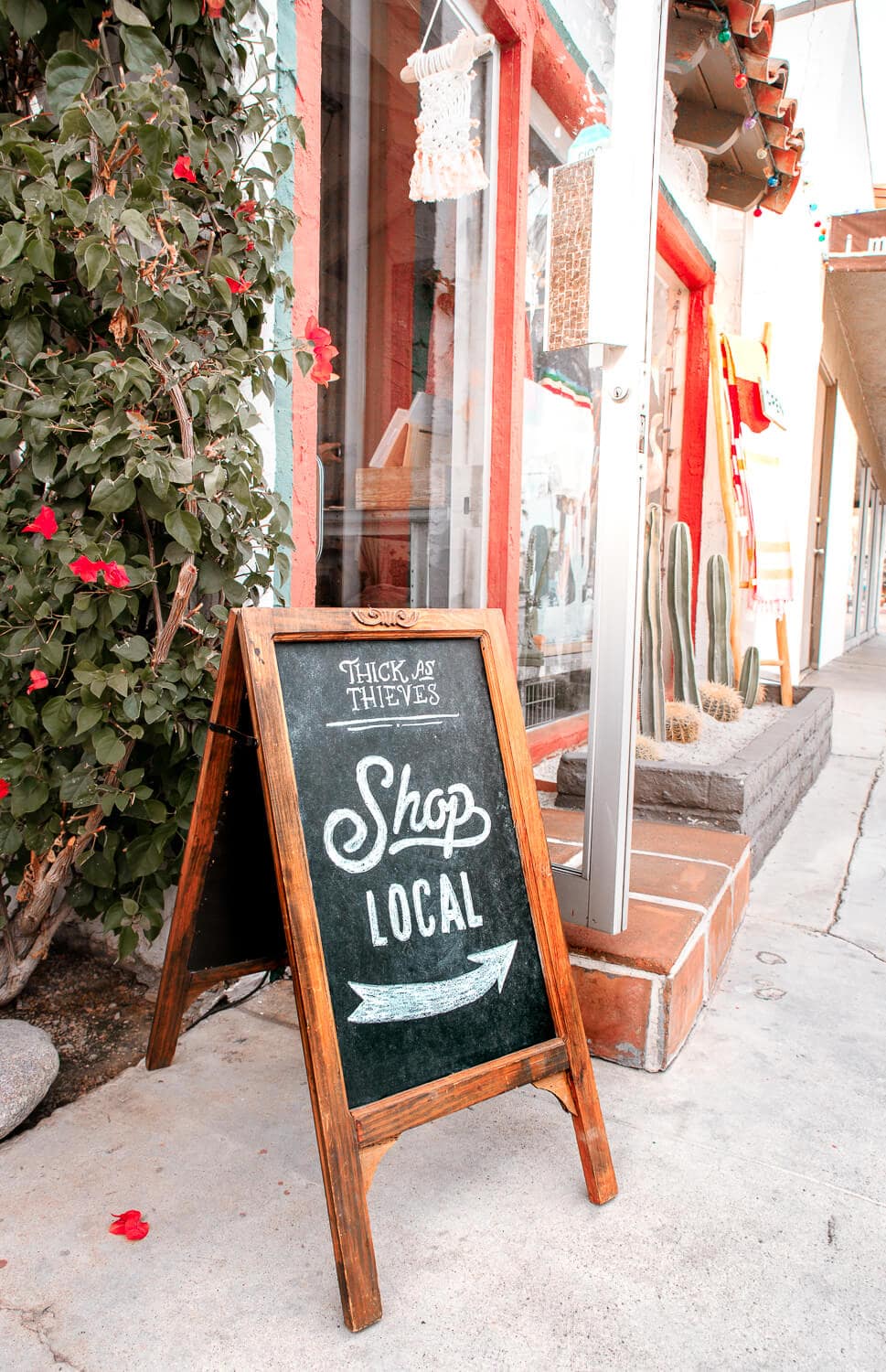 PIN IT : THE PALM SPRINGS GETAWAY GUIDE // 15 MUST VISIT, LOCAL GEMS