Montenegro is one of the most popular day trips from Dubrovnik, and for good reason. Not only is it easily accessible from Croatia, but it's high mountain peaks and fjords give you a completely different change in scenery. Keep reading for a suggested itinerary, travel tips and everything you need to know when traveling from Dubrovnik to Kotor.
HOW TO GET FROM DUBROVNIK TO KOTOR
CAR
Renting a car will give you the most freedom on your day trip from Dubrovnik to Kotor.
It'll allow you have the option to explore beyond where the bus, or even a tour group will take you. If possible, I highly recommend this option.
You'll find the best deals on rental cars at the Dubrovnik airport, and the Montenegrin border is only a short 20 minute drive from there. From the border, it's about an hour drive to Kotor.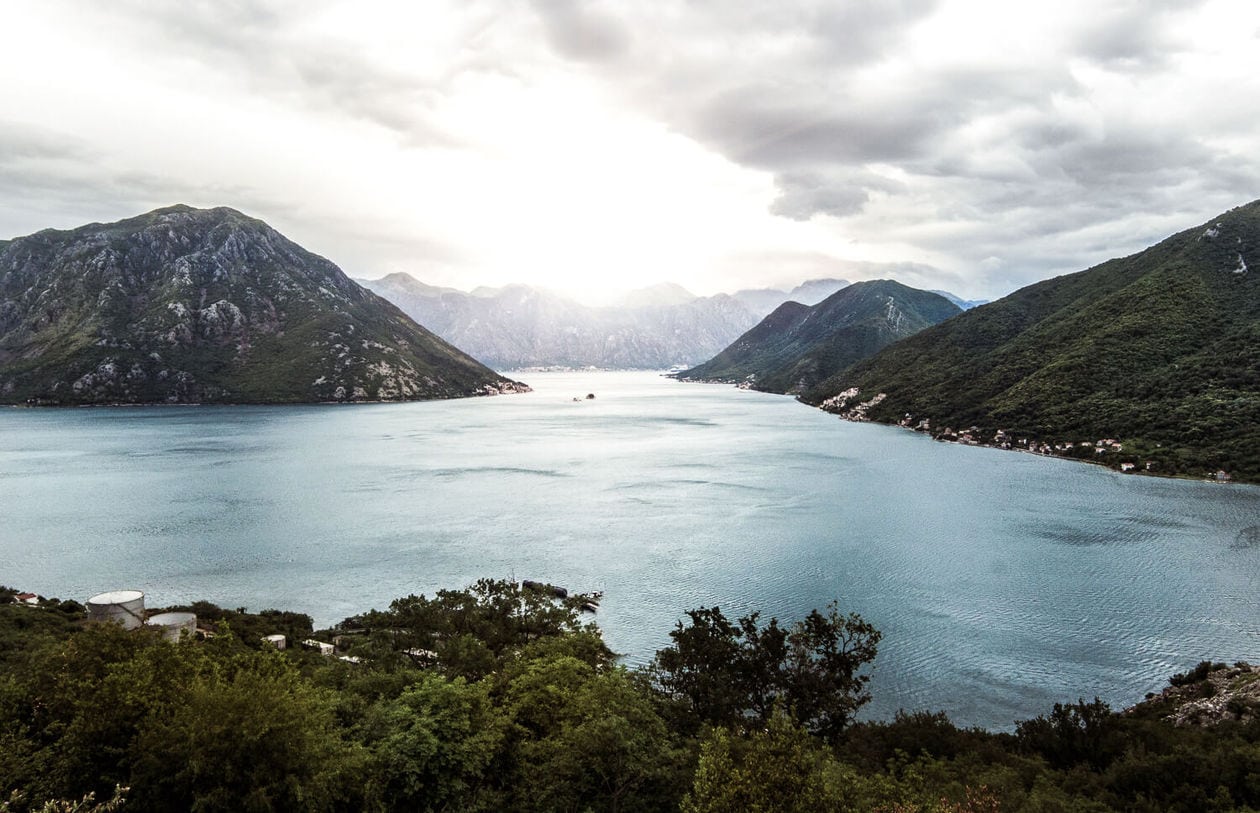 BUS
There are several daily bus departures from Dubrovnik to Kotor. Expect the ride to take between 1hr 50min to 3hr 45min depending on the bus (this does not including the border wait times).
Busses depart from the Main Bus station in Dubrovnik and tickets cost between €15 and €18. For bus schedules and information click here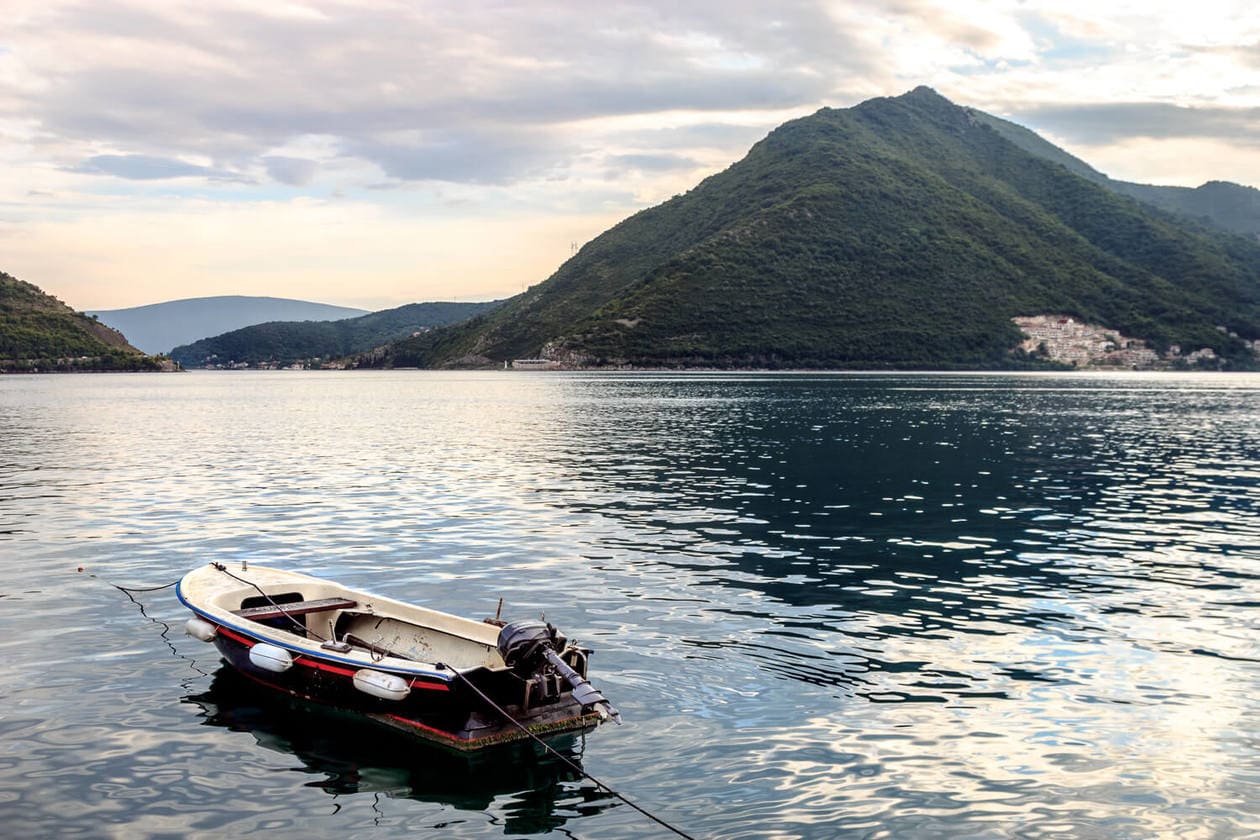 TOUR
There are tons of tour companies offering day trips from Dubrovnik to Kotor.
While I'm not the biggest fan of operating on someone else's schedule, this is the easiest option with the least amount of thinking.
Many Kotor day trip tours include time in Budva but skip Perast. Perast was one of my favorite stops, so if I had to pick a tour, I'd recommend this one.
---
RELATED POST: PERAST MONTENEGRO // A PICTURE PERFECT GEM ON THE BAY OF KOTOR
---
THE CROSS BORDER CARD // NECESSARY OR NOT?
While reading the fine print on rental cars in Dubrovnik I was noticing rental companies charge an extra $90-150 USD for a cross border card.
A cross border card aka green card is required to cross the border from Croatia into Montenegro. However, what most rental car companies don't tell you is that it's already included in the green card system that your rental insurance provides.
To be safe and avoid any unnecessary complications or fees when picking up my car, I booked through EconomyCarRentals.com. Not only did they have the cheapest rates, but they advertise free cross border cards with certain rentals.
It gave me peace of mind that I wouldn't have to argue with the car company at 7 o'clock in the morning.
If for some reason you find yourself needing a green card at the border, they sell them for €15.

THE BORDER CROSSING
I'd heard stories about it taking 3 hours to cross the border, but our trip into Montenegro (and back) was pretty quick and self-explanatory.
When you reach the border, you'll be asked for your passport. If driving, you will also need to present your car's green card.
In May, crossing from Dubrovnik to Montenegro took us 47 minutes. Heading back into Croatia from Montenegro took us 23 minutes.

Dubrovnik to Kotor // 1 Day Itinerary
Pick up your rental car in Dubrovnik around 7am and drive towards the border to complete the crossing.
Once you're in Montenegro, you'll pass a large red supermarket called Voli (5-10 minutes past the border). You can stop here to grab some snacks or breakfast from the bakery, use the restroom and pull money from the ATM.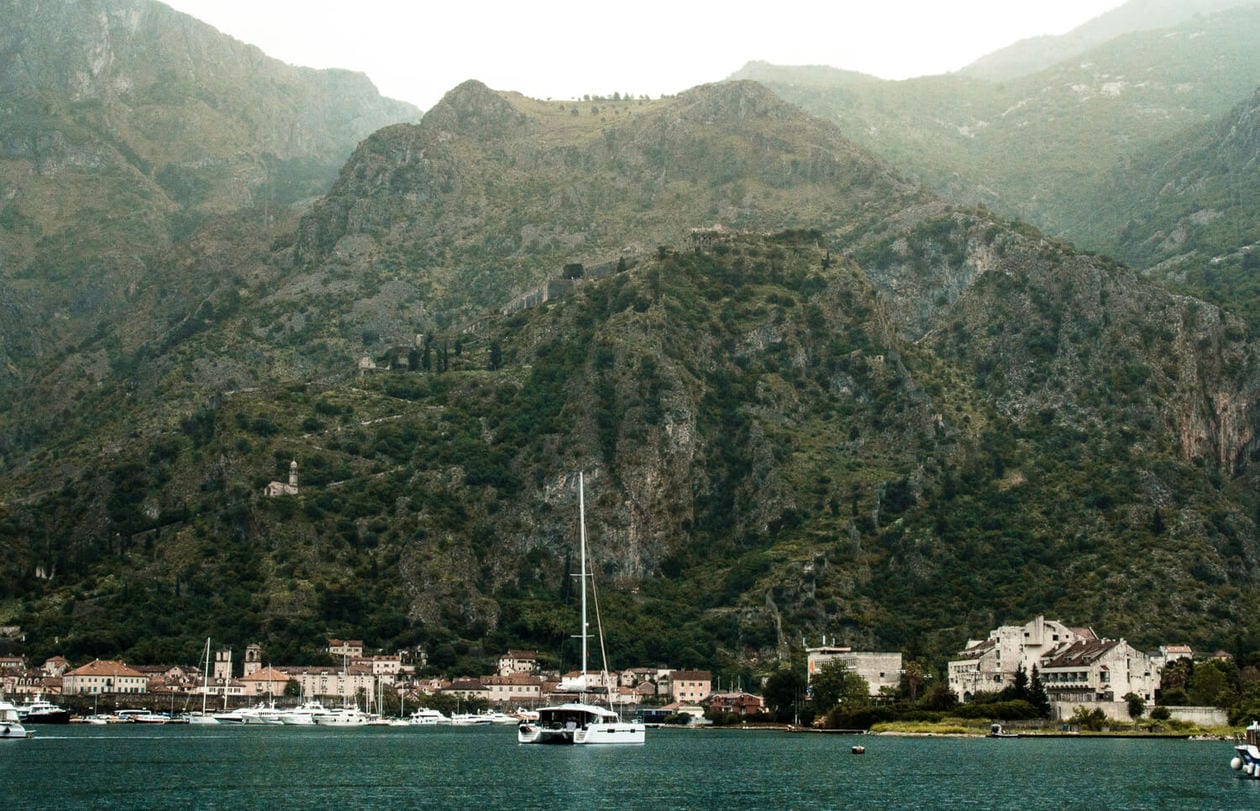 From the supermarket, it's only a one hour drive to Kotor.
As soon as we crossed the border from Croatia, I noticed a complete change in scenery. I assumed because the countries are so close that they would be similar, but Montenegro looks and feels completely different.
As you drive around the bay, take your time, notice the differences, and feel free to stop for pictures along the way.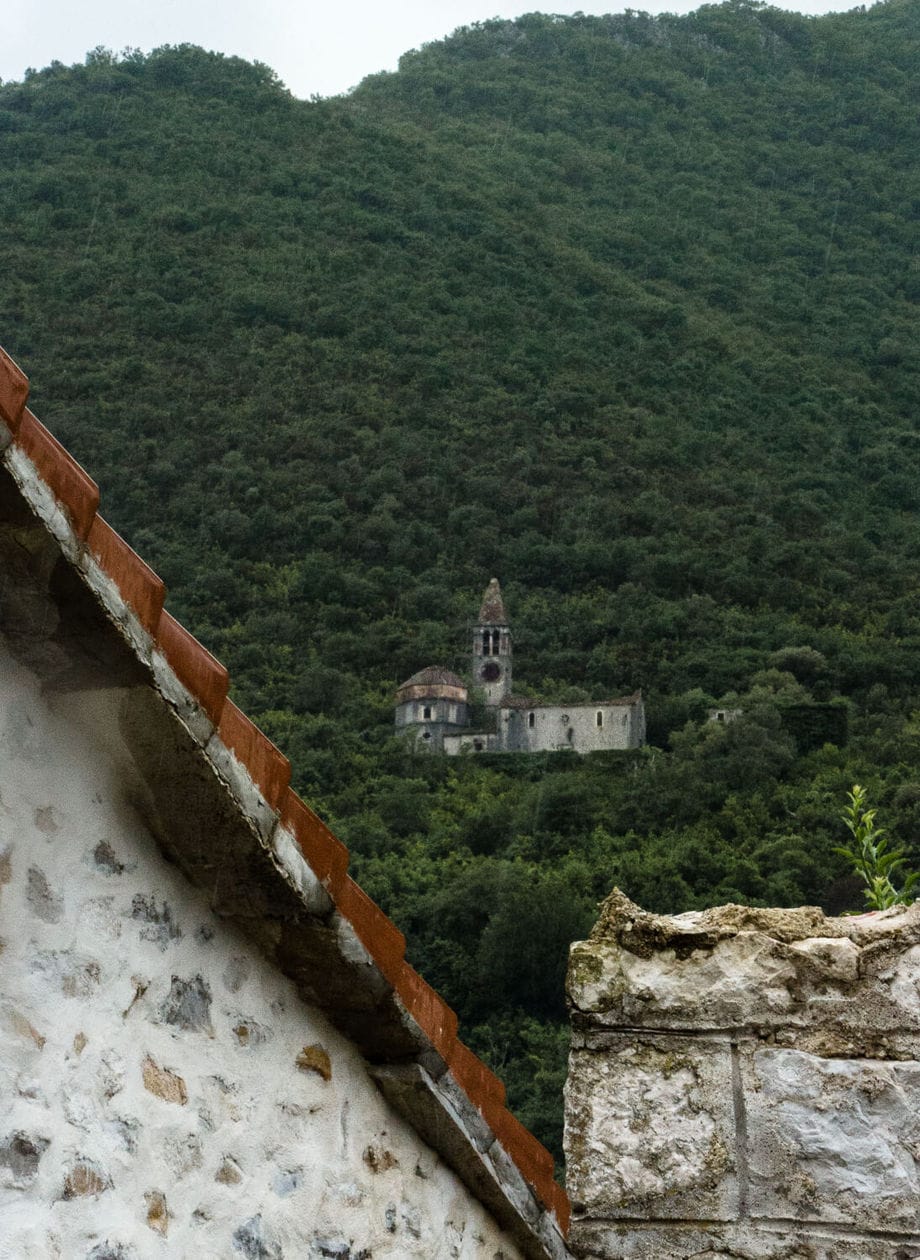 THE FORTRESS
Your first stop in Montenegro will be Old Town (the main tourist zone), a good way to get acquainted with Kotor.
I highly recommend starting the morning by climbing the castle walls (accessible from within Old Town) to the fortress for the absolute best views.
Making your way up the mountain as early as possible will hopefully allow you to beat some of the crowds. Allow 1.5-2.5 hours roundtrip depending on your level of fitness.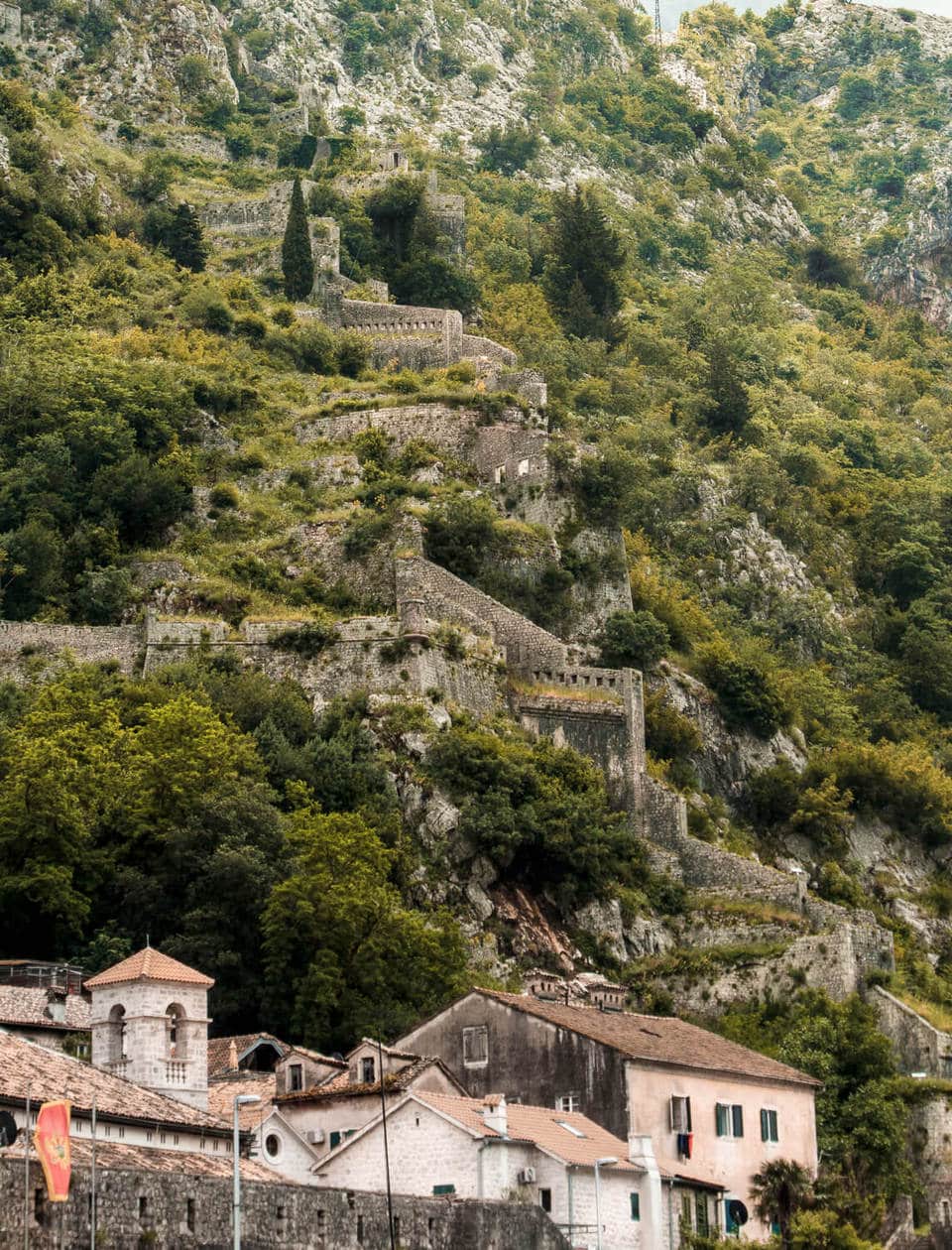 OLD TOWN KOTOR
After scaling back down the mountain, reward yourself with a cold beer and some lunch, and then spend the next 1.5-2 hours exploring within the city walls.
---
RELATED POST: OLD TOWN KOTOR TRAVEL GUIDE // WHAT TO DO 
---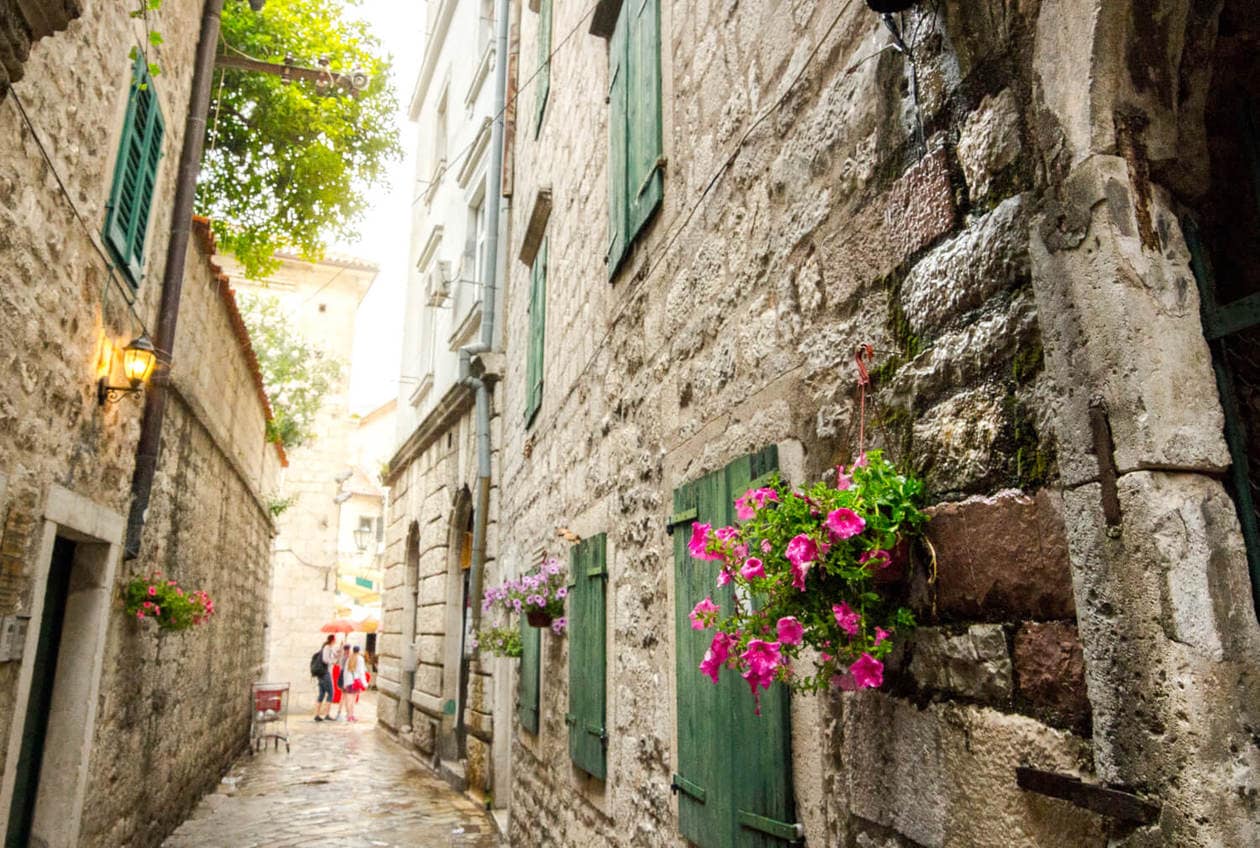 OPTIONAL: PRCANJ OR BUDVA
Around 2pm, say good-bye to the old city and hop back in your car for a drive around the bay.
We drove in the direction of Tivat and stopped in several of the tiny towns, my favorite being Prcanj (only 10 minutes from Old Town).
There were zero tourists around and it was nice to see a more mellow, quieter side of Kotor.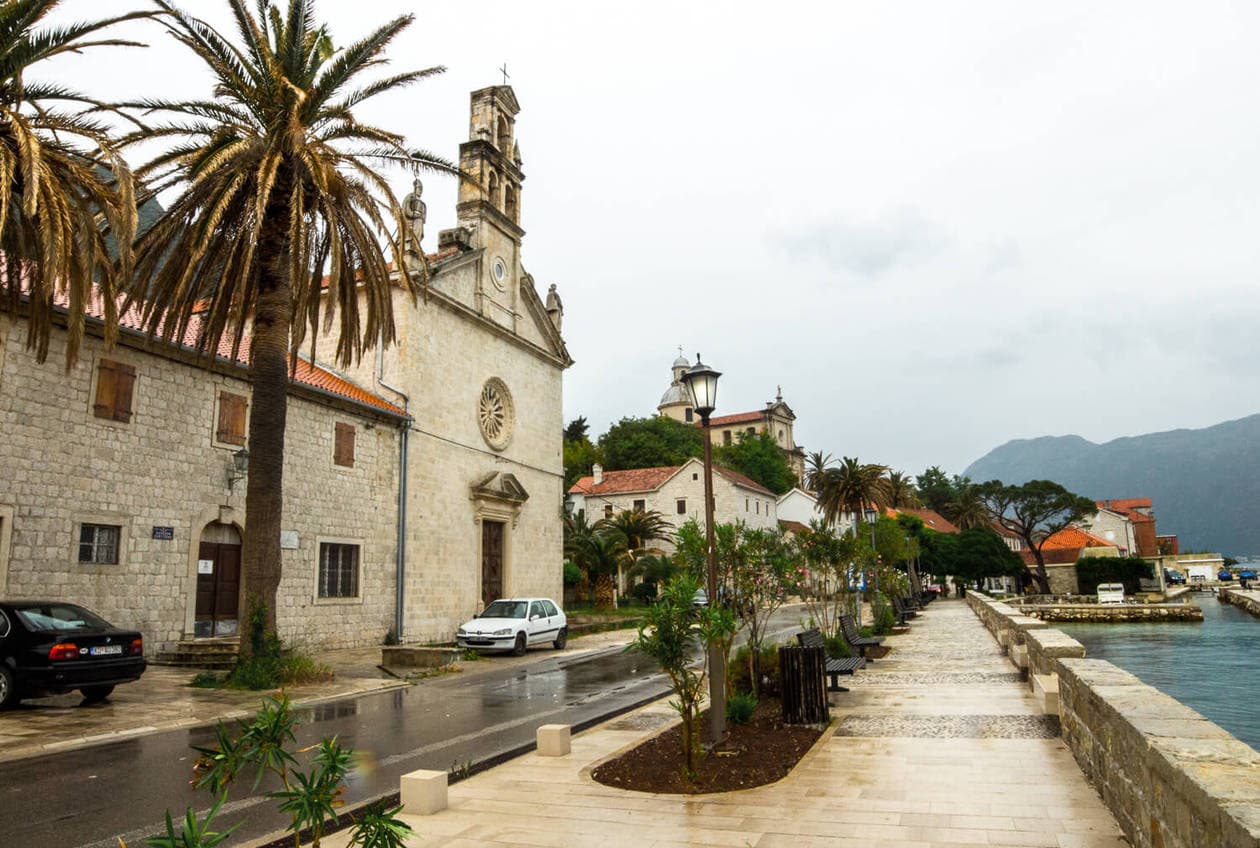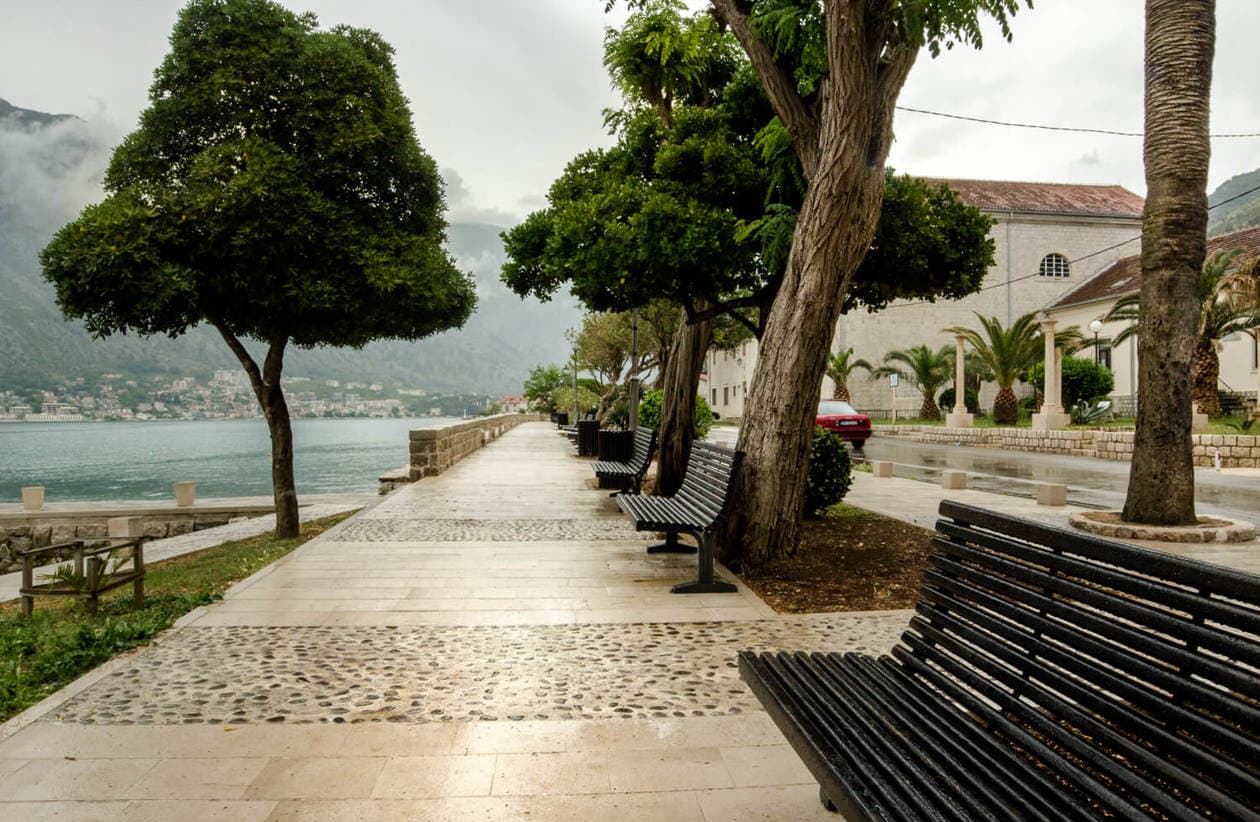 Alternatively you can take this time to go to Budva (30 minutes from Kotor). As much as I wanted to see Budva, we decided against it this time in order to maximize our time.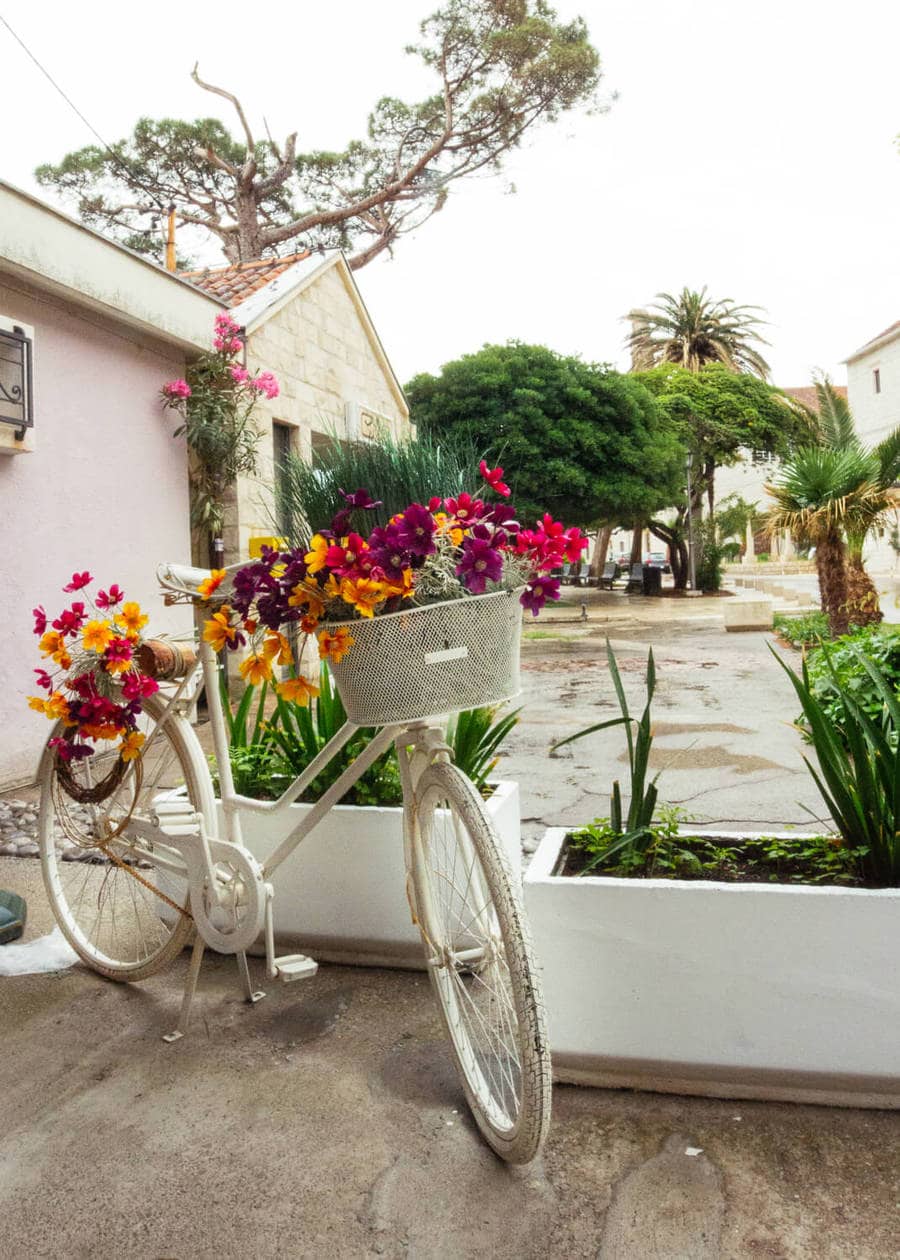 SKOJKE BOKE OYSTERS
Now that it's getting into the afternoon we'll start heading back the way we came, past Old Town towards Perast.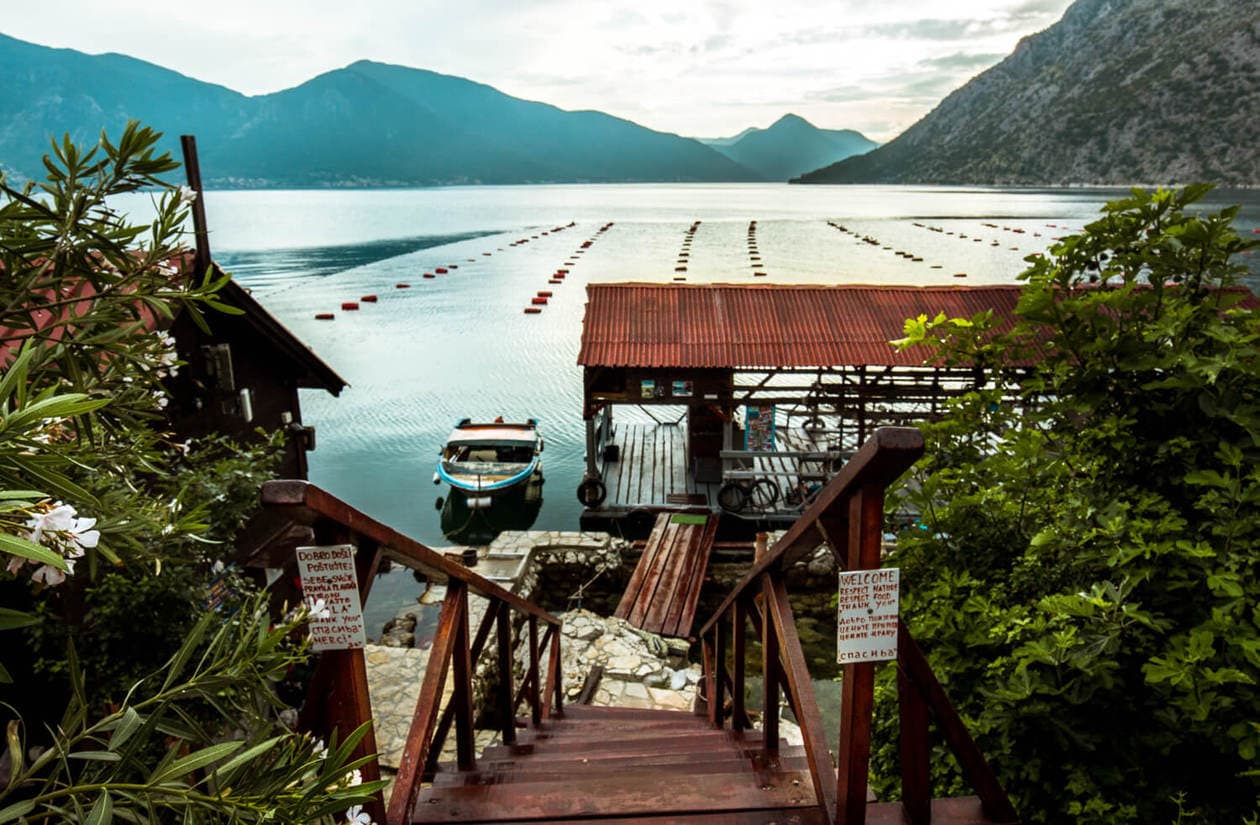 If you're a fan of oysters & mussels, you must stop in for some of the freshest (sustainable!) oysters in Montenegro.
Skoljke Boke is an oyster farm located in Orahovac, located between Perast and Old Town. Appointments must be made in advance but it's an unforgettable experience.
---
RELATED POST: SKOLJKE BOKE // THE FRESHEST OYSTERS IN MONTENEGRO
---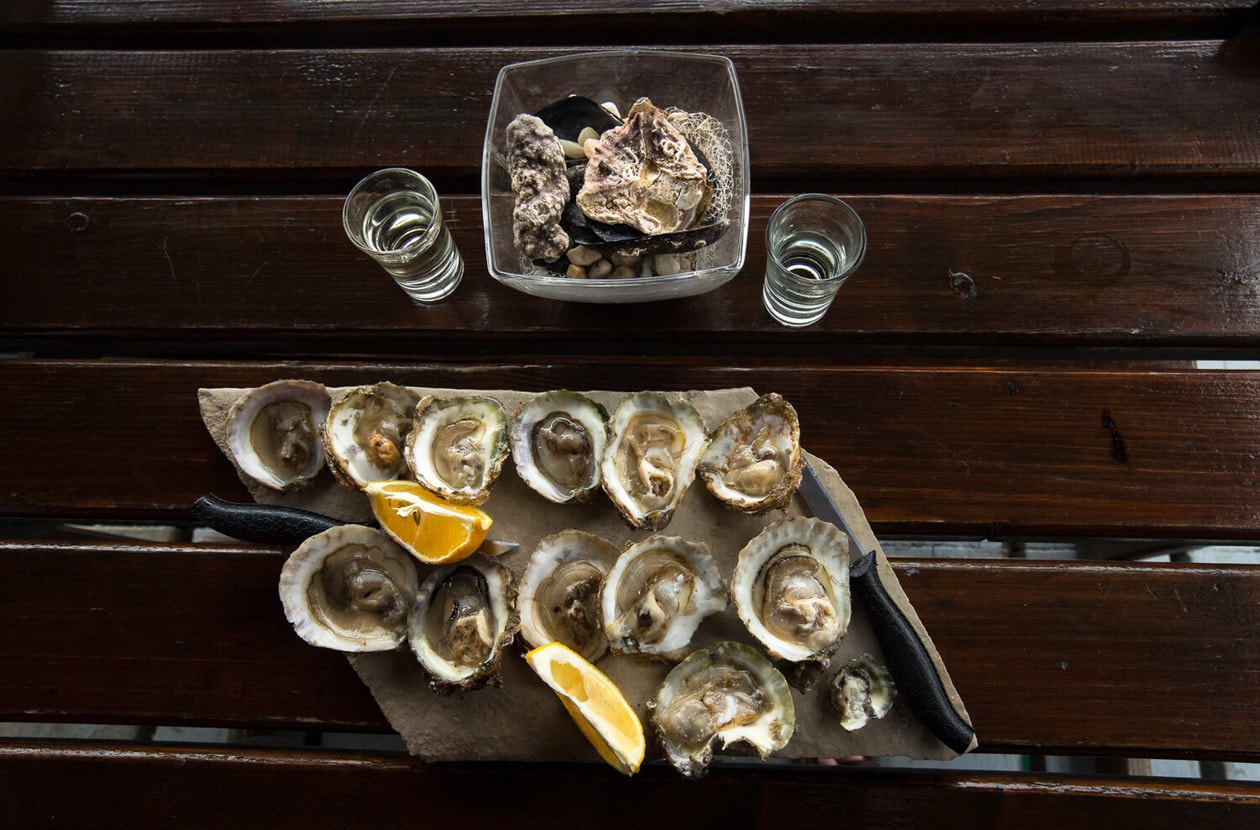 PERAST
After your oyster appetizer, drive 5 minutes up the road to Perast. Perast is a picture perfect bayside town with two unique islets off the coast.
Start off by hiring a boat to take you across the bay to visit Our Lady of the Rocks, a Roman Catholic Church and museum. The boat ride cost €3-€5 and the whole visit should take less than an hour.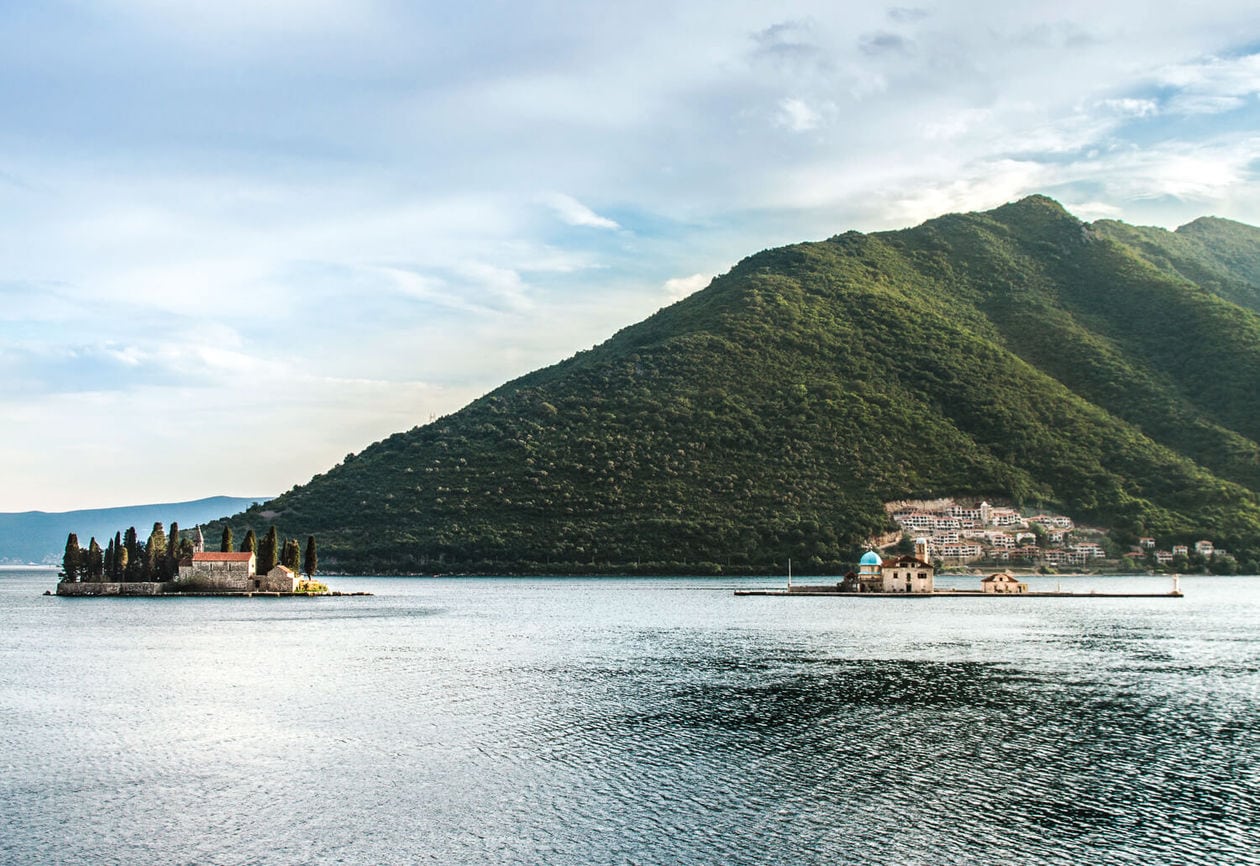 Afterwards, spend the rest of the afternoon in Perast.
I also recommend having dinner here while the sun sets for great views and good lighting for pictures! Read my post HERE for pictures of Perast plus restaurant recommendations.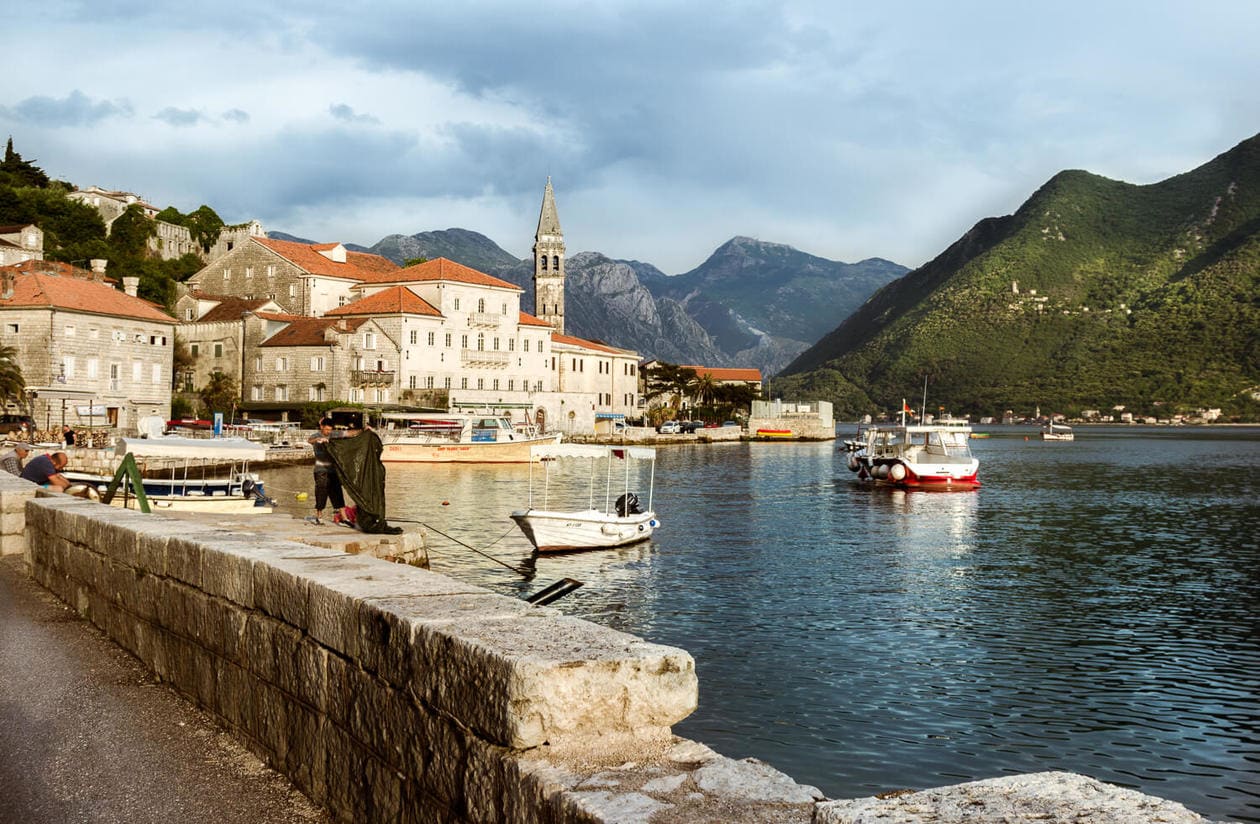 After dinner, start your drive back to Croatia.
TIPS FOR AN EASY DAY TRIP TO MONTENEGRO
DAYLIGHT HOURS Daylight hours in Montenegro vary depending on the time of year you visit. This can heavily impact your itinerary, so you might have to cut out some stops or move them around to make it work.
The earliest sunset is around 4:12 PM in December, and the latest sunset is 8:26 PM in June.
BRING YOUR PASSPORT Self explanatory but easy to forget. If you're driving you also need your drivers license, even if it's international.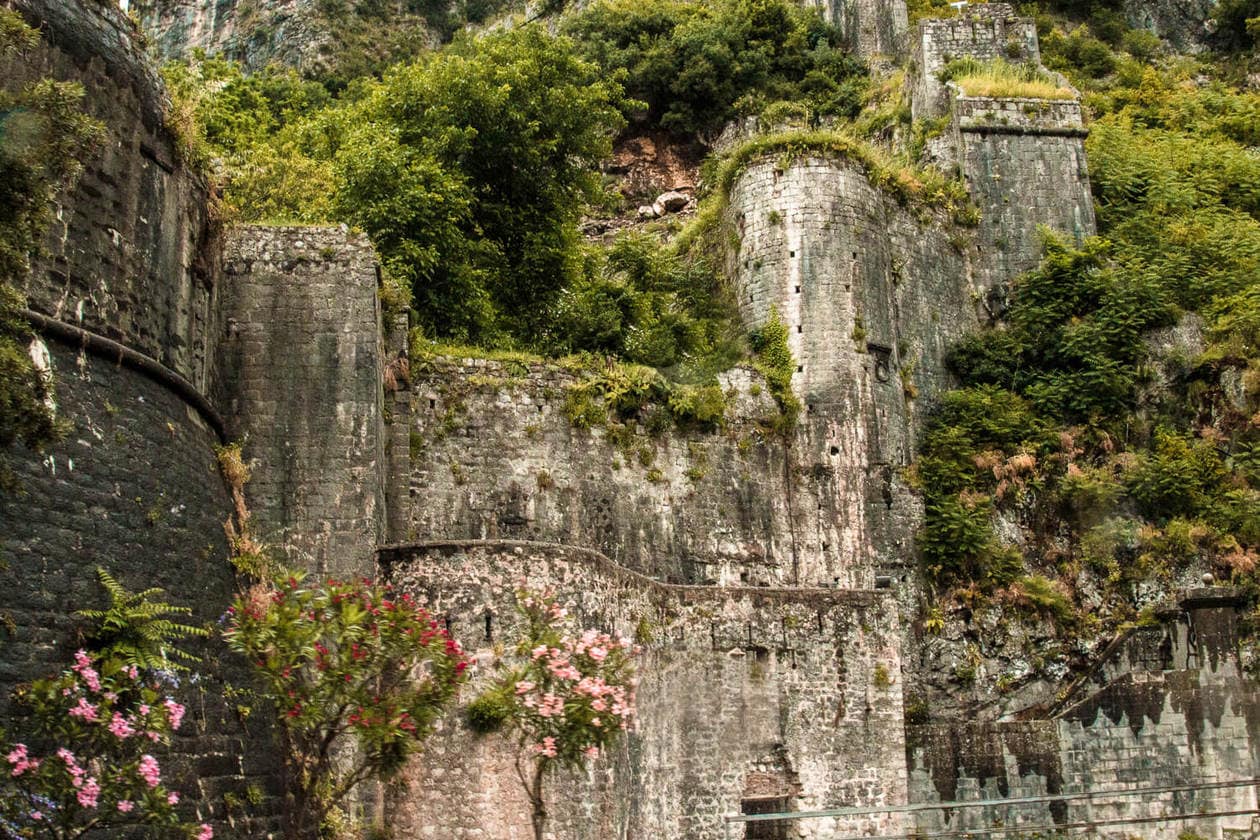 CURRENCY CHANGES Croatia's currency is the Kuna and Montenegro is on the Euro.
While you can find vendors who will accept Kuna across the border, it's most practical to exchange money either in Dubrovnik, or withdraw some at an ATM in Montenegro.
Overall, Montenegro is cheaper than Dubrovnik so budget accordingly.
LEAVE EARLY Even though it's close in distance, a day trip from Dubrovnik to Kotor is an undertaking. Leave as early as possible to give yourself ample time in Montenegro.
GIVE YOURSELF ENOUGH TIME TO GET ACROSS THE BORDER (BOTH WAYS!) Depending on the time or day, crossing the Montenegrin border could take 5 minutes or it could take 3 hours.
While you can never really guess how long it'll take, arriving early in the morning or late at night will most likely cut your wait times. Also, factor in more time to cross if you're visiting during the peak summer season.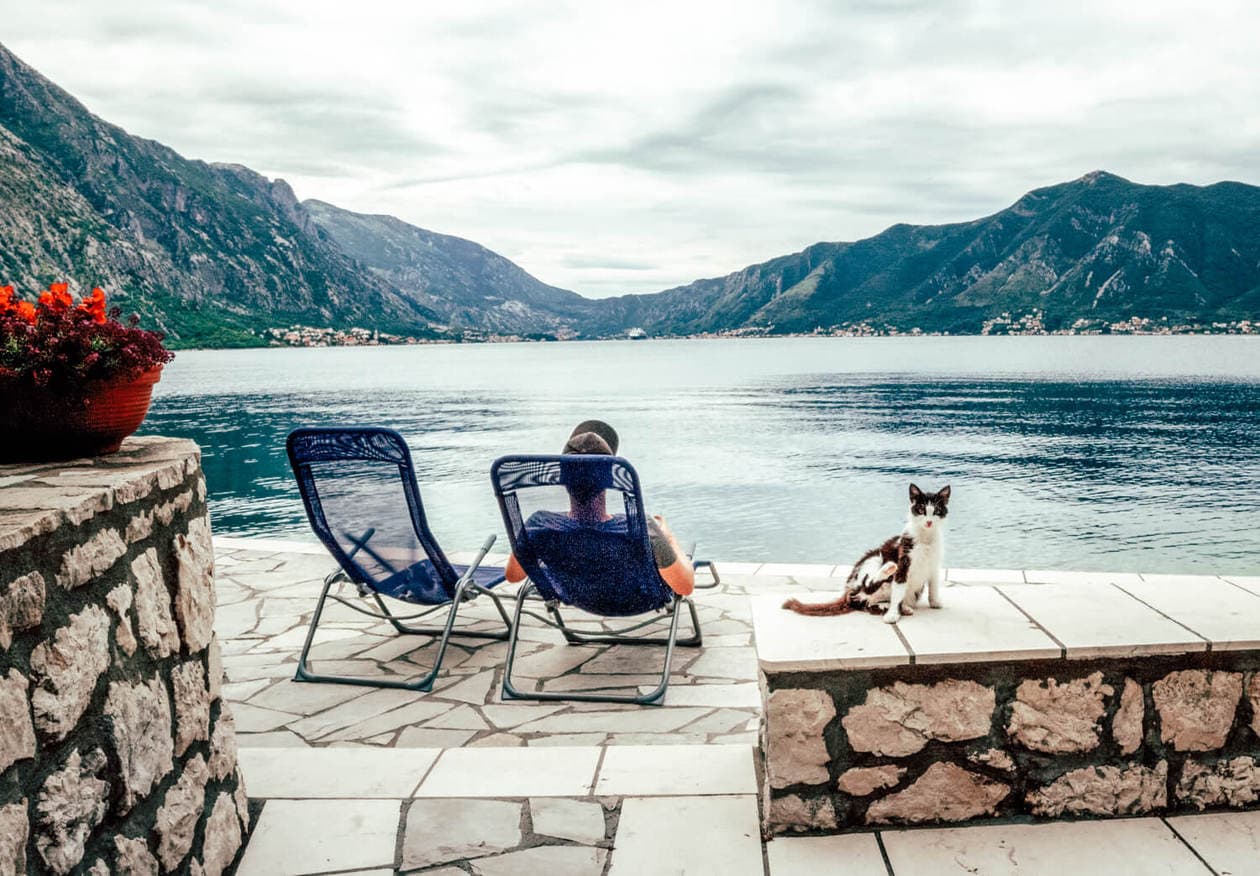 PLAN AROUND THE CRUISE SHIP SCHEDULE Kotor is a major cruise ship destination and if you've been spending any time in Dubrovnik, you probably know how much of difference that makes in the overall crowdedness of the city.
When planning your day trip from Dubrovnik to Kotor, check out the cruise ship schedule in advance. If possible, plan your day around when few to no ships are in port. Check out the year's schedule here.
DRIVING LOGISTICS Both Montenegro and Croatia drive on the right side of the road.
Talking on your cellphone while driving is illegal and speed limits are strictly enforced.
The roads are in good condition and it's an easy drive with not much traffic.
GET GAS IN MONTENEGRO When heading back to Dubrovnik, it's much cheaper to fill up your rental car in Montenegro. There's a gas station close to the border, near the supermarket Voli.
And that's it! Good luck on your day trip from Dubrovnik to Kotor. If you have any questions, feel free to leave them in the comments below.
---
PIN IT // DUBROVNIK TO KOTOR: AN EASY DAY TRIP