Eat a falafel sandwich at L'as Du Fallafel, drink wine on the River Seine and stock up on French skincare at CityPharma. These are my 3 Paris non-negotiables and it's simply not a trip to the City of Lights if one of these fails to happen.
You know I love a French pharmacy, and my French skincare hauls are some of the most popular posts on this blog, so I'm guessing the feeling is mutual.
If you have not read my other CityPharma posts, click the links below. I recommend starting with "Tips for Visiting" to help your trip run smoothly. The pharmacy is only getting busier and if you've never been, I'm warning you .. it's extremely overwhelming.
---
MY OTHER CITYPHARMA POSTS & HAULS
---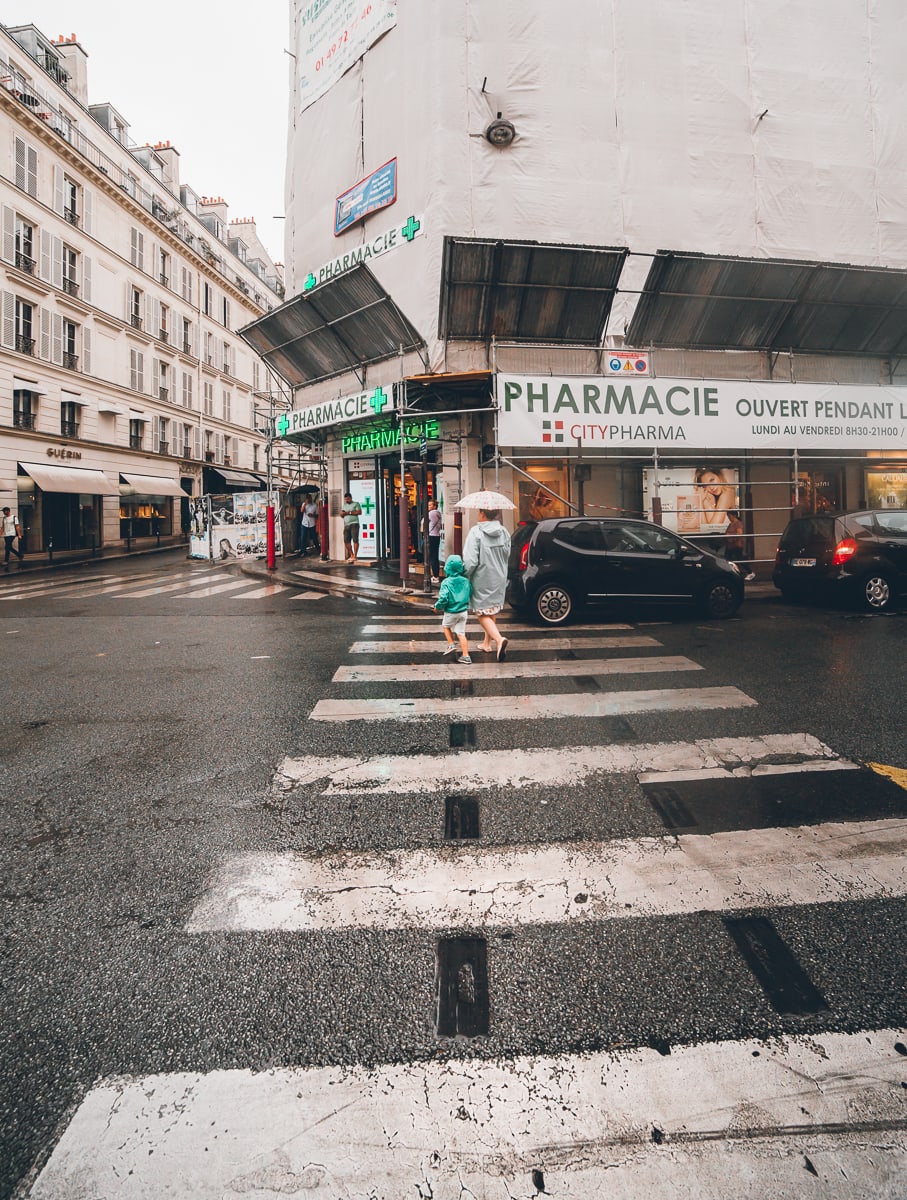 It's been 3 years since I've been to the pharmacie on Rue du Four and there were a few big changes worth noting:
The 2 packs of Bioderma Crealine are no longer available (scroll down to see what they've replaced them with). This is one of their bestsellers, so I was sad to see this.
The cash registers have been moved and it feels a lot more hectic checking out.
All of the medicinal products (Homeoplasmine, A313) are now behind the cash registers on the bottom floor.
During this most recent trip to CityPharma, I grabbed all my favorite tried and true products, but I also branched out and am excited to test some new skincare as well. Keep reading for my City Pharma French skincare haul, plus discover how much money I saved by shopping in Paris vs at home in the United States.
CITYPHARMA FRENCH SKINCARE HAUL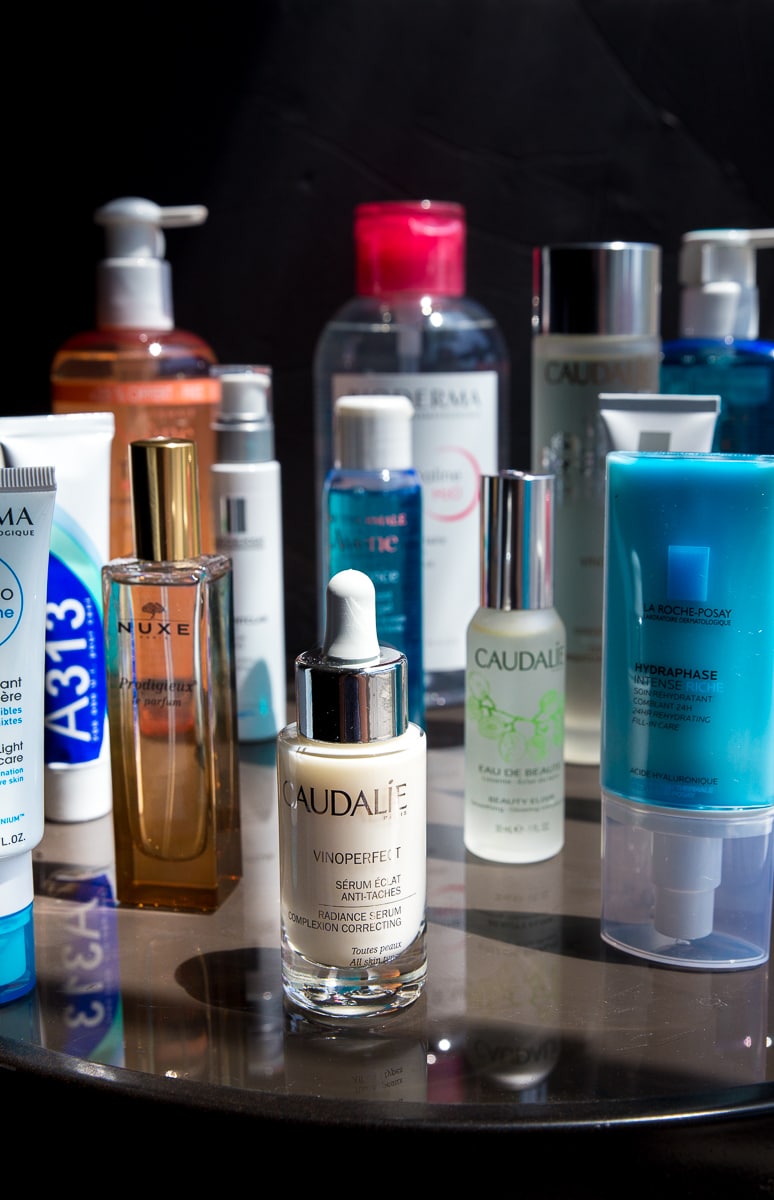 CAUDALIE
I first learned about Caudalie from one of my favorite makeup artists, Lottie (check out her work it's incredible). I would stalk her kit photos and watch all of her Periscope videos (remember Periscope?) and I noticed that she carried a lot of Caudalie in her personal and professional kits. 
Per her recommendation, my first Caudalie purchase was their best selling Beauty Elixir and I was hooked.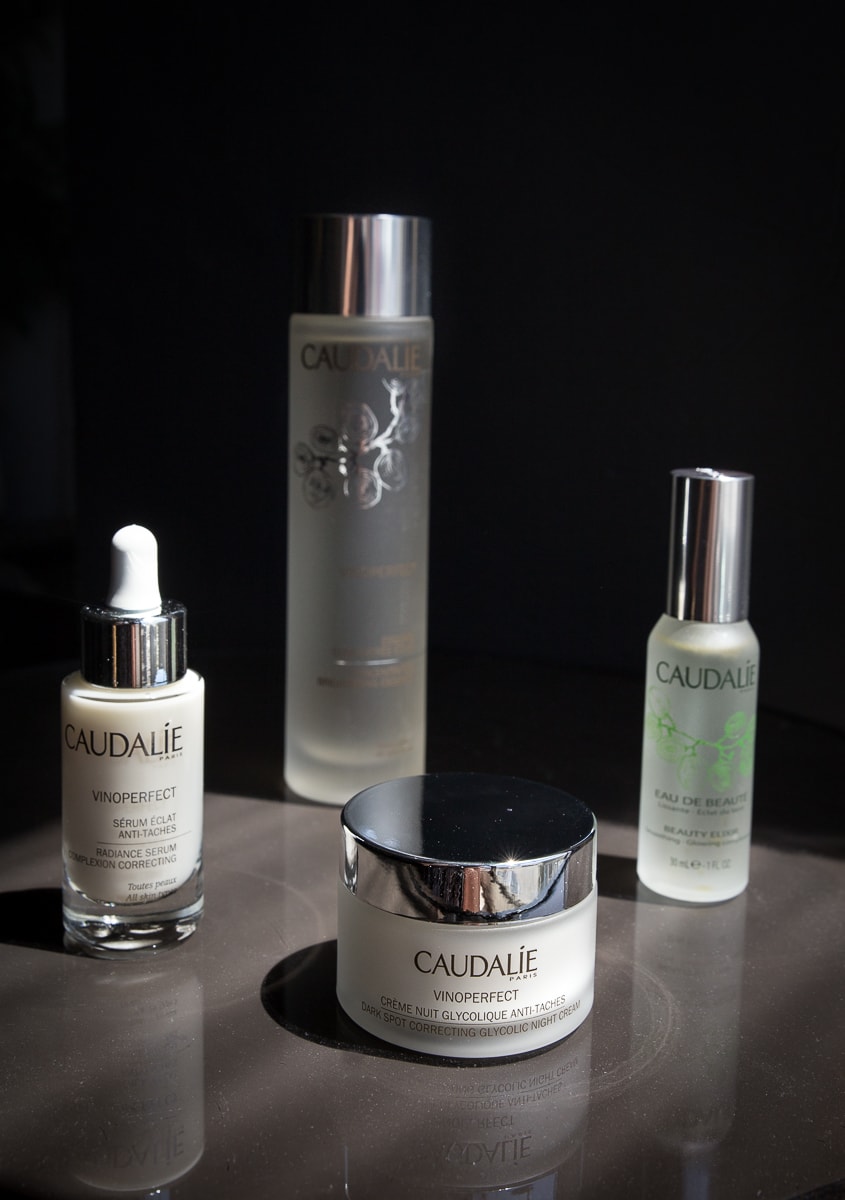 Caudalie is very expensive in the United States and it's one of the most pricey brands at CityPharma but it's still 20-50% cheaper than at home.. so I always stock up.
VINOPERFECT GLYCOLIC ESSENCE
This time around, I picked up the Vinoperfect Glycolic Essence which is a beauty water that feels a lot like a toner.
It contains glycolic acid for brightening and removing dead skin cells, organic grape water to exfoliate and hydrate, and white peony extract for luminosity and radiance. It's supposed to lighten dark spots and provide a more even skin tone. 
PRICE AT CITYPHARMA €25 | PRICE IN THE US $50
VINOPERFECT GLYCOLIC NIGHT CREAM

I was in dire need for a new night cream and this was a really good price (its over 1/2 the price at CityPharma vs Sephora in the US!).

The Vinoperfect Glycolic Night Cream contains Viniferine which is said to lighten dark spots, acne scars, and hyperpigmentation 62 times more effectively than Vitamin C. It also contains hyaluronic acid, glycolic acid and papaya extract to hydrate, brighten and even out your skin tone.  

UPDATE: I finished the entire pot and I officially love this night cream. It is super hydrating, to extent that when I wake up my skin still feels moisturized. I do also notice a radiance in my skin when I use it. I would definitely repurchase.

PRICE AT CITYPHARMA €28 | PRICE IN THE US $65
BEAUTY ELIXIR

Like I've mentioned before, this is one of my favorite Caudalie products. I spray it on the skin before foundation and it adds a dewiness and luminance to the finished makeup look.

It's filled with essential oils and plant extracts and smells amazing. Just about every client I spray it on mentions that they feel calm after I use it. 

Since I still have my full sized one at home, I bought this travel sized version to add to my travel makeup bag.

PRICE AT CITYPHARMA €9 | PRICE IN THE US $18


RELATED POST: KUSSHI // THE TRAVEL MAKEUP BAG YOU NEED TO KNOW ABOUT
---
CAUDALIE VINOPERFECT SERUM
Citypharma was having a special where if you purchased 2 full sized Caudalie products, they gave you a Vinoperfect Serum for free.

I actually bought this serum last time I was in Paris. I liked it but I didn't see enough results to justify purchasing it again… but I'm definitely not going to turn down a free one. Especially since it retails for $80.