Situated along the coast in the Northwestern corner of France, you'll find a picturesque little fishing village known as the oyster capital of the country. We visited Cancale on a day trip and the town was surprisingly quiet on a Saturday afternoon in July. It's the epitome of sleepy seaside town, which ended up being one of our favorite stops during our road trip through Brittany (Bretagne).
Keep reading to discover things to do in Cancale, what to eat, where to stay and tips for visiting.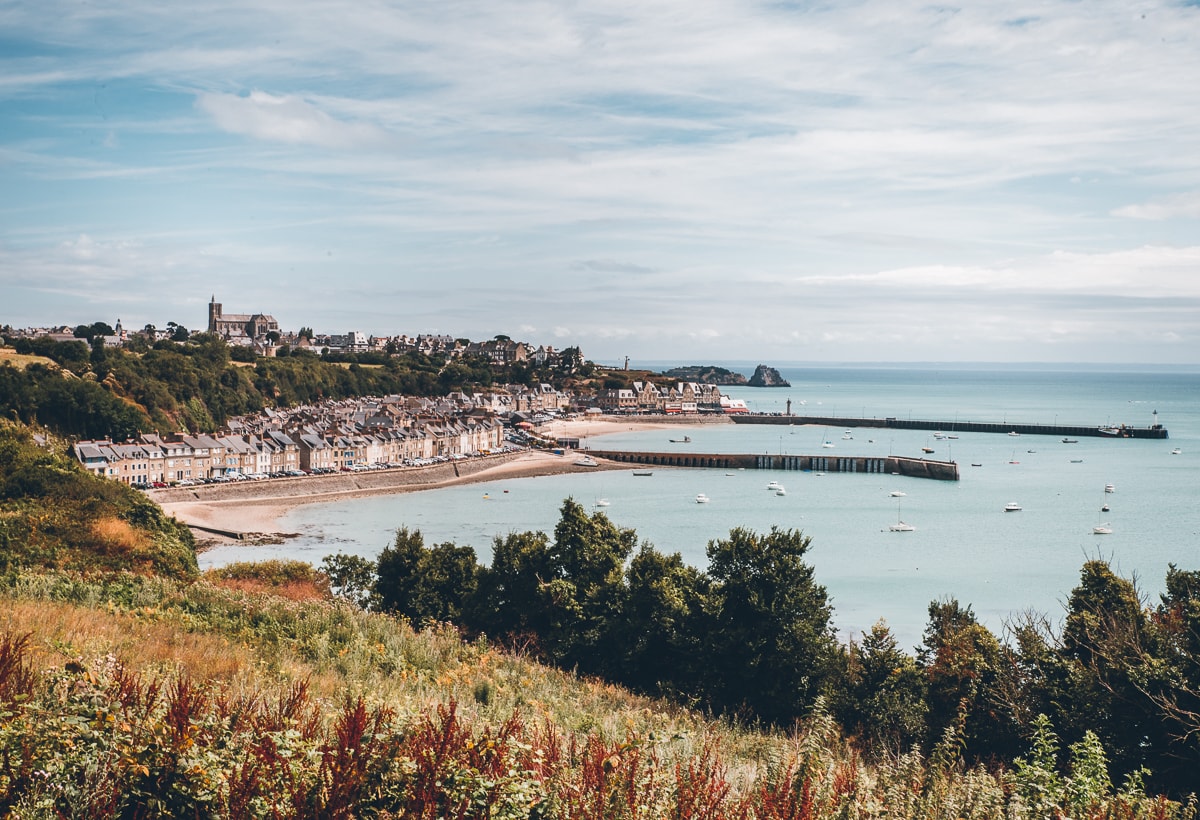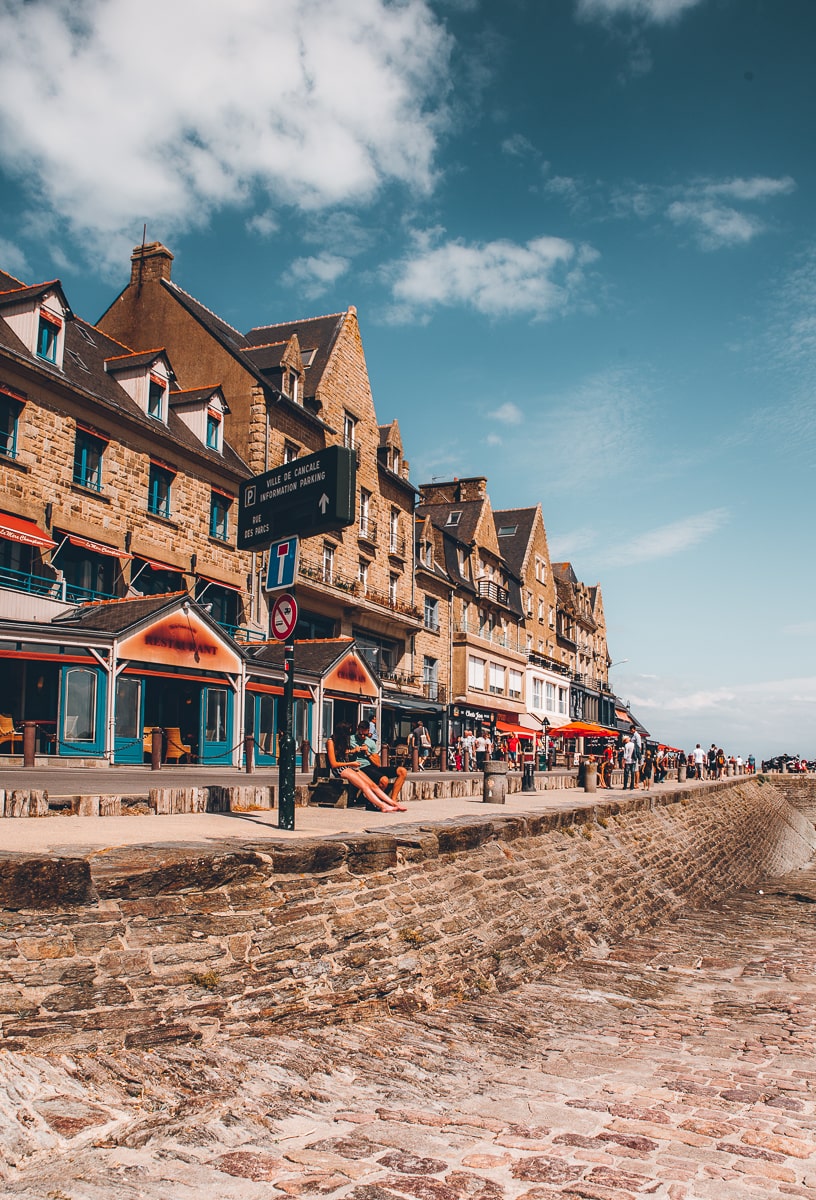 THINGS TO DO IN CANCALE, FRANCE
Cancale is very small. You can walk from one end of the port to the other in about 5 minutes, so this is definitely not an action packed destination.
There are two sections of the town, the lower port area and the upper town center. Most people spend their time in the lower half, walking along coast, shopping, popping into restaurants and enjoying the beautiful scenery.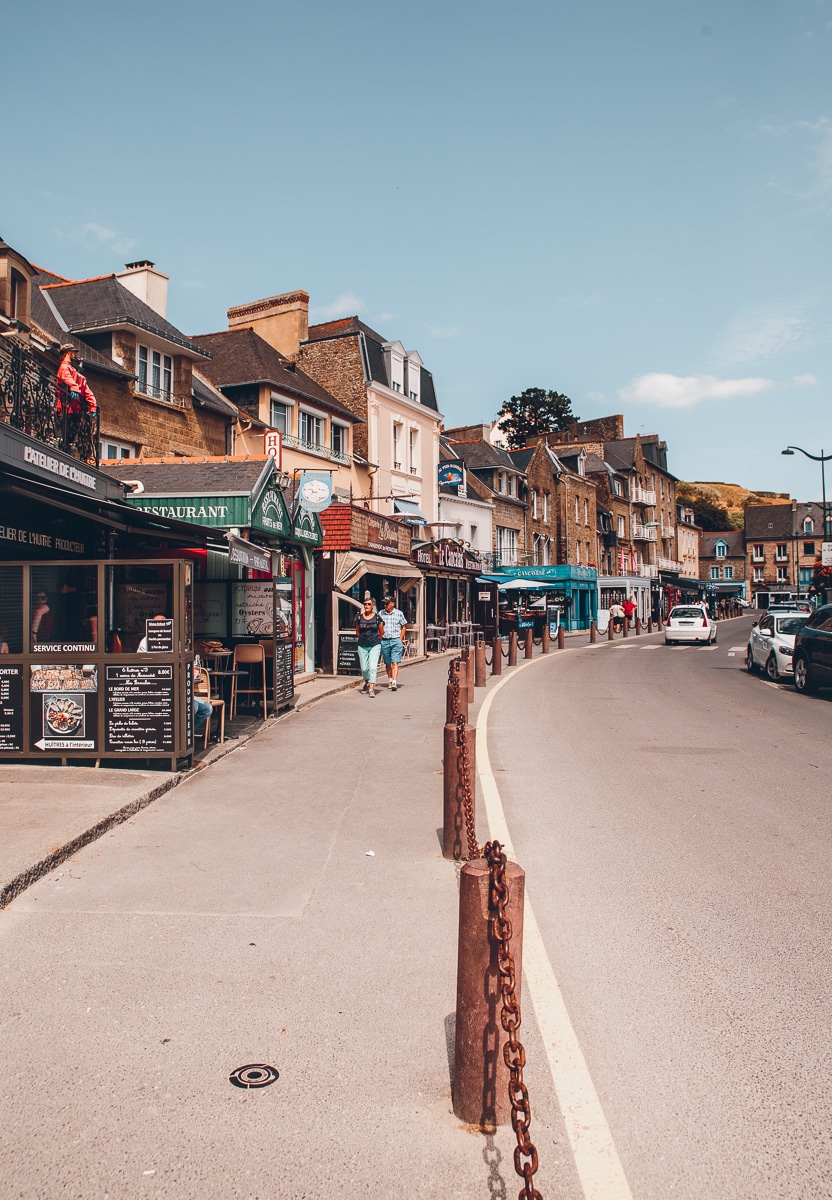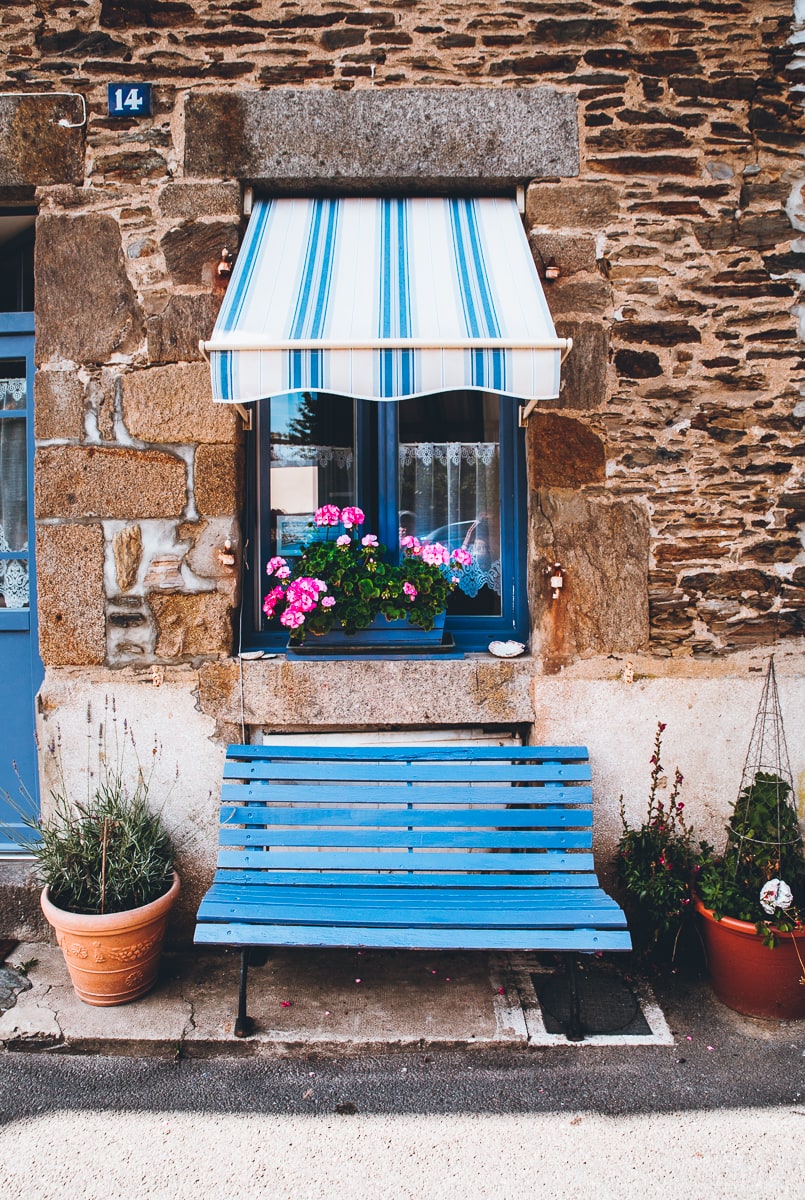 IMMERSE YOURSELF IN OYSTERS
Cancale is home to 2.8 square miles of oyster beds ( 7.3 square kilometers) which harvest 25,000 tons of oysters each year.
The wild growth is attributed to the high quality of plankton in Mont Saint-Michel Bay and tourists from all over travel to Cancale for a taste of the town's famous shellfish. Rumor has it that even Louis XIV would order Cancale oysters to be delivered to him at the Palace of Versailles.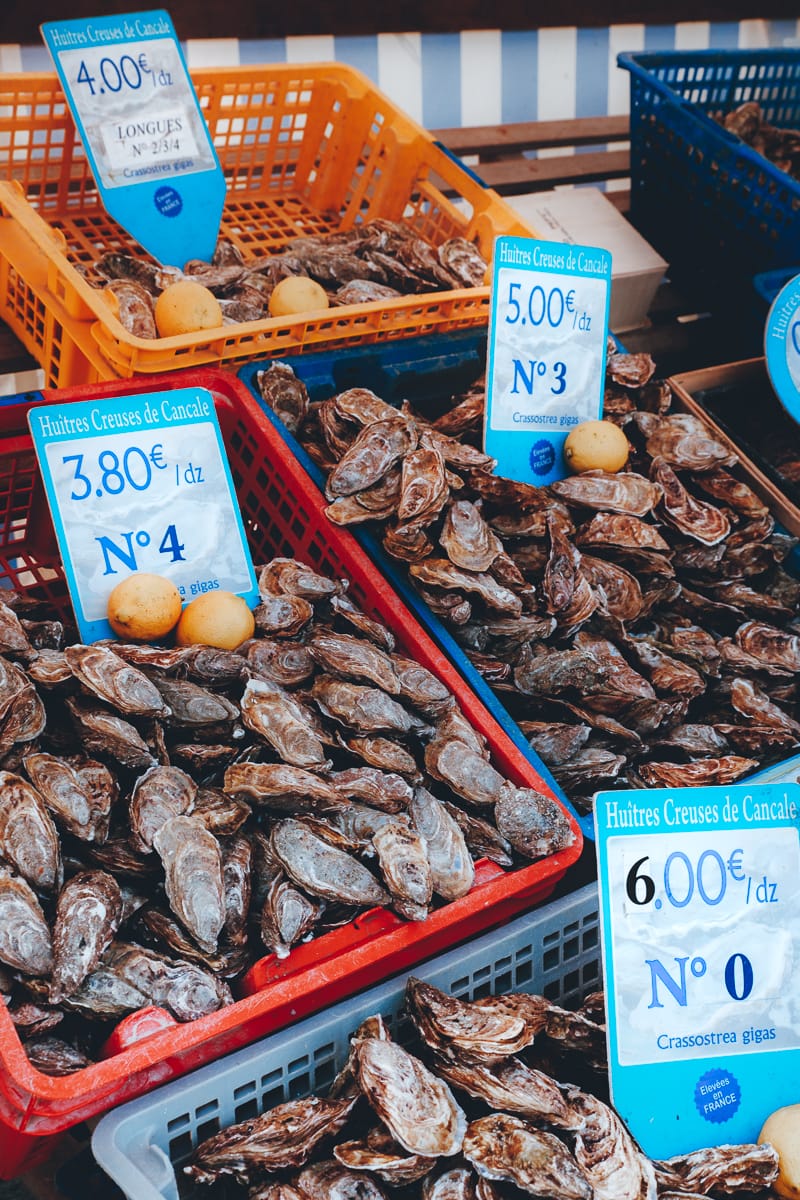 The majority of France's flat oysters are farmed in Brittany. But while the Belon oyster (or huître plate) is native to the region you'll find mostly rounded oysters in Cancale, and they're available at just about every restaurant and food stand along the coast.
Make sure to walk over toward toward the pier to browse the daily oyster market, Marché aux Huîtres, to purchase your oyster plate from the farmers themselves.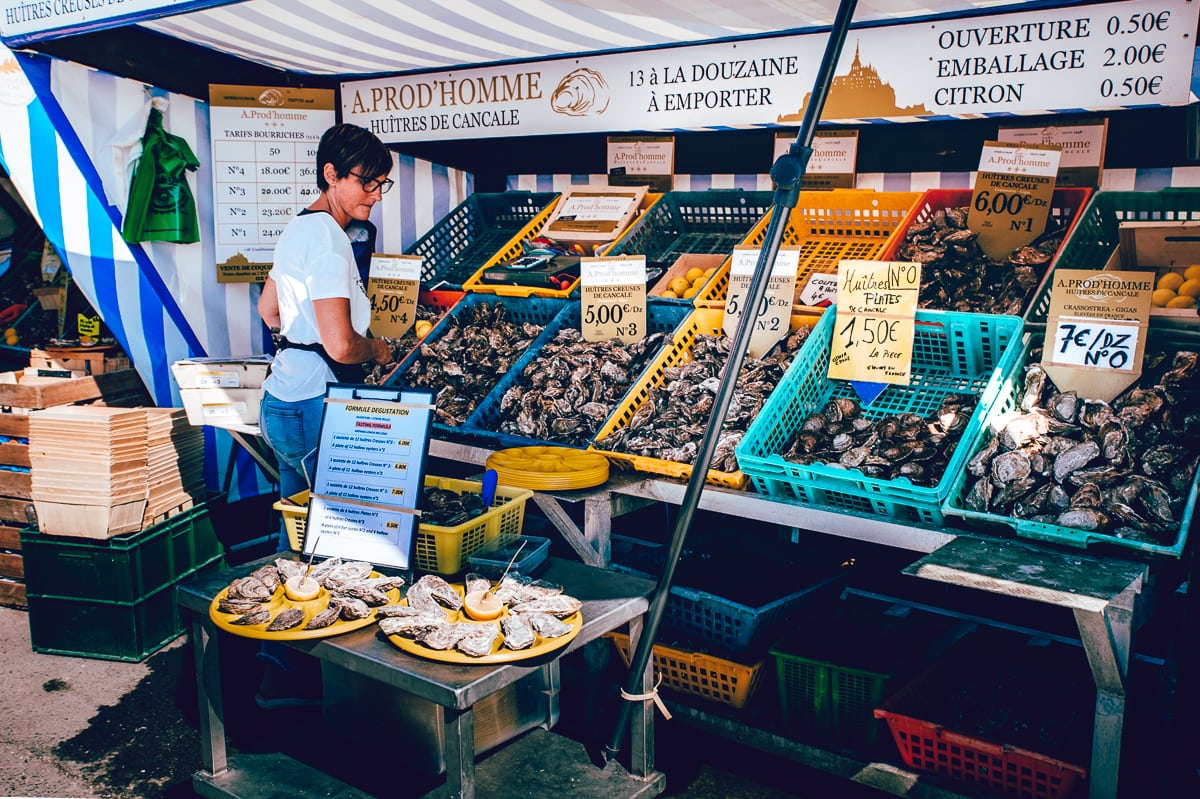 MARCHE AUX HUITRES
We discovered Marche aux Huitres by accident while walking along the pier. It's an unassuming market with only about 8-10 stands, all selling their daily catch.
Once you purchase a fresh oyster plate from your farmer of choice, head over to the concrete steps to enjoy your snack with perfect sea views.
You'll notice that the entire beach is comprised of empty oyster shells from visitors who have eaten here before you. It was one of the most unique seafood experiences we've ever had and I highly recommend it if you're in Cancale.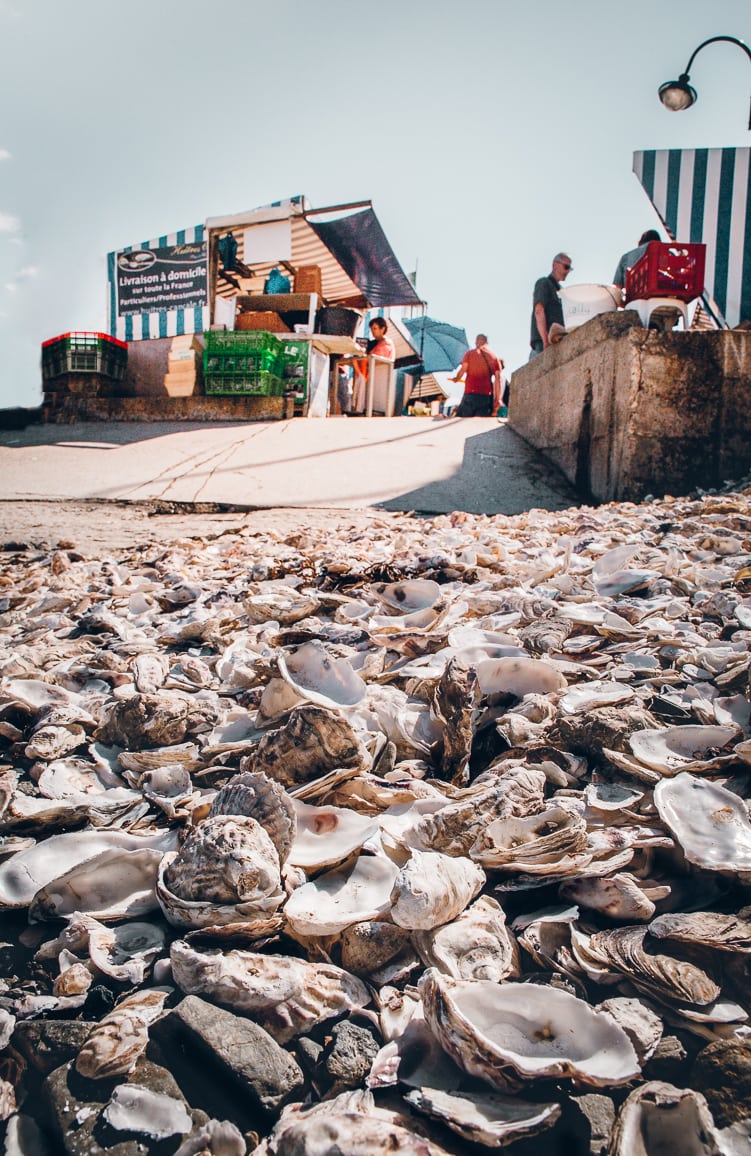 WALK ALONG THE PIER
After lunch at A Contre Courant (keep scrolling for more info about this restaurant below), we decided to walk off our meal by taking a stroll down the pier. It's a pleasant walk that gives you a great view of Cancale from the water.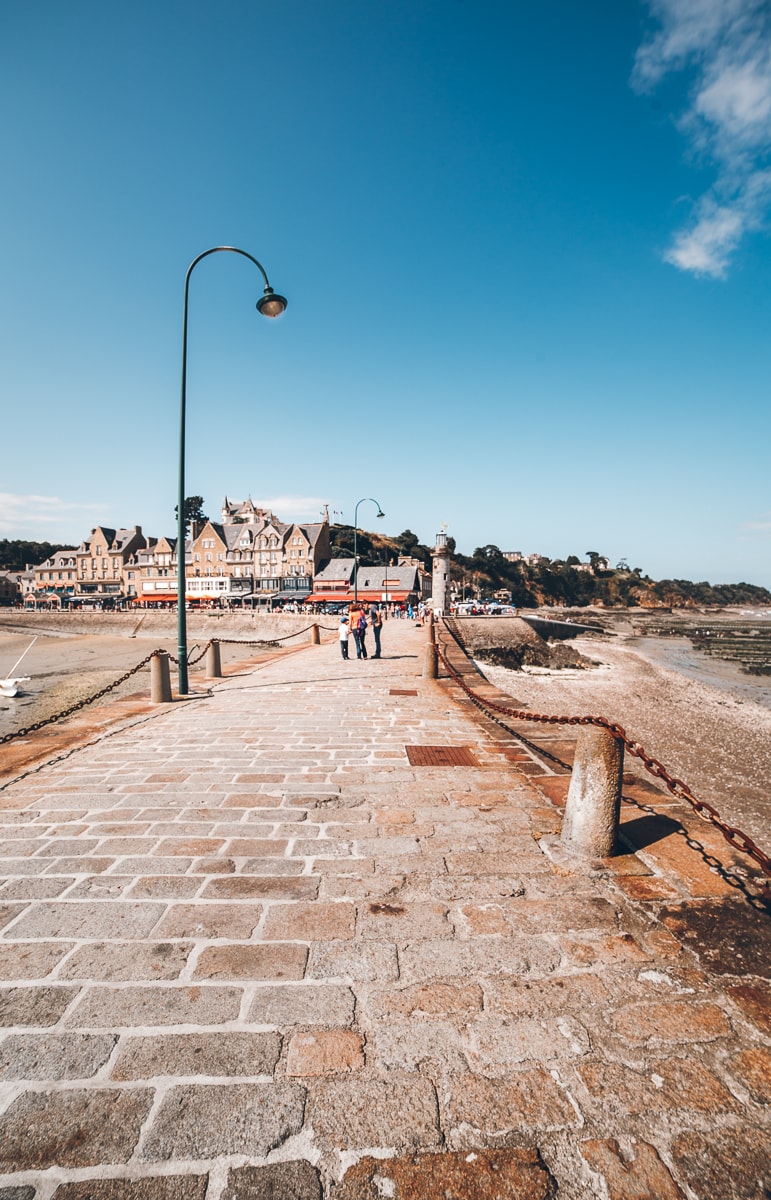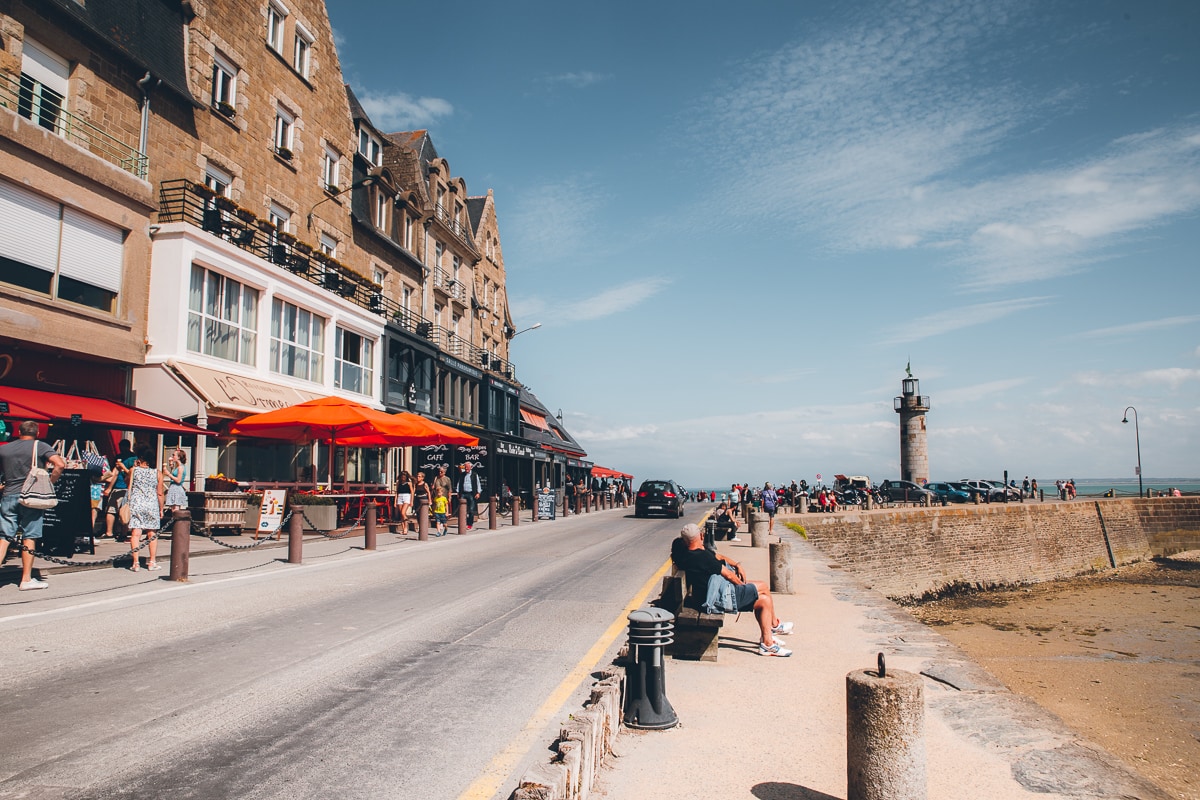 VISIT EGLISSE SAINT MEEN
Eglisse Saint Meen is Cancale's small church which was built between 1715 and 1727.
The inside of the church is simple and a little stark, but the pops of color from the stained glass windows give it a bit of life.
On the walls you'll find tributes to the fisherman and seafarers who've lost their lives at sea.
Eglisse Saint Meen is located in the upper part of town near the tourist office and if you are a fan of churches, it's worth taking a few minutes to stop in and look around.
ADDRESS: Place de la Republique, 35260 Cancale, France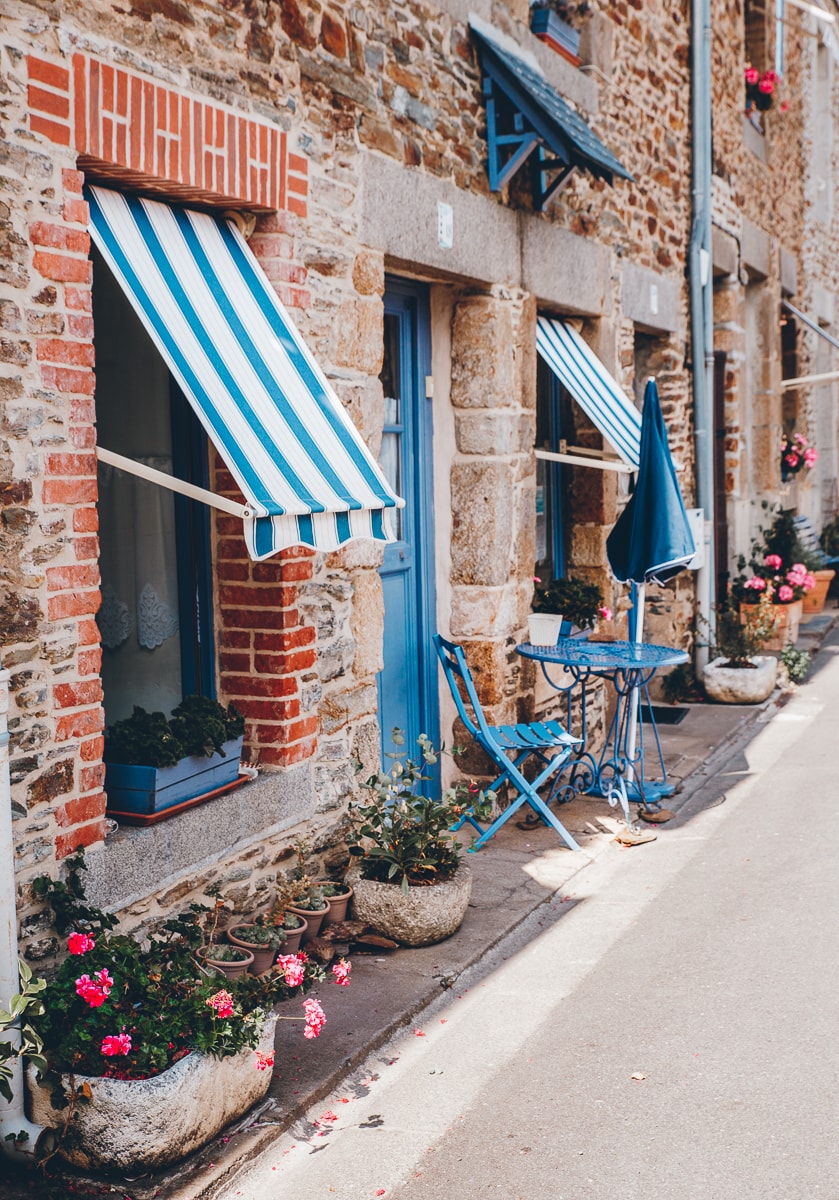 SHOP FOR SOUVENIRS
Along the main street in Cancale's port area, you'll find about a dozen shops scattered amongst the many seafood restaurants.
The shops sell typical souvenirs like postcards and magnets but you can also pick up some unique pieces such as nautical themed home decor, airy linen clothing items or local handmade art.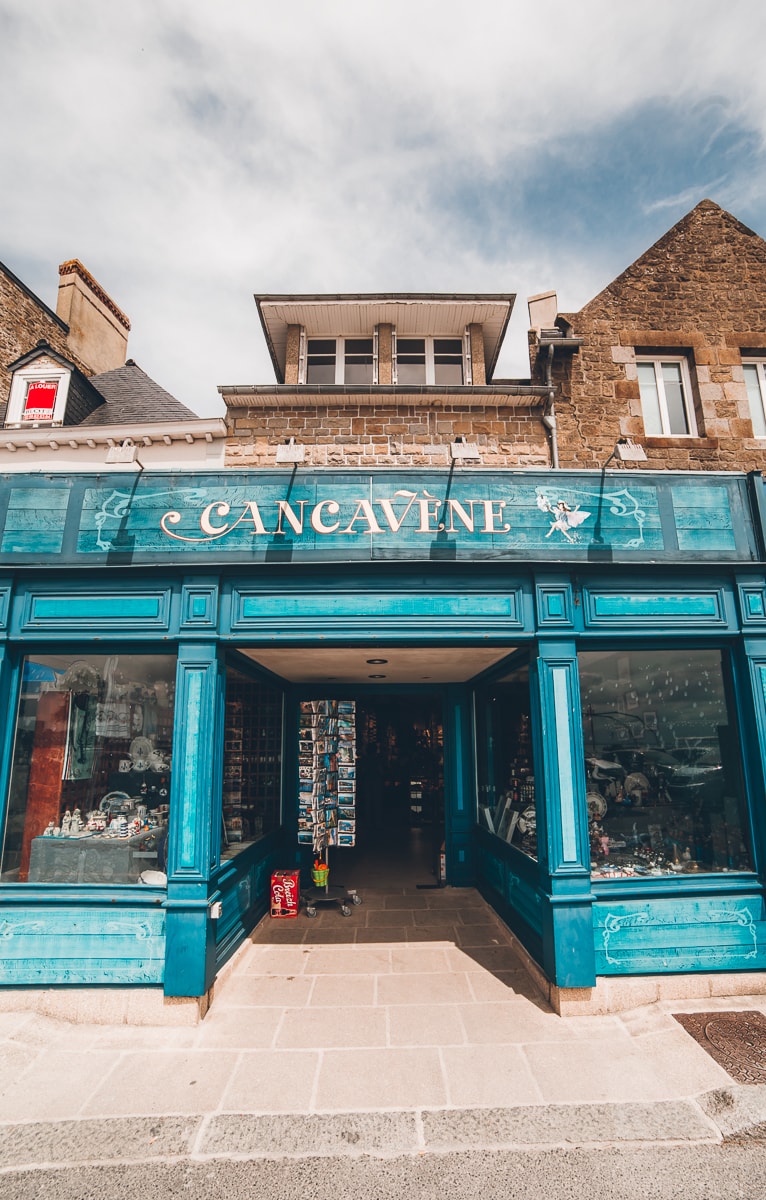 HIKE TO LA POINTE DU GROUIN
One of the most popular things to do in Cancale is to walk out to La Pointe du Groin, the westernmost tip of Mont-Saint-Michel bay.
The scenery is incredibly beautiful, with jagged seaside cliffs a lighthouse and on a clear day, and you can even see the silhouette of Mont Saint-Michel out in the distance.
Click here for more information about La Pointe Du Grouin, on visit Brittany Tourism's website.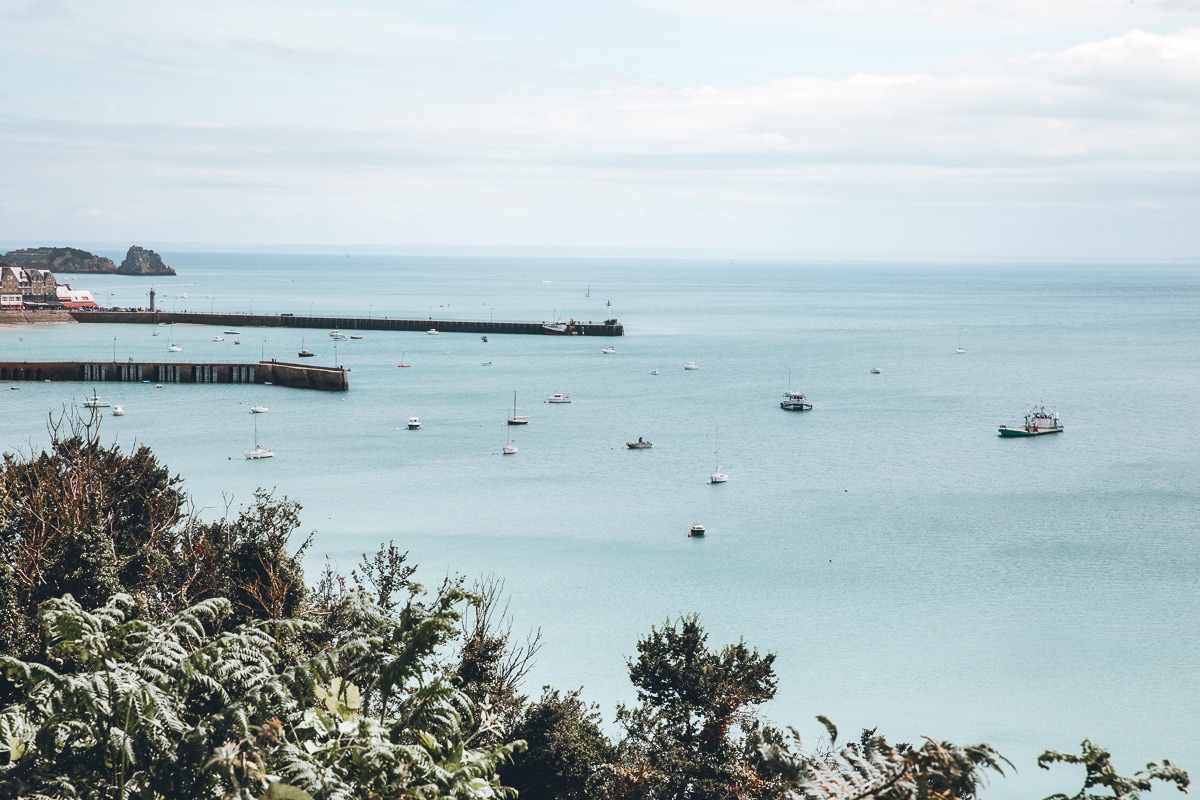 We weren't aware of La Pointe Du Grouin until after we left, but we did find a few amazing and similar viewpoints of our just by driving around the town.
CANCALE RESTAURANTS // WHERE TO EAT
L'ATELIER DE L'HUITRE
After walking up and down the main street, peeking into all the restaurant windows, we decided to have our first taste of the famous Cancale oysters at L'Atelier de L'Huitre.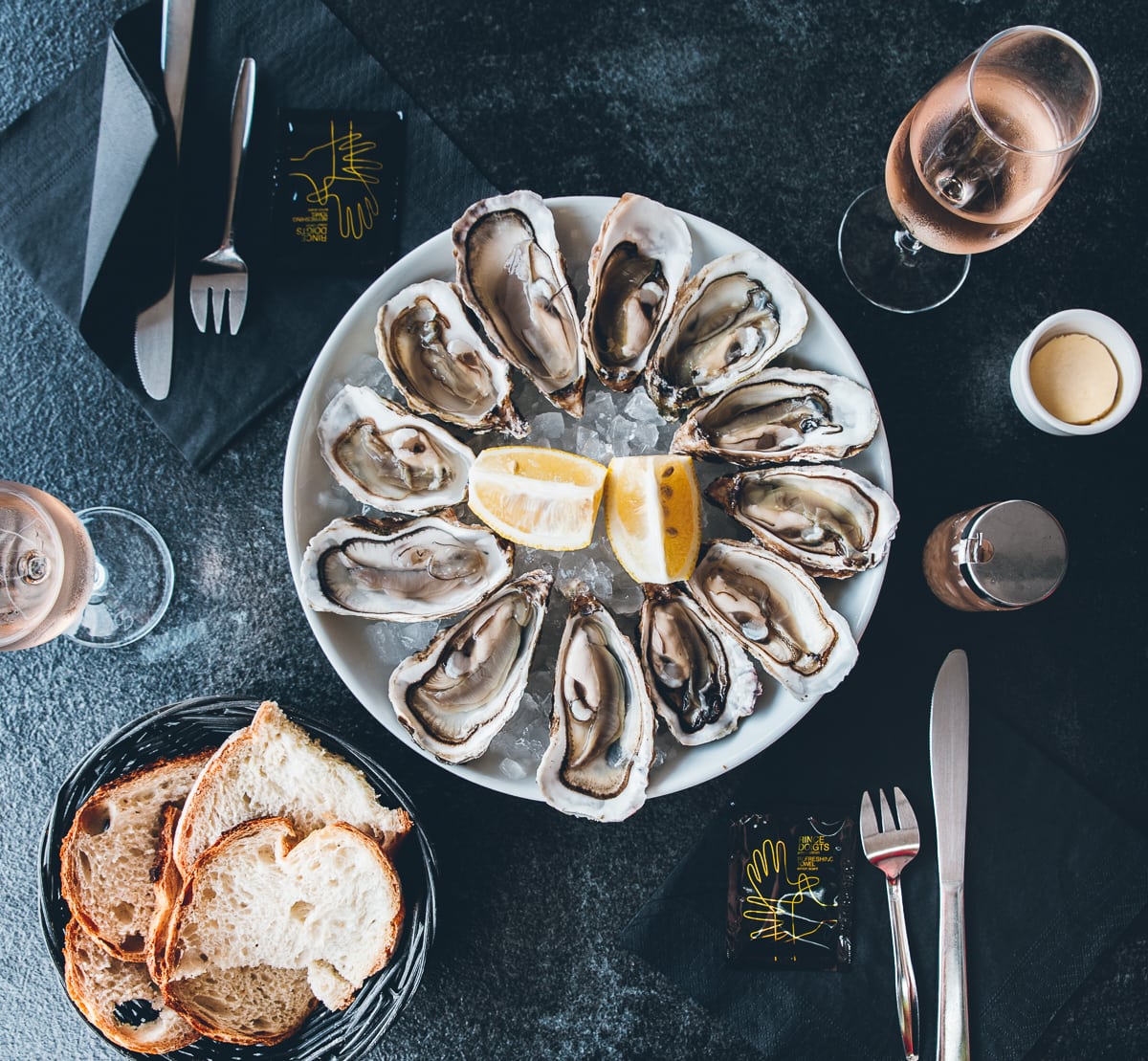 We didn't know this at the time but L'Atelier de L'Huitre is the number one restaurant in Cancale on TripAdvisor, and after eating here we now understand why.
Fresh oysters are laid out on display, grouped by size and price. Once you make your choice, the women will shuck them and present them to you on a platter, alongside bread, lemon and Migonette sauce.
Without a doubt, these were the best oysters we've ever had. No comparison. They even beat that little sustainable oyster farm we stumbled upon in Montenegro.
ADDRESS 15 quai Gambetta, 35260 Cancale, France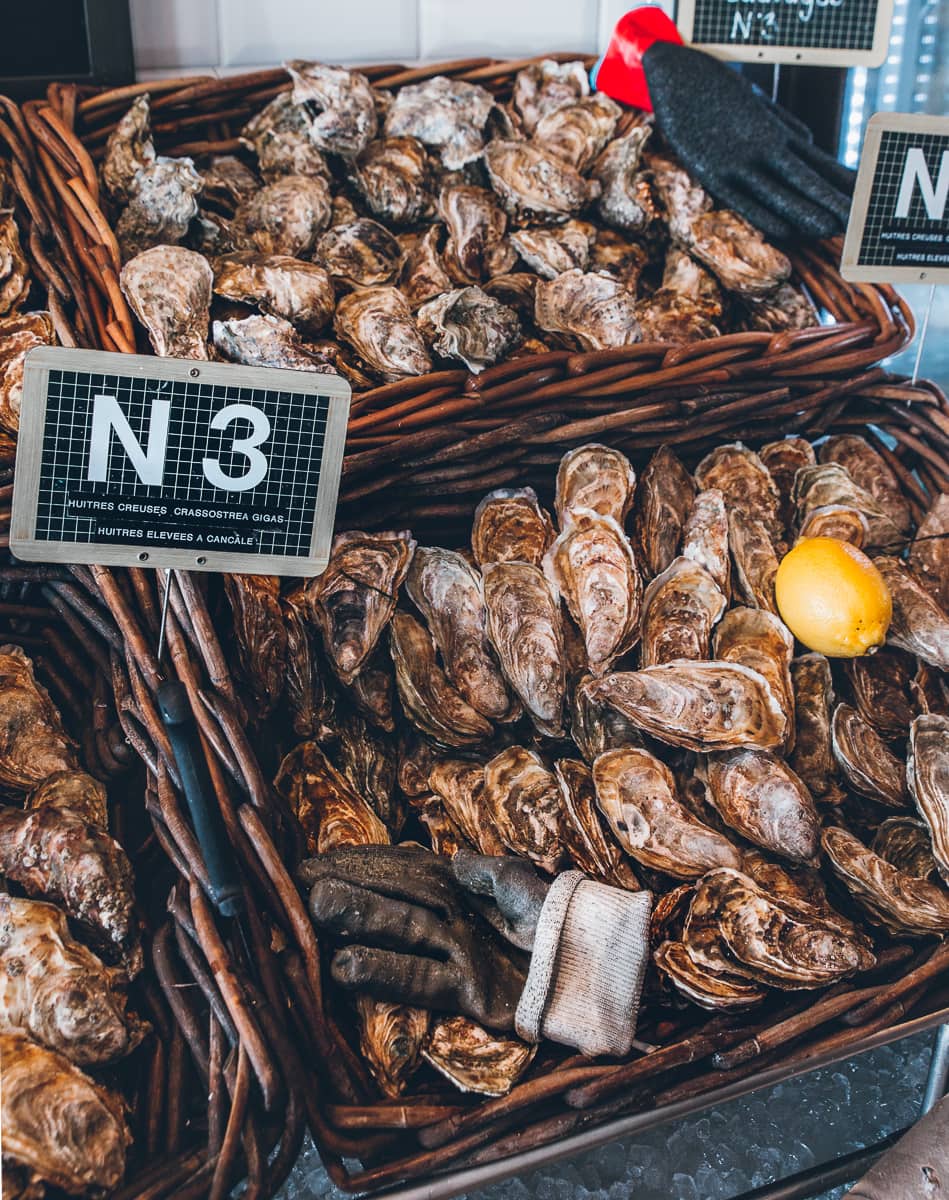 A CONTRE COURANT
About an hour after our oyster plate at L'Atelier de L'Huitre we started to get hungry for lunch. While all of the restaurants along the port had 1-2 tables full, there was a wait at A Contre Courant.
We hadn't researched many restaurants in Cancale, but this is usually a good sign so we put our name in for a table. Nick and I are not big seafood eaters, but we figured that if we were ever going to branch out, Cancale was the place to do it.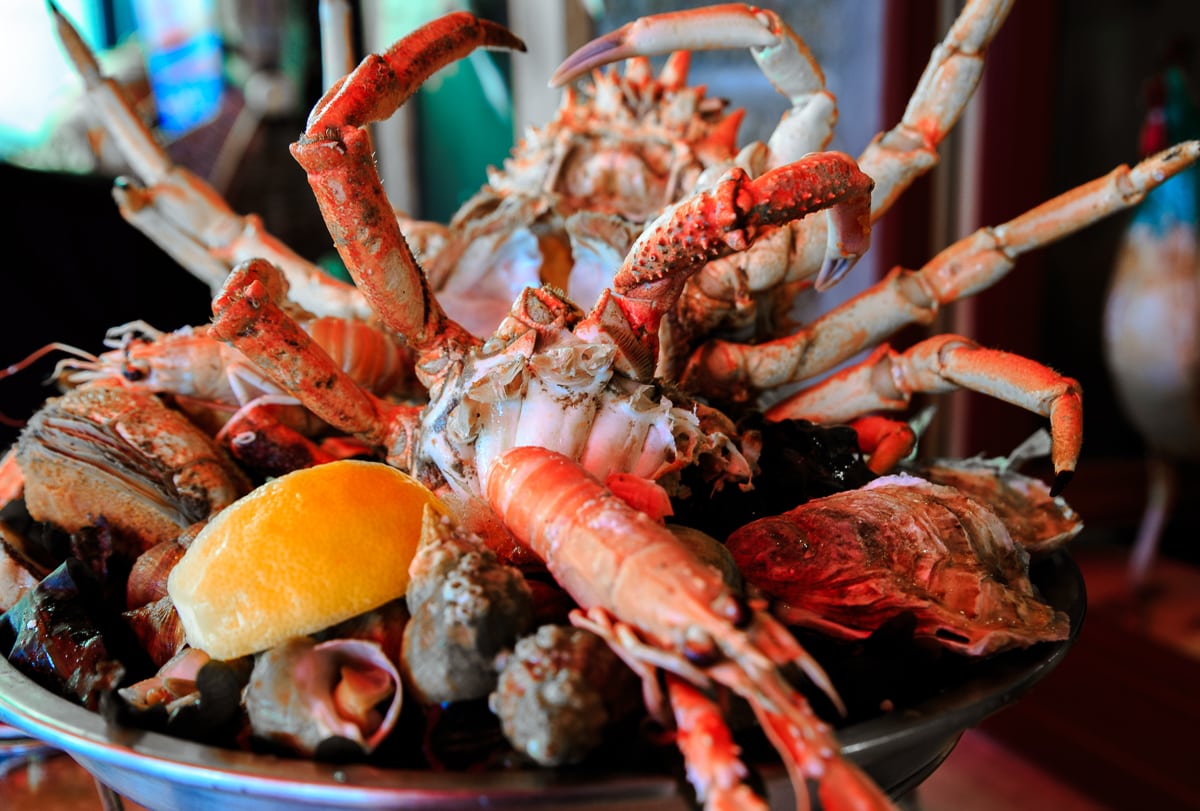 We ordered the seafood platter for 2 with crab, a pot of mussels and two draft beers, and the total for our meal came out to 59 euro.
The seafood tower was enormous and honestly, a little daunting for someone who is not used to cracking open their food. With a little trial and error (and help from our waitress) we figured it out.
While the experience was not exactly for us, if you are a fan of seafood I don't think you could ever get it more fresh than at A Contre Courant. We were told that everything had been caught that morning.
ADDRESS 3 Place du Calvaire | 3,plaçe Du Calvaire, 35260 Cancale, France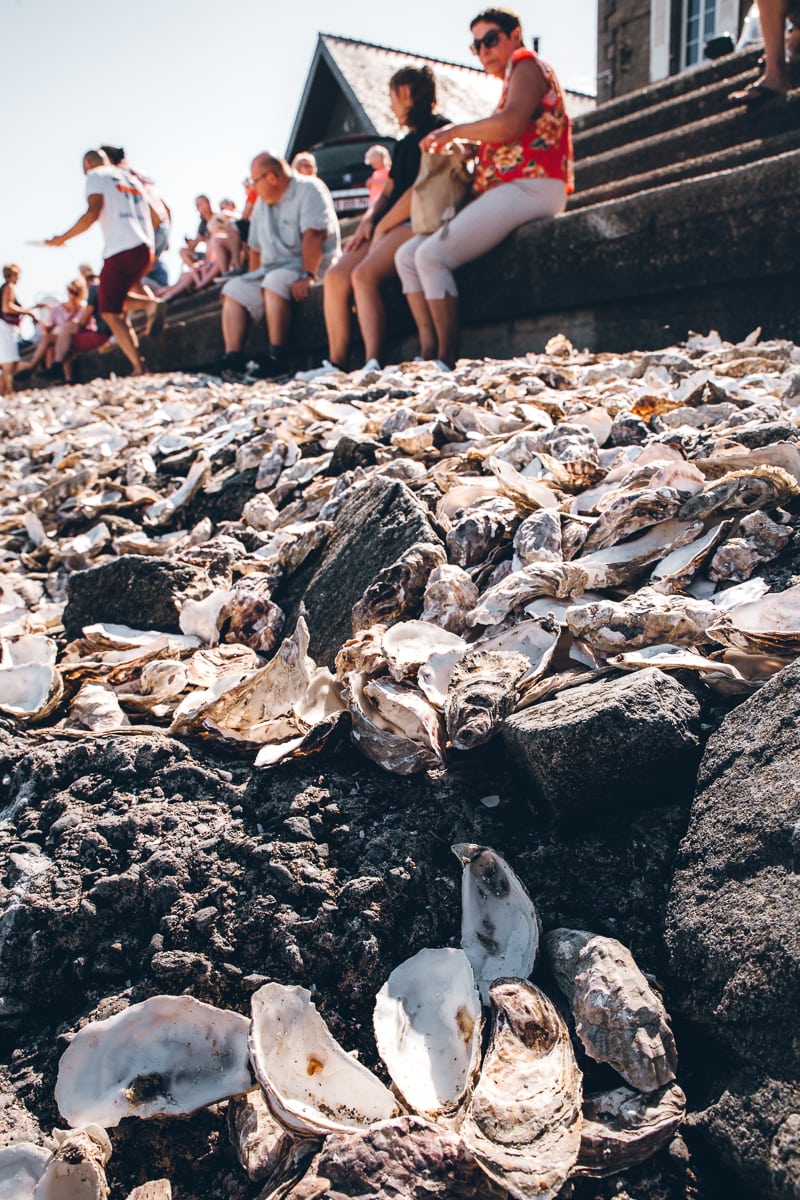 TIPS FOR VISITING CANCALE
BRING YOUR OWN WINE
Near Marche aux Huitres you'll find tons of people scattered about the shoreline, eating their oysters and drinking wine.
There is a convenient little cart that sells wine by the glass near the market, but I recommend stopping into the supermarket at the top of the town (near the tourism office), and grabbing a bottle. Not only is it much cheaper, but they also have a larger selection of white red and rose.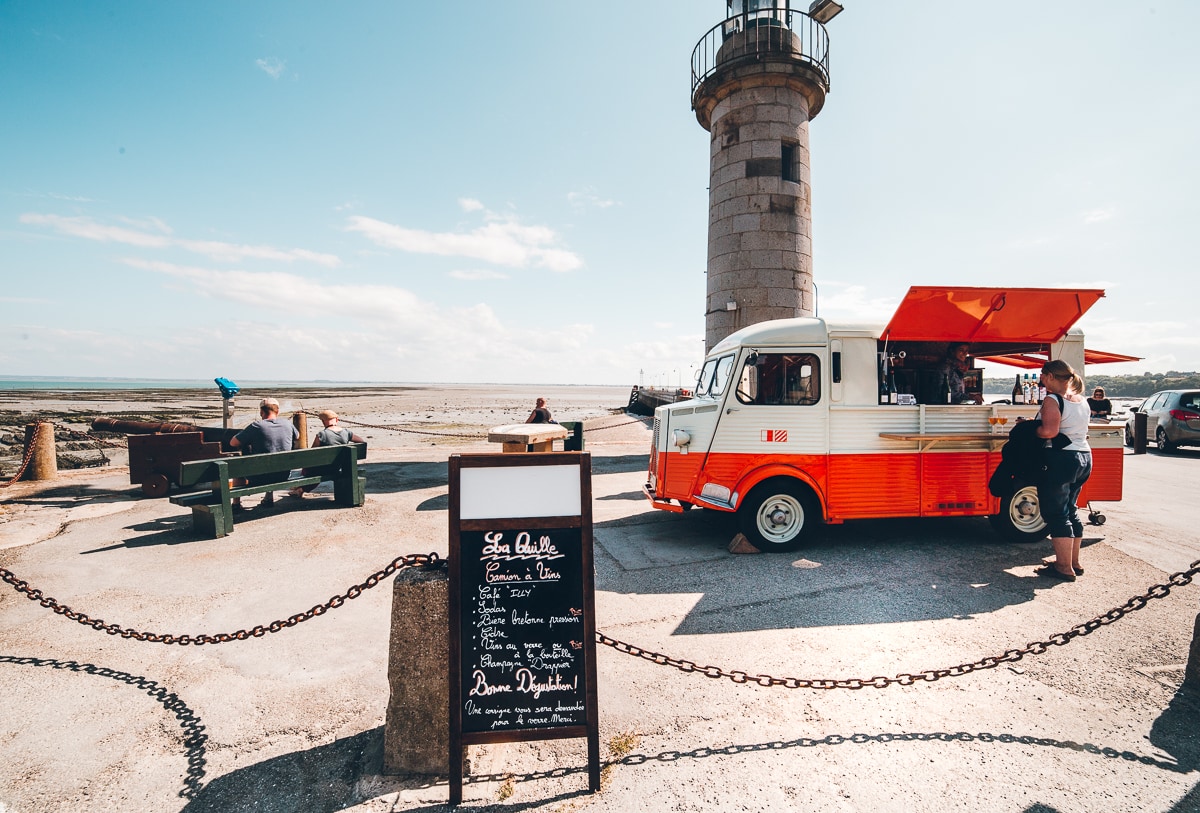 GRAB FREE WIFI IN THE TOURIST OFFICE
The tourism office toward the upper half of town offers free wifi.
We popped in for a minute to Google a few things about Cancale after grabbing wine at the supermarket.
WHERE TO PARK FOR FREE
The women in the tourism office informed us that that parking near the port costs 17 euro for the day, which seems insane for sleepy seaside village with hardly any people.
Instead, she recommended that we park behind the church where there are a handful of free parking spots.
The lot she referred us to was pretty full but we did end up finding a spot. The only downside is that the it's located in the upper half of town so you'll have to walk up and down the hill to reach the port.
The walk was short (5-10 minutes) but might not be suitable for those with disabilities or difficulty walking as the hill was pretty steep.
BRING CHANGE FOR TOILETTES (…IF YOU ARE A WOMAN)
If you are a woman, make sure to have some change on you as public restrooms in Cancale cost .50cents to use. The men's restrooms on the other hand, are free..
There is a free toilet at the tourism office but it is not super convenient as it's located up the hill and they don't have toilet paper or toilet seats.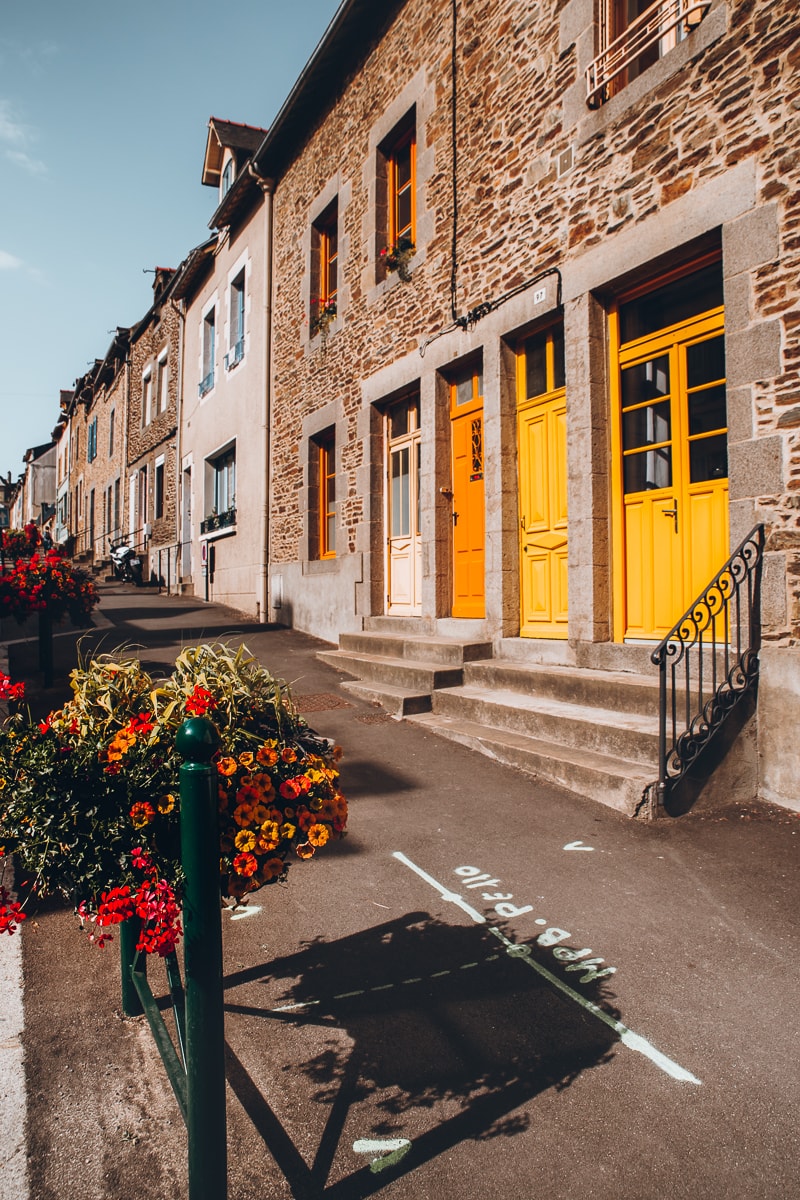 CANCALE HOTELS // WHERE TO STAY 
If I had to guess I would say that most people do not stay the night in Cancale, and instead opt to book hotels in some of Bretagne's larger cities such as Saint Malo. However if you decide to stay, check out these lodging options.
HOTEL LA MERE CHAMPLAIN
Located in the heart of Cancale's port area, Hotel La Mere Champlain offers excellent waterfront views. There is a restaurant on site, free wifi and rooms start at $77USD
For more information or to book, click here.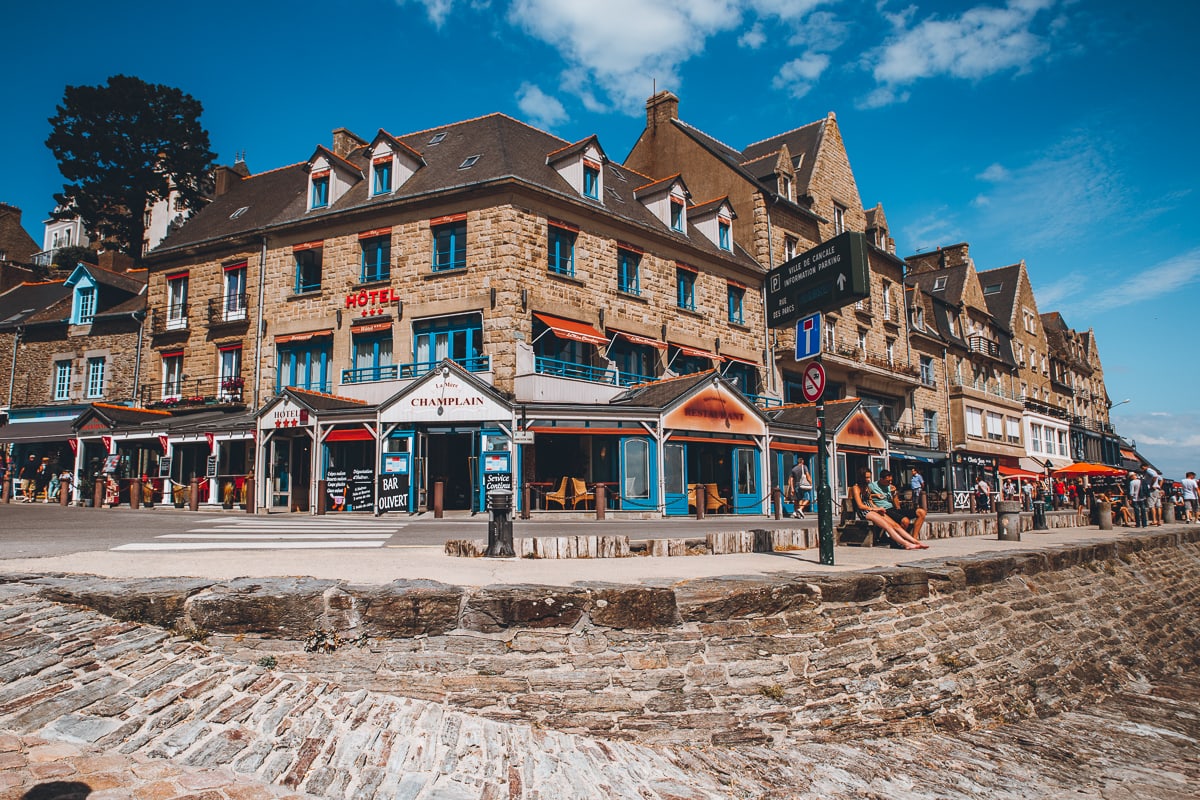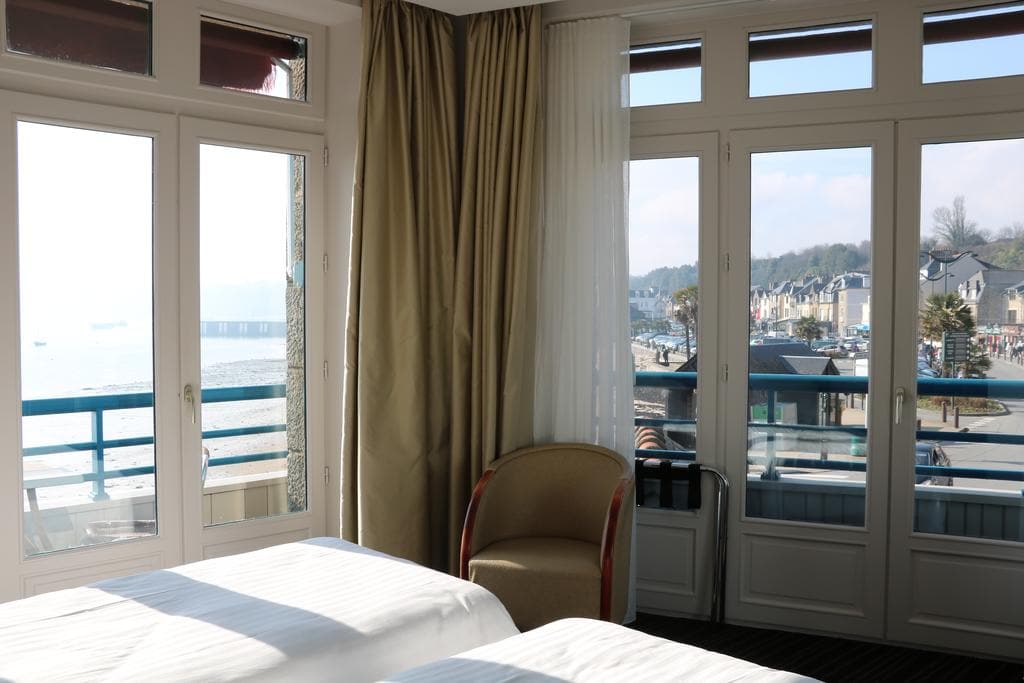 HOTEL MANOIR DES DOUETS FLEURIS
Manoir Des Douets Fleuris is located in a 17th century manor slightly outside of Cancale's center. They have excellent reviews and offer free wifi, a swimming pool and free private parking.
For more information or to book, click here.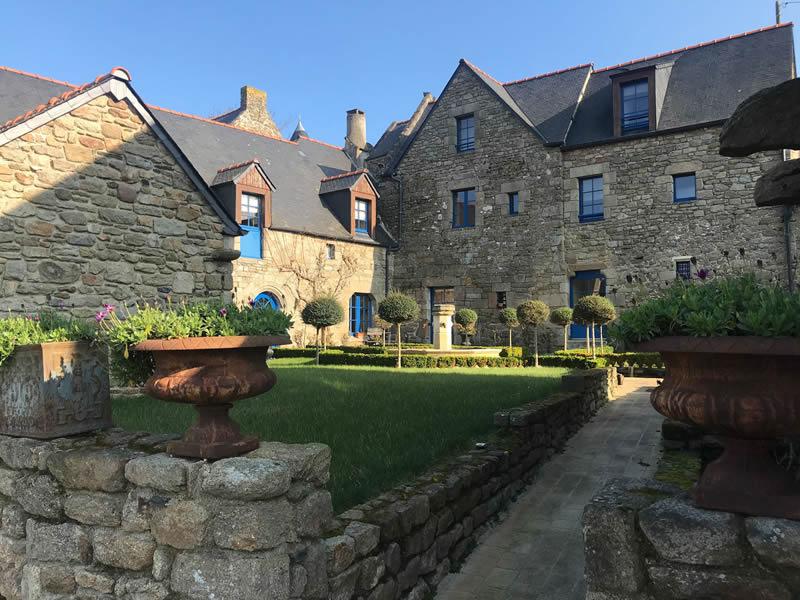 CHAMBRES D'HÔTES DE LA METAIRIE DU VAUHARIOT
Chambres d'hôtes de la Metairie Du Vauhariot is bed and breakfast located a 5 minute walk from the port. It offers panoramic views of Mont-Saint-Michel Bay, a garden, terrace and a heated swimming pool.
For more information or to book, click here.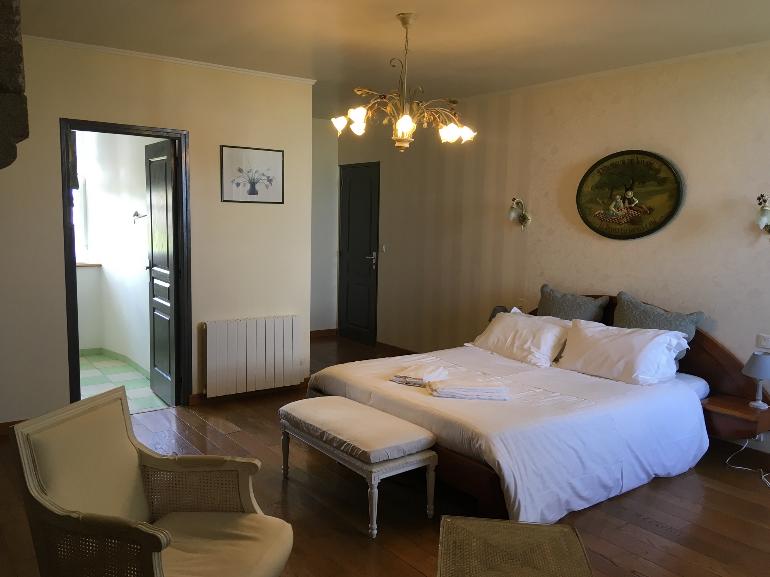 DID I MISS ANYTHING? HAVE YOU BEEN TO CANCALE, FRANCE? LEAVE A COMMENT BELOW!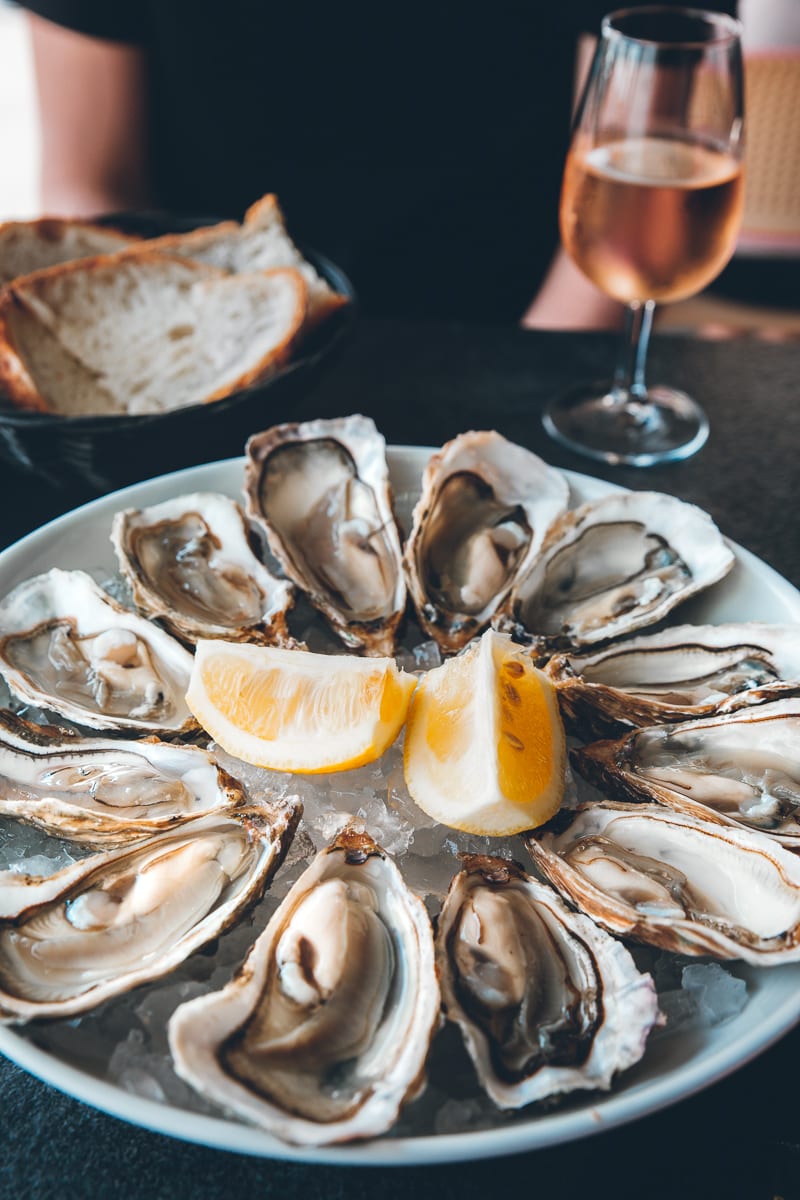 ---
PIN IT // THE CHARMING OYSTER TOWN IN BRITTANY (BRETAGNE) FRANCE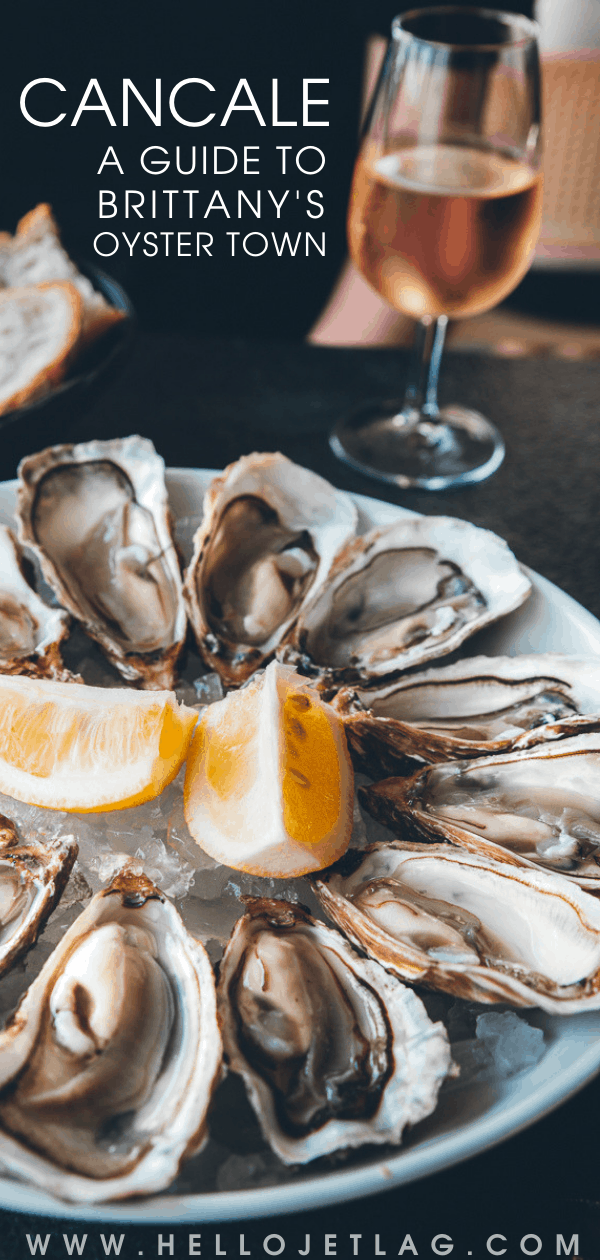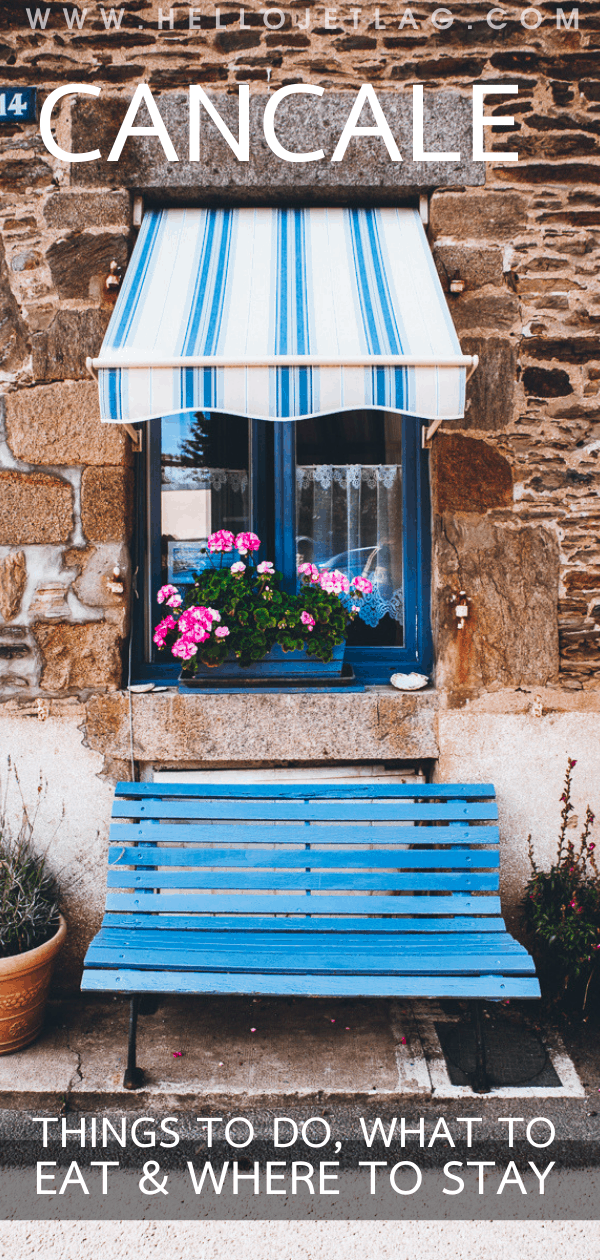 DISCLAIMER: This post is not sponsored. It does contain affiliate links which means if you click them and purchase something, I receive a small commission.