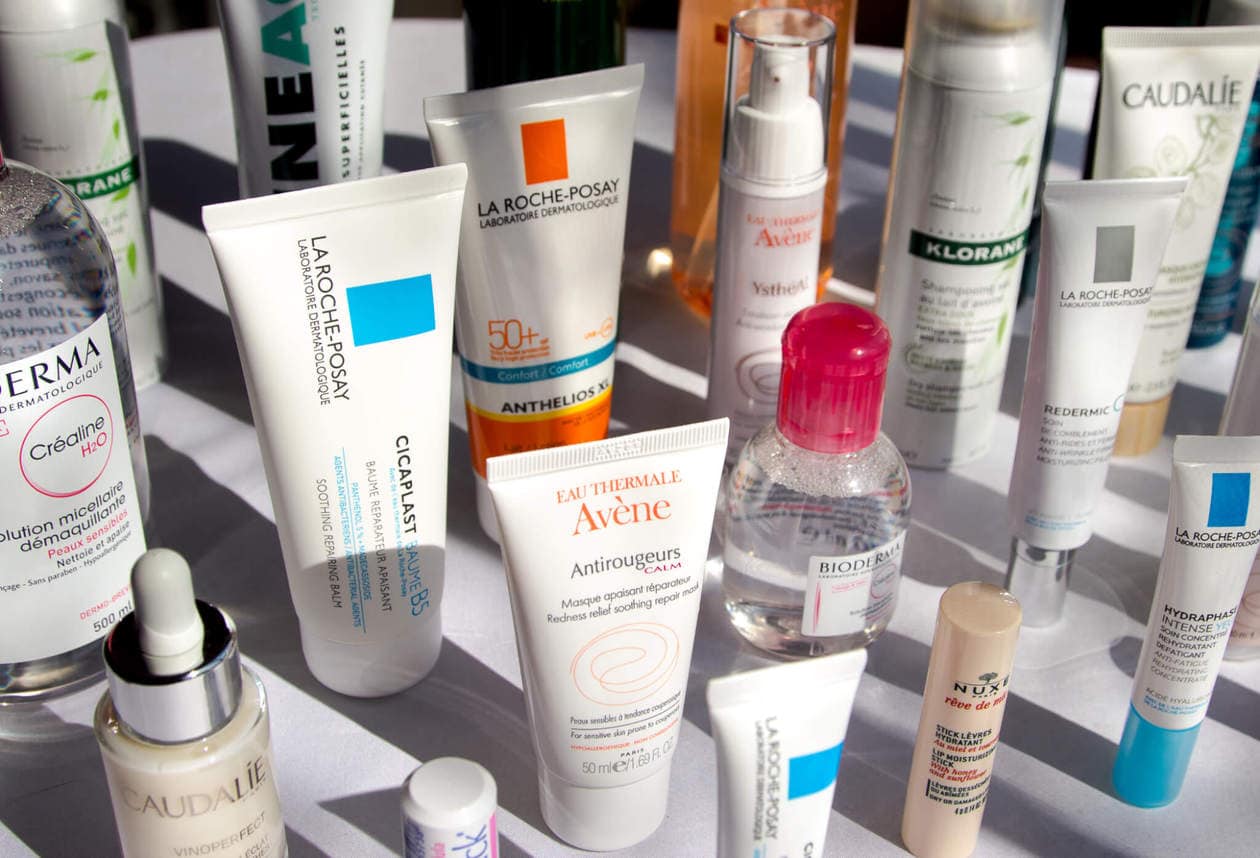 When I was in Paris 2 years ago, I wrote a post about my top tips for visiting CityPharma. It included information about how to save the most money, what time to go and what you can expect, and it quickly became one of my most popular articles on this site. As a makeup artist, CityPharma used to be a well kept industry secret. Well, the secret's out, and the cheapest pharmacy in Paris is packed with tourists (and locals) snatching up the best deals on French skin care.
---
RELATED POST: 6 TIPS FOR VISITING CITYPHARMA AND HOW TO SAVE THE MOST MONEY WHILE YOU'RE THERE
---
I recently found myself perusing the crowded aisles of CityPharma once again (and doing a little more $ damage than I intended). I repurchased a few products but I also decided to try some new stuff as well. Keep reading for pics and info about the skin care products I bought, and check out the price comparisons to see how I saved almost $450 by shopping at my favorite French pharmacy in Paris.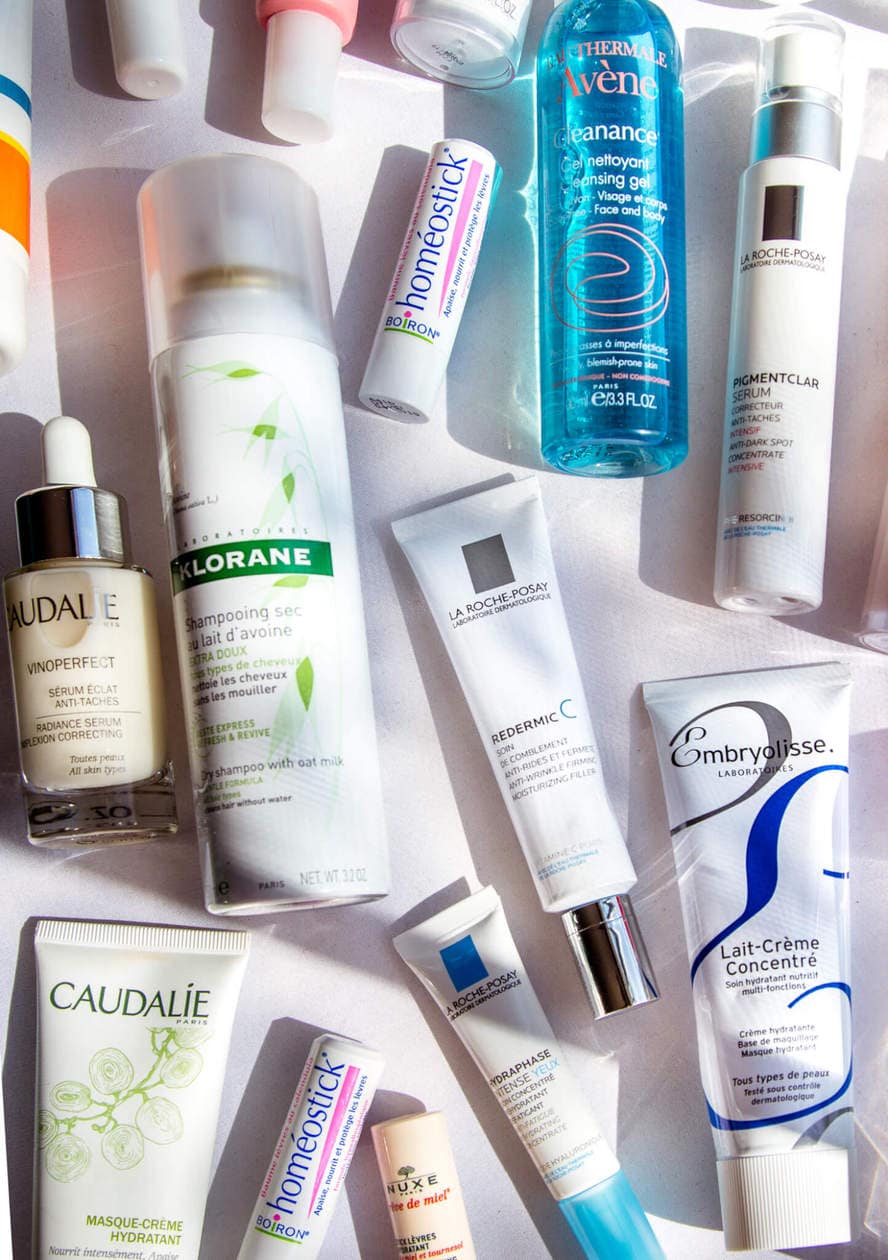 AVENE
ANTIROUGEURS CALM SOOTHING REPAIR MASK
CityPharma Price $10.95 | Price in US $34
I've never seen a mask like this but it had my name written all over it. Sometimes my face randomly gets hot and my cheeks turn fire engine red. Cute.
This mask is said to immediately relieve the warmth, redness and irritation in sensitive skin. It's also supposed to be good for those who have just undergone laser treatments or other irritating facial procedures.
TRIXERA NUTRITION NUTRI-FLUID CLEANSER
CityPharma Price $7.99 | Price in US $29
Is anyone else annoyed by how expensive face wash is? Even a basic Neutrogena cleanser in the States costs $7 USD for a small bottle. I bought Avene's Trixera Nutrition Nutri-Fluid Cleanser because the bottle is huge and it was only $8 USD.
The cleanser is created for dry skin and it contains Avene's famous magical Thermal Spring Water.

YSTHEAL ANTI-WRINKLE EMULSION
CityPharma Price $18.49 | Price in US $42
Avene's YstheAL Emulsion is a light, fast absorbing moisturizer. I wanted the night creme but I since I can't read French I guessed, and I guessed wrong.
It contains Retinaldehyde, an anti-aging ingredient which to boosts cellular activity, G.G.O, an anti-aging lipopeptide that protects skin elastin, Pre-Tocopheryl, a cell antioxidant and of course, Avene's Thermal Spring Water, for soothing and anti-irritation.
YSTHEAL ANTI-WRINKLE CONCENTRATE
CityPharma Price $25.89 | Not Available in the US
A highly concentrated version of the YstheAL Anti-Wrinkle cream made into a serum. It's said to match the wrinkle efficacy comparable to 3 peeling sessions.
CLEANANCE GEL – TRAVEL SIZE
CityPharma Price $3.99 | Price in US $20
A basic, travel sized face wash. The Cleanance Gel has a neutral PH of 7.2. It's super gentle and contains anti-inflammatory properties.
LA ROCHE POSAY

HYDRAPHASE INTENSE EYES
CityPharma Price $9.95 | Price in US $33.99
I needed a new eye cream and this was only $10. It contains hyaluronic acid which absorbs 1,000 it's weight in water and aids in a plumped up, hydrated appearance. The caffeine also reduces the appearance of under-eye bags.
REDERMIC R RETINOL WRINKLE CREAM
CityPharma Price $21.99 (on sale) | Price in US $56.99
I purchased this last time I was at CityPharma and loved it. It contains the highest concentration of pure retinol but with no irritation.
REDERMIC C MOISTURIZER
CityPharma Price $18.99 (on sale) | Price in US $54.99
A daytime moisturizer containing fragmented hyaluronic acid which plumps and hydrates the skin. Antioxidant Vitamin C helps visibly reduce the appearance of wrinkles. Mannose hydrates to visibly smooth the appearance of wrinkles, and Neurosensine helps reduce the signs of skin sensitivity.
PIGMENTCLAR SERUM FOR DARK SPOTS
CityPharma Price $25.75 | Price in US $52.99
I got this for Nick because I've been pushing him to up his skincare game. The Pigmentclar Serum contains Phe-Resorcinol and Ferulic Acid which reduce the appearance of dark spots. Lipo-Hydroxy Acid (LHA) provides micro-exfoliation to smooth the skin's surface and brighten the complexion.
He's only been using this for a week (in combination with the Avene YstheAL Anti-Wrinkle Lotion) and I can already see pretty major results. I wish I would've bought one for myself.

ANTHELIOS 50+ XL
CityPharma Price $12.90 | Price in US $24.99
La Roche Posay makes my second favorite face sunscreen. Since I'm almost out of my favorite (Tatcha Pore Perfecting Sunscreen), I grabbed an XL version of Anthelios 50+ (for $55 USD less than the Tatcha..).
CICAPLAST BAUME B5
City Pharma Price $8.99 | Price in US $14.99
I bought this last time I was in Paris and I fell in love with it. My cheeks gets irritated and this calms down it down so much. I also use it as a night moisturizer sometimes when I'm feeling really dry.
The Cicaplast Baume is super thick but not greasy and you can use it on all areas of your body where you have dry, irritated skin.
CICAPLAST BAUME B5 – TRAVEL SIZE
CityPharma Price $3.99 | Not Available in US
I got a travel sized version to keep in my kit. If someone has an allergic reaction to something, I'd apply this to calm it down.
CAUDALIE

Last time I was at CityPharma, I picked up Caudalie's Beauty Elixir but it was all I could get a hold of from this brand. The Caudalie aisle is usually the most packed in the store, so it makes it impossible to browse. This time, I went in knowing exactly what I needed.
VINOSOURCE MOISTURIZING SORBET
City Pharma Price $18.49| Price in US $39
Vinosource Moisturizing gel-cream moisturizer suited for all skin types. I was in desperate need for a new daytime moisturizer so we'll see how this does. I'll update after I use it.
Update 2019: I liked the moisturizer a lot. It was very light and perfect for daytime. It also didn't affect the wear of my makeup. I will buy it again in Paris but I don't think I'd pay the imported price.
MOISTURIZING MASK
City Pharma Price $18.30| Price in US $39
This moisturizing mask is said to "restore moisture levels to relieve tightness, reduce redness, and increase softness for a hydrated, dewy glow." It makes your skin feel so smooth and hydrated. One of my new favorites.
VINOSOURCE RADIANCE SERUM
City Pharma Price $37.90| Price in US $79
This was the most expensive product I bought at CityPharma but I've heard such rave reviews about this serum, I decided to take the plunge. I also saved 1/2 the money! It's said to improve the appearance of dark spots, even your skintone, and boost radiance.
BIODERMA

BIODERMA CREALINE
City Pharma Price 2 for $15.49 | Price in US 1 for $20
Truth be told, I don't actually need 2 more bottles of this right now but it's kind of impossible to pass up this deal (review here on my beauty blog).
BIODERMA CREALINE – TRAVEL SIZE
City Pharma Price $2.49 | Price in US $6.90
These travel sized Bioderma is almost impossible to find in the US so I always pick a few up.
---
RELATED POST: HOW TO REFILL YOUR TRAVEL SIZED BIODERMA BOTTLE
---
RENE FURTERER
RENE FURTERER VEGETAL HAIRSPRAY
City Pharma Price 2 for $14.89 | Price in US $29 for 1
The Rene Furterer hairspray came highly recommended from a hairstylist friend. I was pleasantly surprised to find this two pack for less than $15, 4x cheaper than if you were to buy two bottles in the States!
RENE FURTERER VEGETAL HAIRSPRAY – TRAVEL SIZE
City Pharma Price $5.99 | Price in US $16
MISC ITEMS

MARVIS TOOTHPASTE
City Pharma Price $4.99 | Price in US $10.50
A classic.
KLORANE DRY SHAMPOO
City Pharma Price 2 for $12.99 | Price in US 1 for $20
This is another repurchase from last time. I like this dry shampoo a lot, it doesn't weigh down my hair and it does a really great job at soaking up the oil so I can go a few extra days without washing.
EMBRYOLISSE LAIT CREME CONCENTRATE
City Pharma Price $11.99 | Price in US $28
Obviously. A staple in my kit (review here on my beauty blog).
LIP BALMS

NUXE REV MIEL LIP BALM STICK
City Pharma Price $5.49 for 2 | Price in US $9 for 1
I purchased the pot version of Nuxe's famous lip balm last time, so this time I picked up the stick. After only a few uses, I can already tell I like the pot much more.
HOMEOSTICK BAUME
City Pharma Price $3.90 for 2 | Price in US $16.38 for 2
I'm obsessed with Homeoplasmine, I keep a tube in my kit and in my set bag so that I'm never without it. Unfortunately the tube is hard to carry around for personal use so I picked up a stick version for my purse. The stick is nothing like the creme from the tube but I really like it a lot. It's super slippery and pretty hydrating. I'd definitely buy again.
BIAFINE

I purchased 2 tubes of Biafine last time I was in Paris and I almost finished both of them. Biafine is an all purpose, plant-based cream used to stimulate cell regrowth. It's widely used to repair skin after sunburns but it can also be used on minor wounds, skin inflammations, or dry skin. Biafine is also popular as a post-procedure cream for those undergoing cosmetic facial treatments or plastic surgery.
BIAFINE XL
CityPharma Price $3.99 | Not available in US
BIAFINE REGULAR
CityPharma Price $3.49| Not available in US
CITYPHARMA TOTAL SAVINGS: $443
Shop This Post (unfortunately without the savings… you have to go to Paris for that).
CITY PHARMA VISITOR INFORMATION
HOURS
Monday – Friday: 8:30AM-8PM
Saturday: 9AM-8PM
Sunday: Closed
ADDRESS
26 Rue du Four, 75006 Paris, France
HOW TO GET TO CITY PHARMA
Saint-Germain-des-Prés (Line 4) orMabillon (Line 10) are the closest metro stops. It's a 2 minute walk from each station and City Pharma is on the corner of Rue Bonaparte and Rue du Four.

---
PIN IT

What are your CityPharma favorites?
Disclaimer: This post contains affiliate links which means if you click them and buy something, I receive a small commission (at no cost to you!).