Did you know that the Czech Republic consumes more beer per capita than any other country in the world? How wild is that? When Nick and I were in Prague a few years ago we grew rather fond of the country's beer, so when I booked my train ticket to Brno last month, I couldn't wait to taste it again.
While doing research for this trip, my list of bars in Brno was progressively getting longer and longer. This city has an impressive amount of interesting places to drink! Unfortunately this did pose a bit of a problem as I was traveling alone, and getting wasted wasn't really the vibe I was going for.
In order to check off everything from my list, I had to strategically pepper in beer pitstops throughout my sightseeing destinations. This allowed me enough time to let the last drink wear off before I went in for another. Field research is hard work and thankfully I was walking 8 miles a day to burn some of it off.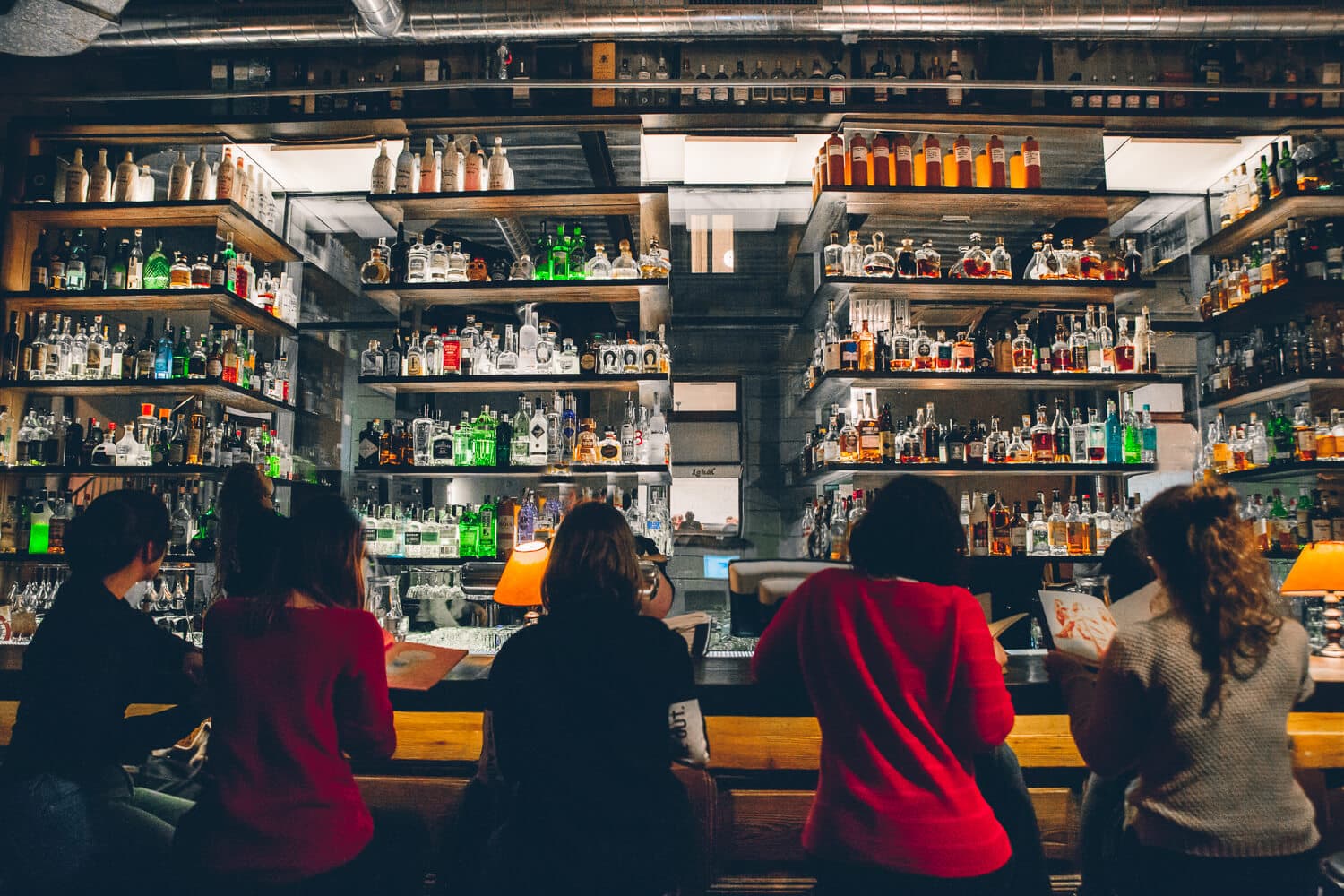 While I predominantly drank beer in Brno, there were a few cocktail bars that I loved as well. If you're a wine drinker, this list might not be up your alley but 90% of the wine produced in the Czech Republic comes from the region of Moravia (where Brno is the capital). There are tons of wine bars in the city as well as wine tasting day trips you can partake in (like this one!).
From an upscale cocktail bar to a local dive, a beer stock exchange & a hidden speakeasy, keep reading to discover 7 of my favorite bars in Brno.
THE BAR WHICH DOES NOT EXIST AKA BAR KTERY NEEXISTUJE
THE VIBE: UPSCALE CRAFT COCKTAIL BAR WITH FRIENDLY SERVERS AND AN EXTENSIVE WHISKEY AND RUM LIST
For one of the most consistently popular bars in Brno, head to Bar Ktery Neexistuje (while translates to The Bar Which Does Not Exist). This was the most upscale bar that I visited in the city and it is the perfect environment for pre or post-dinner cocktails.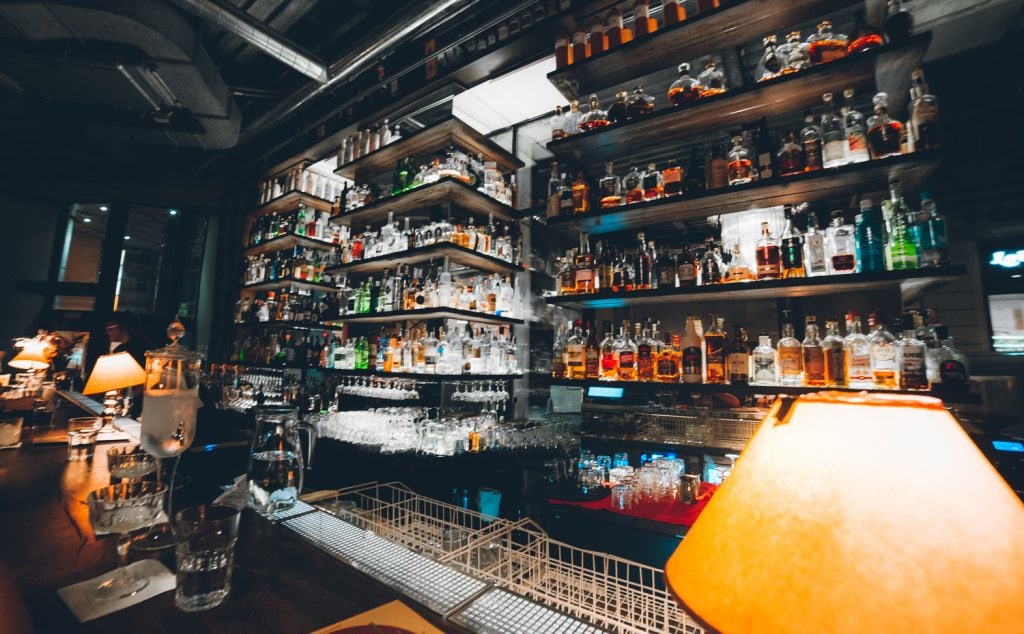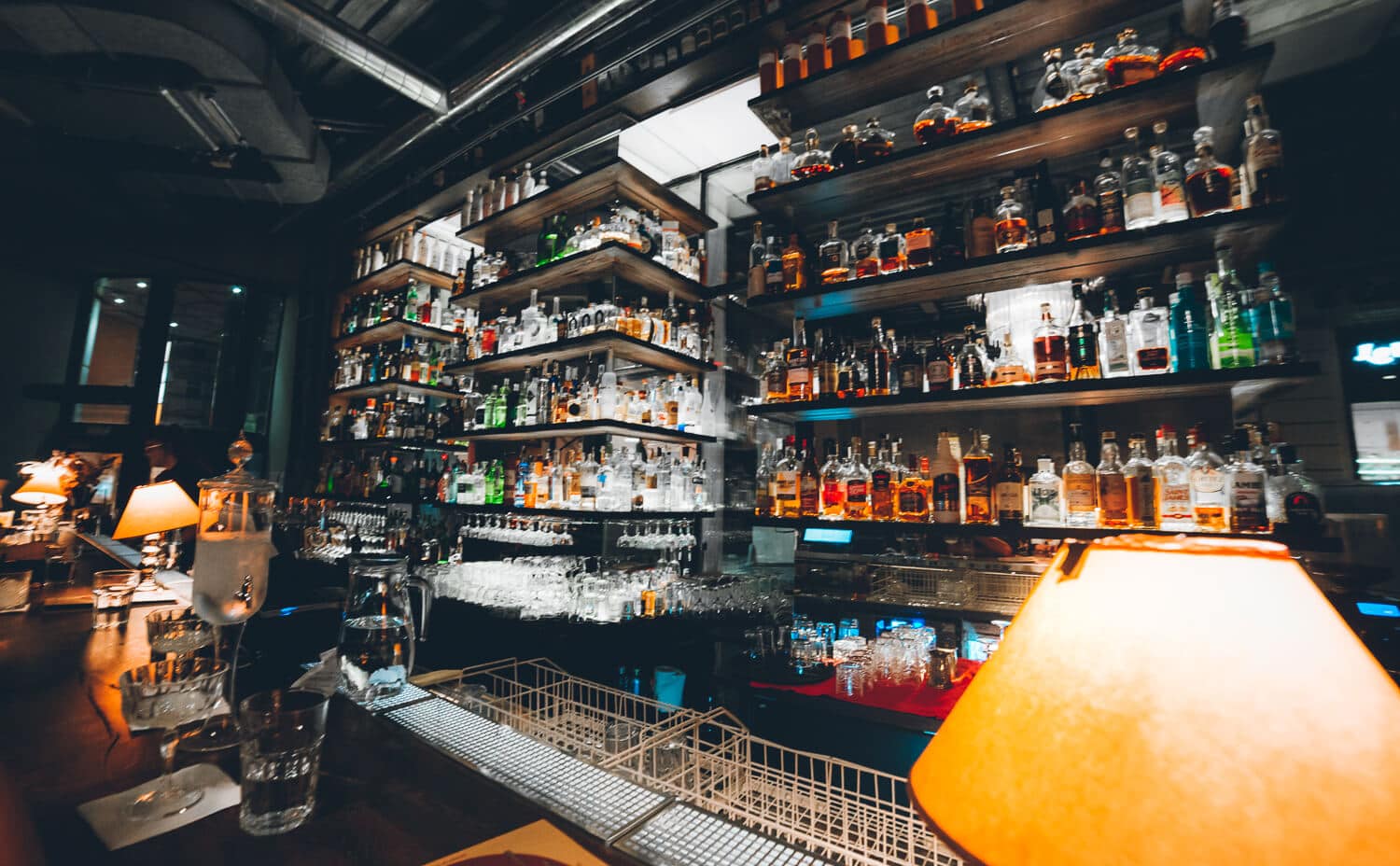 This was my last stop after a long day of sightseeing (and drinking) so I think my brain was on autopilot when I ordered a large beer. I wish I would've opted for a cocktail instead, since that's what they specialize in. The drink list is pages upon pages long and if you like whiskey or rum your options are just about endless.
The service was excellent, I didn't feel uncomfortable sitting alone and the bartenders are eager to craft up whatever type of drink your heart desires. If you're hungry, they also have a small food menu which appeared to consist of mainly burgers.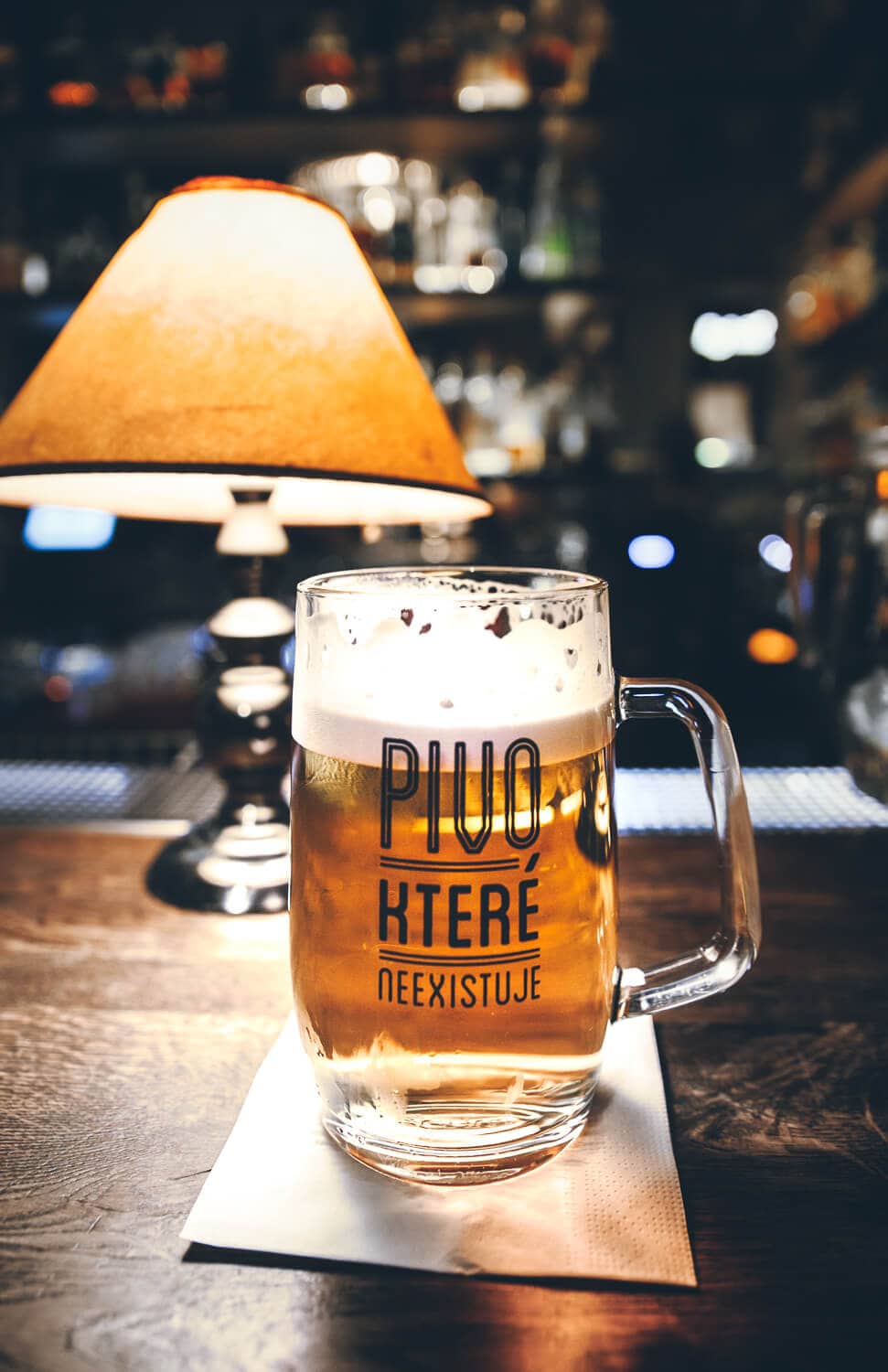 Because of it's popularity, I recommend reserving a table if you'll be visiting later in the night. I stopped in about 30 minutes after they opened and there was already a wait.
HOURS
SUN-TUES: 5:00 PM – 2:00 AM
WED-THURS: 5:00 PM – 3:00 AM
FRI-SAT: 5:00 PM – 4:00 AM
ADDRESS 
Dvořákova 1 602 00
Brno, Czech Republic
PIVNI BURZA
THE VIBE: A CONCEPT BAR WHERE THE PRICE OF BEER IS DICTATED BY CUSTOMER DEMAND
Pivni Burza is the Beer Stock Market of Brno where you'll find that the price of beer changes in real time, based on customer orders. The current prices are displayed on screens throughout the bar and you have the potential to score some great deals.. or pay more than you wanted, depending on where your beer of choice sits on the list at that given moment.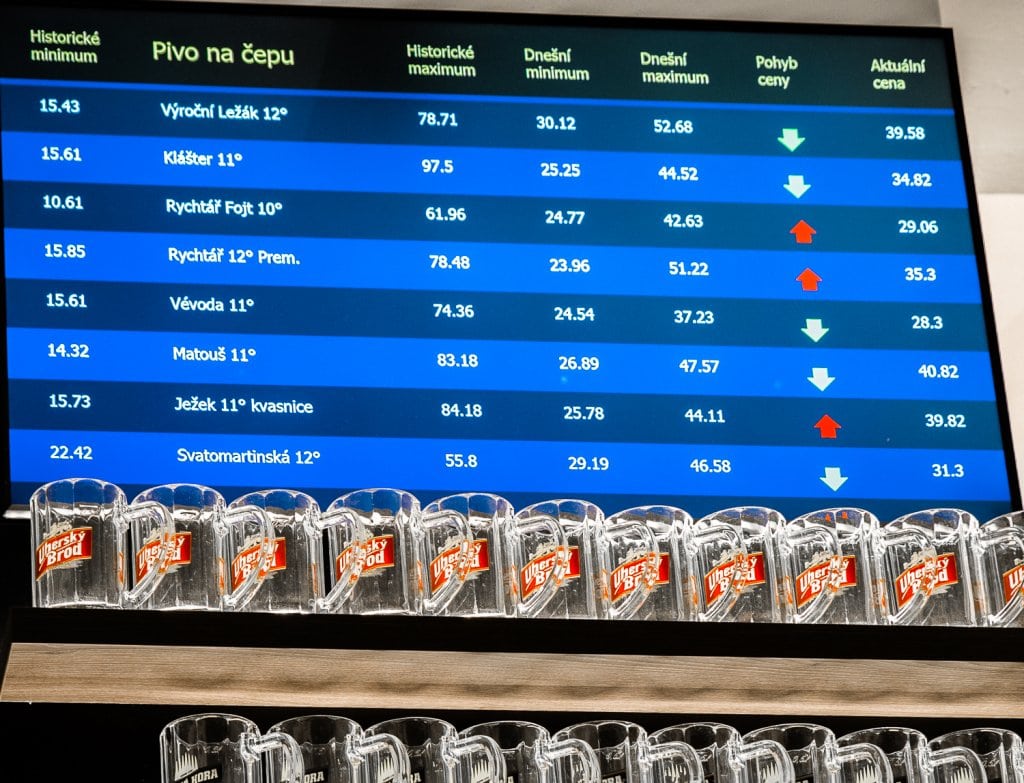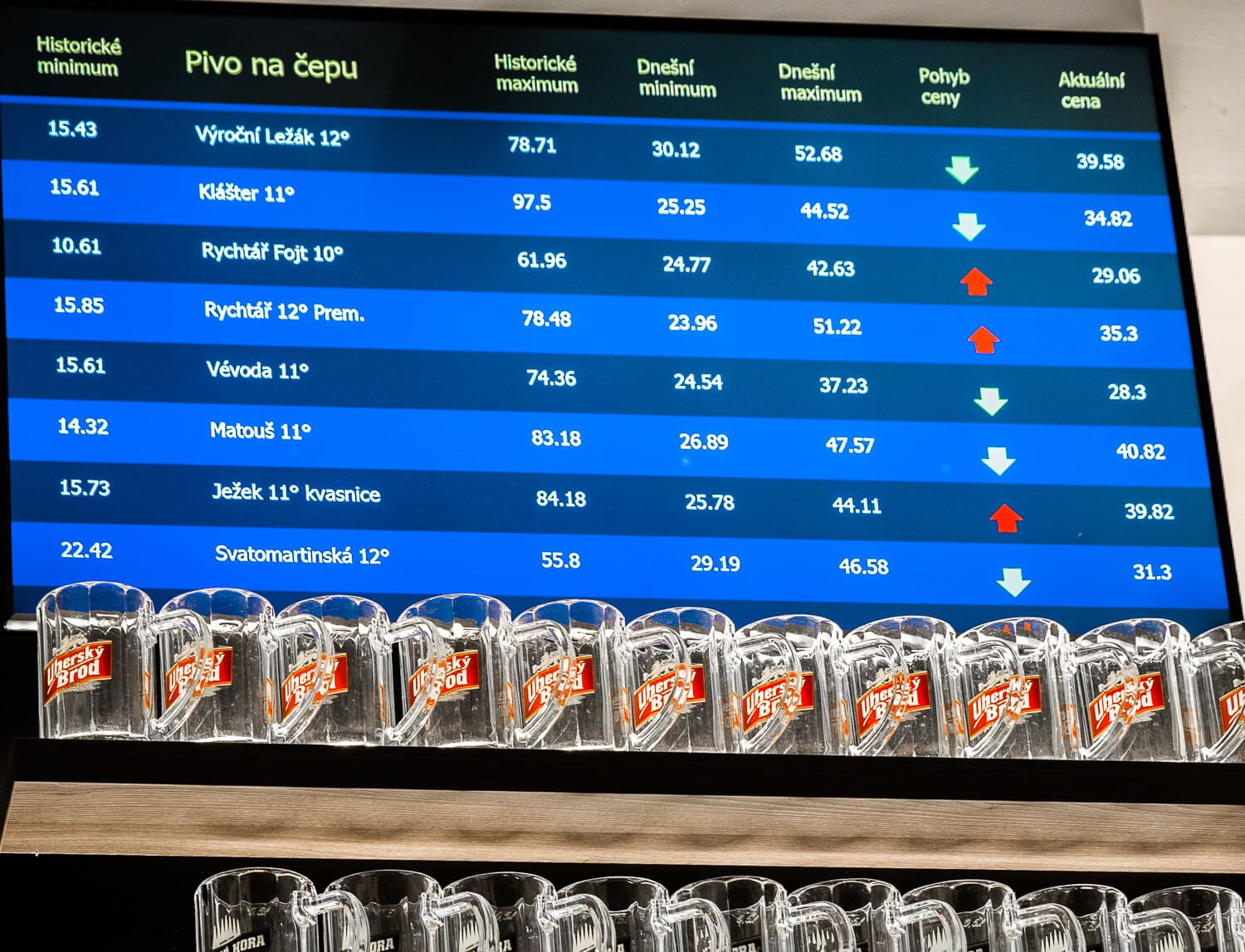 The bar has a rotating selection of 8 draft beers, all under the Lobkowicz Brewery family. It's a fun way to taste a selection of different beers throughout the night. Just order from the computer screen at your table … and invest wisely.
HOURS
MON–SAT: 3PM-1AM
SUN: Closed
ADDRESS
Jánská 16, 602 00
Brno-střed, Czechia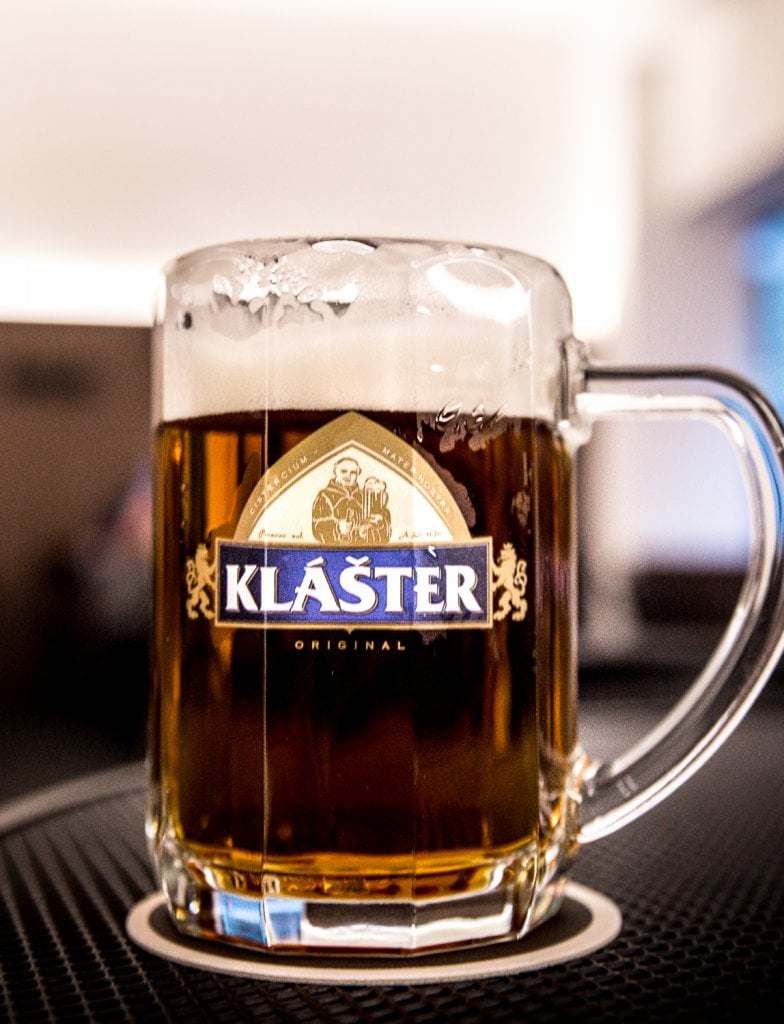 STOPKOVA PLZENSKA PIVNICE
THE VIBE: HISTORICAL PUB WITH A GREAT LOCAL FOOD MENU
Stopkova Plzenska Pivnice is one of the more historical bars in Brno, as their pub dates back to the 19th century. They serve mainly Pilsner Urquell (it's a Pilsner Urquell original restaurant) plus one Kozel Dark beer and a Birell Pale. They also have good selection of Czech spirits and Czech wines.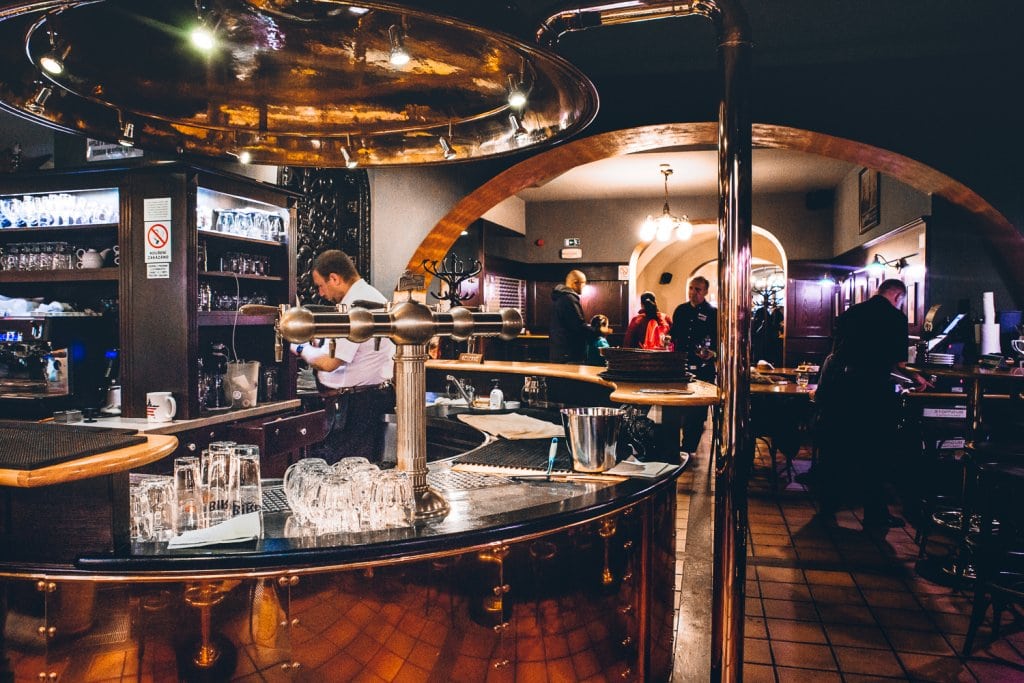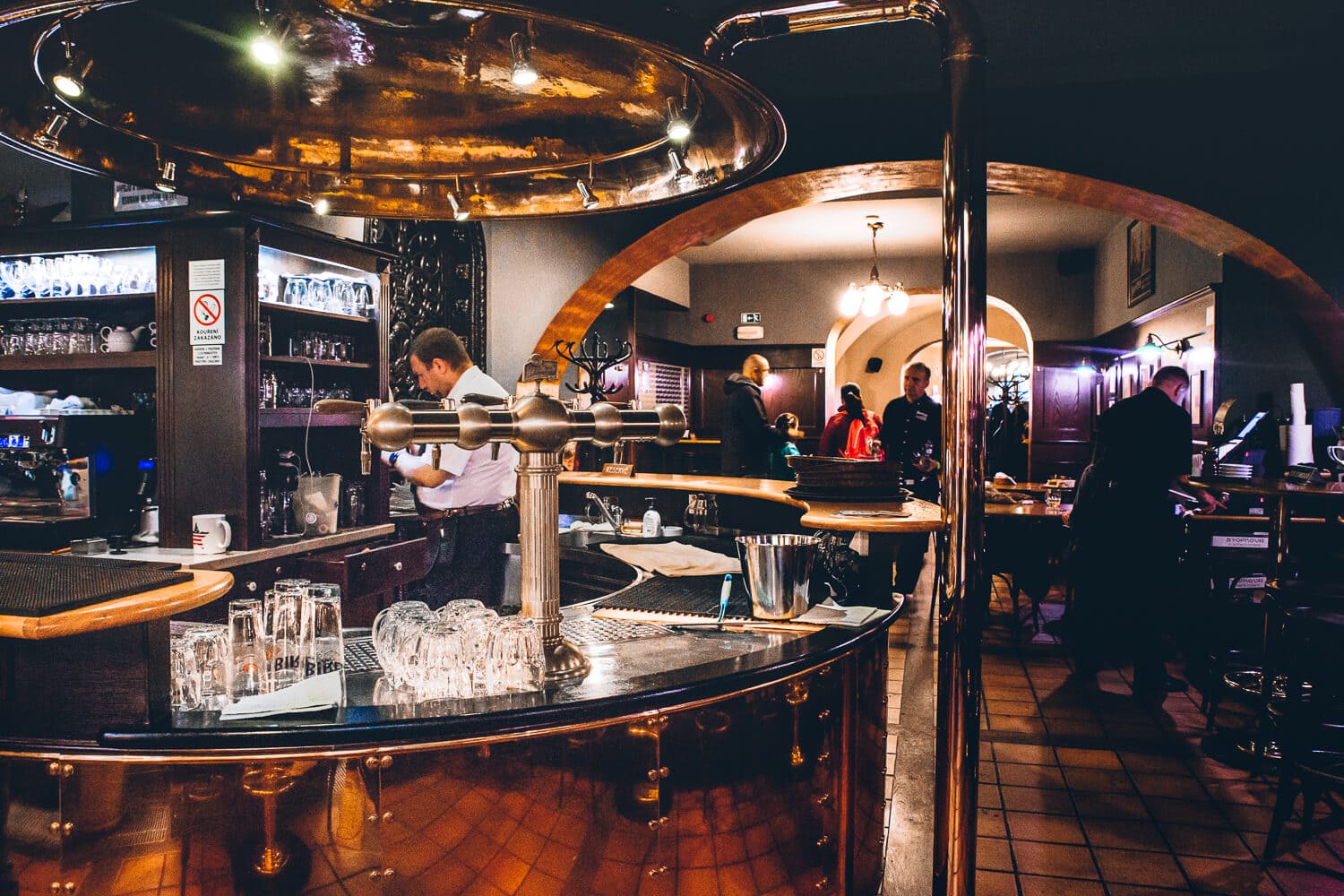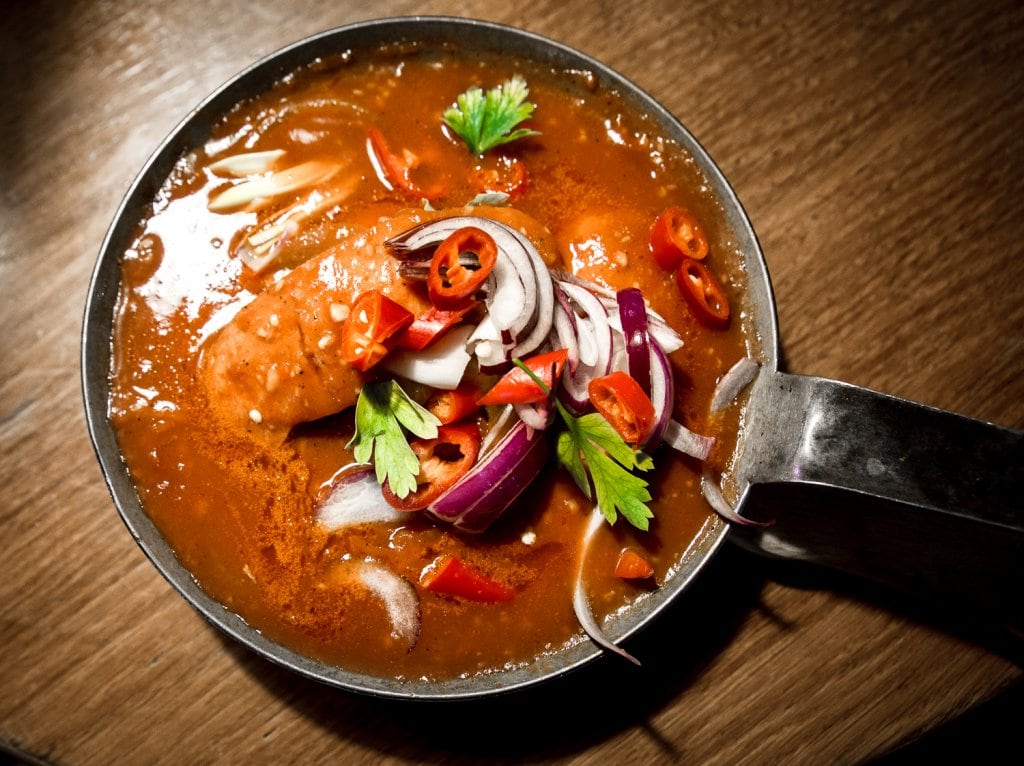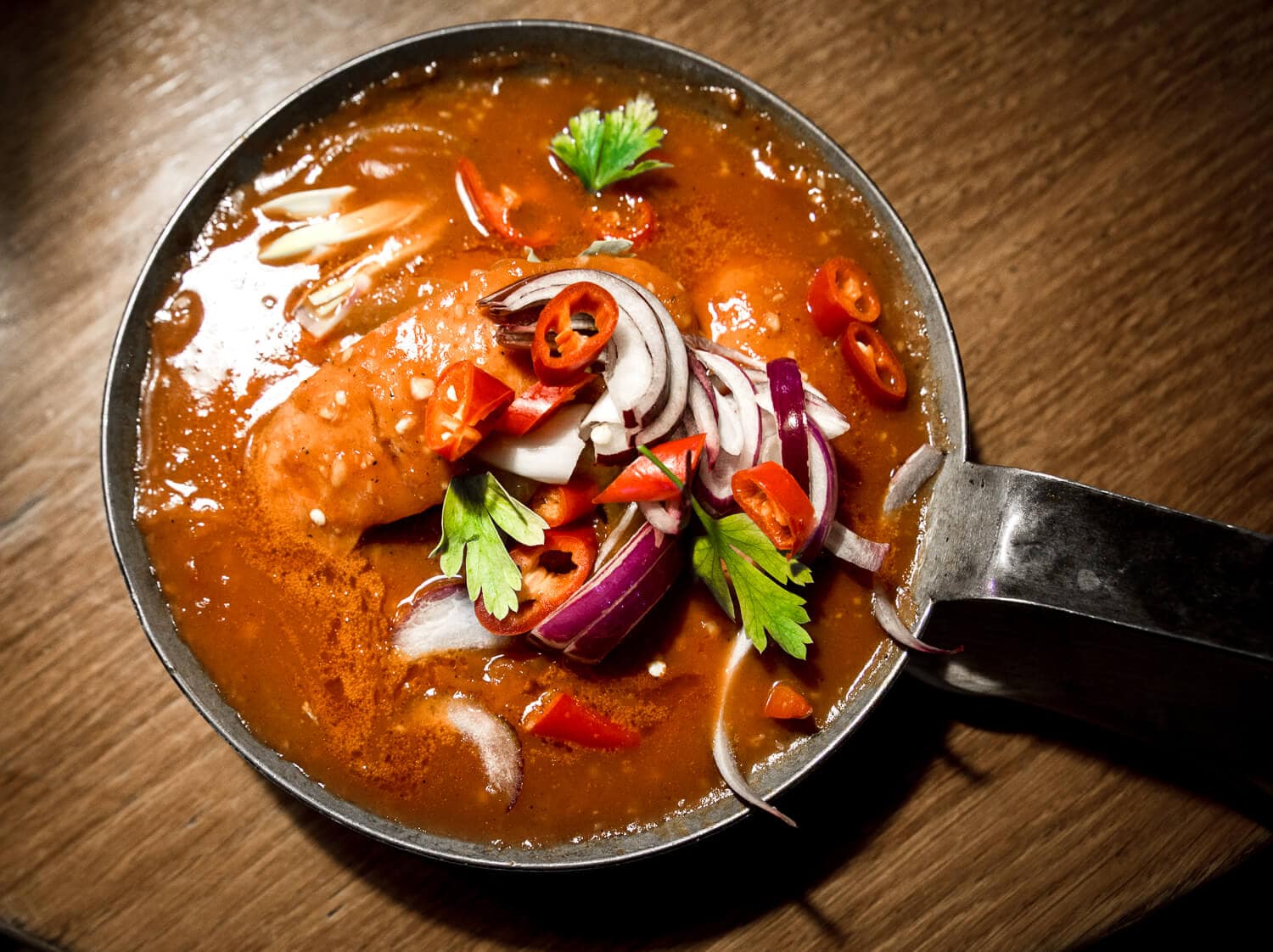 Toward the front half of the building is the pub, and in the back, they have a full restaurant which was recommend to me as some of the best authentic Czech food in Brno.
I'm not a fan of pork knees or sparrows, so I can't vouch for their specialities. I did however order the smoked sausage baked in beer (what can I say, I was on a roll) and it was surprisingly one of my favorite meals that I had in Brno.
HOURS
MON–SUN: 11AM-12AM
ADDRESS
Česká 163/5, 602 00
Brno, Czechia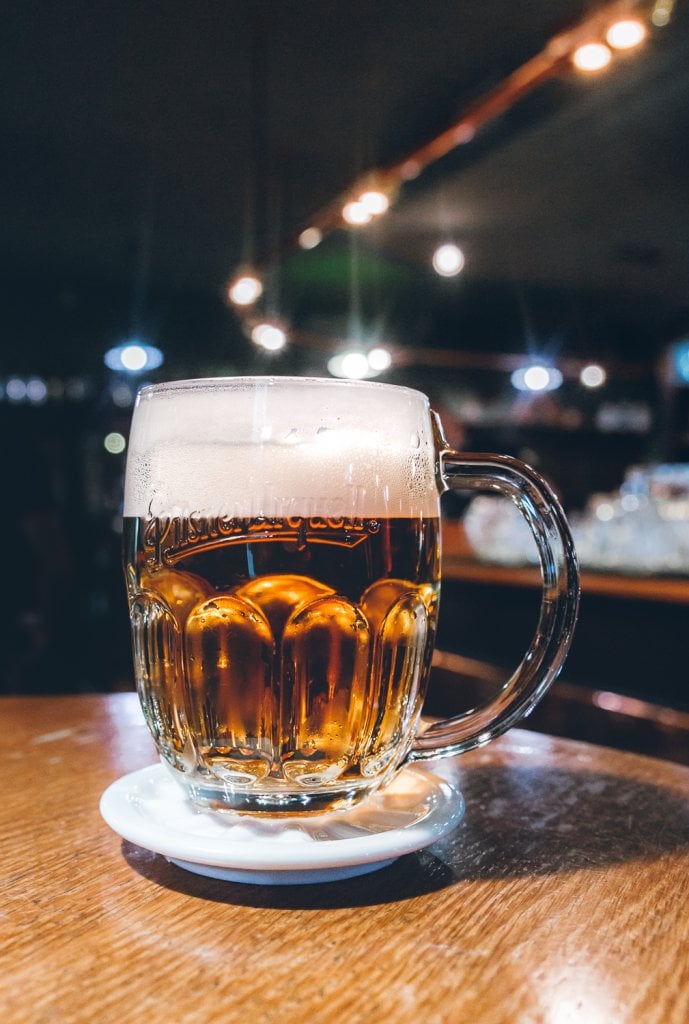 VYCEP NA STOJAKA
THE VIBE: LOCAL CRAFT BEERS IN A STANDING ROOM ONLY ENVIRONMENT
There are 2 Vycep Na Stojaka locations in Brno. One near St. Jacob's Church in the city center, and the other near 10 Z bunker and Super Panda Circus. This is one of the few bars in Brno that opens before 3PM so it's a great option for a mid-day break.
Vcep Na Stojaka serves all Czech beer from local microbreweries and it's here that I drank my favorite beer from the entire trip trip. Unfortunately, I don't know what I ordered as they don't have an English menu. I just asked for a large and let the bartender choose.
The bar's name roughly translates to "standing" which is appropriate given that there are no seats anywhere in sight. The bar is standing room only, so after you grab your beer you can lean on a table inside or post up in the square outside.
I visited during the daytime after a trip to the ossuary and it was pretty quiet, but fast forward to that evening and the bar had a much different atmosphere, with people scattered all over the square drinking the local selections.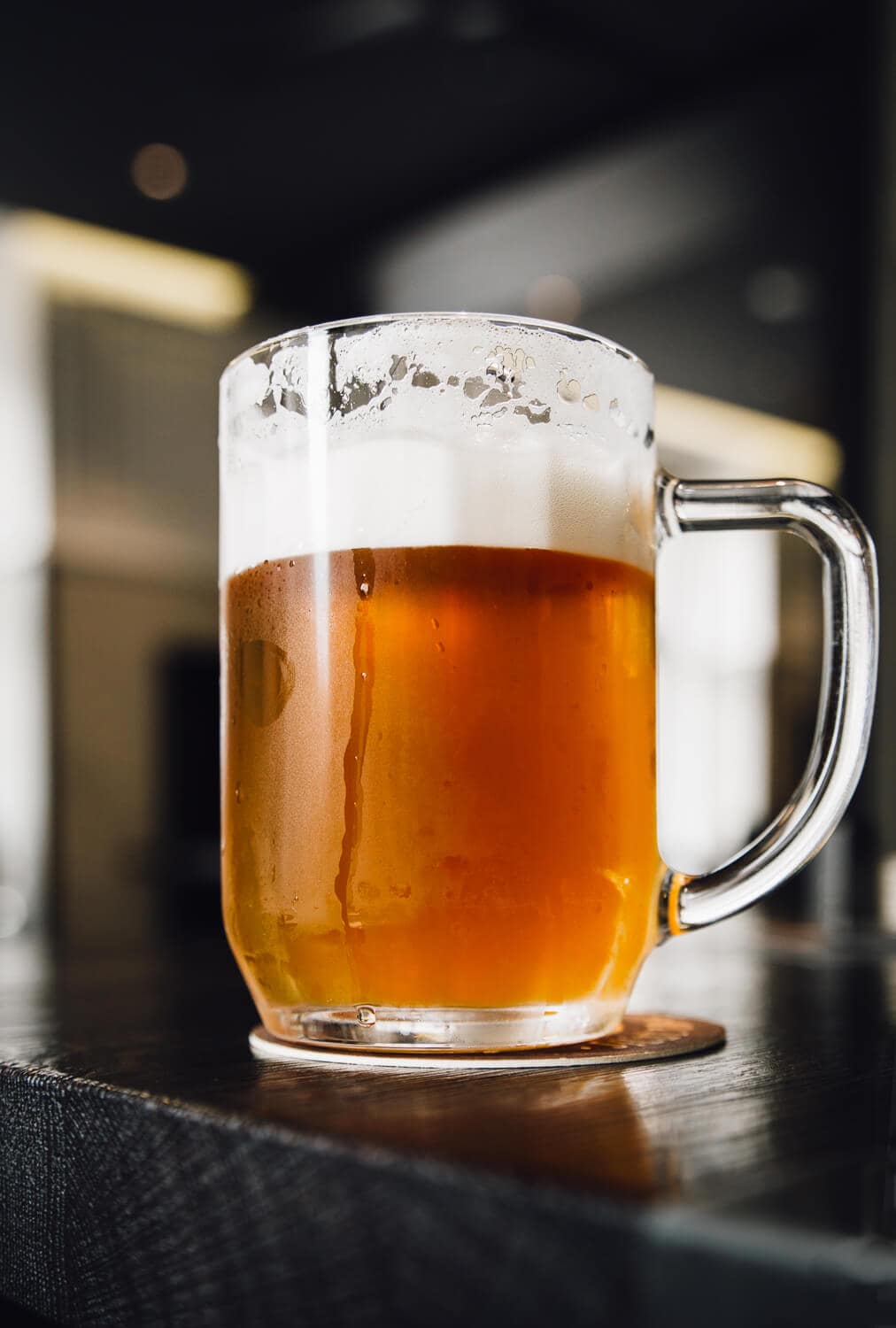 LOCATION 1 – ST JACOBS SQUARE
ADDRESS
Behounska 6/16,
Brno 602 00, Czech Republic
HOURS
MON-FRI 12:00 PM – 12:00 AM
SAT – SUN 2:00 PM – 12:00 AM
LOCATION 2 – SILINGROVO NAMESTI
ADDRESS
Pekařská 2
602 00 Brno
HOURS
MON-SAT 4:00 PM – 1:00 AM
SUN 5:00 PM – 12:00 AM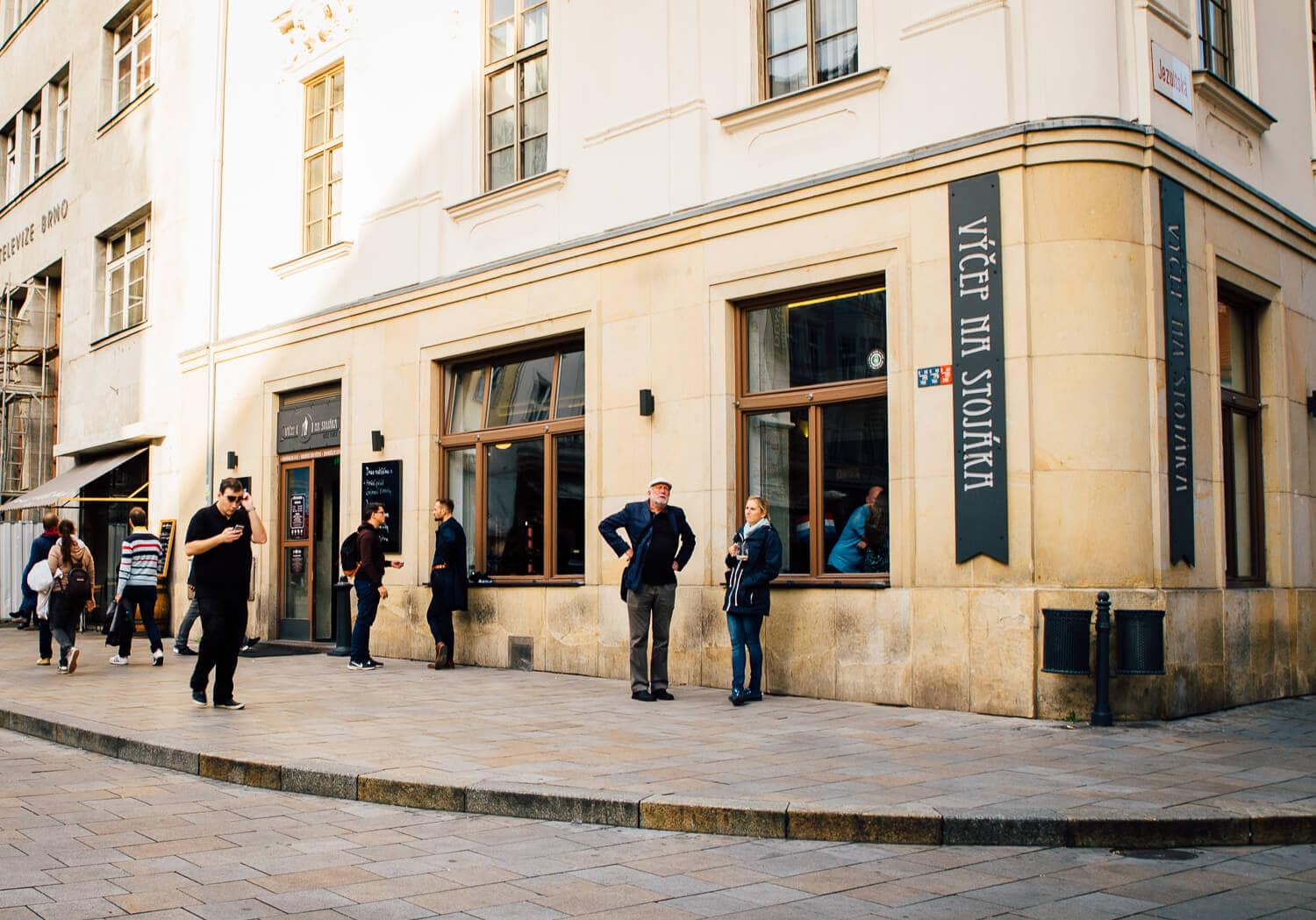 STAROBRNO BREWERY
THE VIBE: ONE OF MORAVIA'S LARGEST BREWERIES OFFERING UP LOCAL CUISINE AND GUIDED TOURS
Starobrno Brewery is located slightly outside of the city center so the only time I could squeeze this stop into my schedule was on the morning of my last day. It was just me and 2 elderly local gentlemen sitting at the bar, drinking a large beer at 11am on a weekday. Ah, kindred spirits.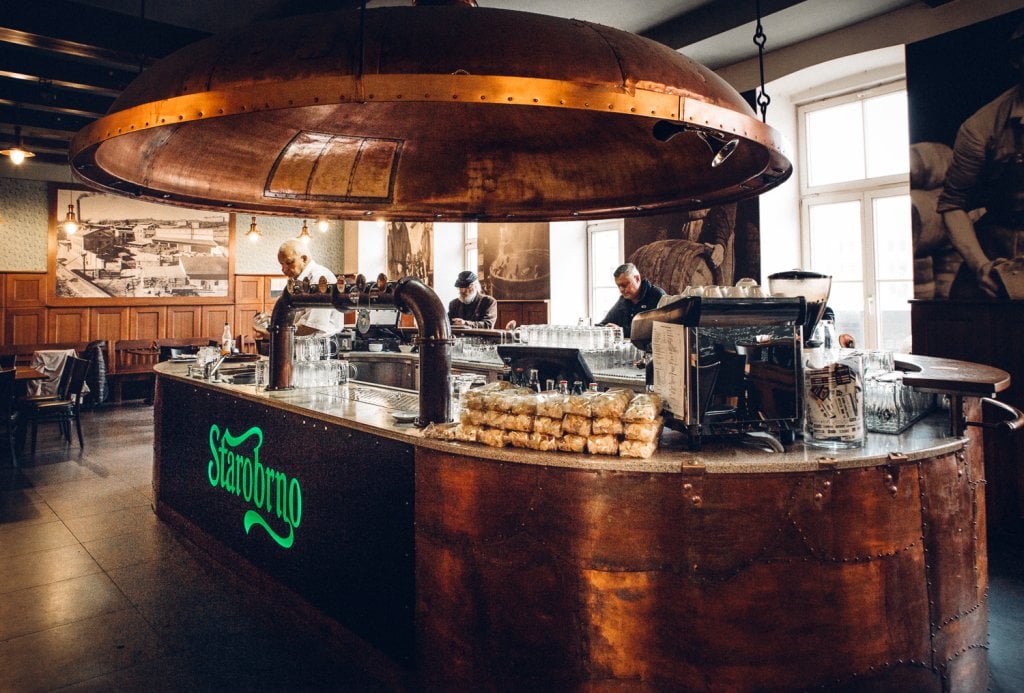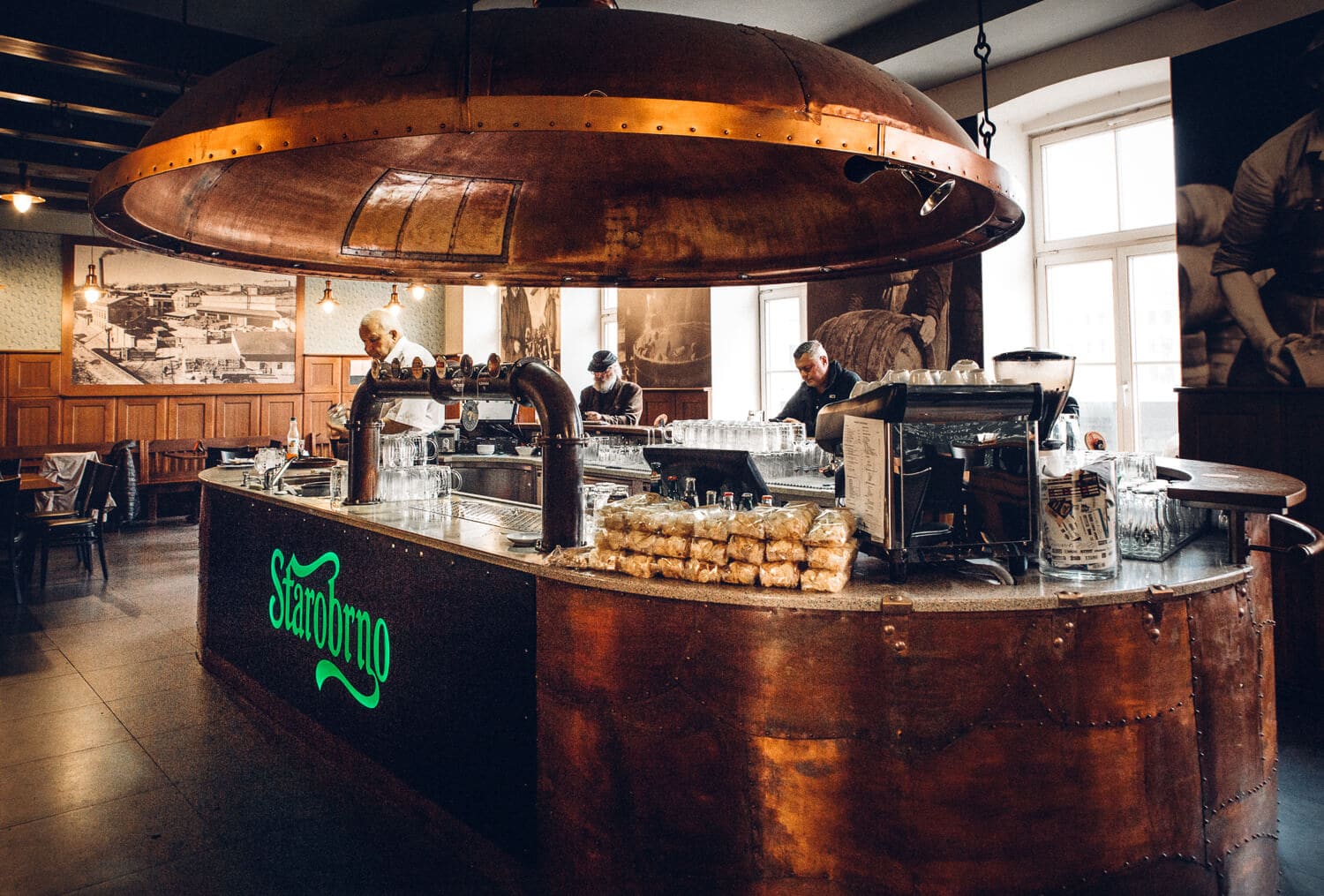 There are 9 beers on draft, with filtered and unfiltered options. Starobrno was not my favorite beer that I tried in Brno but given that the brewery is such a major producer in this region (in 2009, they produced more than one million hectoliters of beer!) I'm glad I was able to check it out. Also, I still think of their cheese plate to this day.
The brewery offers tours where you can visit the brewhouse and learn about the production process (2 small beers are included in the ticket price). They also have a pub, an outdoor beer garden for warmer days and a full restaurant which serves up local cuisine.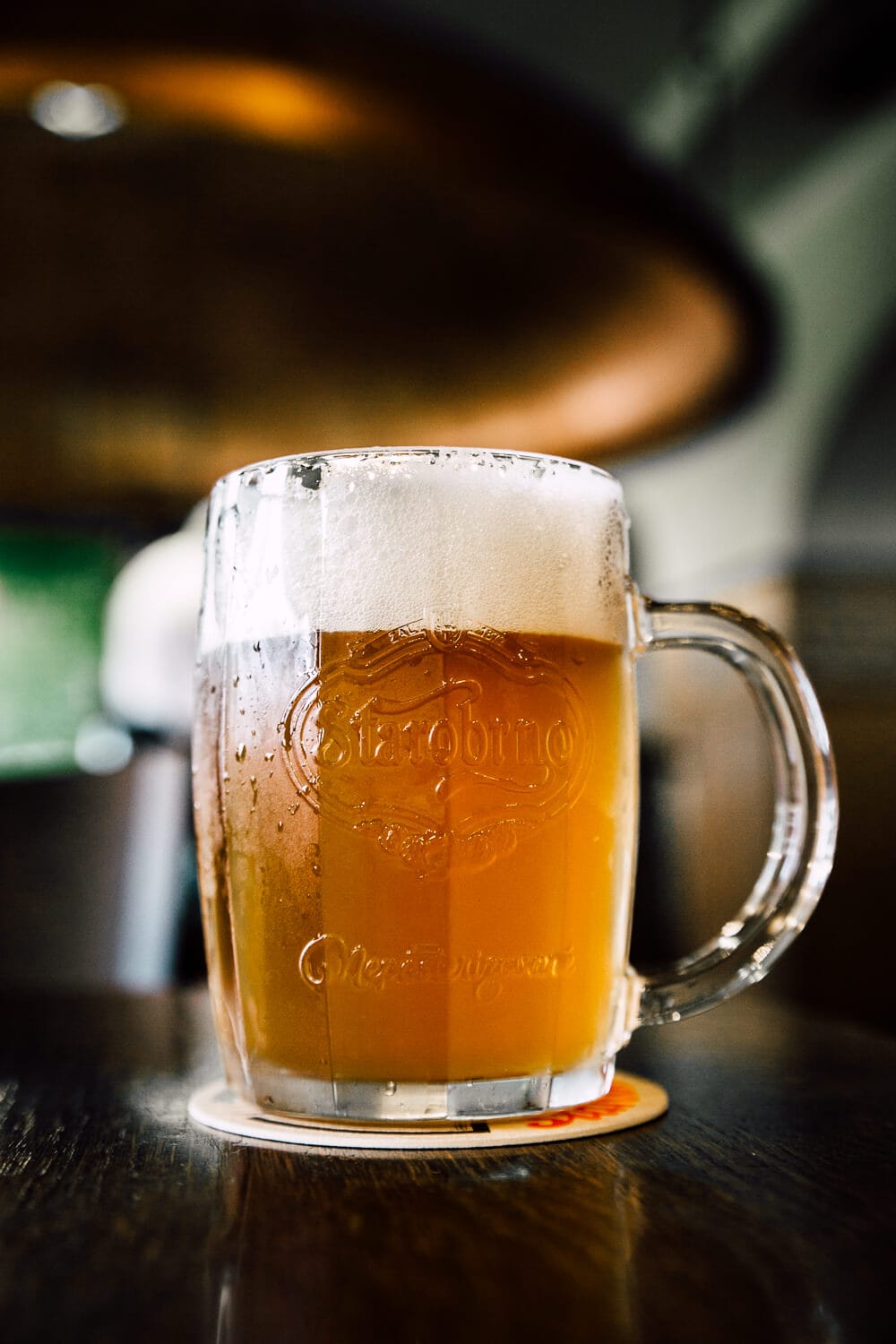 If you're just a casual beer drinker I wouldn't make a special trip out to Starobrno, but if you're in the area or if you are interested in taking the brewery tour this is definitely a good one one to check out.
HOURS
MON–WED: 11:00AM – 12AM
THU–FRI: 11:00AM – 1:00AM
SAT: 11:30AM – 12AM
SUN: 11:30AM –11PM
ADDRESS
Mendlovo náměstí č. 20
Brno 603 00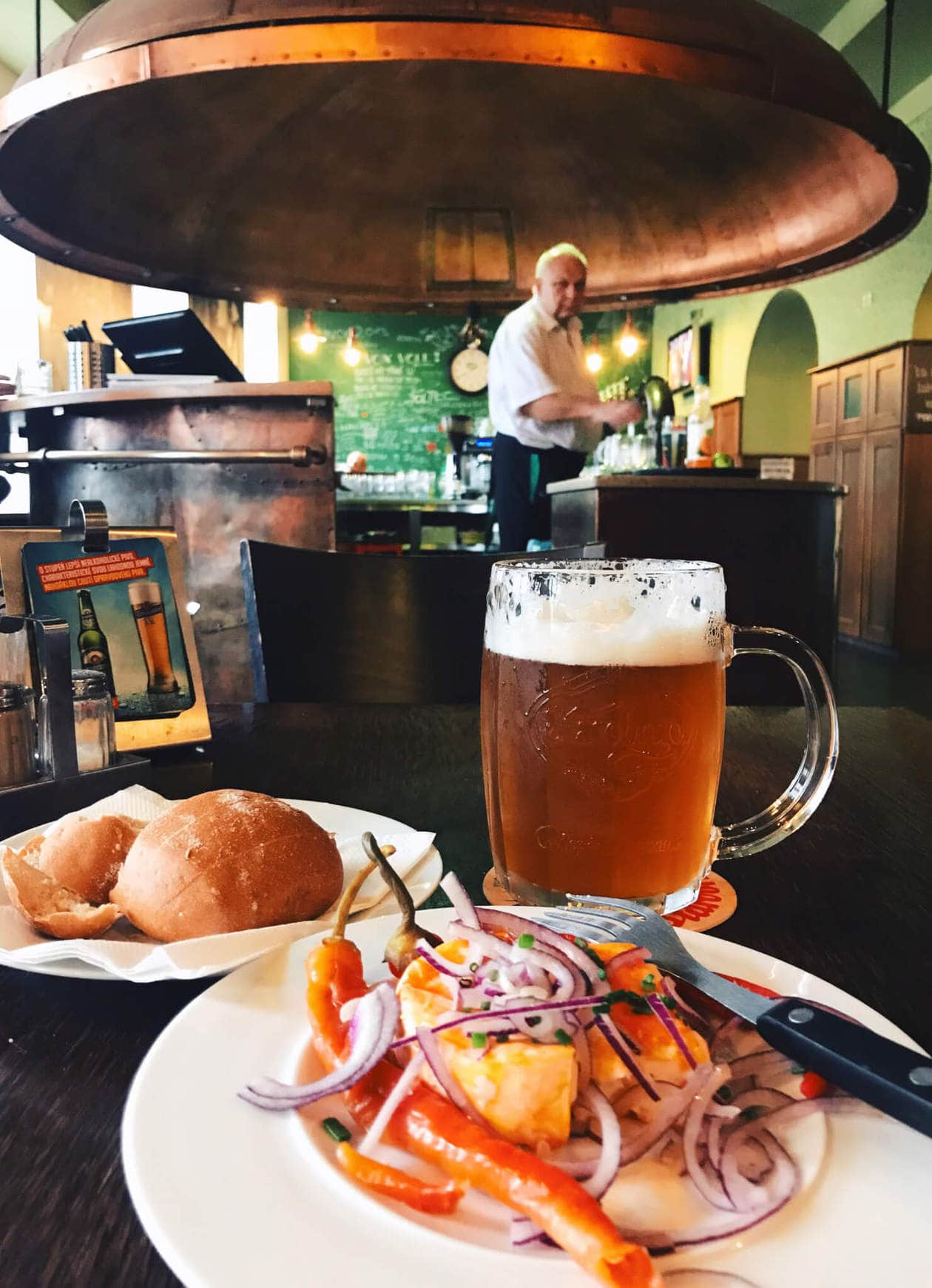 PIVNICE U POTNÍKA
THE VIBE: LAID-BACK LOCAL DIVE BAR
Pivnice U Potnika is a classic local dive bar. I didn't find this one on any tourist lists, but I stumbled upon it while looking for another restaurant where a toy train was supposed to brought out your drinks. Unfortunately, that restaurant was permanently closed but down the street was Pivnice U Potnika.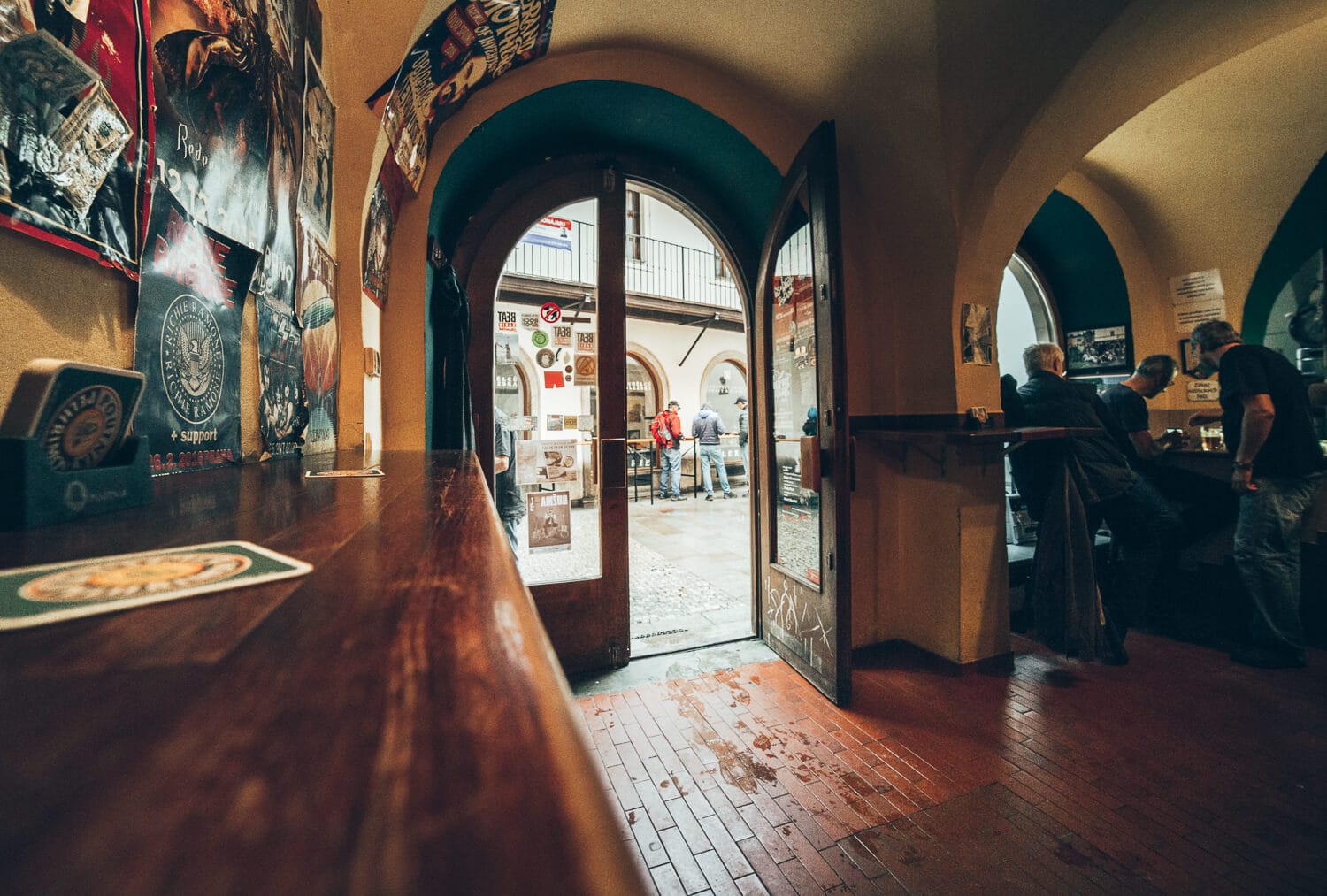 This bar is not for those seeking Instagram experiences. It's the opposite of glamorous but there were a range of people from all ages, and everyone seemed to be having a great time. They serve Poutnik Pelhrimov lager and you can order your beer filtered or unfiltered. There's a large back area for groups, or like many bars in Brno, you can drink right outside in the courtyard.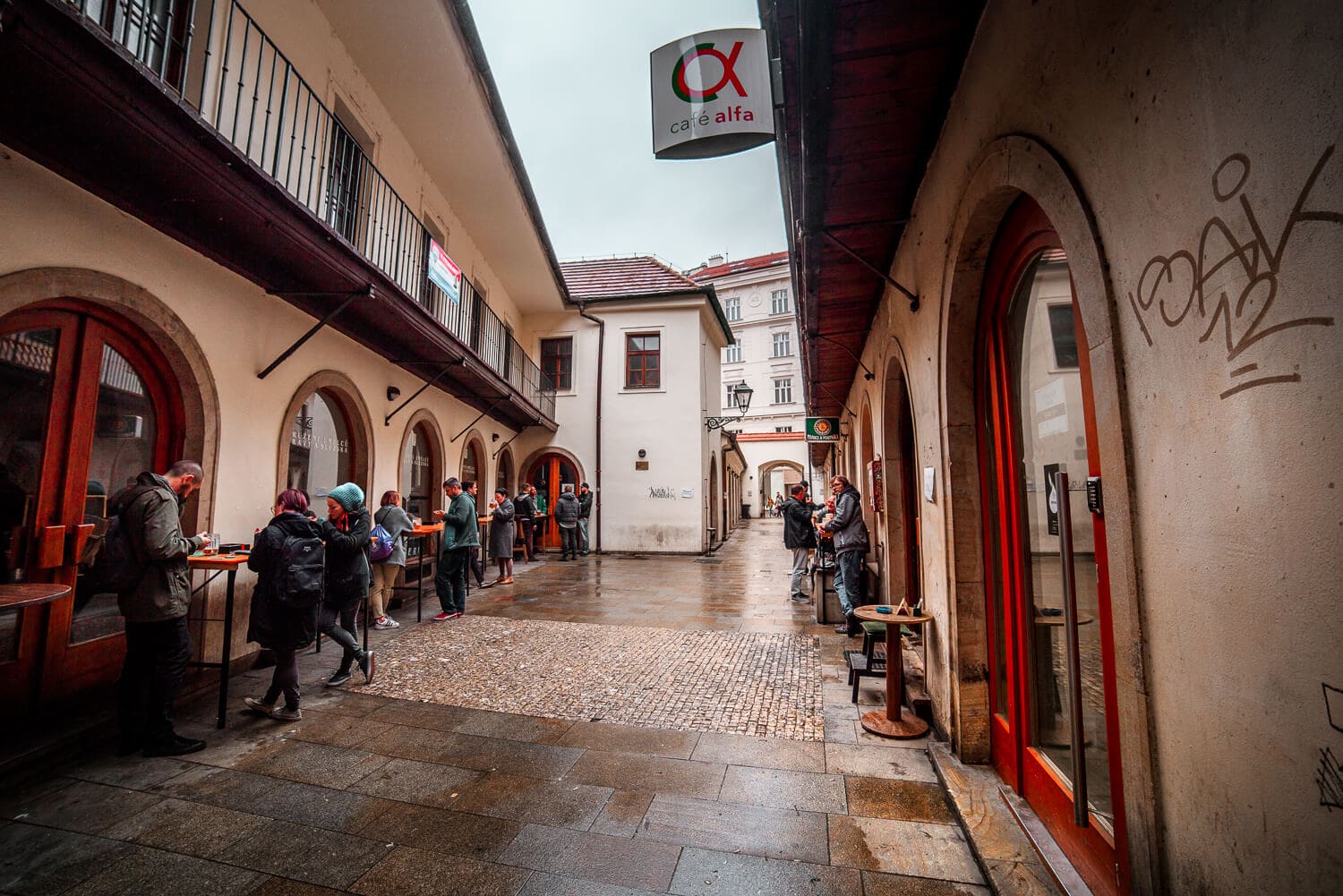 HOURS
MON–SUN: 2PM-12AM
ADDRESS
Vstup branou č.p. 14, Starobrněnská 16/18, 602 00
Brno-střed, Czechia
SUPER PANDA CIRCUS
THE VIBE: A HIDDEN SPEAKEASY COCKTAIL BAR READY TO TAKE YOU ON AN ECCENTRIC JOURNEY
I saved the best for last.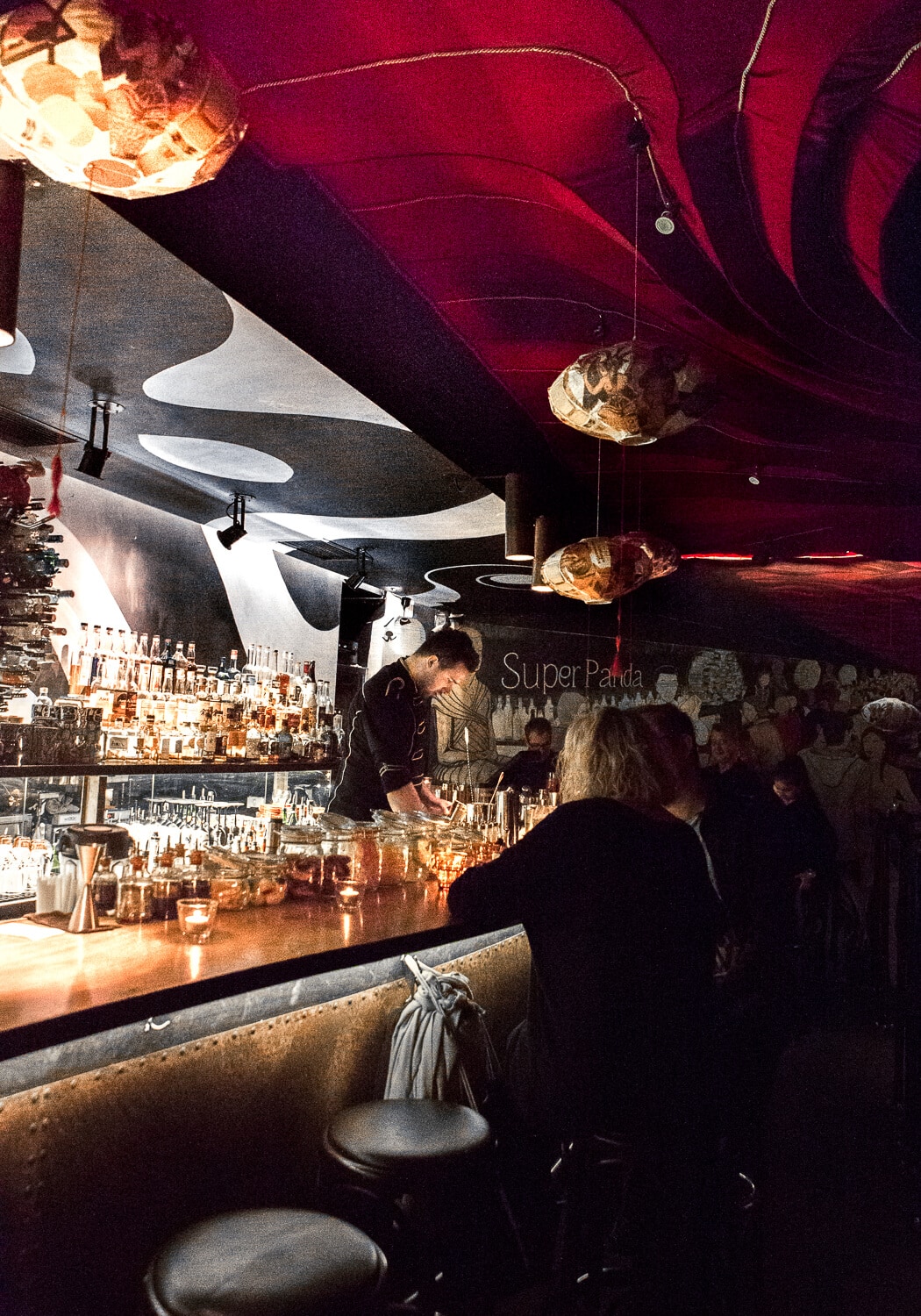 Super Panda Circus was the first bar I visited in Brno and it set a ridiculously high standard for the rest of the contenders on this list. Located on an unassuming street in a quiet neighborhood, once you ring the door bell and get whisked inside, you'll feel as if you've entered a fantasy realm.
The bartenders bang out quirky craft cocktails from menus drawn on paper lanterns that you pull from the ceiling, and there is a certain magic in the air. It's the #1 bar in Brno on Tripadvisor for a reason, and you can't miss it.
I recommend visiting early as the bar area is small and the hosts can only let a handful of parties in at a time.
---
RELATED POST: SUPER PANDA CIRCUS // THE WHIMSICAL BAR YOU HAVE TO VISIT IN BRNO
---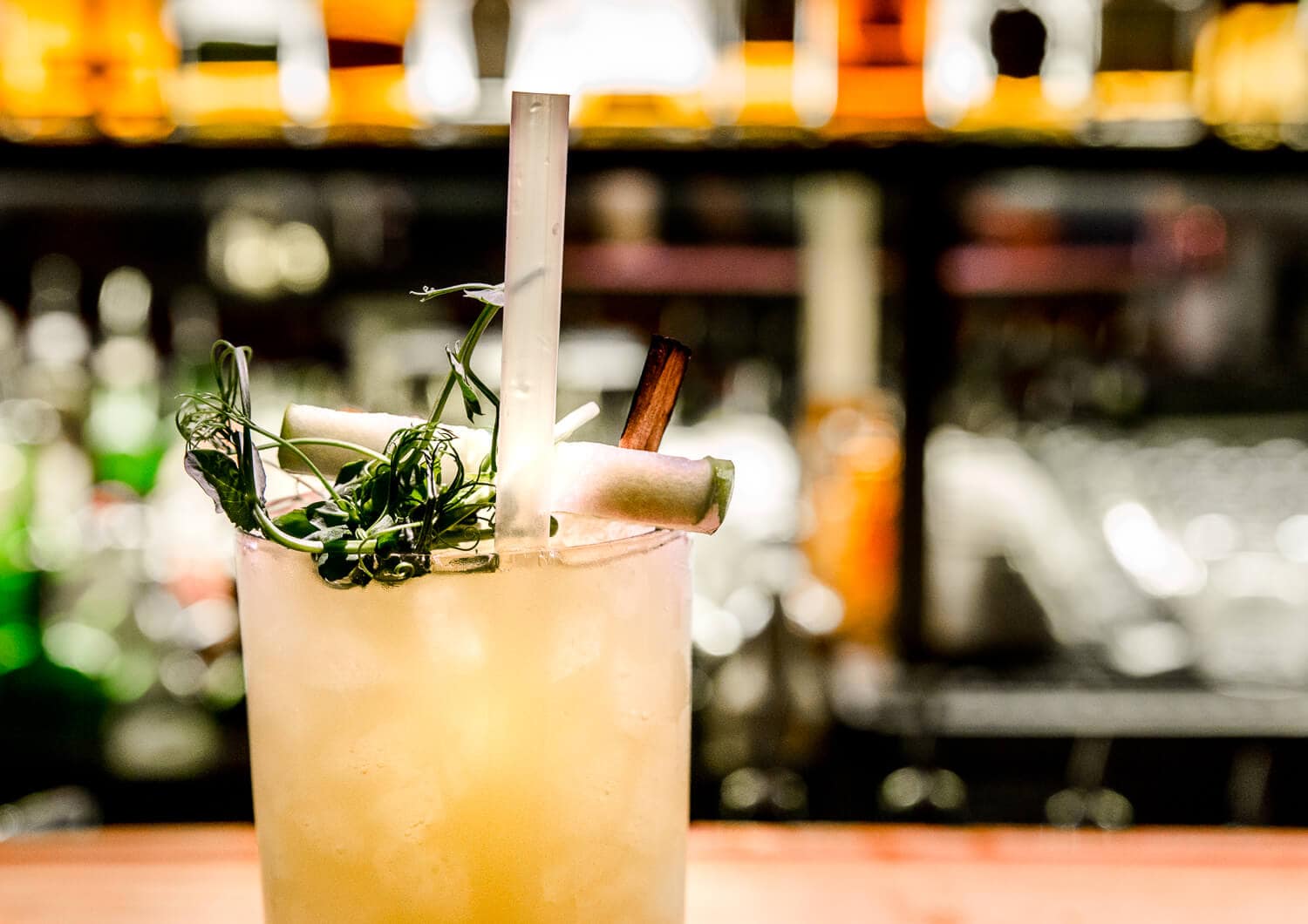 HOURS
MON–SAT: 6PM-2AM
SUN: Closed
ADDRESS
Šilingrovo nám. 257/3, 602 00
Brno-střed, Czechia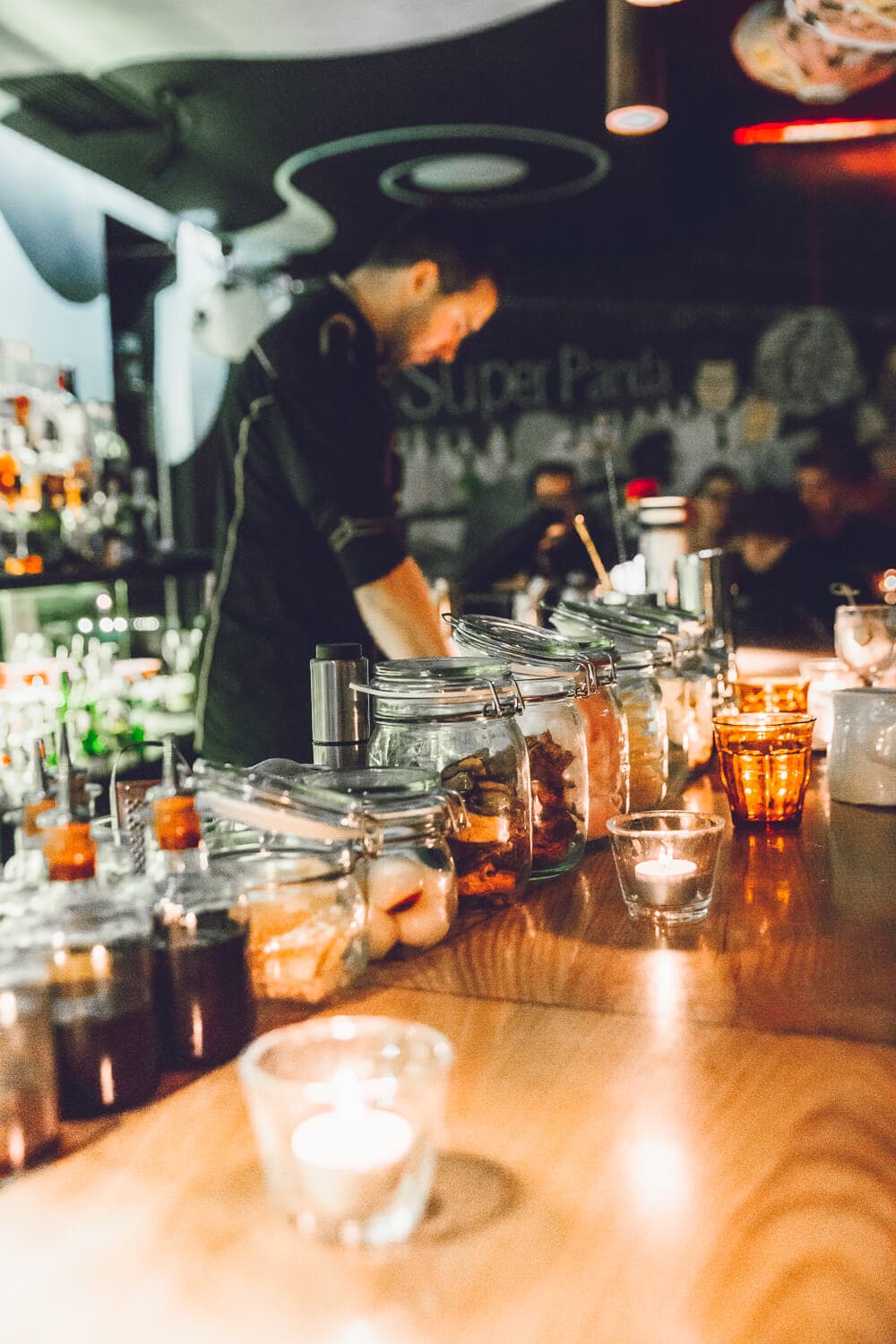 Did I miss anything? What are you favorite bars in Brno?
---
PIN IT: 7 MUST VISIT BARS IN BRNO FOR THE BEST LOCAL BEER AND COCKTAILS