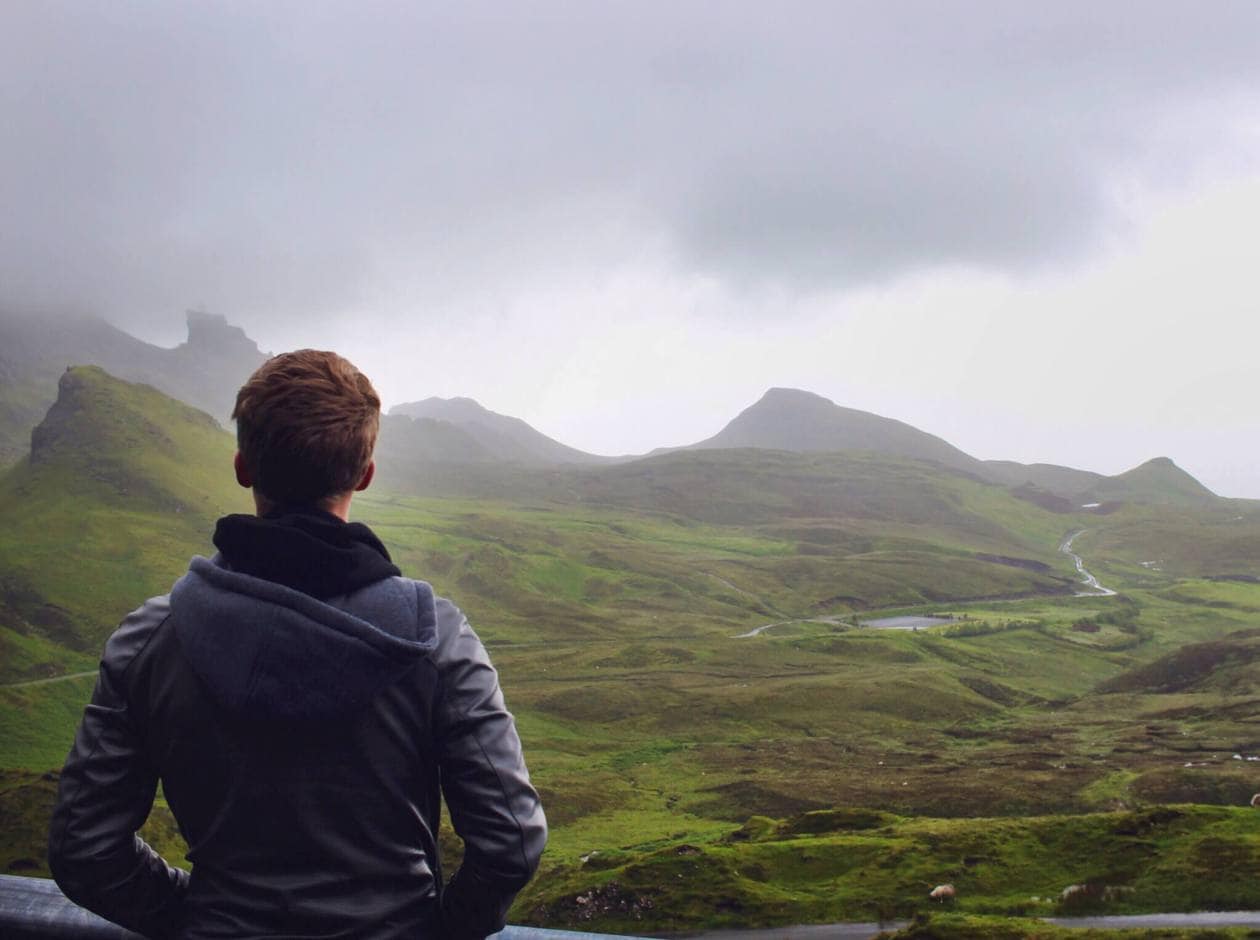 My g'ma is going to be back on the Isle of Skye again at the end of the month, so she decided to stay in Plockton while Nick and I rented a car and explored the island today.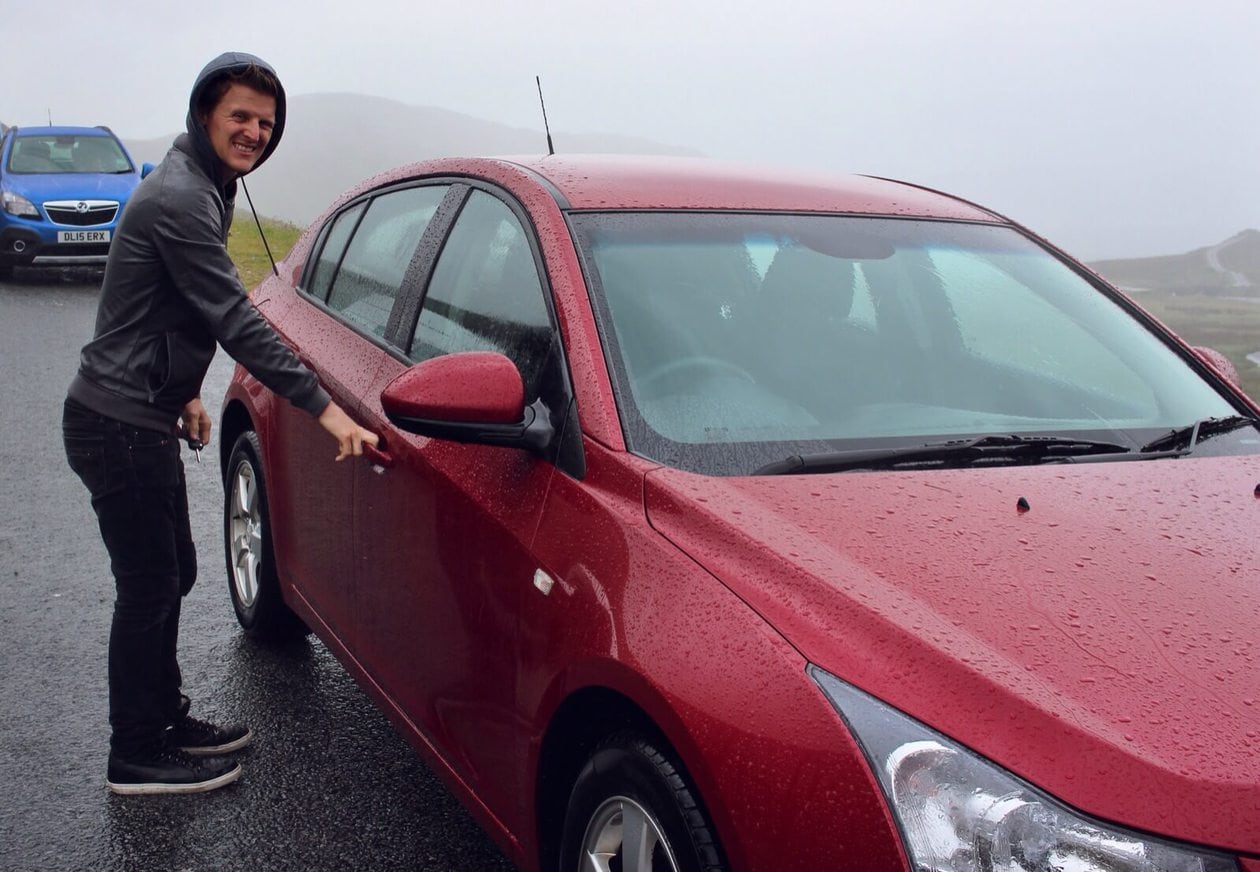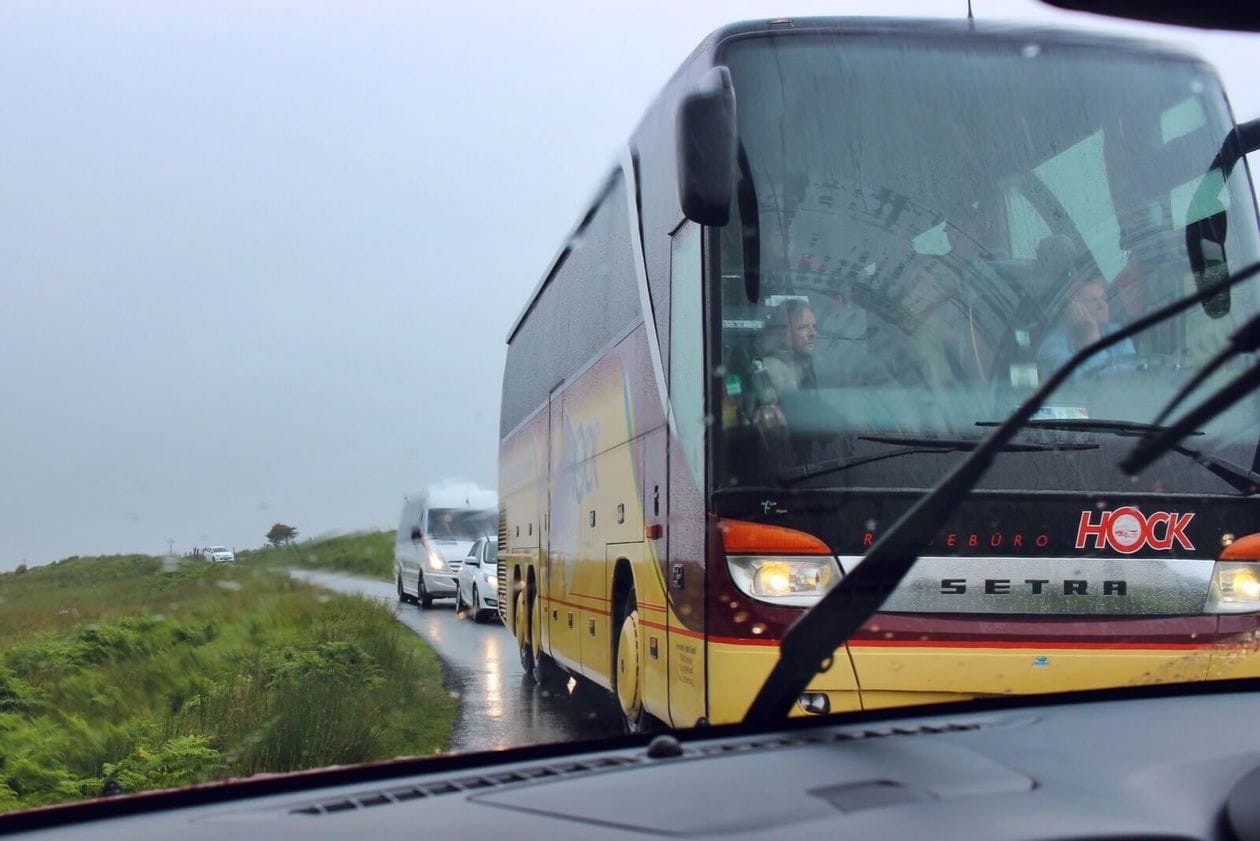 pulled over to the side of the road letting busses pass
Nick volunteered to drive which was terrifying for the both of us. He's normally a little scary behind the wheel, but the combination of driving on the left side of the road, the other side of the car, and in 1 lane, multidirectional traffic was a lot to deal with. He did a good job though.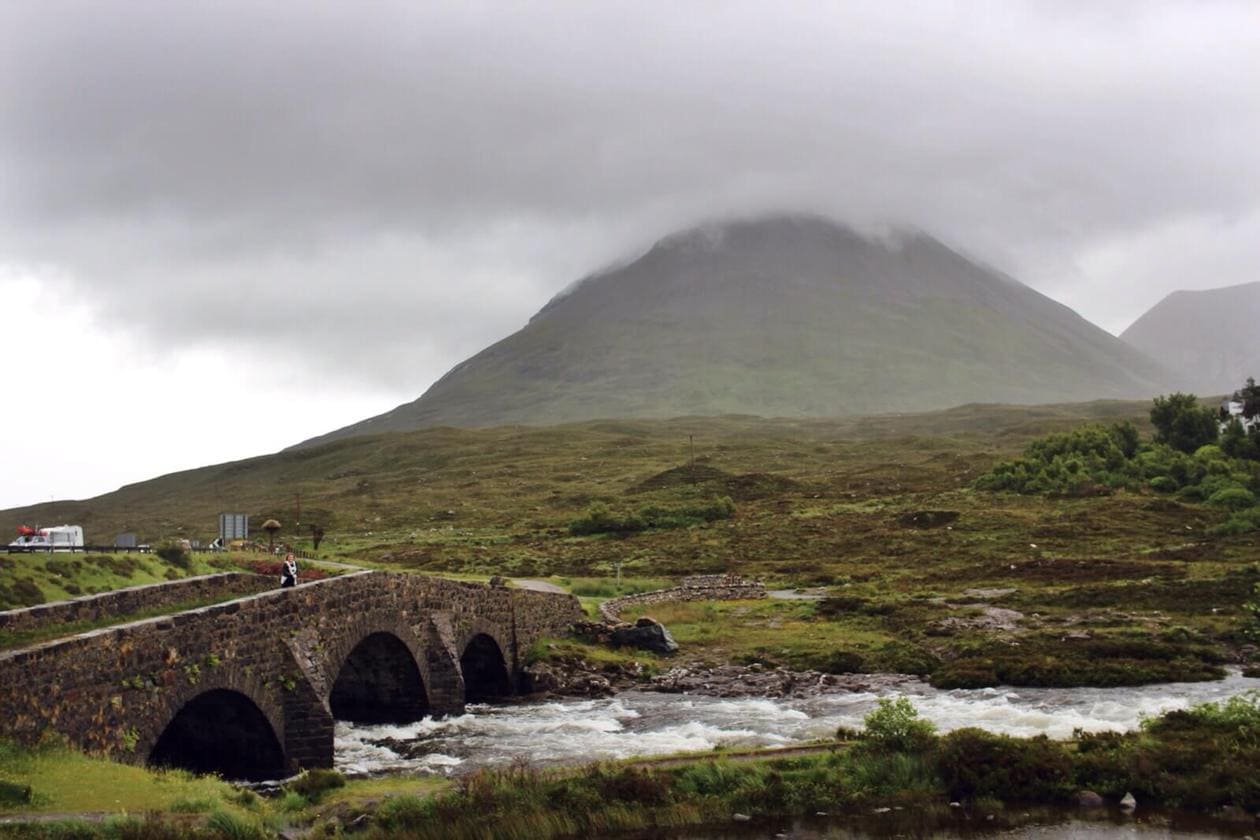 Just as I remembered, the Isle of Skye is absolutely breathtaking. It's one of (if not the most) beautiful places I've ever been. Unfortunately, it was a bit of a dreary day and the thick mist made the visibility in some areas a little disappointing. We completely missed the Old Man of Storr because it was hiding behind a layer of white clouds. The winds were also high which made the rain feel like a monsoon when it was blowing directly into your face. Despite the challenges, we made the best of our time focusing on what we could see and appreciating the rain and the mist. Without it, the grass wouldn't be as neon green and entire feel of the place the wouldn't seem as hauntingly beautiful.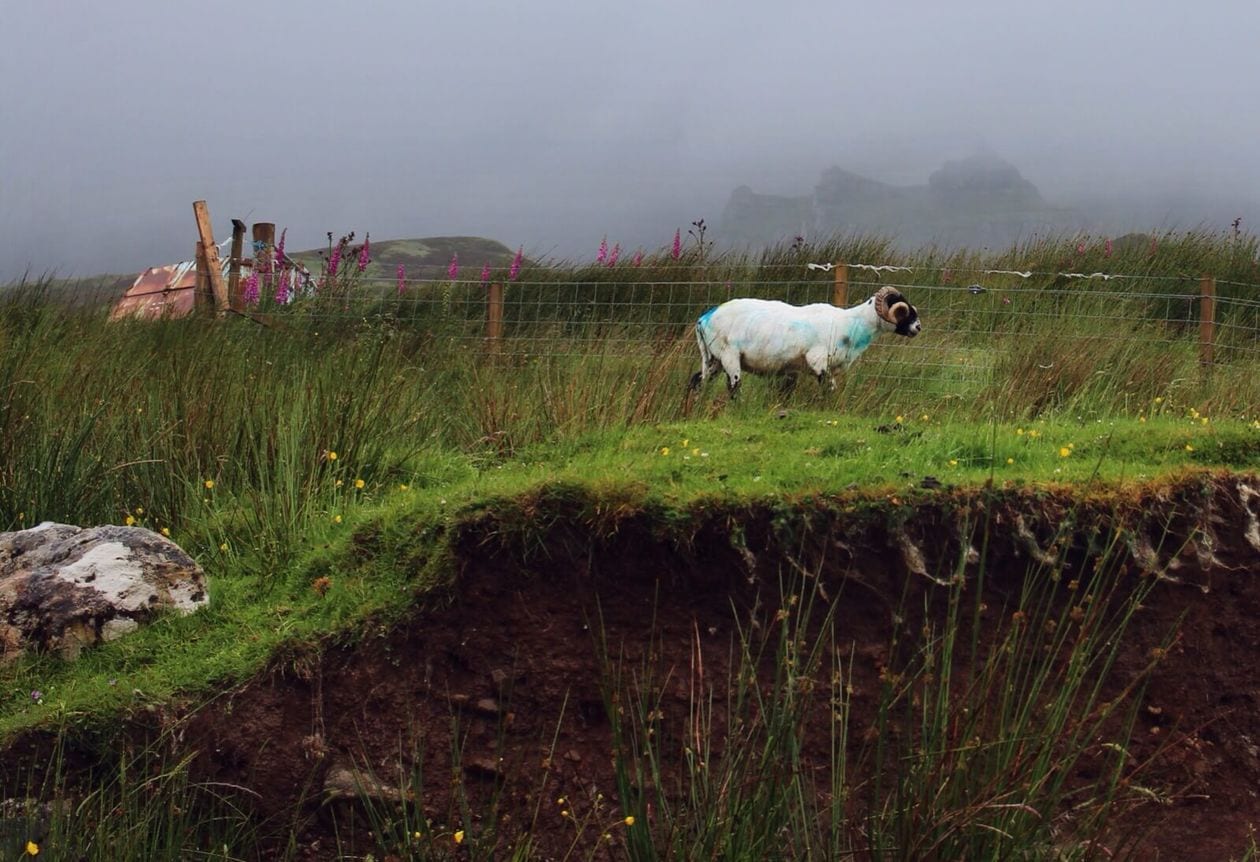 At one point we pulled over at a lookout, ran through the pouring rain through what looked like Middle Earth, and found ourselves at the edge of a cliff. As we approached the steep drop, the sun broke through the clouds and a double rainbow appeared directly in front of us. In that instance we forgot that we were soaking wet, and we started screaming and running towards it. It was magical.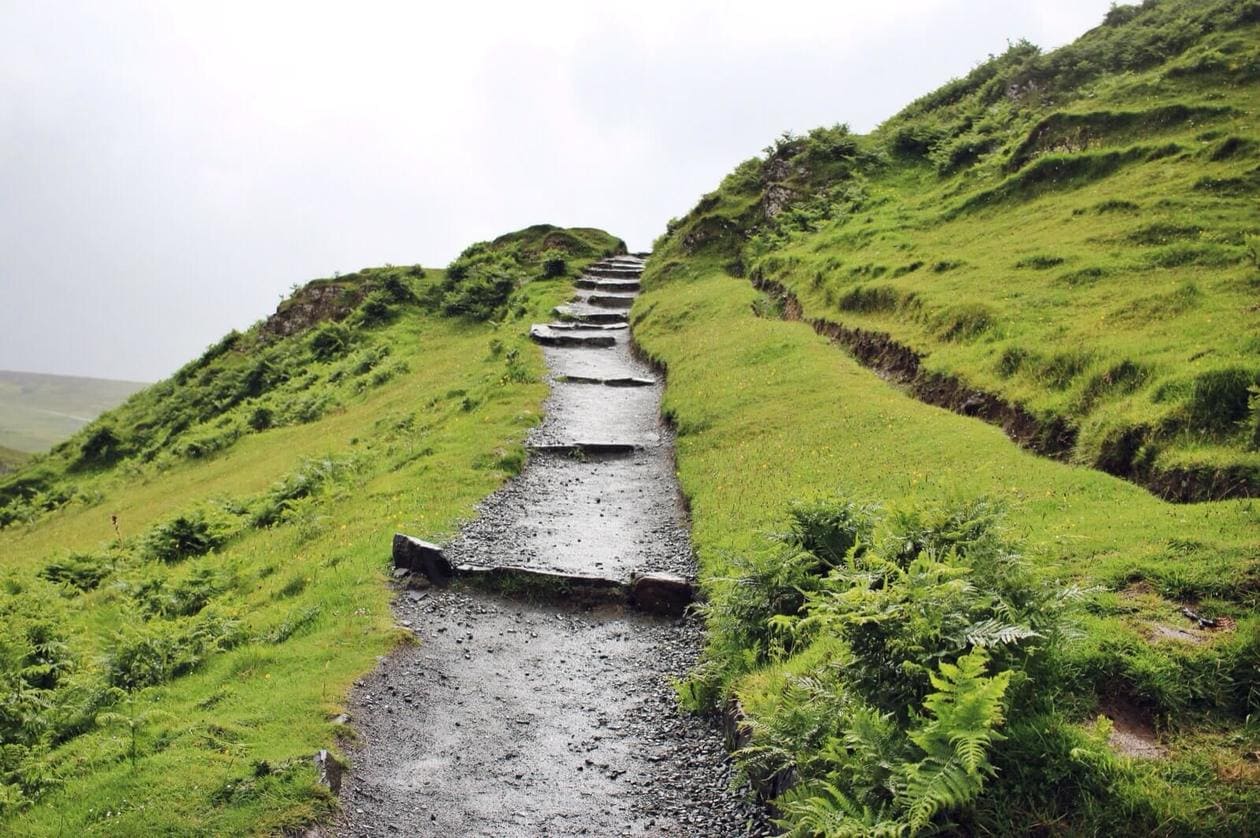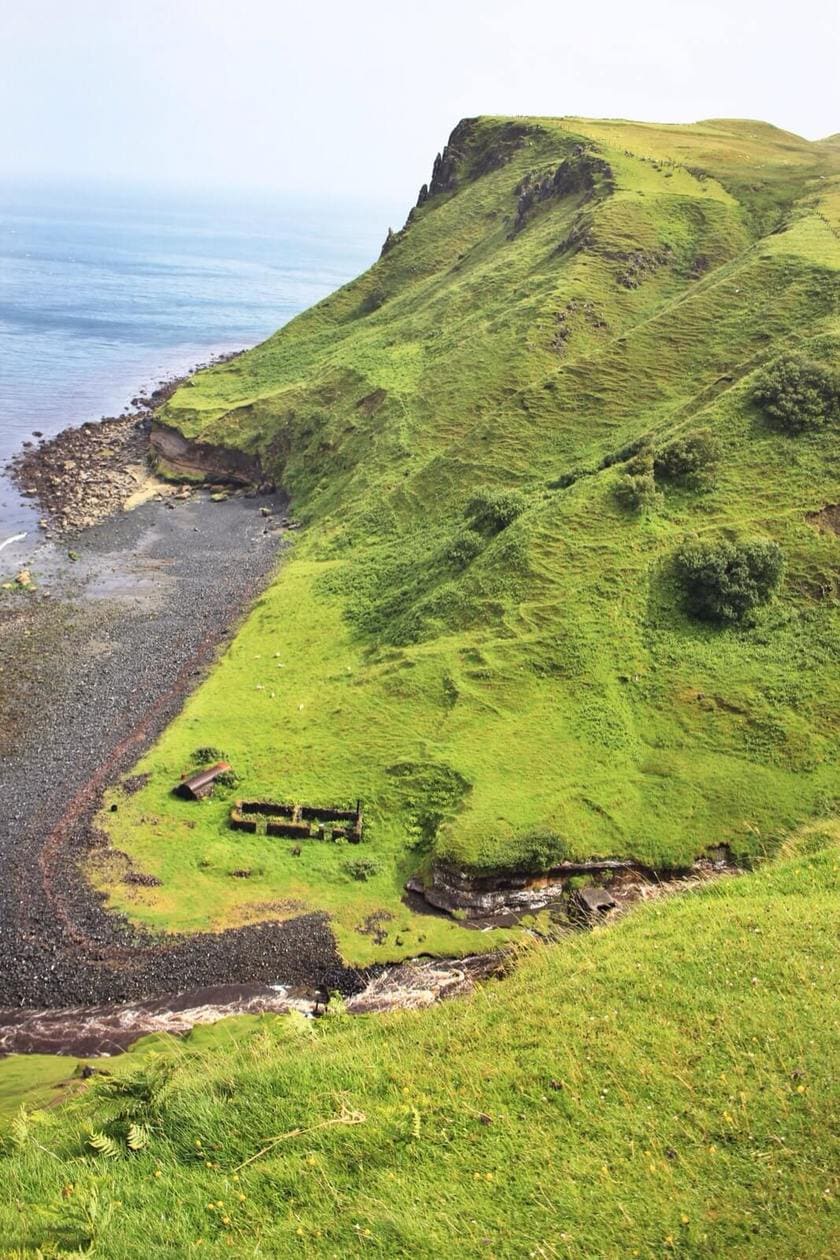 Quiraing
We were taking longer to make it around the island than I had accounted for, so we decided to take a shortcut through to Uig in order to make up for lost time. On our way, we stopped to take pictures of the sheep for Casey and when I got out of the car, the magnitude of the place hit me. These pictures are a pitiful representation of how this looked, and even more so how it felt. It's pretty special to be the only people for miles in a place as powerful as this.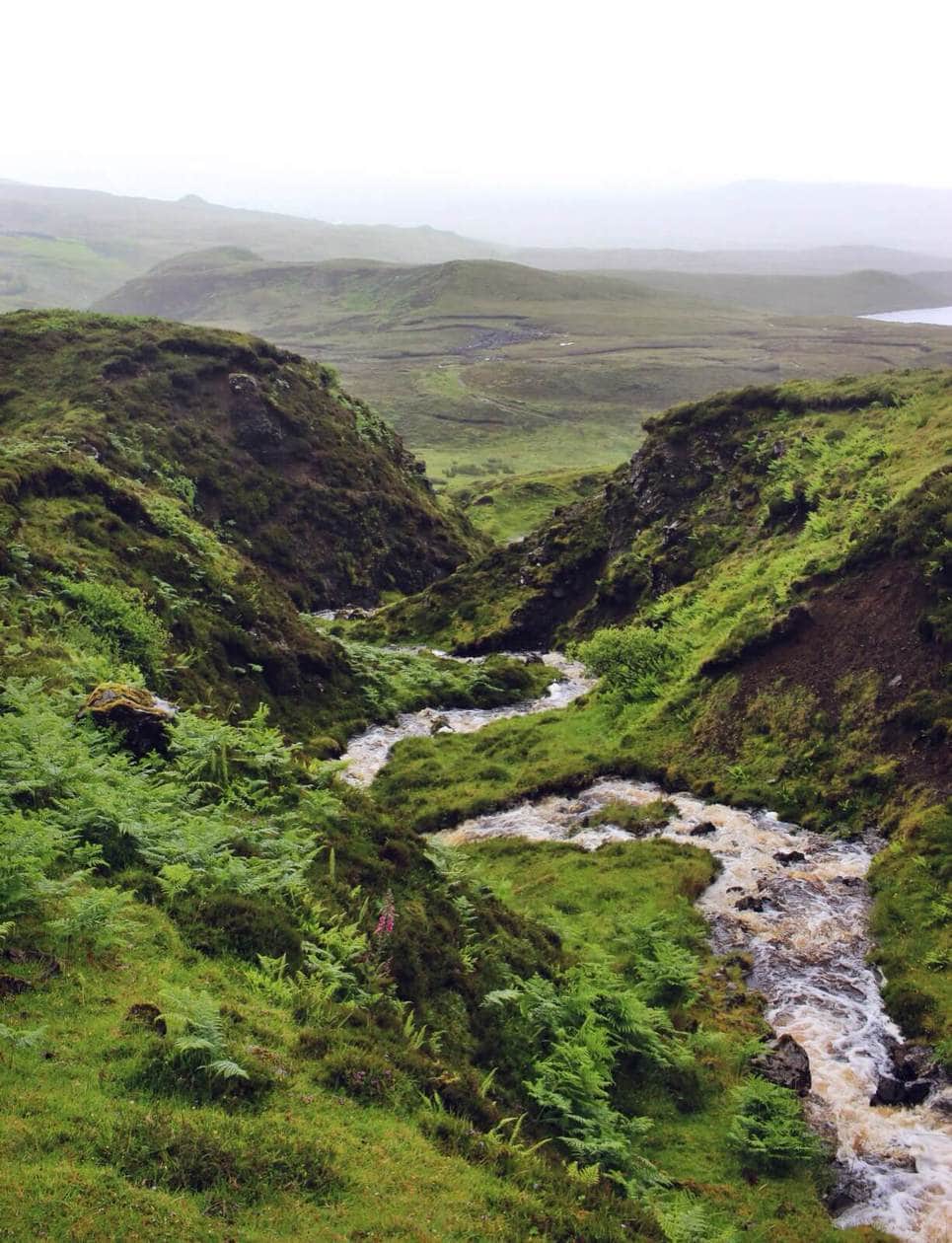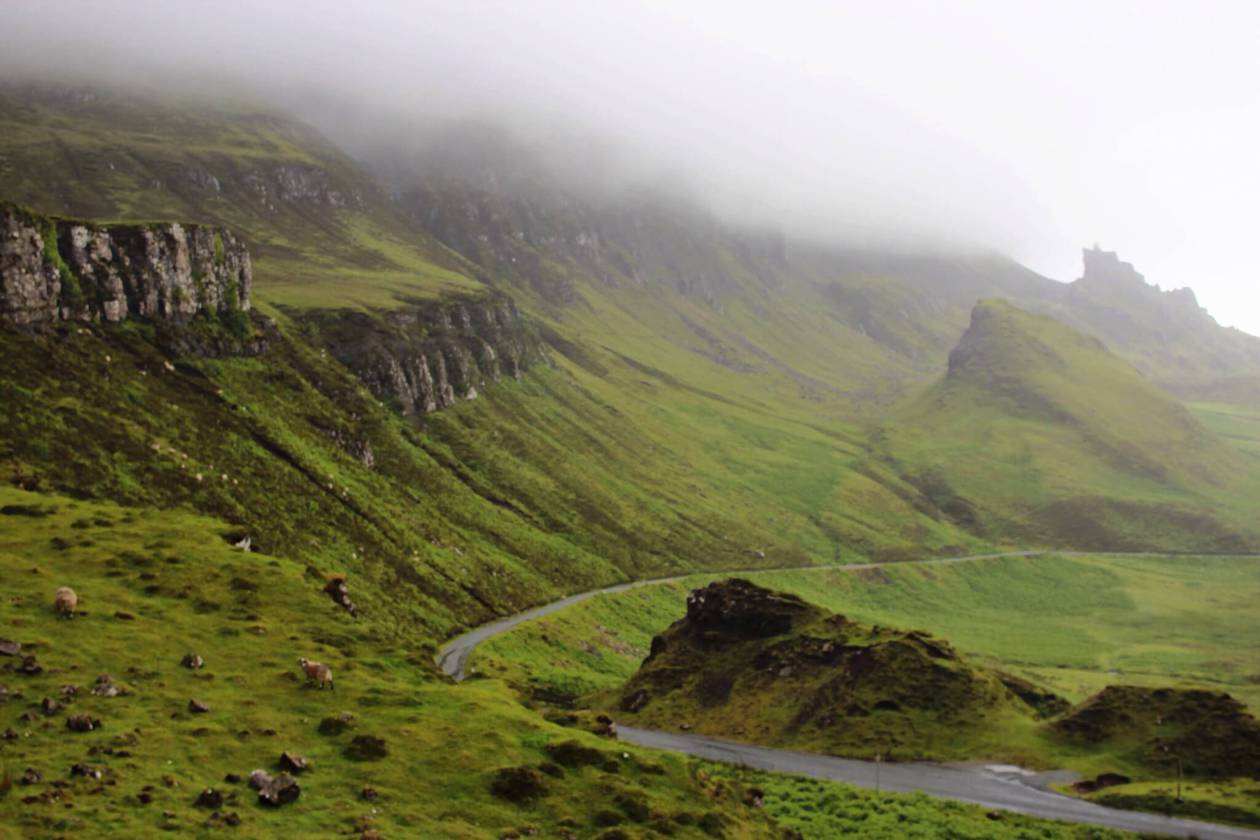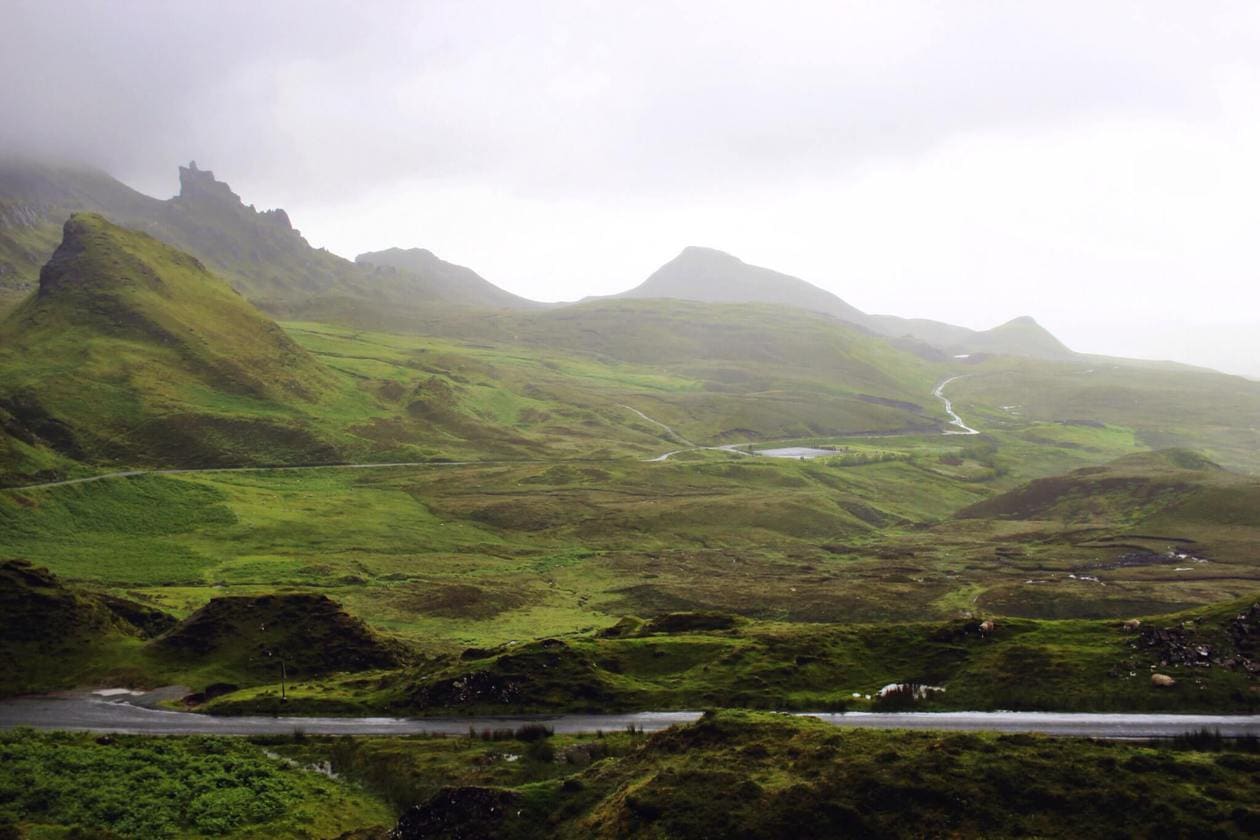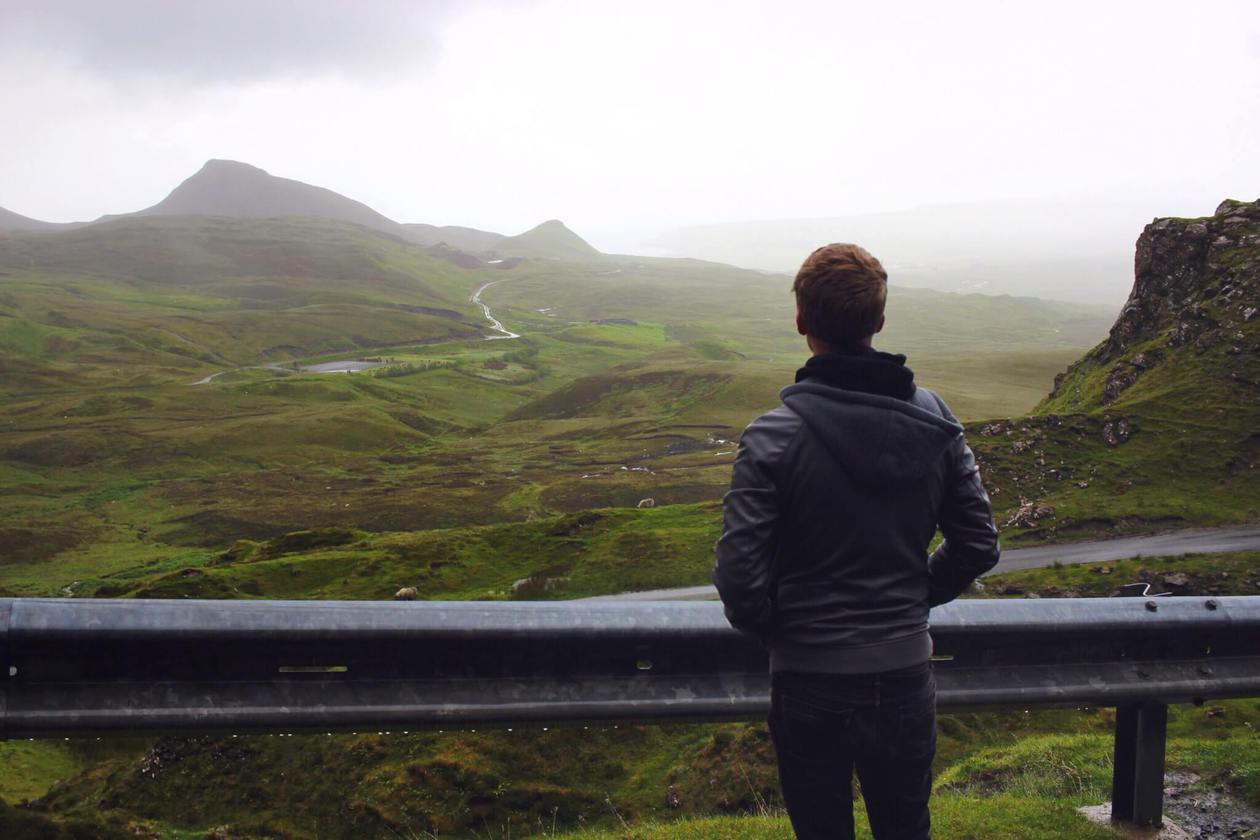 Faerie Glen
When we got to the other side of the island we took a small side road up to Faeirie Glen, which is as magical as it sounds. Because we had to catch our bus to Drumnadrochit at 6:45pm, we only had a few minutes to spend here which was such a bummer. We were already cutting it close and we still had a lot of ground to cover.
Missing the Bus
I kept my eyes glued to my iPhone map and our blue dot was crawling at a snail's pace, even though time was rushing by.  I thought I was going to have a panic attack. My grama was expecting us at 6pm and I didn't have a way to get ahold of her. The clock hit 6:15, then 6:30. At 6:40 we were so close, but stuck behind the slowest car on Skye. We finally crossed over the bridge at 6:45 and prayed that the bus was running late. No such luck. When we raced into the rental car office to drop the keys off, everyone including my grama who was inside looking for us, let out a sigh of relief. The man in the office pushed us into one of his cars and said "you're gonna try and catch the bus!"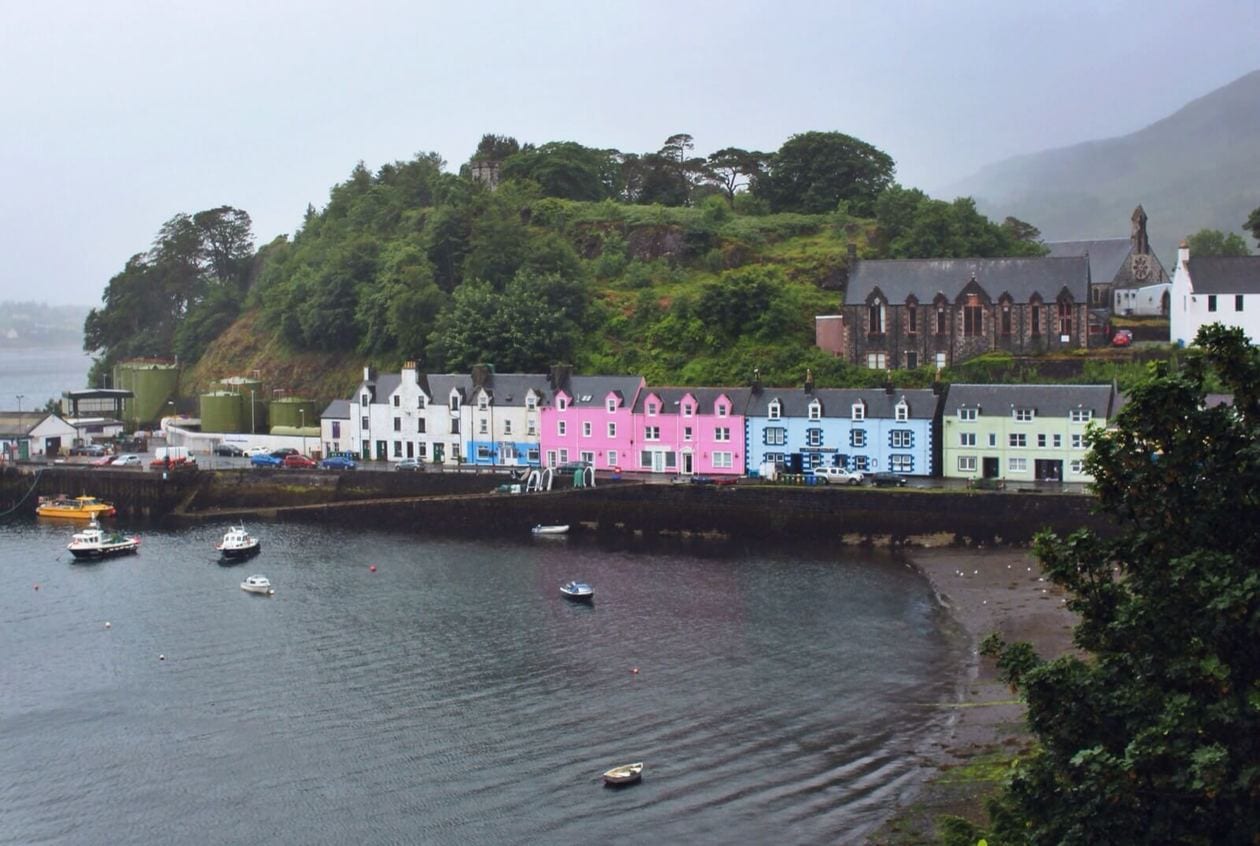 Stranded in Kyle of Lochalsh
The woman he asked to take us was the most miserable, rude person I've ever met and she was pissed about the errand she was just asked to run. My g'ma asked if she thought we'd actually be able to catch up to the bus and the woman responded very rudely but indicated that no, we wouldn't. Since there was no point in trying, she dropped us off at a tiny village and took off. We were stranded. The last bus and train had left for the night, no places for miles had any available rooms. We went into a local hotel to find wifi and call our B&B in Drumnadrochit. We exhausted every option. My grama asked the man at the hotel if we could squeeze in the broom closet, and she seriously wanted to call the police station to see if we could sleep in the jail hahaha. Our last option was to pay a hefty taxi fare to Drumnadrochit, but even they were all booked for the night! Finally the hotel chef came out to help us (people are so nice here!) and he gave us one last taxi number we hadn't tried. Success.
 It wasn't an ideal ending to the problem but we made it to our B&B in Drumnadrochit in time to watch the sunset over Loch Ness. Thank god Nick and my grama are so easy going. I was a basket case but they made the situation fun and we all laughed about it before falling asleep that night.