In Dubai, police ride around in Bugattis and Lamborghinis, literally everything you look at is the recipient of a Guiness World Record, and there are ATMs that dispense gold. The city is extreme, which is exactly what drew me to it in the first place. But with that said, there is a lot of stuff I wish I would've known before traveling to the United Arab Emirates. Keep reading to discover my Dubai travel cheat sheet for everything you need to know as a first timer in this unique city.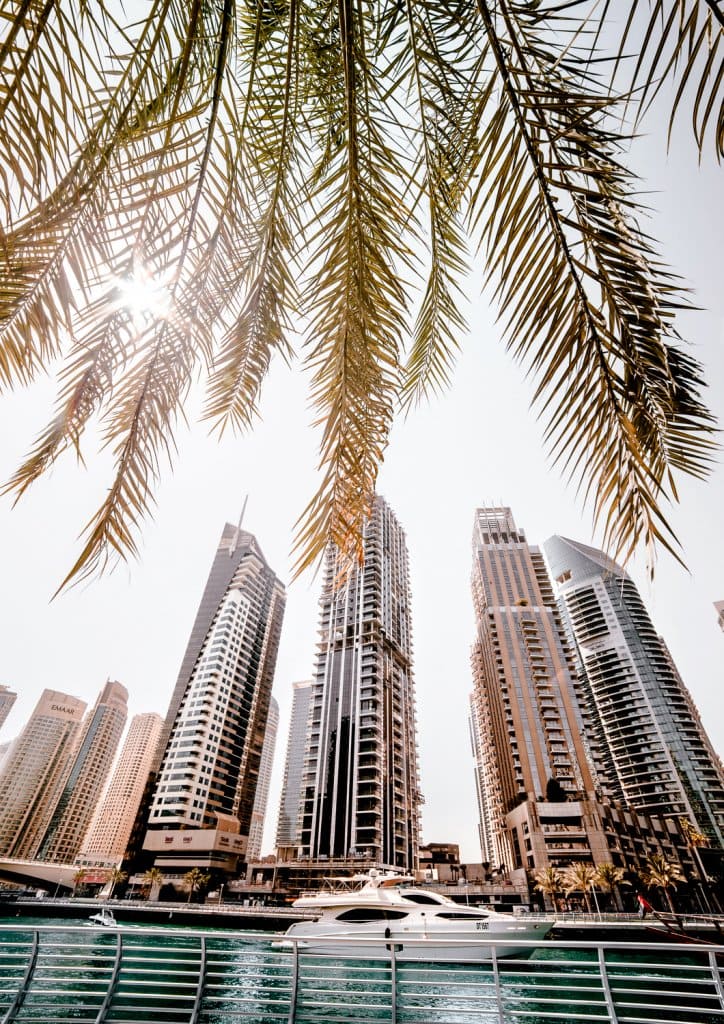 THE DUBAI TRAVEL BASICS // KNOW BEFORE YOU GO
CURRENCY
The currency of Dubai is the United Arab Emirates Dirham.
1 AED = .27 USD
1 AED = .24 Euro
1 AED = .21 Pound Stirling
1 AED = .37 CAD
1 AED = .39 AUD
To convert AED for all currency, click here
LANGUAGE
The National language of the UAE is Arabic, but English is widely spoken as 85% of Dubai's residents are expats from all over the world.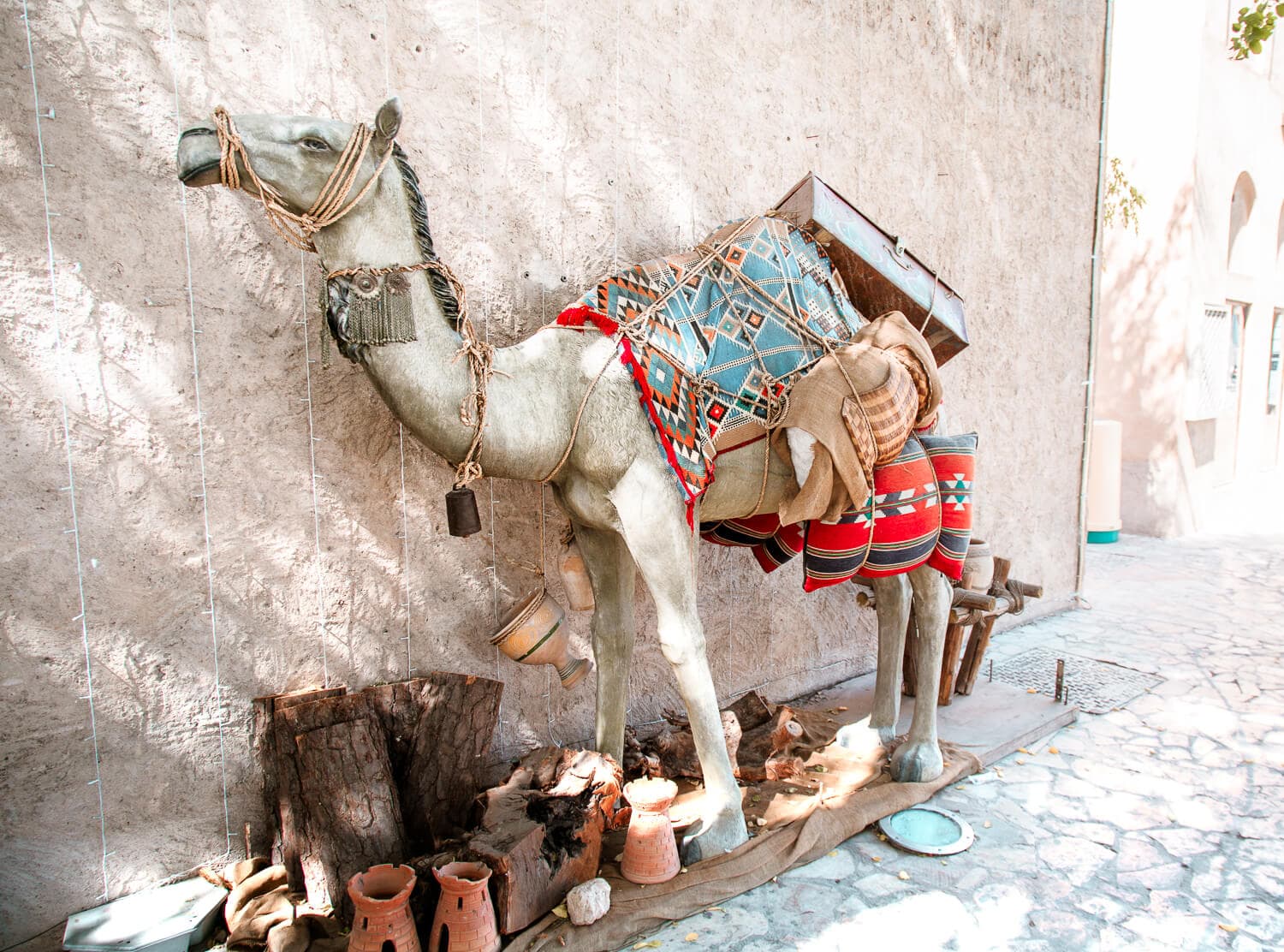 VOLTAGE & OUTLET TYPE
The voltage in Dubai is 220V/ 50HZ, and G is most standard outlet type.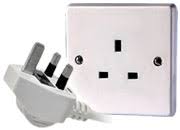 DUBAI WEATHER // WHEN IS THE BEST TIME TO TRAVEL
Dubai is hot. Like, disgustingly hot. We traveled in April and temperatures were in the 90's (even though it felt more miserable than that).
The best time to visit Dubai weather wise, is between November-March because the temperatures will be cooler. However, this is peak season so expect a ton of tourists and more expensive room rates.
If you visit during the Summer, you can find some great hotel deals but the extreme heat might make it difficult to sightsee.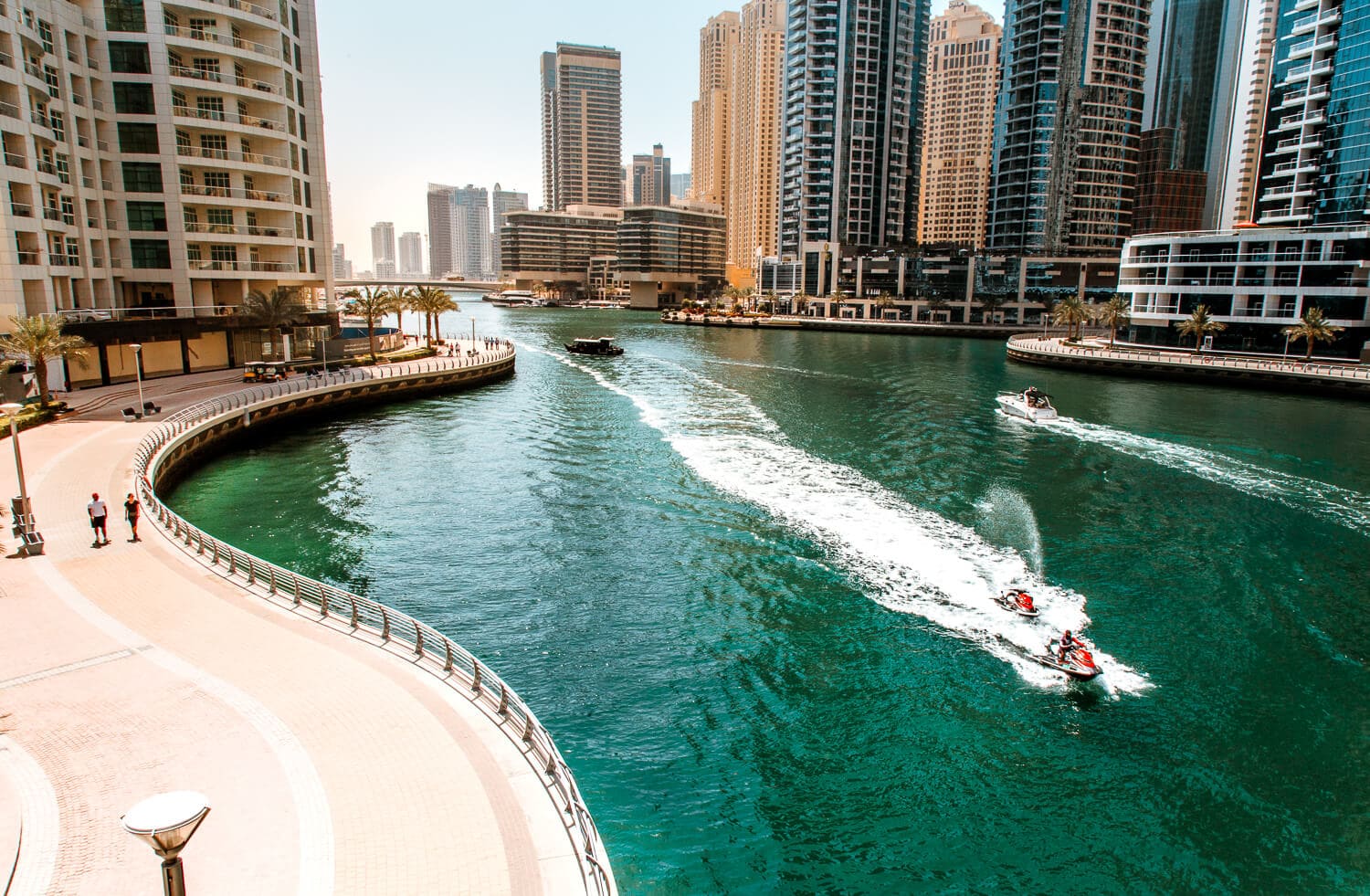 HOTTEST/COLDEST MONTHS August is the hottest month with an average temperature of 96F (36C). The coolest month to visit is January, when temperatures average 66F (19C).
RAINFALL It only rains around 5 days a year in Dubai with February being the "wettest" month.
DAYLIGHT HOURS June has the most daylight hours (13 hours 42 minutes) while December has the shortest days (10 hours 33 seconds).
TIPPING IN DUBAI
Tipping in Dubai is not generally expected, but it is always greatly appreciated.

RESTAURANTS It's common for restaurants to charge a 10-15% service charge on the bill, but this does not go toward your server. A 10-15% tip for waitstaff is common.
HOTELS 5-10 AED for the bellboys and 5-10 AED per night for the maids.
TAXIS 5-10 AED or round up the fare.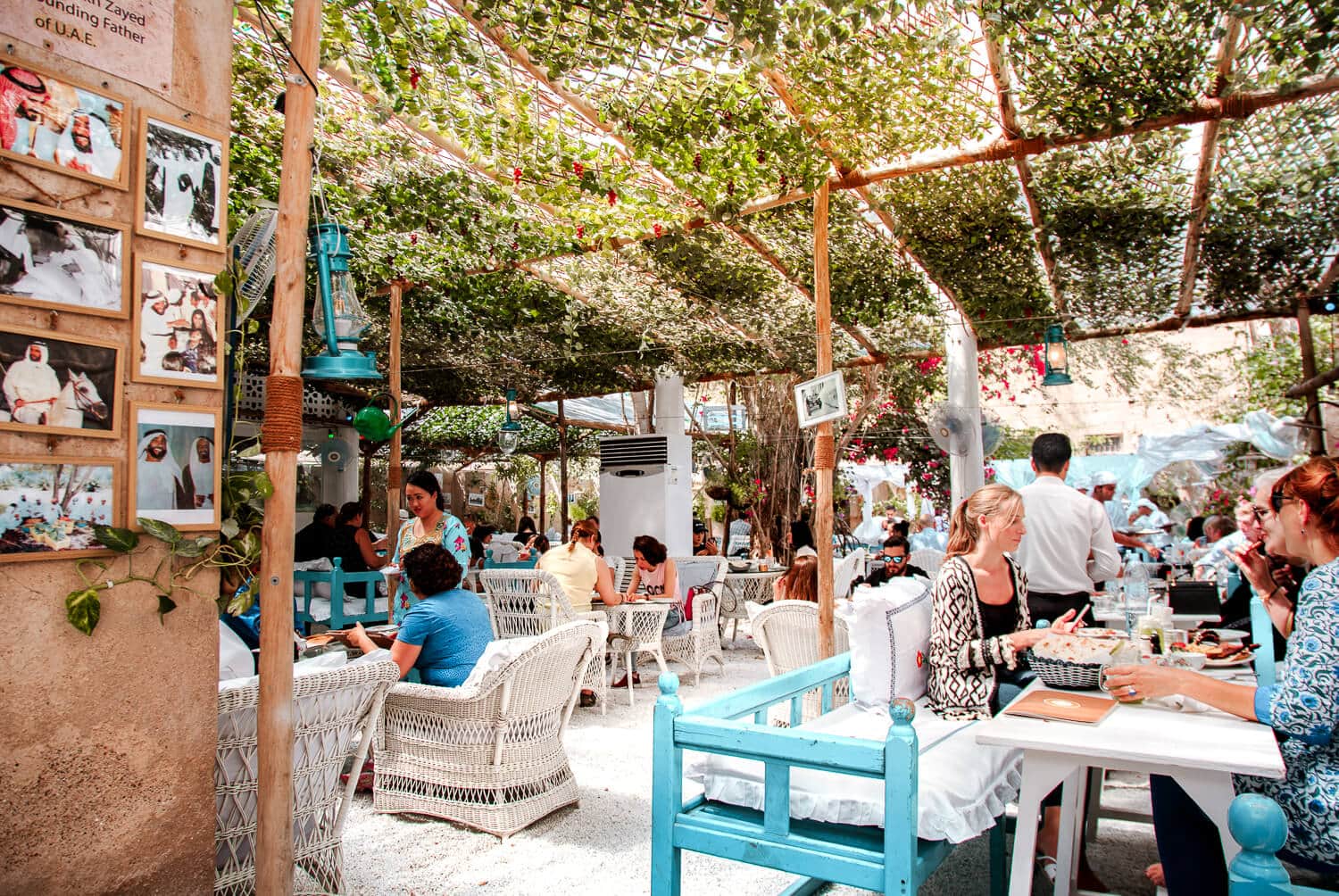 THE TOP 10 THINGS TO DO IN DUBAI
From a beach bar with amazing views of the Burj Al Arab, to a glimpse into the trading markets of the past, click the related post below to discover my top 10 things to do in Dubai (and as a bonus, 1/2 of them are free!).
---
RELATED POST: THE TOP 10 THINGS TO DO AND PLACES TO VISIT IN DUBAI // A DUBAI TRAVEL GUIDE
---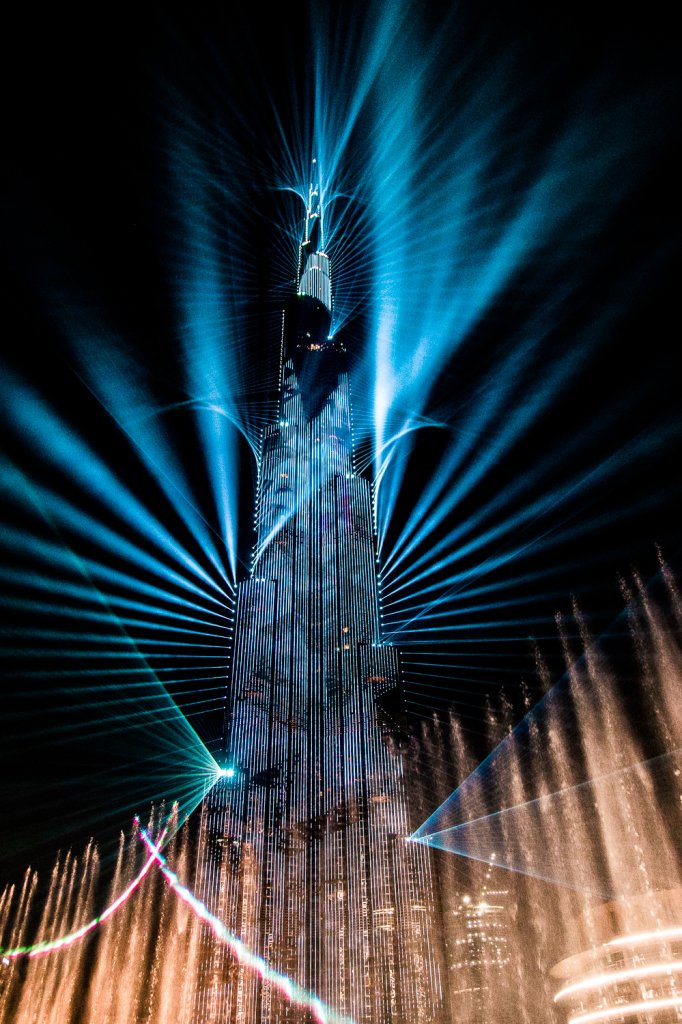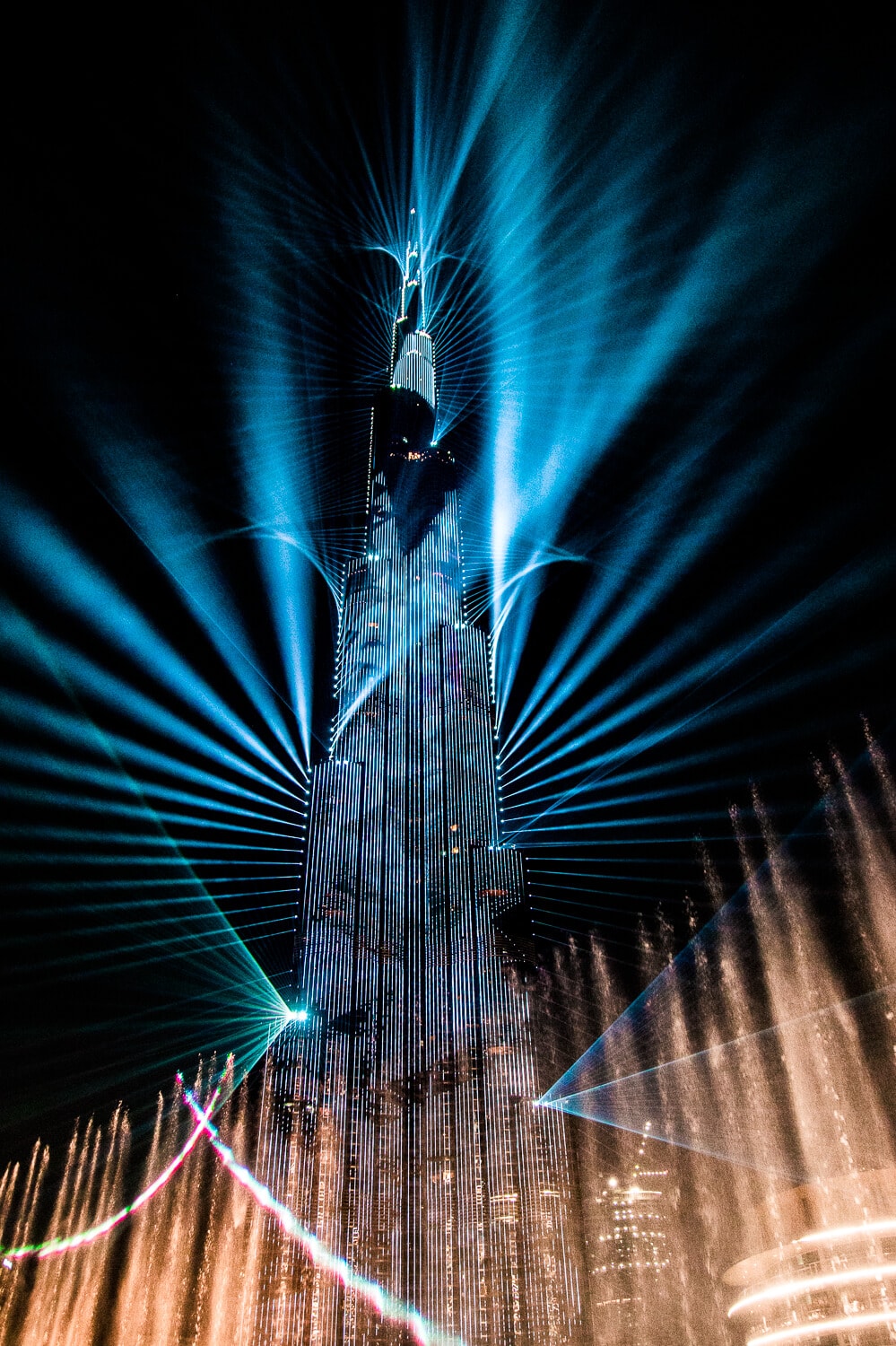 20 DUBAI TRAVEL TIPS FOR FIRST TIMERS
FAMILIARIZE YOURSELF WITH THE LAWS
Despite being one of the most progressive cities in the Middle East, Dubai is still part of an Islamic country where Sharia Law is practiced. While you'll likely not run into any problems during your visit, it's smart to brush up on the laws and customs to keep yourself aware.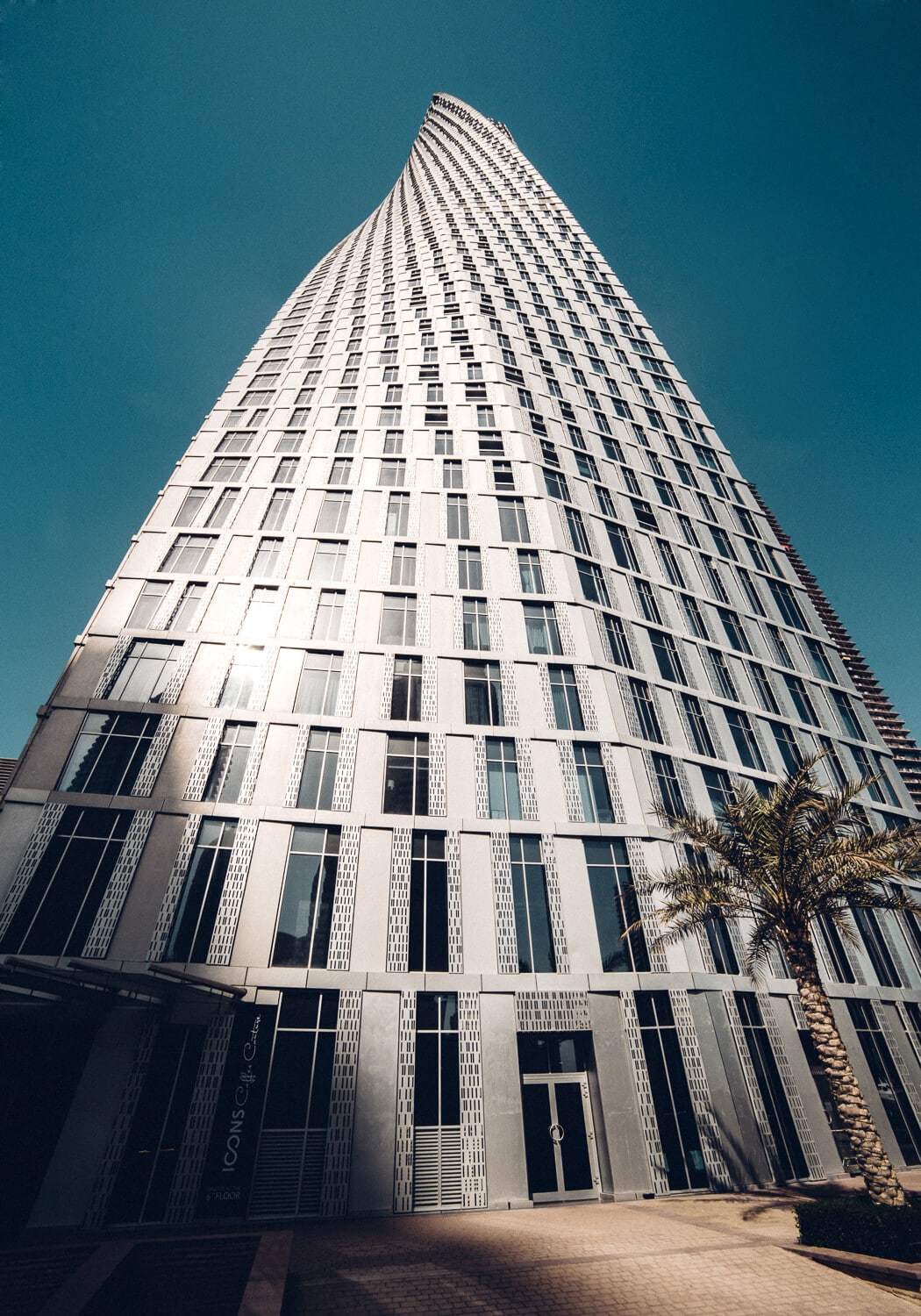 ALCOHOL
Yes, you can drink in Dubai.
Alcohol consumption is allowed for non-Muslims and is readily served in licensed hotels, hotel bars and restaurants. You cannot, however, purchase alcohol from stores and supermarkets as you need a special license for that.
It is highly illegal to drink or be drunk in public and the crime is punishable by up to 6 months in jail, plus fines. There is also a zero tolerance policy when it comes to drinking and driving.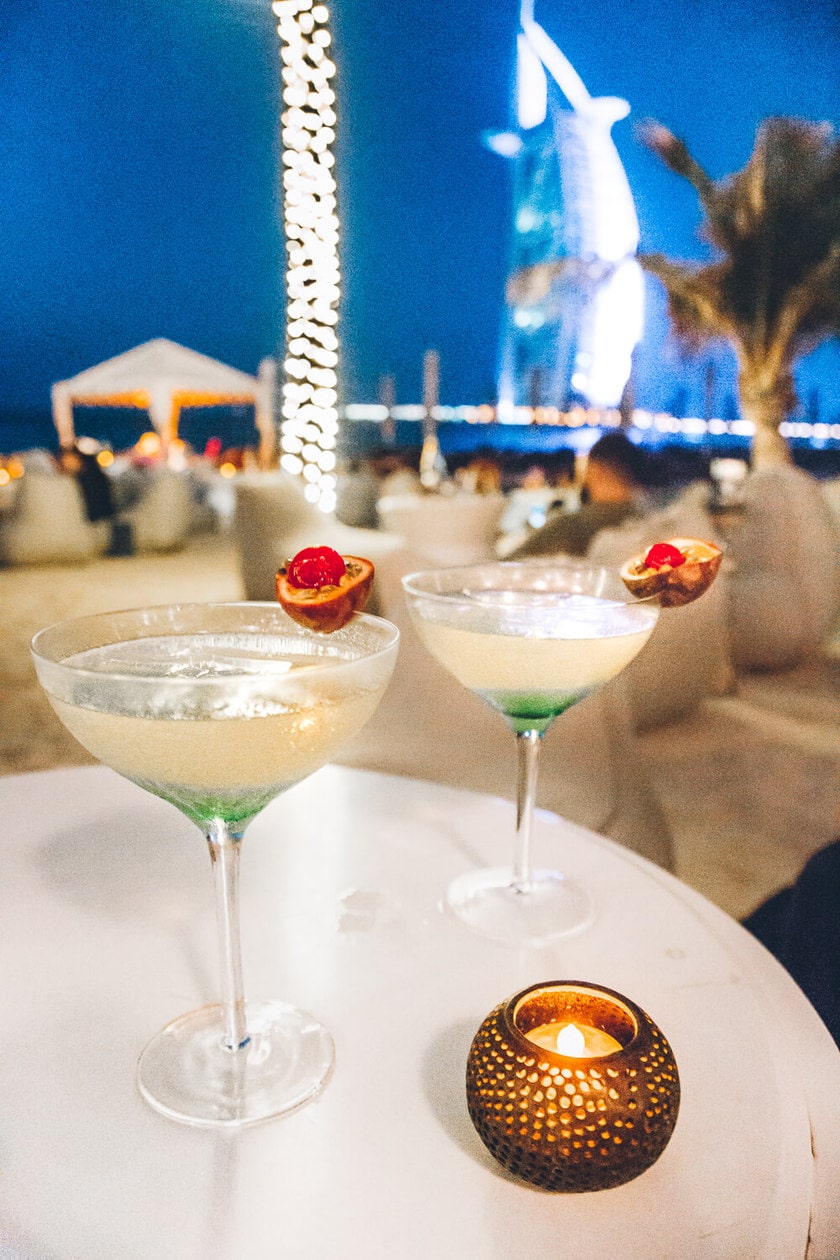 PUBLIC DISPLAYS OF AFFECTION
Public displays of affection are frowned upon and several arrests have been made in the past for kissing in public.
Hand holding is fine, but anything more than that might get you into some hot water. Use discretion and air on the side of caution.
UNMARRIED COUPLES
It is against the law for unmarried couples to share a hotel room. However, you should not have a problem at hotels as long as you are discreet.
Hotels are used to foreign visitors and it is extremely unlikely that you will be questioned. Also, it's common for women in Dubai to keep their last name so having two different surnames is not a problem.
Nick and I are not married and we had zero issues.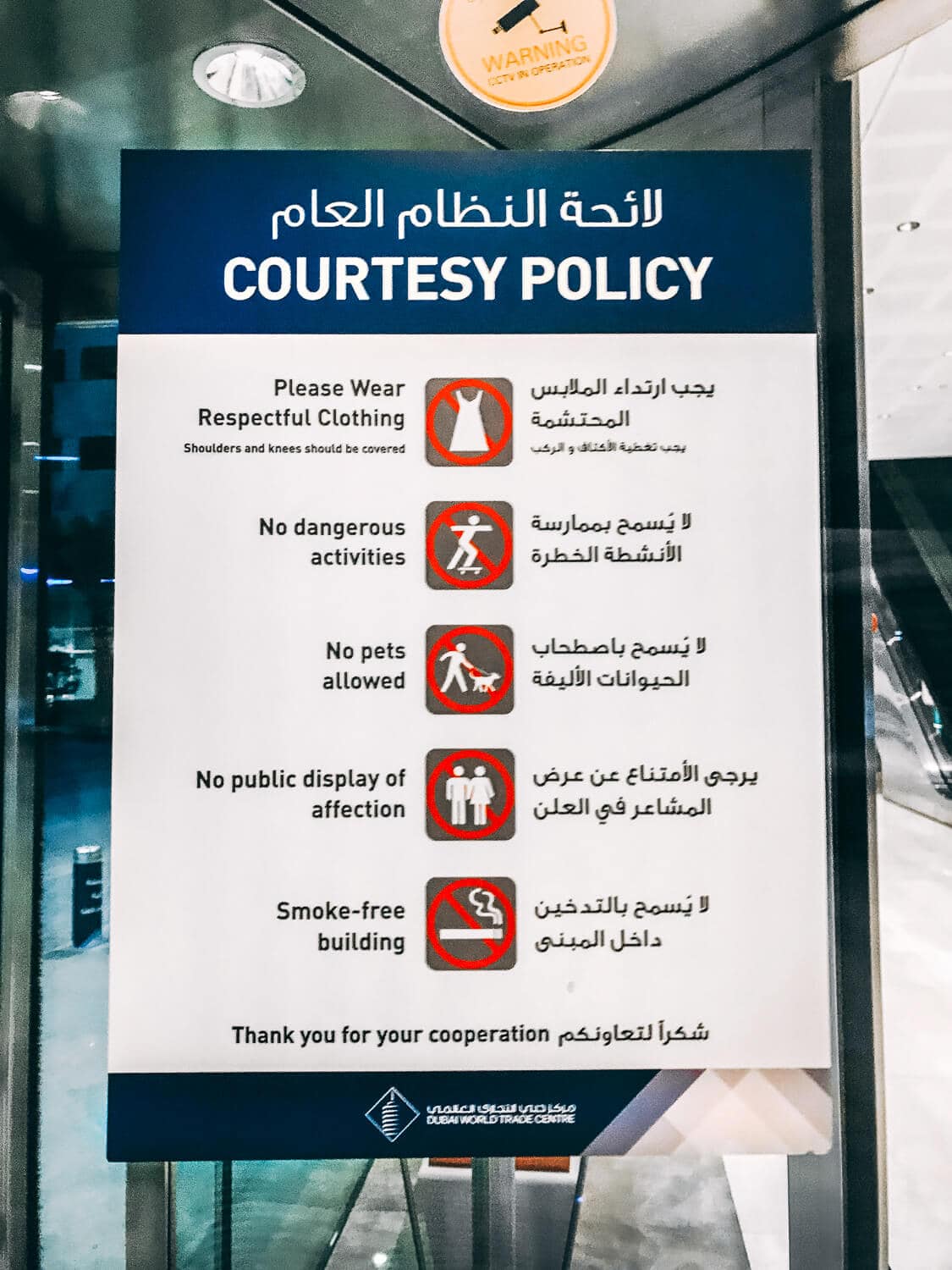 LGBT TRAVELERS
Unfortunately, homosexuality is illegal in Dubai. Many hotels will require visitors of the same sex to book a room with twin beds, while some international chains won't even question it.
In public, avoid public displays of affection and use discretion to stay safe.
Cross-dressing is also illegal.
ELECTRONIC CIGARETTES
Electronic cigarettes are illegal and will most likely be confiscated at the airport.
DRUGS
There is a zero tolerance policy for drugs and even having trace amounts in your system counts as possession. Even the smallest amount can land you in jail for the standard 4 years.
NO FISH ON THE METRO
Haha. Apparently it's a problem.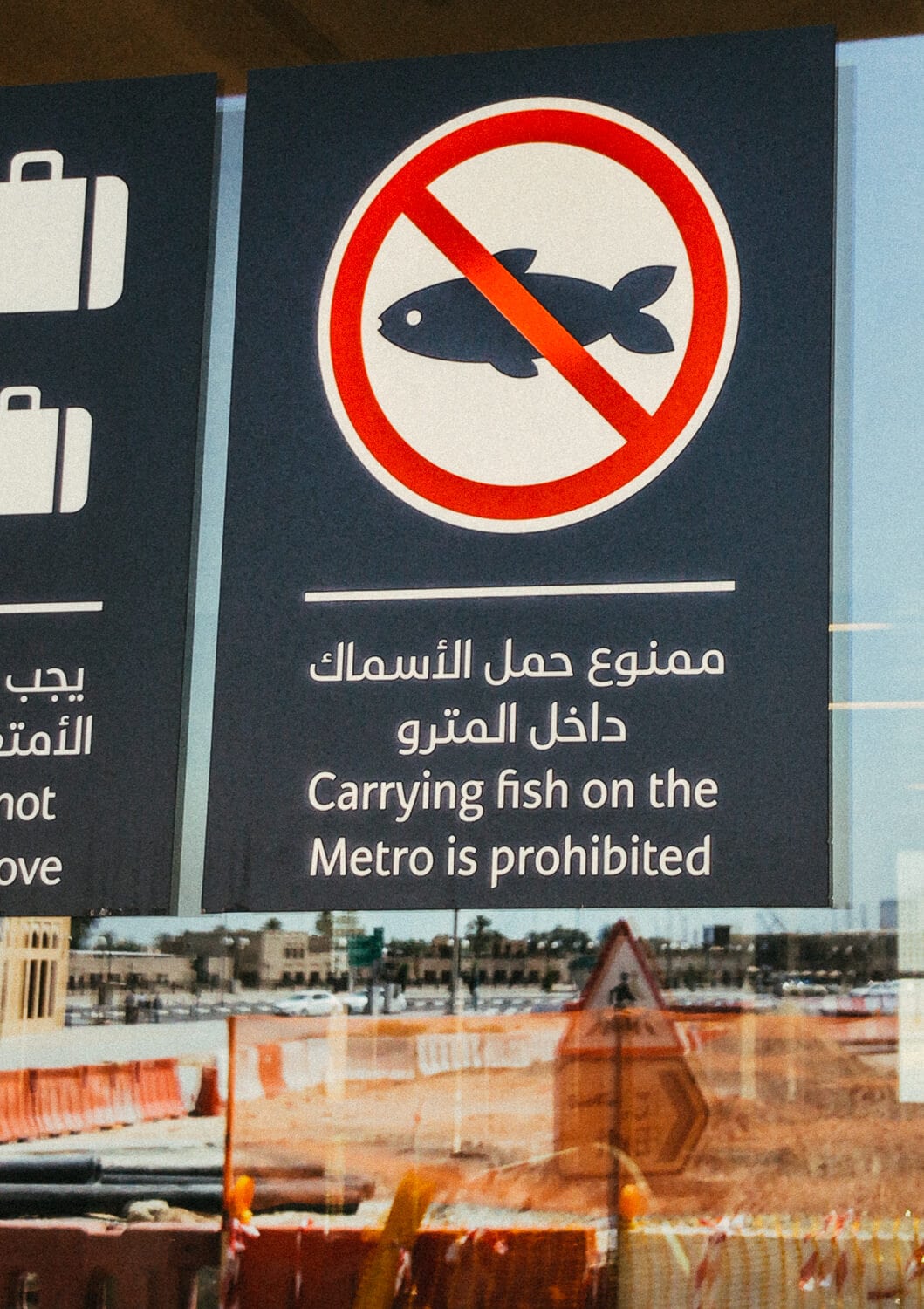 WHAT TO WEAR IN DUBAI // SIMPLIFYING THE DRESS CODE
As a female, I was a little nervous about what to wear in Dubai. The United Arab Emirates is a Muslim country and modesty is both appreciated and, in some places, required. Here are a few suggestions and tips as far as what to wear in Dubai.
HEAD SCARFS Women do not have to cover their hair while traveling in Dubai unless you are visiting a mosque (a scarf will be provided).
SHOULDERS AND KNEES Men and women are asked to cover their shoulders and knees in public places.
PACK A SHAWL Some of the malls have a stricter dress code than other areas in the city. If your outfit is deemed inappropriate, a security guard might ask you to cover up.. so it's smart to pack a wrap or light sweater just in case.
BATHING SUITS Bathing suits and beachwear such as shorts and cover ups are fine, but only at the beach, pools and waterparks.
LOCAL AREAS Dubai is made up of mostly expats who do not care how you dress. However, a good rule of thumb would be, if you're going to an area with more locals (ie malls, the souks, metro etc), it's best to air on the side of modesty.
RAMADAN During Ramadan, the dress code is more heavily enforced. Keep scrolling to learn more about Dubai travel during Ramadan.
DRESS CODES Many of restaurants and clubs have dress codes. For men, sneakers and jeans are often not allowed. For women, the rules are a little more lenient, just be sure to wear a shawl or sweater when traveling to and from.
FASHION Dubai is a very fashionable and modern city. Just take a look at the locals' beautiful designer handbags and you'll see how much they appreciate fashion. You can have fun with your outfits while still showing respect for the culture.
WEATHER Keep the weather in mind. You'll likely be fighting the heat and humidity so opt for light, breathable fabrics.
I was surprised to see a ton of tourists not abiding by the modesty rule at all. I always try and show respect to the culture of whatever country I'm visiting, and it's also important for me to be a good representation of my own country.
Despite what I saw others doing, I did choose to cover my shoulders, cleavage and knees when I was in public.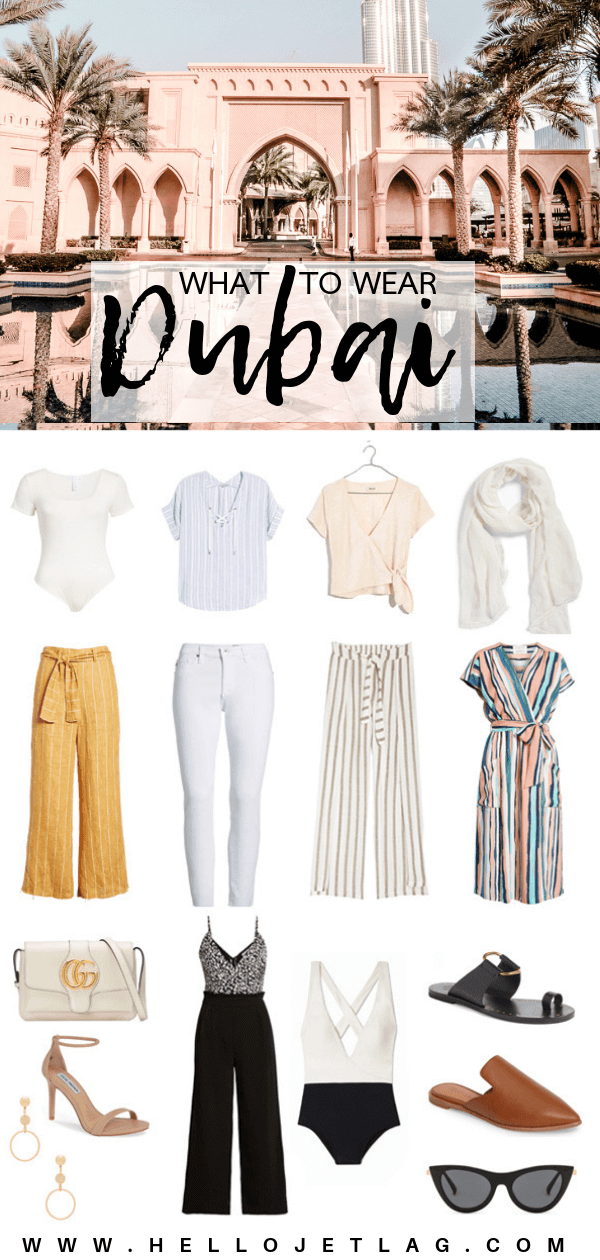 FROM LEFT TO RIGHT WHITE BODYSUIT, BLUE TOP, TAN TOP, WRAP SCARF, YELLOW PANTS, WHITE JEANS, STRIPED PANTS, STRIPED DRESS, PURSE, JUMPSUIT, SWIMSUIT, SANDALS, HEELS, MULES, EARRINGS, SUNGLASSES
THE EMIRATI NATIONAL DRESS
While you're in Dubai, you might be curious about what the locals are wearing.
Women wear an abaya, which is a thin black gown worn over their clothing. On their heads, a hijab or black veil called a shayla is worn.
Men wear an ankle-length, white cotton garment called a kandura with a headscarf called a ghutra.
TRANSPORTATION
Dubai is not a very walkable city. Not only is everything super far from each other, but after 5 minutes outside in the heat you'll probably be anxious to get back into the air conditioning.
Luckily, public transportation is simple and inexpensive. From the metro, to taxis and ride sharing apps, this is how to get around.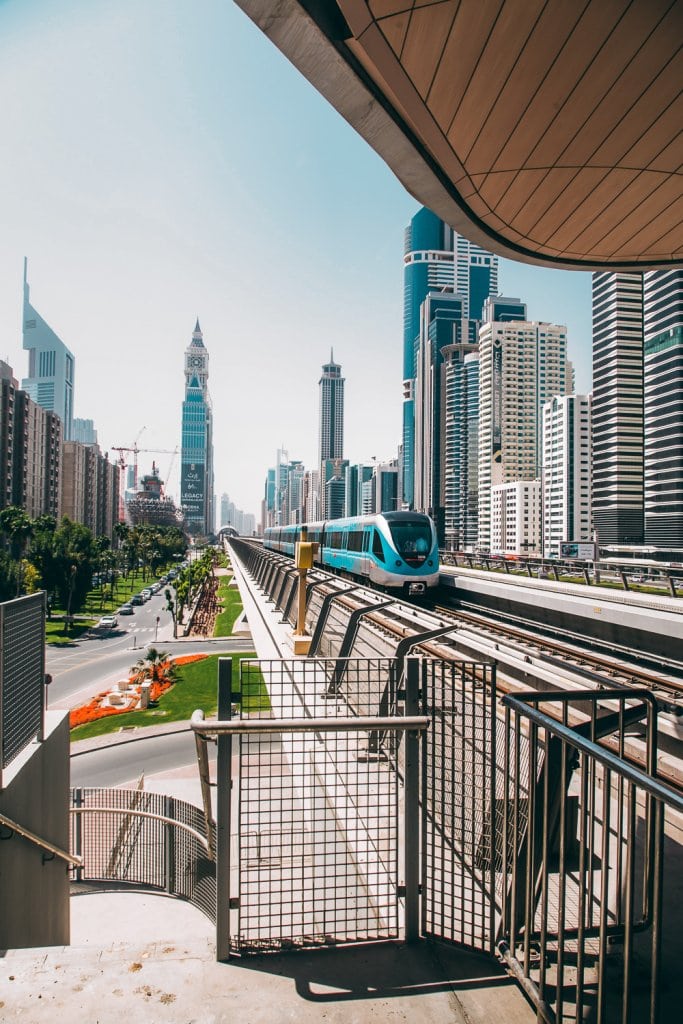 THE DUBAI METRO
The Dubai Metro is underused by tourists. It's an easy way to get around, and it's cheap.
The only issue we had with the metro is that certain stops are not always convenient to where you want to go, so it's best to plan your trip out ahead of time.
Sometimes we relied on the metro to get us most of the way and then we grabbed a taxi to our final destination.
DUBAI METRO MAP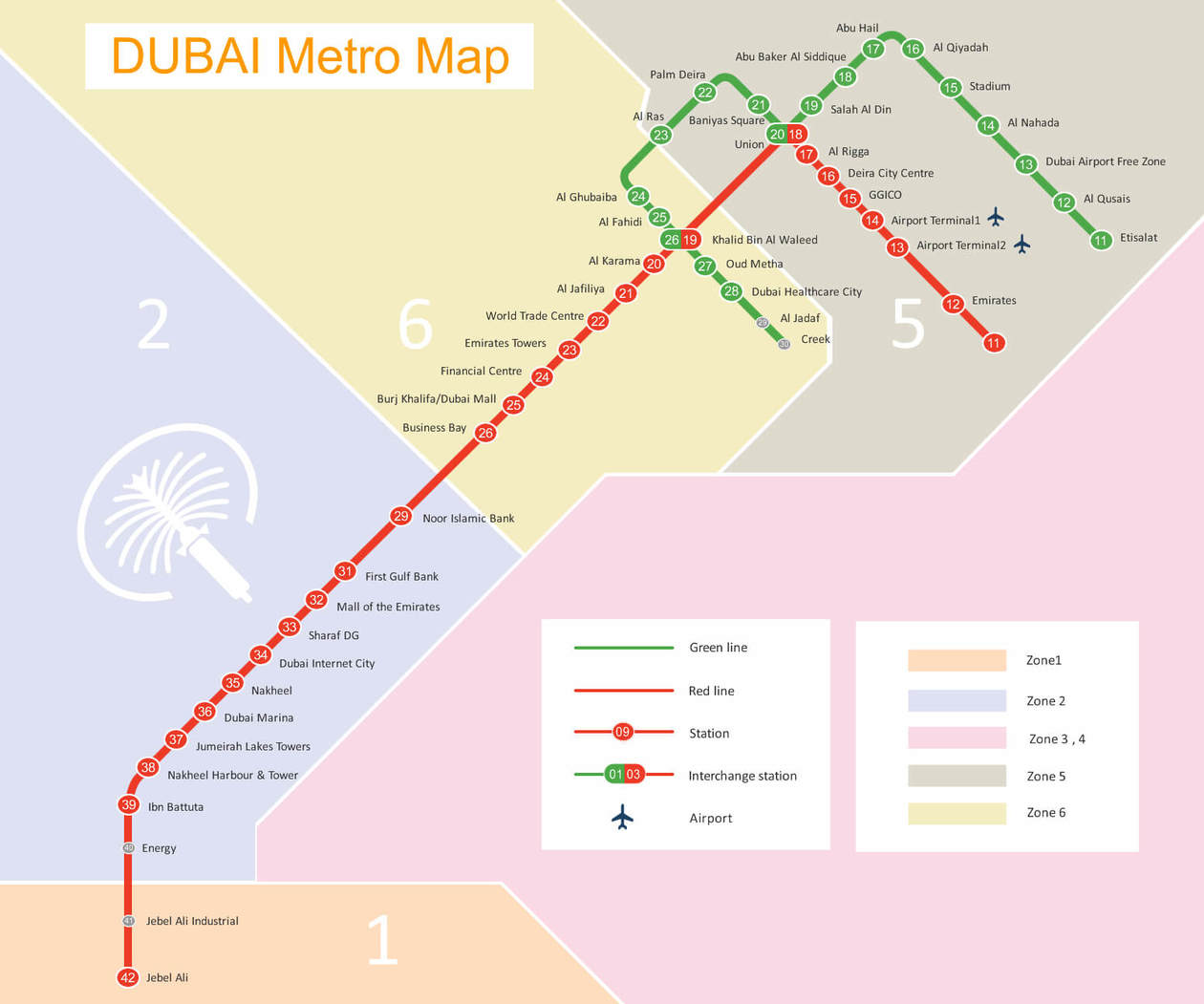 FARES
To ride on the Dubai Metro, you need a fare card which costs 2 AED (.54 cents USD). You can then purchase an all day pass for AED 20 ($5.45USD), or pay for individual rides which cost between 4-8 AED ($1-$2.50 USD) depending on the zone you're traveling to.
There are ticket machines and windows in each metro station where you can buy both fare cards and rides.
GOLD CLASS AND WOMEN'S CARTS
When you board the train, you might notice that some carts have gold and pink signage on the floor.
The gold carts are first class and reserved only for travelers who have paid extra for a Gold Fare Card.
The pink carts are reserved for women and children only (women can still ride in any cart they want though). You can be fined up to 100 AED for riding in the wrong cart.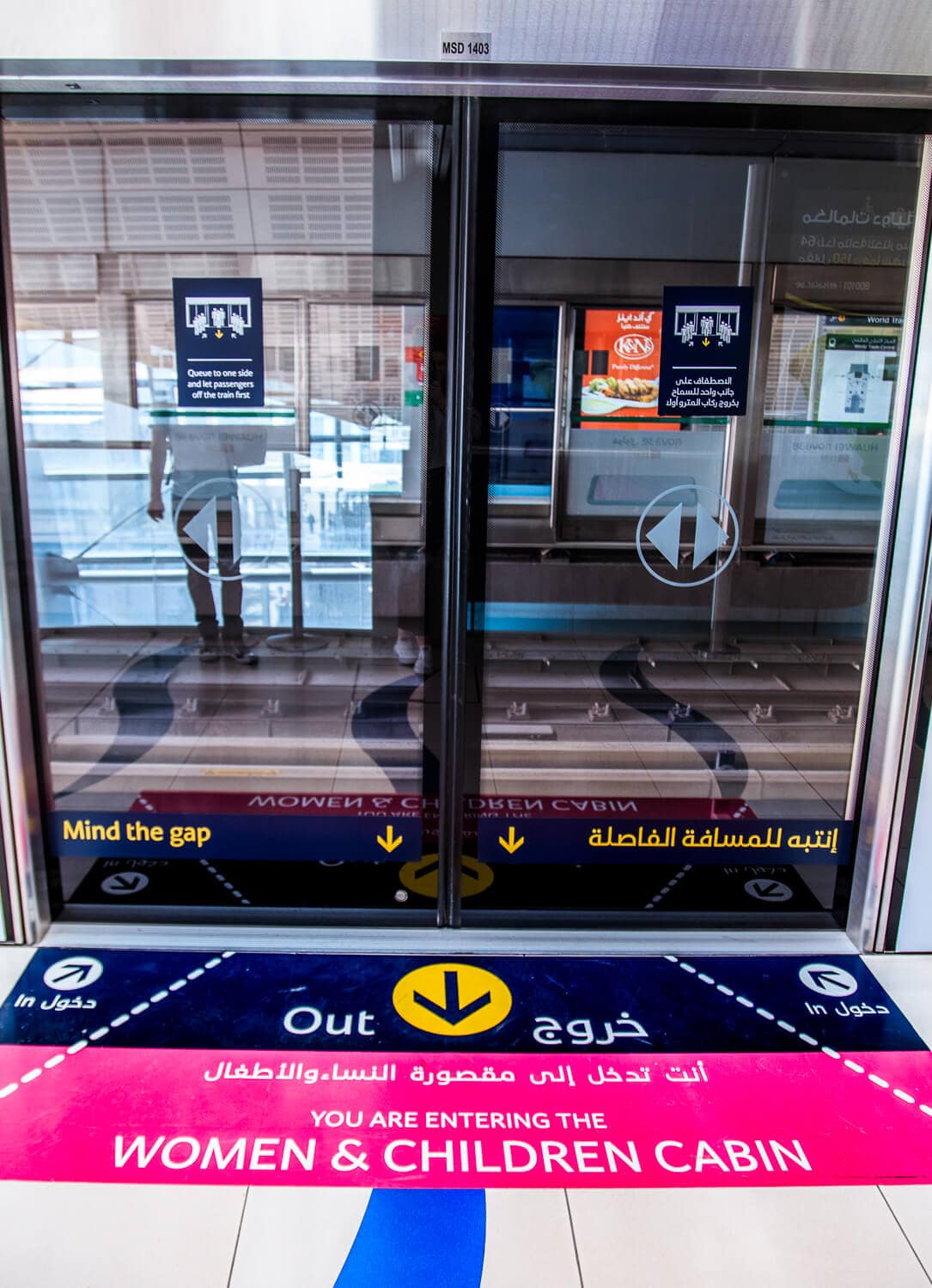 METRO RULES
Do not put your feet on the chairs, food & beverages are not allowed on the trains, and you are not allowed to chew gum.
Broken rules are subject to fines.
THE DUBAI MALL /BURJ KHALIFA METRO STATION
If you take the red line to popular The Dubai Mall / Burj Khalifa stop, know that the station is about a 10-15 minute walk from your destination.
If you have tickets to the Burj Khalifa or any time sensitive event, plan accordingly.
The walking path is indoor and air conditioned.
TAXIS ARE CHEAP
You'll be surprised at how inexpensive taxi rides are Dubai. The base fare starts at 5 AED and all drivers use a meter (that you don't have to beg them to use.. like you do in some countries).
You'll also be surprised at how many taxi drivers don't actually know where things are, as most are not from Dubai.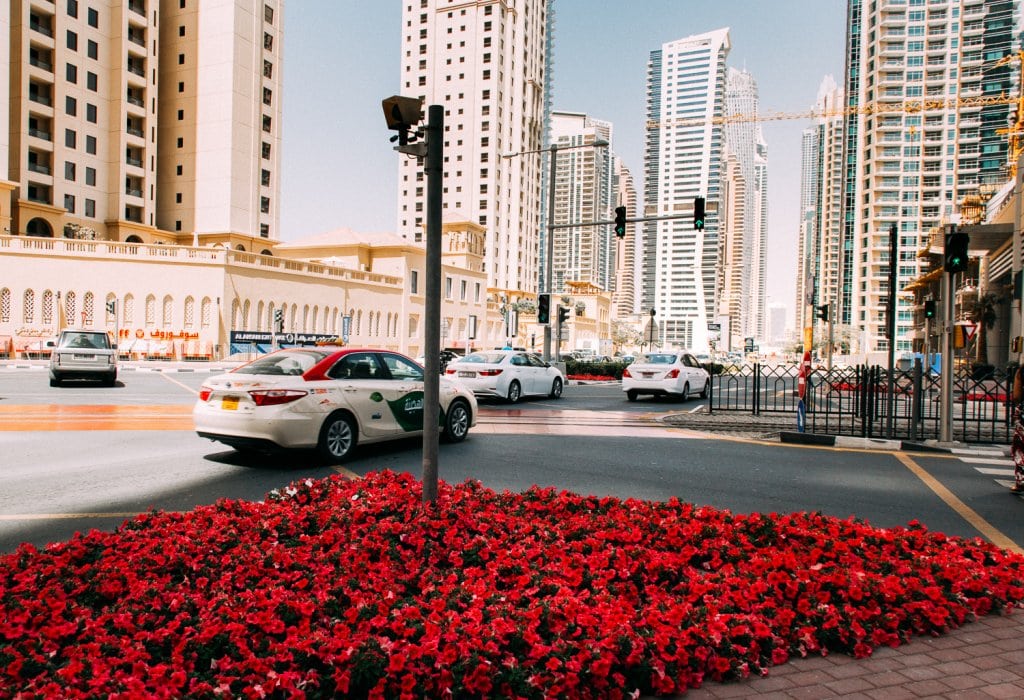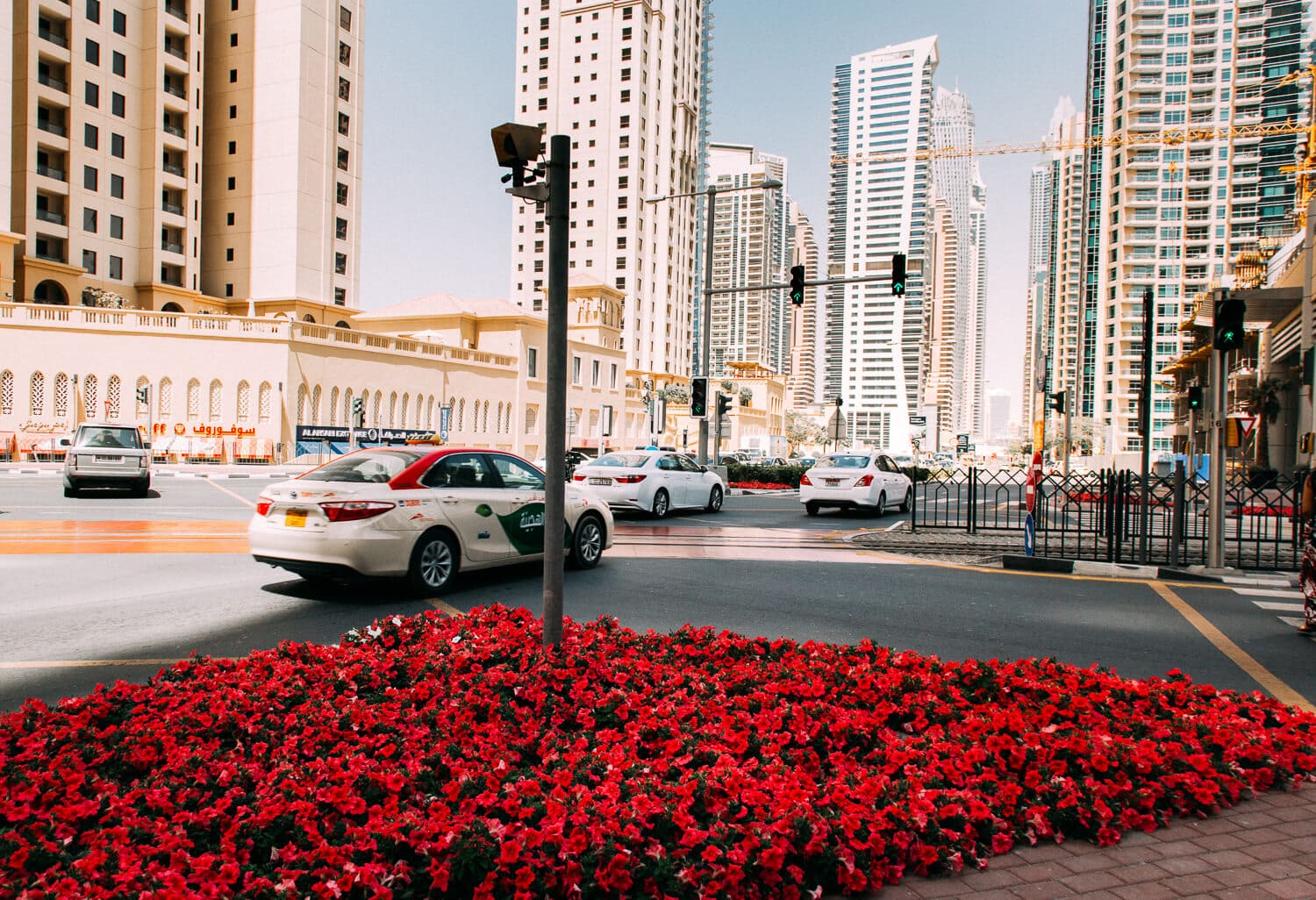 UBER AND CAREEM
Uber is available in Dubai, but your ride options start at Uber Select. That's right, no UberPool or UberX. Luxury cars only. Still you'll find them to be even cheaper than taxis.
Careem is another Dubai based ride sharing app, with similar rates to Uber.
HOW TO GET FROM THE DUBAI AIRPORT TO CITY CENTER
The Dubai Metro red line stops at Terminal 1 and Terminal 2 and will take you directly into the city in about 40-50 minutes. The metro is one of the cheapest ways to get to the city center with ticket prices ranging from $1-$2.50 USD depending on the zone you're traveling to.
If you're taking a taxi from the airport, the base fare starts at AED 25 ($6.81 USD) .. as opposed to the normal 5 AED ($1.36 USD).
When traveling from the Dubai airport to the city center, Uber is a cheaper door to door option than taxis. For fare estimates, where to meet your driver at the airport and more click here.
THE BUS STOPS HAVE AIR CONDITIONING
I thought this was funny. And if I'm being honest I did capitalize on this a few times, despite never boarding an actual bus.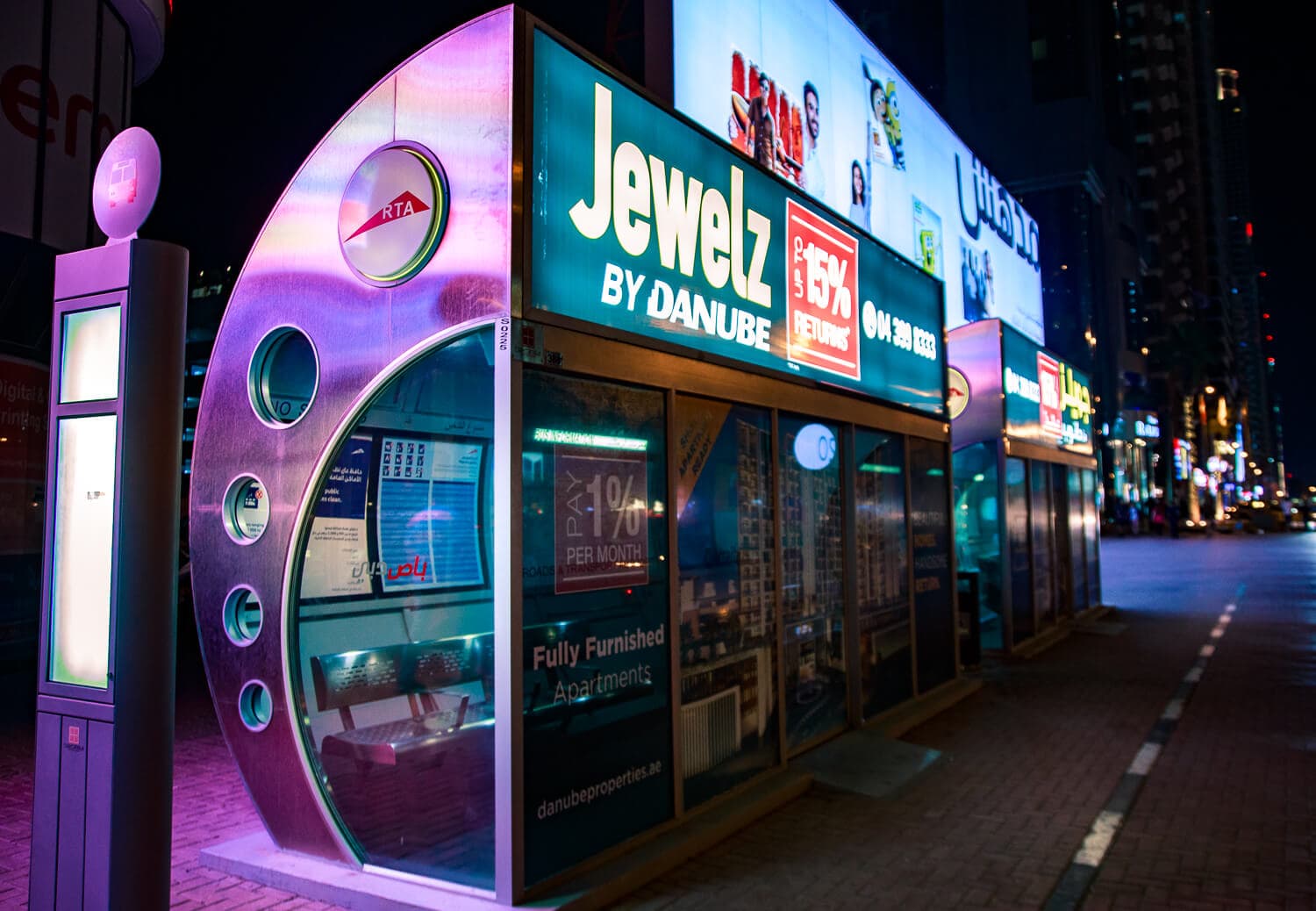 THE WEEKEND FALLS ON FRIDAY AND SATURDAY
In the United Arab Emirates, the weekend falls on Friday and Saturday. Friday is a holy day, which most people have off, so some business hours may be different. Sunday is a regular weekday.
THE DUBAI MALL
IT'S COLD While temperatures outside may be in the triple digits, expect the mall to be on the chilly side. If you're prone to being cold, it's smart to carry light cover up if you plan on spending a lot of time inside.
GET THE APP The Dubai Mall has an interactive app that can be downloaded to your phone. It reads your location and can point you in the right direction of wherever you want to go.
SLEEPING PODS If you've shopped till you dropped, check out the sleeping pods where you can pay to nap by the hour.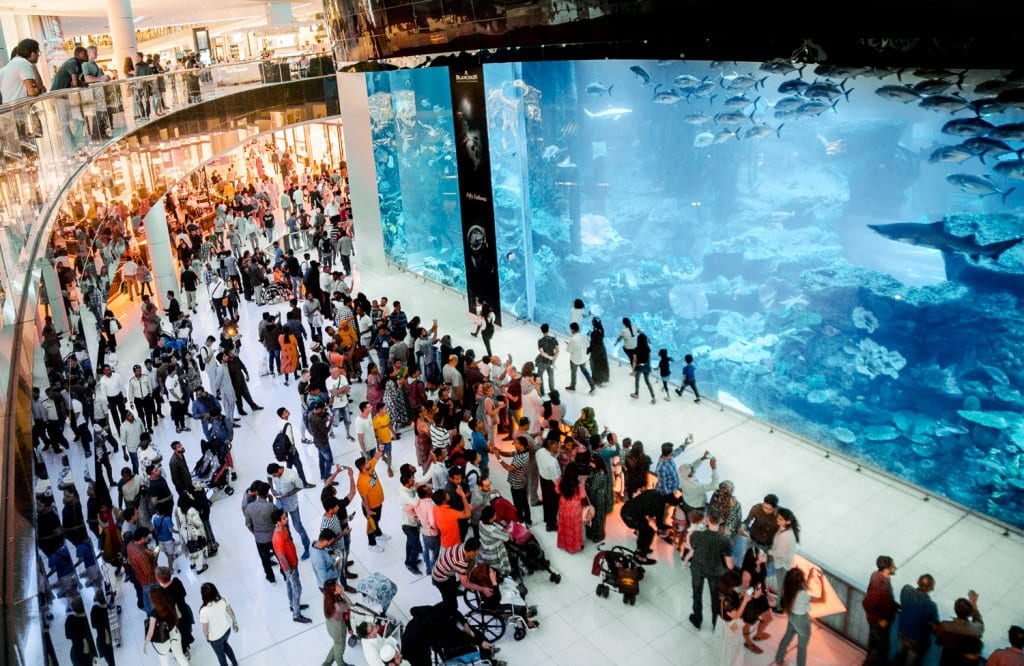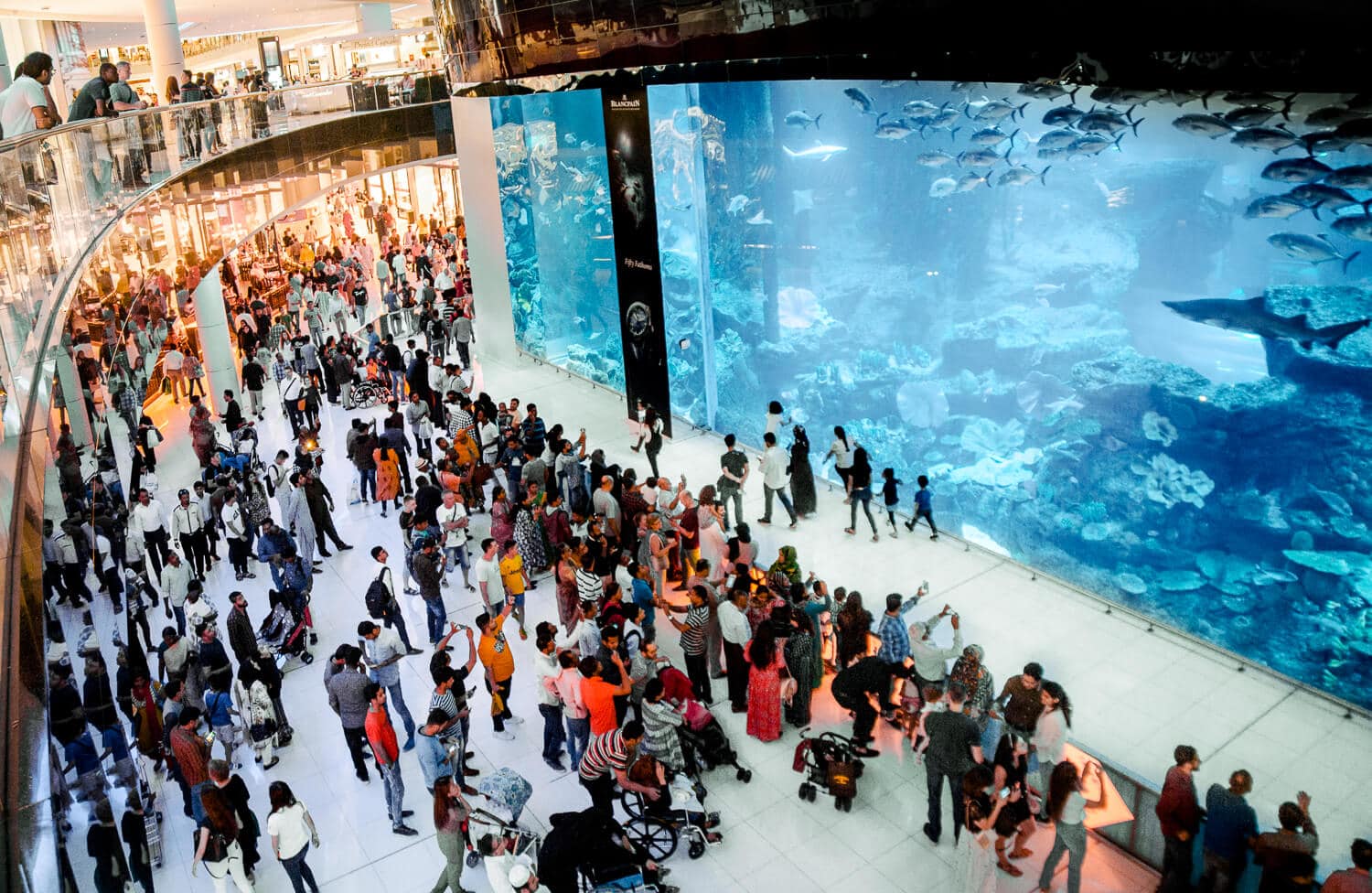 RENT A PRIVATE DRIVER You can hire a golf cart taxi to drive you around the mall while you shop. Rates start at 300 AED ($81USD) per hour.
THE DUBAI MALL TAXI SCAM The taxi lines are long when leaving the Dubai Mall and it's common for private taxi companies (namely, Royal Smart Limousine) to try and lure you into their cars by making you think they are local taxis. Then, when you arrive at your destination, the rate will much more than what you expected. Make sure the taxi you get into has a sign and a meter starting at 5 AED.
DUBAI IS EXPENSIVE
Before we embarked on our Dubai travel adventure, I thought I was prepared for the sticker shock that comes with just being in the city. Well, I wasn't and honestly, it felt a little limiting.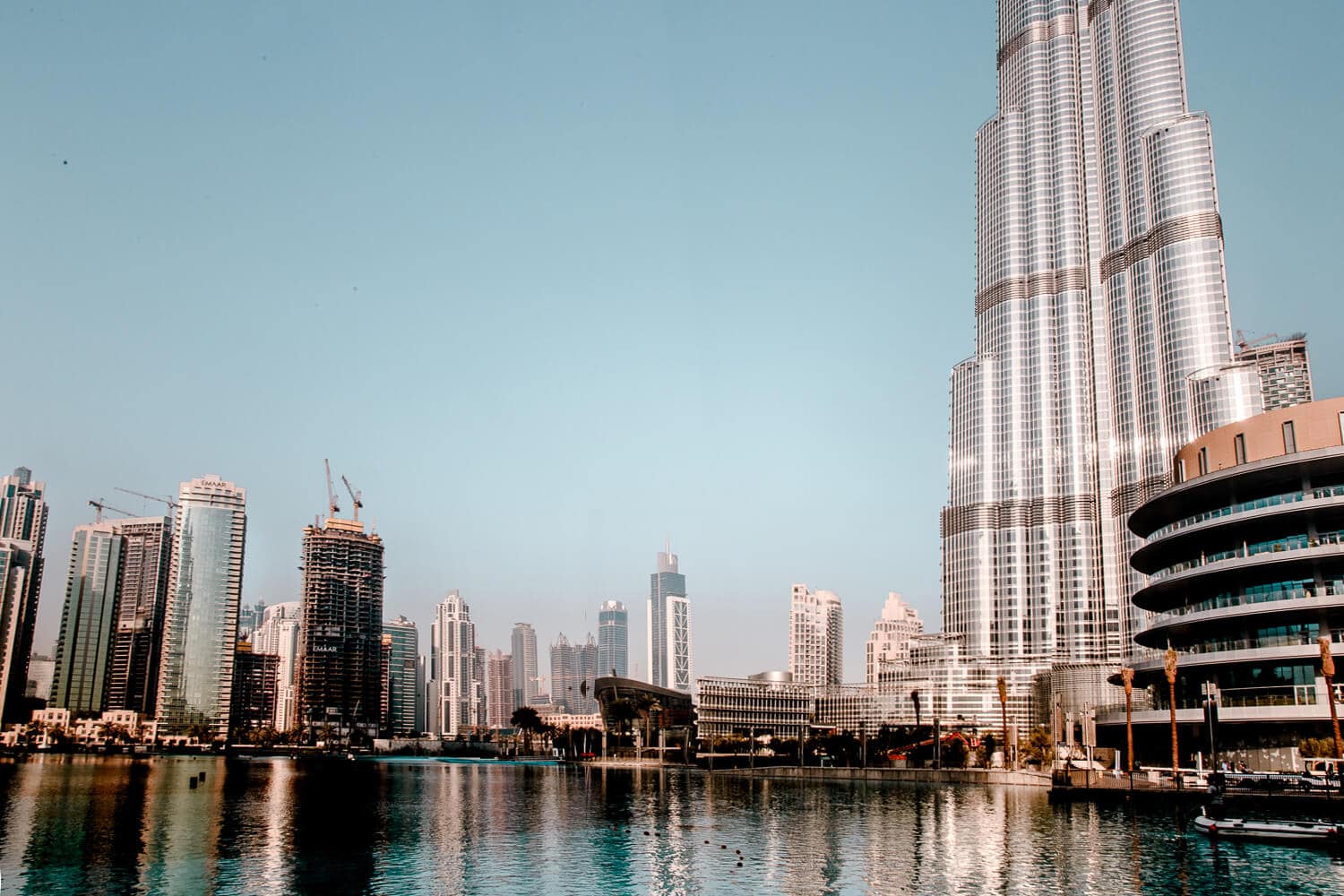 The reason we had the opportunity to travel to Dubai was because Nick was playing a show here on his last Middle Eastern tour. We took advantage of the fact that his lodging was covered so I tagged along, but if we were planning this trip on our own, I would've probably postponed this particular destination in order to save up more money.
While we did splurge a little, we were in no place to fully partake in everything that makes Dubai, Dubai.
It is possible to travel to Dubai on a budget but personally, I feel that by doing so, you end up missing out on the full experience of this extravagant place.
CHEAP THRILLS
One of the cheapest (and most authentic) things to do in Dubai is to take an abra ride across the Dubai Creek. Abras are small boats, and you'll notice them all over the city. But in tourist areas, they are expensive and operate on manmade lakes.
At the Dubai Creek, an abra ride costs 1 AED (.27 cent USD). The whole purpose is to transport you across the creek from Deira to Bur Dubai and the ride only takes a few minutes, but it's still fun and for 1 dirham, I was ready to park it on the boat for the entire day.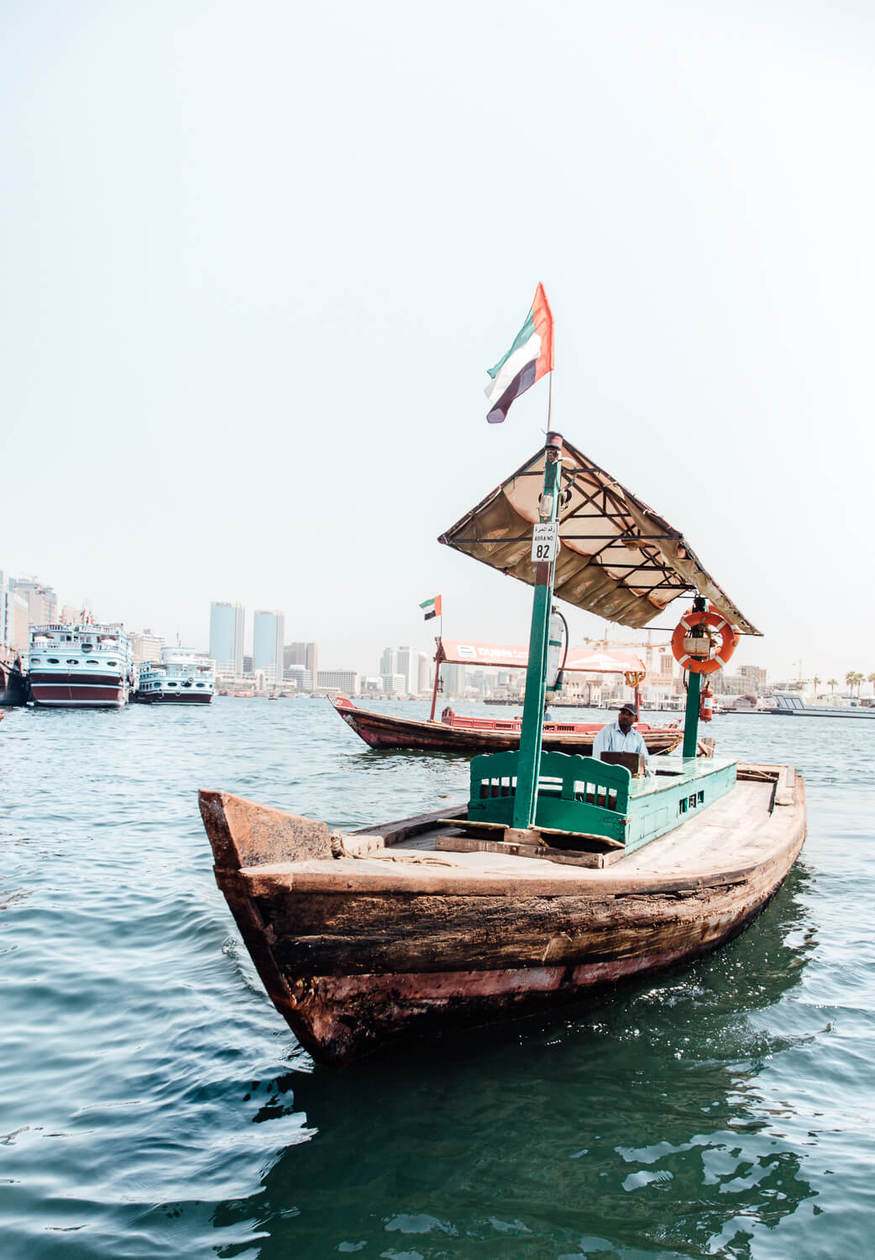 SAVE ROOM IN YOUR BUDGET FOR GOLD
Gold is one of Dubai's largest imports and it happens to be one of the best places in the world to find excellent deals on this precious metal.
The most popular place in the city to buy gold is the Gold Souk in Old Dubai. The authenticity is heavily regulated by the government and prices are negotiable!
For more information about buying gold at the Gold Souk, plus information about how to visit these traditional Arabian markets, click the related post below.
---
RELATED POST: THE DUBAI SOUKS // SHOPPING FOR GOLD AND SPICES IN DUBAI
---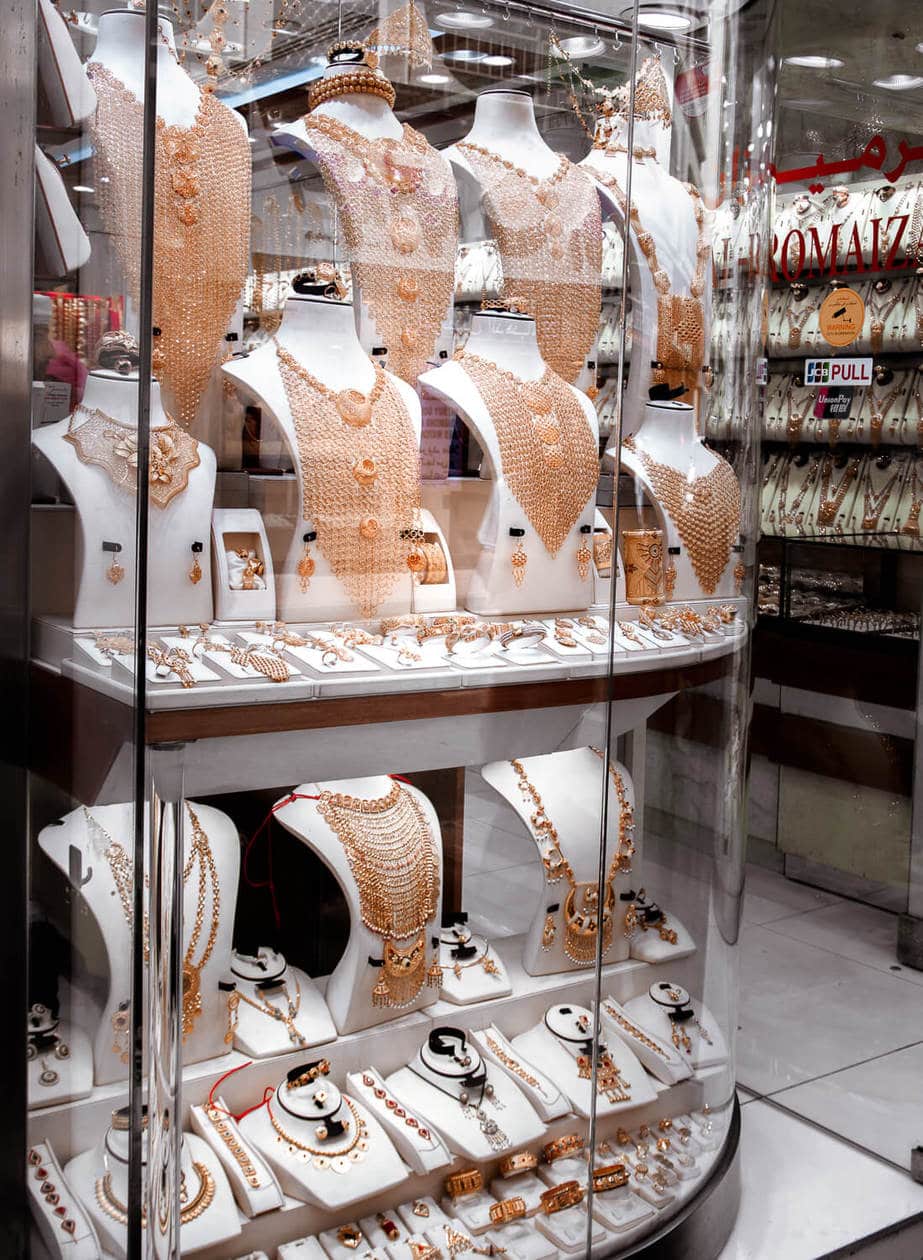 HAGGLING
Speaking of the Dubai Souks, they are a great place to find unique souvenirs such as spices, textiles and perfumes. All of the prices at the souks are negotiable and haggling is a must.
A good rule of thumb is to take the initial price quoted to you and counter with half. Don't act too interested and do not be afraid to walk away. Prices magically seem to lower as soon as you do.
If you're haggling for gold, know that you'll never be able to dip below market price, but the cost of workmanship on a piece is negotiable.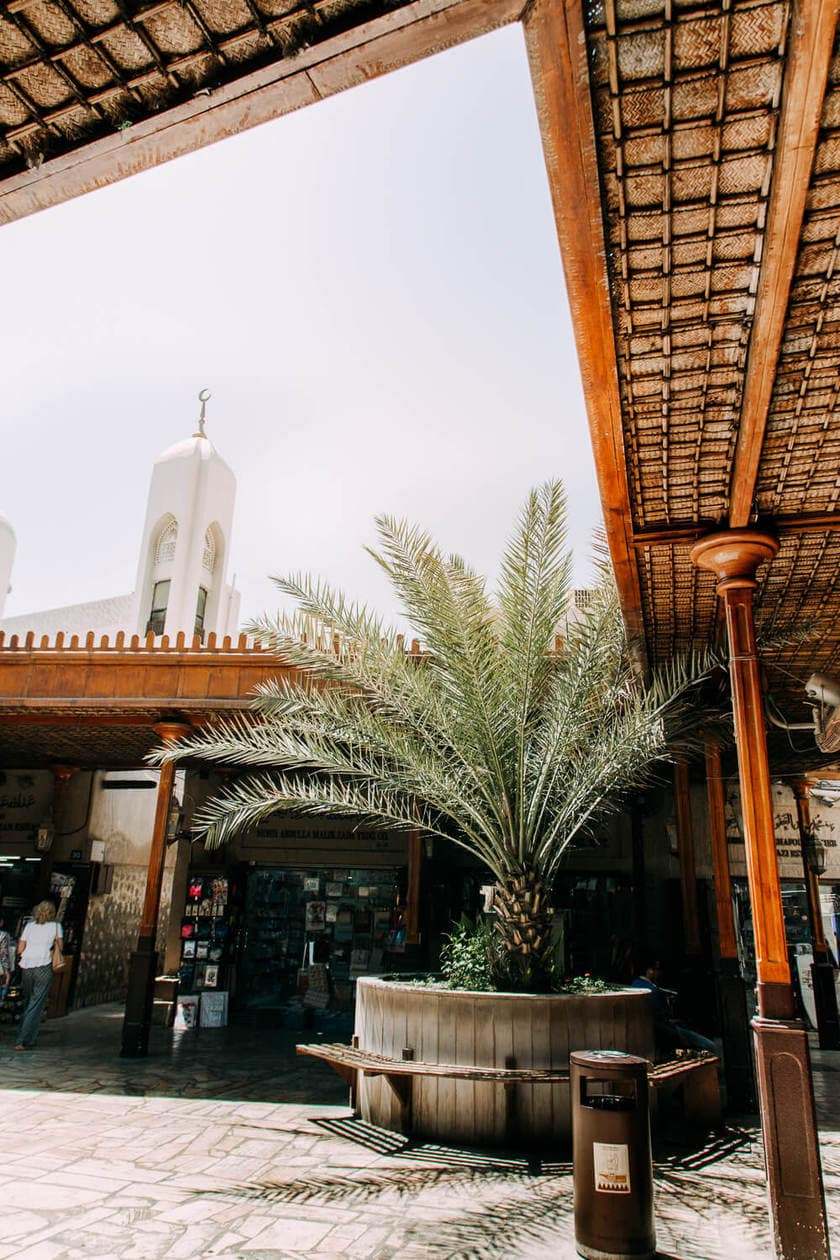 THE CHEAPEST WAY TO GET INTO THE BURJ AL ARAB
Known as the world's only 7 star hotel (not by official standards though), the Burj Al Arab has been voted the most luxurious hotel in the world.
Accessible only by private bridge or helicopter, it's impossible to go inside unless you're a guest, or have a reservation at one of their restaurants/bars.
Considering that the cheapest room is $1,200 USD and Afternoon Tea can set you back 650 AED ($178 USD), a visit to the Burj Al Arab not the most budget friendly thing to do in Dubai. However, there is one way you can get inside.. and it will cost you less than $30.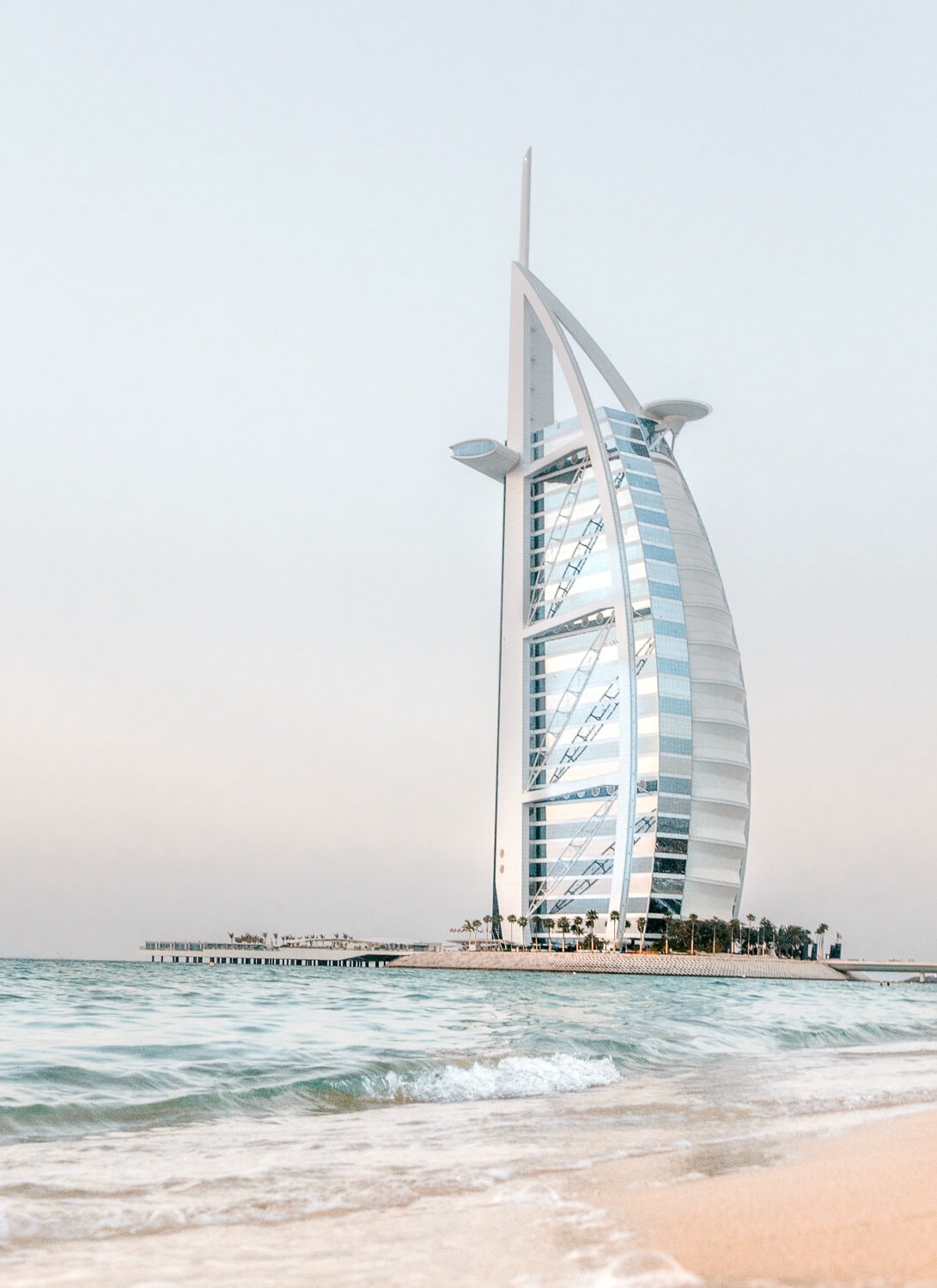 Make a reservation at their cocktail bar Gold on 27, it has a minimum spend of one drink or 100AED ($27 USD) per person. Reservations are a must as you will not be allowed on site without them.
---
RELATED POST: SHIMMERS DUBAI // BEACH COCKTAILS WITH THE BEST VIEW OF BURJ AL ARAB
---
WHERE TO FIND THE BEST VIEWS IN DUBAI
THE BEST VIEW OF DUBAI CITY At the Top of the Burj Khalifa
THE BEST VIEW OF THE BURJ AL ARAB Shimmers Restaurant at Madinat Jumeirah Resort
THE BEST VIEW OF THE MARINA Shades Lounge / Rooftop Pool at the Address Marina Hotel
THE BEST VIEW OF THE DUBAI FOUNTAIN SHOW From the Apple Store Balcony in the Dubai Mall
THE BEST VIEW OF SHEIK ZAYED ROAD Level 43 Sky Lounge at the Sheraton Four Points Sheik Zayed Road.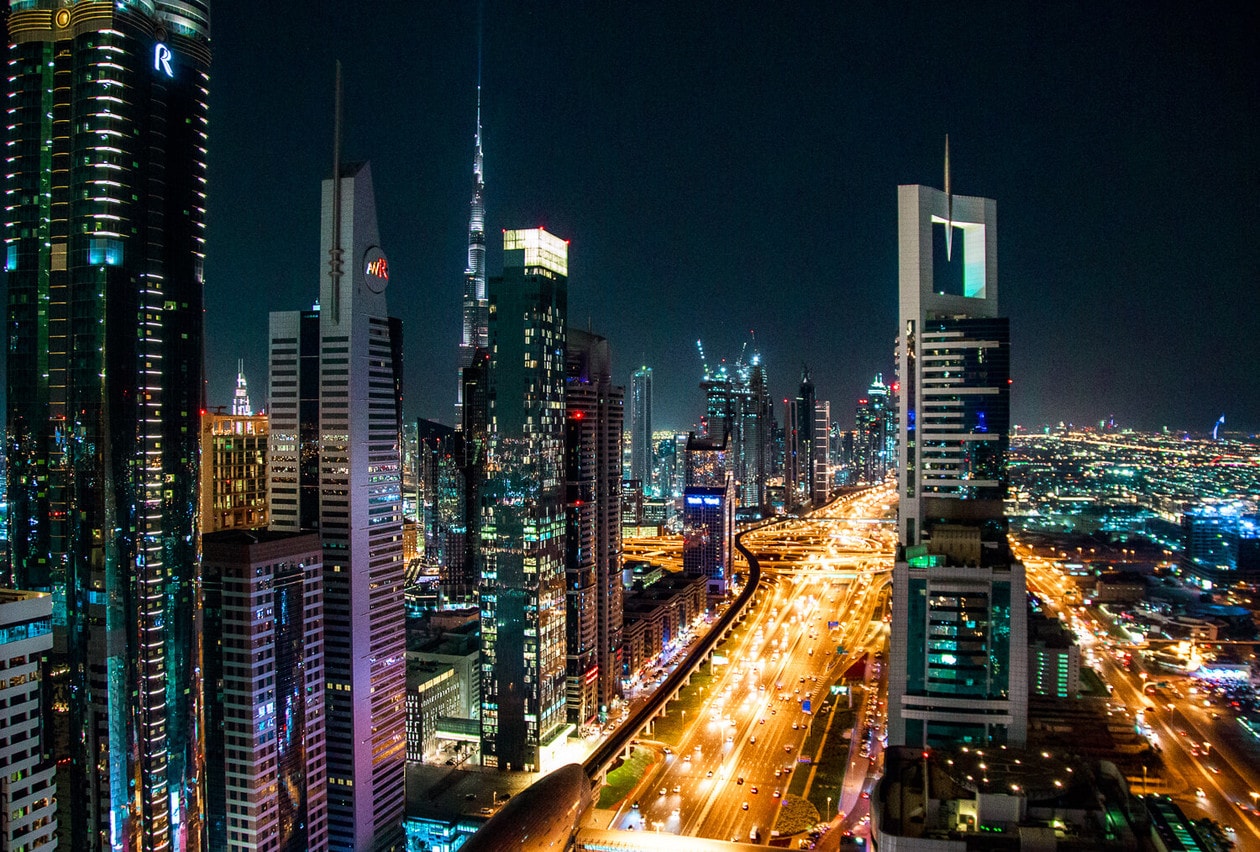 LOCAL FOOD IN DUBAI
While there is no shortage of fine dining, celebrity chefs and unique culinary experiences in Dubai, I'm always drawn to more local spots.
While walking around on our first day, we weren't thrilled with the choices .. I can eat Five Guys, Texas Roadhouse Grill and California Pizza Kitchen in Los Angeles.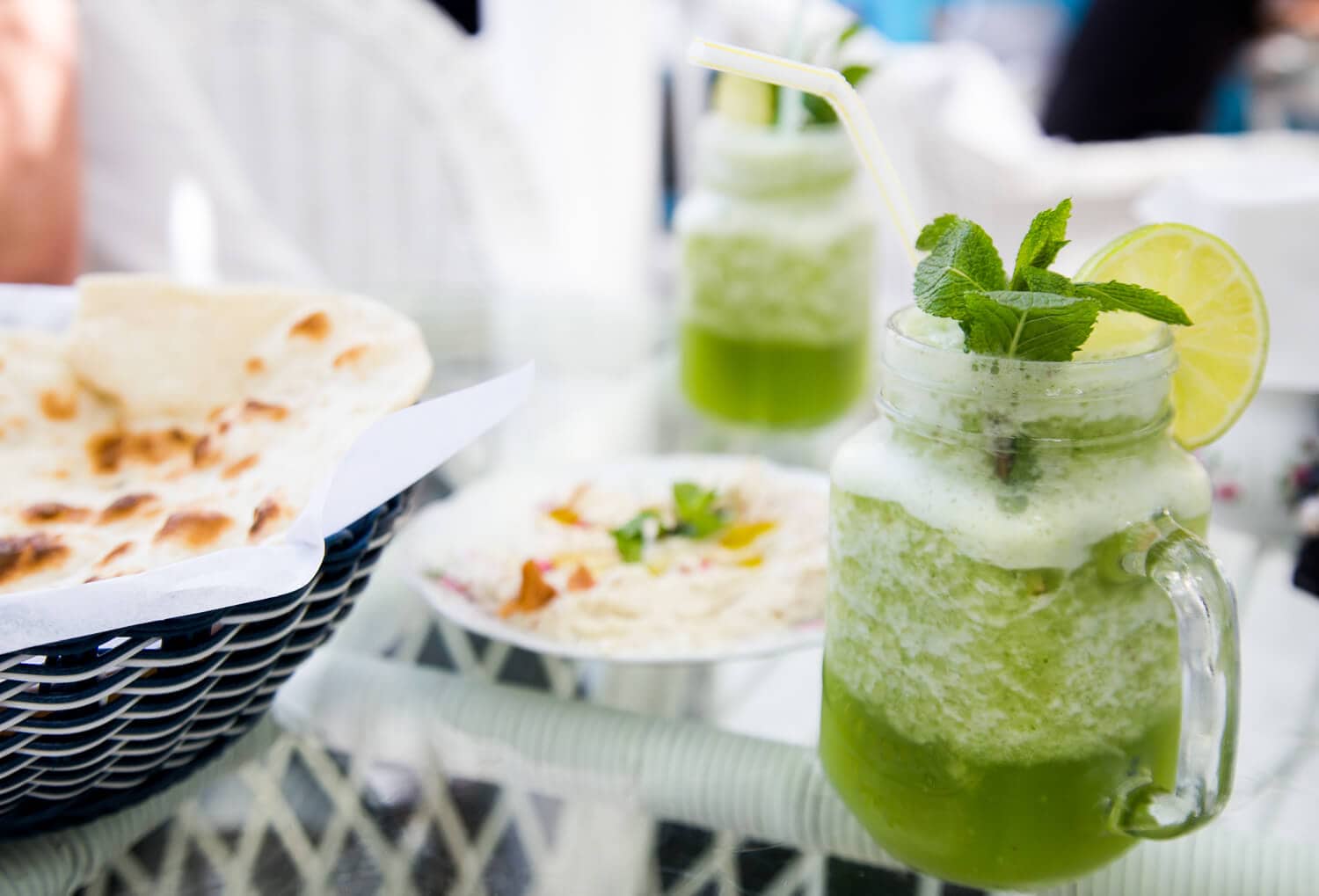 So we decided to head a little outside of the main tourist hub in search of something different. Bur Dubai is where you can find cheap eats in a multitude of cuisines such Indian, Persian, Arabic and Pakistani. These were our two favorite restaurants in Bur Dubai:
SPECIAL OSTADI (AL USTAD SPECIAL KEBAB)
The most memorable meal we had in Dubai was from the popular Persian restaurant, Special Ostadi.
Special Ostadi is a family run restaurant and for over 40 years, it has been one of the best places for cheap eats in Dubai.
When we walked in the door, every single table was full of Emiratis and we knew we had found the local spot we'd been searching for. As you wait for your food, take a look the hundreds of photos on the walls and see if you recognize their multitude of celebrity and royal customers.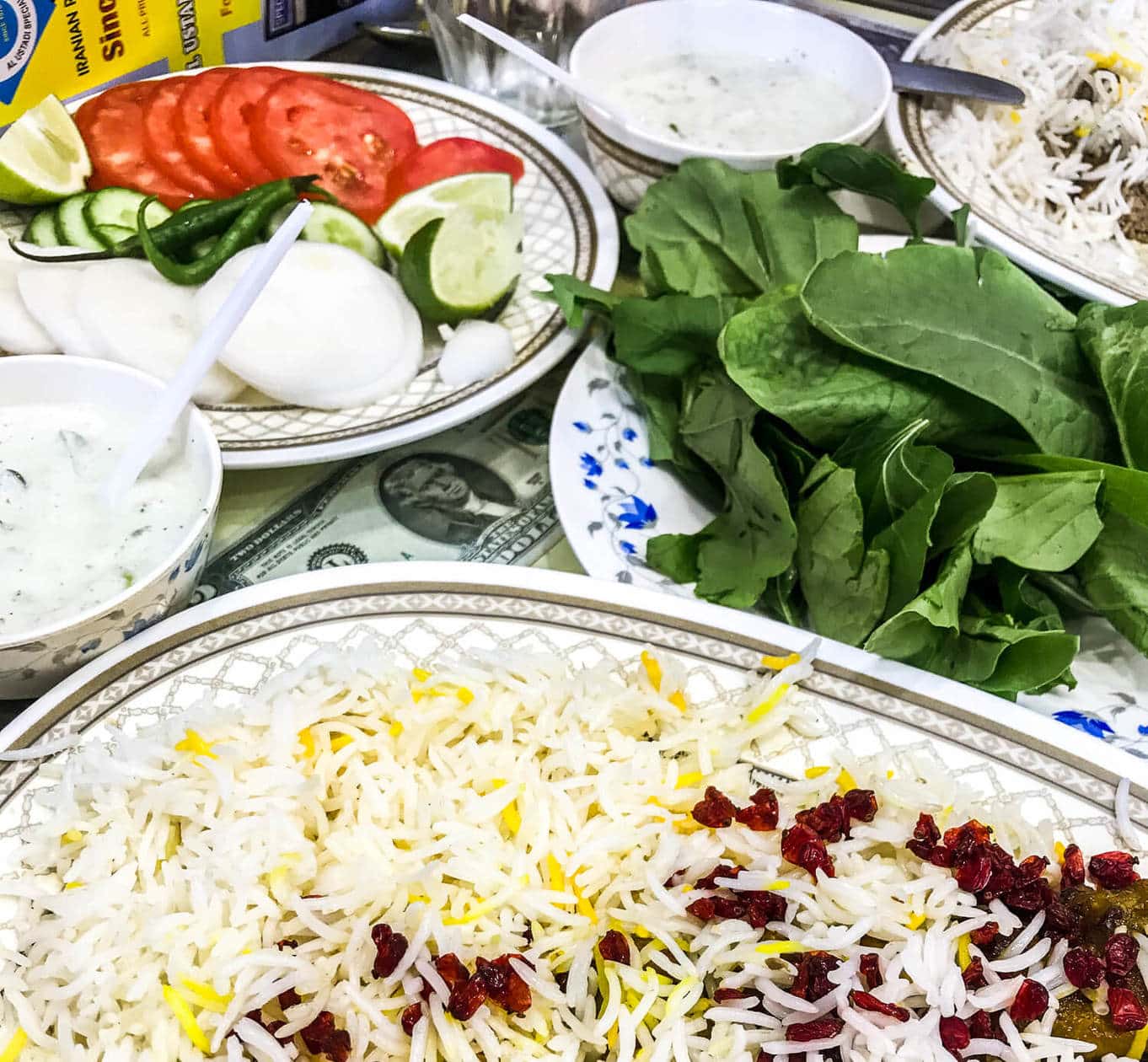 We were squeezed into a table and a complimentary platter of veggies, herbs and yogurt was brought out to us. We weren't that hungry, so we attempted to order 1 plate to share.
The man looked at us like we were the biggest idiots on the planet and put in two orders.. lol. The kabab koubideh was delicious, and after the meal, we were given mint tea and dates for dessert.
And for the cherry on top: on our way out, the owner chased after us letting us know we had tipped too much, and then returned a handful of dirhams.
Special Ostadi
Al Mankhool Road, Bur Dubai
ARABIAN TEA HOUSE
We stopped into the Arabian Tea House after a morning of shopping in the Souks.
Located in the Al Fahidi Historical Neighborhood near the Textile Souk, the Arabian Tea House serves up Emirati specialities and over 150 types of tea. The beautiful outdoor garden location is decorated with sheer, flowy canopies and white wicker tables. It's the perfect setting for breakfast or lunch.
Arabian Tea House Restaurant and Cafe
Al Fahidi Street, Bur Dubai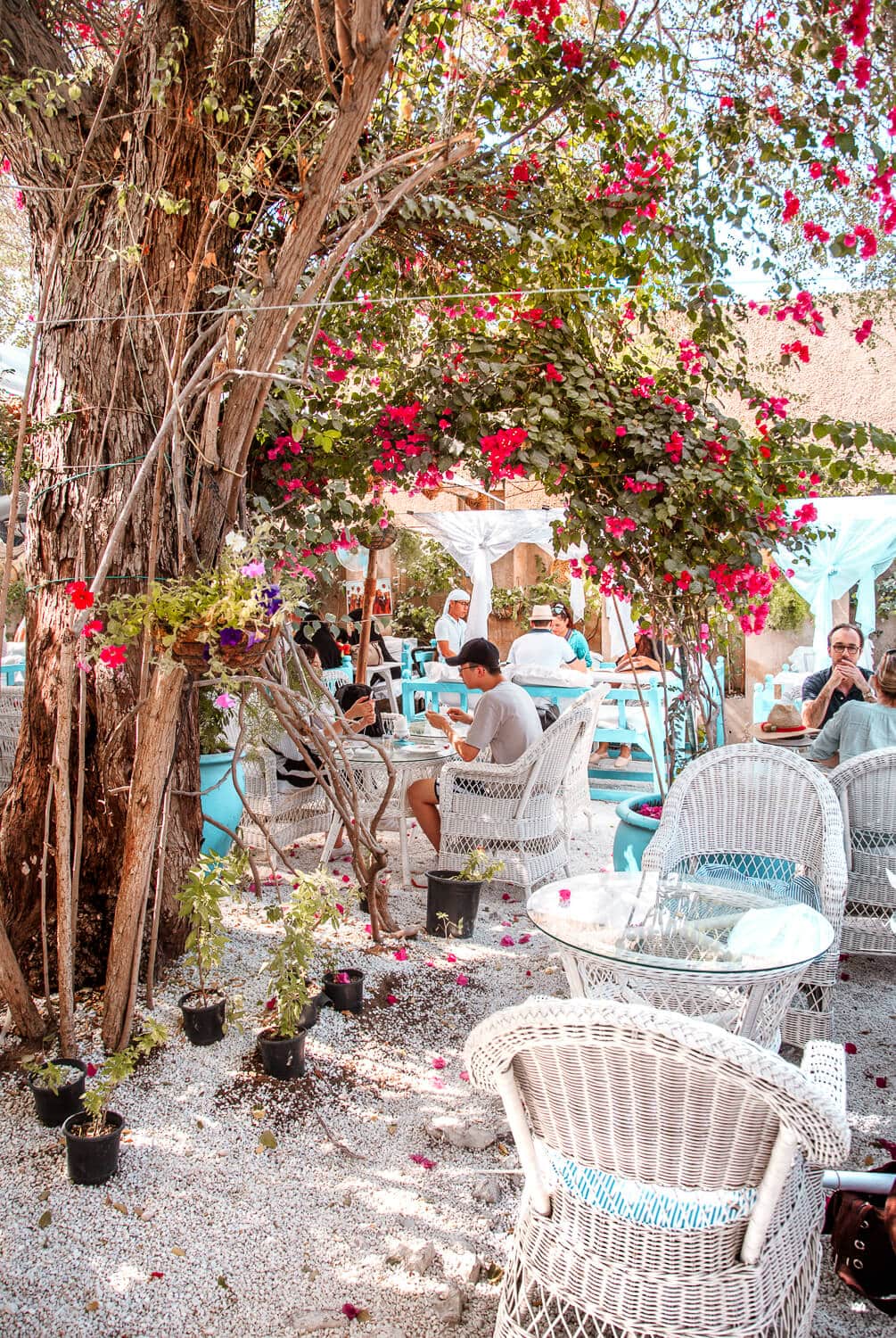 CULTURAL MEAL
We didn't find out about this option until after we had left Dubai, but if you stop into the Sheikh Mohammed Centre for Cultural Understanding in Bur Dubai, you can enjoy a traditional meal (breakfast, lunch, dinner or afternoon tea) while learning about the culture and traditions of the Emiratis.
At the end of the meal, there is a Q&A session where you can ask any question you want about their religion, culture and lifestyle. No question is considered taboo.
For more information about the Cultural Meal click here.
THE BURJ KHALIFA
THE BEST TIME TO VISIT If you're in Dubai on a weekend (Friday/Saturday), I highly recommend a sunrise visit to the Burj Khalifa.
Not only is the lighting great, but it also happens to be the cheapest ticket. The second best time to visit is at sunset, and if you stay until 6pm you can watch the Dubai Fountain show from the top.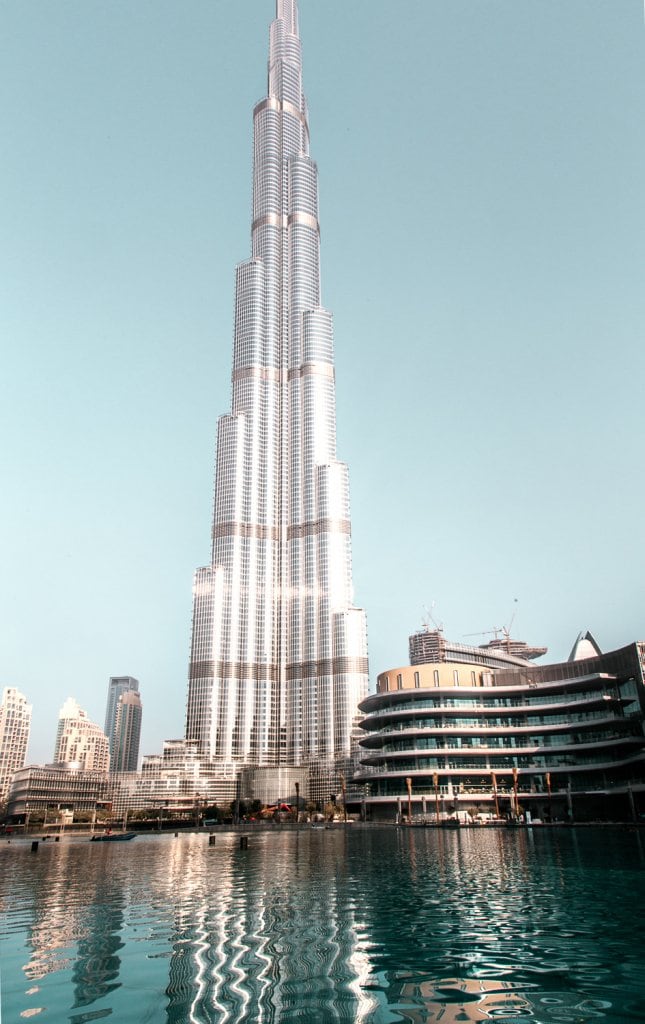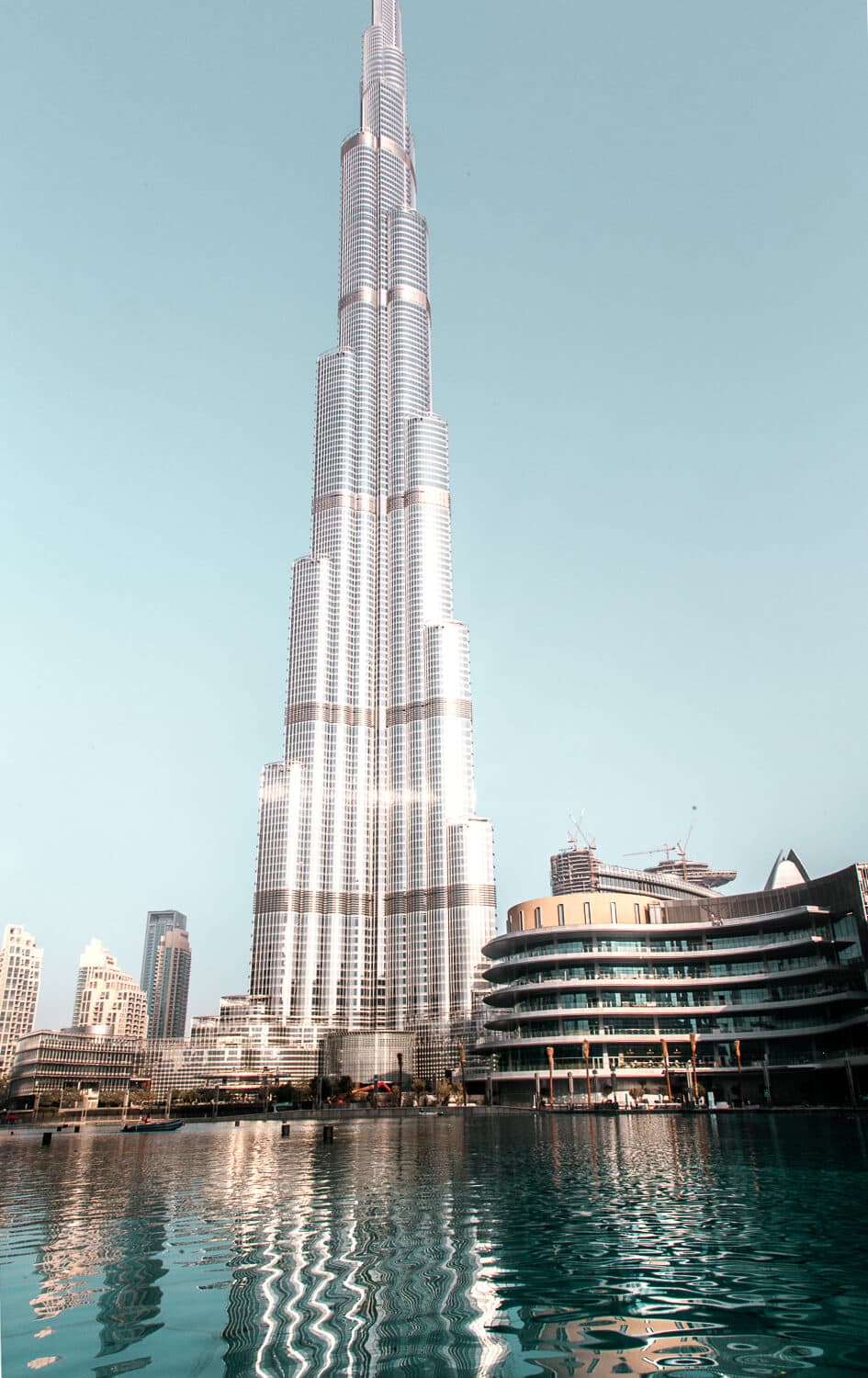 BOOK ONLINE AHEAD OF TIME Not only does booking in advance secure your spot at the top, but it also saves you a ton of money compared to purchasing at the ticket window.
THE ENTRANCE It can be a little tricky to find the entrance to the Burj Khalifa if you have tickets for At the Top. The entrance is inside of the Dubai Mall. If you are visiting At.Mosphere restaurant in the Burj Khalifa, you will enter through the Armani Hotel.
For more tips and photos from our Burj Khalifa At the Top experience click the related post below.
---
RELATED POST: BURJ KHALIFA AT THE TOP // WATCHING THE SUNRISE IN DUBAI
---
DUBAI TRAVEL DURING RAMADAN
Ramadan falls on the 9th month of the Islamic calendar and is a holy time of year for Muslims. If you will be traveling to Dubai during Ramadan, there are a few things you should be aware of in order plan accordingly and respect the local culture.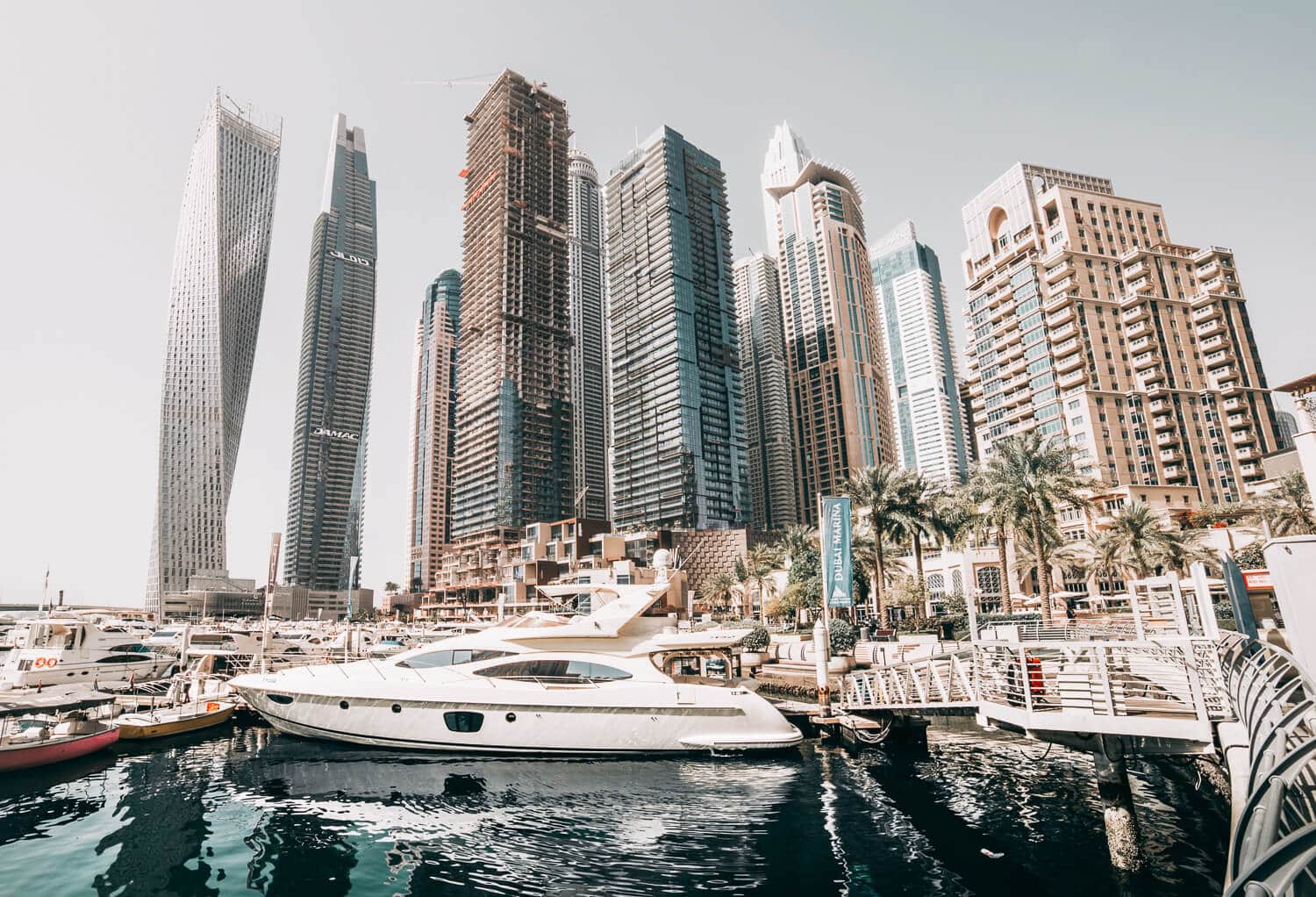 RESEARCH HOURS AHEAD OF TIME Some shops, family owned businesses and attractions might have amended hours during Ramadan. Double check online as you plan your itinerary.

NO EATING AND DRINKING IN PUBLIC During Ramadan, Muslims fast from sunrise to sunset. Tourists are asked to refrain from eating, smoking, drinking and even chewing gum in public during this time. Failure to follow this rule can result in penalties.
Most hotel restaurants and some food establishments do stay open, but they will curtain themselves off in respect. Your available food options change every year, so it's best to research on local websites before your visit.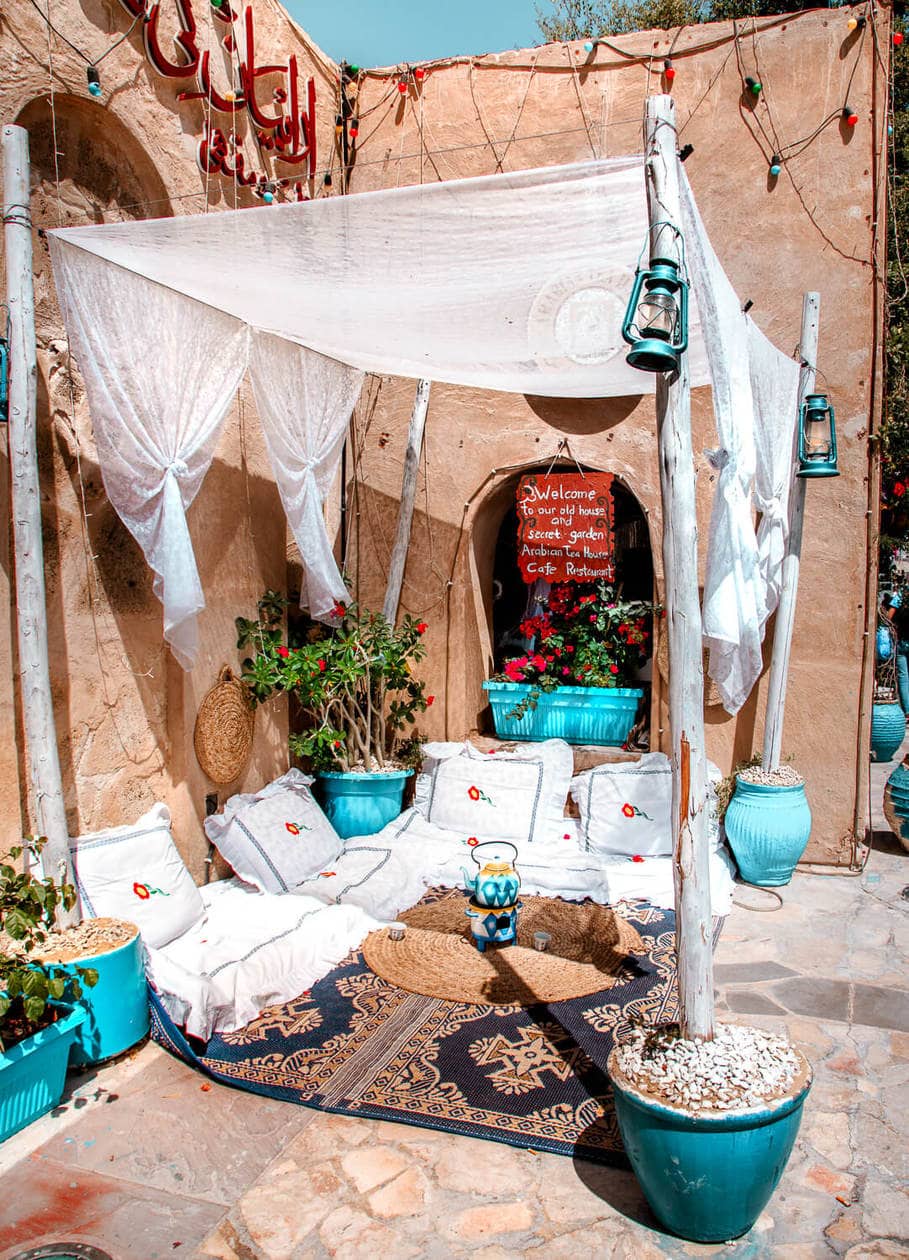 QUIET NIGHTLIFE SCENE Nightclubs and bars will be less busy and more muted, as listening to music in public is also not allowed during this time. Alcohol is still served after sundown.
BE CONSCIOUS OF YOUR CLOTHING Modesty becomes even more important during Ramadan and visitors are asked to cover their shoulders and their knees.
IFTAR Every afternoon at sunset, Muslims break their fast with a meal called Iftar. Many hotels offer all you can eat iftar meals and you'll also find iftar tents all over the city. Feel free to partake in the feasting!
DUBAI HOTELS // WHERE TO STAY
LUXURY
BURJ AL ARAB
Voted the world's most luxurious hotel (rumored to be 7 stars) and located on it's own private island, it does not get any fancier than the Burj al Arab. Guests have access to 5 swimming pools, a private beach and optional chauffeur driven Rolls Royces. Room rates start at $1,200 USD.
For more information, or to book the Burj Al Arab click here.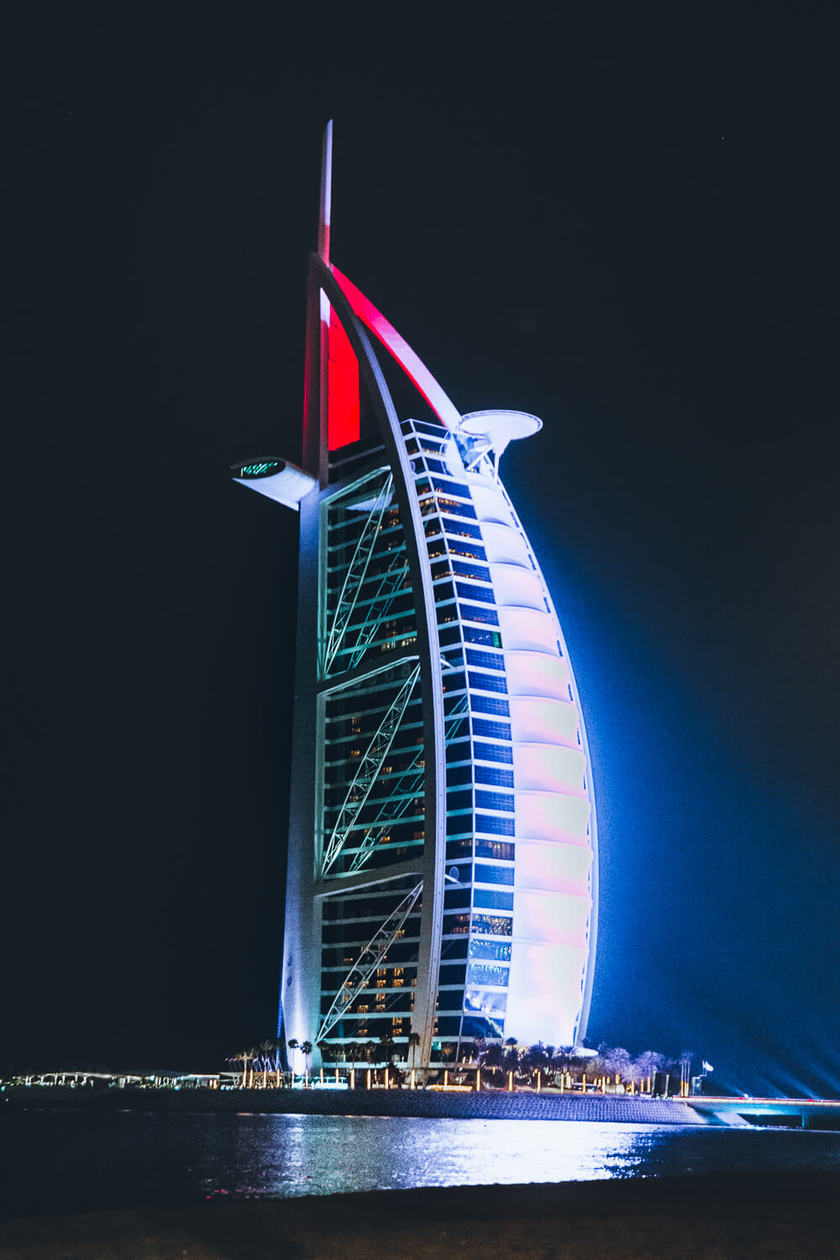 JUMEIRAH AL QASR- MADINAT JUMEIRAH
Jumeirah Al Qasr is one of the hotels located on the enormous Madinat Jumeirah Resort. The decor is modeled after Ancient Arabia and you'll find canals, a private beach, and gorgeous views of the gulf as well as the Burj al Arab. Rates start at $300 USD.
For more information, or to book the Jumeirah Al Qasr – Madinat Jumeirah click here.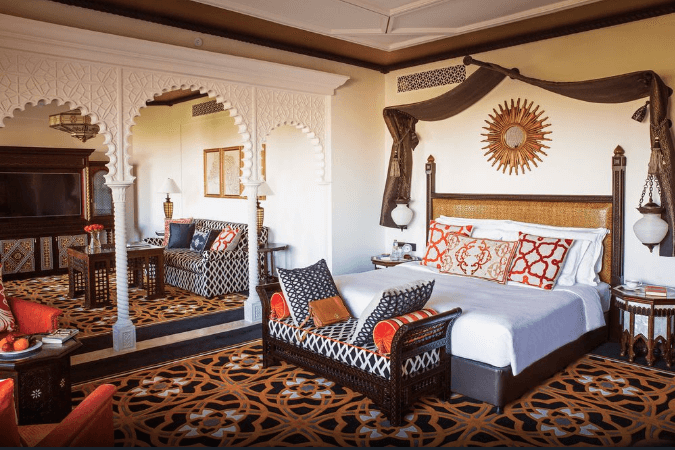 MID RANGE
FIVE PALM JUMEIRAH
Palm Jumeirah is the famous tree shaped island in Dubai. While it's an interesting layout, I have heard complaints that getting to and from your room on the palm fronds can take a lot of time.
The Five Palm Jumeirah is located at the base of the tree's trunk, making it much easier to come and go. The 5 star hotel offers 5 swimming pools, photo-worthy architecture and decor, a private beach and amazing views of the Gulf. Rates start at $167 USD.
For more information, or to book the Five Palm Jumeirah click here.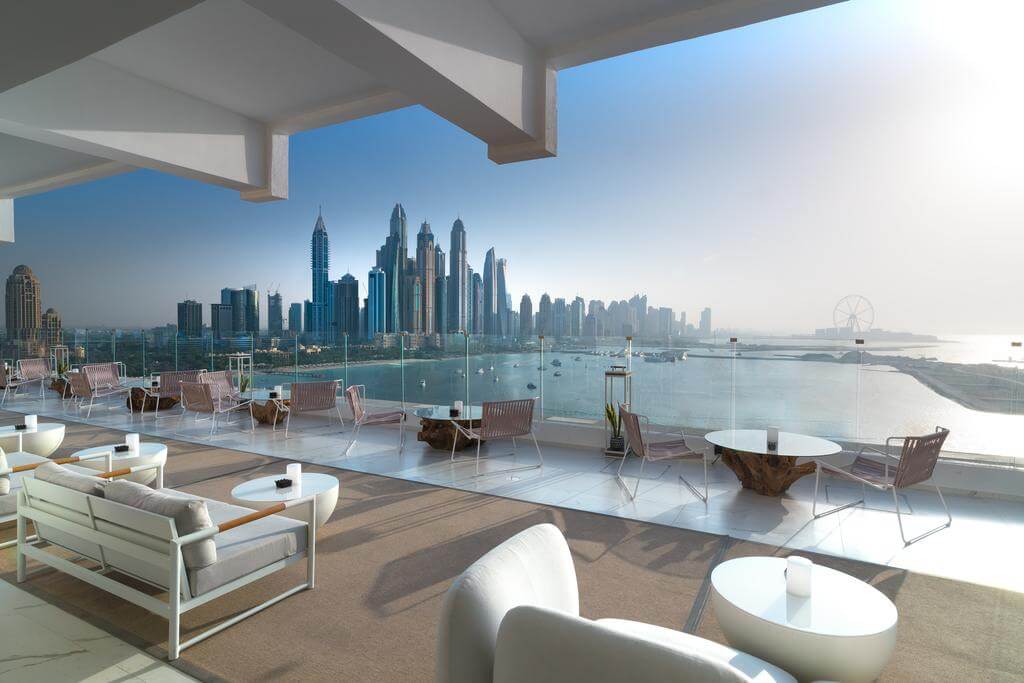 BUDGET
ROVE DOWNTOWN
Rove Downtown is a boutique style, three star hotel located in Downtown Dubai (on Happiness Street!) near the Burj Khalifa. With a rooftop swimming pool, a 24 hour gym and excellent reviews, this is one of the best options for budget conscious travelers. Rates start at $87 USD
For more information, or to book Rove Downtown Hotel click here.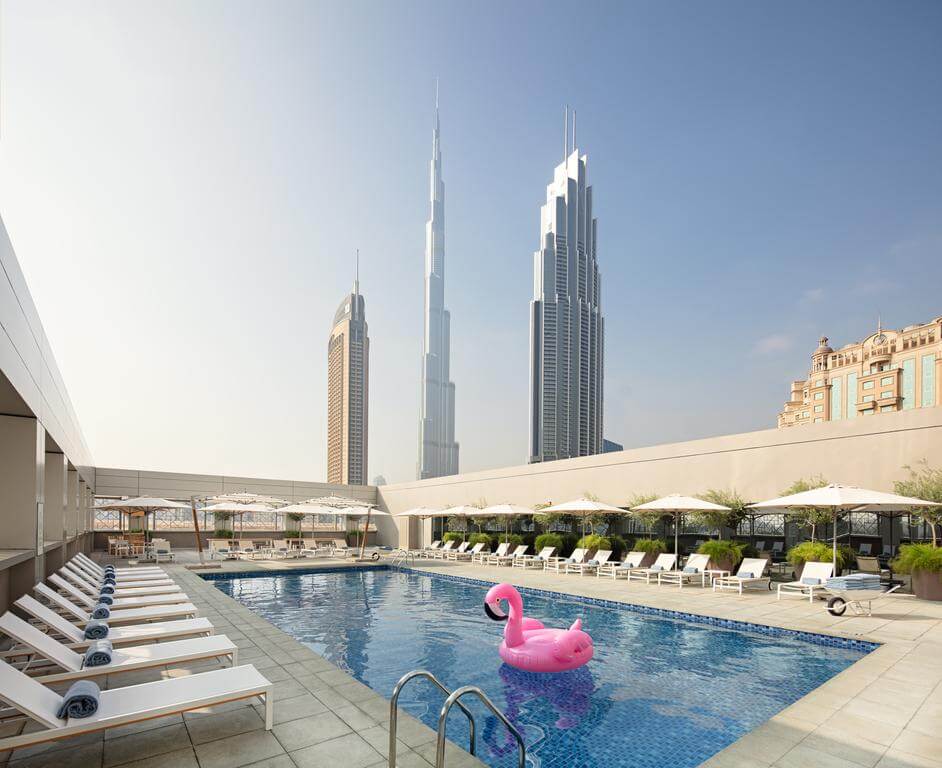 FOUR POINTS BY SHERATON SHEIKH ZAYED ROAD
I would stay at the Four Points by Sheraton Sheikh Zayed Road just to have nightly access to their amazing rooftop bar. They also have a rooftop swimming pool, 5 on-site restaurants and easy metro access. Rates start at $98 USD
For more information, or to book the Four Points by Sheraton Sheikh Zayed Road click here.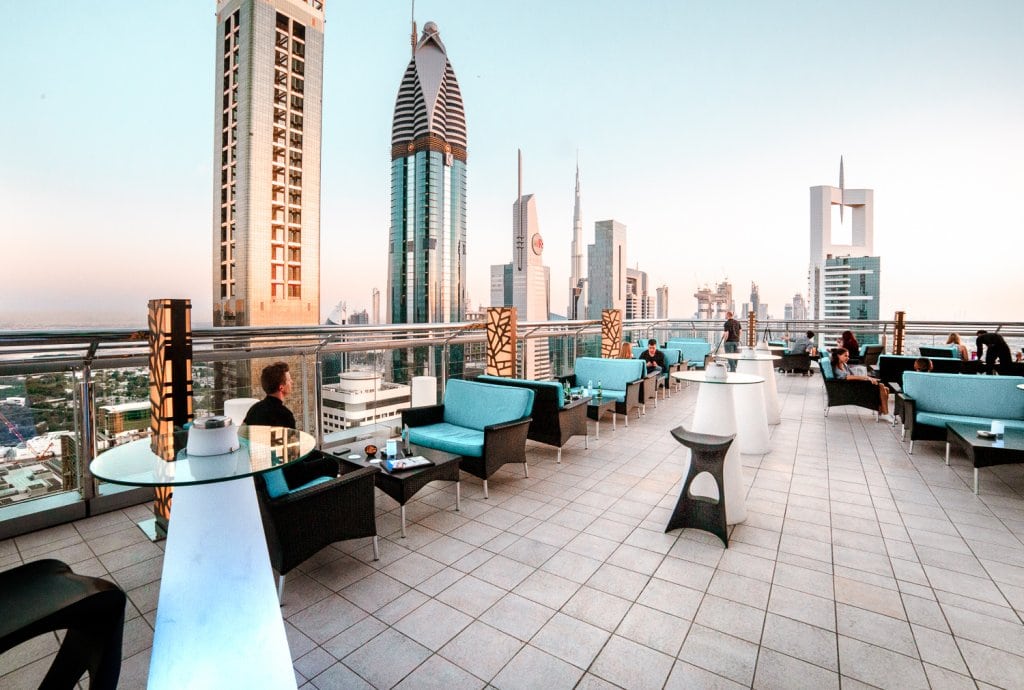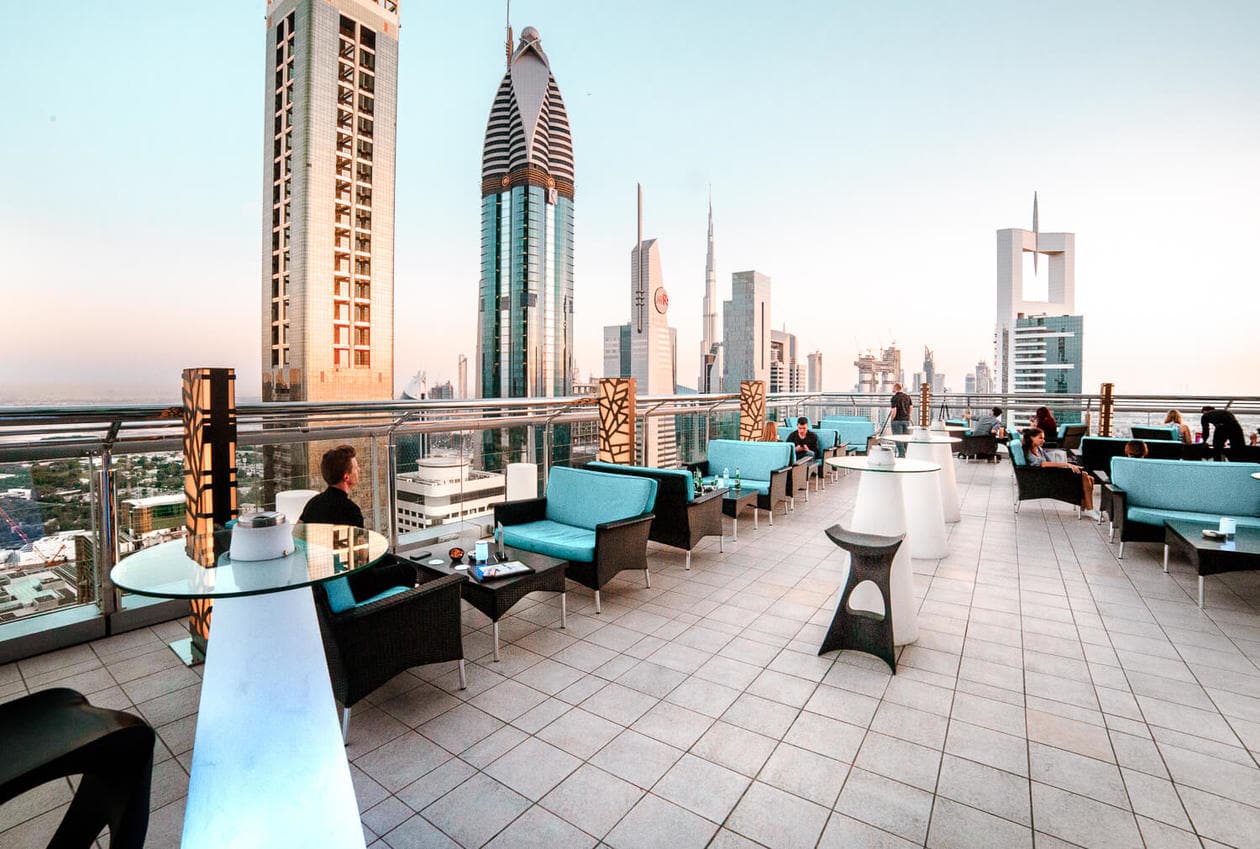 Did I miss something? Leave your Dubai travel tips in the comments!
---
PIN IT: 20 DUBAI TRAVEL TIPS // A FIRST TIMER'S GUIDE