After spending several days amongst the overwhelming grandeur of Dubai's main attractions, we were eager to get away and experience a different side of the city. The Dubai Souks are located in Old Dubai, and while still very touristy, they give you a glimpse into what was once one of the most important ports in the area. When you enter the souks, it's sensory overload; a bustling marketplace where you can purchase unique souvenirs and find some of the best prices on gold anywhere in the world. Keep reading for what to expect during your visit, plus tips and tricks on how to get the best deals.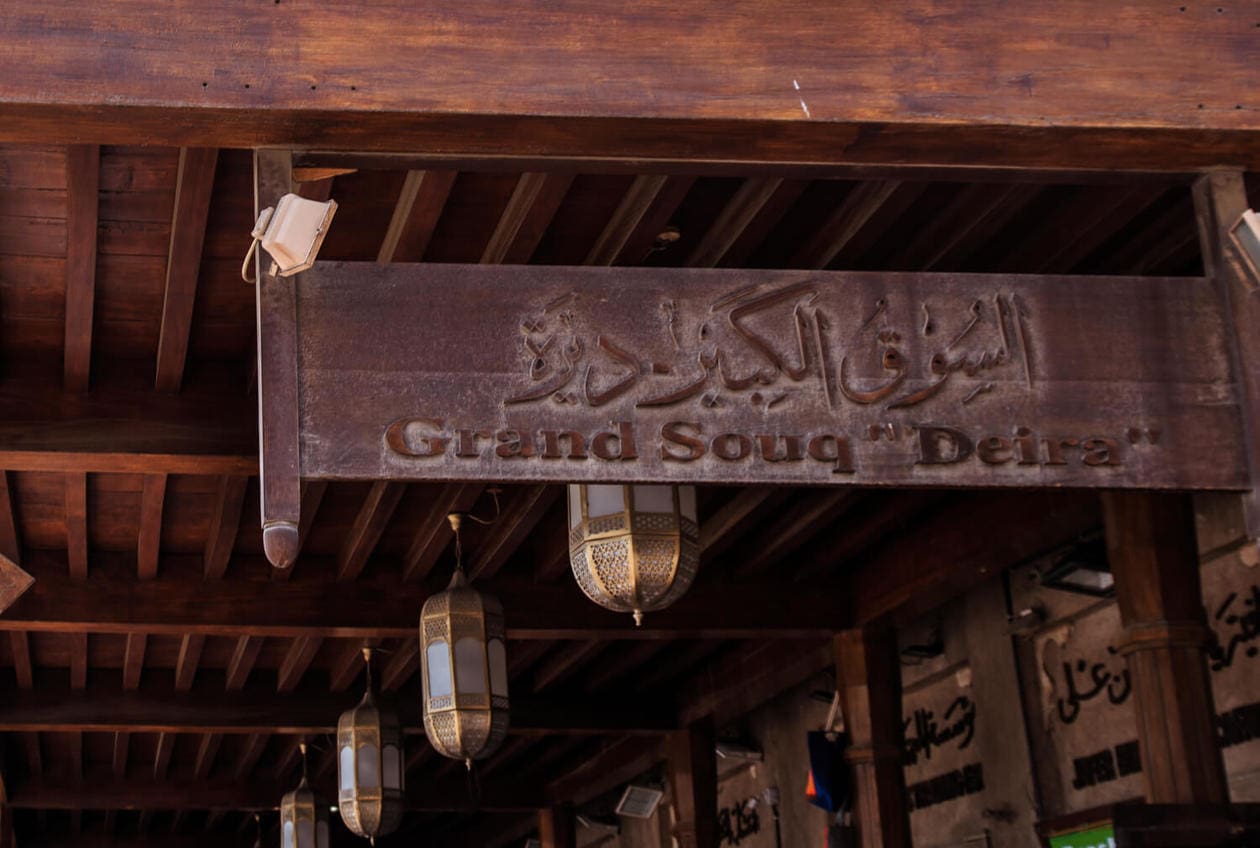 WHAT ARE THE DUABI SOUKS
Souk (or Souq) is Arabic for market, and the Dubai Souks are an enormous maze of small vendors selling everything from gold to spice, perfumes and textiles.
Located in one of oldest neighborhoods in the city, the Souks date back to the the early 1900's when Dubai was the largest trading market on the Gulf Coast. Today, a visit to the souks is one of the most popular things to do in Dubai, especially for those wanting to score deals on one of the city's most precious imports- gold.
THE GOLD SOUK
The most popular of all the Dubai Souks.
World renowned for their reasonable prices and wide selection of jewelry, this is the best place in the UAE to purchase gold. In fact, Dubai traded $70 billion dollars worth of gold in 2012.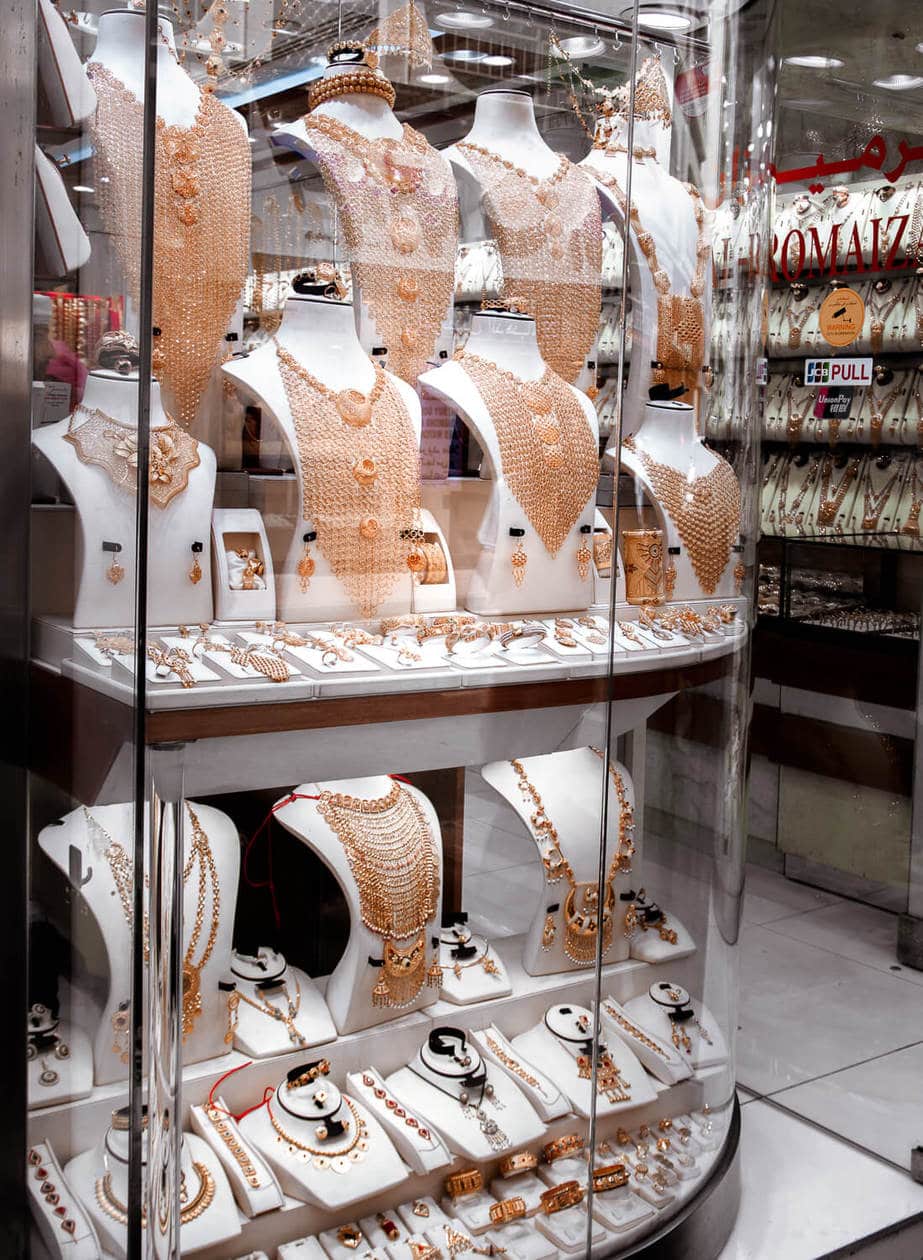 At any given time, there are over 300 retailers and at least 10 tons of gold in this particular market. Authenticity is heavily regulated by the UAE government and prices are negotiable. Speaking of prices, gold is sold by weight according to the current market price (which will be on display in the market). While you can't haggle past the market price, you can negotiate the workmanship costs which gives you the potential to walk away with some incredible deals.
To start negotiations on a piece, start by having the vendor weigh it in front of you. Multiply the grams by the carat price and that will give you the base price (where the store profits nothing). When you know how much the store is charging for workmanship, you can then start to haggle.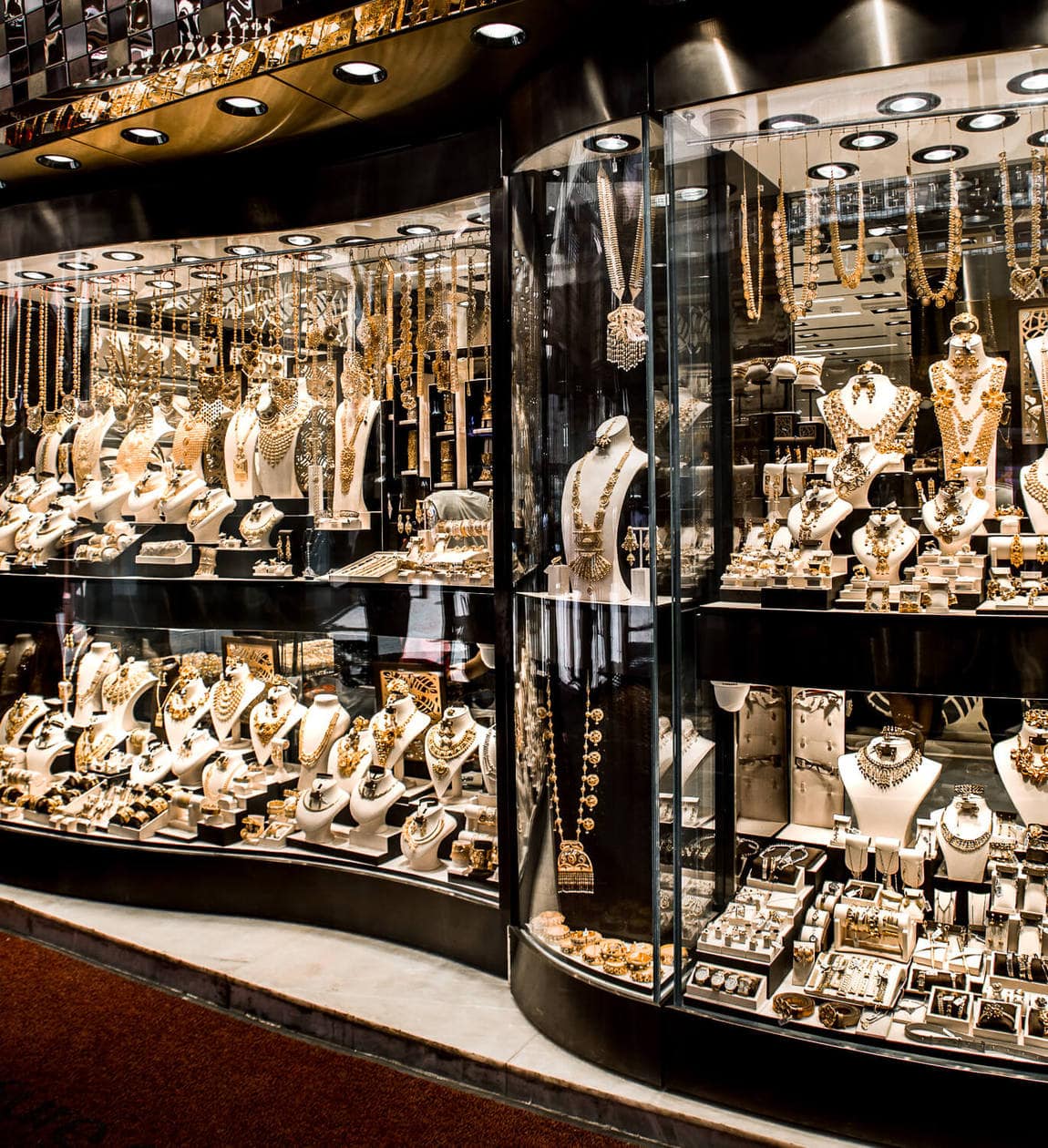 PERFUME SOUK
Located to the east of the Gold Souks are a collection of Perfume shops on Sikkat Al Khail Street, selling aromatic Arabic perfumes, incenses and oils. You can also mix and match fragrances to create your own scents, which can be a unique souvenir to remember your time in Dubai.
While you're there, be sure to sample a few oud fragrances. Oud is an oil derived from agarwood resin and it is one of the most expensive natural resources in the world (1.5 times more expensive than gold!). Oud is traditionally worn by Emirati men and women, but has recently become a popular addition to luxury fragrance lines such as Le Labo, Tom Ford and Jo Malone.
SPICE SOUK
Just South of the Perfume and Gold Souks are the Spice Souks, and you will probably smell them before you see them. Overflowing piles of colorful rose buds, nuts and dried herbs line the narrow streets and the smell of spices fills the air. Saffron is one of the most highly sought after spices in this souk, and you can get a good deal if you know what you're doing.. which we definitely didn't.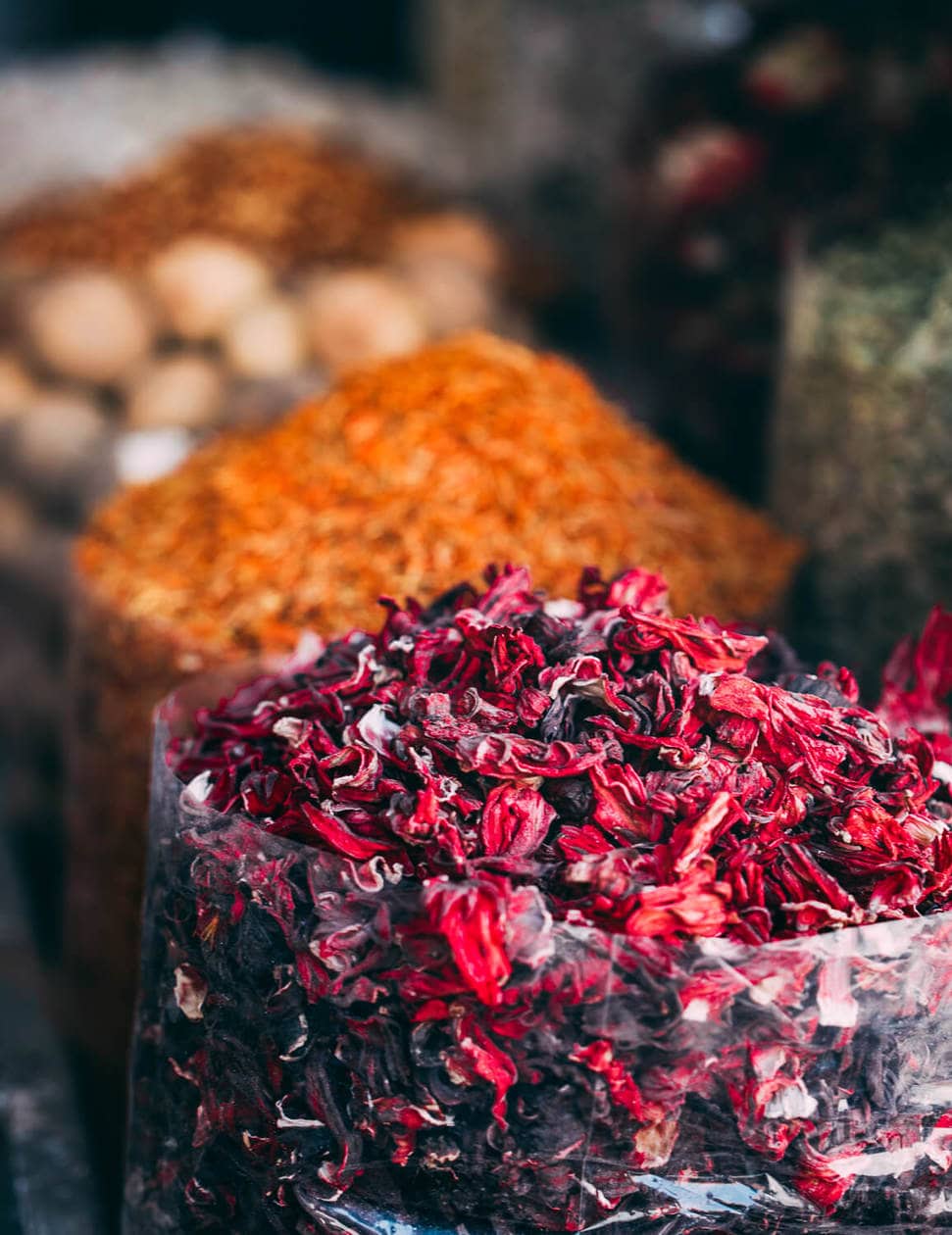 GETTING RIPPED OFF IN THE SPICE SOUKS
Nick loves to cook so we knew before entering the Spice Souk that we were going to buy something. After speaking with one of the shopkeepers, we made our final decisions and while Nick was checking out, I walked away to take photos. I didn't even think about leaving him alone to pay, even though I was the one who had done all of the pricing and haggling research. 3 minutes later he emerged from the shop, having spent $65 on 6 roots of turmeric and a blend of Arabic spices (haha).
We got ripped off and while there's nothing I hate more than being taken advantage of for being a tourist, it was totally my fault. Lesson learned.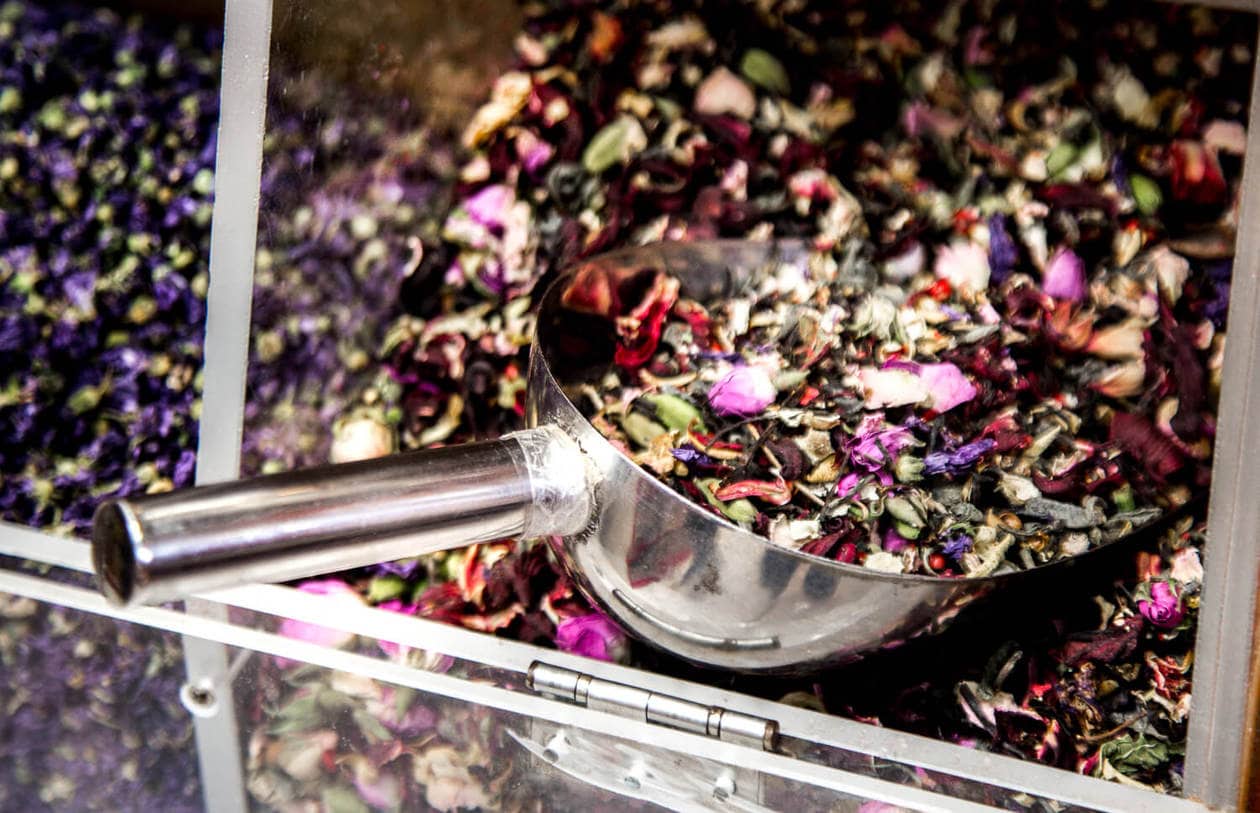 TEXTILE SOUK
From the Spice Souk, hop on an Abra and make your way across the creek to Bur Dubai (Old Dubai) and the Textile Souks. Quite possibly one of the cheapest things to do in Dubai, an Abra ride will set you back AED 1 (27 cents) and it also gives you a unique photo vantage point of the area from the water.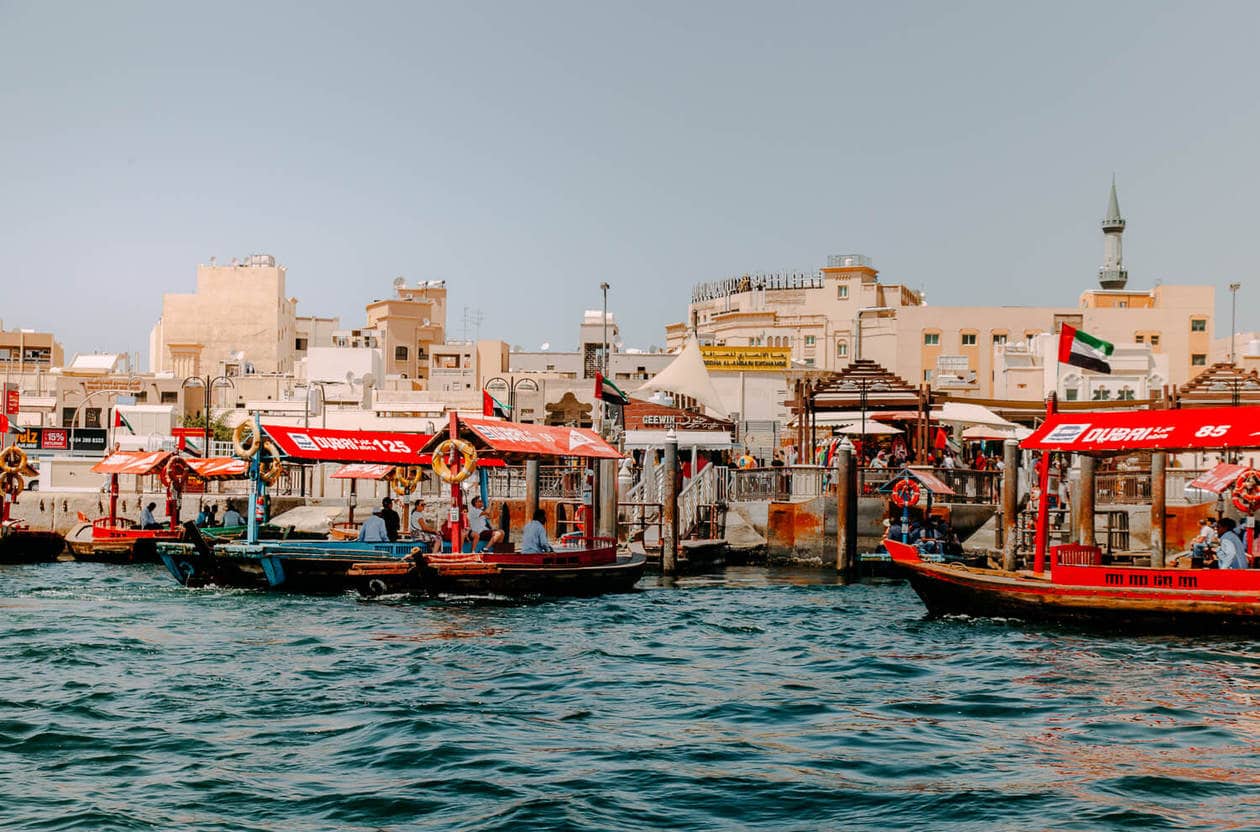 The Textile Souk (also known as the Old Souk) contains an array of fabrics from all over the world, ranging from raw silks to cashmere. You can also purchase traditional outfits, abayas, kaftans and slippers.
This Souk was much less busy and we were some of the only people wandering around, but that gross feeling of being ripped off was still lingering, so we decided to cut our visit short and head to lunch.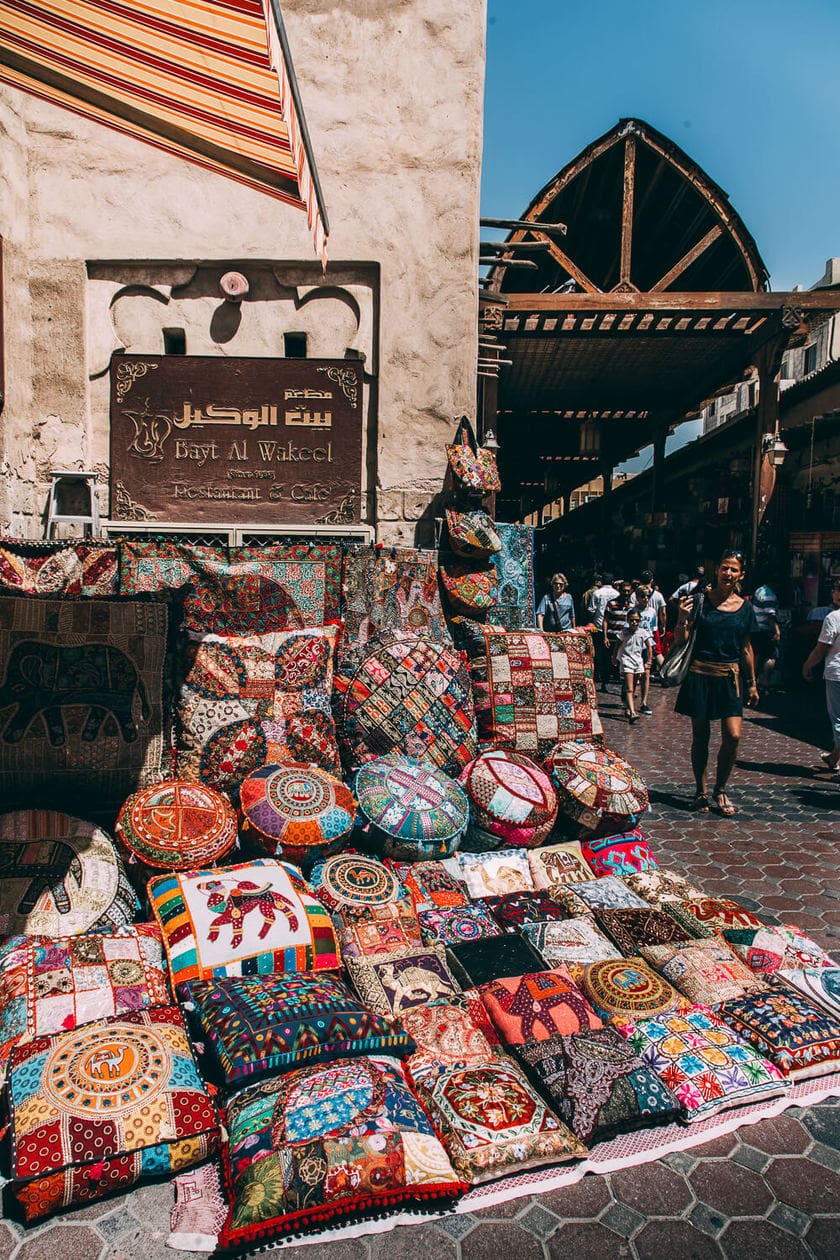 11 TIPS AND TRICKS FOR YOUR VISIT TO THE DUBAI SOUKS
HAGGLE The most important thing to know before entering the Dubai Souks is that you can (and really, must) negotiate. The initial price quoted to you will be extremely high, and a good rule of thumb is to start by countering half. In the Gold Souks, you can sometimes take 25-30% off the initial price, and even more in the other Souks. Not acting too interested and walking away will also help you leave with the best deal.
WATCH THE LOCALS When in doubt, watch a local purchase go down. It will give you a better idea of what to expect as far as prices go.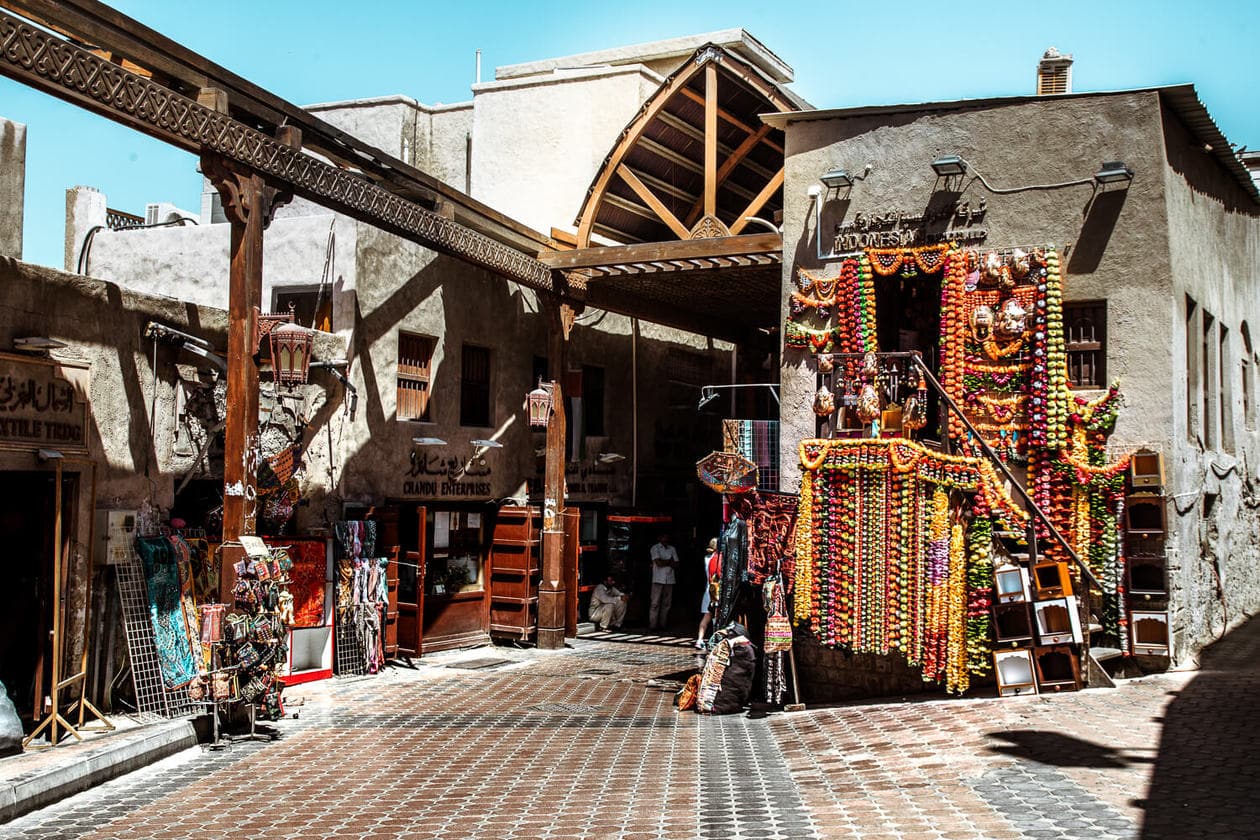 USE A CURRENCY CONVERTER When we were buying our insanely expensive spices, the vendor only quoted us prices in dirhams. There are a ton of free currency converter apps that you can download ahead of time, and use to cross check before agreeing to a price.
DRESS MODESTLY The Dubai Souks are located in a more traditional part of town so dressing modestly (keeping your shoulders and knees covered) is advised as to not offend or draw unwanted attention to yourself.
KNOW WHAT TO EXPECT The Dubai Souks can be little intimidating if you're not used to this type of environment. Expect for shopkeepers and street vendors to approach you non-stop, and entice you into their store. Simply smiling and saying no is enough to get them to move onto the next person.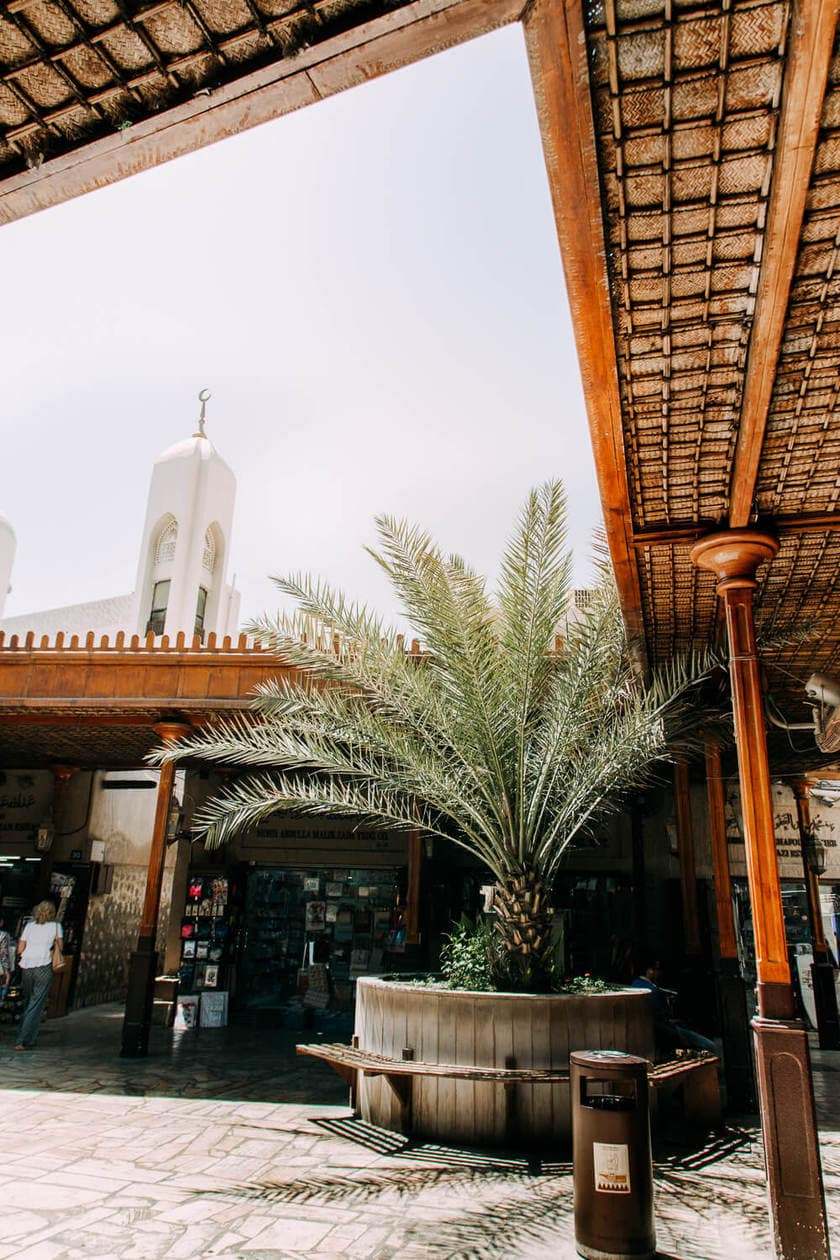 PAY WITH CASH You will receive a much better deal by paying with cash.
DO YOUR RESEARCH If you're new to purchasing gold, do a little research before arriving at the souks. Knowing the current market price (it fluctuates daily) and the carats you're looking for are good starting points. Most shops offer 18K, 20K, 21K, 22K and 24K. The higher the carat the more pure gold it is, with 24K being pure gold. The prices will be quoted to you per gram plus the cost of craftsmanship.
You can check the current market rate for gold here.
PURCHASE FROM THE STORES ONLY The question of authenticity in the Dubai Souks should not be a problem if you are purchasing gold from the stores. Do not buy gold from street vendors as they cannot be as closely watched and regulated.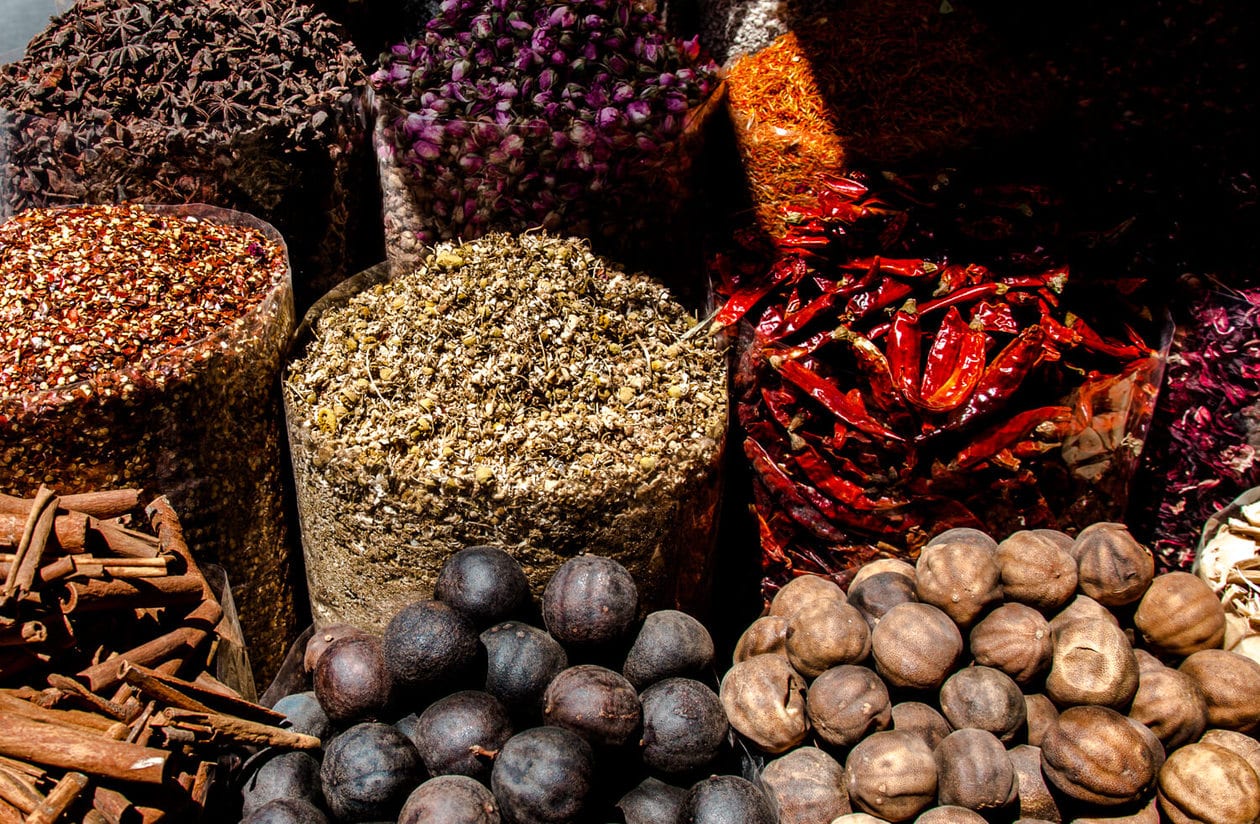 OPEN AIR The Dubai Souks are located outside and while the walkways are covered, it gets hot during the day. A visit in the morning will give you a better chance for cooler weather and less crowds.
THE WORLD'S HEAVIEST GOLD RING aka The Star of Taiba, lives in the Gold Souks. It weighs almost 57 kg (126 pounds), is studded with 5.17 kg (11 pounds of Swarovski crystals) and is worth Dh2.2million ($598,939 USD).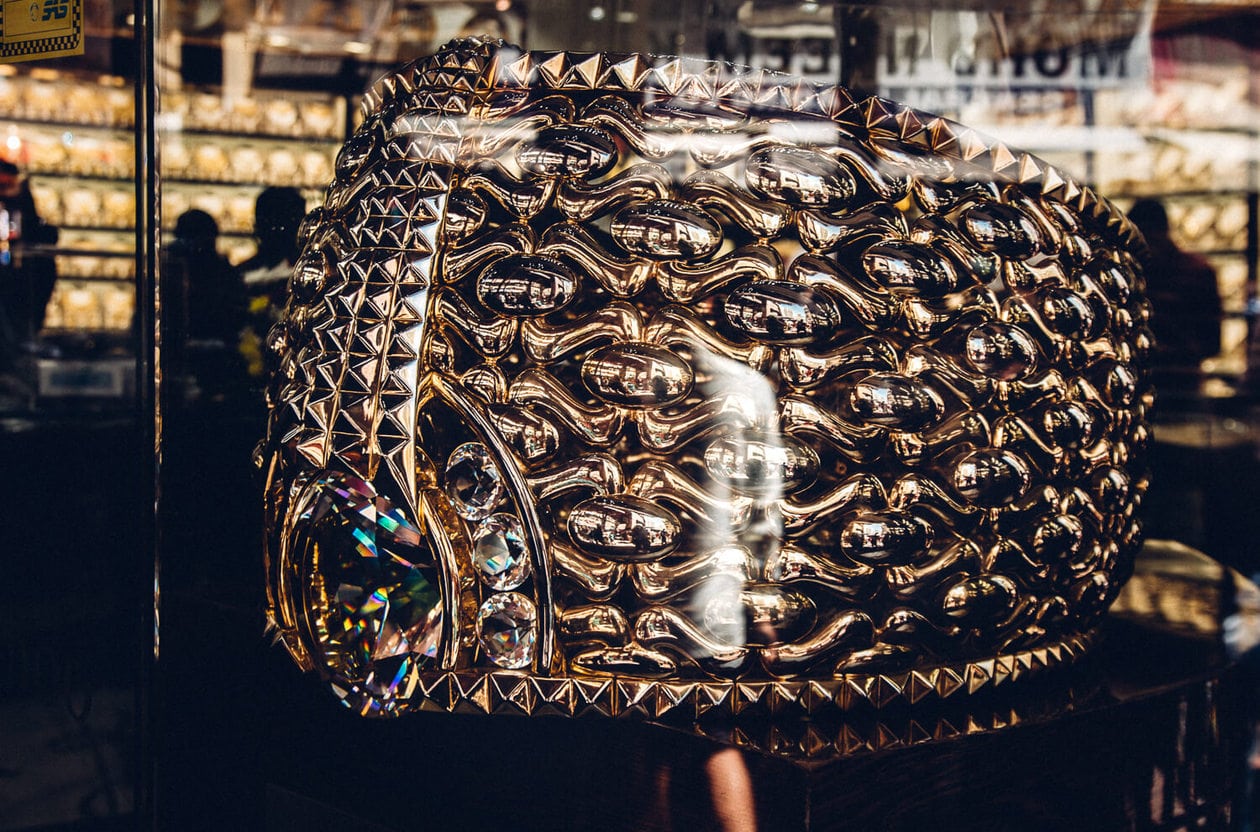 GO OFF THE BEATEN PATH Target shops in smaller alleyways as you will likely receive a better deal since they don't receive as much foot traffic.
MAP OF THE DUBAI SOUKS
HOW TO GET TO THE DUBAI SOUKS
The Dubai Souks are easily accessible via public transportation. Take the Dubai Metro green line to the "Al Ras" Metro Stop. The Souks are a short 5 minute walk from the metro.
HOURS
The Deira Souks are open Sunday-Thursday from 10am to 10pm and Friday from 4pm – 10pm. Many shops close between 1pm and 4pm.
---
PIN IT: THE DUBAI SOUKS // SHOPPING FOR GOLD AND SPICES IN OLD DUBAI