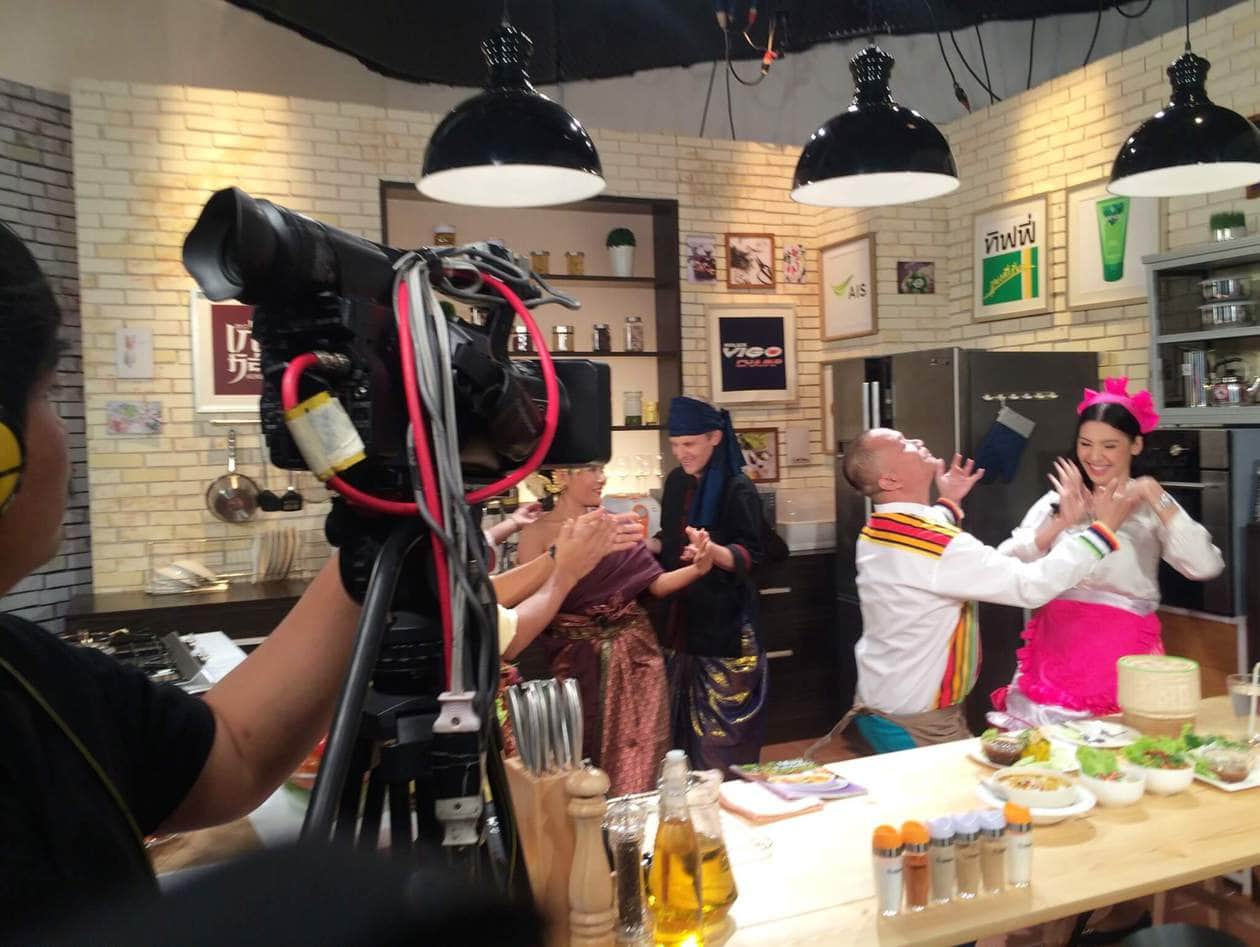 This site receives a small commission for purchases made via affiliate links.
This morning we decided to try a different restaurant on Vegetarian Alley. We brought our iPads to breakfast and the plan was to drink Thai Iced tea and sketch out a rough itinerary of places we want to see. While we were eating, this wonderfully eccentric and charismatic woman walked in and started greeting everyone. She said hello to us and we recognized her face as it was on the brochures. She owned the restaurant and her name is May Kaidee. May asked us what we were doing today and we told her that we had no idea. "Do you want to come with me, I'm going to be on TV because I am very famous." Nick and I casually avoided answering her  question and she walked away. In my head I was trying to come up with all the ways this random offer could be a scam. Out of all the people in the restaurant why did she walk over to us? We decided to not say anything and figured it'd be best to not go, just in case.  About and hour later, May came back and asked us again if we would go with her. Nick (very awkwardly and suspiciously) told her we don't have any money and that we wouldn't be able to pay for anything if that were to come up. "No, no, no! It's free! I want you to come with me, you pay no money. I'll teach you how to make peanut sauce and chili paste and then can say you're my students." We agreed.
At 2pm May's restaurant manager, Tuk, took us upstairs and we joined one of their cooking classes.  He introduced us as "very special guests" and then separated us from the group to make the sauces.  Still not knowing exactly what it is that we had gotten ourselves into, Nick and I were intently focused on making the best peanut sauce ever, just incase. When our lesson was complete May sashayed into the office wearing a different, but equally as fabulous outfit. "I am more beautiful than the last time you saw me, yes?" Then she pulled metallic blue genie pants out of her bag and told Nick to change. She began combing through yards of fabric and pieced together an extremely unflattering, traditional thai outfit for me as well, complete with hair jewels and ear cuffs.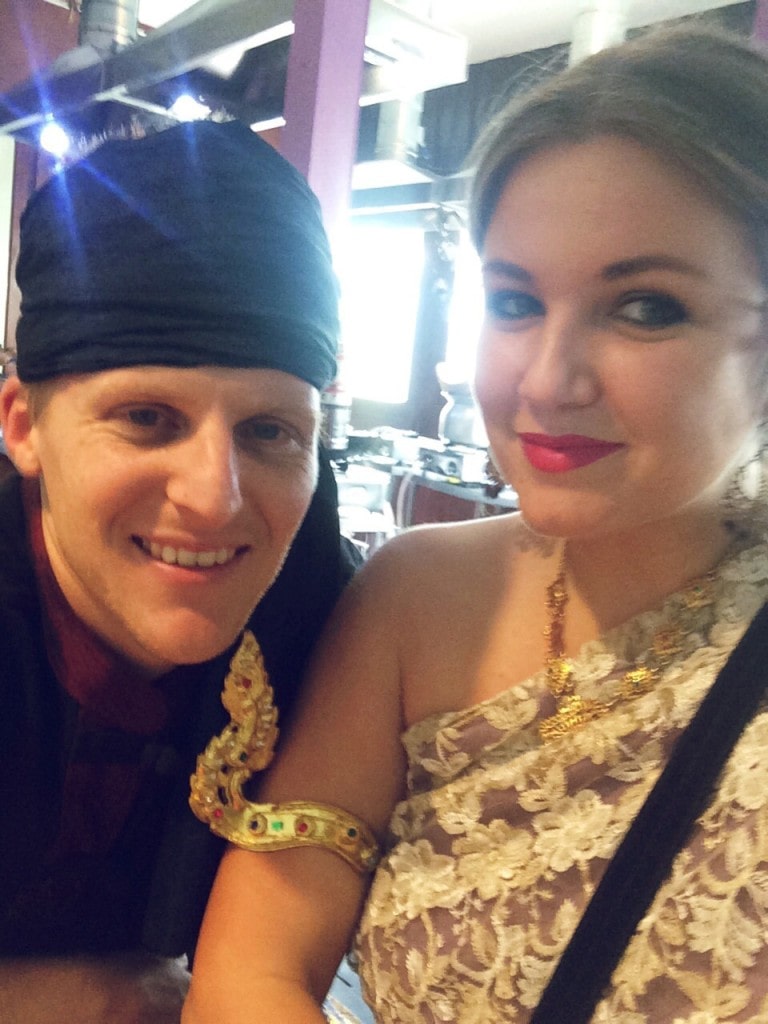 "Do you like to dance?" Tuk asked us.
"Um not in front of people.. why? Will we be dancing?"
"Maybe" he said, then May pushed us out the door.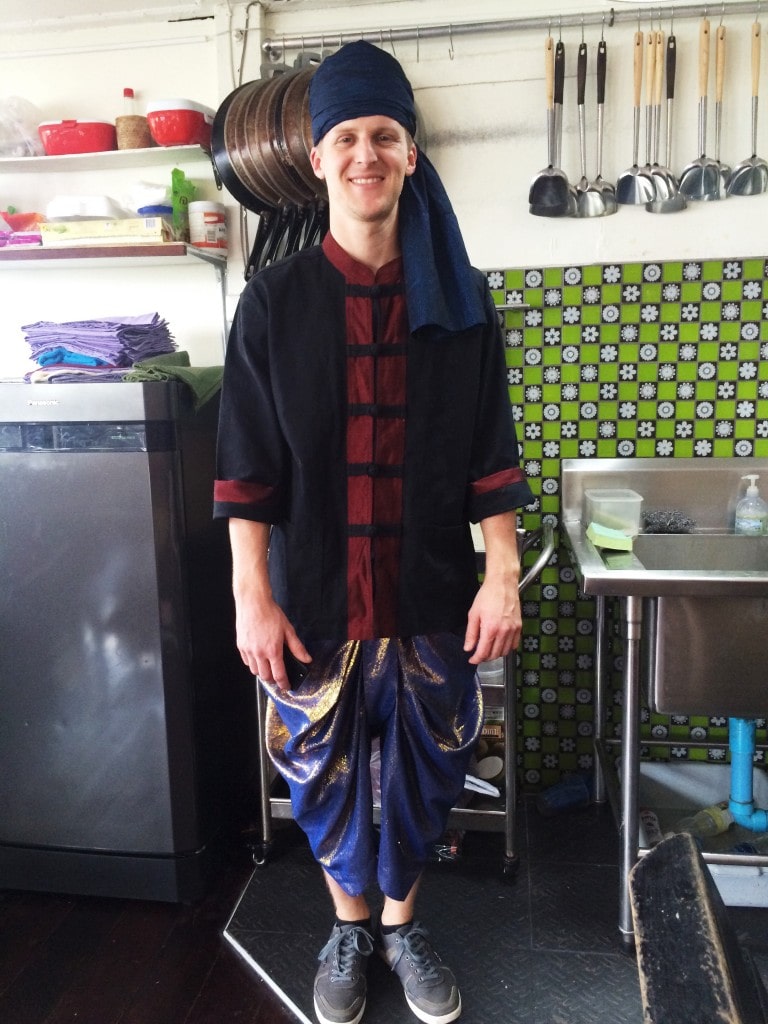 The four of us got in a cab and headed an hour outside of Bangkok. The cab driver told me I looked like an angel, which I believed to be a pretty accurate assessment.  May danced and sang, and even though we had just finished a huge meal at her restaurant, she insisted we eat snacks. We were fed sticky rice with vegetarian thai sausage, raw peanuts and mangos. The cab driver must've thought we were starving because he started pulling food out of his side door as well. When we ran out of food she stuck her head out of the window and called the street vendors over to buy more. I wasn't exactly thrilled to be making my tv debut after stuffing my face for 2 hours but I figured, yolo.
When we arrived at the studio we were ushered into the green room to get our makeup and hair touched up. I white knuckled the edge of my seat as the makeup artist painted my cheeks bright orange with her disgustingly dirty brushes.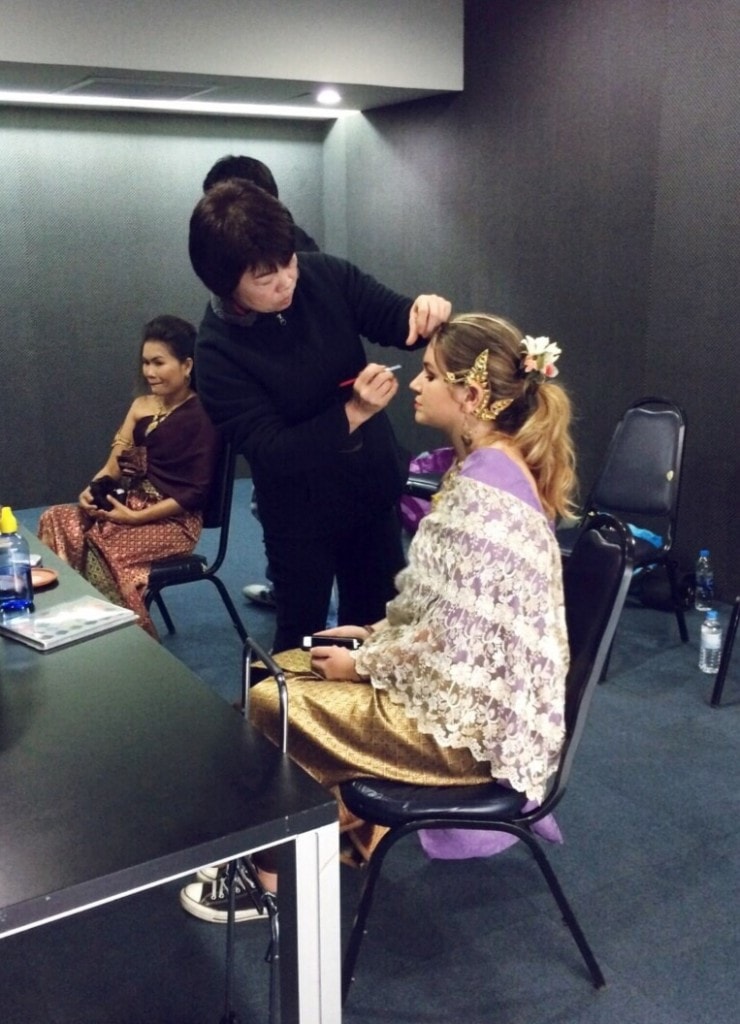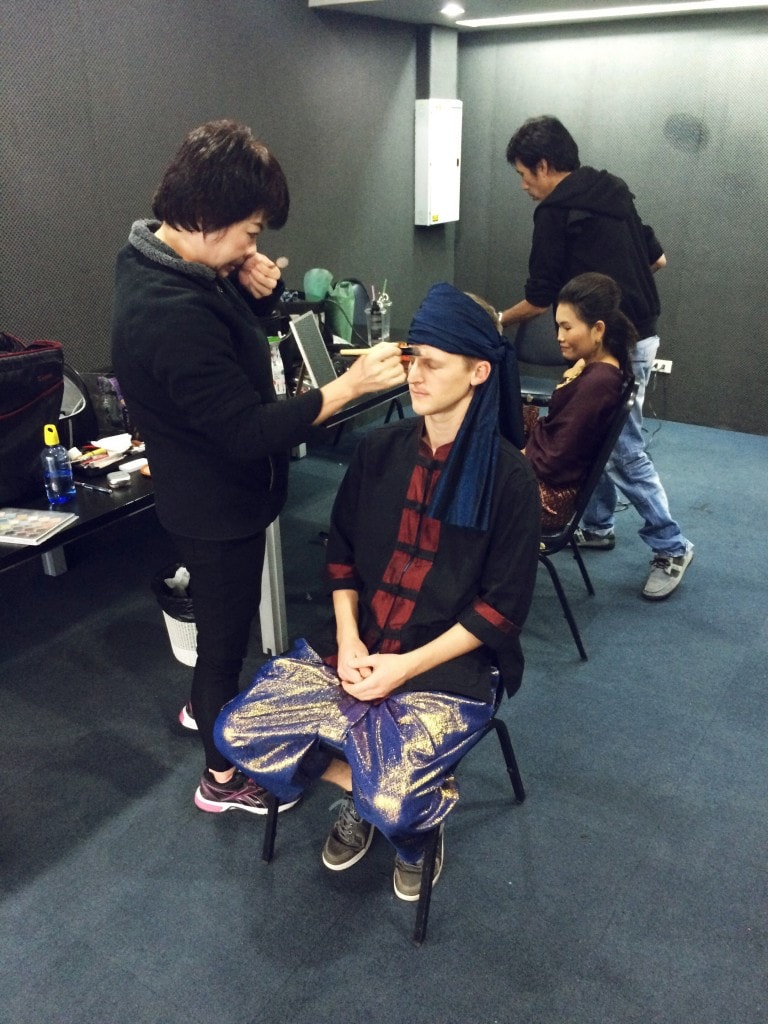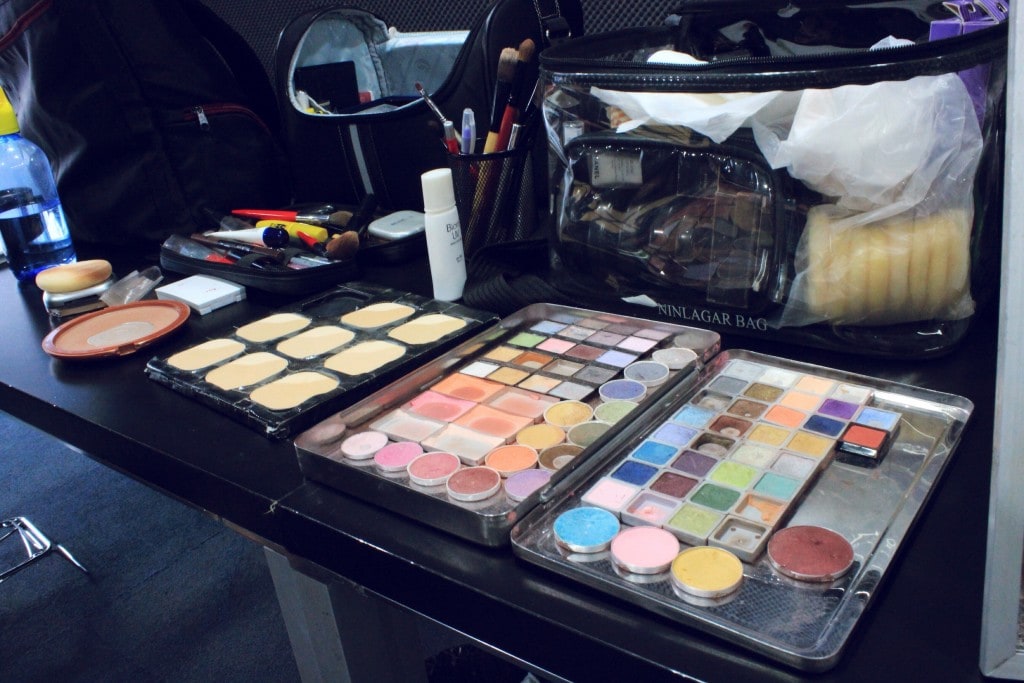 As as we were getting mic'd, Tuk asked us if we'd gotten a chance to rehearse the dance. When we told him that we hadn't, he asked us to wing it. Huh? What type of dance is appropriate for a Thai cooking show? I was a little nervous because Nick seemed perfectly ok with this instruction and his dance moves are not always the most publicly appropriate.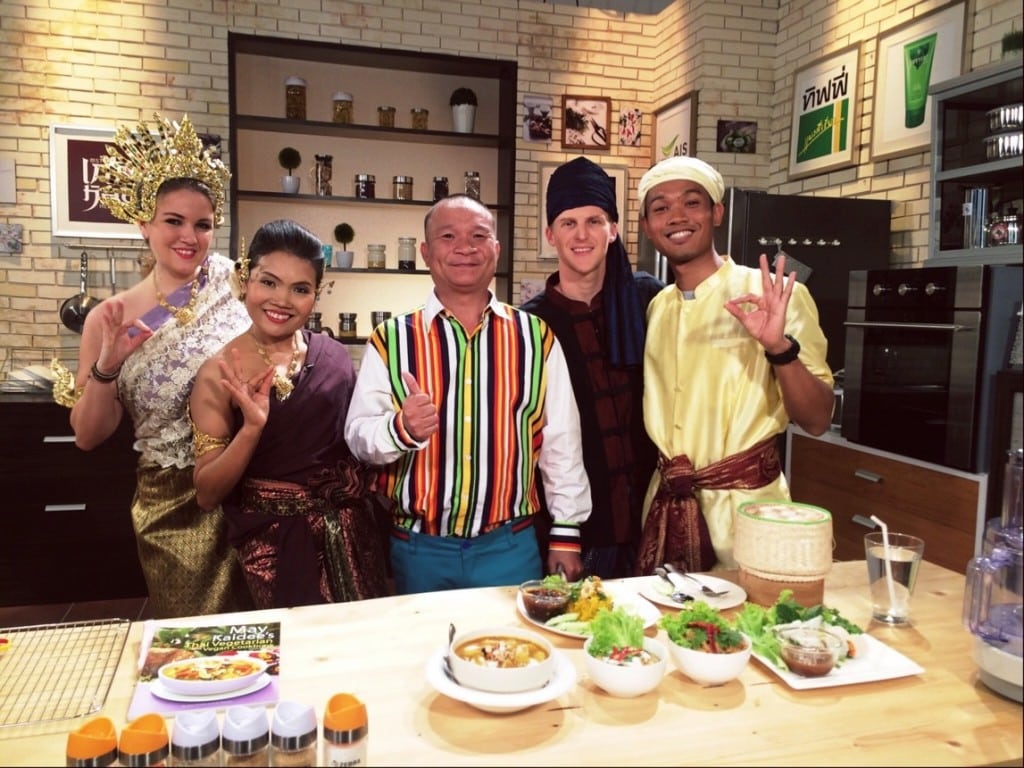 The taping ended up being really fun and apparently the host is very famous in Thailand. May showed him how to cook a dish, and then they brought us out to ask us a few questions. I'm still not sure why we had to dance, but on two different occasions they blasted music and we got down. Being on set in Thailand is the same as being on set at home, except today I got to wear a crown.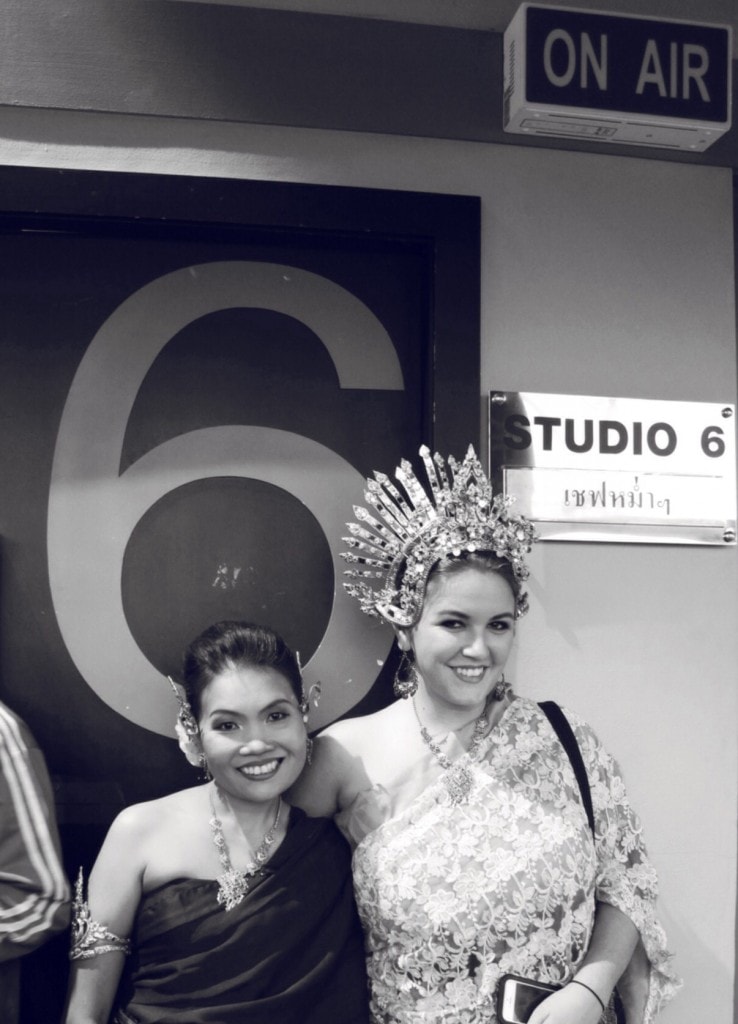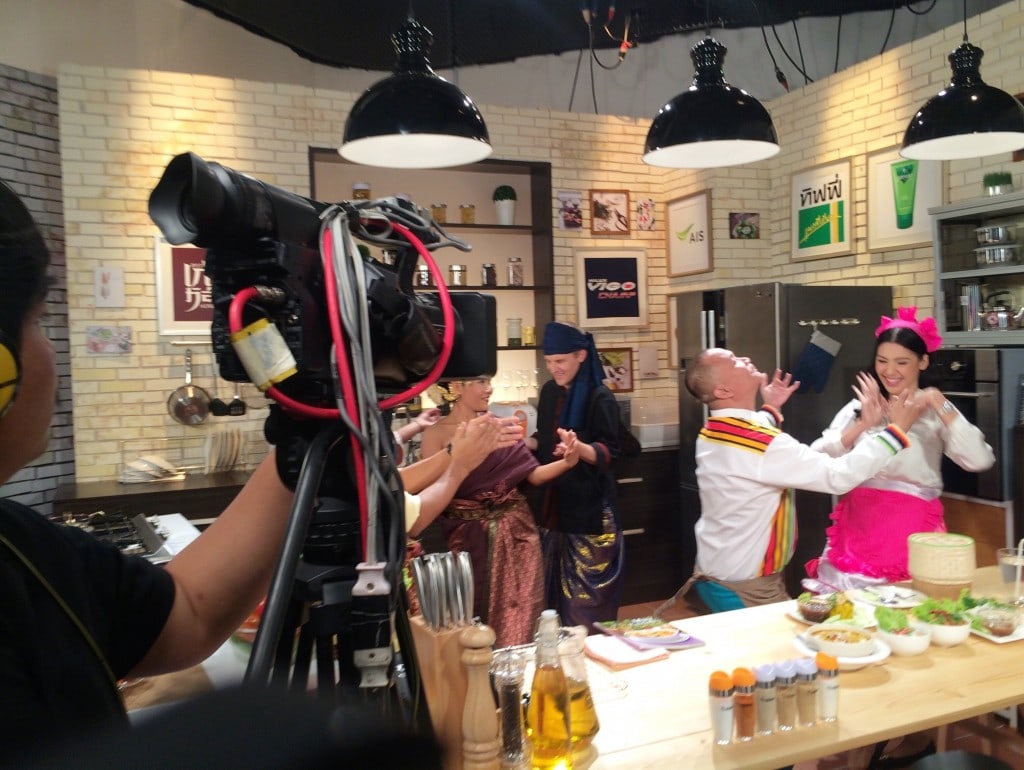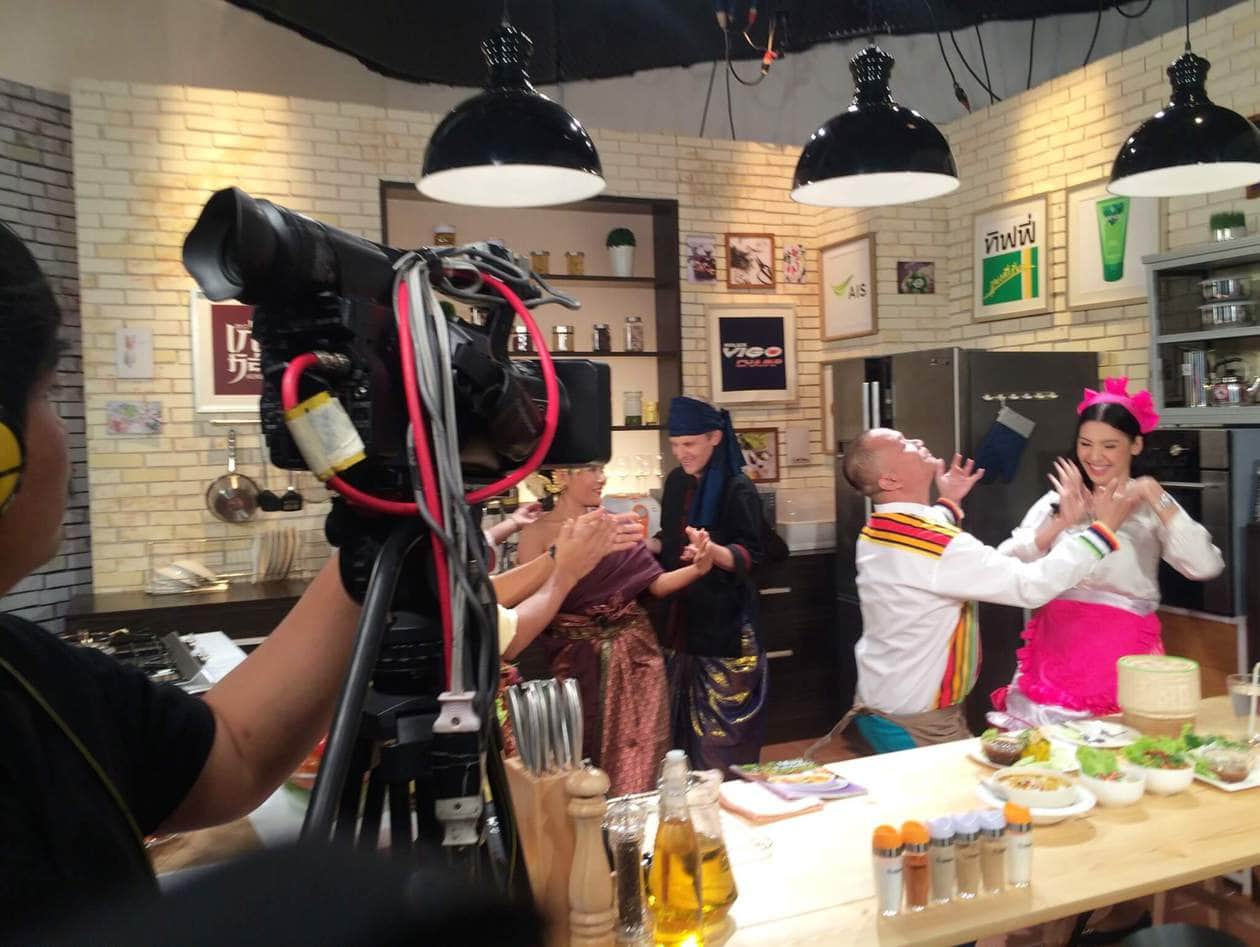 After the show wrapped, we headed back to the restaurant and May thanked us for going with her by asking her chef cook us a delicious meal of papaya salad, massaman curry and Tom Kha soup. It turns out that May really is a badass business woman and chef. She has 3 restaurant locations and serves only vegetarian/vegan and raw dishes.  She is frequently requested to lecture at retreats, health seminars, and annual food events worldwide. In Russia, May has tutored master chefs from five star hotels,and she was chosen as a top restaurant by Metro Magazine in Sweden. She has even been deemed as the best chef in Thailand by Prince Phillippe of Belgium, who apparently has the power and authority to decide who the best chef in Thailand is?
While today was a somewhat peculiar way to spend our last day in Bangkok, it has set the bar for the rest of our trip. We still aren't sure why, out of all the people in her restaurant-including her class full of actual students, May singled us out to be her special guests but she must've felt that we were crazy enough to go along with it.