Juneshine recently opened up a new tasting room in Los Angeles and we decided to check it out the the other day while celebrating Nick's birthday with friends. While we are usually die hard fans of the hard kombucha brand Boochcraft, they don't have a tasting room in Los Angeles.. so we work with what we are given. And what we were given was a beautiful, airy tasting room with a rotating list of 16 unique flavors. Juneshine provided the perfect setting for the day and it has officially become one of our new favorite places to day drink in Santa Monica.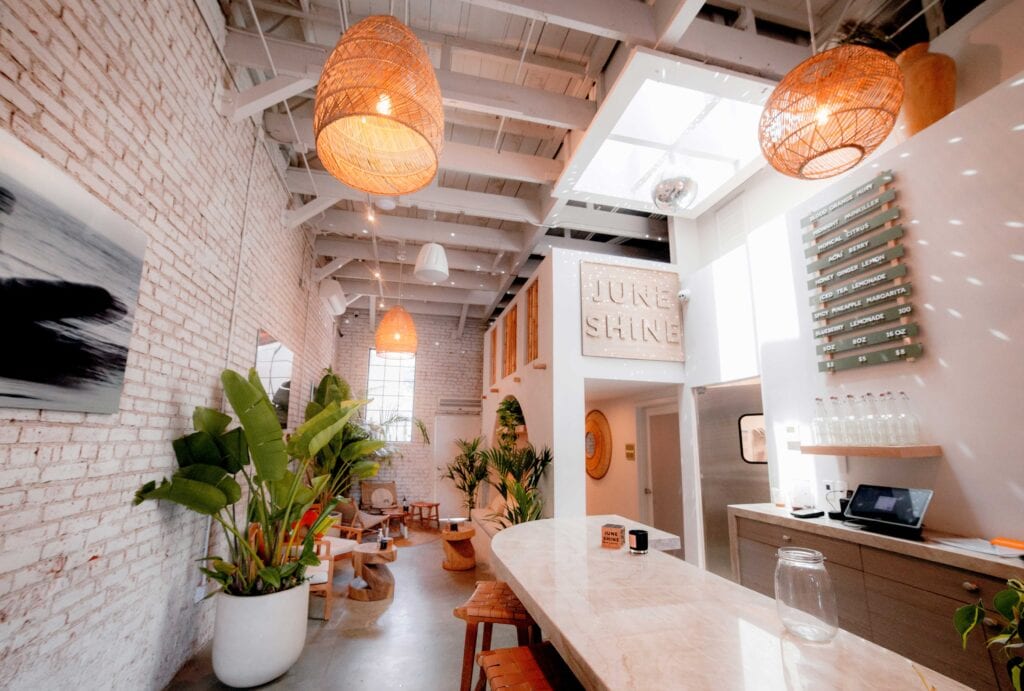 WHAT IS JUNESHINE HARD KOMBUCHA
Hard kombucha brands have been popping up everywhere over the last few years and have become very popular amongst the health conscious crowd.
As you probably know, regular kombucha is usually made from tea and SCOBY (an active culture that consists of either bacteria or yeast). With non-alcoholic kombucha, sugar is still converted to alcohol during the fermentation process, it's just not enough to feel anything. With hard kombucha, the mixture is fermented for longer causing more sugar to get converted to alcohol, which in turn raises the ABV.
According to Juneshine's website, the company ferments their kombucha twice. Once with their jun kombucha SCOBY "to create a clean kombucha base." Then again with yeast and organic cane sugar.
Juneshine Kombucha contains a base of green tea, honey, cane sugar, and Jun kombucha. They are an organic, sustainable and gluten free brand and they add no additives, preservatives, coloring, pesticides, GMOs, corn syrup or rice syrup to their products.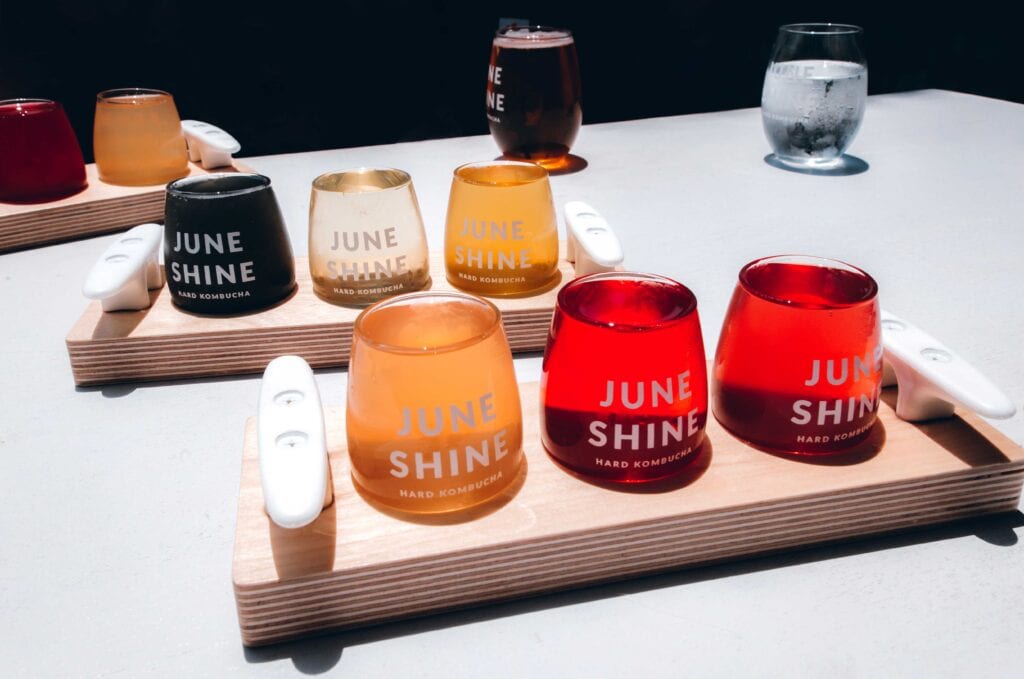 JUNESHINE SANTA MONICA : HARD KOMBUCHA TASTING ROOM
The Los Angles Juneshine tasting room is located on the border of Santa Monica and Venice, and it fits in perfectly with the neighborhood. The tasting room is photo-op perfection designed with earthy tones, wood, wicker and woven textures, and tons of leafy plants. Outside you'll find a small, dog-friendly patio surrounded by snake plants and illuminated with hanging lights.
Boy Smells candles burn on every table, emitting scents of black currant, peach blossom, jasmine rice, cardamom and white cedar into the air. You'll also find hand sanitizer on your table as well as a wooden block with an engraved QR code, so that you can pull up the menu.
We all ordered tasting flights to to get a proper sampling of the flavors they offer. If you've never tried Juneshine before, the flavors are very light and subtle but they pack a pretty big punch (all of the core options are 6% ABV). I ended up liking them a lot more than I remembered (but I still prefer Boochcraft).
There were two employees working and both were very friendly and helpful. The crowd consists of mostly locals, and the vibe is trendy but not in an intimidating or obnoxious way. Being near the beach gives it a more laid back feel.
I like supporting companies that incorporate sustainability in their business models and Juneshine donates 1% of their annual revenue to sustainable non profit foundations. They also utilize sustainable packaging, print on recycled materials, and they treat the water they use before it goes back into the wastewater system.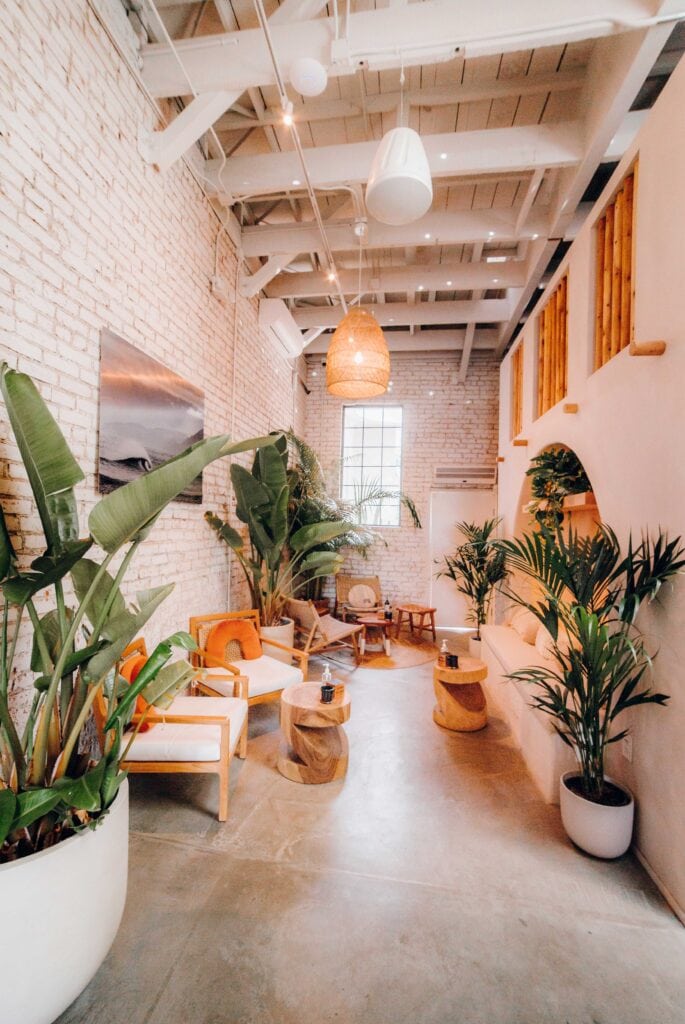 RELATED POST OAHU BREWERIES: A SELF GUIDED WALKING TOUR IN KAKA'AKO
THE FLAVORS
Juneshine Santa Monica features 16 rotating taps of small-batch hard kombuchas. During our visit, the current flavors were:
Blood Orange Mint, Chili Mango, Spicy Pineapple Margarita, Midnight Painkiller (Coconut, Pineapple, Orange, Nutmeg, Activated Charcoal), Strawberry Watermelon, Hopical Citrus, Acai Berry, Honey Ginger Lemon, Iced Tea Lemonade, Blackberry Cobbler (Blackberry, Cherry, Cinnamon, Vanilla), Blueberry Lemonade, Pineapple Orange and Hibiscus Lime.
Our collective group favorites were the Blackberry Cobbler, Midnight Painkiller, Honey Ginger Lemon and Blood Orange Mint. While I'm usually a big fan of spicy drinks, the Chili Mango was too intense for me. It is very chili heavy and was hard to drink more than a few sips.
If you don't like hard kombucha, they also offer a small menu of a few other drink options. There was wine (a single red, white and rose), a Mexican lager and an IPA on the menu.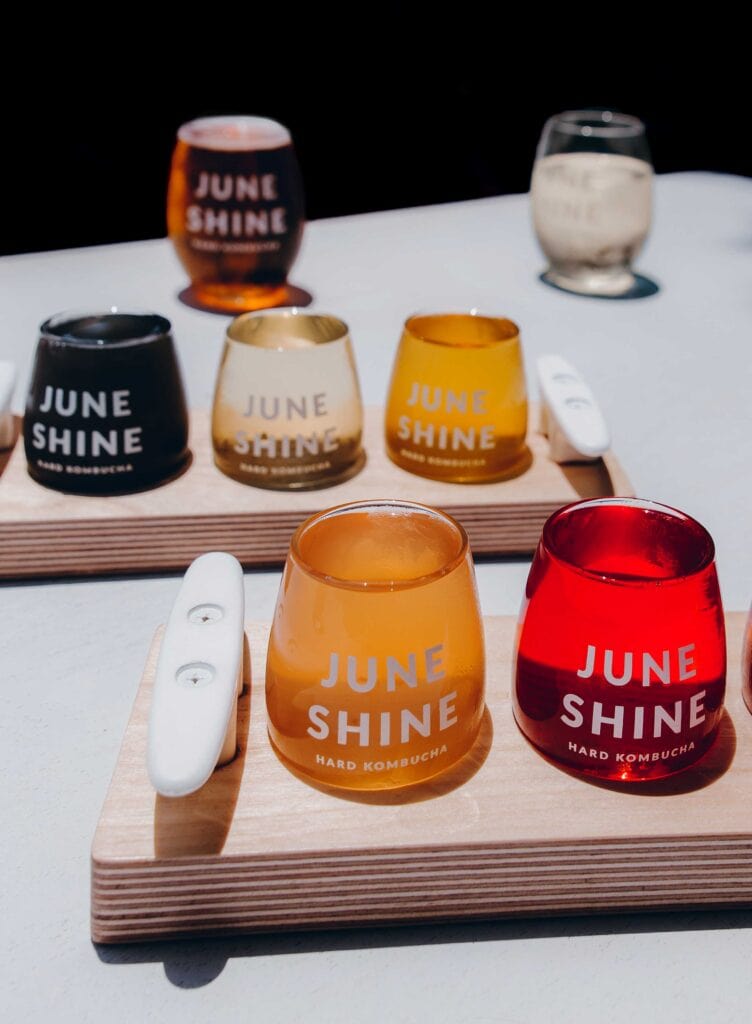 PRICES
We were very surprised at how reasonable the prices were, especially for a flight. Three 5 oz (147.87 mL) pours cost $10. A 16oz (143mL) pour was $8, An 8oz (236 mL) pour was $5 and a single 5oz taster was $3.
THE MENU
The menu includes a few food options created from Enclave, the restaurant located inside Juneshine Ranch, their San Diego brewery.
You can choose from beef, chicken, caprese or vegan empanadas or order a charcuterie board that consists of sopressata, serrano ham, spicy salami, aged Irish cheddar, aged gouda, French brie, red grapes, tangerine, apples, whole grain Mustard and marcona almonds.
Juneshine's amazing aesthetic and attention to detail made the the plain empanadas tossed on paper plates seem a little out of place. They were good though (6.5/10) and satisfied our immediate need, which was to soak up alcohol.
With that said, unless this location revamps their food options a little more, I would probably recommend grabbing something to eat before visiting.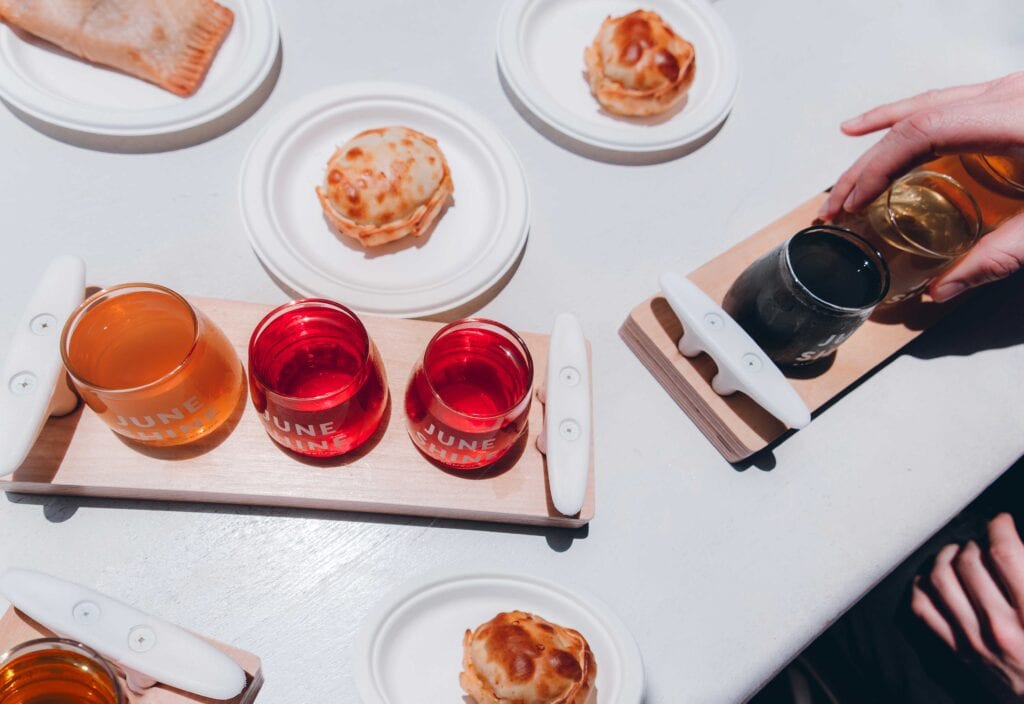 GOOD TO KNOW
BRING A CARD Juneshine is a cashless establishment.
THERE IS A TIME LIMIT of 90 minutes for each table. The tasting room was not very busy when we visited so this rule did not seem to be enforced. During busy times, prepare to keep your visit short.
WALK IN ONLY The tasting room does not accept reservations. I recommend visiting earlier in the day and avoiding weekends if possible, as the waitlist can run hours long.
FAMILY & DOG FRIENDLY Children are welcome and dogs are allowed on the outdoor patio.
OPENING HOURS Juneshine is open Sunday-Wednesday from 12PM-9PM and Thursday-Saturday from 12PM-11PM.
WEBSITE Click here to visit their WEBSITE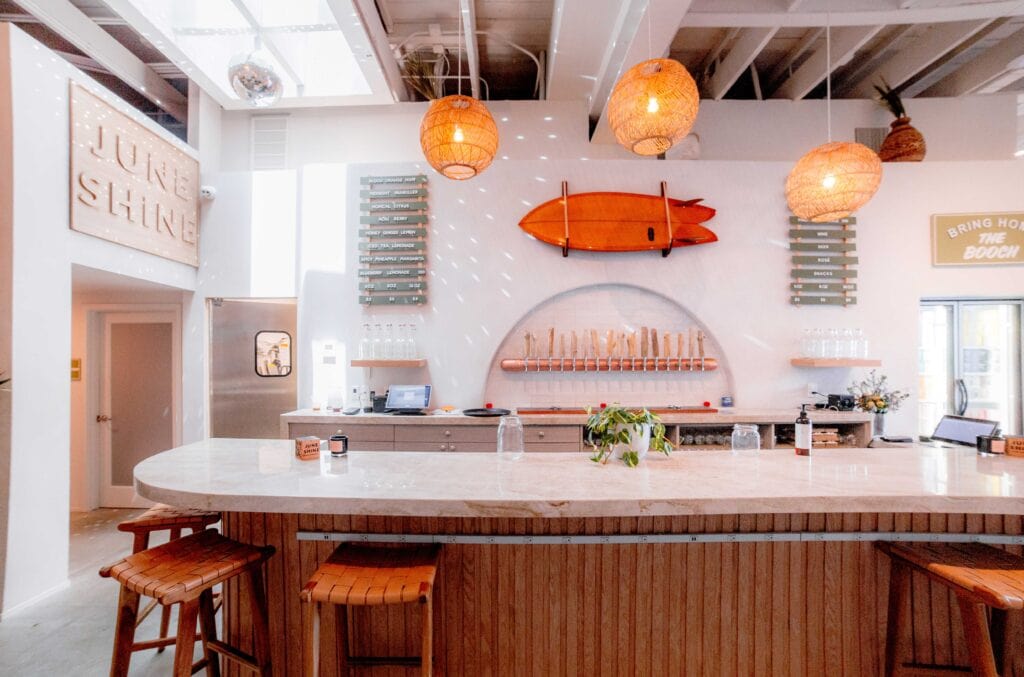 HOW TO GET TO JUNESHINE SANTA MONICA
Juneshine is located in the Ocean Park neighborhood of Santa Monica, right on the border of Venice.
ADDRESS 2914 Main Street Santa Monica, Los Angeles 90405
PARKING There are a handful of pay to park lots and street meters within a short walk from the tasting room. One of the closest lots is located at Neilson Way and Ashland Ave, just behind the Juneshine building.
METRO The closest metro stop is the Downtown Santa Monica station which is 1.4 miles from Juneshine. You can transfer to the bus at 4th and Broadway, then get off at the stop Main and Pier. Or grab an Uber.
BUS The closest bus stop is Main & Pier.
---
PIN IT: JUNESHINE SANTA MONICA – HARD KOMBUCHA TASTING IN LOS ANGELES