Before we landed in Armenia, the only thing anyone would tell me about this country is how good the food is. And they were right. Just about every meal we sat down to blew my mind. We ate village cheese and consumed homemade wine and bread every night; walking away from 4 course meals at some of the top Yerevan restaurants having spent less than $30. It was heaven.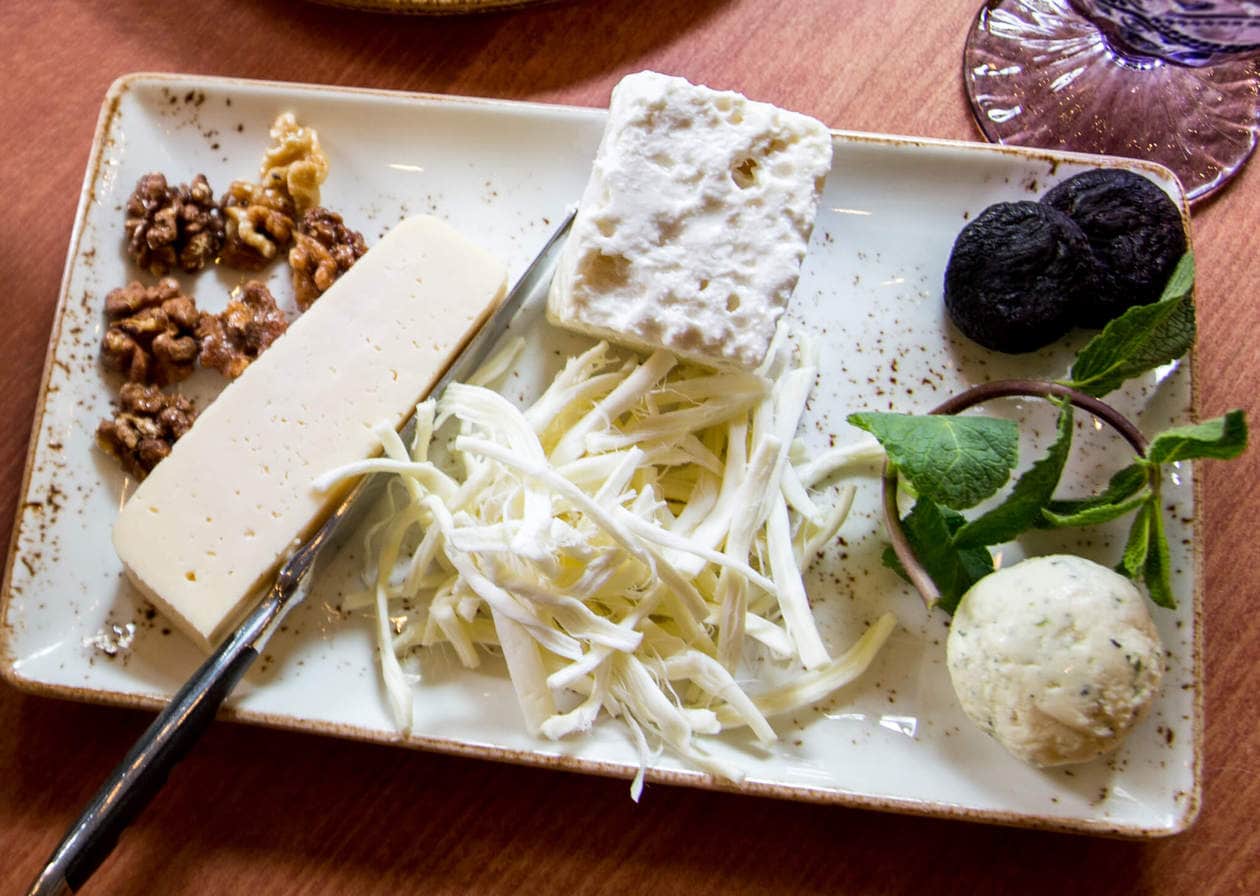 Someone told me that all of the produce in Armenia is organic, and while haven't been able to completely fact check that,  I did notice huge difference in how I felt. The whole experience has actually inspired me to start an elimination diet to see if I can pinpoint which foods in my sketchy American diet are causing me to feel so bad. So I guess you could say the food in Armenia life changing.
Keep reading for a list of my favorite Yerevan restaurants (recommended to me by locals!).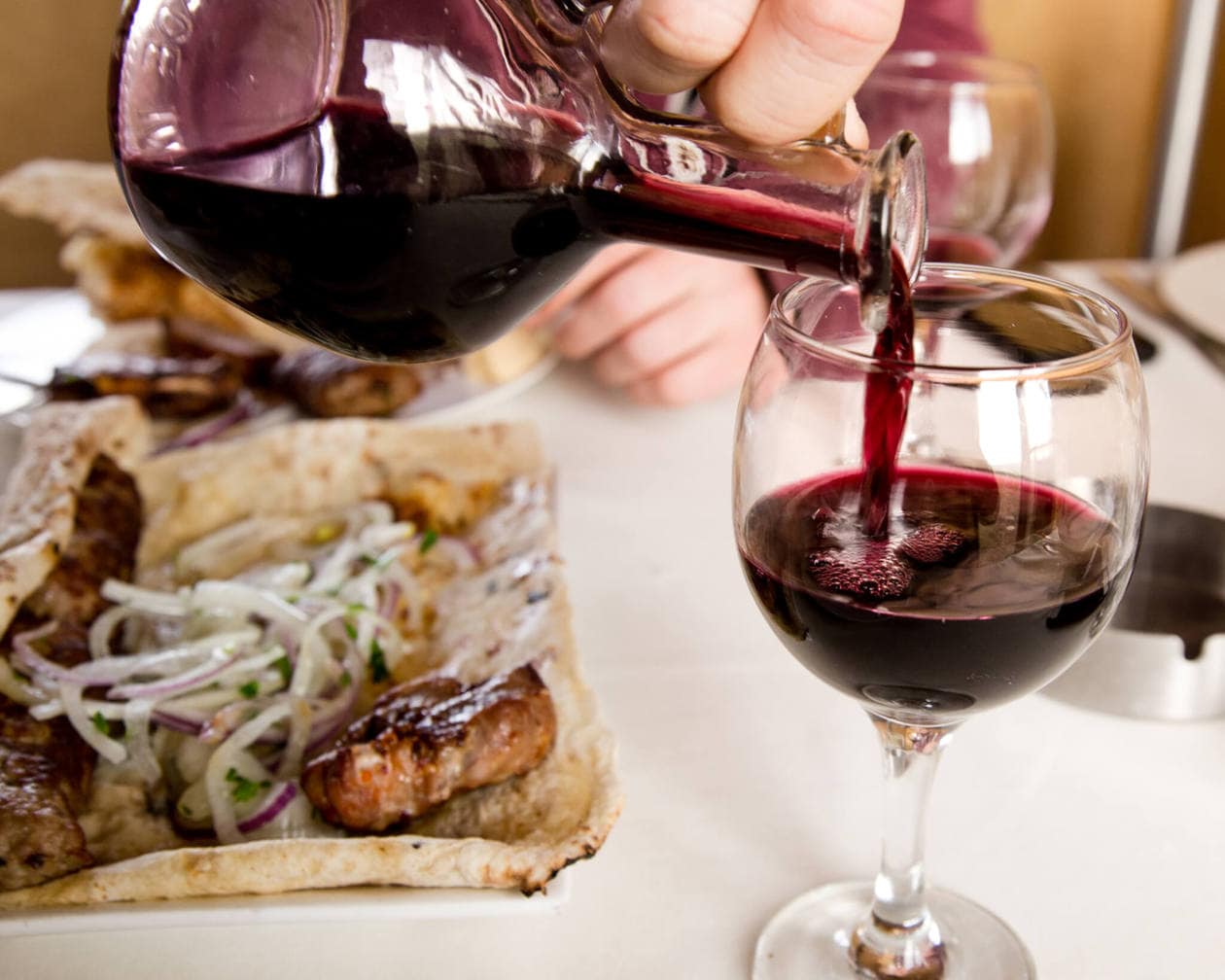 WHERE TO EAT & DRINK // MY FAVORITE YEREVAN RESTAURANTS
Nick and I were lucky enough to receive a list of recommended restaurants from 2 of our Armenian friends. The list not only included traditional Armenian restaurants, but other cuisines as well. When we travel, we try to stick local food as much as possible (unless it's nasty.. looking at you, Sweden). Since Armenian food is so delicious, we couldn't bring ourselves to go anywhere else. So all of my favorite Yerevan Restaurants ended up being exclusively Armenian.
LAVASH
The first meal we ate in Armenia was at Lavash and it remained my #1 favorite restaurant in Yerevan throughout the duration of our trip. It was also the only place we came back to more than once. Nick and I have a ranking list of our top favorite restaurants around the world, and we both agree that Lavash earned itself a top spot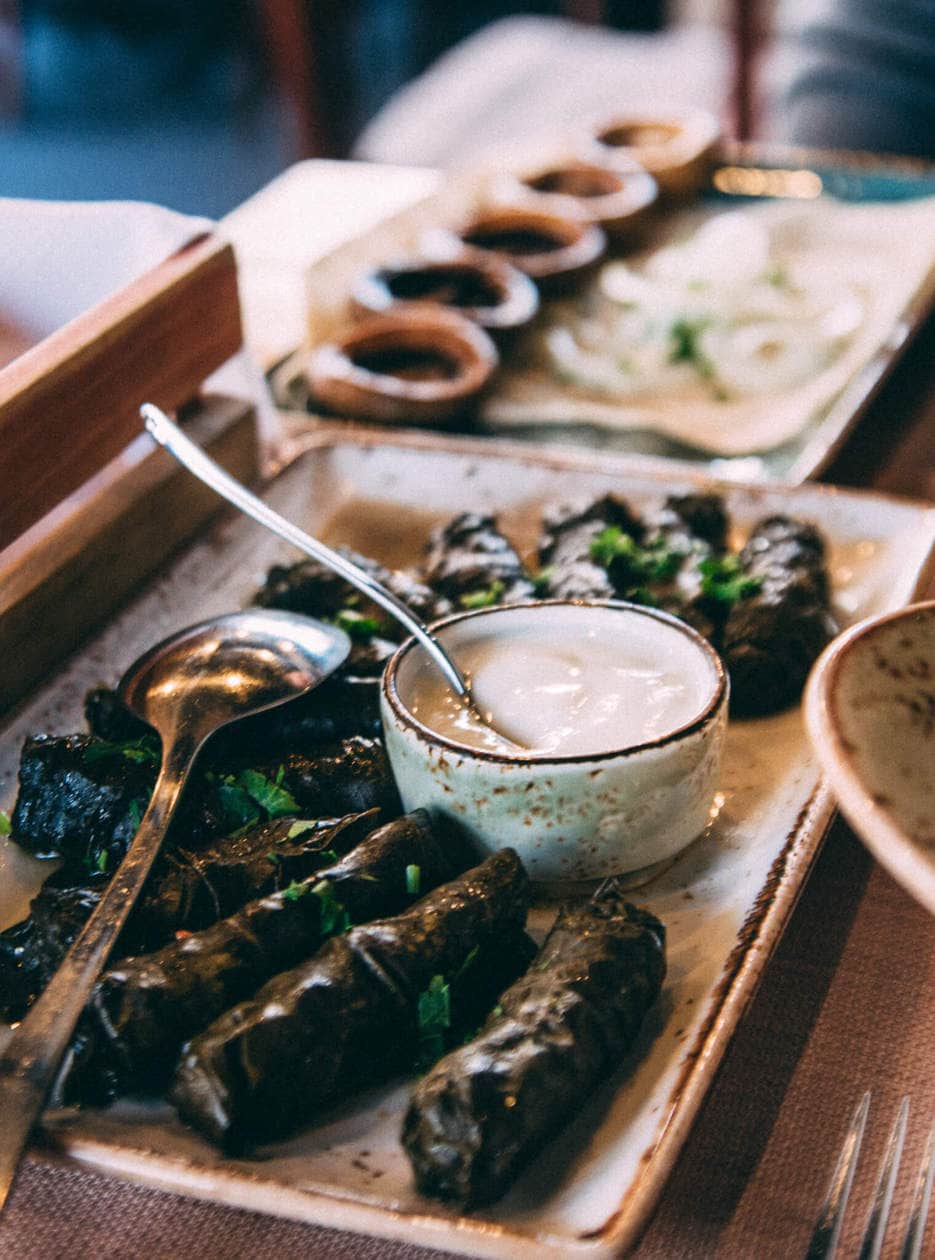 The service is fantastic, the menu is huge and the atmosphere is inviting. It's not too fancy but perfect for a nice lunch/dinner. Armenian food consists of a ton of BBQ, but there are also lots of veggie options on every menu.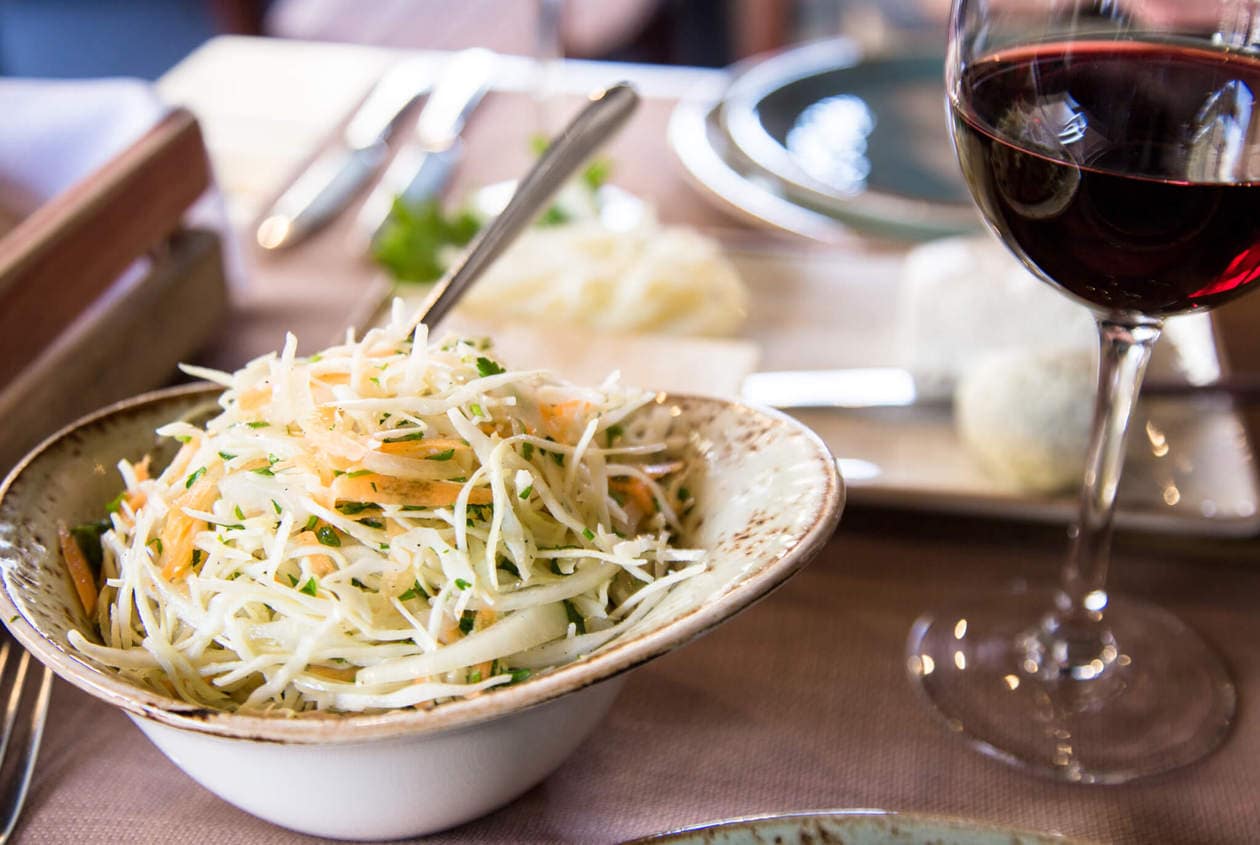 Lavash is popular, so I recommend making a reservation if you'll be stopping in during peak times. When we came for lunch we were seated immediately, but we had to wait a few minutes during dinner time.
Address: 21 Tumanyan St, Yerevan 0001
Hours: 8AM-1AM
 TSIRANI GARDEN RESTAURANT
Tsirani Garden Restaurant is located a bit outside of Yerevan's city center, but the journey is worth it. The restaurant is super unique as each table is located in it's own private bungalow, which are spread out among the beautiful apricot garden.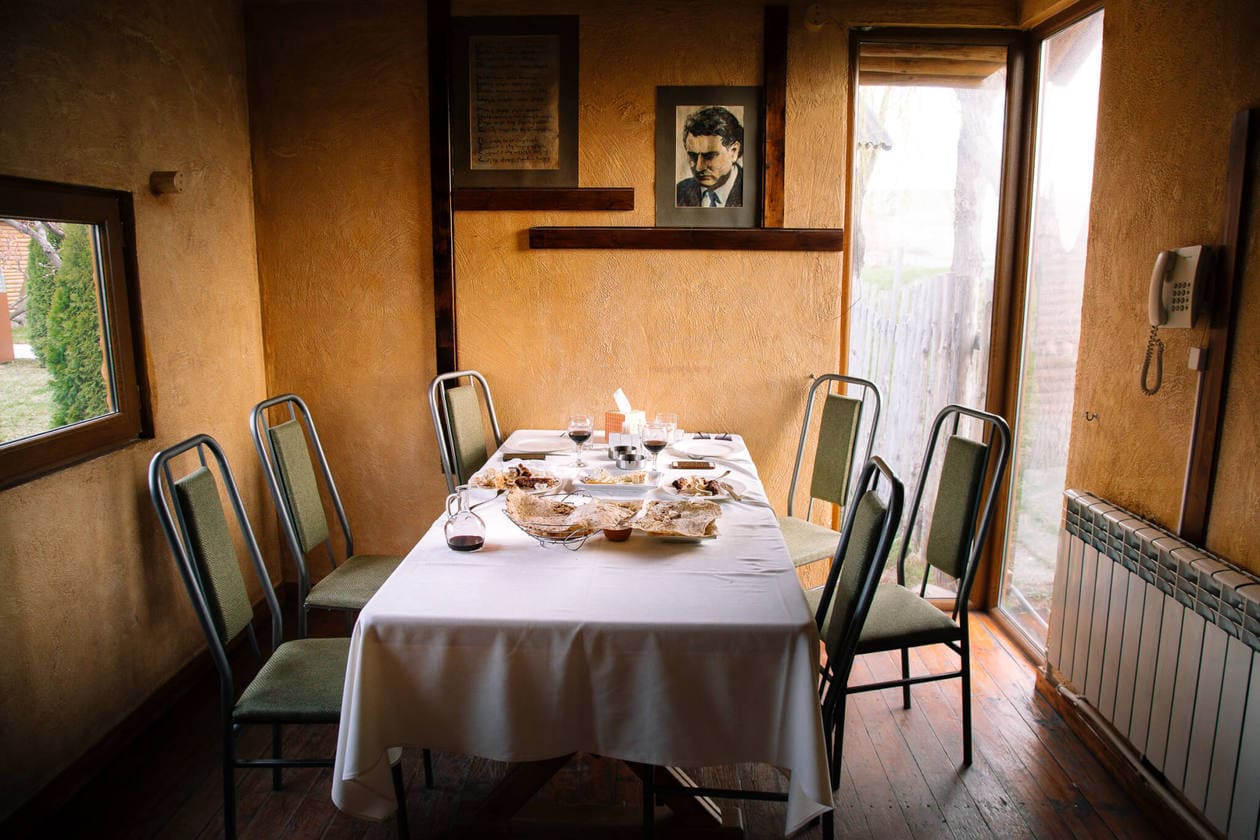 Tsirani's homemade wine was delicious. They also make their own vodka, if that's more of your vibe. We ordered pretty much the same thing here that we did in every Yerevan restaurant, and the food was incredible.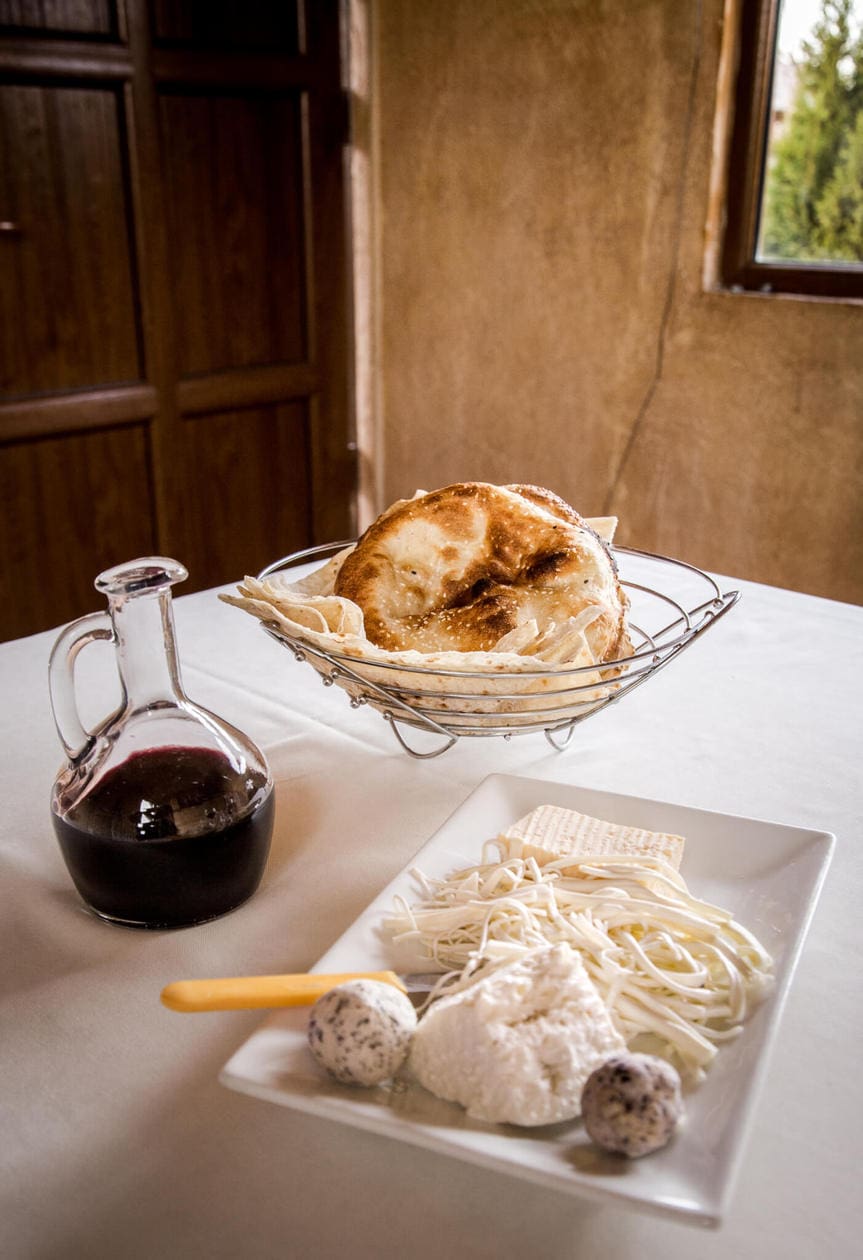 The only downside of Tsirani Garden Restaurant was the service. I think they need more waiters because we were forgotten about a few of times. We also had to leave the bungalow to go find someone to get our check. If you have the patience, I still highly recommend checking it out for the food and the environment.
Address: 3rd Street, No.1 Arinj, Kotayk, Yerevan 2210
Hours: 9AM-2PM
SHEREP RESTAURANT
Sherep is a sister restaurant of Lavash, located near Republic Square. Like Lavash, the menu is huge and everything we ordered was delicious. While in Armenia, I became obsessed with mushroom BBQ and ordered it at every restaurant. Sherep had my favorite mushrooms, and their village cheese platter was also incredible.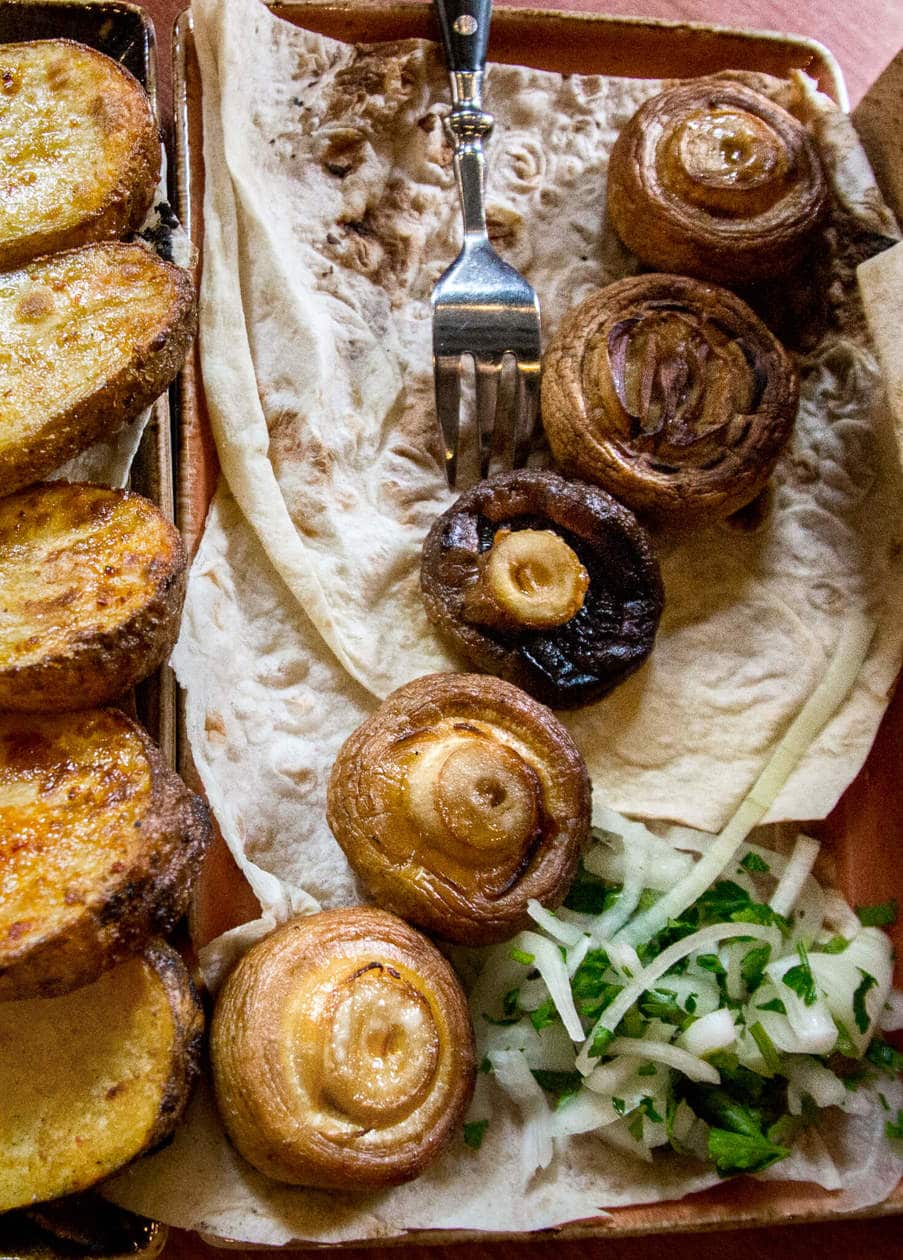 This is one of the top rated restaurants in Yerevan for good reason, so if you're in the area I would definitely check it out.
Address: 1 Amiryan St, Yerevan 0010
Hours: 8:30AM-12AM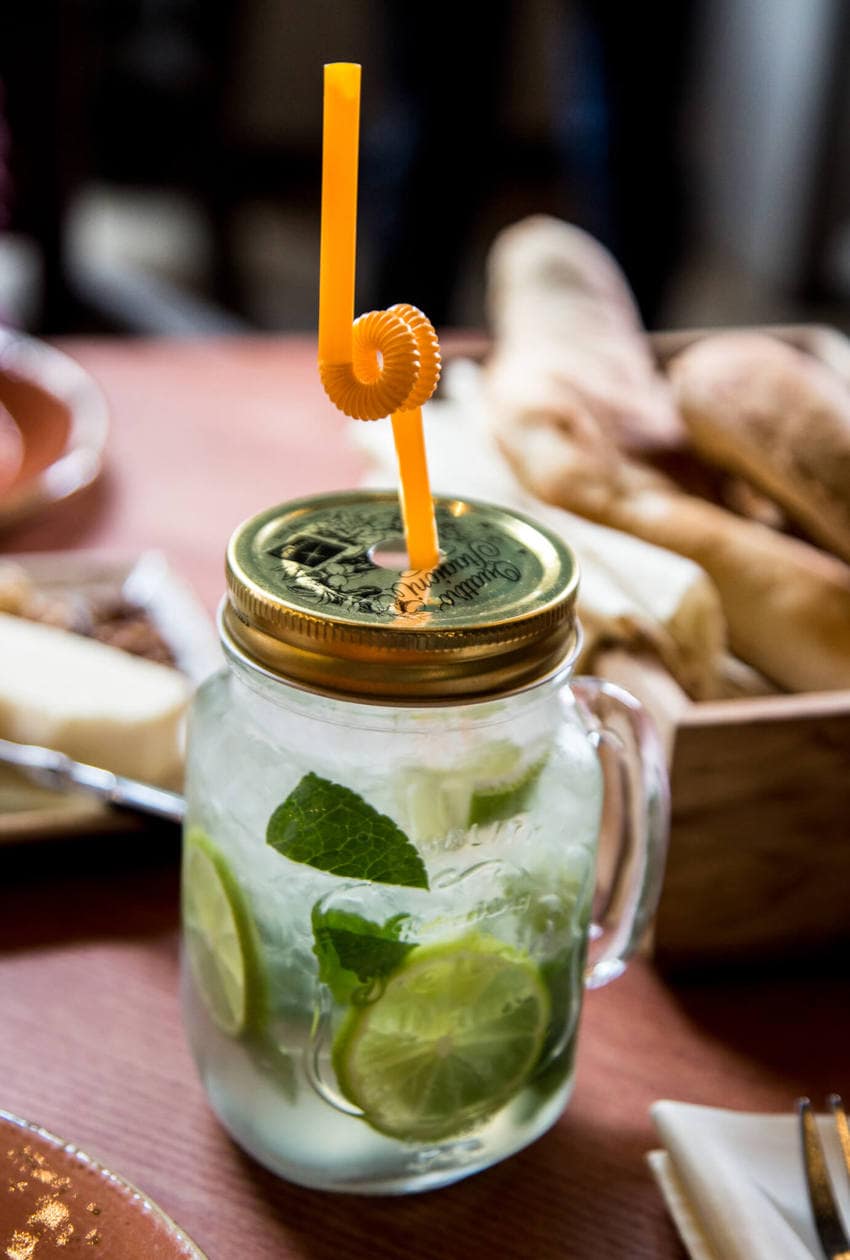 CEO3
We are not huge meat eaters but CEO3's BBQ came highly recommend. It's a self cooking restaurant, so you barbecue your own food on a small grill in the middle of your table.
We walked in without a reservation, and all the barbecue tables were booked for the night. We were still able to be seated still but the chef cooked our food (which we actually preferred).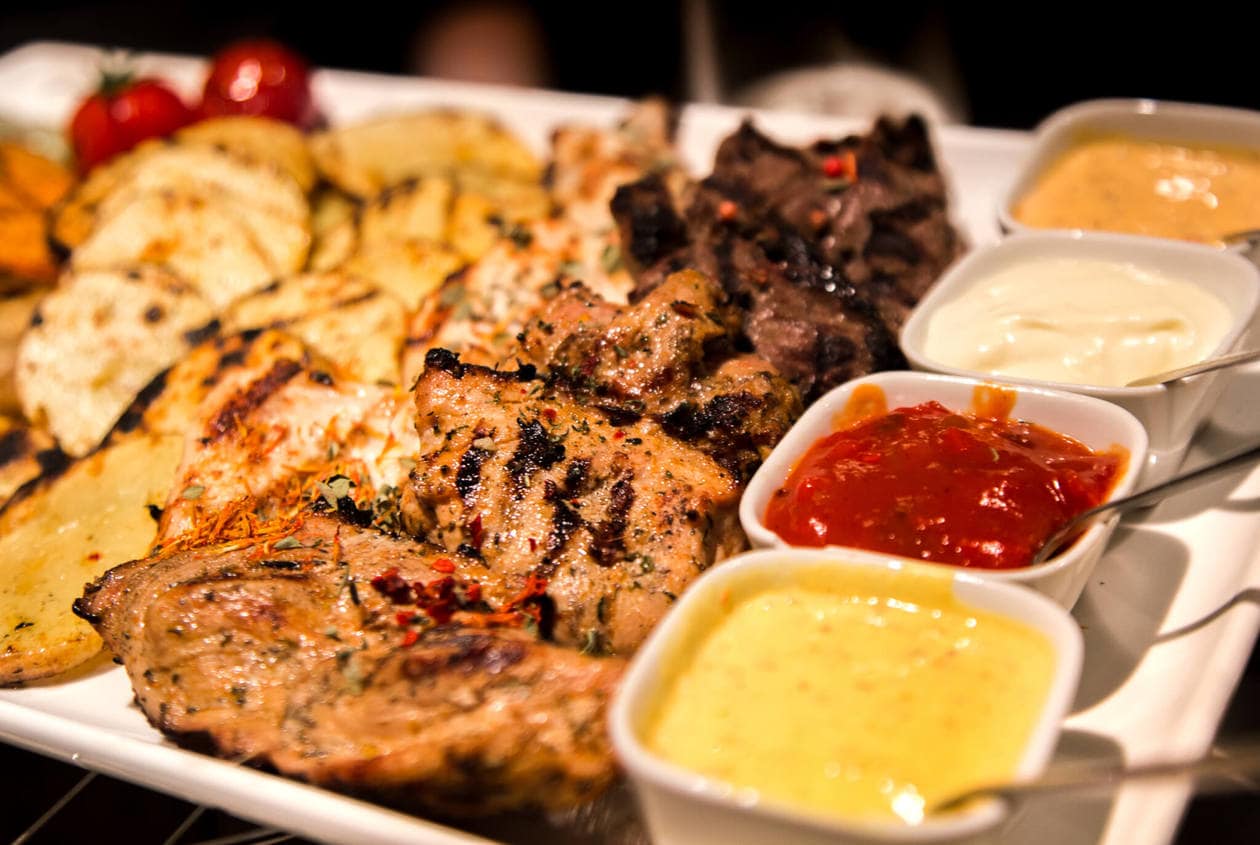 We ordered the 2 person combo which came with several types of meat plus BBQ veggies and an array of sauces. Aside from the BBQ potatoes (which were the best I had in Yerevan) this was the only restaurant we ate at whose vegetables didn't blow us away. So I don't recommend this place for vegetarians or vegans as the highlight really is their meat menu.
Address: 42-46 Isahakyan St, Yerevan
DRINKS
WINE REPUBLIC
Wine Republic is a wine bar and restaurant located near the Cascade Complex. We stopped in for a wine break on our first day in Yerevan and ended up staying for hours. They have a huge wine menu with tons of local Armenian wines (as well as imported ones). We tried a few local wines and the grand total for 4 glasses came out to $6USD!
Address: 2 Tamanyan St, Yerevan 0009
Hours: 12PM-12AM
Menu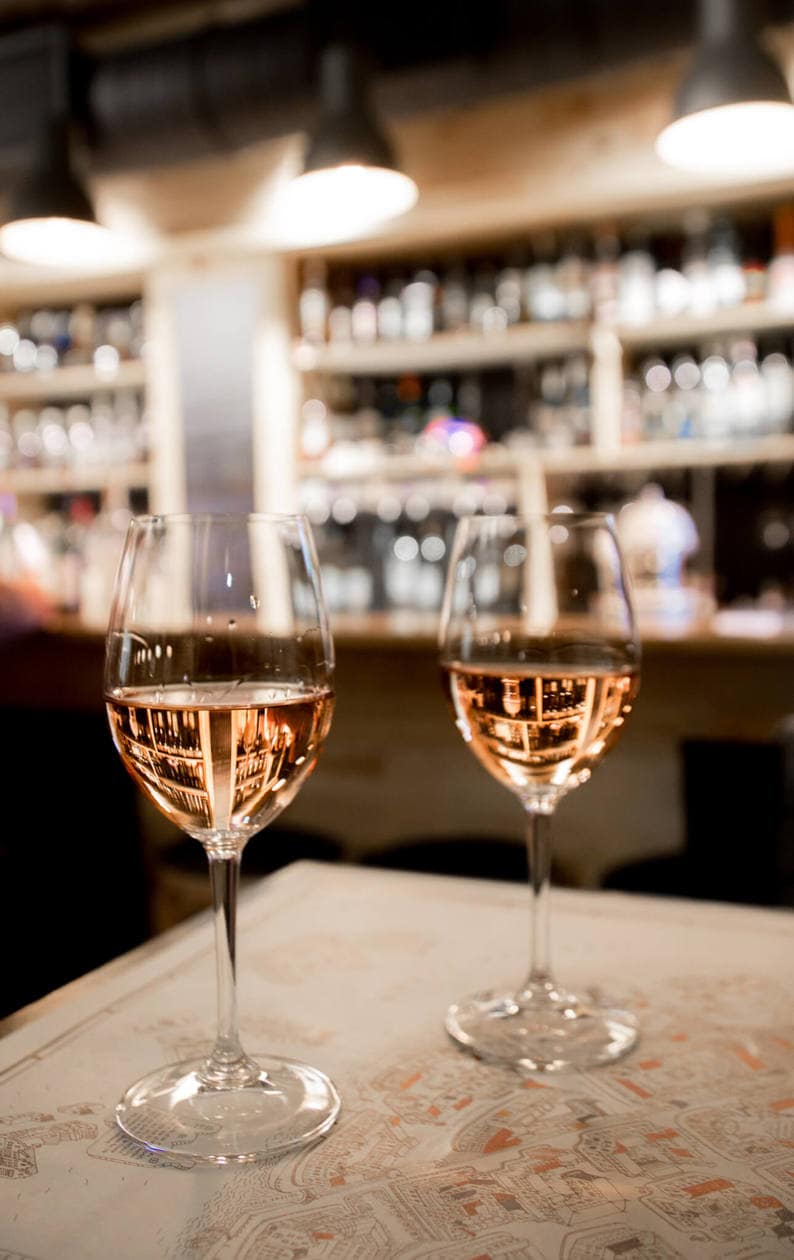 DARGETT CRAFT BEER
This is the only place on my list that wasn't recommended to us but if you like craft beer, you should definitely check it out. Dargett serves over 20 types of craft beer in all different styles and they brew it themselves on site. We ordered one of their tasting flights and enjoyed almost all the beers we tasted.
Address: 72, Aram Street, Yerevan 0001
Hours: Monday – Friday 11AM -12AM
Weekends 11AM – 1AM
Menu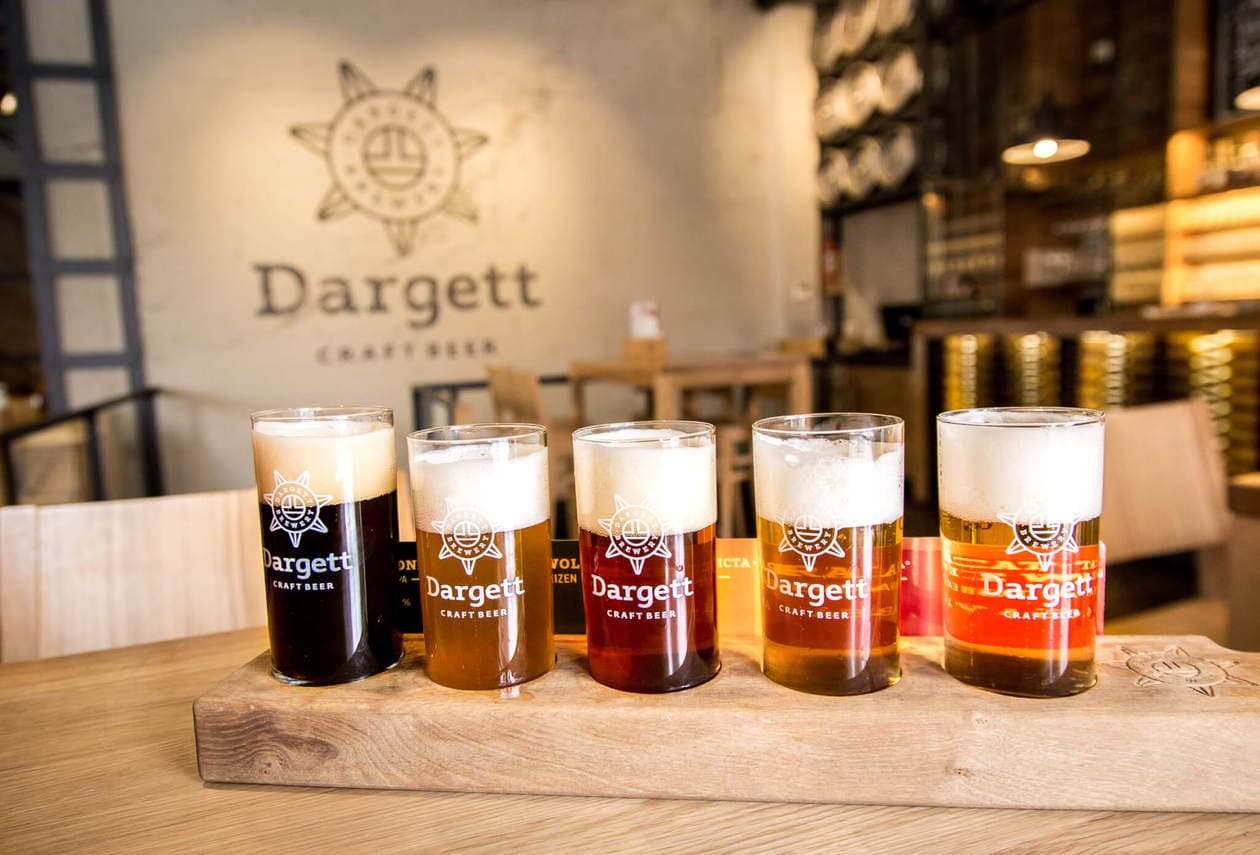 ---
RELATED POST: ARMENIAN BRANDY TASTING AT YEREVAN'S ARARAT BRANDY FACTORY 
---
 12 Yerevan Restaurants and Bars
Recommended by Locals
So much food and so little time!  These were the list of the Yerevan restaurants and bars we didn't get around to trying, but they came highly recommended.

 FOOD
DOLMAMA 
One of the most popular Yerevan restaurants to taste authentic Armenian cuisine. It's the restaurant of choice of government officials and celebrities such as the Kardashians and George Clooney. By Armenia's standards, Dolmama is on the pricier side.
Address: Pushkina str. 10

, 

Yerevan 0010 
EAT AND FIT
Eat and Fit is a cafe filled with healthy options. They serve up colorful, organic dishes at great prices.
Address: Arami str. 80

, 

Yerevan 0002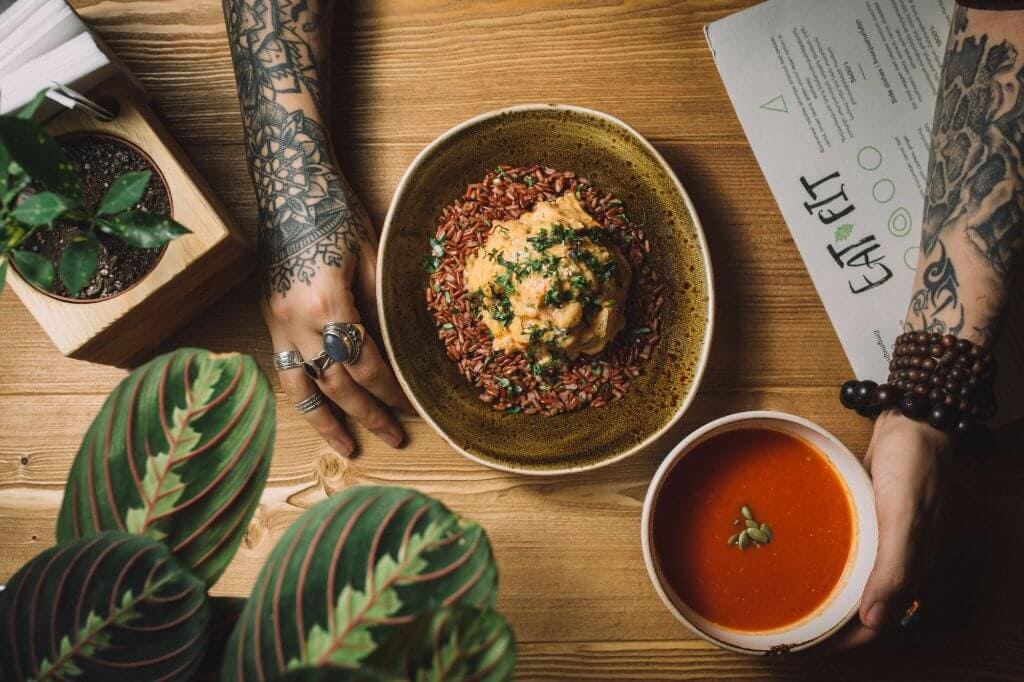 CASCADE ROYAL
The perfect place for a romantic dinner with one of the best views of Yerevan and Mt. Ararat. Ask for a table near the glass to get the best vantage point.
Antarain str. 192
, 
Yerevan 0009
LOUIS CHARDEN
Louis Charden came highly recommended as a personal favorite. It's a French style cafe and bakery, perfect for a light lunch, or a pastry and coffee.
Amiryan Str. 11-19
, 
Yerevan 0002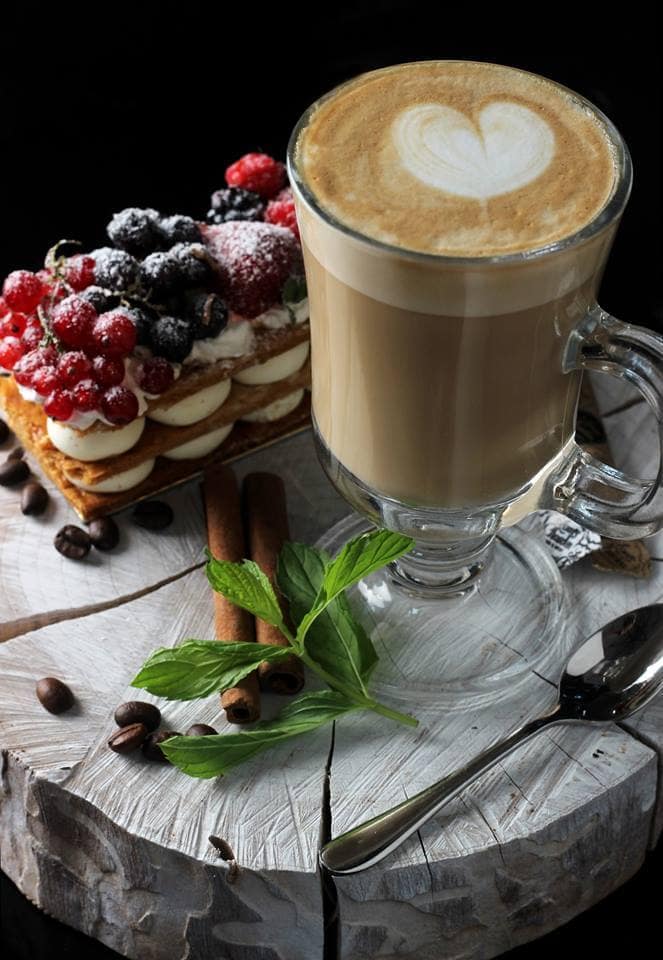 ZHINGLYANOV HATS
Zhinglyanov Hats are an Armenian flatbread filled with 10+ different local herbs. This restaurant is said to serve the best in the city … and it happens to be the only thing on the menu. Zhinglyanov Hats is one of the top rated Yerevan restaurants on TripAdvisor and they're cheap. 1400AMD (less than $3) will get you two large hats which is more than enough to fill you up.
Address: Teryan St. 62

, 

Yerevan 0013, 

Armenia
COFFEESHOP COMPANY
CoffeeShop Company is located near Republic Square and they serve all different kinds of iced coffees, hot coffees and teas. They also have a full breakfast and lunch menu, and their desserts are very popular as well.
Address: 4/5 Amiryan street Yerevan 0010
Menu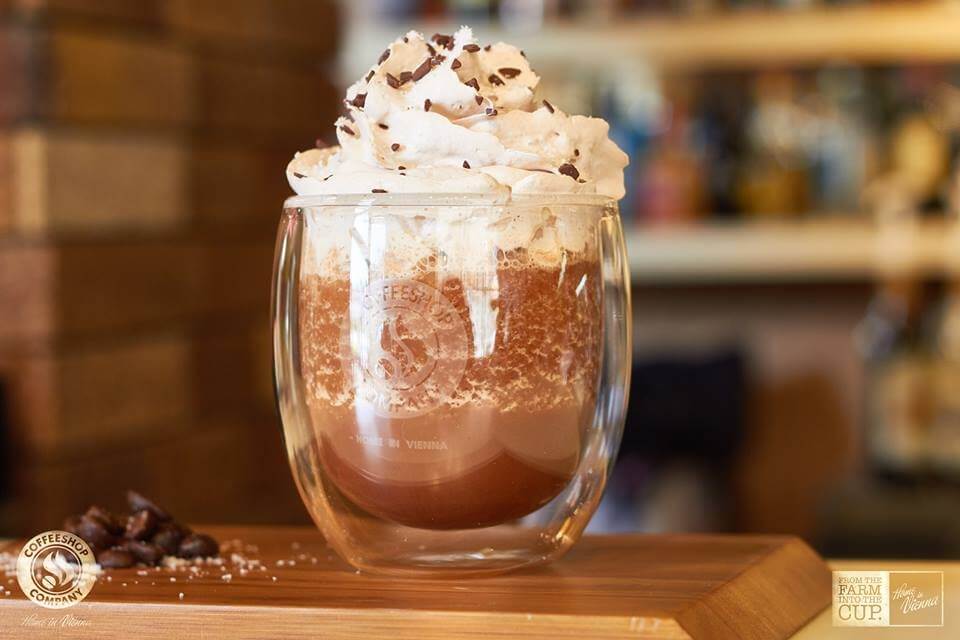 CHEESY CAFE
A restaurant centered around one ingredient, cheese. Cheesy Cafe serves a wide range of food from soups, salads, sandwiches, burgers, pasta and of course, an array of cheese platters.
Address: 25 Teryan St, Yerevan
Menu 
TIZIANO
An beautifully decorated Italian cafe, famous for their desserts. Stop in for coffee and a cake or stay for a full meal. Their breakfast is especially popular.
Address: 10 North Avenue, Yerevan 0010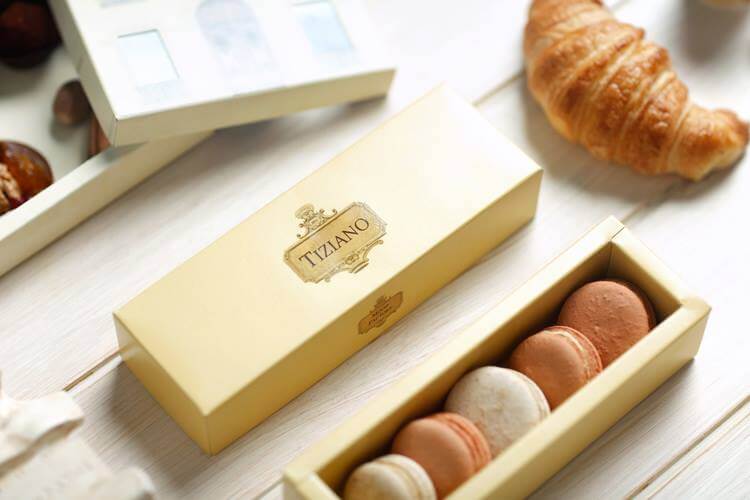 TERRAZZA
Terrazza is a beautiful restaurant, a little fancier than we's usually choose. They serve European cuisine by a French trained Chef. Terrazza would be a good place to celebrate a birthday or anniversary. We were told to try the lava cake.
Address: 28 Isahakyan St, Yerevan 0009
DRINKS
IN VINO
In Vino aims to revive wine culture in Armenia and they serve over 700 different wines. They carry wine from all over the world, but it's the best place in Yerevan to taste Armenian wines. They also serve appetizers such as cheeses and charcuterie. 
Address: 6 Saryan St, Yerevan 0002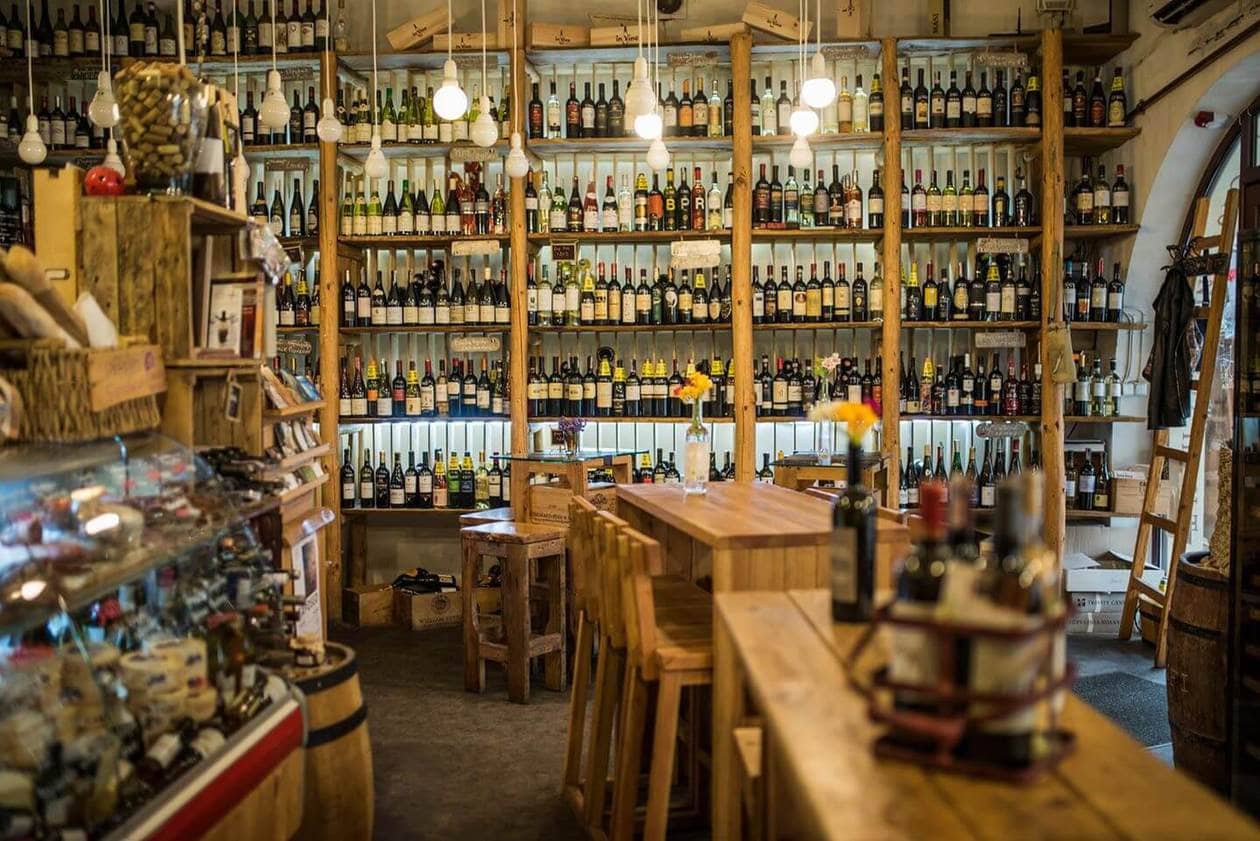 FORTY FOUR SKY BAR
Located on the rooftop of the Opera Suite Hotel, Forty Four Sky Bar is a great place for drinks + a good view.
Address: 1 Baghramyan St., 1/3

, 

Yerevan 0019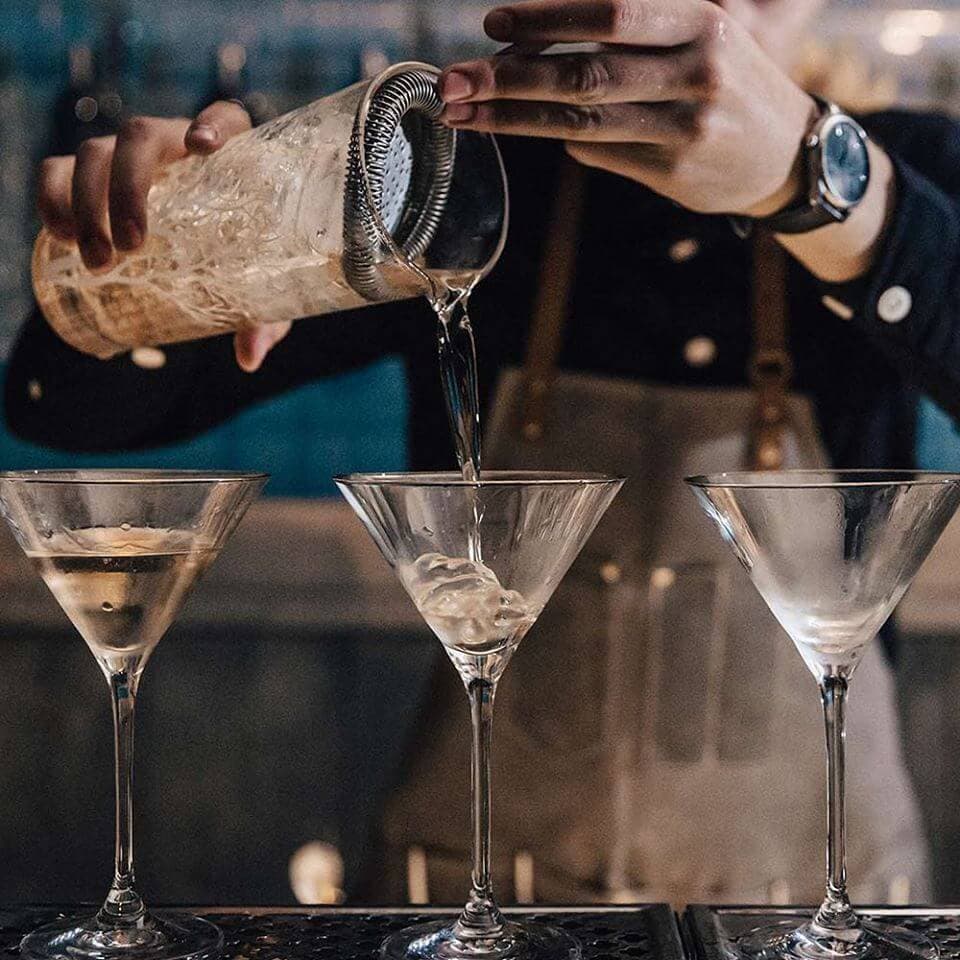 PAHEST 33
An underground bar/restaurant located in central Yerevan. They have a live DJ and a menu of over 200 different drinks.
Address: 29/4, Moskovyan Street, Yerevan
---
PIN IT // The Best Yerevan Restaurants and Bars