Elephant attractions are one of the biggest tourism draws in Thailand, but what people don't understand is by visiting non-sanctuaries, they are playing a role in the destruction of the very species that they love. Elephant's World in Kanchanaburi Thailand is a retirement home for elephants that have spend their entire lives working in the tourism industry.
For the past month, I have been volunteering here and it has been one of the most impactful journeys of my life. There are no words to explain how special these creatures are and how much I've enjoyed getting to know each of their unique personalities. Keep reading to meet my friends, the rescued elephants of Elephant's World.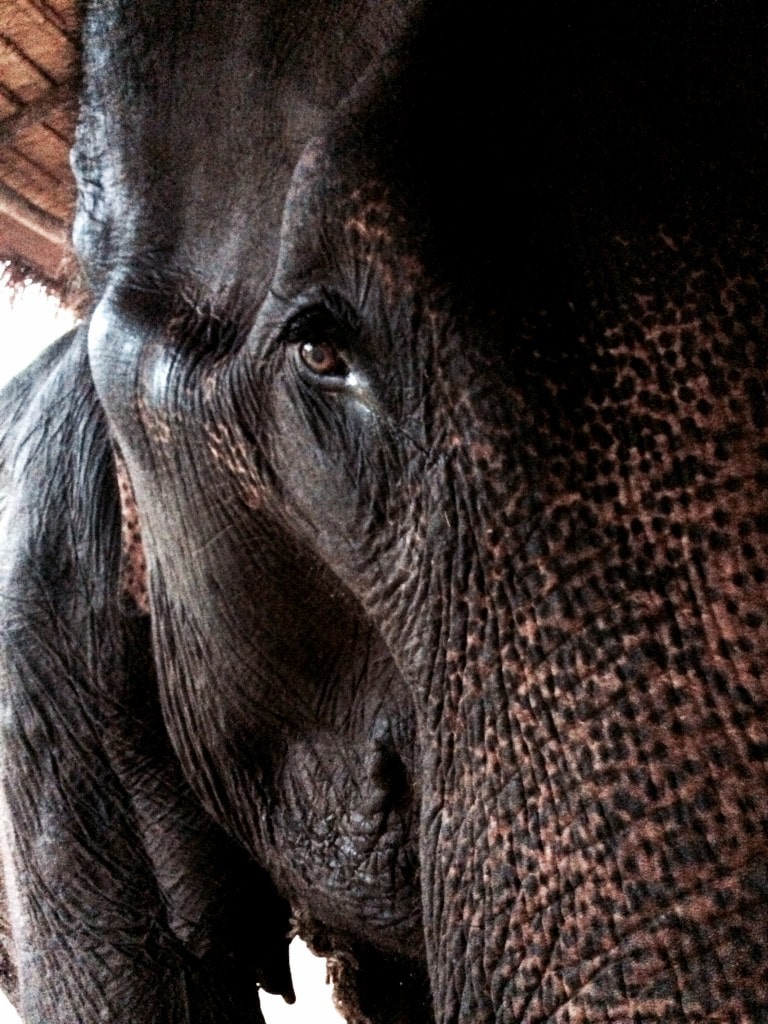 SONGKRAN
At 74 years old, Songkran is the second oldest elephant at Elephant's World and she's had a very hard life.
For 70 years, she worked in the trekking camps giving tourists rides. When she became too weak to work, her owner donated her to Elephant's World.
When Songkran arrived she could barely stand because she was so frail. After a month of treatment by Dr. Samart, the owner of Elephants World, she was able to walk, eat and sleep normally again.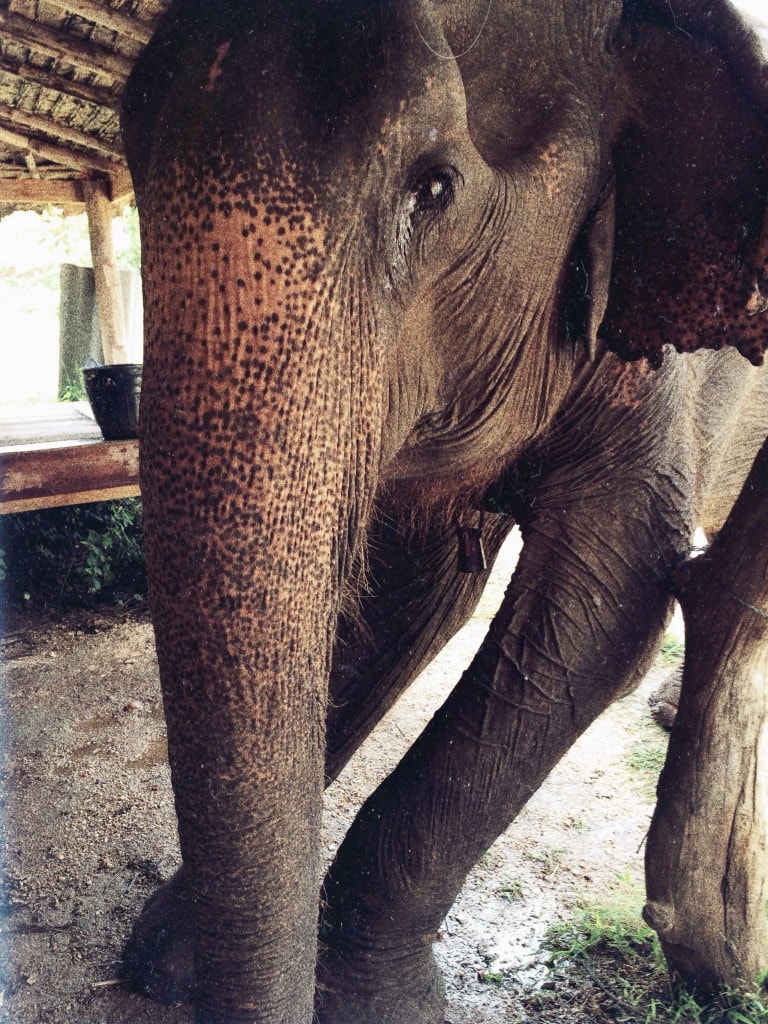 Elephants are very quiet when they walk because the soles of their feet are soft. If you walk next to one and close your eyes, you'd never know it was there!! It's amazing considering how gigantic they are. Songkran is especially quiet, so much so that she actually has to wear a bell around her neck!
Songkran is very slow and has no teeth. I sat with her yesterday after all of the elephants were finished eating and fed her the rest of her veggies. She prefers to be hand fed directly into her mouth, so I can now confidently tell you what the inside of an elephants mouth feels like.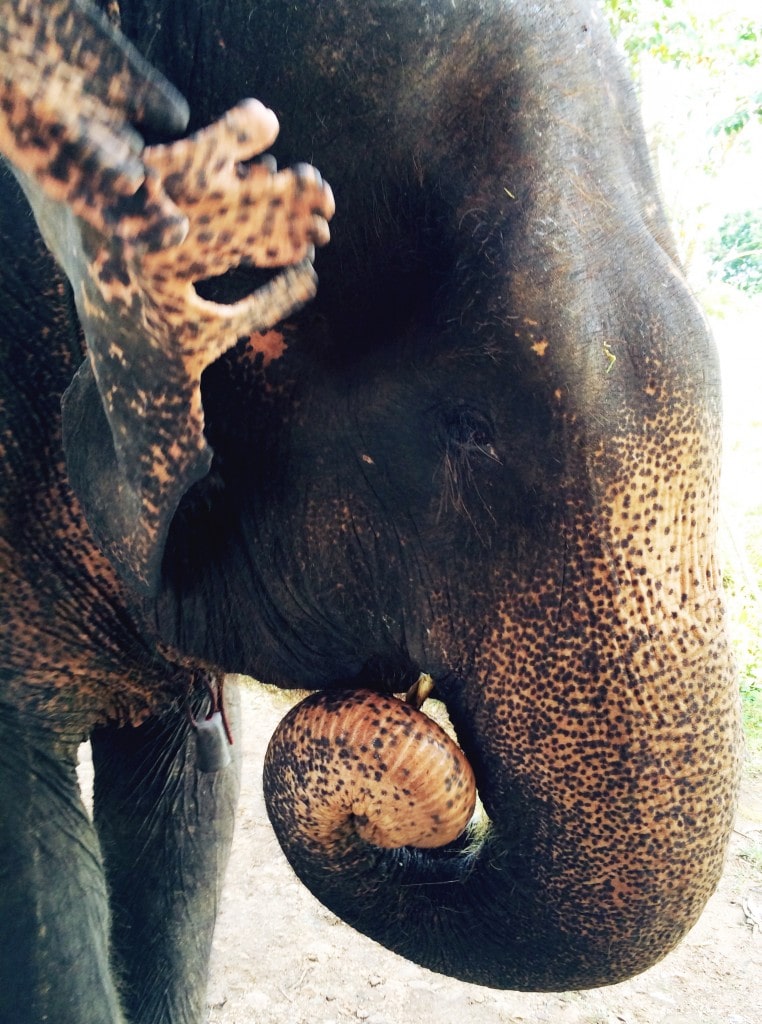 I noticed as she was eating her potatoes, it was taking her an extra long time because she was ripping the roots off. I helped her out by cut them off one by one and sat feeding her for about an hour. I think she appreciated the gesture and it went by much quicker.
JOHNNY
Johnny is the youngest elephant at Elephants World (6 years old) and he is crazy. The only person who can get near Johnny is his mahout, Pizza.
Johnny is not an aggressive elephant but he is extremely playful. If you are nearby, he will try to push or pull you, and since he is not aware of his own strength it's very easy to get hurt.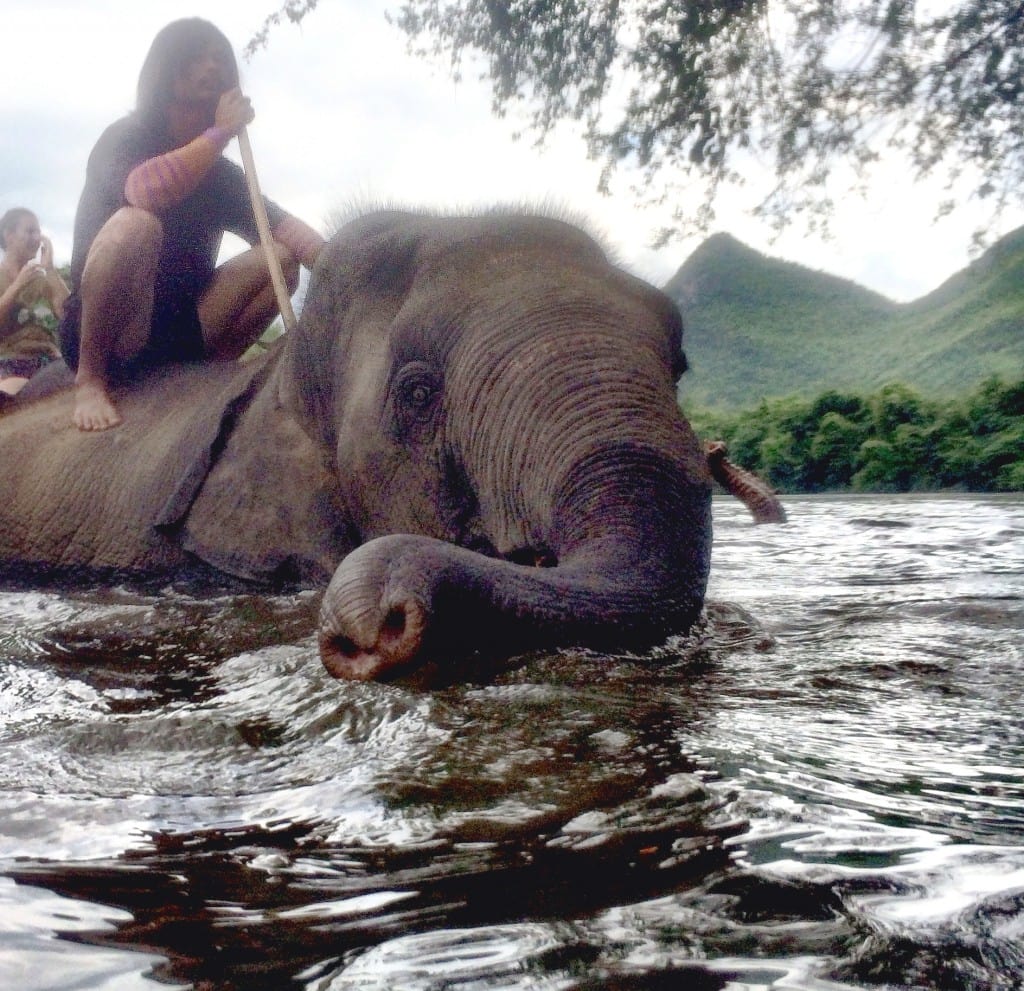 My favorite thing in the world is watching Johnny play in the water; he loves to swim! You can see him hauling ass to the river from a mile away. He haphazardly dives head first into the water, briefly emerges and then throws his head and trunk into the sky and dives back down into the water– with Pizza holding on for dear life the entire time. It's hilarious. Johnny's water antics have earned him the nickname "the whale."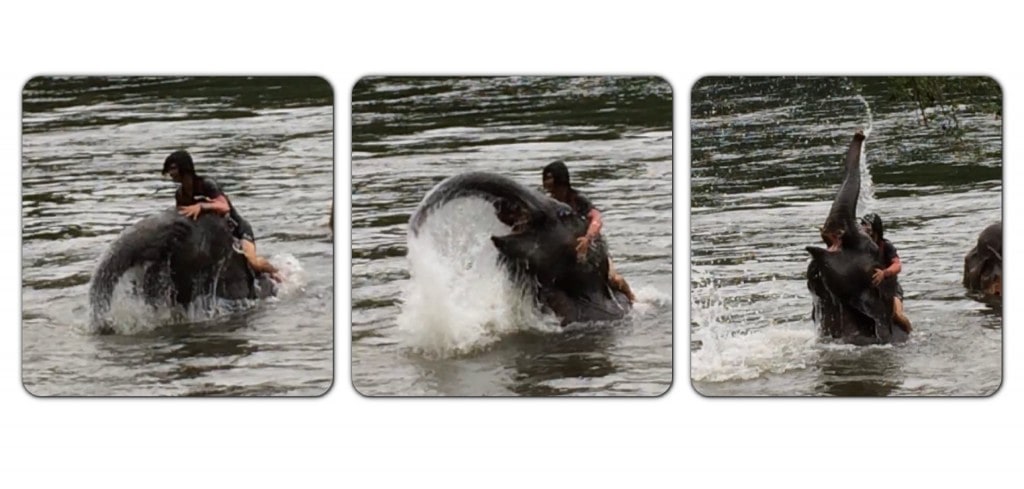 He also likes to play catch with his food and opens his mouth very wide to catch flying potatoes and cucumbers. Sometimes, when the visitors aren't feeding Johnny fast enough, he climbs up on the ledge to give himself a few extra inches in order to just grab his basket and do it himself.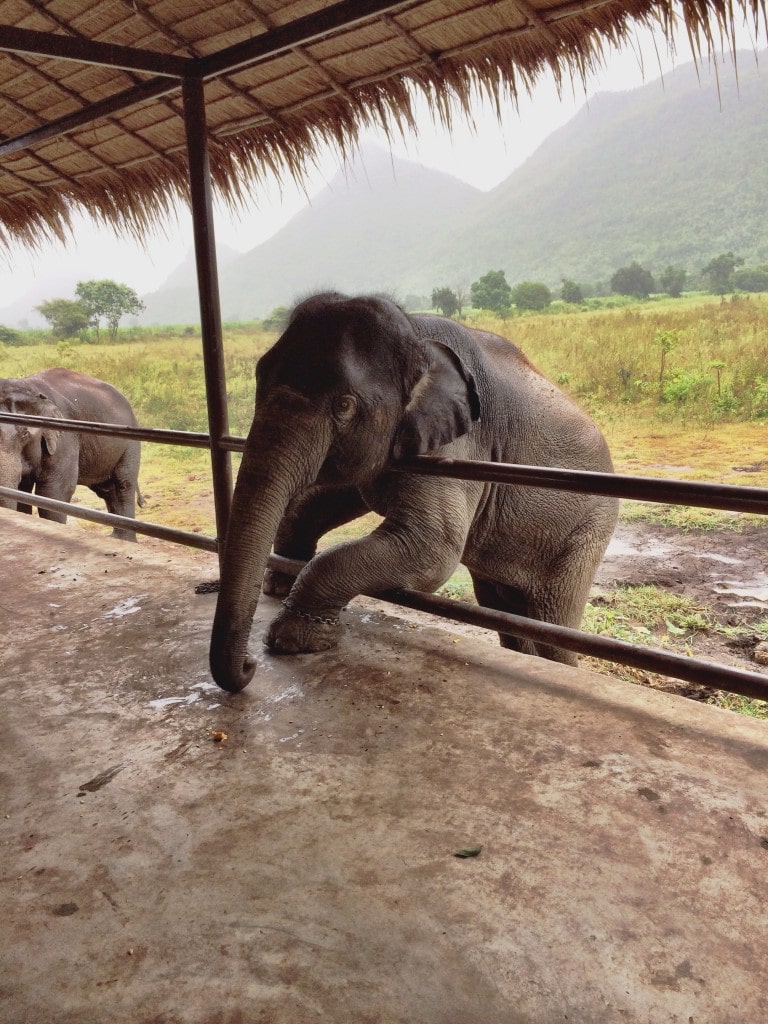 Because Johnny is a male elephant, he needs to be separated from the others but he does sneak in some play time with Kamkaew and you can often hear them playing and trumpeting in the night. In the wild, elephants travel in families of women. When a young male elephant enters his early teens, he is forced to leave the herd.
KAMOON
Kamoon is one of the three original elephants at Elephant's World. She's easy to tell apart from the others because she is the fattest lady at the sanctuary.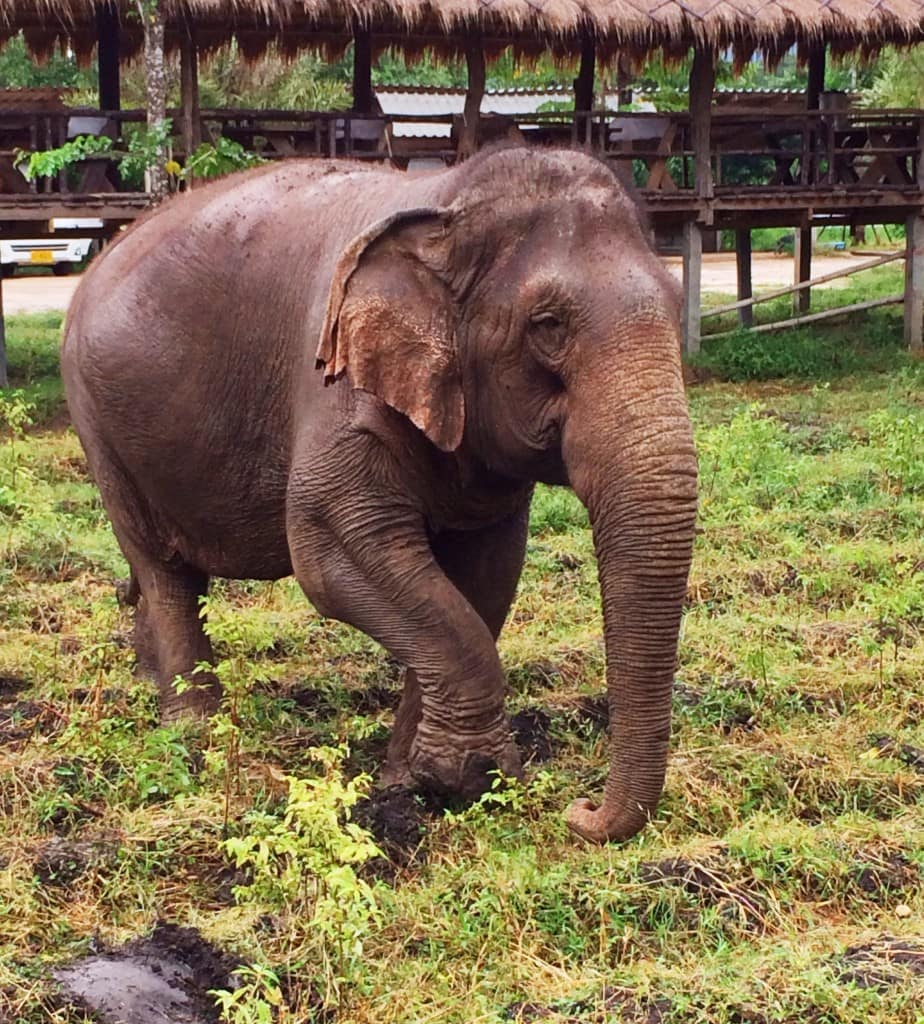 Kamoon is 64 years old and she spent her childhood begging for food in Bangkok and Phuket. When she was a teenager she was taken to work in a trekking camp until she was too tired, and at 50 years old she was put back on the streets to beg for food and tips.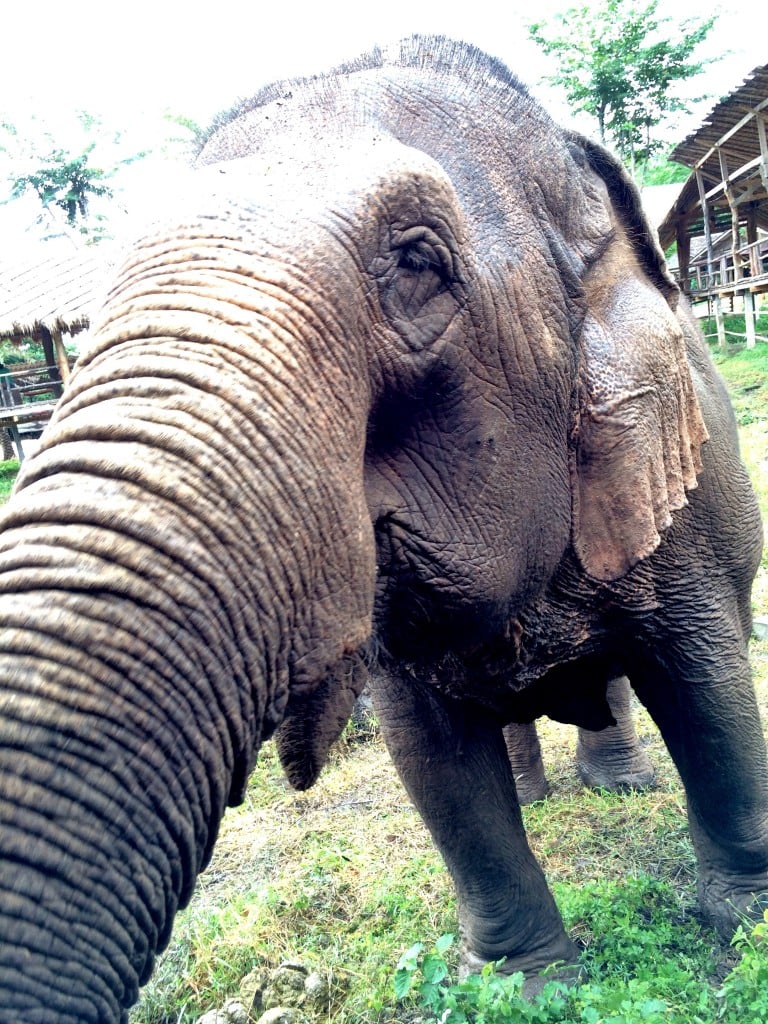 Kamoon loves to eat! There is no meal that she'll turns down. This morning she snuck away from her mahout and found a pile of bananas in the back of this truck . She had a huge grin on her face as she popped them in her mouth one by one .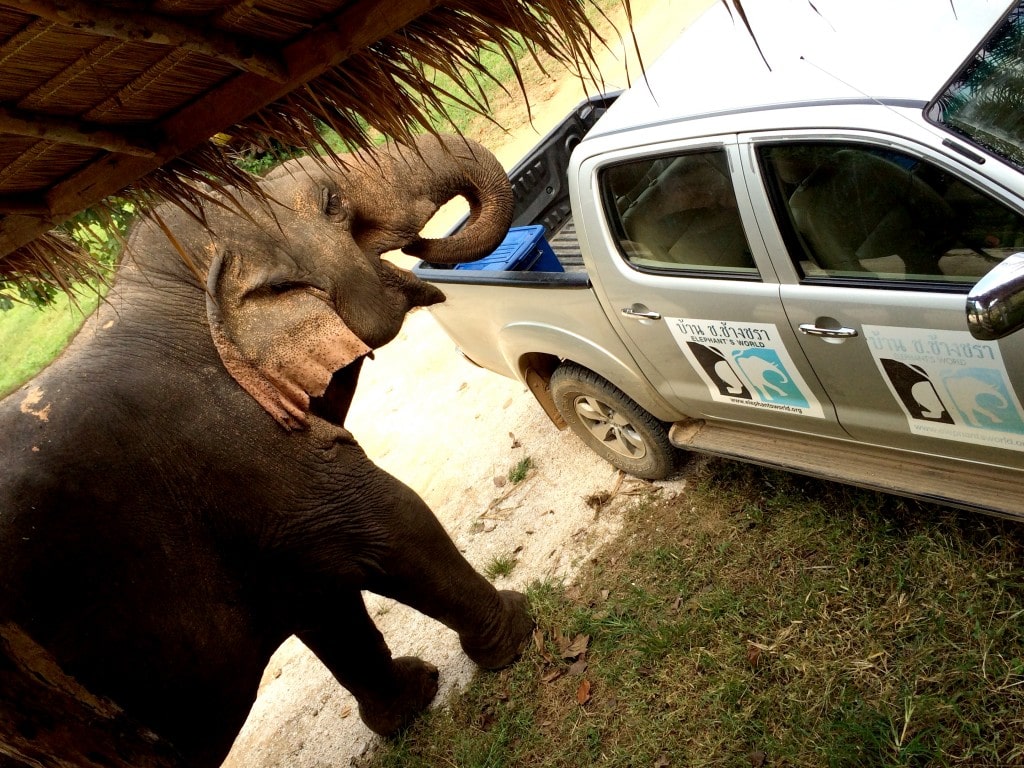 KAMKAEW
KamKaew is the second youngest elephant (10 years old) and she's one of my favorites at the sanctuary.
One if her legs is shorter than the others, and it's the cutest thing ever to watch her wobble around the camp. The birth defect doesn't bother her though and she can move extremely fast when she wants to.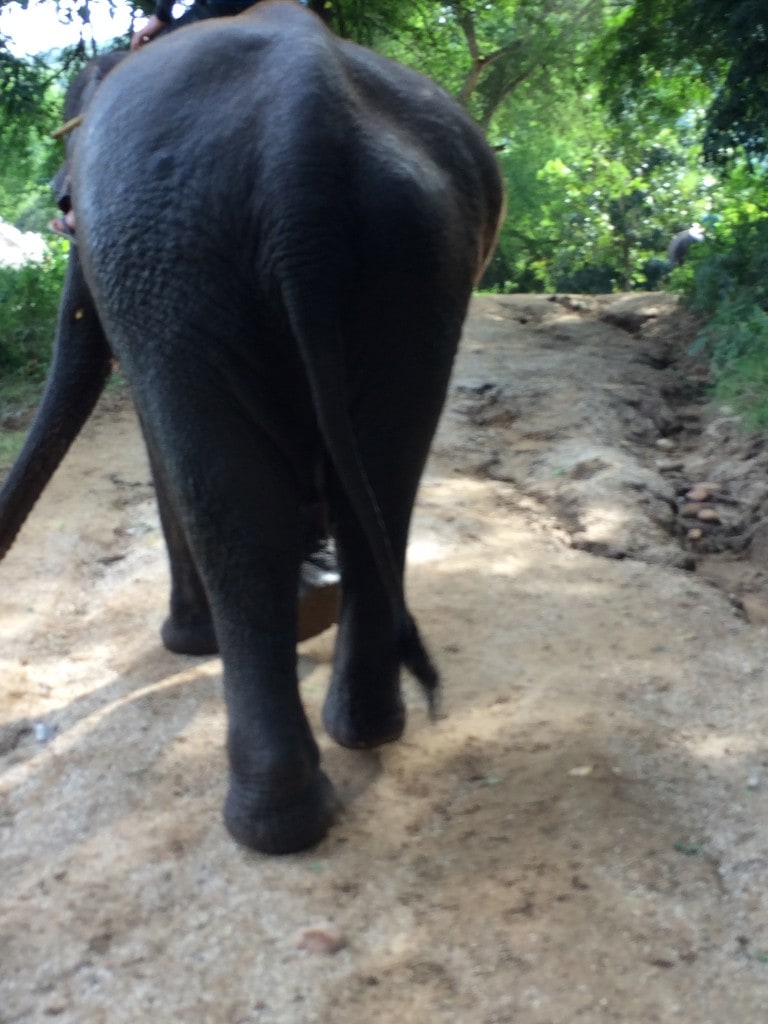 Unfortunately, ElephantsWorld does not own Kamkaew. Her owner was having a slow period at his trekking camp and people were complaining about the fact a disabled elephant was being used, so he brought her here with the stipulation that he can pick her up again whenever he wants.
This is one of the things I'm having a hard time with at Elephant's World. The sanctuary wants to raise money to purchase Kamkaew and "save" her. Unfortunately, anytime you purchase a wild animal you're support the trade and in turn, raising the demand for the capture of other wild elephants.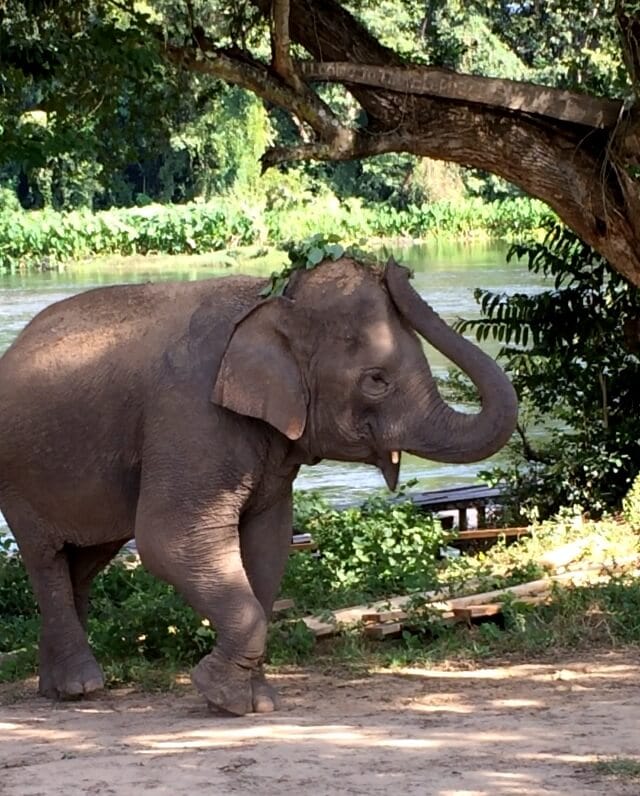 For now, Kamkaew is happy. She is good friends with Johnny and Aum Pan. We always spot them cuddling together in the field. One night, Kamkaew got loose and we could hear trumpeting in the forest. The mahouts raced out to see if something was wrong, but it was just Kamkaew and Johnny playing together.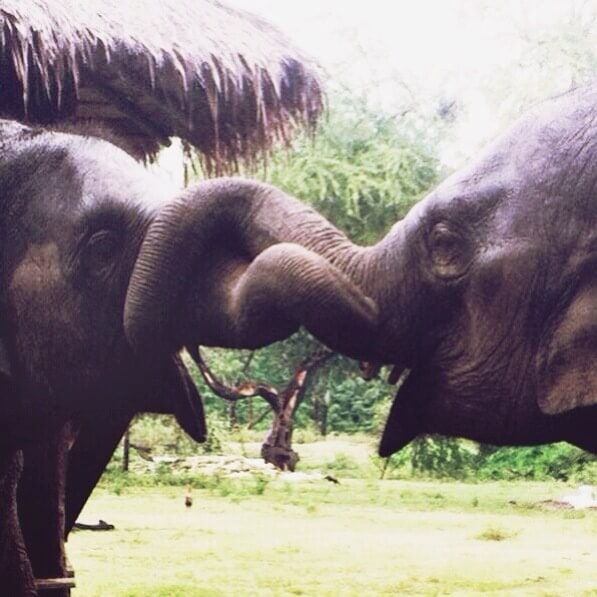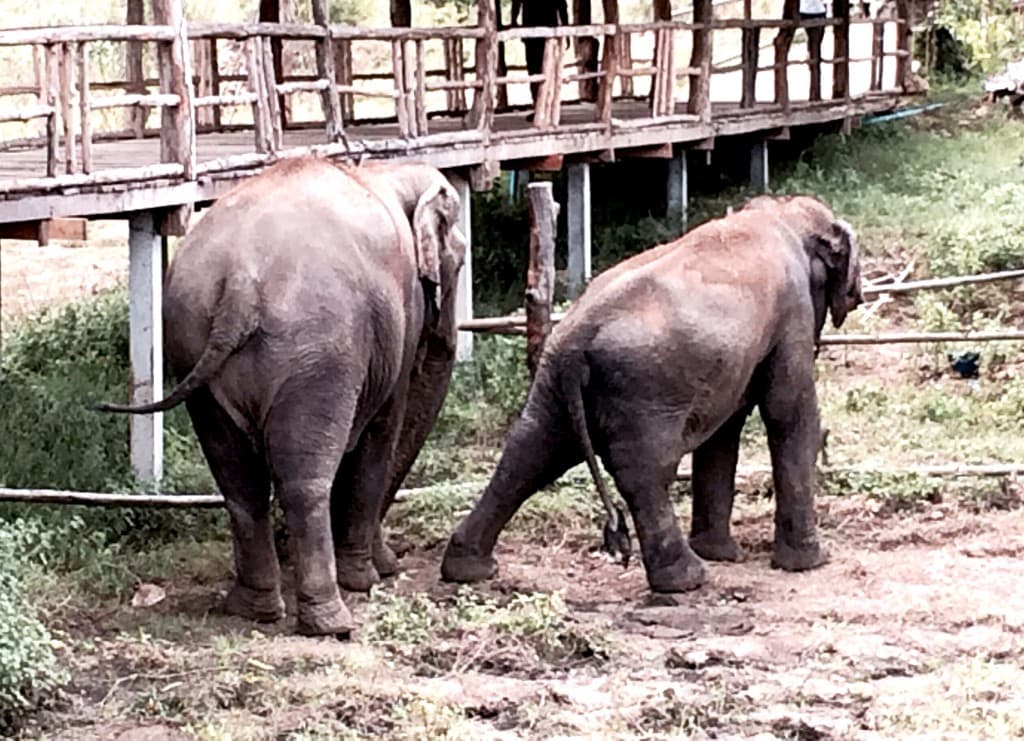 (she found a clever way to stand so that her weight is supported on all legs, haha)
AUM PAN
Aum Pan is 77 years old but has had a much easier life than the other elephants at Elephants World. Compared to Songkran, who is similar in age, Aum Pan looks 10 years younger.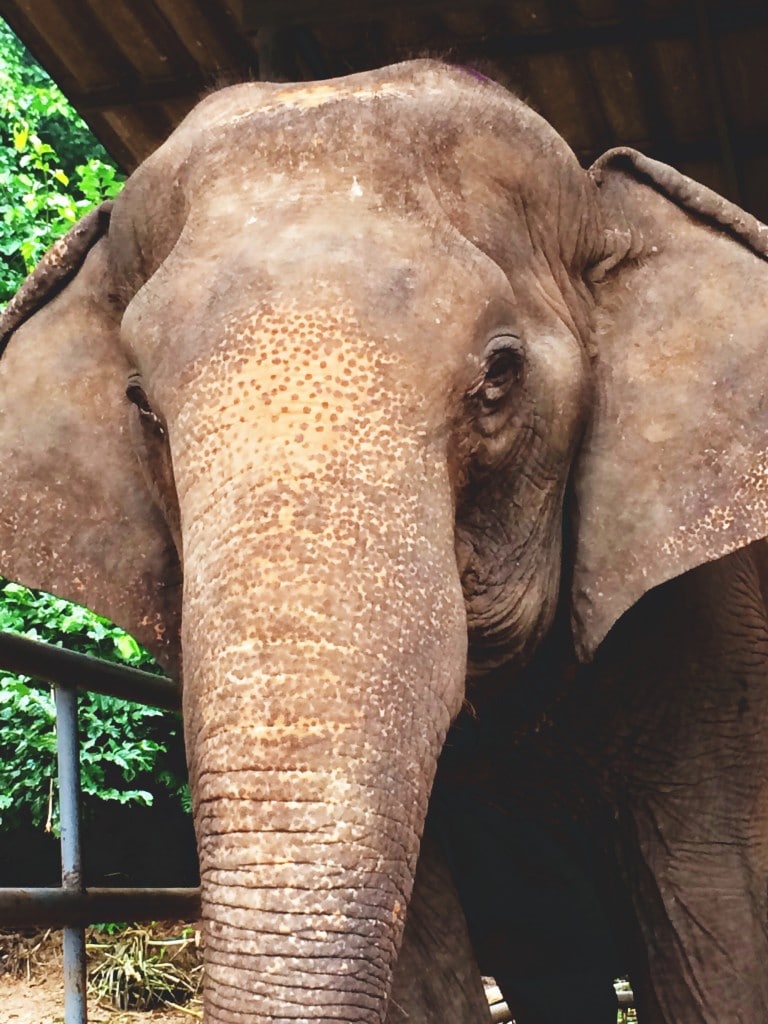 Her earlier years were spent bringing families to the temples for special ceremonies, and she was able to retire at at the age of 35. When Aum Pan was donated to Elephants World, her owner accompanied her and there was a big welcome celebration. They walked with her around the camp introducing her to her new home and even still visit her from time to time.

Aum Pan is an easy elephant. She is very mellow and does not require much attention or supervision from the mahouts.
MALEE
Malee is only 44 years old but like most of the elephants at Elephant's World, she has had a hard life so she appears much older. She worked in the streets of Bangkok begging and having her photo taken by tourists. Many times, with street elephants, the only food they eat is the food they beg for, so if there are not many tourists the elephant does not eat- a major problem since they eat 10% of their body weight per day! Malee is our skinniest elephant and despite being at Elephant's World for 5 years, she has not gained weight.

While living in Bangkok, Malee was hit by a car and sustained serious injuries to her legs putting her in the hospital for 3 months! Regardless of her condition, Malee's owner put her back on the streets when she was healing until the day someone purchased her and donated her to Elephant's World.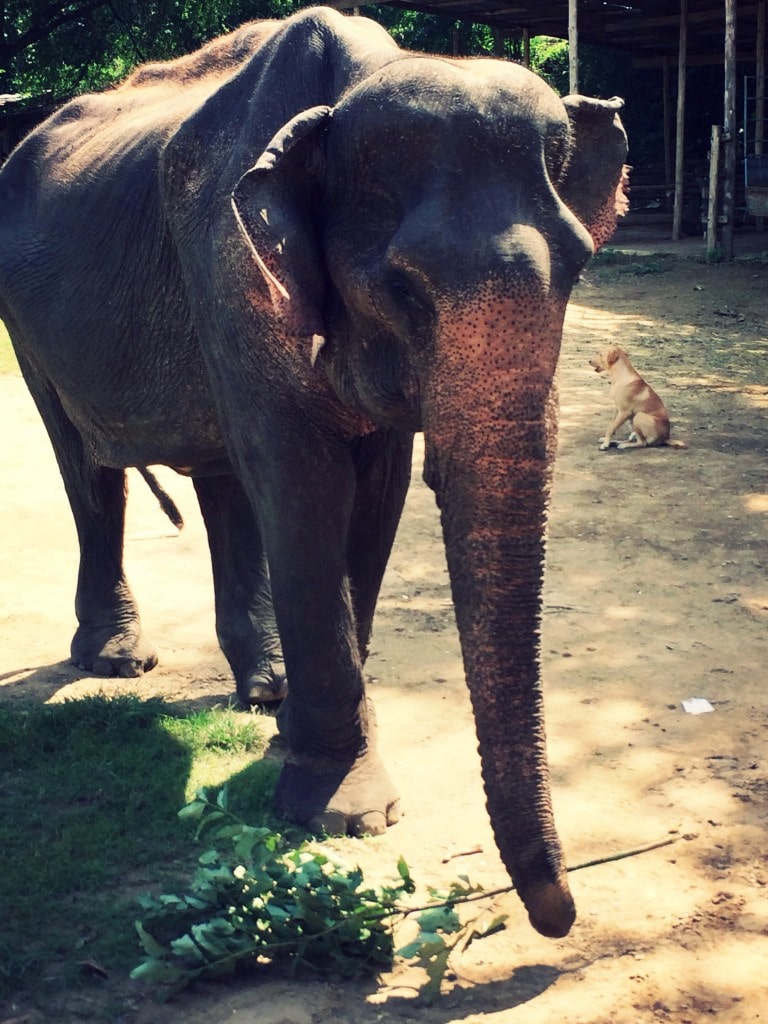 Malee is best friends with Kamoon and Somboon. They are the 3 Musketeer and are always together.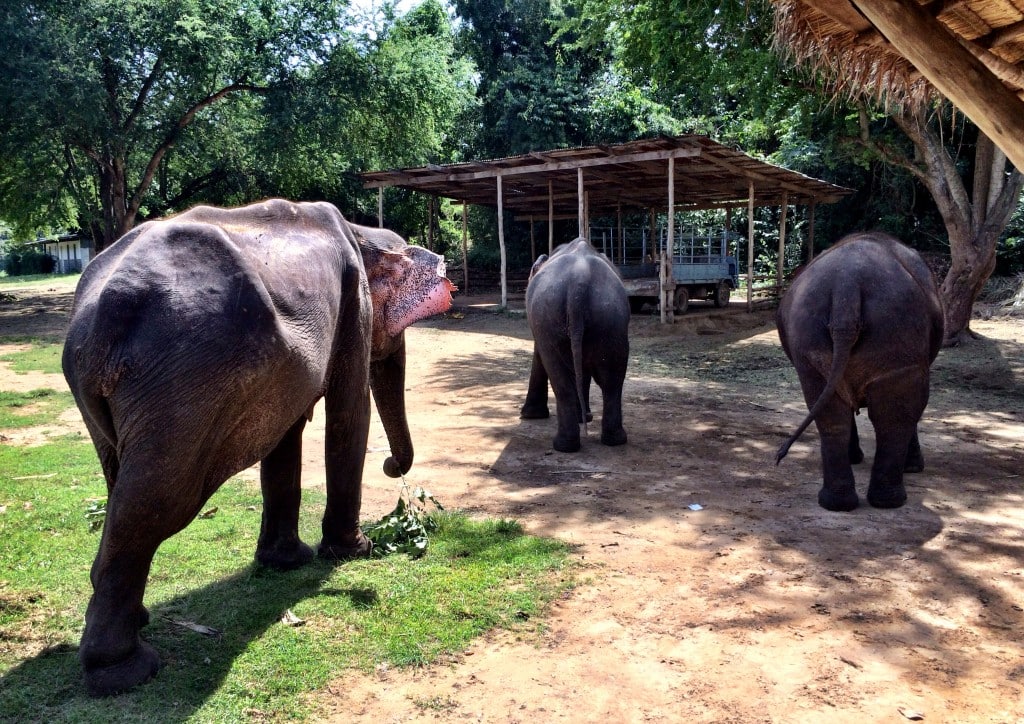 (you can recognize her in this photo because you can see her pronounced bones).
DAO LYNG
Dao Lyng is the newest elephant at Elephant's World and being there to witness her rescue and welcoming was an extremely special experience.
Dao Lyng is 40 years old and has been working in the trekking camps. This afternoon, the camp drove her over in a big truck and Klanhan, one of our mahouts, coaxed her out of the truck.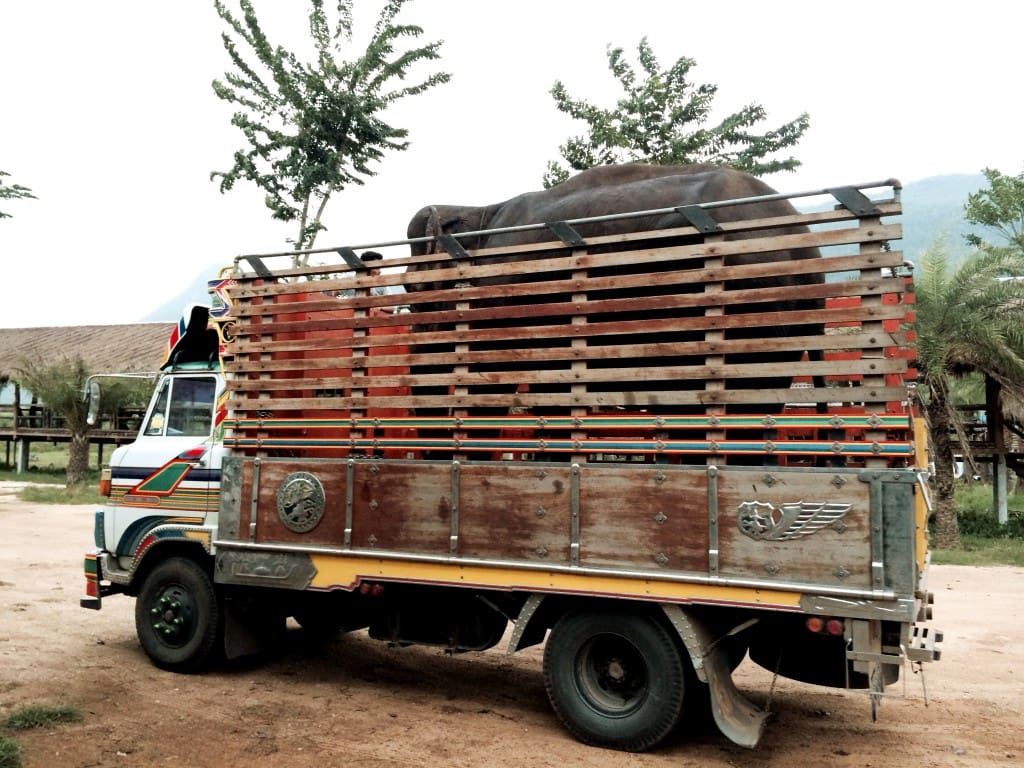 We walked her down to the river for a drink and a quick bath and then brought her over too eat.
Dao Lyng is extremely malnourished and very thin. She also has something wrong with her ankle. Tomorrow, Dr Samart will come give her a check up and test her vitals.
She inhaled the bananas and watermelon we had waiting for her, and we actually had to cut her off because she could get sick by eating so much at one time.
A few of us sat with her in the pouring rain until it started to get dark so she wouldn't be alone on her first night.