With only a few days in Oahu, our itinerary was packed solid from morning until night, so the only time we we had to squeeze in hiking Lulumahu Falls was right before we flew home. While not the best hike to conquer directly before hopping on a plane (wet and muddy clothes are not exactly luggage material), it was definitely one of the most fun. Keep reading for more information about hiking Lulumahu Falls including how to find it (sorta), tips for visiting and of course.. tons of pictures.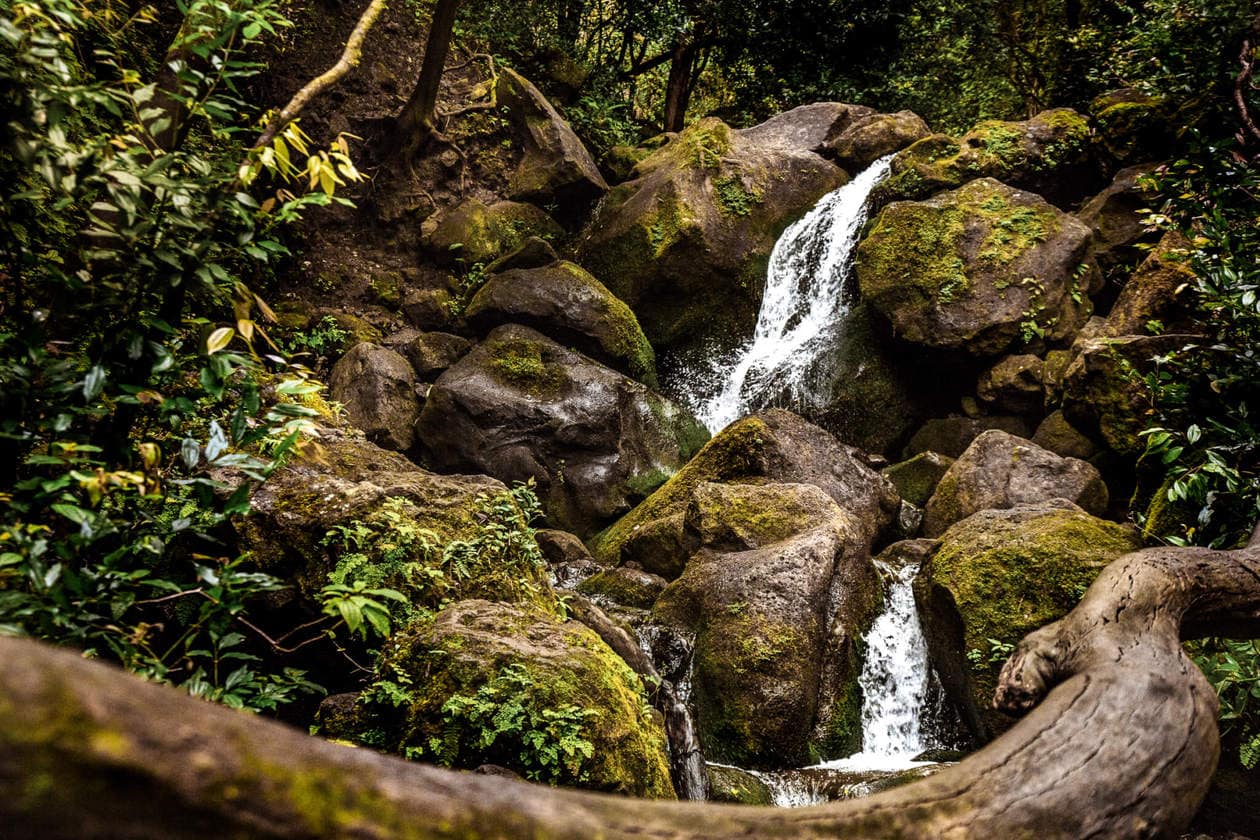 HIKING LULUMAHU FALLS
DIFFICULTY: Moderately Easy
LENGTH: 2.3 Miles (3.7km) Round Trip
ESTIMATED TIME: 2 Hours
RESTROOMS/FACILITIES: No
When hiking Lulumahu Falls, you kind of feel as if you're not allowed to be there. From the locked gate with a wire cut hole in it, to the no trespassing signs, and a not so clearly marked trail, I wondered if this was some illegal local secret my sister knew about. Turns out, Lulumahu Falls is a popular hike and while you do need a permit (more about that below), it's just a little less polished than say… Manoa Falls. But that's the whole appeal!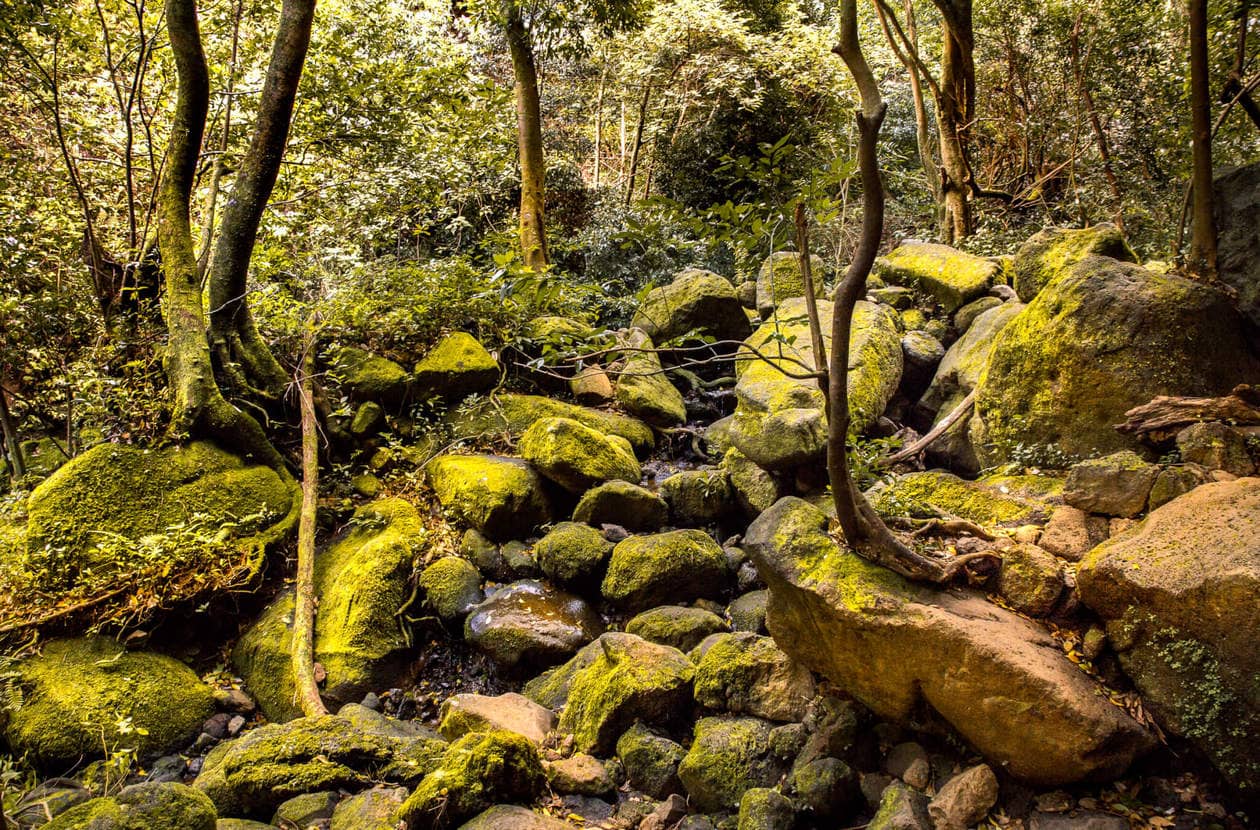 The entire hike felt like an adventure. We trudged through mud, climbed over fallen trees, waded through the stream and hoisted ourselves up rocks. I felt like a kid again and wished I didn't have to leave for the airport directly after so I could stop for longer periods and play.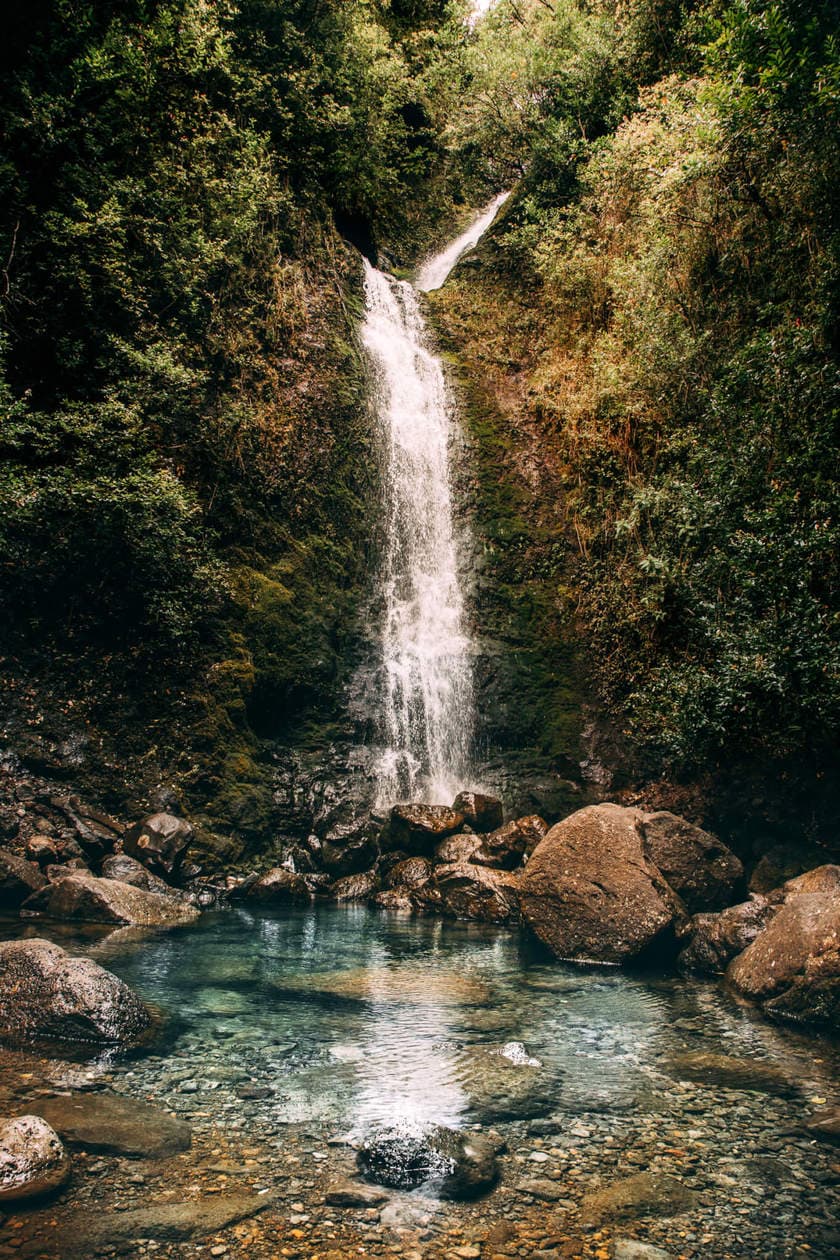 Granted that you don't get lost, the hike is pretty short and it doesn't take long before you reach the 50 foot waterfall. There is a small pool beneath the falls, which is not big enough to actually swim in but perfect for rinsing the mud off. There are also plenty of rocks around to sit on and take it all in.
---
RELATED POST: LANIKAI PILLBOX // A SHORT & STEEP OAHU HIKE WITH INCREDIBLE VIEWS
---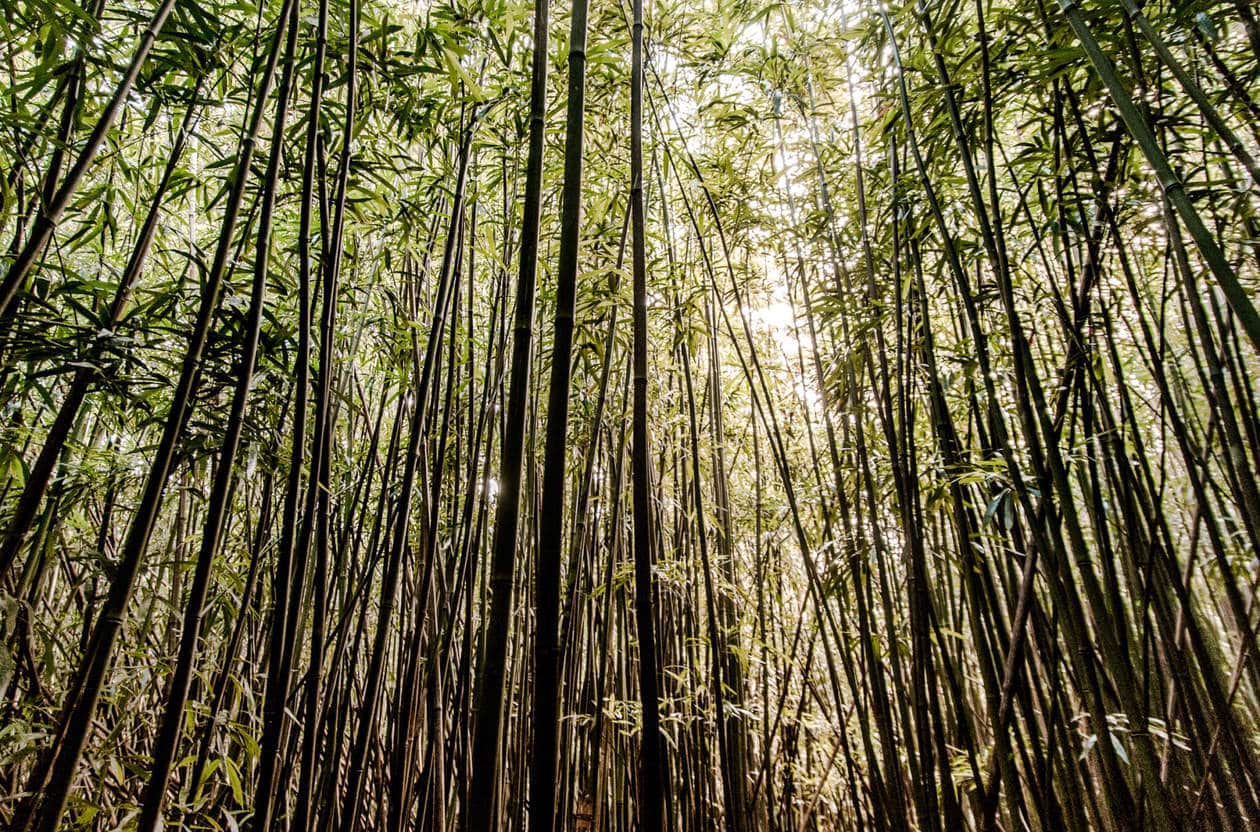 TIPS FOR HIKING LULUMAHU FALLS
TECHNICALLY, YOU DO NEED A PERMIT Lulumahu Falls is on private property and The Hawaii Division of Forestry & Wildlife requests that hikers obtain a day permit. We were not aware of this until after, so we accidentally broke the rules. There was nobody on site enforcing permits, but it's always better to be safe than sorry and they only cost $2.50. You can request a permit here.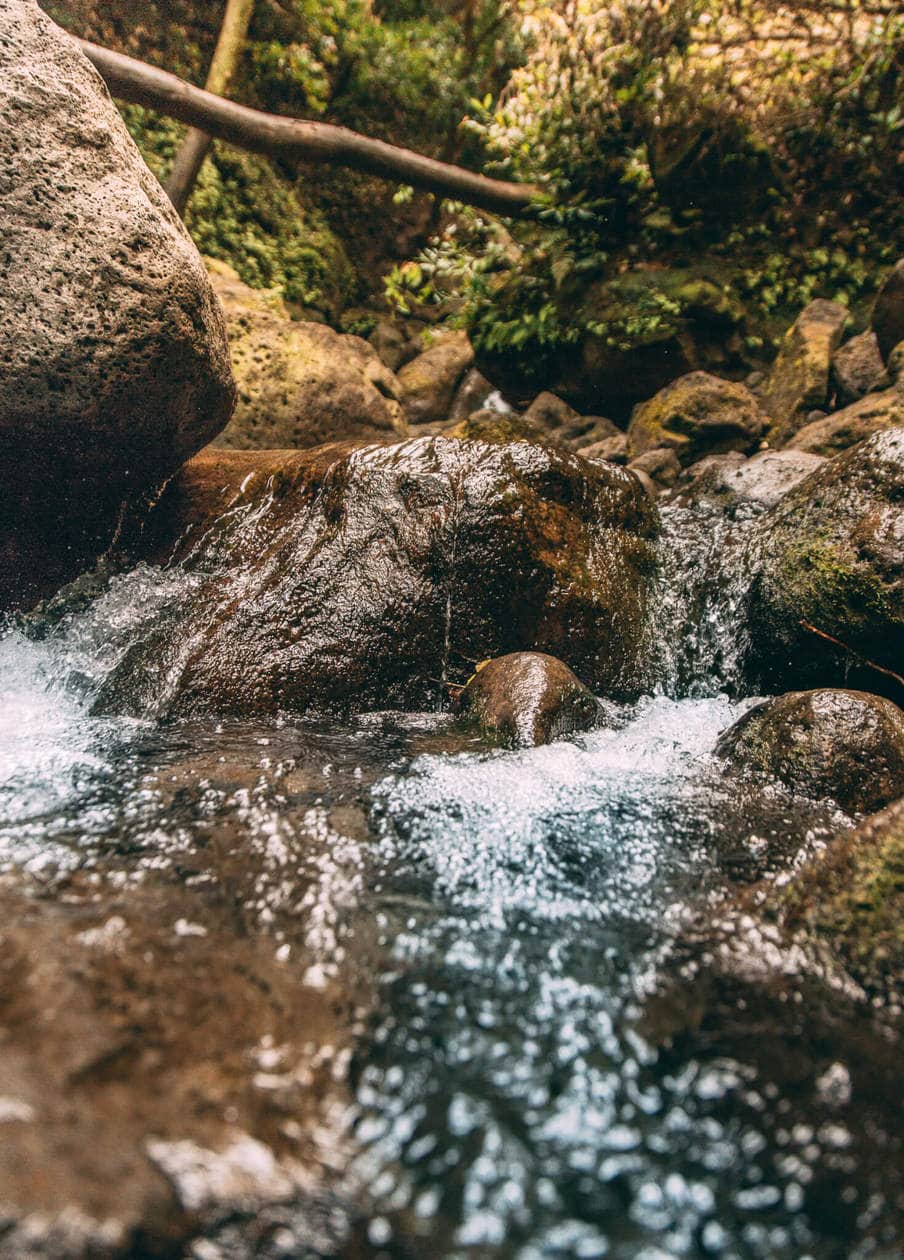 PREPARE TO GET WET During the hike, you'll run in several streams that need crossing. Initially, I tried to keep my shoes dry but eventually gave in and ended up just trekking through the water. Water shoes are ideal; definitely choose foot wear with traction (no flip flops) as it gets slippery.
BRING A CHANGE OF CLOTHES If Lulumahu Falls is just one stop on your day's itinerary, I would definitely bring a change of clothes (and shoes) for after the hike. We were covered in mud and soaking wet when we got back to the car.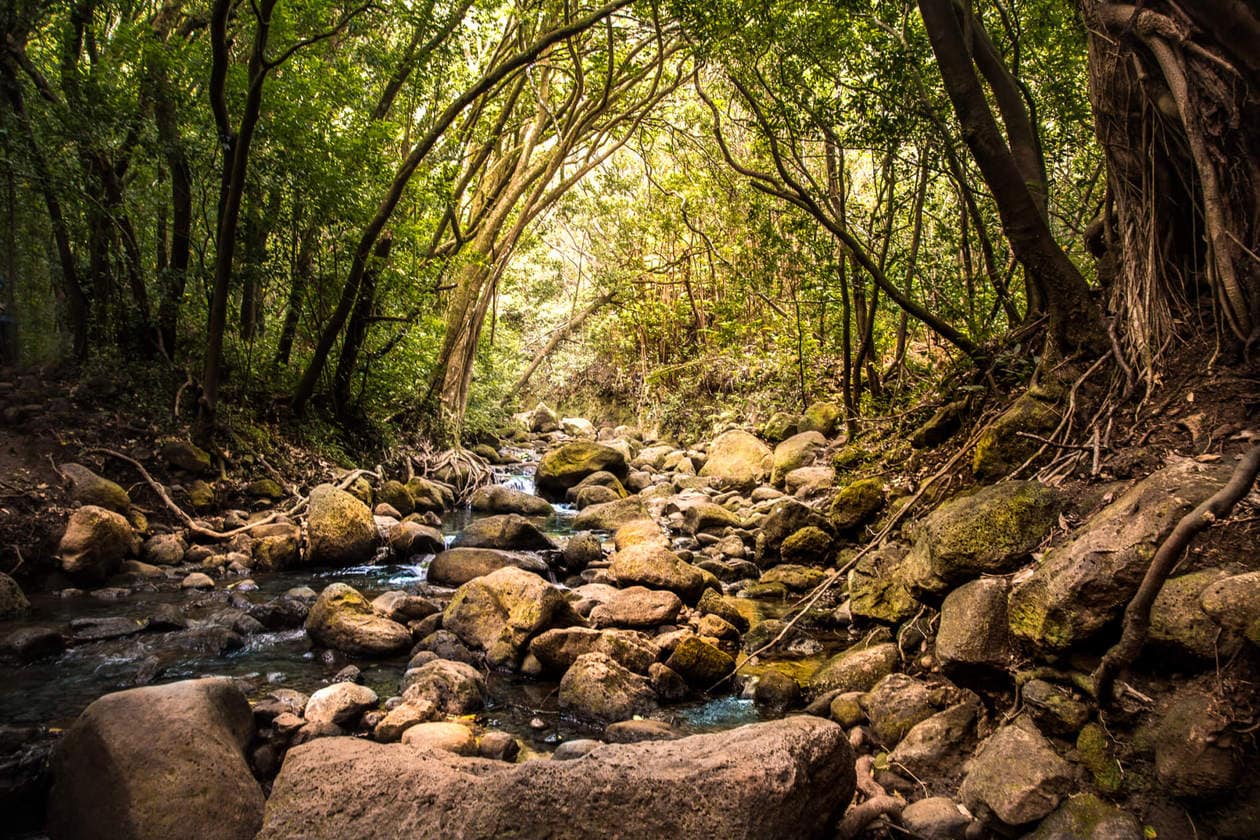 HIKE EARLY TO AVOID THE CROWDS In the early morning we ran into very few other people, but on our way back, we noticed a lot more crowds hiking in. I recommend getting there early (between 7am-8am). That way you can take your time on the trail, and you won't have a million other people in your waterfall pics.
KEEP AN EYE ON THE WEATHER FORECAST Be careful about hiking in the rain as it gets super muddy and very slippery. It rained for a only a few minutes while we were hiking and I noticed an massive difference in the trail directly after. I slipped and fell a couple of times (not unusual for me though, I hurt myself daily). Avoid hiking after heavy rainfall as the stream can very easily catch too much momentum and it becomes dangerous to cross.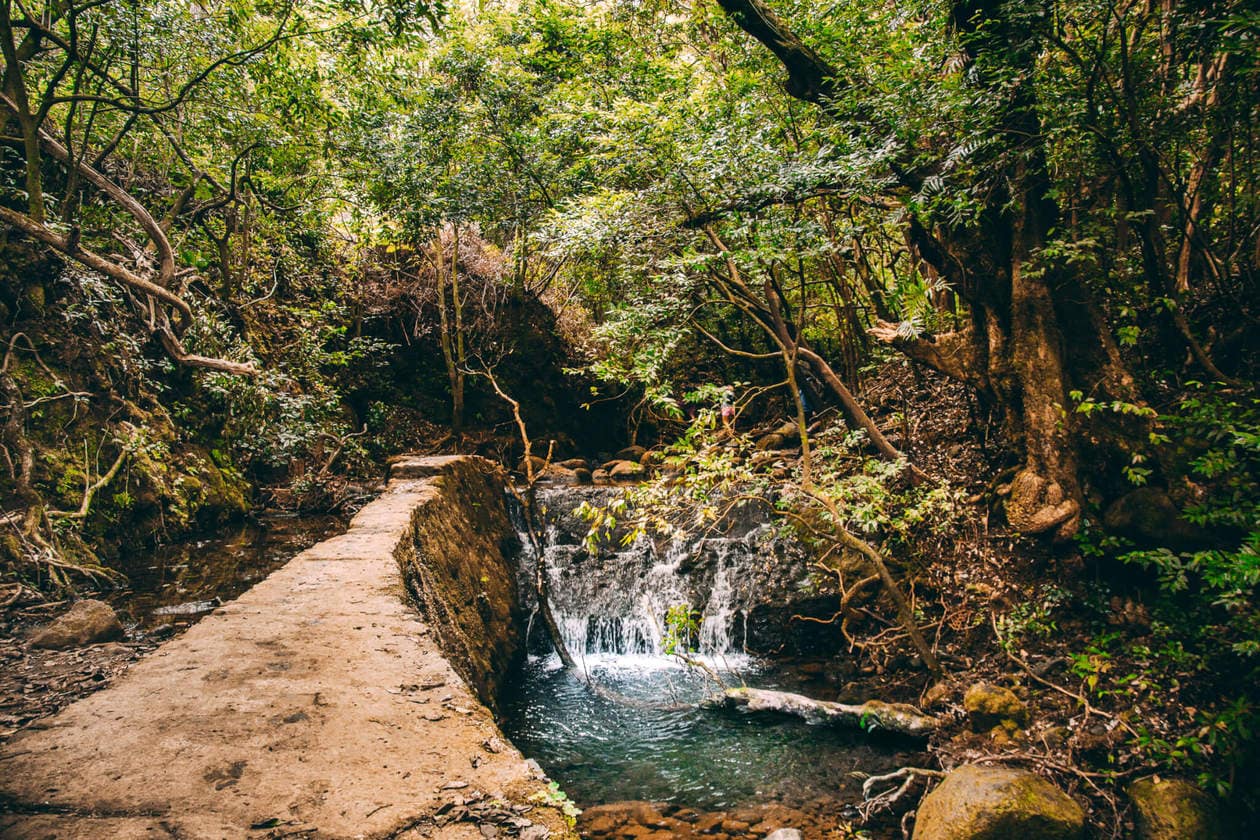 DON'T LEAVE VALUABLES IN YOUR CAR The parking lot to Lulumahu Falls is right off the Pali Highway and it's not uncommon for break-ins to happen. Don't leave valuables siting out in plain sight.. or better yet, leave them at your hotel.
THE TRAIL ISN'T MARKED There is no set path or signs as you hike to Lulumahu Falls. Luckily we were traveling with my sister who lives in Oahu, but if it wasn't for her guidance the I would've been a little confused. You can assume the right direction by following the pink ribbons tied to the trees… but in some spots you have to do a little guesswork. Your best bet is to stick close to the stream and follow it up river. If you get lost, reach out to hikers on their way down and ask them which way they came from.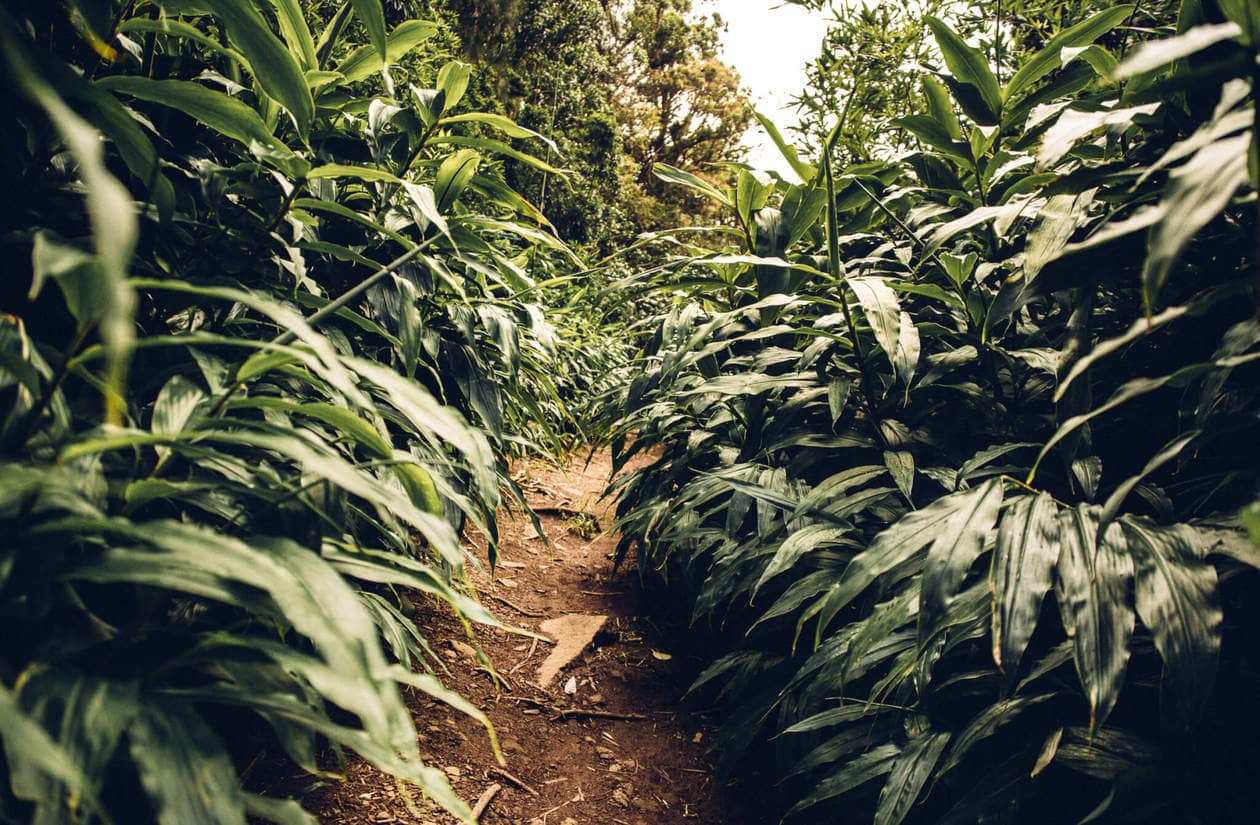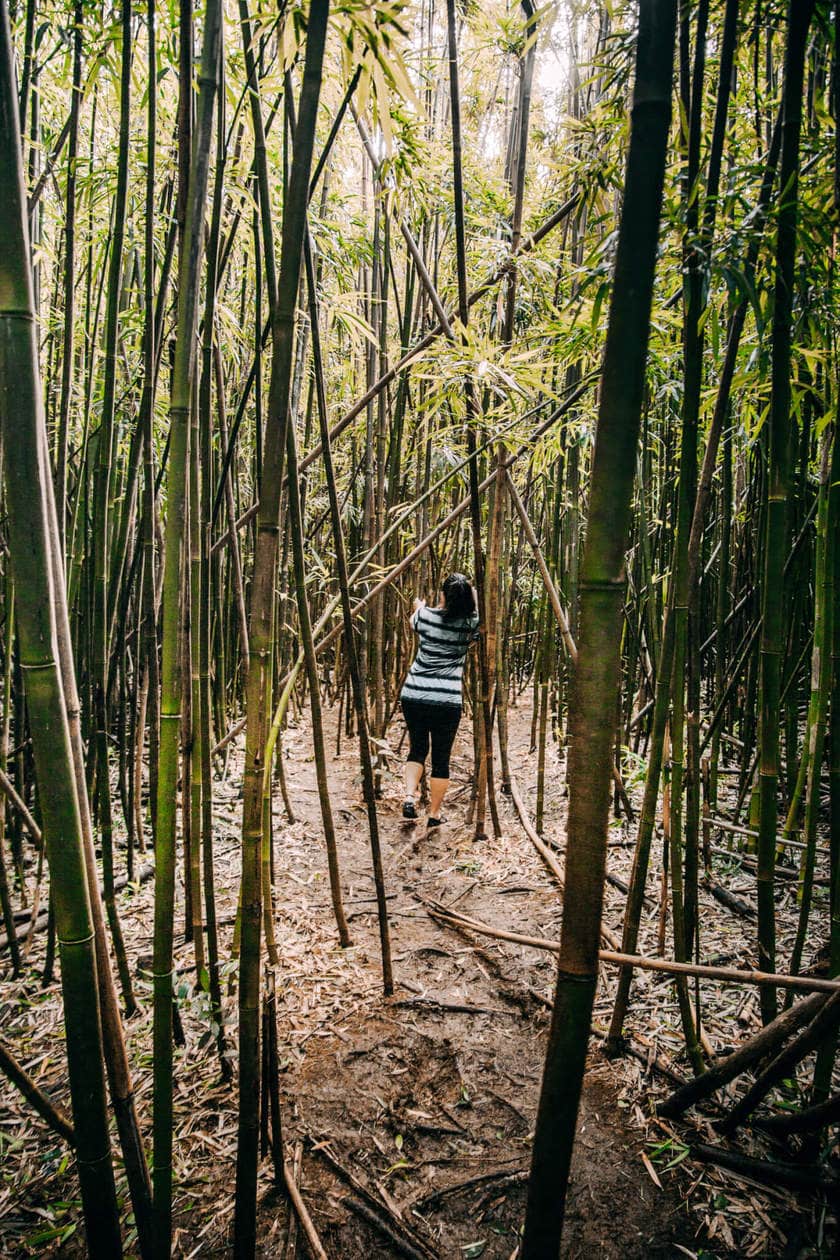 DIFFICULTY Lulumahu Falls is not difficult or strenuous hike, and there's no steep elevation changes. However you will have to do a bit of climbing and it does take some balancing work. Keep your hands free because you'll use them a lot, and test rocks before jumping on them as there are quite a few slippery ones.
ABOUT BUG SPRAY As we walked alongside other hikers, my eyes were literally burning from the fumes of their deet covered bodies. When we reached the waterfall, each person took turns standing underneath, and I watched cool water rinse all of the chemicals from their bodies, as the stream dutifully carried it downstream into the rainforest.
As travelers and guests of Hawaii, let's all do our part to keep the region as pristine as we find it. Please consider environmentally friendly options like this one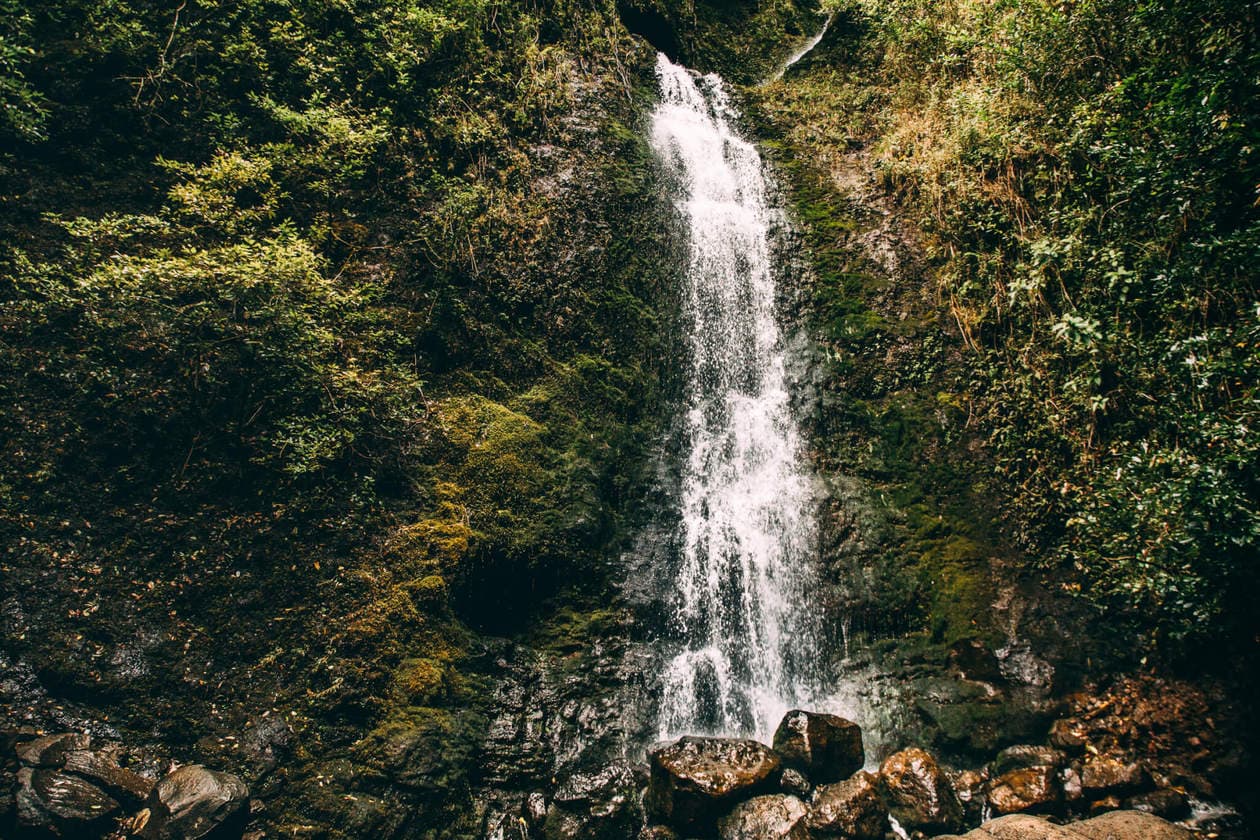 HOW TO GET TO LULUMAHU FALLS
From Waikiki, take the Pali Hwy (61 N ) towards Kailua. There will be a dirt parking lot on the right side of the highway (near Nuuanu Pali Drive), just before the the Pali Lookout.
Approximate Address 4459 Pali Highway, Honolulu, HI 96817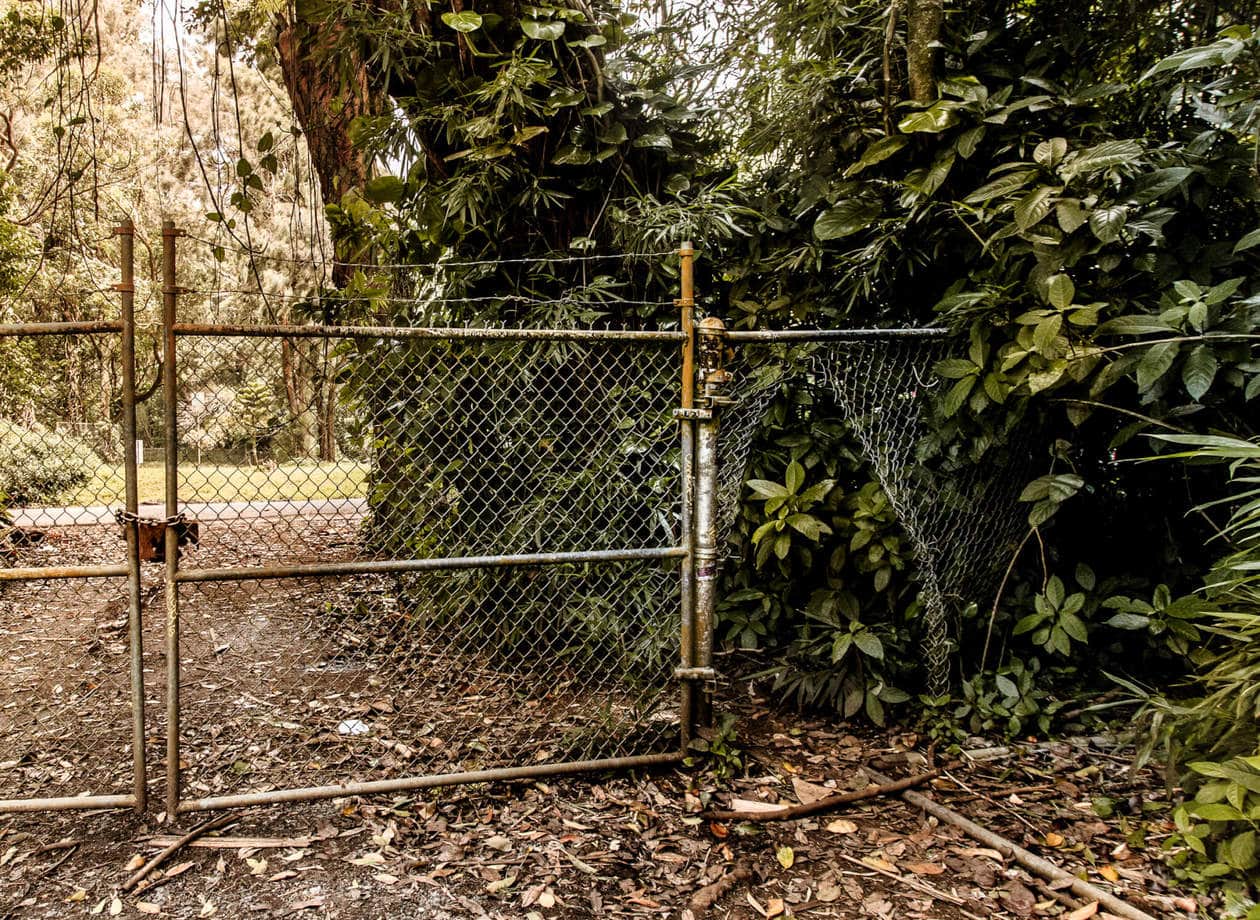 The trailhead is just to the right of the parking lot, through a locked gate (there's a hole cut out for entry). At the start of the trail there are a few signs indicating which way to go, and then the signs disappear and pink ribbons will (kind of) lead the rest of the way.
---
PIN IT // LULUMAHU FALLS